Savory Bacon, Cheddar Cheese & Scallion Biscuits
Like a warm hug, there's no better way to bake love ♥ than with biscuits! Make these homemade gluten-free biscuits to serve up flakey, tender, Bacon, Cheddar Cheese, and Scallion Biscuits for your next meal!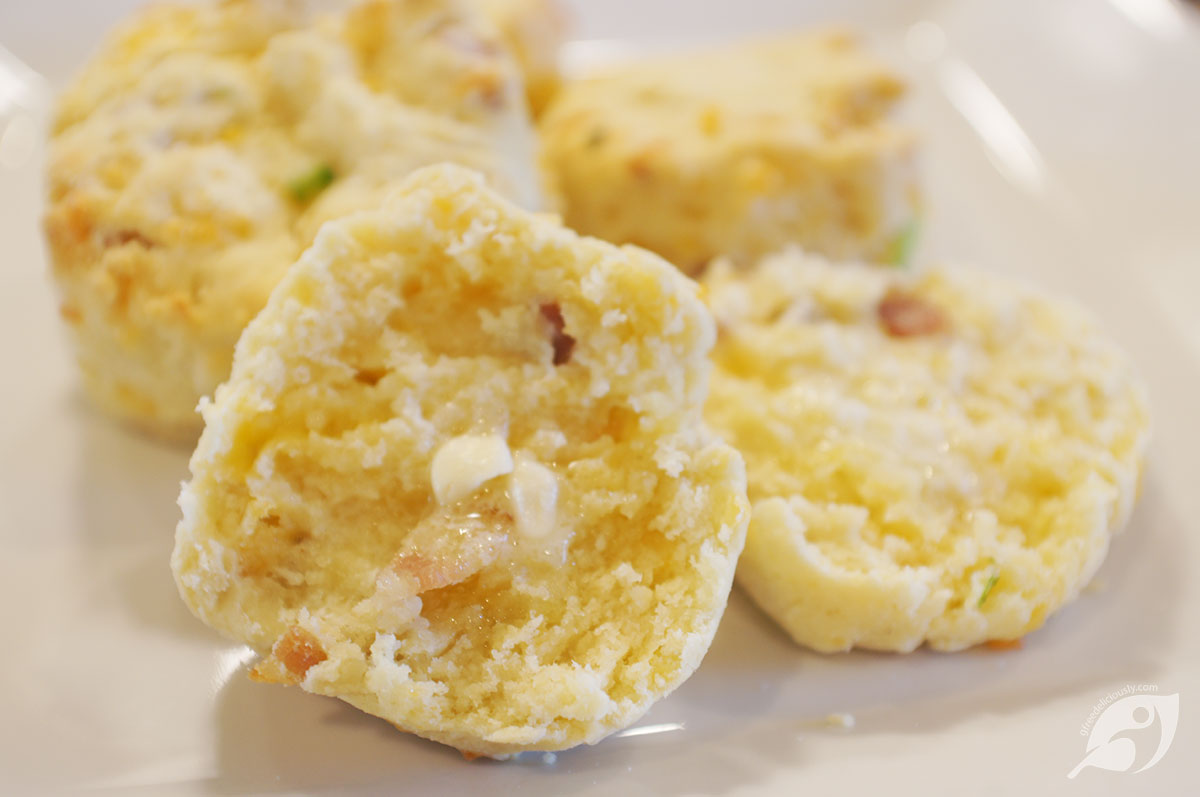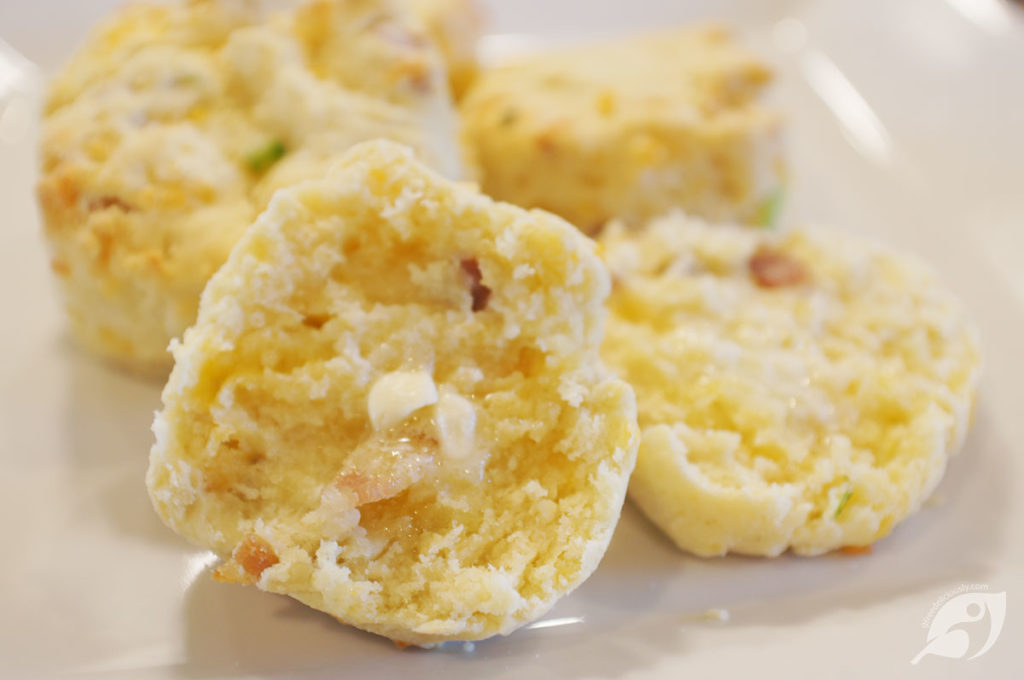 My great-grandma Newburn was a pro at baking biscuits and she could make them like no-one else I've ever known. Her biscuits will forever be locked in my earliest childhood memories. All I need to do is close my eyes and think about great-grandma's biscuits and my senses travel back through time, when walking through the back door into her kitchen, you were met with the sweet aromas of honey, biscuits baking, and the promise of a delicious meal. Like a warm hug, there's no better way to bake love than with biscuits.
Whether savory or sweet, baked biscuits are easy to pull together, even for gluten-free cooks, and while many a cook may be fooled with their reputation of being a side component to the meal, you may want to re-think their mealtime role and cast them as the star performer.
I love to cast these easy savory bacon, cheddar cheese, and scallion biscuits as the centerpiece of sausage and gravy or feature them as the top performer in French do in Croque Madame (Ham, Cheese, and Fried Egg Sandwich). And, of course, they're simply delicious all on their own served with creamy butter and a little honey for a touch of sweetness.
Whatever way you choose to serve your biscuits they're sure to make some great food memories for the people you serve them to.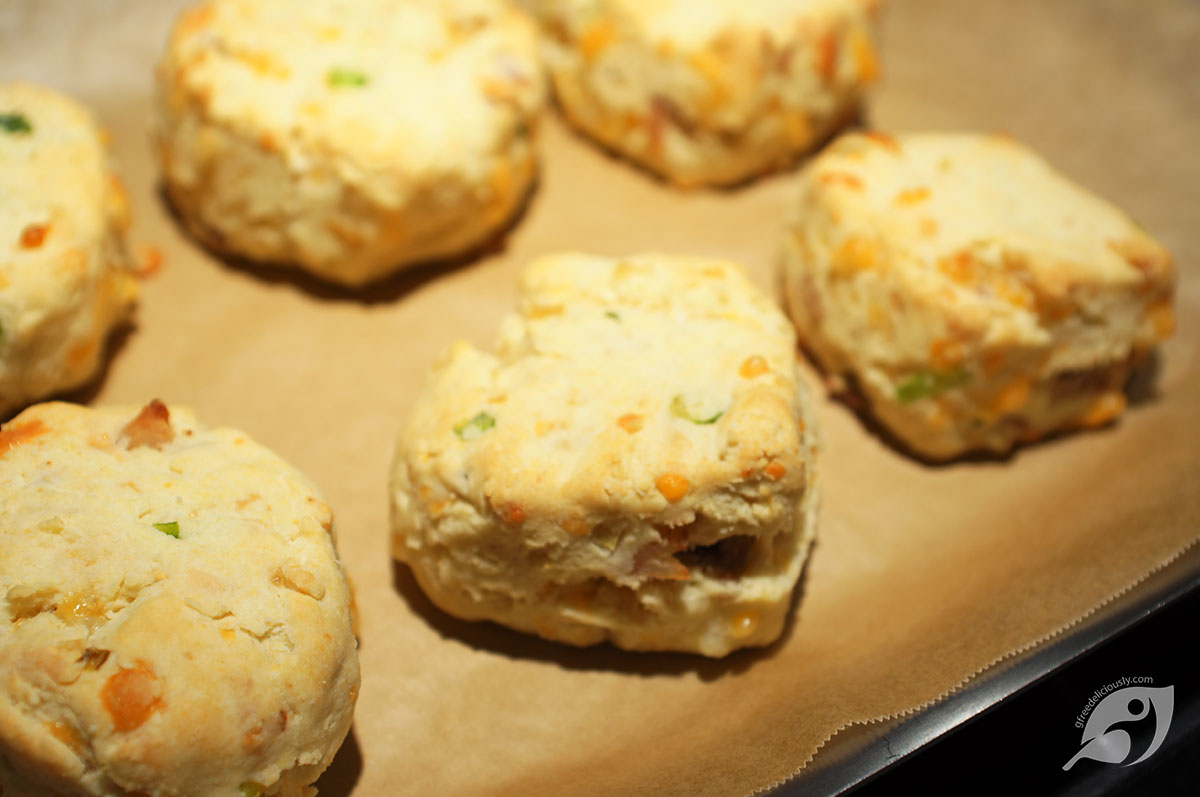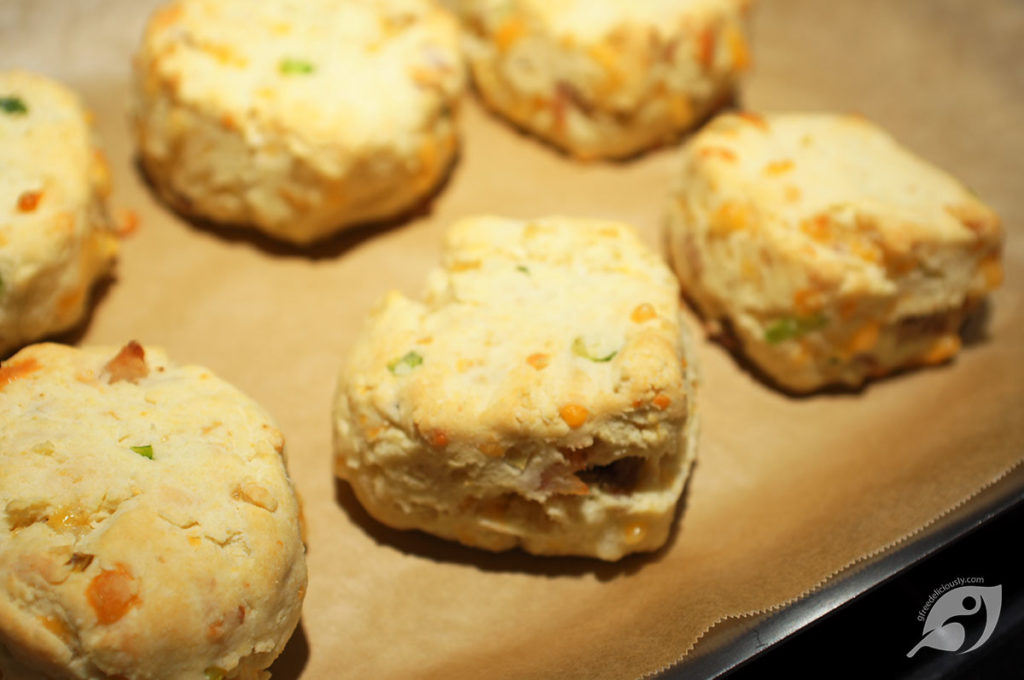 Here are 10 more excuses for serving biscuits at mealtime:
1. Biscuits with Scrambled Eggs, Sausage, and Gravy – The ultimate comfort food, savory biscuits, and scrambled eggs smothered in sausage gravy doesn't get much better!
2. Beans and Biscuits – Biscuits served cowboy-style, smothered in smoky baked beans with bacon. 
3. Biscuits Croque Madame – A classic French sandwich made with ham, gruyere, béchamel and topped with a gooey fried egg!
4. Biscuits Dropped in Stew or Soup – A fresh biscuit front and center on top of a steaming bowl of warm goodness! Break off little bites with every lovin' spoonful!
5. Day-Old Biscuits – Serve biscuits with milk, cinnamon, and sugar. An old-fashioned breakfast with stick-to-your-ribs goodness!
6. Sweet Biscuit Strawberry Shortcake – At the top of simple yet delicious desserts!
7. Biscuits with Polenta, Eggs, and Bacon – You don't need to live in the South to enjoy this classic breakfast!
8. Biscuits Topped with Sauce – Many of the same sauces put over pasta work super well over biscuits too. Growing up mom made this white sauce with corned beef to serve for quick meals. Dad called it "S*it On A Shingle." Despite the unappealing name he gave it, I still think it's delicious!
9. Biscuit Cobbler – Made savory or sweet, for supper or dessert, biscuit cobblers are a wonderful way to warm up your family on chilly fall or winter nights!
10. Biscuit Bread Pudding – A great way to use day-old biscuits that's oh-so-yummy!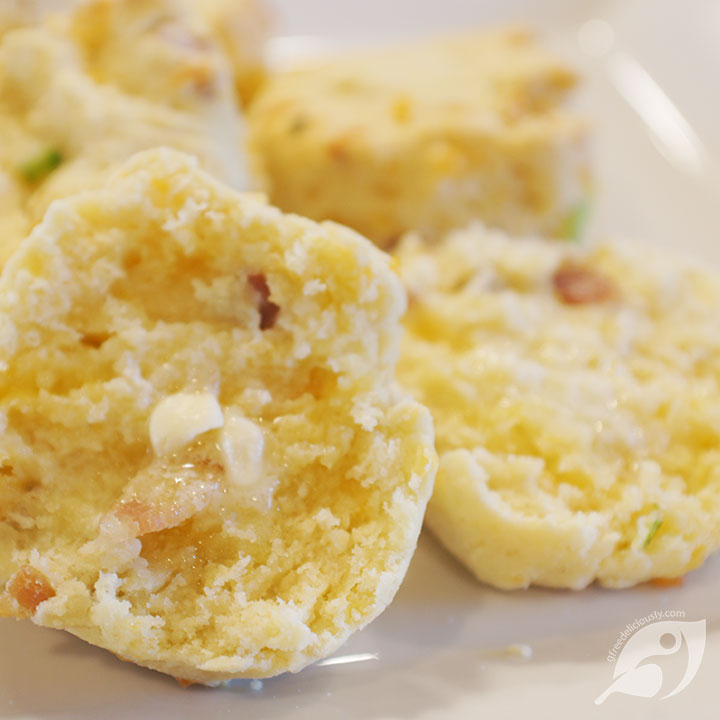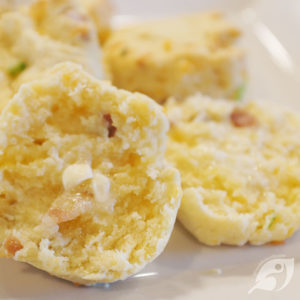 Savory Bacon, Cheddar & Scallion Biscuits
Flakey, tender, delicious, out of this world savory biscuits are one of those down-home sorts of guilty food pleasures. Try these bacon, cheddar and scallion biscuits for a yummy treat that's so easy to eat and enjoy.
Equipment
Small skillet

Knife

Bowl

Rolling Pin

Baking sheet

Parchment
Add Ingredients to Shopping List or Order them Online
View Shopping List
Ingredients
1 ⅛

cup

Gluten-Free Baking Mix

+ a little more for dusting

2

slices

Bacon

diced (about 2 Tablespoons)

2

Scallions

chopped (about 2 Tablespoons)

½

cup

Cheddar Cheese

shredded

2

large

Eggs

1

cup

Milk

, or heavy cream
Instructions
Preheat oven to 400ºF

Dice bacon, and fry until slightly crispy. Add chopped scallions, sauté until just tender. Remove bacon and scallions from the skillet onto a paper towel to cool until ready to add.

Combine your favorite gluten-free baking mix, cheese, bacon and scallions into a medium bowl. Toss lightly and set aside.

In a separate bowl whisk together the egg and milk.

Add egg mixture to dry ingredients and mix until a soft dough forms.

Turn combined mixture onto the counter or work surface that has been lightly dusted with a gluten-free baking mix. Fold three to four times. Roll out to approximately 3/4-inch thick and form into a 6 x 9-Inch rectangle.

Cut the rectangle down the center, then vertically in two additional cuts to divide the dough into six equal-sized squares. form each square with your hands into a biscuit round and place on a parchment-covered baking sheet.

Bake 16-18 minutes until golden. cool five minutes. Serve warm.
Nutrition
Calories:
136
kcal
Carbohydrates:
12.8
g
Protein:
4.8
g
Fat:
6.9
g
Saturated Fat:
2.9
g
Polyunsaturated Fat:
0.8
g
Monounsaturated Fat:
2.4
g
Trans Fat:
6.9
g
Cholesterol:
59.8
mg
Sodium:
245.1
mg
Potassium:
67.6
mg
Fiber:
1.5
g
Sugar:
1.2
g
Vitamin A:
52.8
IU
Vitamin C:
0.2
mg
Calcium:
158.6
mg
Iron:
1.3
mg
(Nutritional values are an approximation. Actual nutritional values may vary due to preparation techniques, variations related to suppliers, regional and seasonal differences, or rounding.)
Copyright © 2017-2022 Kymberley Pekrul | GfreeDeliciously | gfreedeliciously.com | All content and photographs are copyright protected. The sharing of this recipe is both encouraged and appreciated. However, copying and/or pasting full recipes to any social media is strictly prohibited. Please read my Photo Use Policy for detailed guidelines and further clarification.
If you like this recipe, you might also want to try...