Making Italian Stuffed Zucchini Boats on the Grill
Start by pre-grilling hollowed-out zucchini halves, fill with a simple skillet stirfry made with tomatoes, peppers, and seasoned Italian sausage with garlic and onion, then pile the mixture into the grilled shells before topping with mozzarella cheese that becomes melty before serving. The result is this flavorful dish to beat the heat – an Italian-stuffed zucchini, veggie, meat, and cheesy combo your family will love!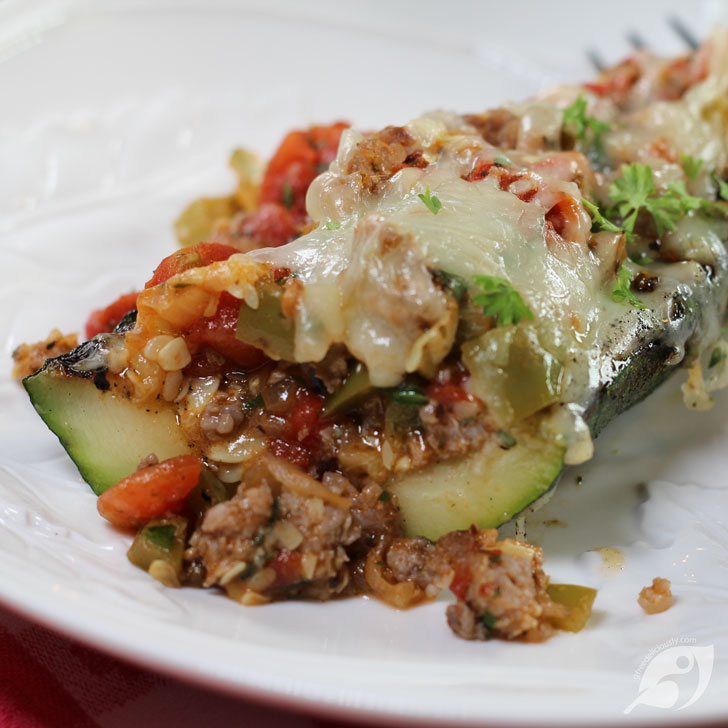 A Vegetable – Err "Fruit" Cooks Paradise
Zucchini season is here. Suppose you're a gardener and grow zucchini. In that case, you're familiar with this time of the growing season that brings another yearly overload of the green tubular-shaped squash and the challenge of creating unique ways to prepare it. And if you're like us, you love this bountiful fruit.
Wait, you didn't know that zucchini is technically a fruit?
Although treated and widely referred to as a vegetable – because zucchinis develop from an overgrowth of the zucchini flower and are botanically classified as a berry, they are technically a fruit with the overgrowth of the flower (the ripened ovary) containing the plant's seeds.
Vegetables, on the other hand, are the portion of the plant that you eat. Think of the root of vegetables like beets, carrots, and parsnips, leaves such as lettuce, cabbage, kale, tuber crops like potatoes and sweet potatoes, bulbs like onions, or flowers as broccoli. But I digress.
Still, the majority of people think and treat zucchinis as vegetables. Maybe that's because they resemble cucumbers (also technically a fruit), or most likely because of how people use them in cooking – which brings me back to this recipe for Italian Stuffed Zucchini Boats.
The Best Size Zucchini for Zucchini Boats
While any size zucchini would work in this dish, we've used a medium to slightly larger-size zucchini from our garden for this recipe. It's about an 11-12-inch long squash that we've cut in half and hollowed out for stuffing. When filled, it makes generous portions– enough for a meal to serve four or to slice smaller for multiple servings as a side dish to accompany any barbecue.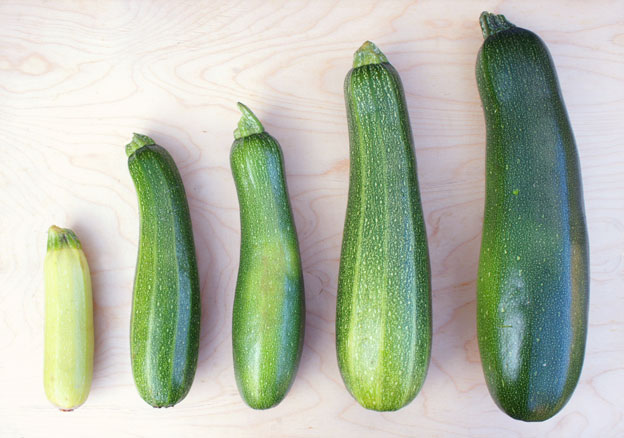 But if you don't have zucchini from your garden, local farmer's markets are an excellent source for finding larger-sized squash. If you are limited to smaller zucchinis, this recipe will come together just fine, using two to four smaller squash big enough to stuff yet small enough to make individual servings when halved.
Zucchini is Good for the Gut
Rich in vitamin B6 and antioxidants, Zucchini is included in foods with high fiber content and a low-calorie count. Fiber plays an essential role in digestion and may limit the likelihood of suffering from various GI issues.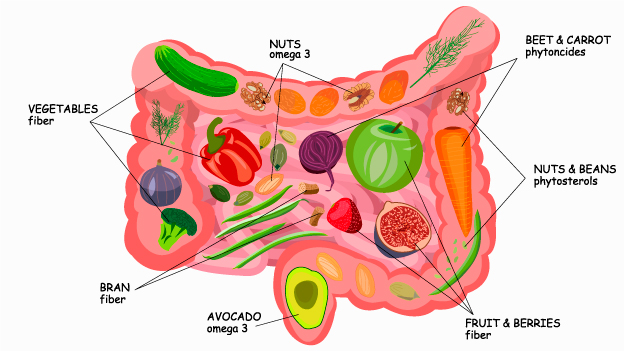 Prepping & Grilling the Zucchini Boats
Given there are many ways to cook and prepare zucchini boats, we've found that pre-grilling the zucchini halves on the outdoor grill adds an extra dimension of smokey flavor that elevates the overall taste. But if you don't have an outdoor grill, you could also pre-cook the halves using a stovetop grill pan or indoor electric grill to achieve the same grilling effect minus the smokey flavor.
Any way you make them, you'll begin by preheating your grill to 350°F. Then, if using an outdoor grill, add apple or cherry chips to the smokebox for a complimentary smokey addition of flavor.
Meanwhile, with your zucchini selected, you'll start by washing the outer skin (there's no need to peel it), trim the ends off, then cut the squash in half lengthwise.
Using a large spoon, scrape out the fleshy center and seeds leaving ¼ inch shell (reserve the flesh for the filling) — brush oil over the inside of each half, salt, and pepper.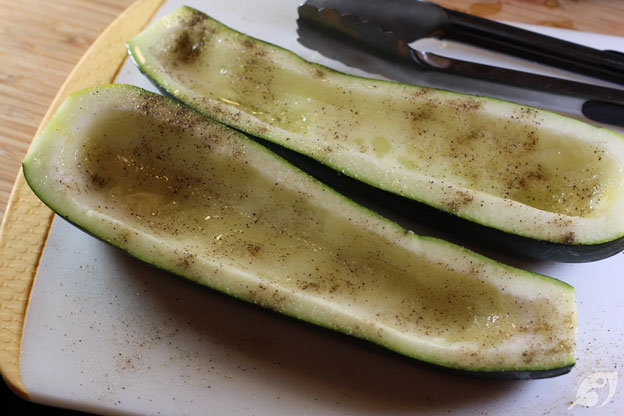 For grilling: Place each zucchini half cut side down on the preheated grill (350°F), grill six minutes, turn one quarter turn to create cross grill marks, then continue grilling six more minutes before removing. Cover with foil to keep the grilled halves warm until filling.
Making the Italian Sausage Filling & Stuffing the Zucchini Boats
While there are as many ways to stuff a zucchini as an abundance of squash to hold the yummy stuffing elements, we love this recipe because of its simple ingredients and full-on Italian flavors.
The filling combines classic Italian vegetables, easy to grow in home gardens or found at the local farmer's market: fresh basil, tomato, bell pepper, pork sausage, and mozzarella cheese. You could also substitute canned diced tomatoes for fresh ones if your garden tomatoes haven't quite reached the fully ripened stage, and you can also use an Italian seasoning blend as we've done in place of the fresh basil.
Either way, the mixture stuffed into these grilled zucchini boats makes a bright, hearty, full-flavored meal that's still on the light side for easy summertime dining.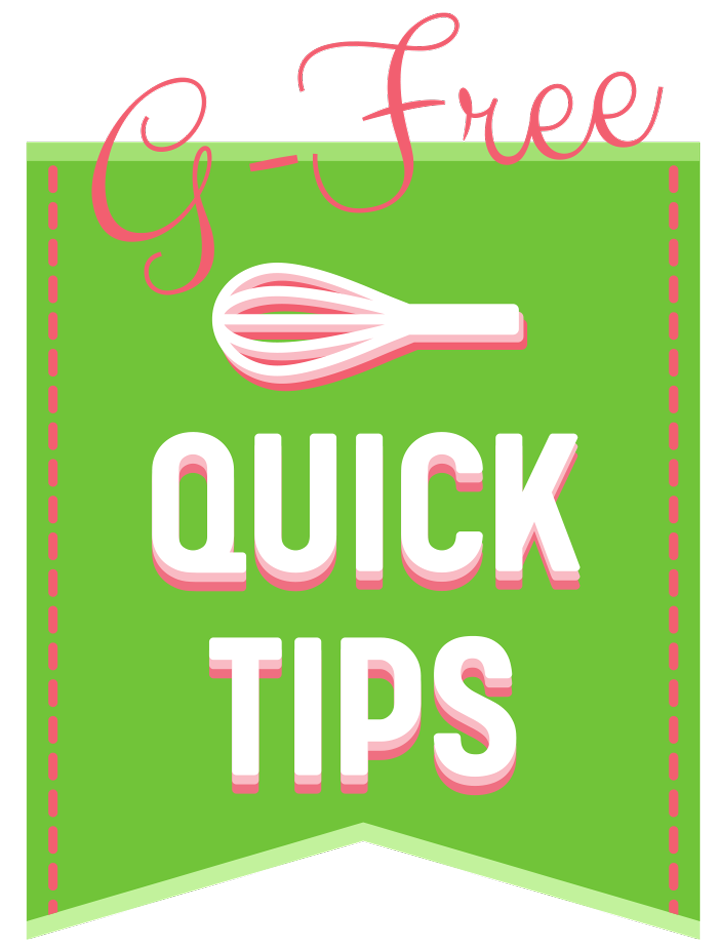 Always Have Sausage On Hand
Have you ever seen a recipe (like this one) that you want to make only to be disappointed because you don't have any sausage on hand? We've found a solution.
Always have sausage for your recipes in just the right amount you'll need with frozen sausage or brat links from your freezer that are ready to use for up to three months. Read more about our Simple Hacks on How to Store and Freeze Raw and Cooked Sausage and Brats.
Because this recipe uses only a small amount of sausage, we're using our Gfree Quick Tip for using thawed frozen brats.
Begin by removing the sausage from casings into the skillet, sprinkle with Italian sausage seasoning, add minced garlic, chop, and cook over medium-low heat for 1-2 minutes until the meat is no longer pink and begins to brown. When cooked, remove from the pan and set aside.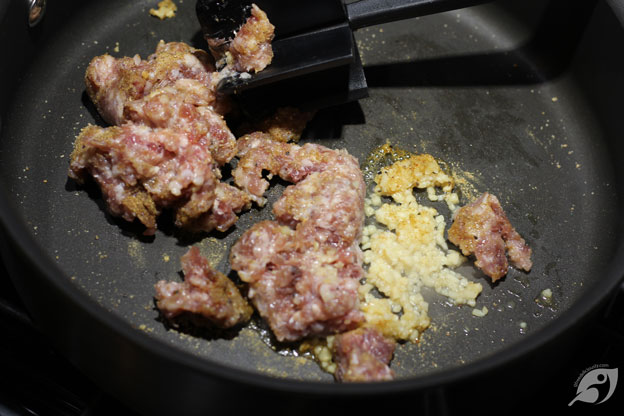 Next, you'll roughly chop the reserved zucchini flesh from step one, then add the onion, pepper, and Italian seasoning blend to a bowl. Stir to combine.
Picture it step-by-step... (Click on the arrows right or left to scroll the steps.)
Then, combine the mixed vegetables and chopped tomatoes in the skillet over medium-high heat, cook 8-10 minutes until the mixture has dried up and is no longer super moist. Next, add the cooked sausage and chopped parsley.
Fill the grilled zucchini halves with the vegetable and sausage filling, sprinkle the hot mixture with the grated mozzarella cheese over the top, and serve immediately.
Note: If you like extra melty cheese, pop the prepared boats back on the grill or under a low broiler for 1-2 minutes before serving.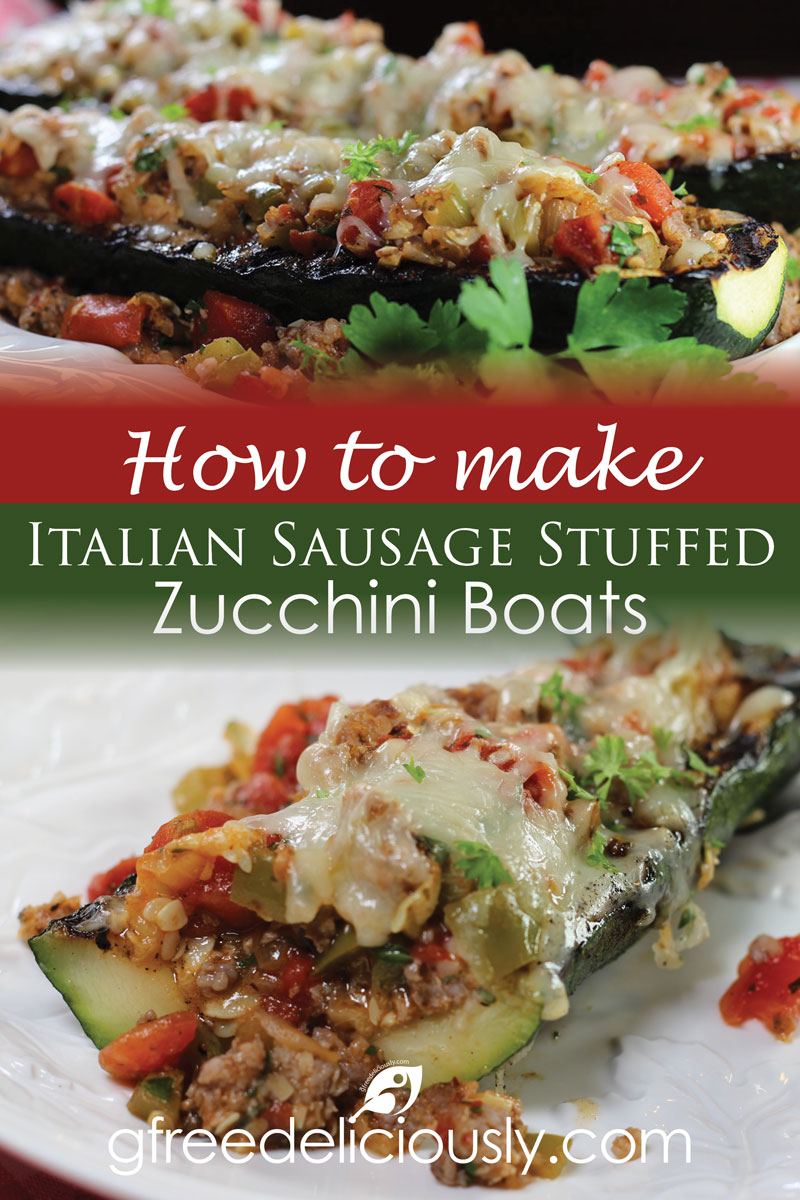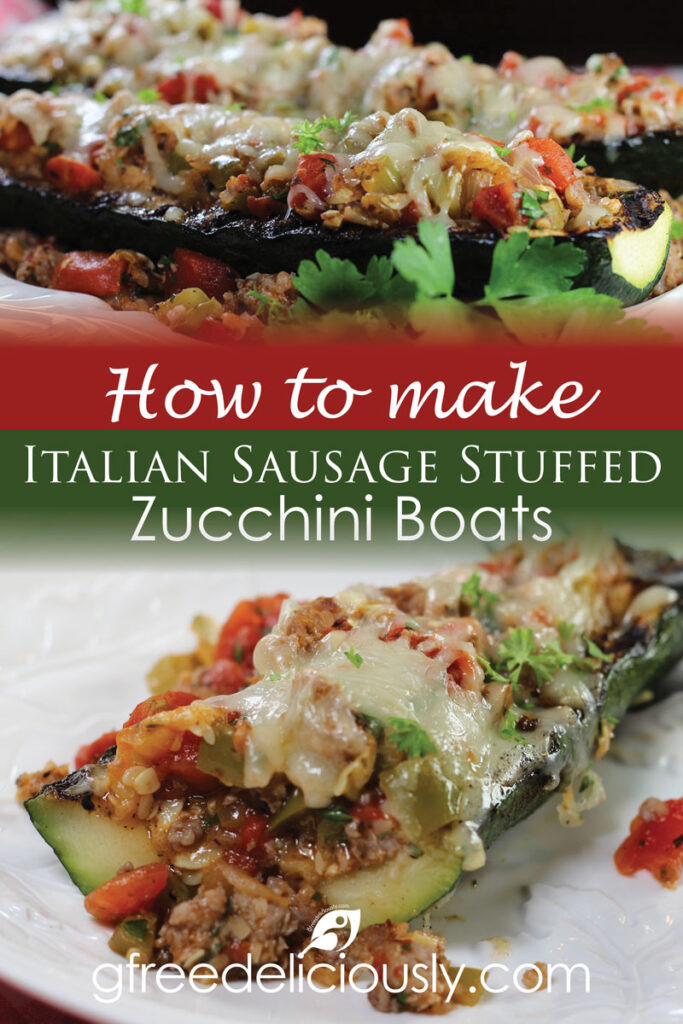 P.S. Have you tried this recipe? We would love to hear your thoughts. Leave a comment, share it, and rate it – it's super helpful for other readers and us. Just click the blue-green comment bubble on the bottom right of your screen to jump to the comment area below.
And as always, don't forget to take a picture and tag it #CookingGfreeDeliciously on Instagram. We love seeing what you cook up!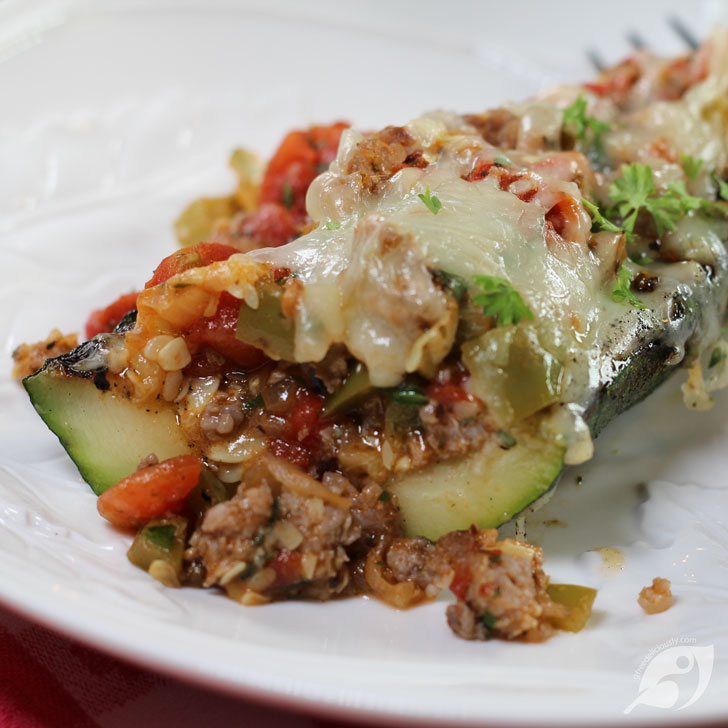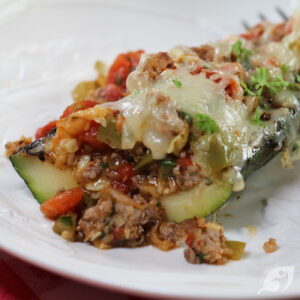 How to Make Grilled Italian Stuffed Zucchini Boats
Celebrate Summer's bounty with these bright, light, and healthy Italian Stuffed Zucchini Boats you make on the grill. A quick and delicious Italian-inspired dinner recipe!
Equipment
Outdoor Grill or Grill Pan

10-inch Skillet

mixing bowl

Cutting Board

Utensils (Cooks Knife, Tongs, Large Heat-proof Spoon, Measuring Cups & Spoons, Rubber Spatula or Large Spoon)
Add Ingredients to Shopping List or Order them Online
View Shopping List
Ingredients
1

medium

Zucchini

cut in half

6

ounces

Pork sausage

Approx. 1-½ plain Sausage brat

1

teaspoon

Italian Sausage seasoning

1

Tablespoon

Garlic

minced

½

medium

Sweet Onion

diced

1

medium

Green Sweet Pepper

diced

1

can

diced Tomatoes

drained

1

tablespoon

Italian Seasoning Spice Blend or substitute 1 tablespoon fresh Basil

chopped

2

Tablespoons

Flat Leaf Parsley

chopped

½

cup

Mozzarella cheese

grated
Recipe Notes
Footnotes:
[1] Just pop the prepared boats under a low broiler for 1-2 minutes before serving if you like extra melty cheese.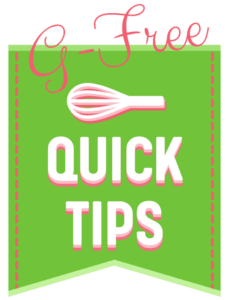 Pro Tip for Grating Cheese
To grate cheese using a box grater or food processor, put blocks of softer cheese like Mozzarella or Colby in the freezer for a half-hour. It will make things much easier to slice and shred.
Nutrition
Calories:
172
kcal
Carbohydrates:
9.3
g
Protein:
14.5
g
Fat:
9
g
Saturated Fat:
2.4
g
Polyunsaturated Fat:
1.1
g
Monounsaturated Fat:
3.7
g
Trans Fat:
0
g
Cholesterol:
44.3
mg
Sodium:
482.3
mg
Potassium:
428.8
mg
Fiber:
2.2
g
Sugar:
4.9
g
Vitamin A:
61.7
IU
Vitamin C:
38.7
mg
Vitamin D:
0
µg
Calcium:
184.8
mg
Iron:
2
mg
(Nutritional values are an approximation. Actual nutritional values may vary due to preparation techniques, variations related to suppliers, regional and seasonal differences, or rounding.)
Copyright © 2017-2022 Kymberley Pekrul | GfreeDeliciously | gfreedeliciously.com | All content and photographs are copyright protected. The sharing of this recipe is both encouraged and appreciated. However, copying and/or pasting full recipes to any social media is strictly prohibited. Please read my Photo Use Policy for detailed guidelines and further clarification.
If you like this recipe, you might also want to try...