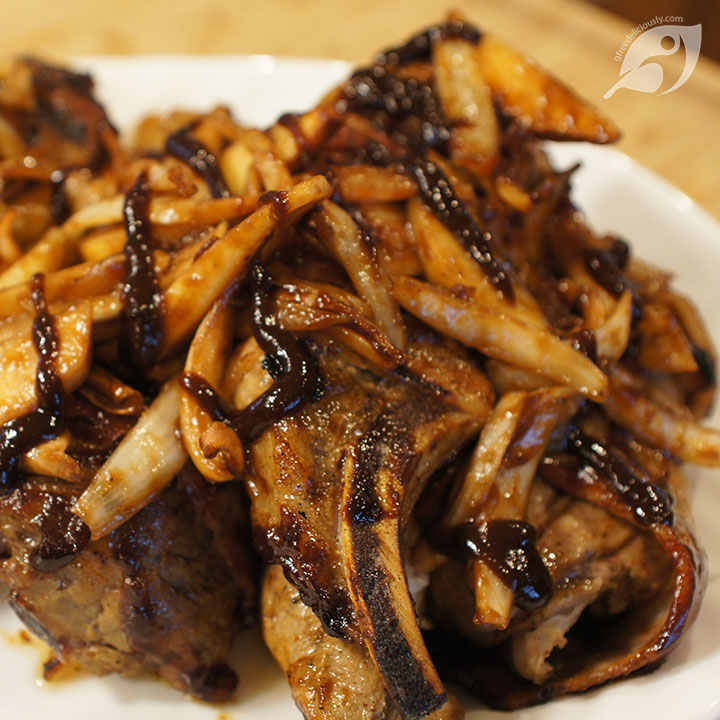 Smoked Bacon-Wrapped Country-Style Ribs with Apple and Onion
Are you addicted to BBQ, Grilling, and Smoking? We are too! At Lac du Nibiinaabe getting creative with recipes to make weekend smoked, grilled or barbequed meals it is not only a summertime pastime but a year-round obsession.
Our grill-master is my dear hubby who's designed his dream of a smoking and grilling kingdom into our backyard patio area. An ever-growing and I must add always getting better work-in-progress; the whole idea started with a grill roof so that we could grill and stay dry when it was raining, stay cooler during the heat of the day, and have a place for the grills (yes, that's plural), his electric smoker, and us to hang out under. It is a destination all on its own, and we love it!
It's a hobby and a destination that provides us with a pastime where we can enjoy the process of continually working to develop our outdoor cooking skills. And, who seriously does not love the smells that come from the low and slow barbecue and the intoxicating flavors of wood smoke?
Smoking is easy but it isn't always simple...
As (Steven Raichlen) who we acknowledge as the God of all things smoked and barbequed begins in his book Project Smoke – "There are hundreds of smokers to choose from and each one operates differently. You can spend a few hundred dollars on a smoker – or thousands – and the price doesn't always predict performance.
Then there's the wood: hickory, oak, apple, or mesquite, to mention just a few of the dozens of fuels used for smoking."
If you're thinking that smoking foods can be a little complicated you might want to start with Steven's book. In it, he does a great job of breaking the process down into seven easy steps to help you master smoking in no time.
And when you become hooked on smoking food, you're hooked on a past time where you'll have a lot of fun – and gain some satisfaction in the process. 
A few years ago, I discovered three secrets for making country-style pork ribs cooked in the smoker. These additions in prepping and smoking country-style ribs keep them moist and add an extra delicious flavor. But before I reveal our secrets for perfect country-style pork ribs cooked in the smoker I want to share a little background about what you need to know about them with you.
What You Need to Know About Country-Style Pork Ribs
Country-style pork ribs made their way to the meat case in the 1970s. According to Merle Ellis, author of "The Great American Meat Book" (Knopf, 1996), legend has it that Scott Detrie, president of a chain of markets in Kentucky, came up with the idea as a way of marketing the shoulder-blade section of the pork loin, where the chops aren't as neat and as lean as pricier rib chops. The idea was that the narrow ribs would be perfect for grilling or prepared under the broiler.
Country-style ribs usually are tougher, and have a fattier quality like pork shoulder, making them less than desirable as a pork roast. Never-the-less they make a thick meatier rib, but to purists, they'll always be a pork chop.
The confusion for shoppers looking for country-style ribs is that their shape can vary. They can be cut from the meaty top end of the loin, or the bottom end of the shoulder. Also, because of the way country-style ribs are cut, sometimes they will have a long rib bone, they may have a portion of the blade bone, or others may include a piece of the backbone. And, boneless country-style pork ribs could conceivably be made from any piece of pork, my butcher tells me. When I asked if the label would specify the cut, I was told, "probably not." If you're curious, you'll want to ask.
I've found that it's nearly impossible to find proportioned cuts of country-style ribs, so you'll want to look for an even assortment if buying prepackaged. But, if you're looking to try country-style pork ribs, whatever the cut, they're best when cooked low and slow, being braised, or prepared by barbequing them.
The Secret to Making Bacon-Wrapped Country-Style Ribs with Apple & Onion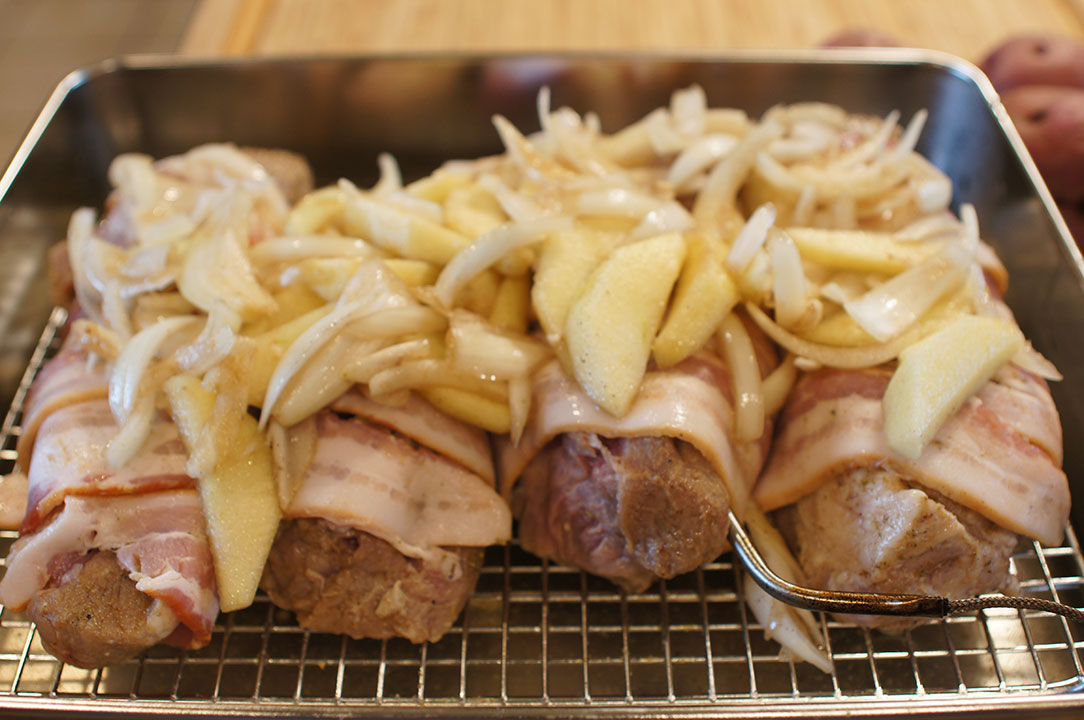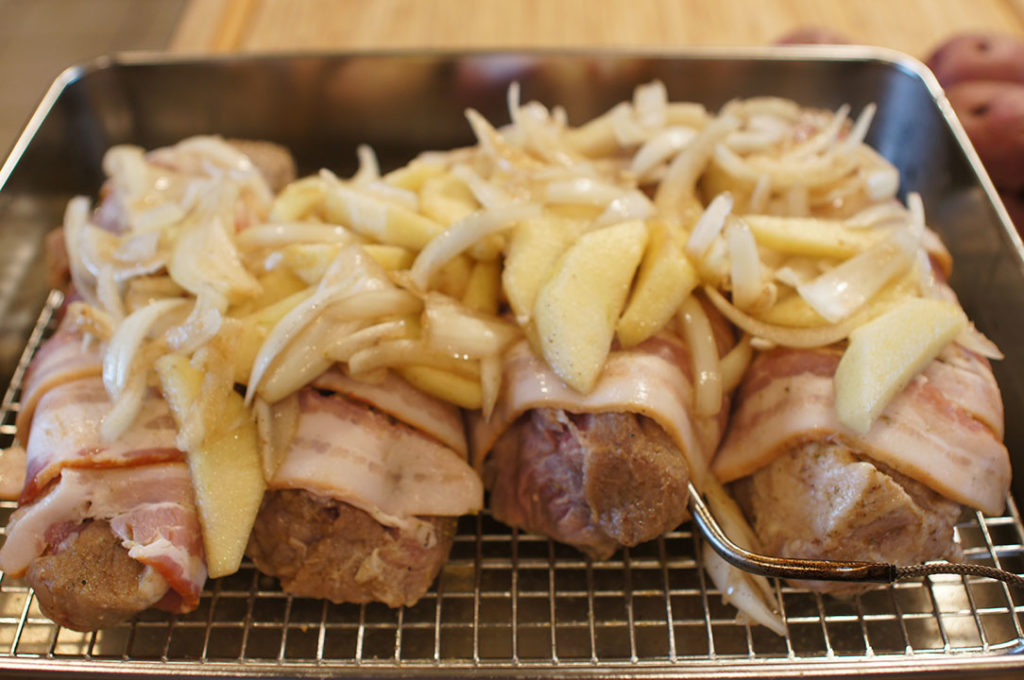 In this recipe, I've used a combination of all three cooking methods to prepare Smoked Bacon-Wrapped Country-Style Ribs with Apple and Onion. These cooking methods combined with my three secrets make country-style ribs that are to die for good and has become one of our favorite ways to prepare them.
Secret Number One: My first secret is to marinate the ribs overnight. 
Secret Number Two: Up the flavor and fat by wrapping them in bacon.
Secret Number Three: Semi-braise the ribs while they're smoking by loading them up with apples and onions on top, and adding water below in the pan to add moisture.
Lastly, "DON'T CROWD THE RIBS !" These meaty ribs need lots of space to cook thoroughly and become fall off the bone tender. Therefore the more space you can give around each bacon-wrapped rib piled with apple and onion the better.
The Result: These ribs are full-flavored, tender, meaty, and moist – a tasty lick-your-lips bite of heaven to add to your weekend menu!
Enjoy!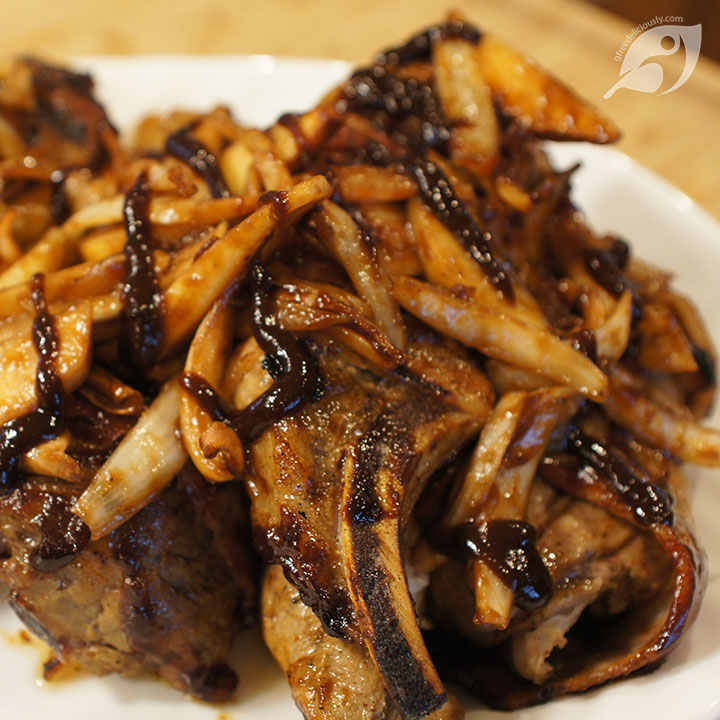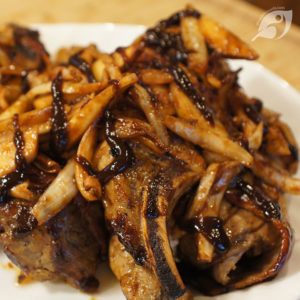 Smoked Bacon-Wrapped Country-Style Ribs with Apple and Onion
Three secrets for making juicy moist country-style pork ribs cooked in the smoker.
Add Ingredients to Shopping List or Order them Online
View Shopping List
Instructions
For the Marinade
Combine Coca-Cola, beef bouillon, vinegar, and mustard in a gallon-size zipper bag. Zip closed and turn a time or two to combine the ingredients. Place the bag inside a large casserole dish or bowl to provide stability.

Core and peel apples and slice thin, add to bag.

Remove onion skin, cut off the root end and slice thin, add to bag.

Add garlic, cinnamon, ginger, salt, and pepper to bag mixture. Seal bag and turn it a few times to mix the liquids and ingredients.

Add the ribs, seal the bag, and marinate in the refrigerator overnight to let the flavors blend, turning occasionally.
Begin by Smoking
Preheat the smoker and start the chip burn according to the manufacturer's instructions. We used cherry wood chips in the smoker box. Apple chips would work well too. Once your smoker is preheated, set the temperature to 225ºF

Remove ribs from the marinade. Reserve and set aside the apples and onions to top for prepared ribs for smoking.

Rub the ribs with Longs Peak Pork Chop Spice and then wrap each rib with 2 to 3 strips of bacon, tucking the ends of the bacon under each rib when placing. Place the bacon-wrapped ribs on a rack placed inside a grill-safe baking pan. Be sure to allow enough space around each rib and the edge of the pan for the smoke to circulate easily.

Insert a grill-safe temperature probe horizontally through the end of one of the meatiest ribs.

When all the ribs are in the pan, pile the reserved apples and onions on top of the ribs in an even layer. The moisture in the apples and onions will cook out and braise the ribs as they smoke and cook. Add 1-1/2 cups water to the bottom of the pan.

Set your cook-to temperature to 135ºF. Add the pan to the smoker and smoke for approximately 1-1/2 hours until the internal temperature reaches 135ºF.

Towards the end of the smoking, preheat your charcoal or gas grill to 350ºF.

When the desired temperature is reached, you'll want to remove the ribs from the smoker, pick the apples and onions from the top of the ribs and place them into an 8x8-inch aluminum pan. Top the apples and onions with your favorite BBQ Sauce and place them on the top warming rack of your preheated grill to stay warm.
Finish Off by Grilling
Next, place the smoked bacon-wrapped ribs on the grill-grate of the preheated 350ºF grill, and grill the ribs on all sides until the bacon is crisp.

Once the bacon is crisp, brush each rib with a coating of your favorite BBQ Sauce and continue to flip and grill until the sauce is slightly caramelized and the internal temperature of the ribs reaches 145ºF (an instant-read thermometer is perfect for checking this).

Remove the ribs onto a serving platter and top with the apple, onion and sauce mixture, garnish with a little extra BBQ Sauce drizzle. Cover and let rest for 5-minutes. Serve.
Nutrition
Calories:
131
kcal
Carbohydrates:
14.1
g
Protein:
11
g
Fat:
3.4
g
Saturated Fat:
1
g
Polyunsaturated Fat:
0.5
g
Monounsaturated Fat:
1.4
g
Trans Fat:
0
g
Cholesterol:
28.3
mg
Sodium:
576.8
mg
Potassium:
305.7
mg
Fiber:
2.8
g
Sugar:
5.8
g
Vitamin A:
2.4
IU
Vitamin C:
3.2
mg
Calcium:
39.5
mg
Iron:
1.1
mg
(Nutritional values are an approximation. Actual nutritional values may vary due to preparation techniques, variations related to suppliers, regional and seasonal differences, or rounding.)
Copyright © 2017-2022 Kymberley Pekrul | GfreeDeliciously | gfreedeliciously.com | All content and photographs are copyright protected. The sharing of this recipe is both encouraged and appreciated. However, copying and/or pasting full recipes to any social media is strictly prohibited. Please read my Photo Use Policy for detailed guidelines and further clarification.
If you like this recipe, you might also want to try...