Crispy Gluten-Free Beer Batter Fish
As in many traditional wheat-based favorite foods sometimes a girl's just got to take matters into her own hands. The traditional Wisconsin Friday Fish Fry has been no different.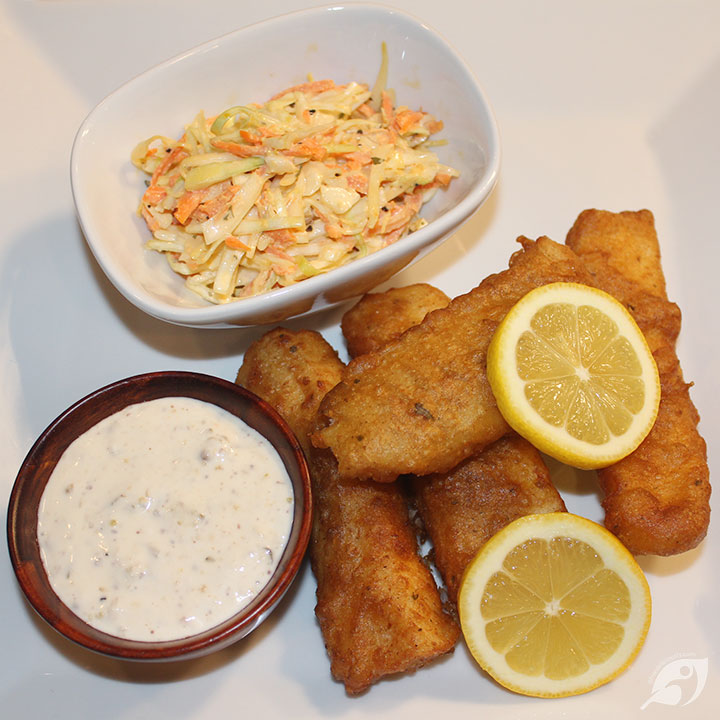 Friday Fish Fry traditions are popular in many parts of the country. Many, but not all, having to do with the Lenten season and people of the Catholic Faith being forbidden to eat meat on Friday. In Wisconsin, a state heavily settled by Catholics of German, Polish, Lutheran, and other backgrounds, the tradition is strong as ever. But, what sets Wisconsin apart is that fish fries also happen year around, and while hundreds of restaurants, bars and even churches hold fish fries on Friday's, and sometimes Wednesday's too – I'm yet to find a gluten-free Friday Fish Fry among them.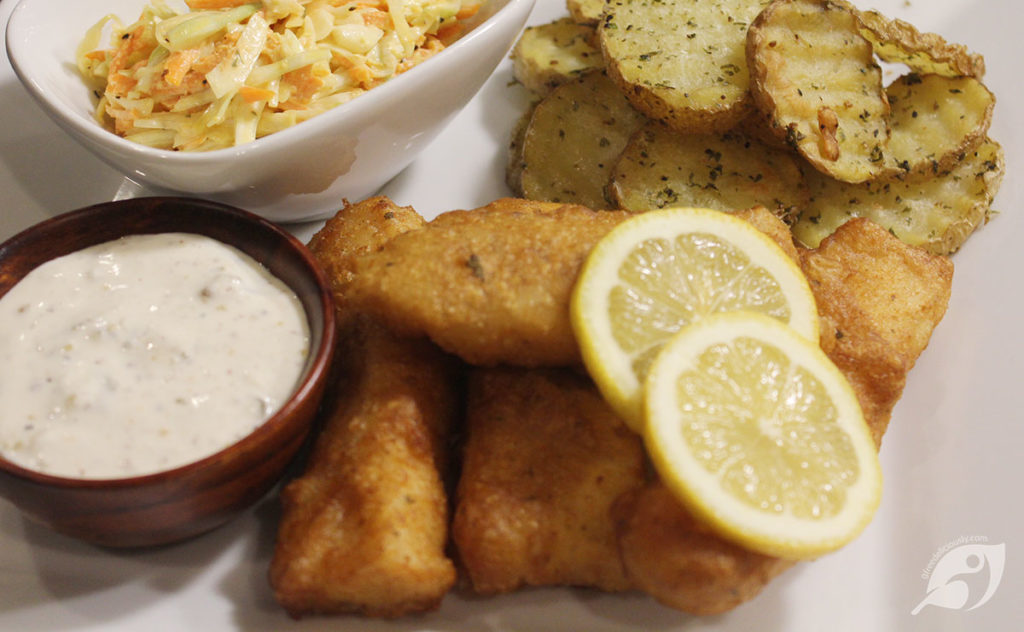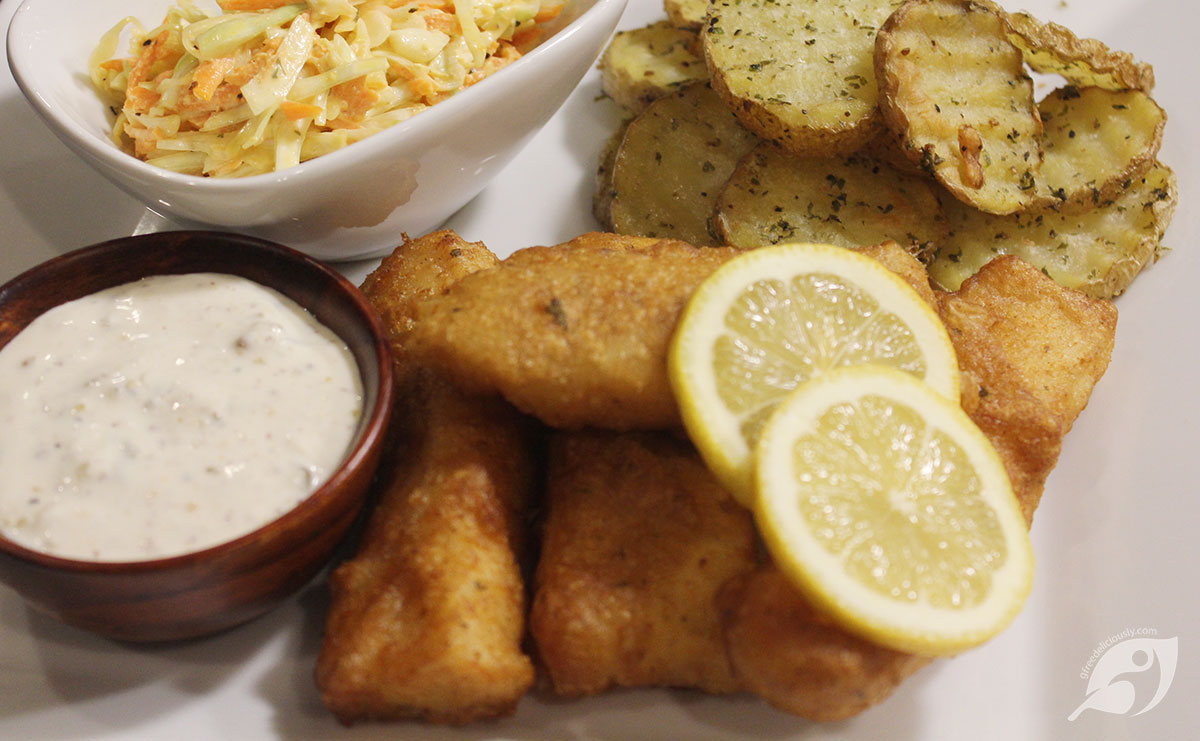 What I came up with is a version that produces a beer batter fish that is literally out of this world in crispness, flavor, and texture. It doesn't leave any funny greasy aftertaste in your mouth, and it's a welcome addition to my gluten-free repertoire. For anyone who has craved this fried delicacy, whether you're from Wisconsin or anywhere in the country, I'm sure you'll be pleasantly pleased with this treat made at home without the hassle of having to reserve a table or the long wait at the bar until you can be seated.
Follow my simple instructions, and you'll be enjoying a delicious, homemade fish fry in no time!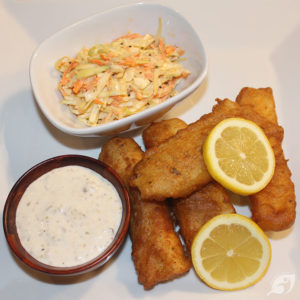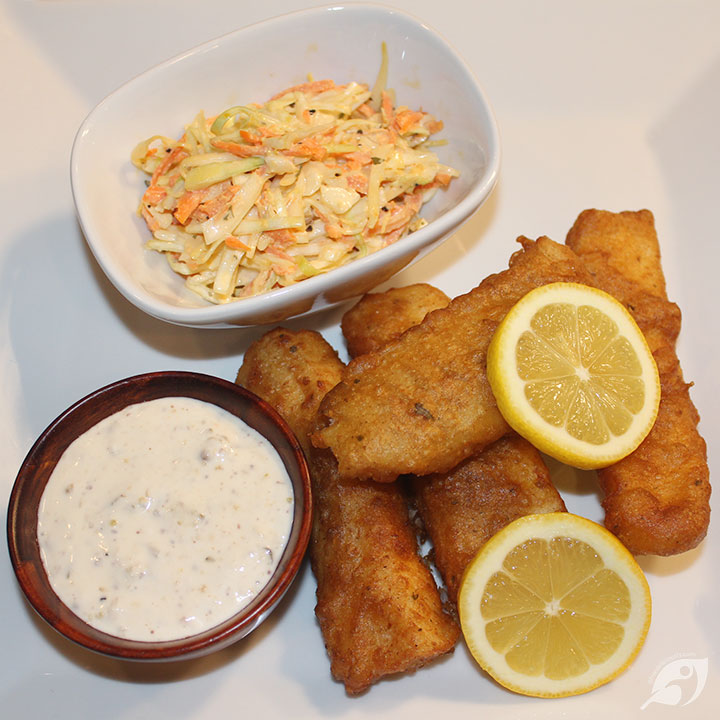 Crispy Gluten-Free Beer Batter Fish
Perfectly Crisp and Deliciously Flavorful Beer Batter Fish – You Won't Believe It's Gluten-Free.
Equipment
Deep Fryer or Large heavy pot

Deep-fry thermometer

Slotted Spoon

mixing bowl

whisk

Cooling rack

Baking sheet
Add Ingredients to Shopping List or Order them Online
View Shopping List
Ingredients
Wet Ingredients
1

tablespoon

Cider Vinegar

12

ounces

Gluten-Free Beer or Club Soda
Instructions
For Flavorful Fish
Soak the fish in a combination of lemon juice, salt, and water for about an hour before beginning.

Rinse the fish in cold water, drain, cut each filet lengthwise into strips, then cut into 3-by-1 by 1-inch wide pieces.

Blot on a paper towel to remove the excess water from each.

Lightly salt and pepper each piece, then dredge each in gluten-free all-purpose flour, making sure to shake off any excess from each piece so that they are barely coated with flour. Set aside.
For the Batter Dry Mix
Combine the flours, sugar, baking powder, baking soda, and seasonings in a zipper bag, seal and shake well to combine the ingredients thoroughly. Set aside.
Getting Ready
Start heating the oil before mixing the batter and coating the fish. If using an electric deep fryer, fill and heat your high-temperature oil according to the manufacturer's instructions. If you don't have one, use enough oil in a deep heavy pot to measure a depth of about 3-inches. You will want to make sure that the pot is deep enough so that it is no more than half full of the oil. Heat the oil to 375ºF. [1]

Next, prepare for when the fish comes out of the fryer by setting a cooling rack over a rimmed baking sheet next to your fry area. After transferring the fish, you can keep the fried fish warm on the rack/baking sheet set-up in a preheated 250°F oven. Doing this is especially helpful if you're cooking fish for a large crowd or holding to serve family-style at the table.
Coating the Fish
In a bowl measure 3/4 cup of the Batter Dry Mix to make enough batter to coat approximately 4-pieces of fish. [2] Make a well in the center of the mix and add 1 tablespoon of cider vinegar for each 3/4 cup dry measure of the mix to the bowl. Whisk in the gluten-free beer or club soda, adding in enough liquid to make a smooth batter that is the consistency of pancake batter.
Frying
When the oil is at 375ºF, put the prepared fish pieces into the batter mixture to coat them and then slide them, one at a time, into the hot oil. [3] Be sure not to crowd the pot.

Each 3-by-1 by 1-inch piece will take about 3-1/2 to 4 minutes to fry. You may have to use a spider or tongs to flip them in the oil, about halfway through the cooking, so that they cook and brown evenly on both sides. You're looking for an even golden-brown color.

Transfer the golden-brown fish to the rack/baking sheet set-up to drain for a minute or two before serving. Enjoy!
Kitchen Notes
[1] You can fry in about 2-inches of oil, but if doing it, you will notice that the heat of the oil temperature will drop quite a bit when the fish is added. By using a depth of 3-inches of oil, the temperature will stay more consistent, cooking the fish quickly without retaining as much grease as it fries.
[2] Using the entire recipe (above) for the Dry Batter Mix makes approximately enough batter for 8-10 fish pieces. I use about half or approximately 3/4 cup of the Dry Batter Mix to make 4-5 pieces of fish (enough for my husband and myself for one meal). The Dry Batter Mix keeps well in a plastic zipper bag or container for six months if kept in a cool, dry cupboard. Many times I'll double or triple the recipe to have it on hand and speed up making my next batch of fry batter.
[3] A trick I picked up several years ago when helping out at a church fish-fry was to use a bamboo skewer to spear the pieces of fish before dipping in the batter. Spear each piece about half-an-inch or so on an end and use it to lift the fish to let the excess batter drip off. With the fish still on the skewer, lower it about halfway into the hot oil and let it sizzle for about 3 seconds, then give the skewer a little shake, so the fish comes off the skewer and floats free in the oil. It's a handy trick for keeping your hands from getting all gummed up with batter!
If making homemade chips to serve with your fish fry, you'll want to fry them before the fish. Go to this recipe and keep the chips warm in a preheated 250°F. oven while you're cooking the fish.
Nutrition
Calories:
232
kcal
Carbohydrates:
39.2
g
Protein:
6.2
g
Fat:
5.3
g
Saturated Fat:
0.9
g
Polyunsaturated Fat:
0.9
g
Monounsaturated Fat:
2.5
g
Trans Fat:
0
g
Cholesterol:
8.9
mg
Sodium:
430.4
mg
Potassium:
104.5
mg
Fiber:
3.1
g
Sugar:
2.4
g
Vitamin A:
1.6
IU
Vitamin C:
0.1
mg
Calcium:
96.6
mg
Iron:
1.8
mg
(Nutritional values are an approximation. Actual nutritional values may vary due to preparation techniques, variations related to suppliers, regional and seasonal differences, or rounding.)
Copyright © 2017-2023 Kymberley Pekrul | GfreeDeliciously | gfreedeliciously.com | All content and photographs are copyright protected. The sharing of this recipe is both encouraged and appreciated. However, copying and/or pasting full recipes to any social media is strictly prohibited. Please read my Photo Use Policy for detailed guidelines and further clarification.
If you like this recipe, you might also want to try...