Homemade Strawberry Shortcake with Sweet Biscuits an Old-Fashioned Crowd-Pleasing Dessert with Classic Style...
Sooth, your summertime soul with an indulgent strawberry shortcake dessert that amplifies the taste of summer. So simple to make. Strawberries + Sweet Biscuits + Homemade Whipped Cream – Yes-sirree! It is most definitely Summertime, and this satisfying summer dessert is as easy as it is delicious!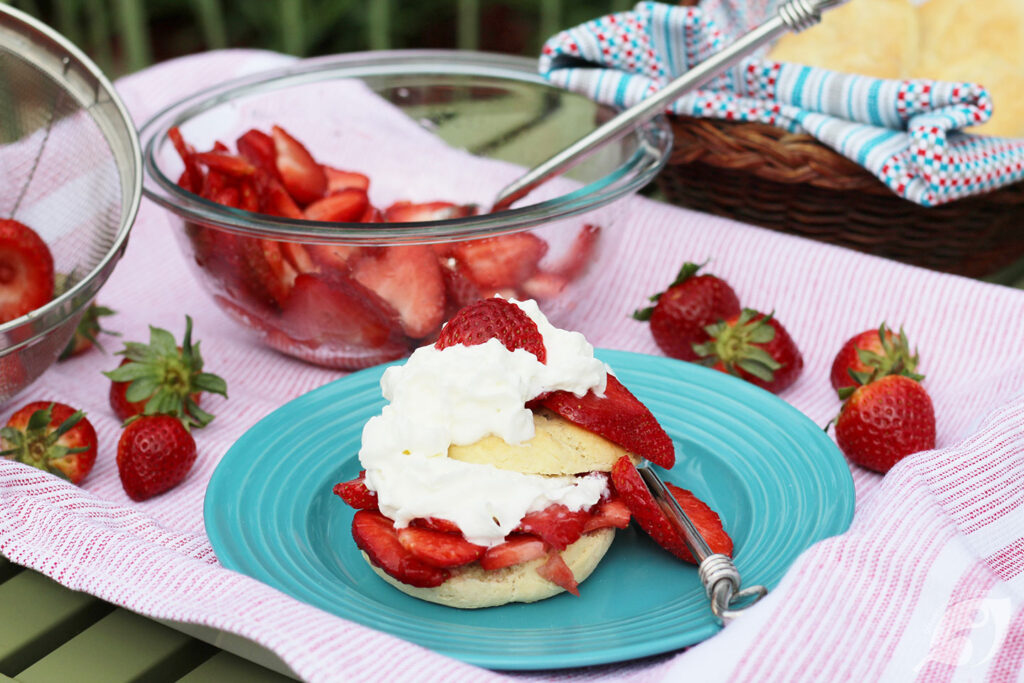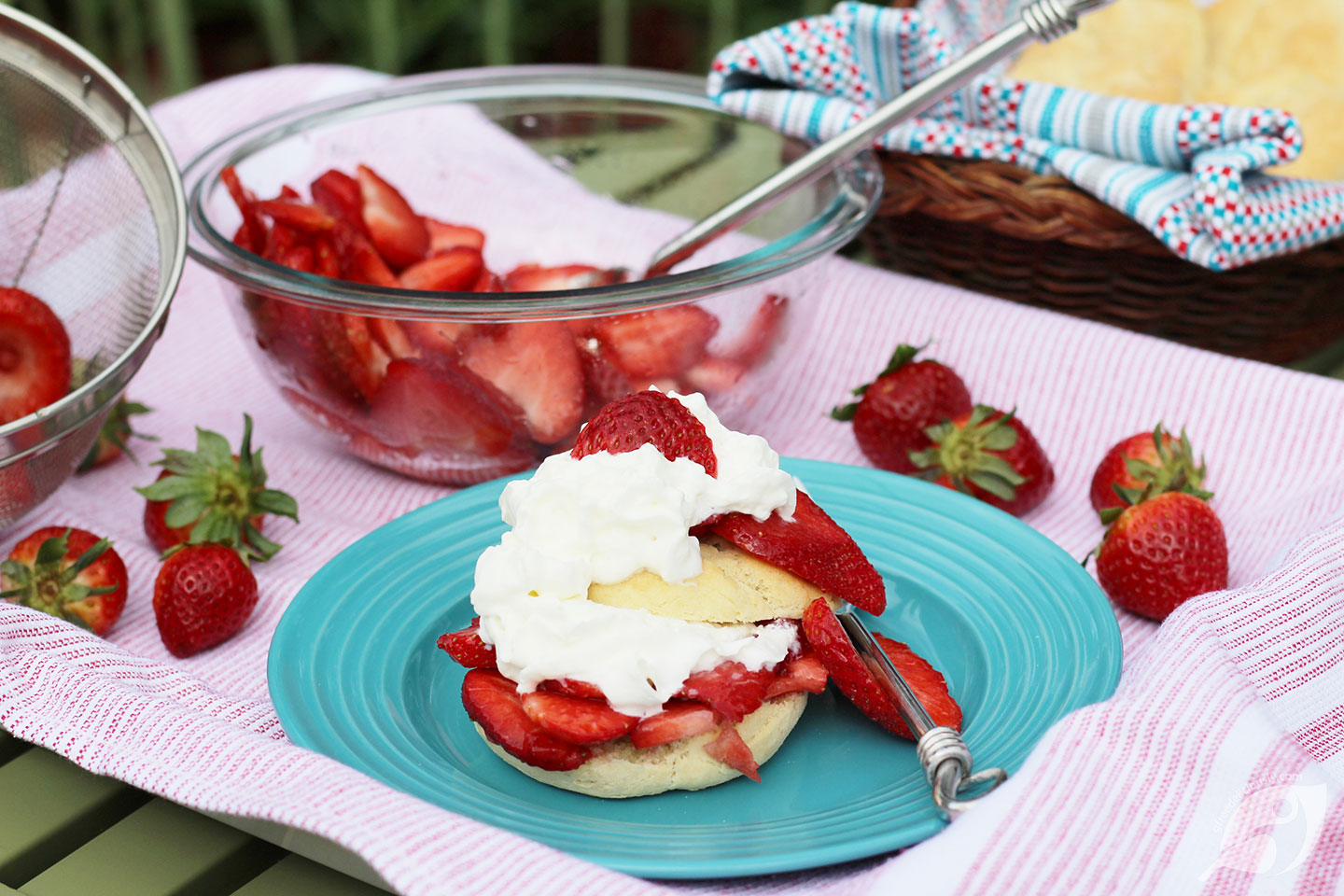 Heavenly enough to indulge upon when you are looking for a sweet little something to enjoy while relaxing on the back porch on a summer's evening; this recipe for Strawberry Shortcake with Sweet Biscuits may just become your go-to dessert for summer.
The recipe that you keep in your so-called back pocket arsenal of food-stuffs that is fun and easy enough to make with the kids, quick enough to pull together for an impromptu get together, and classic enough to impress to-be in-laws.
It is the strawberry shortcake with sweet biscuits recipe that my mom made for entertaining my to-be in-laws the first time my parents and my husband's parents met more than 40 years ago.
Nostalgic memories? Yes. Out of date? Never!
A classic dessert made from fresh, wholesome ingredients, and usually associated with midwestern and southern cuisine, the earliest known recipe for a shortcake (an unleavened rich cookie), and a predecessor to the scone, dates back to 1588 from old English cookbooks.
Who knows, but that may be why British people call cookies biscuits. We Midwesterners, and most American's to that end, I think, consider that a cookie is an altogether different treat.
As the story progresses, biscuits grew in popularity when it was mentioned by William Shakespeare when he used the name Alice Shortcake in "The Merry Wives Of Windsor" (circa 1598). But he was not referring to the tasty biscuit and fruit dessert when he wrote it.
While no one seems to know for sure, the Bard, more than likely, included the word "shortcake" as a sort of clever Shakespearean wordplay. In the play's opening scene, Abraham Slender asks his servant: "You have not the Book of Riddles about you, do you?"
The servant replies that the book (in question) was given to Alice Shortcake — and that ends the conversation.
In theory, many great scholars have thought that Shakespeare may have chosen the last name of "Shortcake" as a reference to the real-life Countess Alice Spencer, the wife of Ferdinando Stanley (a.k.a. Lord Strange) who was one of his patrons. Others believe that it may have been a character reference to someone who gave out bread to the poor, or perhaps that "shortcake" is a lustful nickname for one of Slender's lady friends.
The Unforgettable Summertime Dessert!
In the end, through the ages, shortcake is usually synonymous with shortbread, which is traditionally a crisp cookie specialty of Scotland.
Following more clues of the rich pastry or dessert that enclosed fruits. Washington Irving, in his story "The Legend of Sleepy Hollow" (1820), might also have referred to the dessert cake when he wrote about a table laid with "sweet cakes, and short cakes, ginger cakes, and crumbling cruller, and the whole family of cakes."
In America, by 1830s, strawberry shortcake is well-known and has become a best-loved American dessert. Maintaining popularity strawberries continued their grip of the nation into the late 1840s and early 1850s when people spoke about the country having "strawberry fever" serving the strawberry and biscuit dessert with butter and sweetened cream during strawberry shortcake parties to celebrate the summer fruit harvest.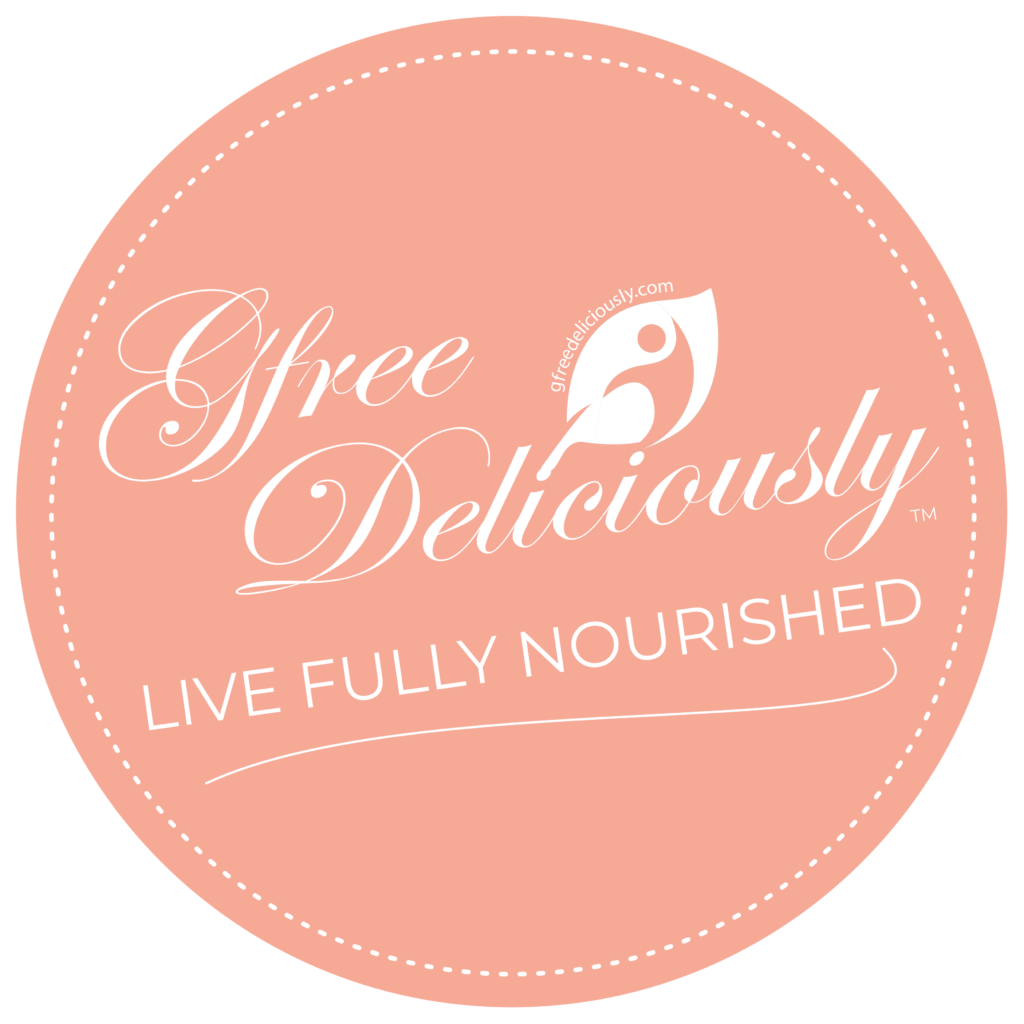 GET RECIPES • RESOURCES • +eNEWS UPDATES & MORE STRAIGHT TO YOUR INBOX !
Simple and delicious gluten-free recipes, family-friendly meal ideas, healthy cooking, encouragement, and easy-to-implement lifestyle strategies to live fully nourished… Only from GfreeDeliciously!
Today, you can find many established strawberry farms across the Midwest and all of America where you can buy them by the quart – or you can pick your own. Strawberries are also easily found at grocery stores fresh (early spring through mid-summer) and in the frozen-food section.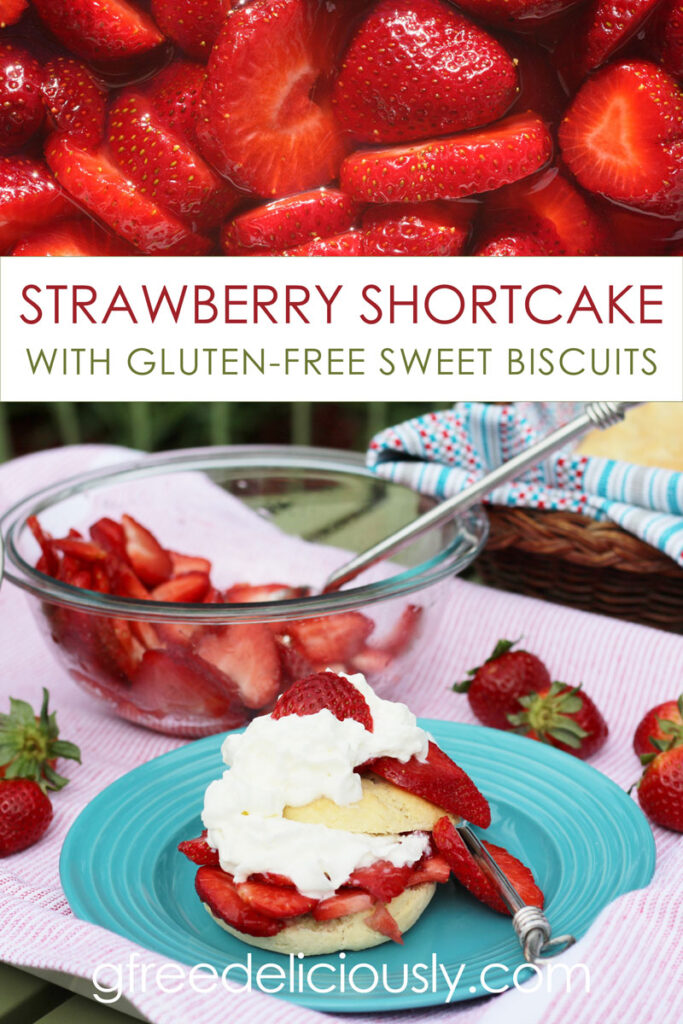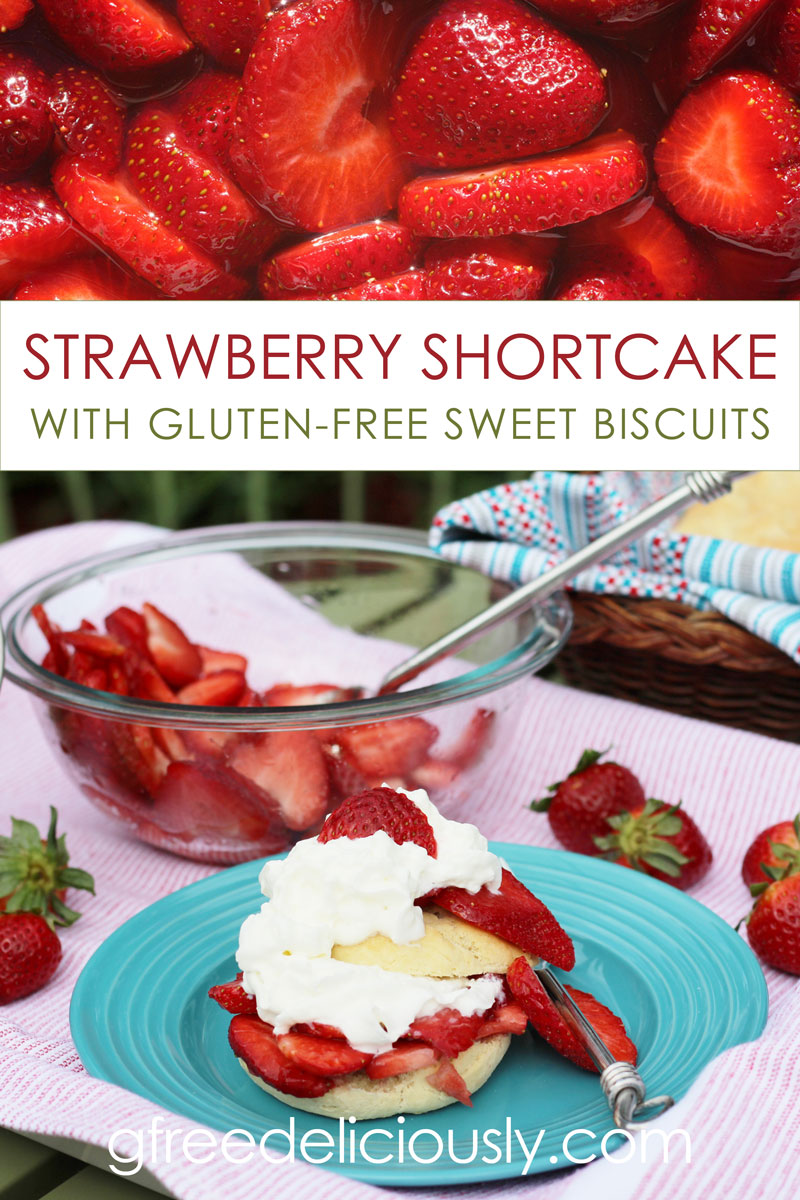 Whatever way you come by getting strawberries, most will agree that eating them, especially in a strawberry shortcake is just about the best way to spend a lazy summer afternoon.
I hope you enjoy this classic dessert recipe that's rich with food history as you celebrate this summer and all its berry sweetness!
XXO
Looking for more Summertime Desserts?
Check out these delicious recipes...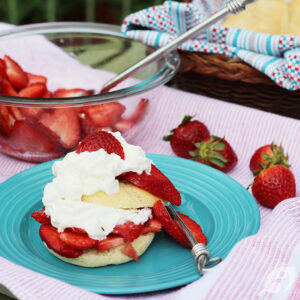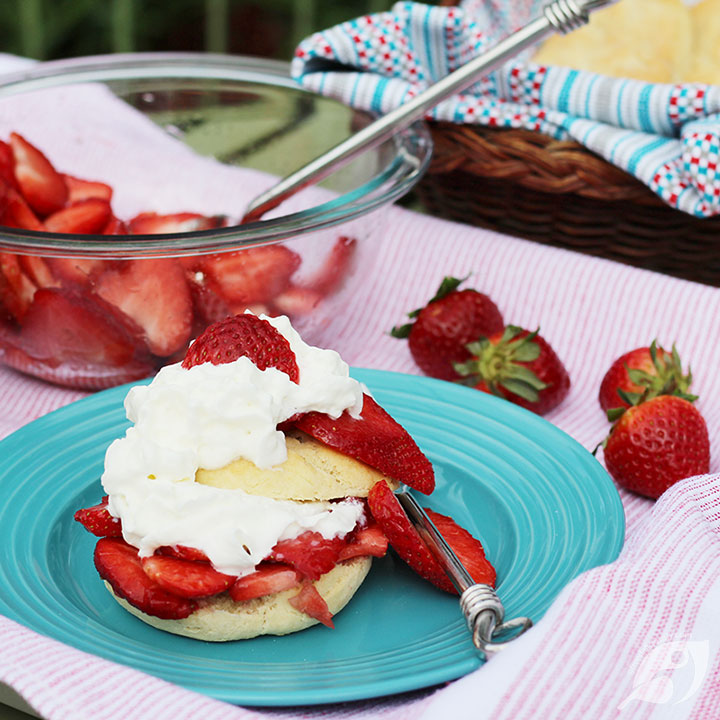 Strawberry Shortcake with Sweet Biscuits
Homemade Strawberry Shortcake with Sweet Biscuits made from scratch, layered with juicy fresh strawberries and dollops of heavenly whipped cream.
EQUIPMENT
Baking Pan

Berry Colander

Utensils (Measuring Cups and Spoons, Paring Knife, Microplane Zester-Grater, Wire Balloon Whisk)
INGREDIENTS
For the Strawberries
2

quarts

fresh Strawberries

sliced

¼

cup

sugar

2

teaspoons

lemon zest
For the Biscuits
1 ⅛

cup

Gluten-Free Baking Mix + a little more for dusting

2

tablespoons

sugar

½

teaspoon

baking powder

2

large Eggs

1

cup

cold milk

or heavy Cream

Turbinado Sugar

(optional) for sprinkling
Add ingredients to your Private Shopping List before ordering online.
Quick Add Ingredients to Shopping List
INSTRUCTIONS
For the Strawberries
Start with strawberries that have been rinsed under cold water and drained well in a berry colander. Remove the stems with a paring knife and slice or quarter the berries into a mixing bowl, add the sugar. Using a Microplane zester-grater, grate two teaspoons of lemon rind and add to the berries, cover, and set in the refrigerator until ready to use. This time allows the strawberries to release their delicious juices. Stir before assembly.
To make the Biscuits
Preheat oven to 400ºF

Combine your favorite gluten-free baking mix, the sugar, and baking powder into a medium-size mixing bowl. Whisk and set aside.

In a separate bowl, whisk together the milk and egg with a balloon whisk.

Add egg mixture to dry ingredients and mix lightly until a soft dough is formed.

Turn combined mixture onto a counter or work surface lightly dusted with gluten-free baking mix. Fold three to four times. Roll out to approximately 3/4-inch thick and form into a 6 x 9-Inch rectangle.

Cut the rectangle down the center, then vertically in two additional cuts to divide the dough into six equal-size squares. Gently form each square with your hands into a biscuit round and place on a parchment-covered half-sheet baking sheet.

Sprinkle with turbinado sugar, if desired.

Bake 16-18 minutes or until golden brown on top. Remove from the oven and cool five to ten minutes before assembling.
To make Homemade Whipped Cream
Using a hand mixer or stand mixer with a whisk attachment, beat the heavy cream, sugar, and vanilla on medium-high speed until soft-medium peaks form, about three minutes.
To Assemble
Cut the cooled biscuits in half, buttering each half with real butter. Begin the layering with the bottom half of the biscuit, add a layer of strawberries with juice, some whipped cream, then the top half of the biscuit, add a few more berries, another dollop of whipped cream and finish with a strawberry on top. Enjoy!
Nutrition
Calories:
315
kcal
Carbohydrates:
53.4
g
Protein:
5.4
g
Fat:
9.7
g
Saturated Fat:
5.2
g
Polyunsaturated Fat:
0.9
g
Monounsaturated Fat:
2.5
g
Trans Fat:
0.3
g
Cholesterol:
85.4
mg
Sodium:
236.8
mg
Potassium:
502.6
mg
Fiber:
6.4
g
Sugar:
30.2
g
Vitamin A:
111.7
IU
Vitamin C:
120.1
mg
Calcium:
255.7
mg
Iron:
2.8
mg
(Nutritional values are an approximation. Actual nutritional values may vary due to preparation techniques, variations related to suppliers, regional and seasonal differences, or rounding.)
Copyright © 2017-2023 Kymberley Pekrul | GfreeDeliciously | gfreedeliciously.com | All content and photographs are copyright protected. The sharing of this recipe is both encouraged and appreciated. However, copying and/or pasting full recipes to any social media is strictly prohibited. Please read my Photo Use Policy for detailed guidelines and further clarification.