An easy Buddha bowl recipe that you'll love it even if you aren't vegetarian!
Make this healthy dinner idea for your busy weeknight! This Roasted Veggie & Wild Rice Buddha Bowl has nutty whole grains and roasted veggies – add in roasted and seasoned chickpeas, grilled chicken, or grilled salmon for even more protein in this one-dish hearty meal that'll fill you up without weighing you down!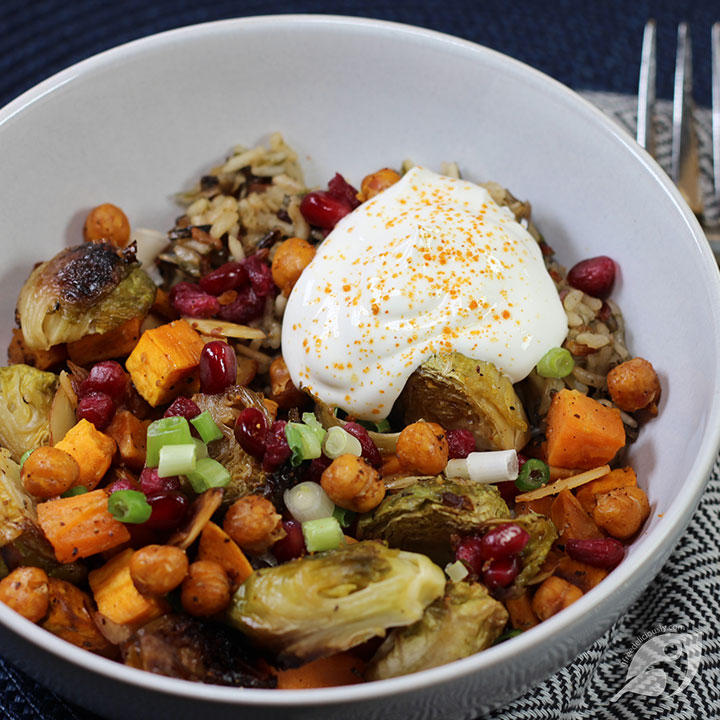 IMPORTANT UPDATE: November 1, 2022
Please note that some ingredient links in this post may have been removed or changed from our original recipe published to reflect new affiliate partnerships.
The Origin of the Buddha Bowl
Buddha bowls, named for big deep-rimmed round bowls filled with healthy-ish colorful foods, came into our homes and the food scene somewhere around 2013 when Martha Stewart Living highlighted vegetarian fare in her book Meatless.
It was one of the earliest Buddha bowl references found with whole grains, nutty plant proteins, and veggies that come together in a "Vegan" one-bowl dish.
Inspired by the monks, Martha, it seems, is responsible for coining the term "Buddha Bowl," which was called Hippie Bowls, Macro bowls, or just grain bowls up until that time. As the story goes, her inspiration came from Buddhist monks who walk around with their bowls waiting for whatever people can afford to share for filling them, therefore getting a somewhat varied selection of alms (either money or food) in the process.
But while the bowls are one of the humblest but most essential objects in Buddhist monks' daily lives, Buddha (the spiritual teacher and religious leader) cared a lot more about when his followers ate than what they ate. His main rule around food was that they should eat only during certain hours. That's why many Buddhist monks and nuns still fast from noon to sunrise the following day, as those before them have done for over two thousand years.
But then, that's a whole other story…
So are Buddhists Vegan or Vegetarian?
While many Buddhists follow a Lacto-vegetarian diet, avoid alcohol and certain vegetables, and fast from noon to sunrise the following day, the diet is flexible no matter if you're a follower of the religion or wish only to eat like a Buddhist.
Okay, so one might think that Buddha bowls are then vegan. But Martha's particular recipe noted, "It's more of a general formula than a hard-and-fast recipe since you can swap out different ingredients for variety and make use of whatever you have on hand."
Yeah, I think. That was super helpful, Martha.
In short, a Buddha bowl is a nourishing bowl filled with all types of foods.
Upon further investigation, anyone intrigued with these round belly shaped bowls eventually figured out that Buddha bowls are a one-dish nourishing meal served in a single bowl and filled with little bites of anything and everything. They consist of rice or whole grains like quinoa, then add in roasted veggies, usually a tasty dressing, and a smattering of protein like nuts, beans, tofu, lentils, or meats, fish, or even seafood.
When making them, you can use a combination of your imagination and sense of taste to combine your favorite flavors in a meatless or meat included mixture that can be eaten hot or cold, so you can take it with you wherever you travel without having to worry about heating it up. It's up to you. I'll add that you should be sure to pack it in an insulated cooler or bag with ice to be food safe.
So, depending on your mood and how hungry you are, you can decide just what to include in your Buddha bowl, and the bottom line is that it's all really about making shifts in your daily diet to eat healthily anyway.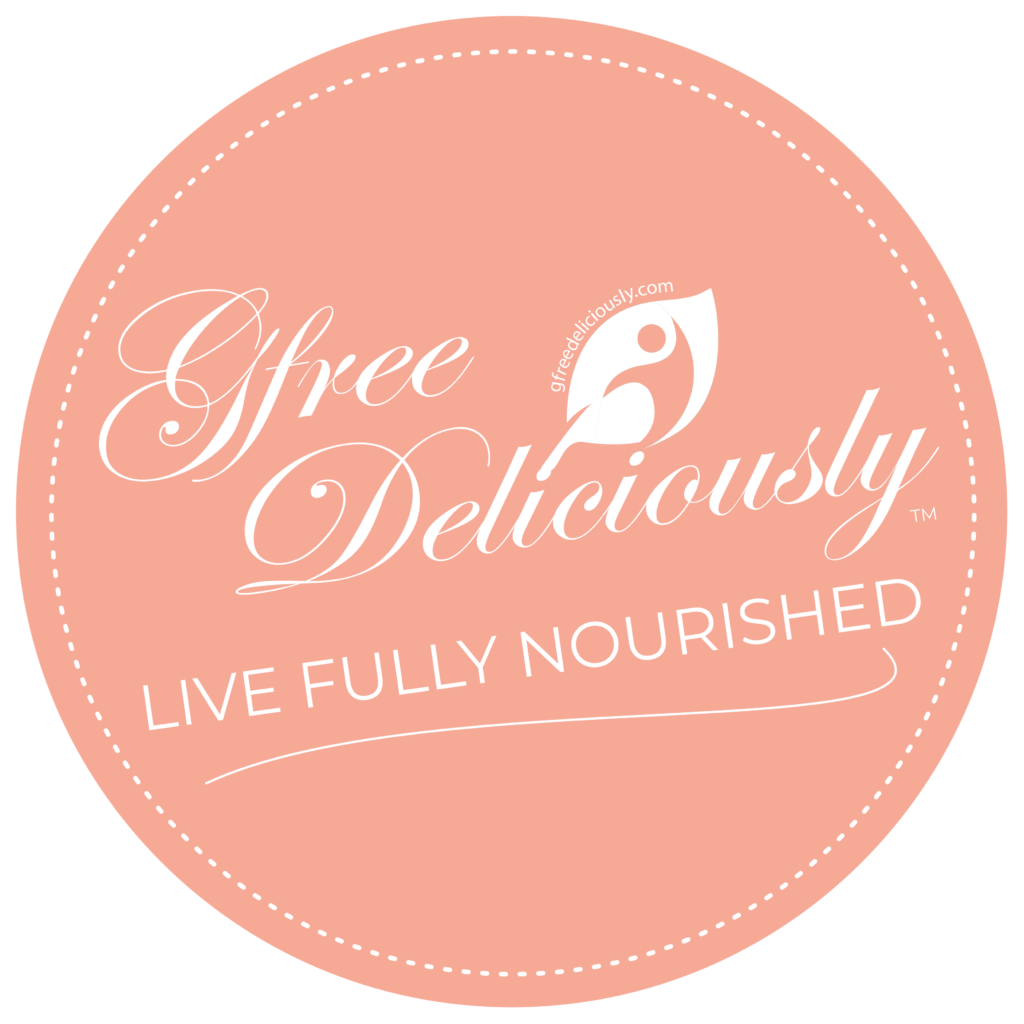 GET RECIPES • RESOURCES • +eNEWS UPDATES & MORE STRAIGHT TO YOUR INBOX !
Simple and delicious gluten-free recipes, family-friendly meal ideas, healthy cooking, encouragement, and easy-to-implement lifestyle strategies to live fully nourished… Only from GfreeDeliciously!
How to make this Roasted Veggie & Wild Rice Buddha Bowl
This Buddha bowl combination (that I often make) is a delicious blend of roasted Brussels sprouts, sweet potato, slivered almonds, and wild rice topped with pomegranate seeds and chopped scallions. It also includes a dollop of Cottage Cheese or sour cream in place of fancy sauce.
Here's how to make it: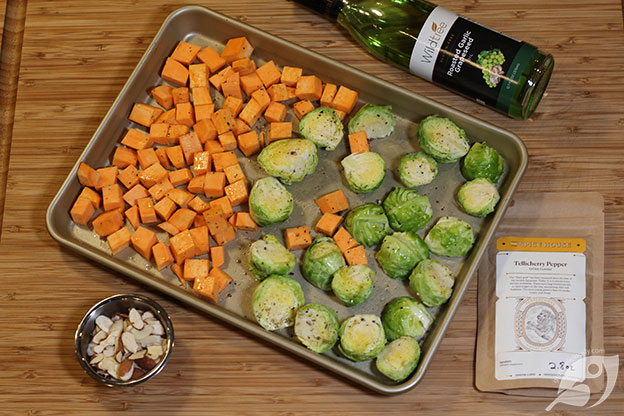 Start with roasting the Brussels sprouts and sweet potatoes – Since these vegetables take a bit longer to cook, you'll want to get these roasting right away.
Begin by preheating the oven to 400°F.
While that's heating up, remove the loose leaves from the Brussels sprouts, trim away any discolored or bad spots, and then cut them in half.
To get the sweet potato ready, you'll want to peel it, slice it into half-inch planks, then cut those planks both ways to end up with about a ½ x ½ -inch dice. Spread everything out on a sheet pan and drizzle with one tablespoon of Garlic Grapeseed Oil, sea salt, and Tellicherry Pepper, and give everything a good toss to coat it evenly.
When the oven is heated, in goes the sheet pan, you'll set the timer to 15 minutes.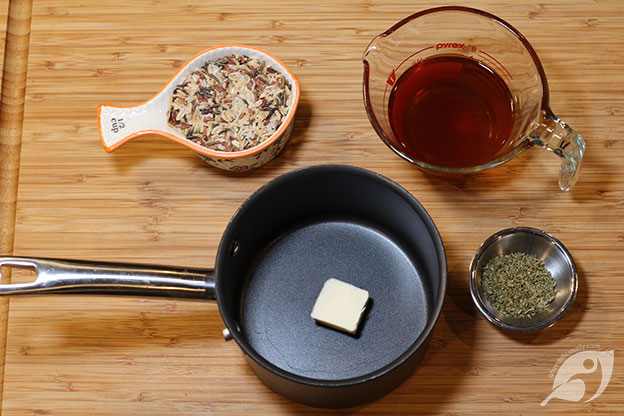 Next, let's get the rice going on the stove. For our Buddha bowl, I'm using a Wild Rice Blend.
In a small saucepan over medium heat, add the broth, oil, and parsley and bring to a boil. Lower heat, add the rice, and simmer for 15-20 minutes until the liquid evaporates.
Remove from heat until ready to serve.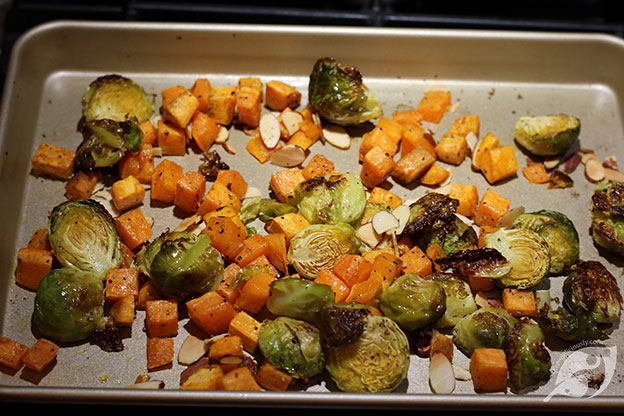 At this point, it is close to about halfway through the roasting of the veggies.
When the 15-minute timer dings, remove the sheet pan from the oven
Sprinkle slivered almonds over the top of the veggies, and give everything a quick stir.
Return the sheet pan to the oven to continue roasting for 10-15 minutes more. The veggies should be crisp and golden on the outside edges, fork-tender on the inside, and the almonds lightly toasted.
Remove from the oven when done.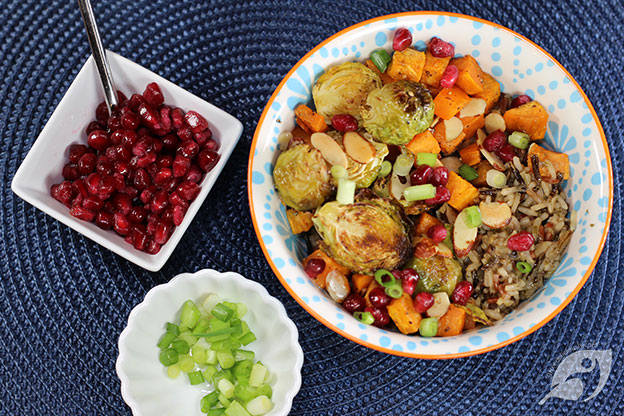 To serve, divide the cooked rice into four bowls, top each bowl evenly with Brussels sprouts, slivered almonds, and sweet potato. Top with pomegranate arils, chopped scallions, and a dollop of Cottage cheese or sour cream if desired.
Looking for some options to add a little more heartiness?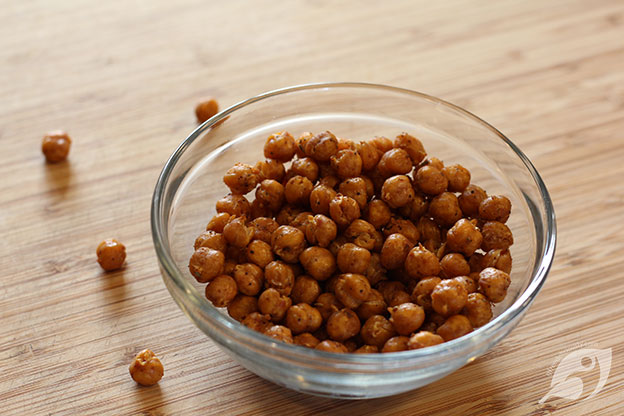 Try Roasted Cajun-Seasoned Chickpeas
Prep time: 5 minutes Cook time: 30 minutes
Preheat the oven to 375° F and line a sheet pan with aluminum foil.
Open a can of chickpeas and rinse and drain them well.
While the oven is heating up, lay the well-drained chickpeas on the prepared sheet pan and cook for about 5 minutes or until dry but not too hot.
Remove the sheet pan from the oven, and using a spatula, toss with Bacon Grapeseed Oil. Add Cajun Seasoning, toss to coat, return the sheet pan to the oven and bake for about 30 minutes, stirring every 10 minutes, or until the chickpeas are crisp but not burnt.
To add chicken breast or salmon: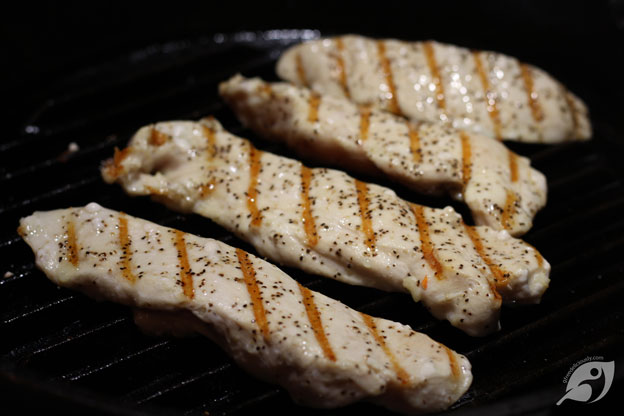 Rinse the meat with water and pat it dry.
Slice it lengthwise, then rub it with a teaspoon or two of Roasted Garlic Grapeseed Oil on both sides, and season each side with salt and pepper.
Preheat a grill pan on medium-high heat and place the meat or fish on the pan.
Grill until thoroughly cooked.
Grill until it is thoroughly cooked and no longer pink. Cooking time will depend on the breasts' thickness, so I recommend using a cooking thermometer to check for doneness. The thickest part of the breast should be 165°F.
Place the salmon, skin-side up in the pan. Cook until golden brown on one side, about 4 minutes. Turn the fish over with a spatula, and cook until it feels firm to the touch and the skin is crisp if desired, about 3 minutes more.
I like to cook all the ingredients simultaneously so that the whole meal comes together in about 30-minutes. When finished, it's easy to assemble the ingredients into a bowl; you can serve them immediately and enjoy!
These bowl ingredients all keep nicely in the fridge if you want to meal prep this recipe for tomorrow's lunch or later in the week.
More Easy One-Dish Meals to Try...