Hearty & Healthy Turkey and Pumpkin Chili
Simple wholesome food for those days when you need a meal ready to eat lickety-split!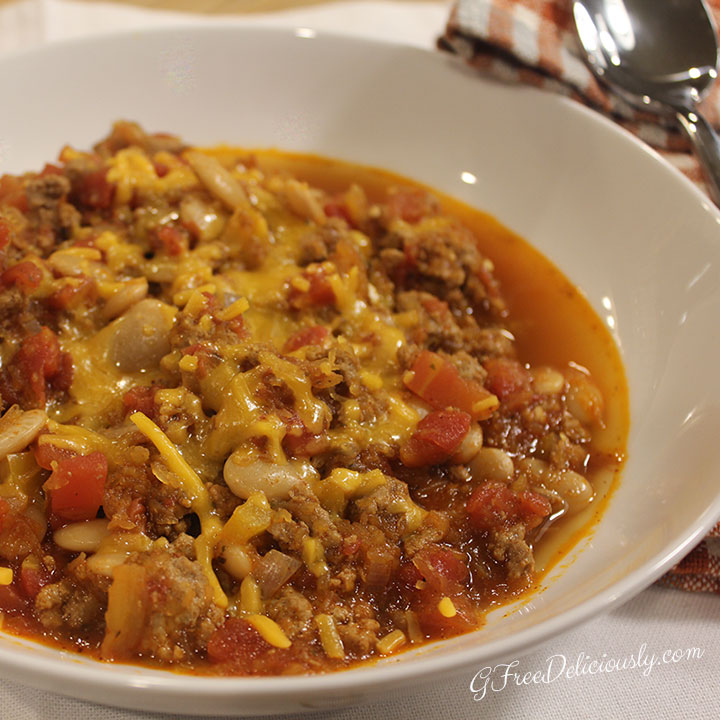 During busy pre-holiday schedules, when the weather turns colder, there's nothing better than warming up with dinner served up in a bowl that screams "Make Me!" Simple wholesome food for those days when you want a meal ready to eat lickety-split! This Hearty & Healthy, Sweet-n-Slightly Spicy Turkey Pumpkin Chili recipe is now one of my go-to meals that's super satisfying, has great flavor, is easy to make, and is simple to double or triple the batch if you're feeding a crowd. Perfect for throwing together or making ahead for a dinner that's ready in no time flat!
The inspiration for this Turkey and Pumpkin Chili recipe originally came after a week of being too busy to make it by the grocery store. My dear hubby was going to be home in less than an hour. So, there I was looking for ingredients for what might be called "Kitchen-Sink Chili" made from ingredients that I typically have on hand in my freezer, pantry, and refrigerator.
That's when I discovered that I was out of all types of ground frozen burger, kidney beans, chili beans and green peppers all ingredients I use in my beef-based chili recipe. My heart began to pick up its pace.
What now? Humm, I stood as if frozen in my footsteps with the freezer door wide open, gawking, pondering, thinking, wondering…
Spying a nearly 6-month old package of frozen ground turkey, I grabbed it quicker than a one-armed bandit! Nearly jumping for joy, I turn, catching the freezer door with my foot to close it, "This could be what's for dinner tonight," I reaffirm out loud to myself.
By the way, talking to yourself is totally permissible, especially when your needing inspiration and you have no idea what you're about to come up with for dinner.
Another glance at my watch shows fifty minutes and counting before dear hubby is home.
Not that he expects dinner to be on the table when he arrives. He doesn't. It's all in my head, the reasoning, agonizing about why something needs to be simmering on the stove or baking on the oven, awaiting his arrival. It's completely a hang-up I own.
I'm sure that some psychotherapist somewhere could explain why I put this pressure on myself. Never the less I do it. For whatever reason, I have this crazy idea that if dinner is underway and I can make it look like everything in our world is harmonious, life rolling along blissfully then, in fact, it will be just that: no stress, no worries, simply a blissful world at Lac du Nibiinaabe.
Another glance at my watch confirms just forty-five minutes now.
"C'mon girl, get with it! No time to spare." The voice in my head propels me into action.
I begin loading my arms with fixings from the pantry – Canned Tomatoes, Baby Butter Beans ("Thoughts" – Yes/No??? Yes. The flavor of the beans should go well enough with turkey.), Red Onion, Canned Pumpkin (WHAT? Canned PUMPKIN??? Oh, what the hey, YES, Canned Pumpkin. I think I've read about using it in chili somewhere.)
All ingredients gathered, plop or rather thud, into the skillet the frozen ground turkey is finally on the stovetop. Add a little water, medium heat, cover with a lid and the frozen mass is on its way to thawing quickly. Thanks to my mix-n-chop-it tool, as the turkey thaws and cooks it's easy to break down into smaller sized pieces right in the pan. Then comes the olive oil to brown the meat on all sides.
While the turkey cooks, I chop up the onion and yellow pepper from the fridge, then add them to the skillet to sauté along with garlic before stirring in the remaining ingredients.
The magic begins. The kitchen transformed into a pleasing place full of warmth. "It smells wonderful in here!"
I turn the burner to a low simmer. The breezeway door opens. Hubby's home.
"Hi, honey! Glad you made it!"
Under my breath, a silent sigh of relief. Whew! Calming, the tension in my body relaxes, I smile knowing that everything has come together just in time.
"How was your day?" I ask nonchalantly. "Oh, and by the way – dinner should be ready in about thirty minutes…"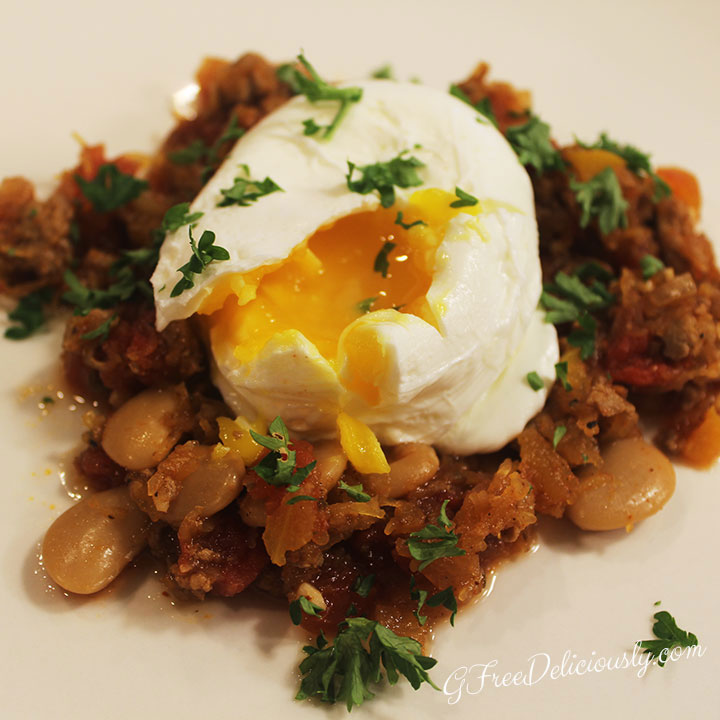 Most importantly, a quick fifteen minutes is all it takes to get this yummy chili ready to simmer. Not bad for a dish that can easily be reheated, last a few days, and is perfect as part of breakfast, for lunch or dinner!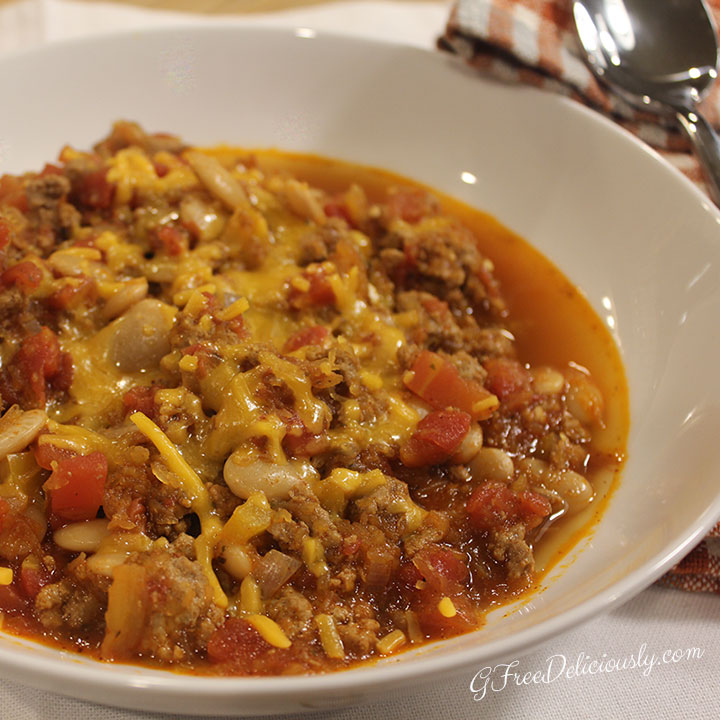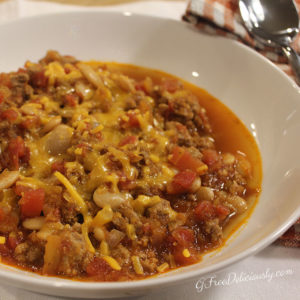 Hearty & Healthy Turkey Pumpkin Chili
Hearty & Healthy, Sweet-n-Slightly Spicy Turkey Pumpkin Chili that's super easy and quick to make on the stovetop or in the slow-cooker. It'll stick to your ribs – not to your waistline!
Add Ingredients to Shopping List or Order them Online
View Shopping List
Ingredients
1

pound

ground Turkey

1

Tablespoon

Olive Oil

1

medium Red Onion

diced

1

medium Yellow Bell Pepper

diced

1

clove

Garlic

(fresh or jarred), minced

1

can

Pumpkin

1

can

Baby Butter Beans

drained and rinsed

2

cans

Diced Tomatoes

canned, packed in juice

1

Cup

Chicken Stock

or 1 Chicken Bouillon packet plus one cup water

2

Tablespoons

Chili Powder

1

Tablespoon

Maple Syrup

Cheddar Cheese

grated for topping.
Instructions
Heat a large deep skillet over medium heat, add olive oil and ground turkey, stir and chop to brown the meat on all sides.

Add onion, pepper, and garlic to the skillet, sauté for about three minutes until the onion begins to turn translucent and peppers are slightly tender.

Stir in remaining ingredients, turning in the pan until everything is combined. Reduce burner heat to medium-low and simmer for 30-45 minutes for the flavors to blend*.

Serve with Cheddar Cheese
Nutrition
Calories:
395
kcal
Carbohydrates:
36.6
g
Protein:
29
g
Fat:
16
g
Saturated Fat:
5.8
g
Polyunsaturated Fat:
2.7
g
Monounsaturated Fat:
5.8
g
Trans Fat:
0.3
g
Cholesterol:
72
mg
Sodium:
576.4
mg
Potassium:
1079.9
mg
Fiber:
11.5
g
Sugar:
10.8
g
Vitamin A:
637.6
IU
Vitamin C:
37.1
mg
Calcium:
231.9
mg
Iron:
4.8
mg
(Nutritional values are an approximation. Actual nutritional values may vary due to preparation techniques, variations related to suppliers, regional and seasonal differences, or rounding.)
Copyright © 2017-2022 Kymberley Pekrul | GfreeDeliciously | gfreedeliciously.com | All content and photographs are copyright protected. The sharing of this recipe is both encouraged and appreciated. However, copying and/or pasting full recipes to any social media is strictly prohibited. Please read my Photo Use Policy for detailed guidelines and further clarification.