Ground Bologna Spread with Pickles & Onions
This Ground Bologna Spread with Pickles and Onions recipe is a classic deli-style spread perfect for sandwiches or party dip. It's a spread that is both flavorful and versatile, made with ground bologna, tangy pickles, and crisp onions. Serve it spread on crusty bread, on top of crackers, or use it to jazz up your favorite sandwich. It's a simple and delicious way to enjoy the flavors of a deli sandwich in a convenient and spreadable form. Try this recipe for your next gathering or meal, and watch it become a crowd favorite!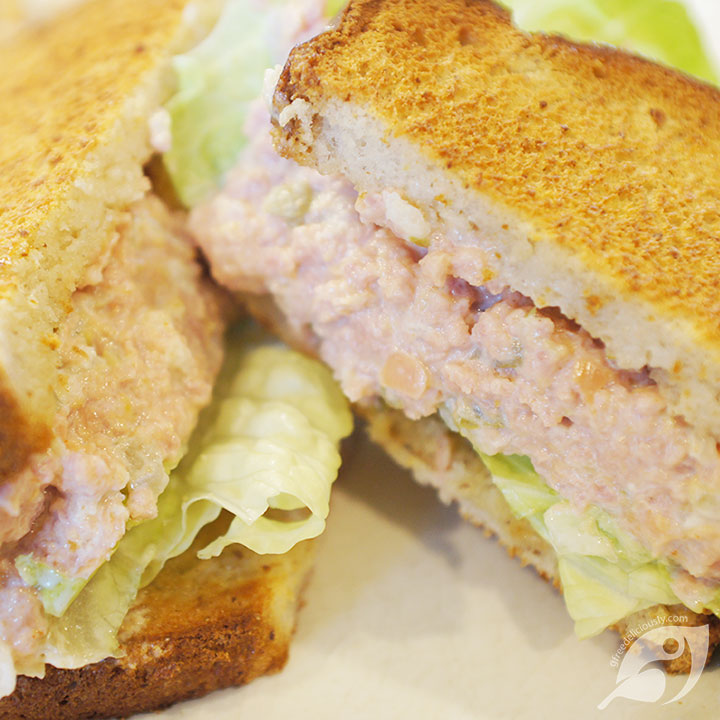 If you're from the Midwest, you're most likely familiar with the regional lunchtime and picnic favorite called ground sandwich spread. The spread is available, sold by the pound in almost every deli and Mid-Western butcher shop. It's an easy recipe to make with four common ingredients.
Making Ground Bologna Spread with Pickles & Onions at Home...
Making the spread at home was one of my all-time favorite activities as a kid. I remember the old-fashioned hand-crank meat grinder attached to the table's edge, where I'd get to push chunks of ring bologna, pickles, and onions into the grinder's throat, turning the handle to make the delectable spread.
Through the magic of the gadget, each ingredient was ground, pushed, and then extruded through the tiny holes at the front into a bowl where the bits and their juices were collected and then mixed with creamy, rich mayonnaise dollops.
The whole process was a taste-as-you-go interactive kitchen adventure to create just the right flavor combination – and what an experience it was. I think it may have been experiences like that one that taught me that some ingredient combinations are naturally just meant to go together.
A refrigerator food staple…
At our house, having a ring of beef bologna in the refrigerator was common when I was growing up, and pickles and onions could always be found in our pantry. And even though they are relatively simple ingredients, they never stopped Mom from mixing them into this delicious spread. They were served as a quick lunch, a snack, or even to satisfy hungry guests who unexpectedly stopped in for a visit.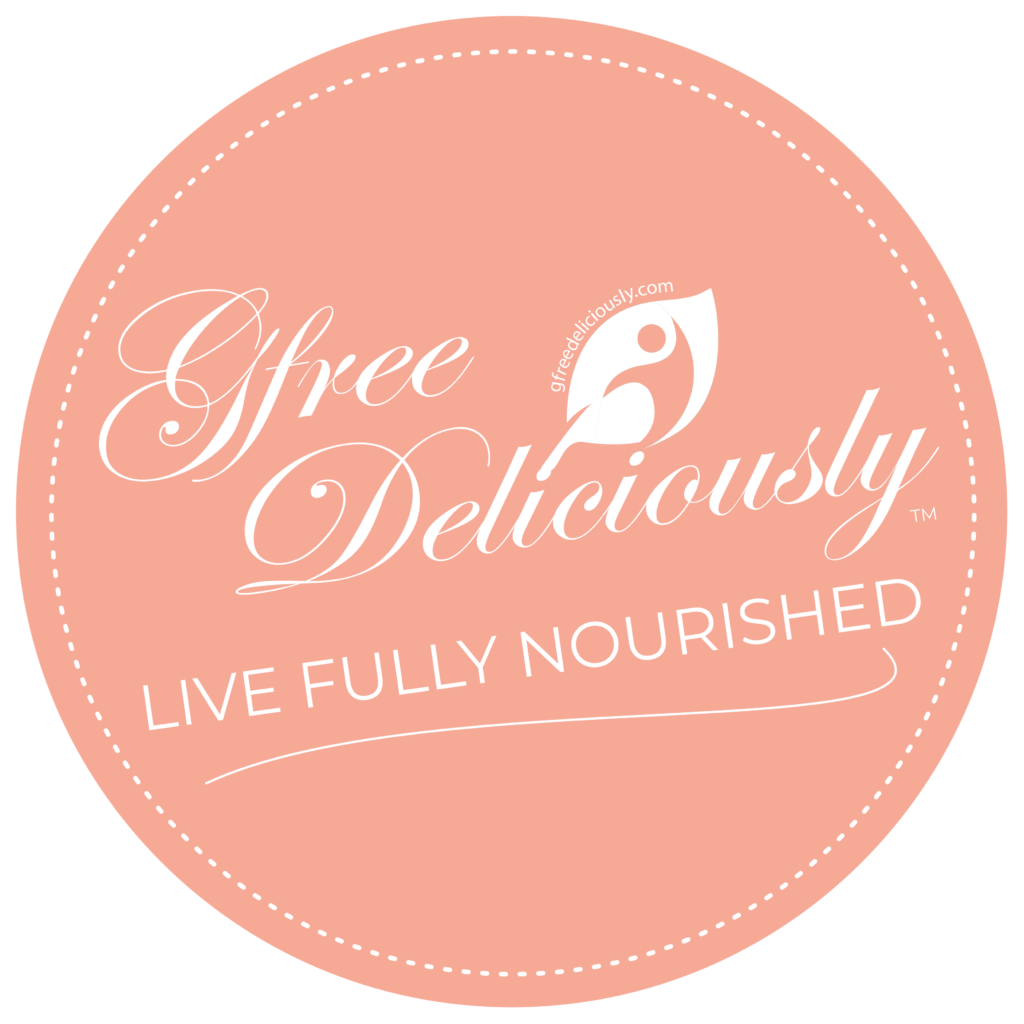 GET RECIPES • RESOURCES • +eNEWS UPDATES & MORE STRAIGHT TO YOUR INBOX !
Simple and delicious gluten-free recipes, family-friendly meal ideas, healthy cooking, encouragement, and easy-to-implement lifestyle strategies to live fully nourished… Only from GfreeDeliciously!
The meat spread with many names...
From Michigan to Wisconsin, Indiana to Pennsylvania, I've seen this spread sold in deli and butcher shops by a handful of different names. You might have seen or bought it as:
Bologna & Pickle Spread: But of course.
Pickle Wrap Spread: I'm guessing it has become more prevalent in recent years since wraps have become popular.
Ham Spread or Ham Salad: Contrary to its name, upon querying the staff, there is no ham used in the recipe
PM Sandwiches: I ran across this name used in Central Pennsylvania, where, according to the deli staff, the meaning is anything made with pickles and meat.
Funeral Spread: Given its name because sandwiches made with the spread often show up at the meal served during wakes.
Monkey Meat Spread: Before you run away, please know that no monkeys were harmed in making this spread. This version's endearing name is given because kids go bananas over it! (On a side note, the term 'Monkey Meat' reminds me of the "Greasy Grimy Gopher Guts" song my grandpa taught me over 50 years ago when I was a little girl. You may recall it, too. The song dates to the mid-20th century and is sung to the tune of "The Old Grey Mare." The words to the song are pretty gross, including the phrase 'Mutilated Monkey Meat,' although I'd admit that the words never grossed me out, and they were pretty easy to remember for a kid having fun with her grandpa.)
If you're unfamiliar with the words and the song's tune, you can find them HERE.
Regional versions of the recipe may also include other ingredients such as American cheese, cheddar cheese, or chopped hard-boiled eggs.
During WW II, Armour and Company, the largest producer of canned meat in America, supplied millions of tins of canned meat and meat spread for Army rations. The Armour brand of Star Canned Meats, as part of the 5-in-1 Ration carried by U.S. Armored Forces operations in enemy territory, provided soldiers, even during active fighting, with three balanced meals each day – mainly composed of canned and dehydrated foods.
Ads supporting the war effort encouraged loyal Americans to get along on less meat and "to seek only his fair share" and, – "For finest quality and flavor ask for Armour's Branded Products. Star Canned Meats – Star Ham and Bacon, Star Beef, Veal and Lamb – Star Sausage – Coverbloom Poultry and Dairy Products."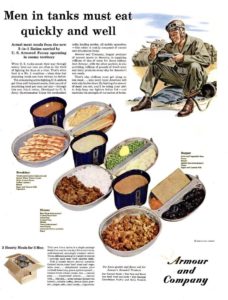 The Great Depression
Thankful for the Greatest Generation and all they sacrificed for our freedom and our American way of life, I can only imagine from what I've been told about life what it was like growing up during the Great Depression; the people who came of age during World War II, those who fought in it, or whose labor helped win it.
My parents, in-laws, and grandparents were part of that time when the world's economy was intensely declining– when war shaped the lives and hearts of America's young men and women through the hardships, conflicts, and devastation they experienced. It's hard to imagine, in my life of plenty, what they not only lived through but survived.
In war times, it was considered a treat…
I remember hearing stories about how this simple bologna, pickle, and onion spread was considered a treat and a fancy extravagance to those in our family during those days.
The sandwich spread, which consists of mayonnaise, pickles, bologna, and onion (ingredients that I've always considered to be nothing remotely fancy), yet when combined, presents an extraordinary mix of taste and flavor that leaves you wanting to keep eating more. I'm sure that my parents and grandparents believed the same since it was immediately devoured upon serving.
With the sandwich spread's German culinary roots and a great deal of German heritage in my family background, it doesn't surprise me that this recipe would be a favorite meal made and loved for generations.
This spread's German heritage…
In Germany, the sandwich spread is called Fleischsalat, made from German ring bologna (aka "ring wurst"). I'm told that it's nearly as common as peanut butter. Readily available in every German grocery store, the traditional version of Fleischsalat is simple with the bologna and pickles sliced thin (like julienne) in pieces about 1 inch long and about ¼-inch wide. To serve, the German bologna and pickles are mixed with German mayonnaise, a little salt, and pepper to taste, then piled onto crusty rolls, baguettes, or artisan bread.
Another German variation is Wurstsalat, a tart sausage salad prepared with distilled white vinegar, oil, and onions. Generally made from a sort of boiled sausage like Lyoner, Stadtwurst, Regensburger (two types of cooked sausage), or Fleischwurst, the salad is a traditional snack enjoyed in southern Germany.
How to make the Wurstsalat
Ingredients
1 pound German tart sausage, sliced
1 medium-sized onion
6 small pickled gherkins, thinly sliced
2 tablespoons white wine vinegar
1 tbsp liquid from the pickled gherkins
1 tablespoon cold water
2-3 tablespoons sunflower oil
salt, coarsely grounded pepper, mild paprika powder
Instructions:
Cut the sausage slices into small stripes.
Halve the onion and slice thinly.
Add sausage, onions, and gherkins into a bowl and stir to combine.
In a small bowl, combine the salt, pepper, paprika, oil, and the other liquids and whisk thoroughly.
Pour the vinaigrette over the sausage mixture and stir.
Let the salad rest in the refrigerator for at least two hours. Before eating, you'll want to remove it from the fridge for 30 minutes before serving. Serve it with fried potatoes or fresh German bread.
An extraordinary mix of taste and flavor...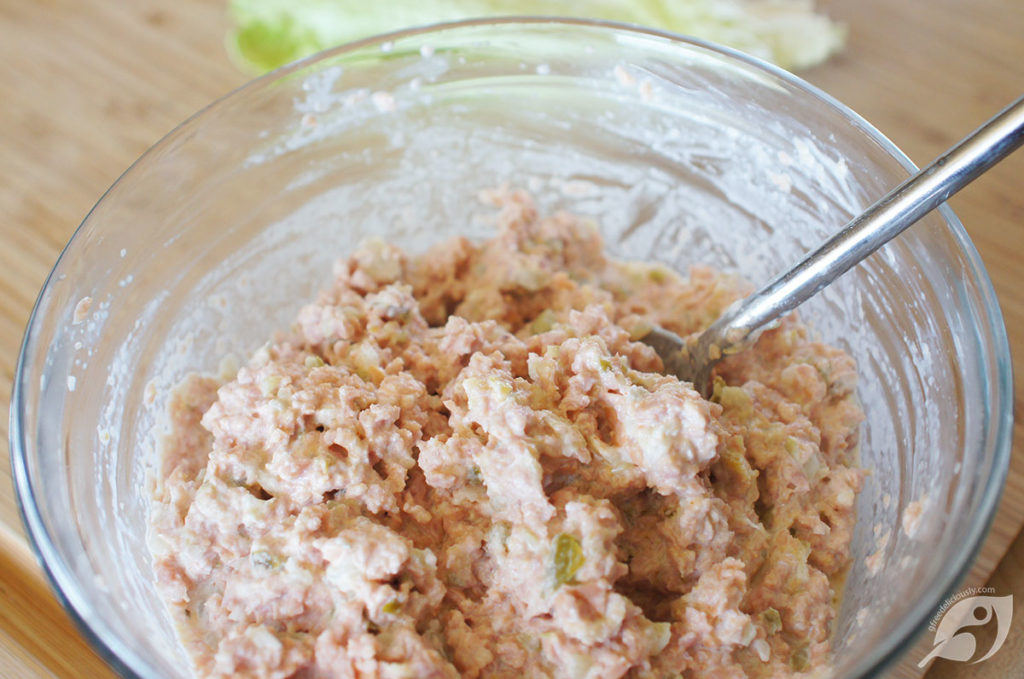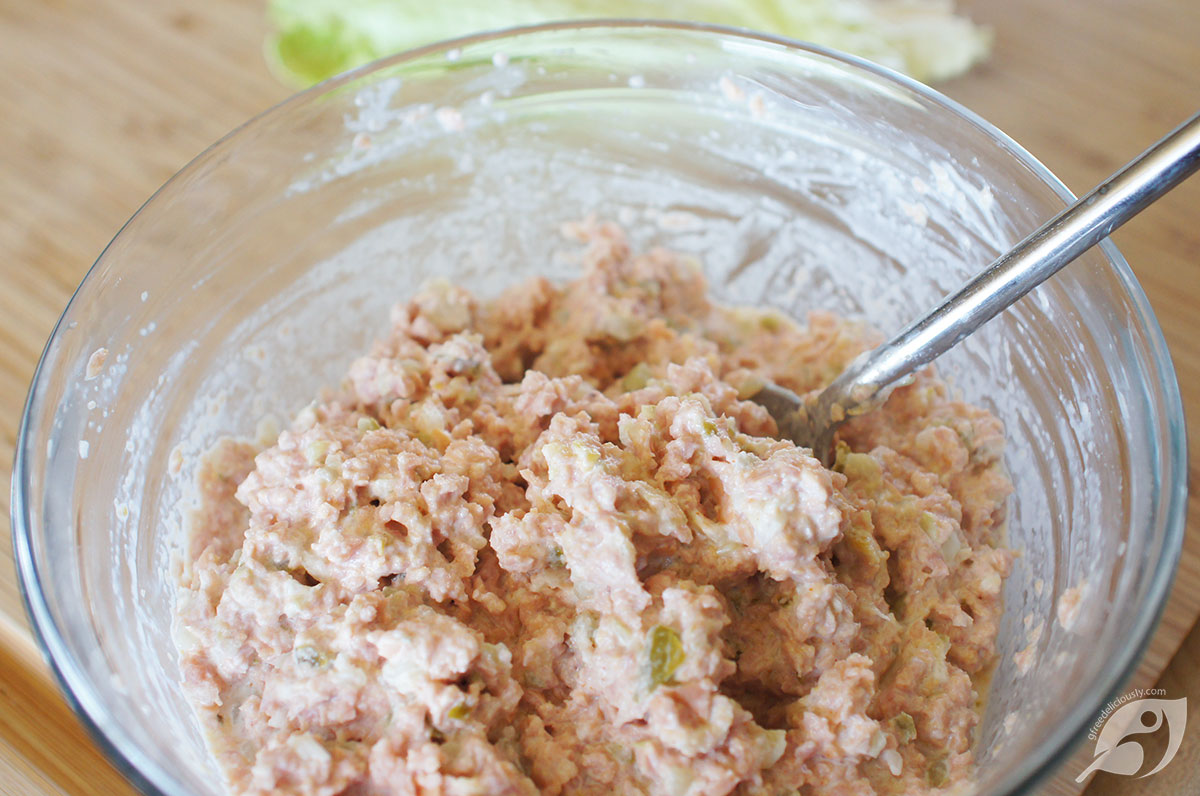 How to eat Ground Bologna with Pickles & Onions
Here in the American Midwest, our family enjoys using my recipe as a cracker or sandwich spread, a dip, a filling for cherry tomatoes as hors-d'oeuvres, or just sitting down and eating it straight from the bowl – It's really that good!
If you've made a bologna or meat spread, I'm curious where you're from and what you call it at your house. Let me know in the comments below.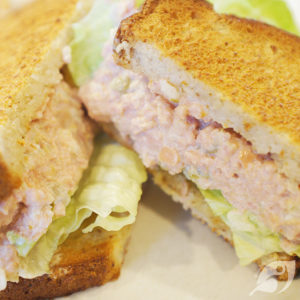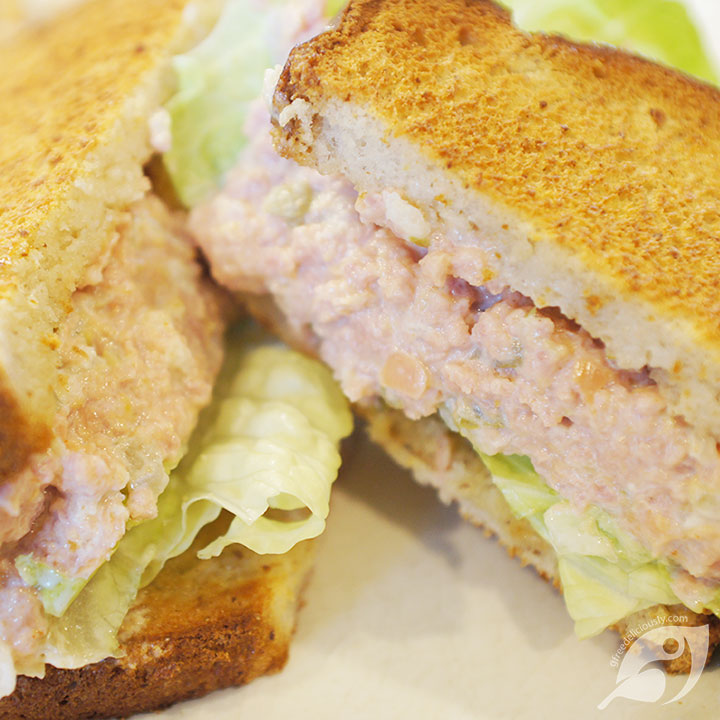 Ground Bologna Spread with Pickles & Onions
A simple and easy to make bologna spread with so many possibilities… Great for sandwiches, to use in making appetizers, or to top a cracker for a simply delicious snack!
EQUIPMENT
Meat Grinder or Food Processor

mixing bowl

Spoon or Rubber Spatula
INGREDIENTS
1 - 14

ounce

gluten-free Beef Bologna

1 ring, casing removed

4

Dill Pickles

approx. 4-inches long

1

medium

Yellow Onion

Skin removed. White onions can be used, but yellow onions are much more mild for this recipe.

½

cup

gluten-free Mayonnaise

Real Mayo, unsweetened
Add ingredients to your Private Shopping List before ordering online.
Quick Add Ingredients to Shopping List
INSTRUCTIONS
Grind bologna, pickles, and onion in a meat grinder or food processor into a medium-size bowl.

After grinding, combine the ingredients adding enough real mayo to moisten and make a spreadable consistency.

Serve immediately or refrigerate until needed.
KITCHEN NOTES
Serving Options:
Serve as a sandwich on your favorite gluten-free bread.
Spread on your favorite gluten-free crackers for a quick snack.
Dip with your favorite gluten-free chips or vegetables.
Fill cored and seeded cherry tomatoes for an easy appetizer.
Need a grinder? Here are three of my favorite options:
Nutrition
Calories:
353
kcal
Carbohydrates:
6.3
g
Protein:
14.3
g
Fat:
30.1
g
Saturated Fat:
9.7
g
Polyunsaturated Fat:
7.4
g
Monounsaturated Fat:
12.3
g
Trans Fat:
0
g
Cholesterol:
66.8
mg
Sodium:
1200.7
mg
Potassium:
343.5
mg
Fiber:
0.9
g
Sugar:
2.1
g
Vitamin A:
6.3
IU
Vitamin C:
2.6
mg
Calcium:
52.2
mg
Iron:
1.3
mg
(Nutritional values are an approximation. Actual nutritional values may vary due to preparation techniques, variations related to suppliers, regional and seasonal differences, or rounding.)
Copyright © 2017-2023 Kymberley Pekrul | GfreeDeliciously | gfreedeliciously.com | All content and photographs are copyright protected. The sharing of this recipe is both encouraged and appreciated. However, copying and/or pasting full recipes to any social media is strictly prohibited. Please read my Photo Use Policy for detailed guidelines and further clarification.