OMG! Pumpkin Oat Breakfast Bars! A healthy way to start your day!
Are you an on-the-go breakfast eater? Do you continuously look for quick healthy breakfasts ideas to eat quickly before the morning gets busy? Thick, chewy, and loaded with pumpkin flavor, these Pumpkin Oat breakfast bars are perfect for a healthy breakfast alongside fruit and yogurt or as a snack all on their own.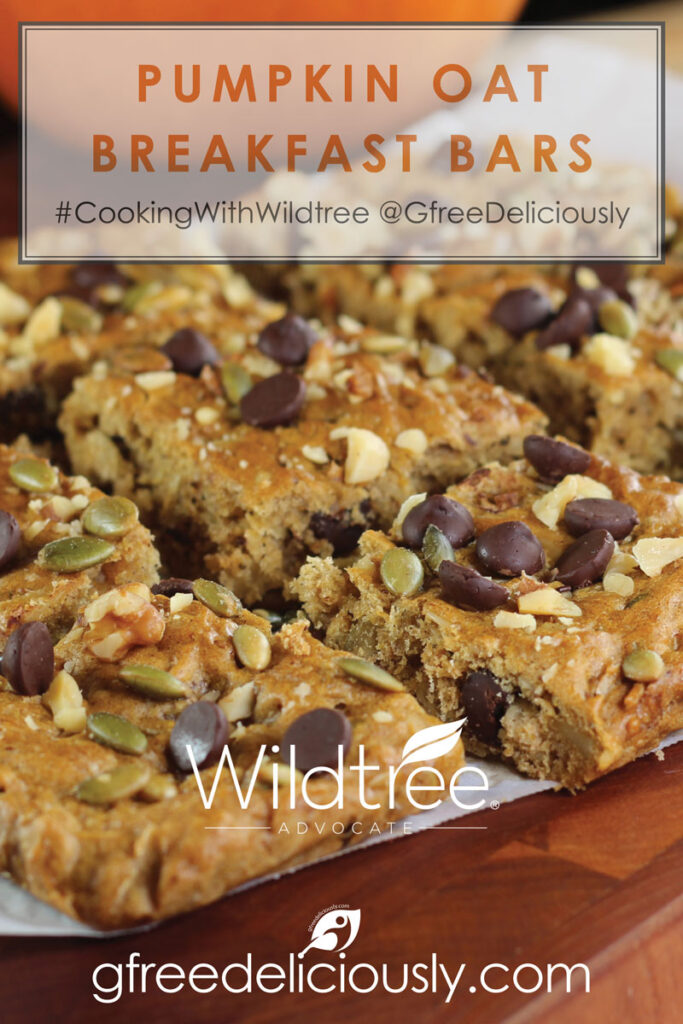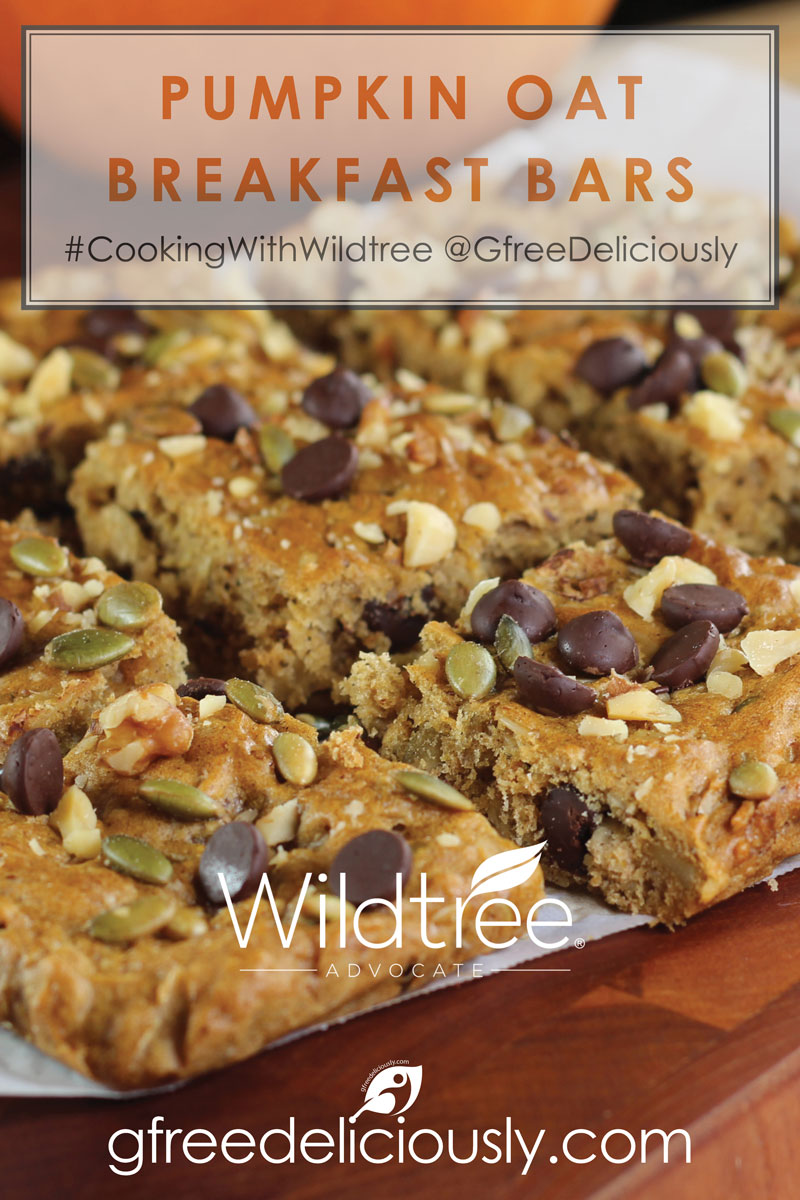 If you're like me, I try not to eat too many sweet breakfast foods as they generally don't fill me up for a busy morning. Sugar, when I eat it, is something that I'm always trying to save for dessert.
You will find that the Pumpkin Oat Breakfast Bars from the Wildtree October 2020 Fall Flavors Collection are the best of both worlds. Packed full of healthy pumpkin, chocolate chips, pepitas, and walnuts, these breakfast bars, have become a nutritious favorite this Fall around our house.
Having just the right amount of sweetness, from the brown sugar and chocolate chips, Pumpkin Oat Breakfast Bars contain a good amount of filling fiber from the oats, and satisfying protein and crunch from the walnuts and pepitas to start your day off right.
When making these bars, make sure you're using pumpkin puree, not pie filling, to avoid excess sugars. If you don't have pumpkin puree, any pureed squash will work just as well. It's also a great way to use up and bits of leftover squash from last night's dinner. Don't get stuck in thinking that these bars have to be made using store-bought canned puree. While every squash has a unique flavor, the overall taste is not so different that anyone will notice that you didn't use pumpkin. The main thing you're looking for is a semi-thick consistency in the puree, similar to mashed potatoes.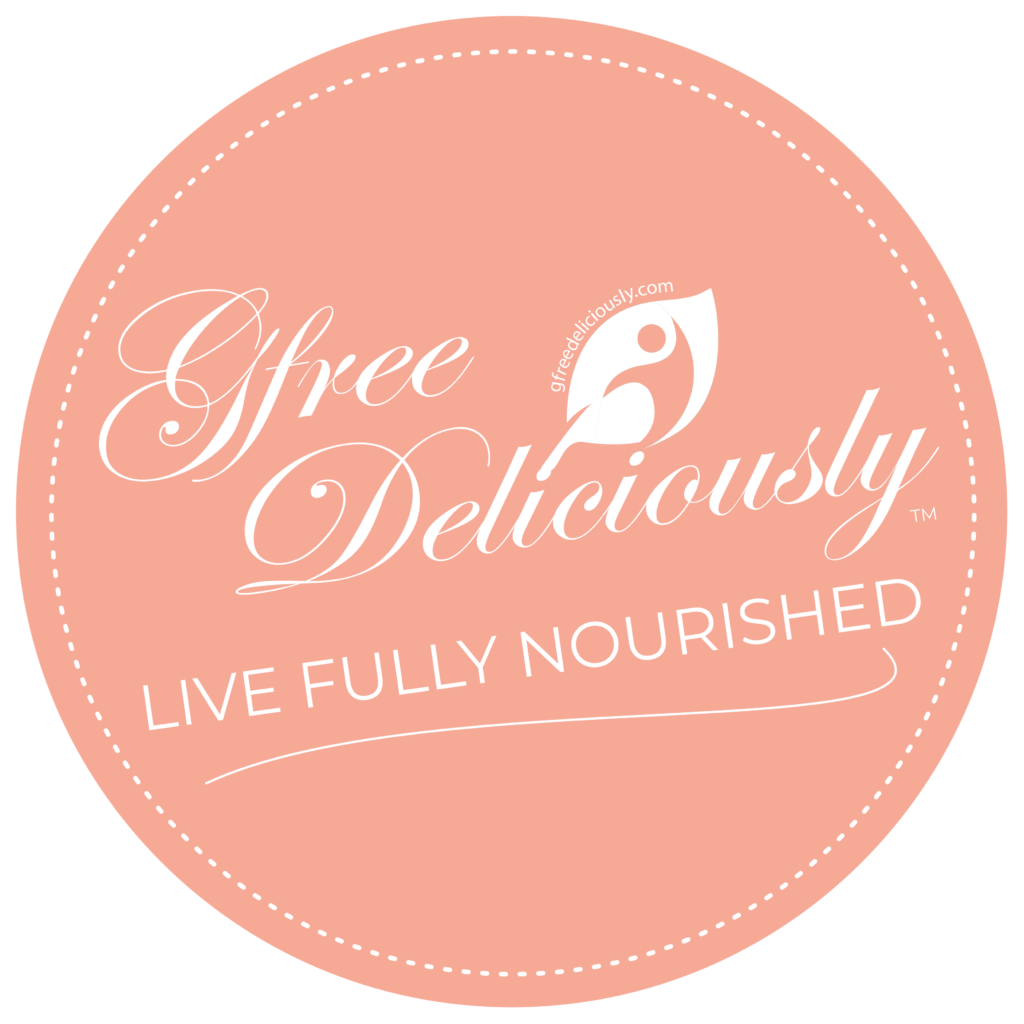 GET RECIPES • RESOURCES • +eNEWS UPDATES & MORE STRAIGHT TO YOUR INBOX !
Simple and delicious gluten-free recipes, family-friendly meal ideas, healthy cooking, encouragement, and easy-to-implement lifestyle strategies to live fully nourished… Only from GfreeDeliciously!
Catch the G-Free Deliciously Wildtree Wednesday Replay!
Making Homemade Pumpkin Puree Step-by-Step
We've chosen to follow the Wildtree recipe using walnuts and pepitas (hull-less pumpkin seeds), but here is where you could also use other types of nuts or seeds.
You can use hickory nuts, toasted hazelnuts, or even mixed nuts to add crunch and protein.
And for another excellent source of energy and healthy fats, a natural choice to use as an alternative to pepitas would be to use sunflower seeds to make the breakfast bars tasty.
Pepitas are naturally gluten-free. Most simply, pepitas are pumpkin seeds with the hulls removed. The seeds you scoop out of your jack-o-lantern each October are pumpkin seeds, and inside of those seeds are the pepitas.
A few select types of pumpkins (not the ones you carve at Halloween), but pumpkins called oilseed pumpkins, grow with only the pepitas; the part that is free from its outer shell, instead of full pumpkin seeds inside.
The name "pepita" is Spanish for "tiny squash seed." You may also hear pepitas referred to as "naked seeds." But whatever you call them, you will get a sizeable dose of minerals and nutrients, including copper to maintain healthy bones, zinc to support your immune system, and magnesium to boost your heart health. And with every pepita that you pop in your mouth, you'll get omega 3s, that can help to boost your cardiovascular system. Eating pepitas also aids in repairing muscle more quickly, helping you feel stronger thanks to their healthy dose of minerals and nutrients!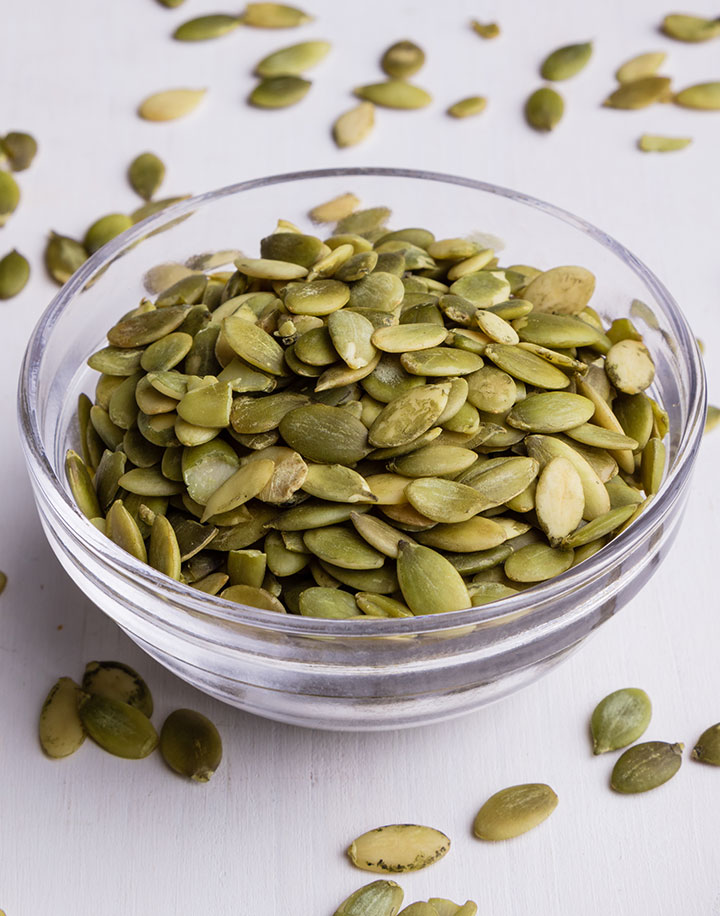 To make these bars a bit healthier, you could use maple syrup instead of refined brown sugar. Using it will give the bars an extra moistness while providing a nice bit of sweetness that will highlight the other flavors.
If you're celiac, have a gluten intolerance, or gluten sensitivity, be sure to choose a cup-for-cup or measure-for-measure gluten-free flour alternative. I chose Gf-Jules gluten-free all-purpose flour, one of my favorites, for making these Pumpkin Oat Breakfast Bars.
Additionally, rolled oats will work better for this recipe than quick-cooking oats, but you could use those too if that's all you have in your pantry. Again, if you need to be gluten-free, make sure that you're using certified gluten-free oats free from any gluten cross-contamination.
Storing Pumpkin Oat Breakfast Bars…
Pumpkin Oat Breakfast Bars will keep for several days (if you don't eat them all at once) at room temperature or in the refrigerator, providing quite a few days' worths of breakfasts for small families. You could also double or triple the recipe to make lots for a large family or make enough to freeze ahead. And they pack well to go into lunch boxes as snacks too!
Enjoy them for a healthy leisurely breakfast alongside fruit and yogurt, with a cup of coffee, tea, or eat them as a snack with a tall glass of milk for those days when grabbing something while you're on the run is needed.
For extended storage, freeze the bars by cutting them into squares, then wrap each square in wax paper and place in an airtight container to freeze where they will keep up to three months.
Hungry for more on-the-go breakfasts? Try these Gfree recipes: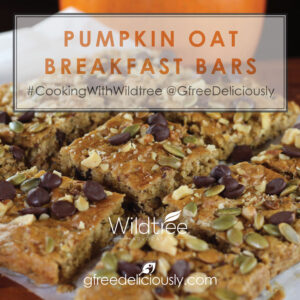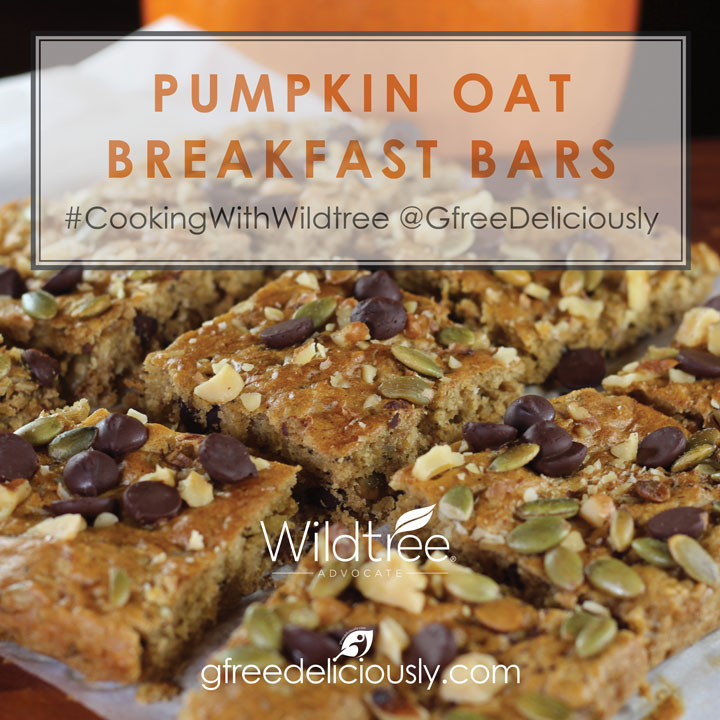 Pumpkin Oat Breakfast Bars
It wouldn't be fall without pumpkin and a house full of happy smells! Bake up the irresistible pumpkin pie flavor into these sweet Pumpkin Oat Breakfast Bars and get ready to start your day with homemade deliciousness!
EQUIPMENT
9x13-inch Baking Dish (for thin bars | 171 kCal), 8x8-inch Baking Dish (for thick bars | 260 kCal)

Parchment paper

Utensils (Measuring cups and spoons, whisk, rubber spatula)
Add ingredients to your Private Shopping List before ordering online.
Quick Add Ingredients to Shopping List
INSTRUCTIONS
Preheat oven to 350°F. Line an 8x8-inch baking dish with parchment paper and grease. Whisk together flour, oats baking soda, salt, and Pumpkin Pie Cheesecake Blend.

In a separate bowl, whisk together pumpkin puree, oil, brown sugar, eggs, and vanilla extract.

Add dry ingredients to wet ingredients and stir until combined.

Stir in half of the chocolate chips and half of the pepitas.

Transfer the batter to the prepared baking dish; spread in an even layer. Top with the remaining chocolate chips, pepitas, and walnuts — Bake for about 20 minutes or until fully cooked.

Finish with flakey kosher or sea salt if desired. Cool slightly before cutting into squares.
KITCHEN NOTES
* Pumpkin Pie Cheesecake Blend is a seasonal ingredient that is typically only available at limited times from Wildtree.
Nutrition
Calories:
171
kcal
Carbohydrates:
15.7
g
Protein:
2.8
g
Fat:
11.1
g
Saturated Fat:
2.5
g
Polyunsaturated Fat:
5.6
g
Monounsaturated Fat:
1.7
g
Trans Fat:
0
g
Cholesterol:
20.7
mg
Sodium:
78.1
mg
Potassium:
116.2
mg
Fiber:
1.4
g
Sugar:
9.4
g
Vitamin A:
61.9
IU
Vitamin C:
0.4
mg
Calcium:
16.2
mg
Iron:
0.7
mg
(Nutritional values are an approximation. Actual nutritional values may vary due to preparation techniques, variations related to suppliers, regional and seasonal differences, or rounding.)
Copyright © 2017-2023 Kymberley Pekrul | GfreeDeliciously | gfreedeliciously.com | All content and photographs are copyright protected. The sharing of this recipe is both encouraged and appreciated. However, copying and/or pasting full recipes to any social media is strictly prohibited. Please read my Photo Use Policy for detailed guidelines and further clarification.