S'mores – Make this American Campfire Classic for an Anytime Cookie Treat!
Christmas magic aside, these cookies will make you feel like a kid again – You'll love this S'mores cookies recipe with graham crackers using Wildtree S'mores Dessert Blend. Make them in the oven to bring back memories…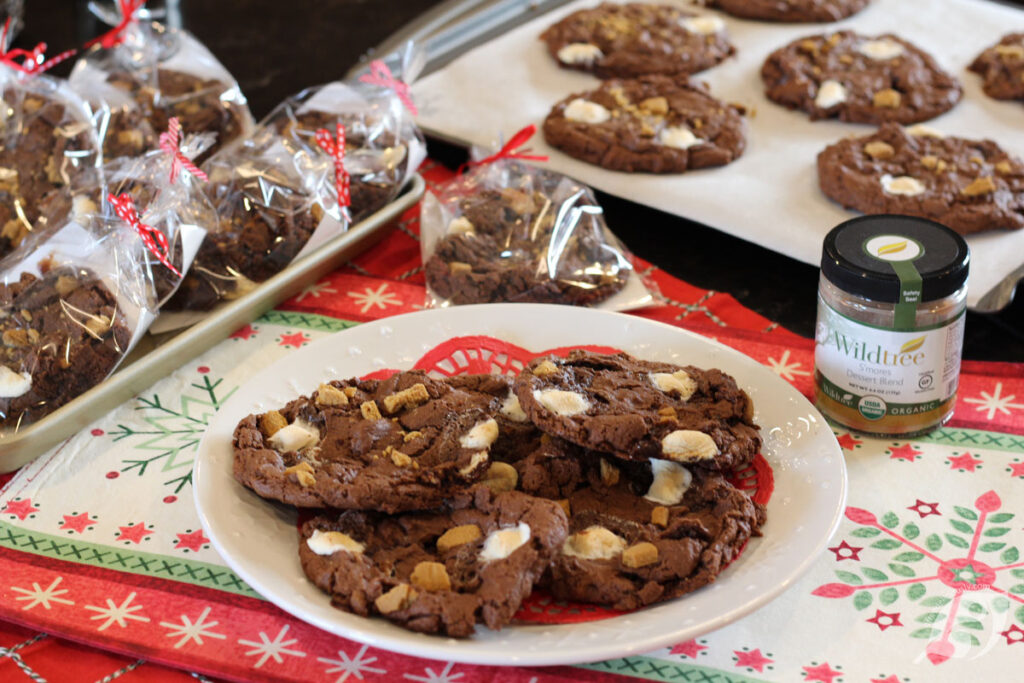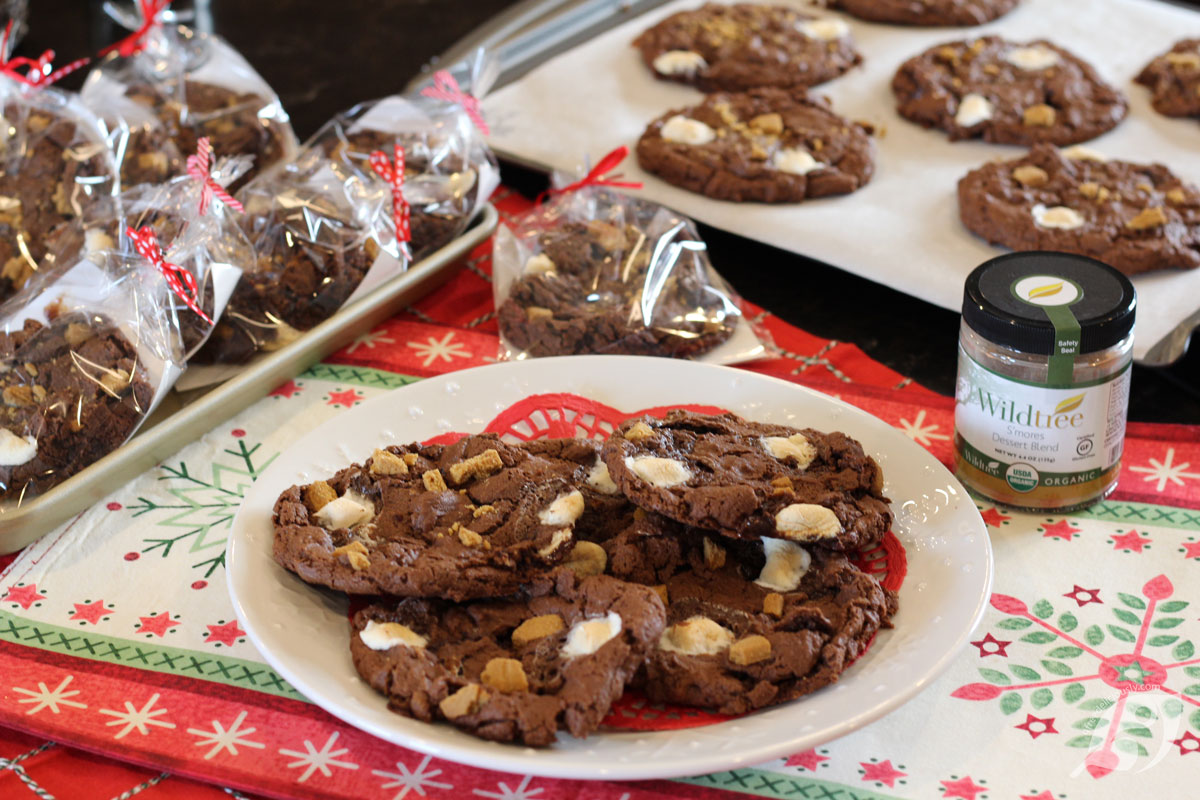 IMPORTANT UPDATE: November 1, 2022
Please note that some ingredient links in this post may have been removed or changed from our original recipe published to reflect new affiliate partnerships.
What is a S'mores Cookie?
Traditionally made by the campfire, s'mores, a melty treat of expertly toasted ooey-gooey marshmallow sandwiched between pieces of milk chocolate and graham crackers, are the classic cuisine from which childhood memories, starry nights, and campfires become legendary.
Many an American Girl (or Boy) Scout (Bluebird or Campfire Girl, as I once was) knows about the iconic campfire treat that has passed through generations. Yet, no one, in reality, is quite sure who invented them in the first place. The first known recipe for the treat appeared in the 1927 Girl Scout handbook called Tramping and Trailing with the Girl Scouts. Credit for the treat's popularity goes to Loretta Scott Crew, a Girl Scout Leader who wrote the recipe for "Some More."
The original Girl Scouts recipe calls for "16 graham crackers, 8 bars of plain chocolate (any of the good plain brands broken in two), and 16 marshmallows." To make them, it instructs, "Toast two marshmallows over the coals to a crisp gooey state and then put them inside a graham cracker and chocolate bar sandwich. The heat of the marshmallow between the halves of chocolate bar will melt the chocolate a bit. Though it tastes like "some more" one is really enough."
Like many recipes that we've come to know and love, it's unclear when the name we call them by today became shortened to "s'mores," but various Girl Scout publications continued to refer to the campfire treat as "Some More" until at least 1971.
Ultimately, the idea behind the time-honored tradition of making s'mores around the campfire became the inspiration of today's Girl Scout S'mores® cookie!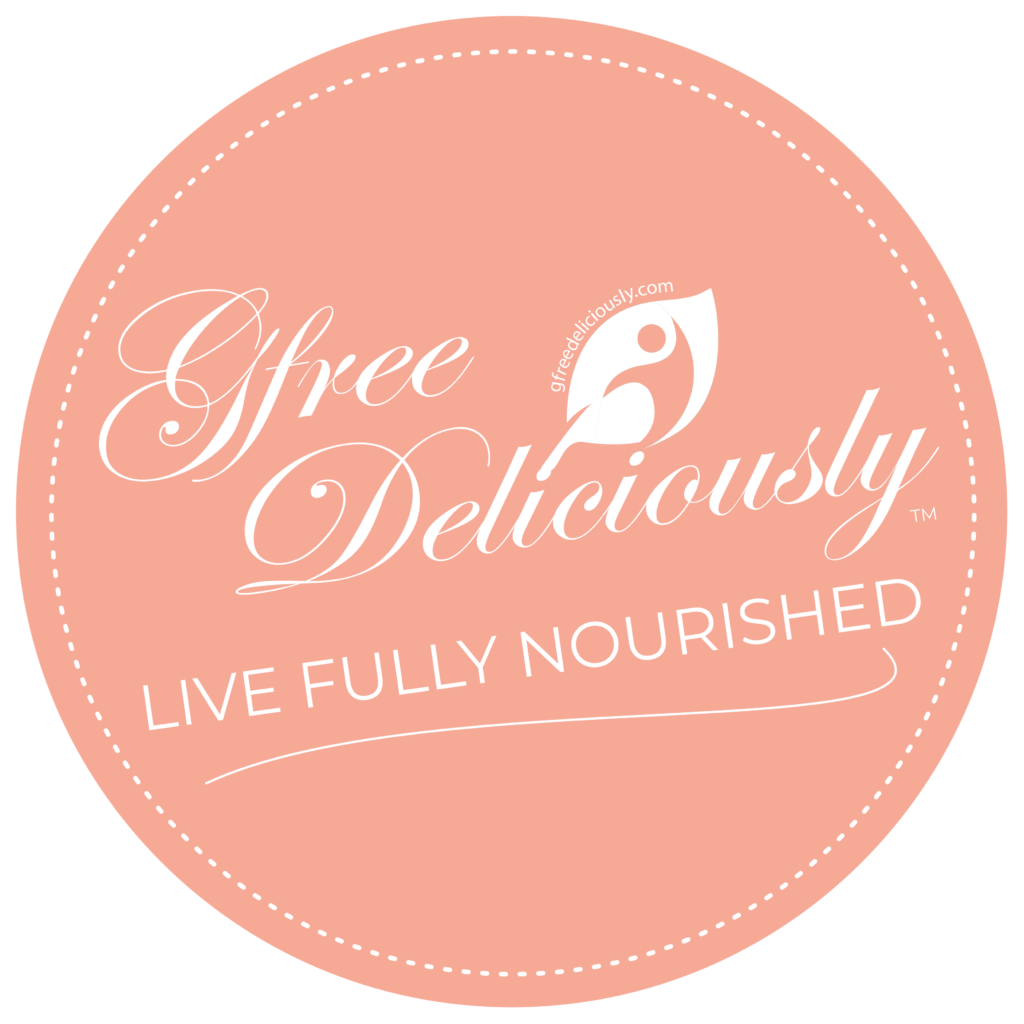 GET RECIPES • RESOURCES • +eNEWS UPDATES & MORE STRAIGHT TO YOUR INBOX !
Simple and delicious gluten-free recipes, family-friendly meal ideas, healthy cooking, encouragement, and easy-to-implement lifestyle strategies to live fully nourished… Only from GfreeDeliciously!
Catch the #CookingGfreeDeliciously Video Replay!
Enjoy watching the #CookingGfreeDeliciously video, then click on over to make all eight of the delicious recipes featured in the November Cooking Collection.
*Please Note: Not all recipes found at the Wildtree Store site use strictly gluten-free ingredients. If you are celiac, gluten-intolerant, or following a gluten-free diet, you will want to substitute an all-purpose gluten-free flour blend instead of whole-wheat or gluten-containing flour. And ALWAYS check the ingredient labels, and swap out any products that may include wheat, barley, or rye for certified gluten-free versions when making recipes not explicitly tagged gluten-free.
How is the S'mores Cookie Made?
We've skipped the campfire for this s'mores-inspired recipe to blend the trio of ingredients of crunchy graham cracker, gooey marshmallows, and melty chocolatey flavor – folding them into a creamy batter to bake into a cookie that has the power to make you feel like a kid again.
Preheat oven to 350°F. Line a cookie sheet or sheet pan with parchment paper. In a medium-size mixing bowl, whisk together flour, cocoa powder, S'mores Dessert Blend, baking soda, and salt. Set aside.
In a separate bowl, melt the milk chocolate by microwaving for 15-second intervals until melted and smooth. Let the chocolate cool slightly, add the butter and both sugars, beating until light and fluffy, about 5 minutes. Beat in egg and vanilla.
Add dry ingredients a little to a time, beating until combined.
Fold in the mini marshmallows and graham crackers (setting aside a few pieces of graham cracker and a few mini marshmallows for garnish).
Scoop out the batter using a ¼ cup measure or a large cookie scoop [1], placing the batter 3-inches apart on the parchment. Press the saved pieces and graham cracker pieces into the mounds of cookie dough.
Bake for about 12-14 minutes or until the edges are firm and the marshmallows on top are slightly toasted. Note the center will still be a little gooey. While still hot from the oven, pull the edges together with a rubber spatula, if needed. Cool slightly before serving.
Viola! Yummy, gooey, maliciously, delicious, s'more-a-liciously good cookies!
I know you want to make them...
Picture the recipe step-by-step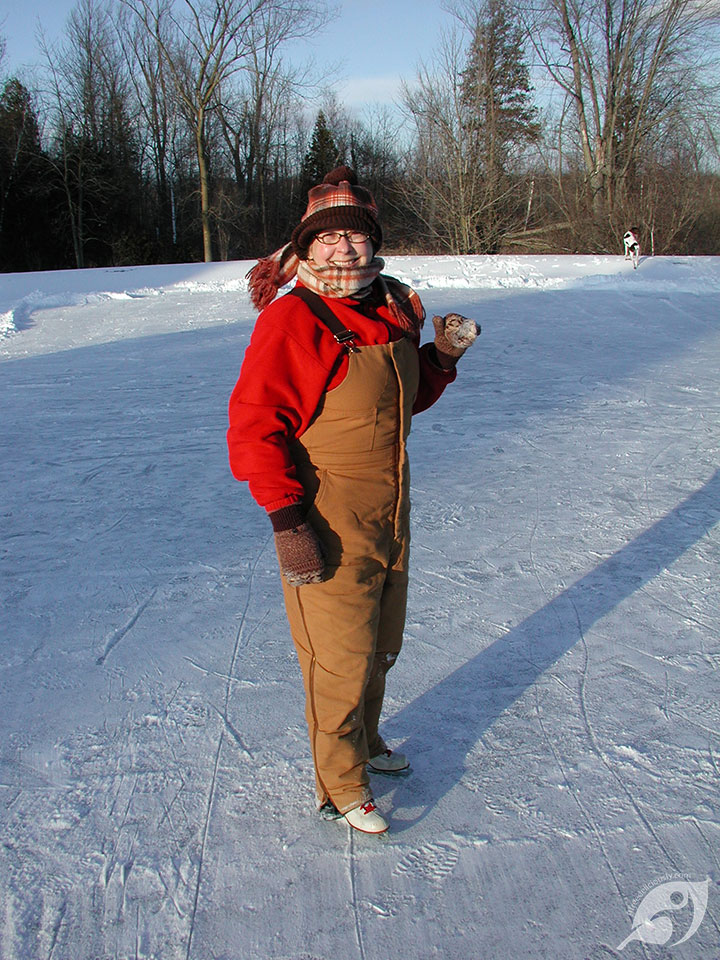 Do you have a favorite S'more's memory? Have you made another variation of a S'mores recipe? Please share it in the comments below.
Click the blue-green comment bubble at the bottom left corner of your screen. I would love to hear!
XXO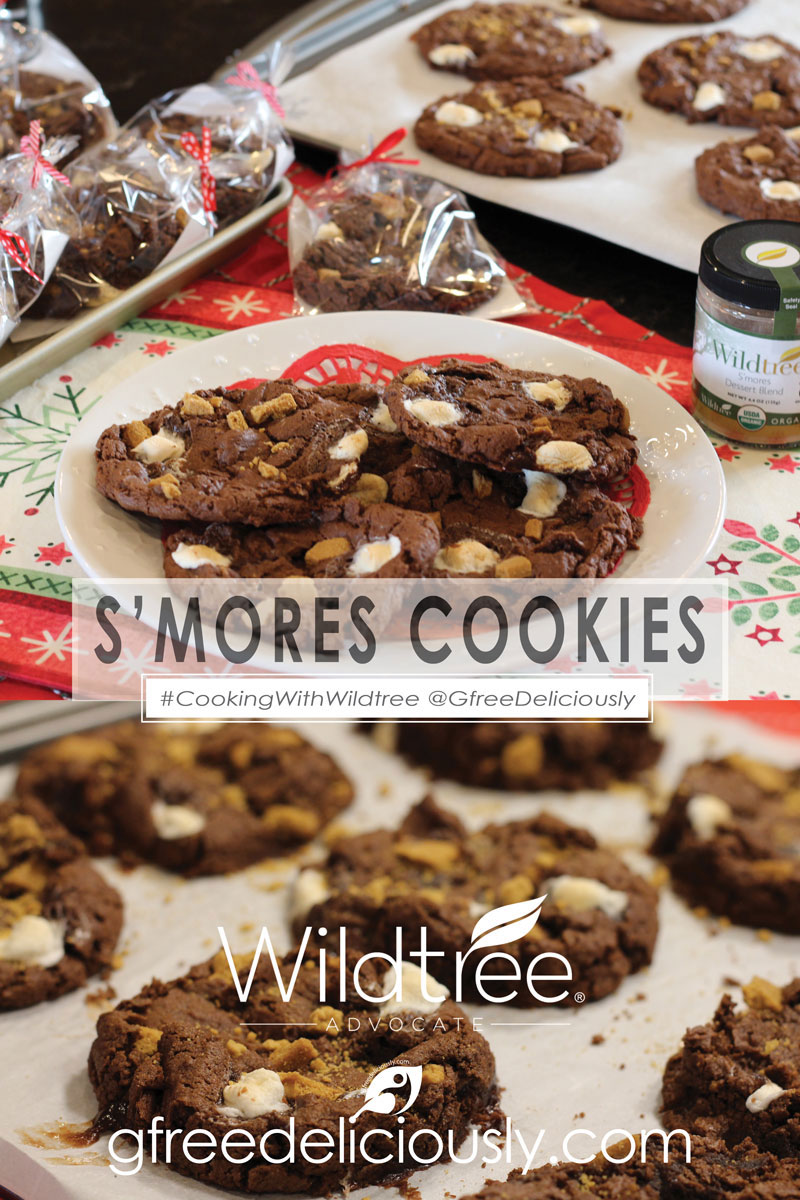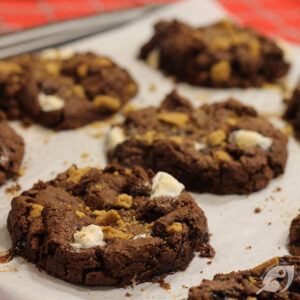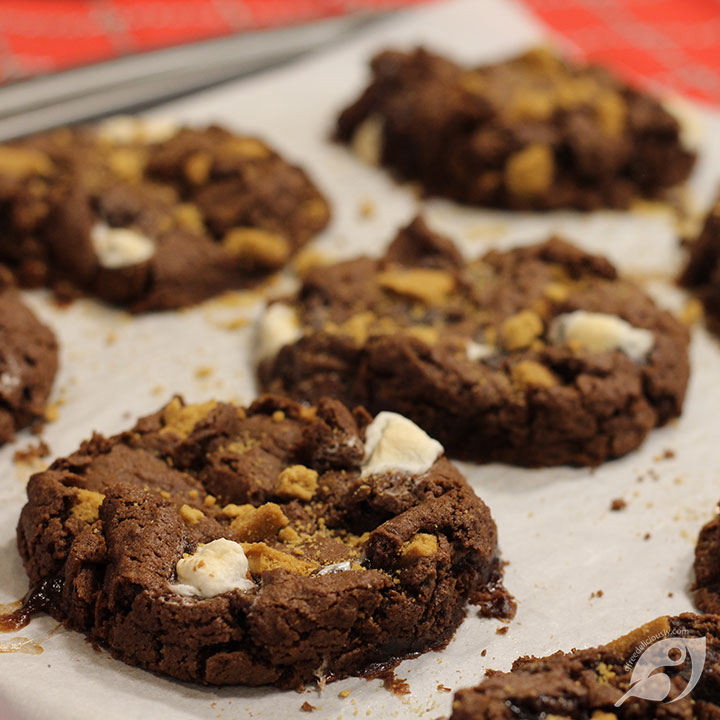 S'mores Cookies
The best cookie EVER! Believe me; you're going to love these S'more's Cookies! This grown-up version combines the delicious trio of melty marshmallow and crunchy graham cracker, loaded into a chewy chocolate cookie with more S'mores flavor for a genuinely remarkable re-make of the American Classic S'mores you remember as a kid!
EQUIPMENT
Hand Mixer

Cookie Sheet or Baking Sheet

Parchment paper

Large Cookie Scoop

Utensils (Measuring Cups & Spoons, Rubber Spatula or Large Spoon)
Add ingredients to your Private Shopping List before ordering online.
Quick Add Ingredients to Shopping List
KITCHEN NOTES
Footnotes:
*S'mores Dessert Blend is a seasonal product available at Wildtree.
[1] When making these with gluten-free flour, I found that a large cookie (or ice cream) scoop worked best. The gluten-free dough is slightly moister, making it more like a thick batter, so rolling the dough into balls did not work and was messy.
Nutrition
Calories:
323
kcal
Carbohydrates:
52.8
g
Protein:
3.2
g
Fat:
12.3
g
Saturated Fat:
7.1
g
Polyunsaturated Fat:
0.9
g
Monounsaturated Fat:
3.6
g
Trans Fat:
0
g
Cholesterol:
44.3
mg
Sodium:
208.7
mg
Potassium:
178.7
mg
Fiber:
2
g
Sugar:
30.4
g
Vitamin A:
88.9
IU
Vitamin C:
0
mg
Vitamin D:
0.2
µg
Calcium:
76.8
mg
Iron:
1.1
mg
Copyright © 2017-2023 Kymberley Pekrul | GfreeDeliciously | gfreedeliciously.com | All content and photographs are copyright protected. The sharing of this recipe is both encouraged and appreciated. However, copying and/or pasting full recipes to any social media is strictly prohibited. Please read my Photo Use Policy for detailed guidelines and further clarification.