Super Healthy Fresh Soup, Perfect for Halloween!

Are you looking for a fun meal to feed your little monsters?
This Creamy Spinach Soup is easy to prepare and have ready in minutes. A beautiful bright green color that not only looks but tastes delicious, the soup sets a spooky ambiance when served at a Halloween themed table in black bowls to mimic a witch's cauldron.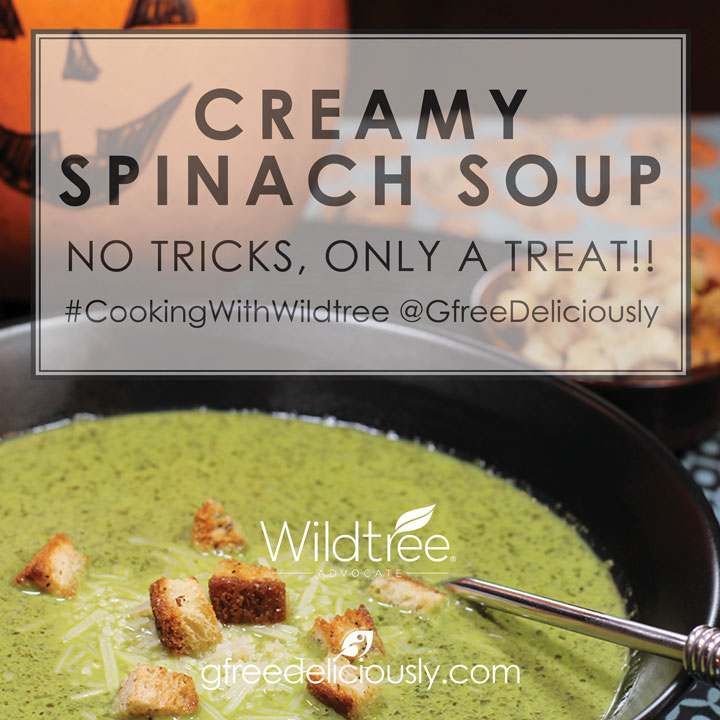 IMPORTANT UPDATE: November 1, 2022
Please note that some ingredient links in this post may have been removed or changed from our original recipe published to reflect new affiliate partnerships.

With cold weather setting in and nights with temperatures dipping into the 30's I'm ready to put soups back on our regular menu; how about you?
This delicious fresh Creamy Spinach Soup is easy to prepare and have ready in minutes. It's terrific with a grilled cheese sandwich, and it will create lots of oohs and ahhs when served.
And if you're looking for a fun meal to feed your little monsters, this soup with its beautiful bright green color sets a spooky ambiance when served at a Halloween themed table.
It would also be perfect as an appetizer soup served for an Irish themed meal to highlight the Emerald Isle, the green color in its verdant landscape, and as a complement to more traditional Irish foods.

I love that this fresh creamy spinach soup is made creamy from the cream cheese. If you didn't already know it, cream cheese is a magical food ingredient to always keep on hand. It can do extraordinary things for everyday meals. Unwrapping a block is like unleashing a secret weapon that can transform nearly any recipe into a creamy, deliciously decadent dish.
That stated, the ingredient list for this recipe is simple; oil, onion, garlic, vegetable broth, cream cheese, a little garlic and herb blend seasoning, and loads of spinach – 12 ounces of baby spinach to be exact. It may not sound like a lot, but spinach is light, and 12 ounces is a HUGE heaping bowlful!
To make the soup, you will begin by sautéing onions and garlic in oil until the onions sweat out, turn translucent. Once that's done, you'll simmer them with vegetable broth and cream cheese before adding the mountain of fresh spinach to wilt in, then you'll season it all with Garlic & Herb Blend before blending everything to create this delicious, silky smooth soup.

Spinach is among the well-known superfoods. What does that mean? Superfoods are nutrient-dense ingredients considered to be especially beneficial for health and well-being. Spinach has remarkably high levels of vitamins A, C, and K, magnesium, iron, and manganese, and it has an almost endless list of health benefits. Additionally, it's super low in calories, definitely a win, win ingredient to include in your diet whenever you can!

Good for heart health
Spinach can also help prevent acne for teens who are in a phase of fluctuating hormones
Studies show that it helps reduce heartburn
The high fiber content is a good source of roughage for regulating bowel movements,
And the high levels of vitamin B6 and magnesium help the body produce serotonin. This hormone keeps us calm and regulates our sleep cycle.
There's also a lot of research that shows that spinach holds antioxidants and anti-inflammatory properties that safeguard our DNA whenever cells replicate, making it a super anti-cancer food.

From tiny prep areas in hotel suites, boat gallies, travel-trailers, and on to slightly larger apartment kitchenettes and so-called regions that barely resembled a place where food is cooked and prepared – I didn't always have the luxury of having a blender to use.
In my adventurous mind, I waved it off as perfectly okay. Hearty and rustic soup presentations were my vogue before it was trendy. Who knew it would become such a "food thing?"
Hearty, rustic, chunky soups were the norm for me until immersion blenders came on the market for home cooks – I was elated!
So much so that much to my dear hubby's chagrin, I insisted that an immersion blender was a necessity for our traveling kitchen box that we shipped from place to place.
When we retired from those vagabond years, my traveling immersion blender retired, too, taking up permanent residency alongside the other gadgets I can't live without in my cupboard. I still grab it today to make things easy when making creamy soups like this.
But if you don't have a blender of any type and want to make the soup with a hearty and rustic creamed spinach vibe, skip the puree from a blender and go with making a chunky spinach soup instead. It will taste equally good!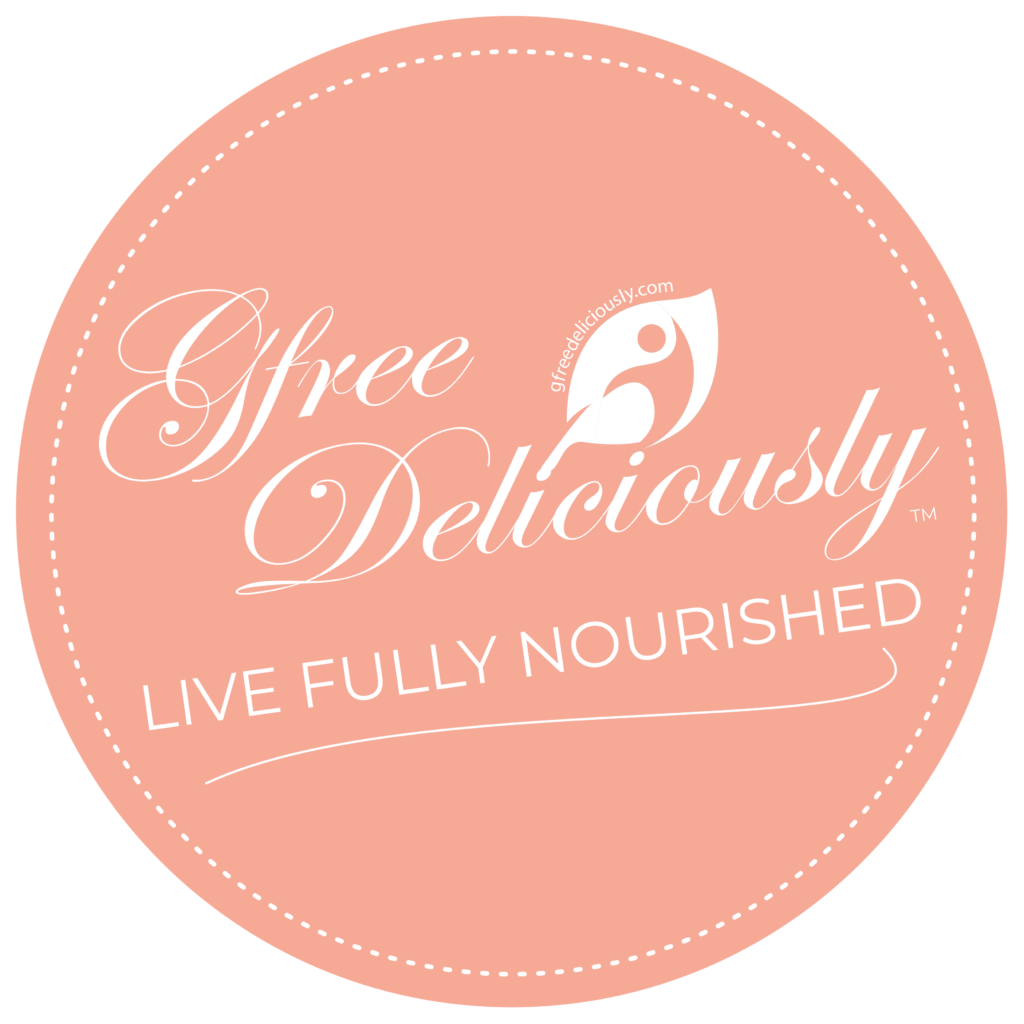 GET RECIPES • RESOURCES • +eNEWS UPDATES & MORE STRAIGHT TO YOUR INBOX !
Simple and delicious gluten-free recipes, family-friendly meal ideas, healthy cooking, encouragement, and easy-to-implement lifestyle strategies to live fully nourished… Only from GfreeDeliciously!
Catch the GfreeDeliciously Wildtree Wednesday Replay!
Enjoy watching the Wildtree Wednesday video, then click over to make all eight delicious recipes featured in the October Cooking Collection.


The Wildtree recipe card calls for using a standard kitchen blender for pureeing the soup before serving it. While this workhorse of an appliance works perfectly, the tool I repeatedly grab for making soups smooth and silky is an immersion blender.
I've tried several immersion blenders. Some super fancy and others pretty basic. My two favorites are versatile but straightforward. And I like them both equally well for different reasons.
First, either is handy for blending up and liquifying practically anything. You can work right in the cooking pot, bowl or pitcher, or even a tall glass, so you don't need separate mixing bowls. Both are easy to grip, two-speed blenders with non-slip speed control, and over 200 watts of power.
The Hamilton Beach Hand Blender With Attachments & Bowl is convenient when you need to blend and chop, mix, or whip ingredients. The chopping bowl is excellent for chopping up small amounts of foods like onions, peppers, and nuts. Both the blending wand attachment and the whisk attachment are stainless steel for durability, and the whisk is a favorite of ours for whisking up eggs with a little cream for fluffy scrambled eggs. I also like the 5-foot long cord that lets me move freely while working.
My other favorite as an alternative to a countertop standing blender is the Oster 2-Speed Immersion Hand Blender. I love, love, and love that this blender's blending wand attachment section won't scratch my porcelain coated and non-stick pans. It also includes a measuring/mixing cup that is great to use when mixing up small amounts of dressings and sauces, and it comes with a snap-on lid that doubles as a storage container.
Both blenders are incredibly convenient and ideal for every cook, from the novice to accomplished chefs. If you don't have one, I highly endorse picking one up at your earliest opportunity or putting it on your wish list, at the very least. After all, Christmas is right around the corner!

Picture the Recipe Step-by-Step
A few final GfreeDeliciously Tips for enjoying this Soup

I recommend using baby spinach for this soup. The flavor is sweet and mild, and the small leaves will be easy to puree. Most grocery stores carry baby spinach in both bags and cartons found in the store's fresh produce section.
To make a slightly thicker soup, add in a cooked and diced Yukon Gold or other yellow-skinned potatoes. It will add a buttery flavor and pretty pale yellow color to the soup.
If you can't find a low-sodium vegetable broth, feel free to substitute a low-sodium chicken broth (if you're not vegetarian) in this recipe. And if you need to be gluten-free, make sure to look for a certified gluten-free logo on the product packaging and designation on the nutritional label.
There are many ways to finish off this creamy spinach soup. As mentioned in the recipe card, you can use shredded Gruyere cheese to garnish, but you could also use a dollop of thinned Greek yogurt, heavy cream, or oil. Additionally, croutons, cooked bacon bits, toasted pine nuts, pepitas, or a scatter of fresh herbs would be tasty.
Herb flowers or other small edible flowers will also make a beautiful garnish for this soup.
I used homemade seasoned gluten-free bread croutons as a garnish, but if you don't need gluten-free, any croutons made from bread crusts, sourdough bread, or any rustic type of bread would also be delicious!
When you try this recipe, I would love to hear your thoughts. Please comment. Click the blue-green comment bubble on the bottom left of your screen to jump to the comment area.
XXO
P.S. While this creamy spinach soup makes great spooky food for Halloween, this fresh-tasting soup is yummy and healthy for eating any time during the year. Enjoy!
Happy Halloween from G-Free Deliciously !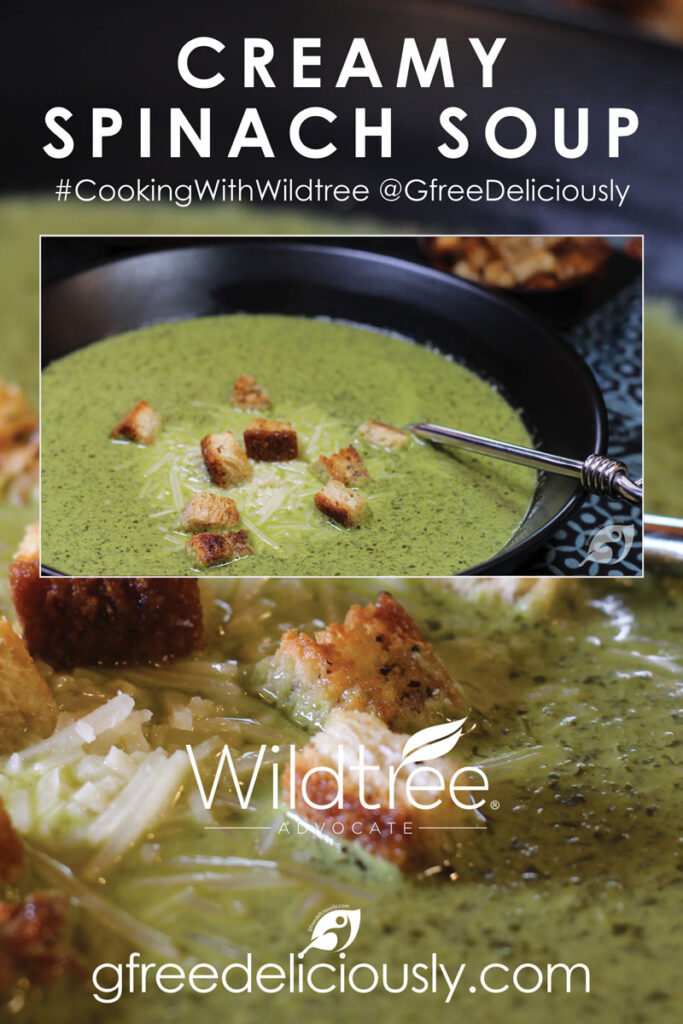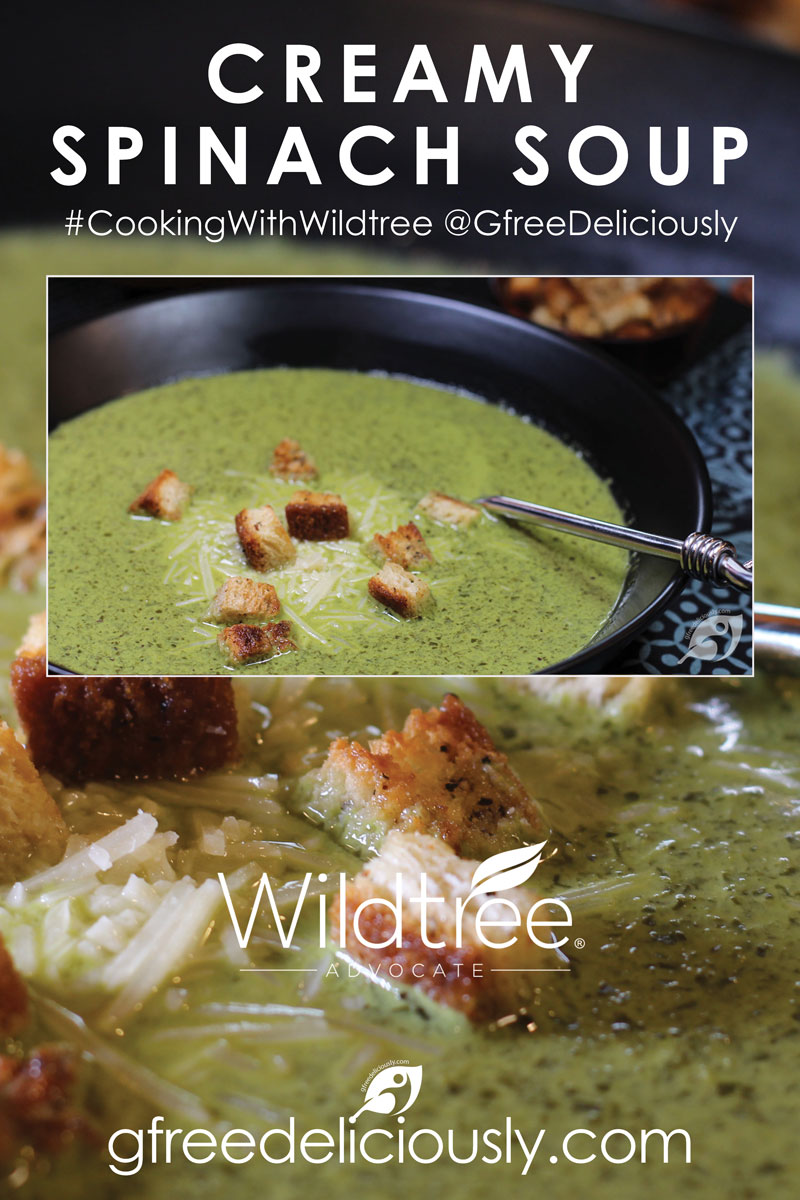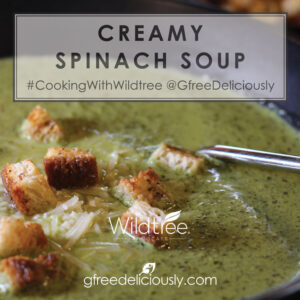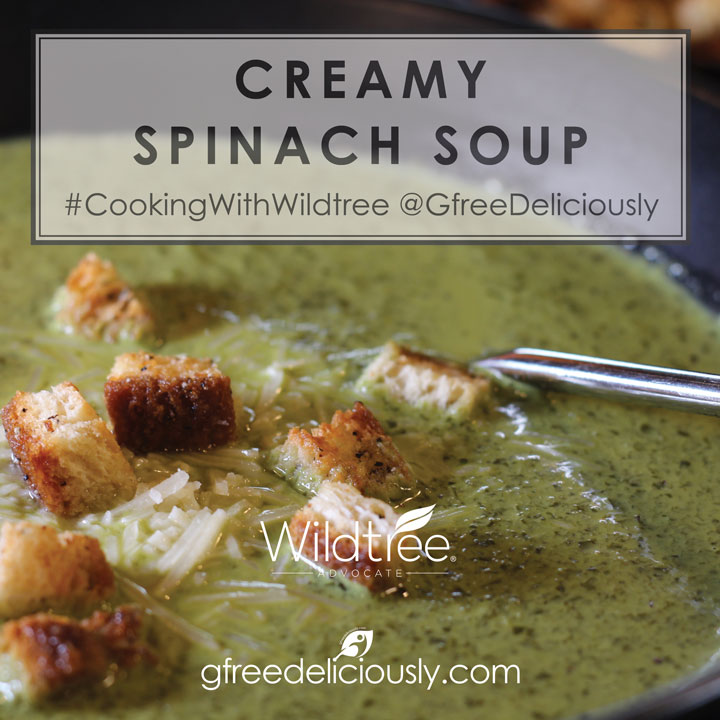 Creamy Spinach Soup
Vibrantly green and deliciously healthy, this Creamy Spinach Soup (made with cream cheese) comes together in a few minutes! Serve it hot or cold for rave reviews!
EQUIPMENT
Saucepan

Cutting Board

Blender or Immersion Blender

Utensils (Cooks Knife, Wooden or Heat-proof Spoon, Ladle)
INGREDIENTS
1

tablespoon

Oil

Wildtree Natural Grapeseed Oil recommended

1

medium

Yellow Onion

diced

1

tablespoon

Garlic

minced

1

tablespoon

Garlic & Herb Blend

3

cups

Vegetable Broth [1]

12

ounces

Baby Spinach

5

ounces

Cream Cheese

½

cup

Gruyere cheese

shredded [2]
Add ingredients to your Private Shopping List before ordering online.
Quick Add Ingredients to Shopping List
INSTRUCTIONS
Heat oil in a saucepan over medium heat. Add in the onion and garlic, sautéing until the onion is translucent.

Add the vegetable broth and bring to a simmer.

Stir in the spinach until wilted — season with Garlic & Herb Blend seasoning. Turn off the heat.

Transfer the soup to a blender, add cream cheese, and puree until smooth [3]. Season with salt if desired.

Serve with shredded Gruyere cheese and croutons if desired.
KITCHEN NOTES
[1] If you don't have vegetable broth on hand, chicken broth or stock will also work as a substitute.
[2] Gruyere cheese is an earthy, nutty, and slightly salty cheese, although a little on the pricier side. If you're opting for a substitute, a combination of Fontina and Parmesan is an excellent choice. The shredded parmesan has the pep and consistency, while the fontina has a rich flavor that makes it a creamy substitute for adding an extra pop of flavor!
[3] Another alternative method is to use a stick blender. Ensure the blender's bottom blade area remains level to prevent spattering, pulse the tool on and off, and move it around the pot to puree the spinach and onion until it's smooth. An additional option for making the soup with a hearty and rustic creamed spinach vibe is to skip the puree and make a chunky spinach soup instead.
Nutrition
Calories:
73
kcal
Carbohydrates:
10.6
g
Protein:
5
g
Fat:
16.1
g
Saturated Fat:
7.7
g
Polyunsaturated Fat:
1.1
g
Monounsaturated Fat:
5.7
g
Trans Fat:
0
g
Cholesterol:
35.8
mg
Sodium:
592.3
mg
Potassium:
570
mg
Fiber:
2.4
g
Sugar:
4.4
g
Vitamin A:
544
IU
Vitamin C:
30.2
mg
Vitamin D:
0
µg
Calcium:
128.7
mg
Iron:
2.4
mg
(Nutritional values are an approximation. Actual nutritional values may vary due to preparation techniques, variations related to suppliers, regional and seasonal differences, or rounding.)
Copyright © 2017-2023 Kymberley Pekrul | GfreeDeliciously | gfreedeliciously.com | All content and photographs are copyright protected. The sharing of this recipe is both encouraged and appreciated. However, copying and/or pasting full recipes to any social media is strictly prohibited. Please read my Photo Use Policy for detailed guidelines and further clarification.