Mexican Stuffed Peppers – Imagine your favorite taco in a healthy bell pepper shell!
Loaded up with protein, whole grains, veggies, and cheese to suit your taste, Mexican Stuffed Peppers pack deliciousness and flavor into an inexpensive, healthy pre-prepped lunch or dinner. And they're freezer-friendly too!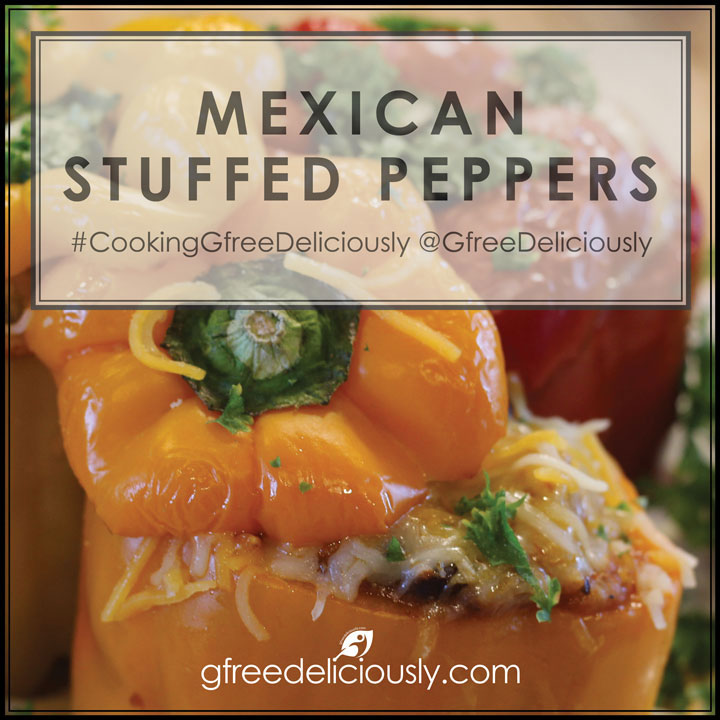 When it comes to flexibility in easy meals, this Mexican stuffed pepper recipe offers many delicious choices. Here's what you'll need to make it, along with some popular variations to make them according to your favorite tastes.
How to make the best Mexican Stuffed Peppers
Below is a rundown of the ingredients for making this Mexican stuffed pepper recipe. Remember that these options are entirely up to you and that you can omit or swap out any ingredients to make the stuffed peppers precisely according to your or everyone's taste.
You can also scale the overall ingredients into smaller filling mixtures to make each pepper unique to each member of your family's taste.
So if the kids like chicken or beef, and you and your hubby want shrimp, you could easily swap out the protein in two of the peppers by dividing the rice mixture in half and mixing the rest of the ingredients accordingly.
With that in mind, we can get started.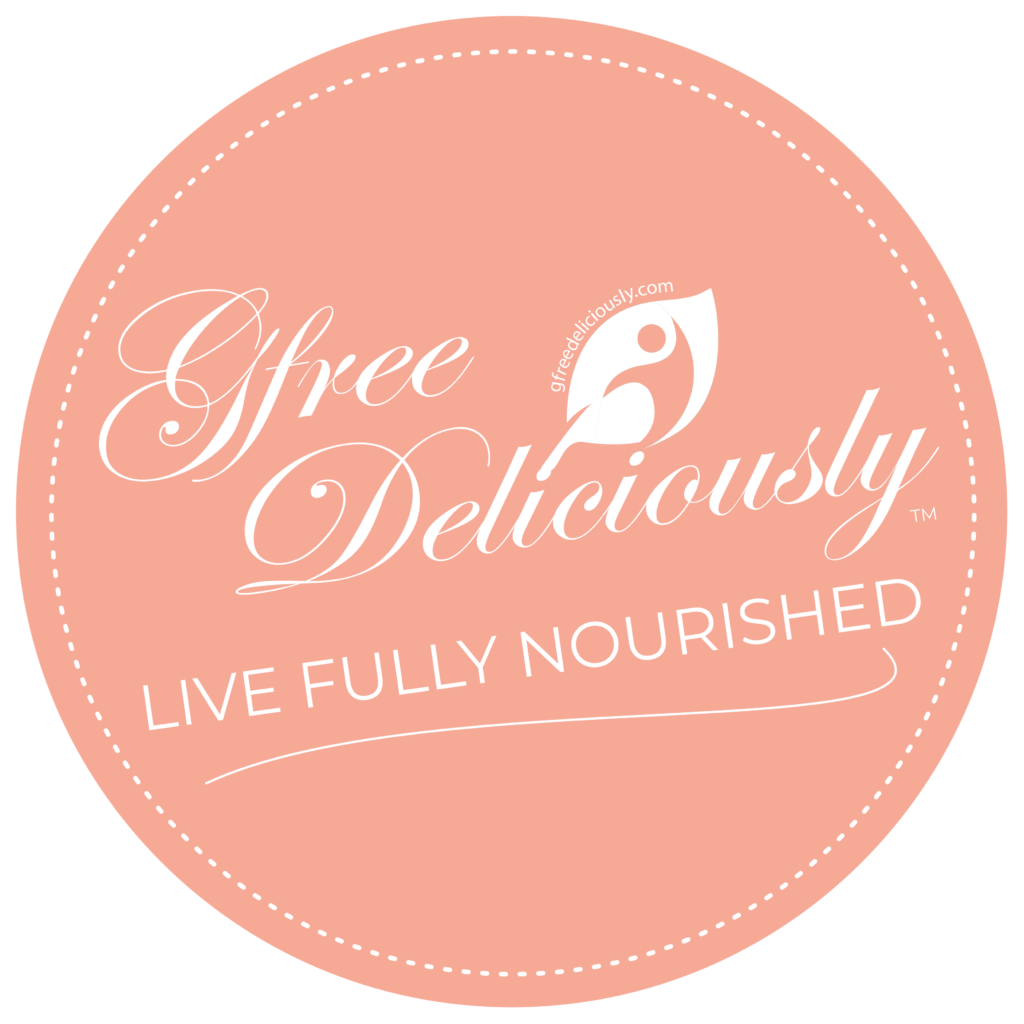 GET RECIPES • RESOURCES • +eNEWS UPDATES & MORE STRAIGHT TO YOUR INBOX !
Simple and delicious gluten-free recipes, family-friendly meal ideas, healthy cooking, encouragement, and easy-to-implement lifestyle strategies to live fully nourished… Only from GfreeDeliciously!
Mexico is known for its vibrant, bright colors found everywhere in its lively culture, including its food. In the spirit of that tradition, choose a selection of colorful bell peppers (red, green, yellow, or orange) that are short and wide, making them easy to fill with tasty fillings. Bell peppers are usually sweet but not at all spicy. Think of bell peppers as a healthier alternative to tortillas for stuffing taco ingredients.
Choose from chicken, ground beef, pork, turkey, or shrimp to satisfy your hunger. These lean, high-protein options are ideal for spicing up with a blend of authentic Mexican flavors. Choose your favorite as the primary protein source to include, or make this dish vegetarian by swapping out a 15-ounce can of rinsed and drained black beans, or try textured vegetable protein (TVP) instead.
Also, cook your meat protein before stuffing it in the peppers.
Rice comes in wide varieties and is delicious when paired with spices and seasonings as an ingredient for stuffing your peppers. It's easy to flavor because it absorbs the essence of the liquids, seasonings, herbs, and spices that it's cooked with, and it is easy to make as either a sticky or fluffy mixture.
I love using Rice Select Royal Rice (a blend of Texmati® White, Brown, Wild & Thai Red Rice) as an alternative to white rice (a blend of Texmati® White, Brown, Wild & Thai Red Rice). The rice blend is high in fiber, protein, and nutrients and is full of texture and flavor. If you prefer to make the Mexican-stuffed peppers without rice, you can opt for another grain like quinoa or a riced vegetable such as riced cauliflower.
A box or two of diced tomatoes should be a staple in every pantry. One 12-ounce box adds incredible flavor and makes the filling moist and delicious. As a flavor alternative, diced fire-roasted tomatoes, tomatoes with green chilies, or stewed tomatoes will work too!
Come home to cooking with Wildtree this September!
Enjoy watching the September Cooking Collection video, then click on over to make all eight delicious featured September Wildtree Recipes.
Because they are full of protein, black beans are a super replacement for meat for vegan and vegetarian eaters or meatless Monday menus. The protein's striking color adds an enticing eye appeal, and the flavor adds a lovely contrast that compliments the rice and other ingredients used in making the filling.
When boiled, corn adds a naturally sweet taste to the pepper ingredients you choose and adds a bit of bulk to the mixture in the filling.
Chili powder and cumin are traditional spices for adding authentic Mexican flavor to the filling. If you want to spice it up a little more, add a pinch or two of cayenne pepper, ancho chili powder, ground chipotle chiles, or adobo seasoning.
While Monterey Jack or Cheddar Jack Cheese provides genuine flavor, you can also use other types of cheeses, such as Pepper Jack or Habanero Jack Cheese, for additional heat. Additionally, add a unique spin to this recipe using Cojita, Blue Cheese, or even feta cheese.
Whether you prefer more traditional toppings or more unconventional options, these Mexican Stuffed Peppers offer tried-and-true choices for expressing your creativity to make them burst with color and flavor! There is really no end to how flavorful these peppers can be. So keep these enticing toppings in mind for preparing them according to your taste preferences.
Yep! More cheese is the most common topping for these Mexican Stuffed Peppers around our house, and for a good reason. What can I say? We do live in Wisconsin — Our favorite for topping is shredded Extra Sharp Cheddar with its creamy, tangy, slightly rustic taste from salt-like crystals of flavor called calcium lactate.
Adding a slightly tangy, tart taste and thick creaminess to your food is most definitely delicious, but it might not be the best option if you're watching your waistline. According to the USDA, full-fat sour cream must contain at least 18 percent butterfat, but lighter and low-fat varieties are available. Another alternative is to substitute with plain Greek yogurt as a healthier stand-in.
The Spanish word for coriander, cilantro, is an herb from the fresh leaves and stems of the coriander plant used in many Mexican dishes. Many people either love it or loathe it. The folks who love it say that it has a pleasing flavor reminiscent of parsley and citrus. Those like me find the flavor to taste soapy and disgusting. But then Julia Child also publically announced her dislike of the herb in a television interview in 2002 with Larry King, where she told everyone that she hated cilantro. "So you would never order it?" Mr. King asked. "Never," she responded. "I would pick it out if I saw it and throw it on the floor."
Me too, Julia!
If you're one of the anti-cilantro folks like me, you can avoid the soapy taste by swapping out parsley for cilantro. Which I ALWAYS do in the dishes I fix.
But if you do like cilantro, of course, use it as a garnish or ingredient for yourself; but as a favor to your table guests, when serving it, PLEEESE…  include it only as an option in a separate dish. And I thank you😊!
Also known as green onions or spring onions, scallions are a root vegetable pulled from the ground before becoming fully grown and forming a bulb. When pulled early, it gives the onion, its hollow green stalks, and small white stems a mild flavor that's perfect for chopping to use as a garnish on any Mexican-inspired dish.
A staple in Mexican cuisine used to add a zesty-ness to various foods; most salsas include tomatoes, peppers, onion, cilantro, and other vegetables or raw fruits. We have made our coveted salsa recipe for years that someday I'll share here on the blog, but until I do, you can find numerous salsa options almost everywhere, and each flavor will transform your peppers before you eat them.
Made from mashed avocados, onion, garlic, peppers, lime juice, and seasonings, this creamy traditional Mexican topping is yummy on just about everything. The guacamole can be made creamy or chunky, depending on your taste and preparation. To keep it simple, combine avocado with Wildtree Guacamole Seasoning* for a superb topping that gets rave reviews from even the most die-hard "guac" lovers at our house!
The juice and lime zest (the thin shavings of the fruit's outer peel) from this small citrus fruit adds a strong, punchy acidic taste that enhances the flavors of the other seasonings and ingredients in the filling. In addition, the natural zesty flavor of lime is an ideal substitute for salt for those concerned about their sodium intake.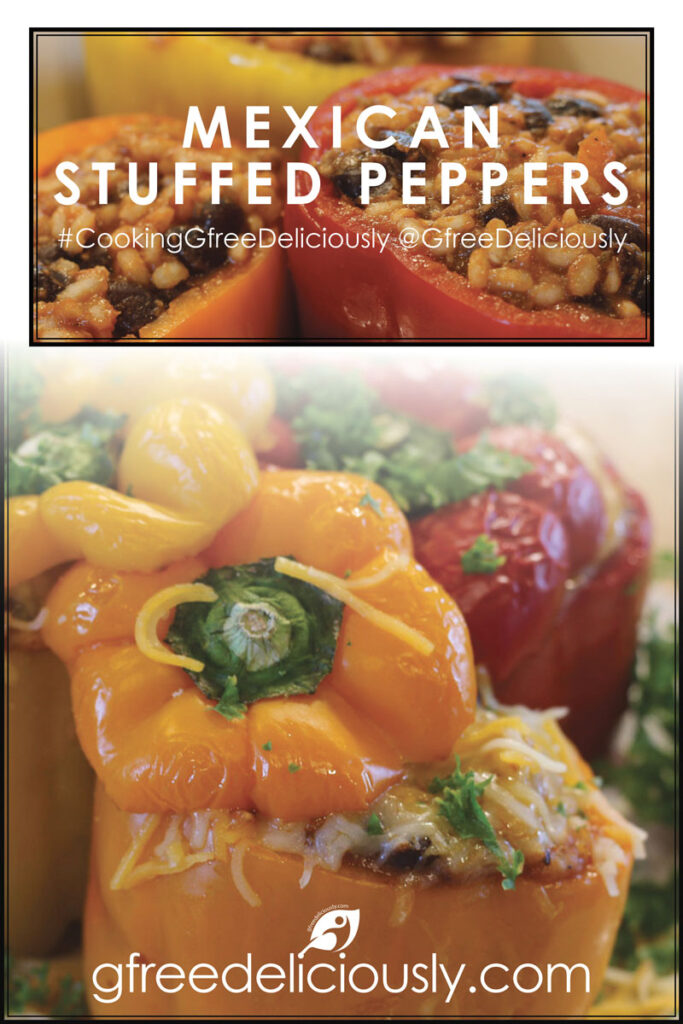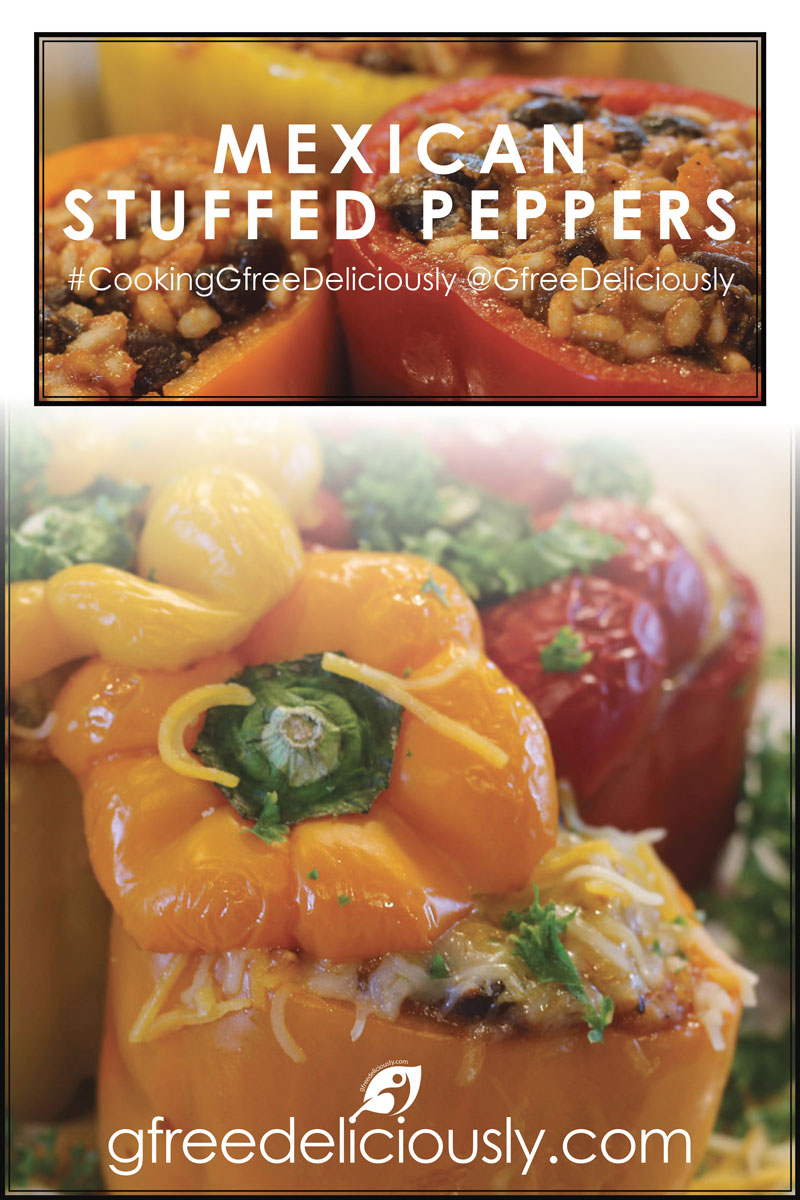 For vegan or vegetarian Mexican Stuffed Peppers, skip the meat protein and add one 15-ounce can of rinsed and drained black beans and one 14-ounce can of drained corn for a little extra sweetness into the rice.
Dairy-Free Stuffed Peppers. Omit the cheese and top the finished peppers with Avocado Cream instead. Or use a dairy-free cheese alternative.
Low-Carb or Keto Stuffed Peppers. Make the Mexican Stuffed Peppers without rice—using a filling made with ground beef, onions, mushrooms, or cauliflower rice to add bulk to the servings but with minimal calories or carbs.
The last thing you want to deal with is being frustrated because the peppers are falling over in the baking dish. If you're having this problem, use a little aluminum foil crunched into small balls to place between the peppers and hold them upright in the baking dish.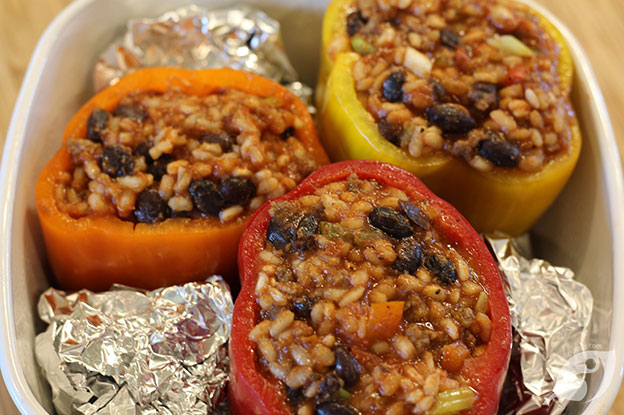 Let me know if you have tried this recipe. Do you have a favorite way that you make your Mexican Stuffed Peppers? Is there a secret ingredient that you use and might want to share?
Click the blue-green comment bubble at the bottom right corner of your screen to let me know in the comment area below. I would love to hear!
XXO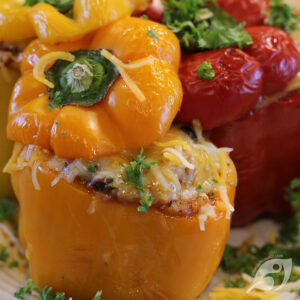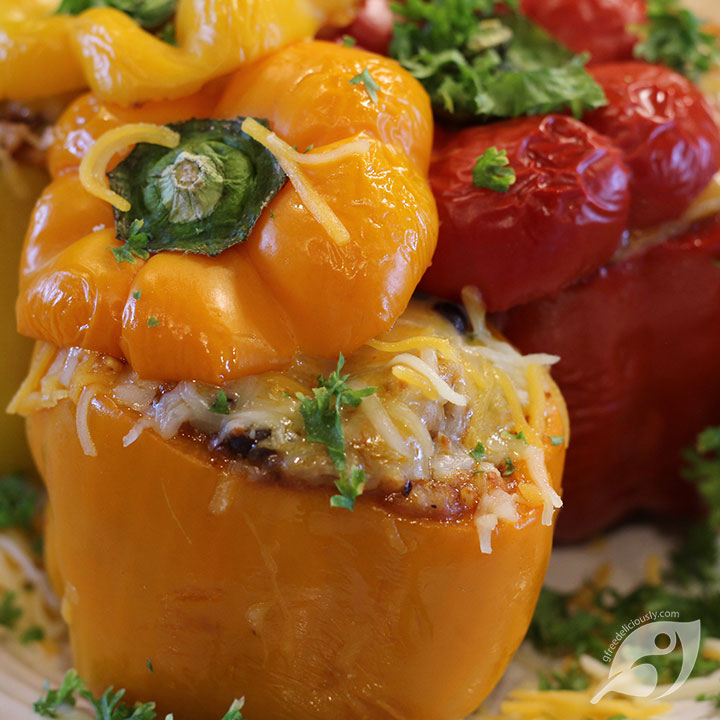 Mexican Stuffed Peppers
Bring a Tex-Mex spin to your table with always delicious, Mexican Stuffed Peppers! Make this ultra-flexible Mexican inspired dish that's easy to adapt to suit different tastes, diets, or whatever ingredients you have on hand.
EQUIPMENT
Large skillet

8x8 Baking Dish

Utensils (Chef's Knife, Large Heat-proof Spoon, Measuring Cups & Spoons)
INGREDIENTS
4

large

Bell Peppers

mixed colors

1 ½

cups

cooked Rice

prepared per package directions

1

tablespoon

Olive Oil

1

small

Onion

diced small

1

large

half Chicken Breast

cut into bite-size pieces

1

tablespoon

ground Chili Powder

1

teaspoon

Adobo Seasoning

1

teaspoon

ground Cumin

1

teaspoon

Garlic Seasoning Blend

½

teaspoon

kosher Salt

¼

teaspoon

Black Pepper

12

ounces

diced Tomatoes

(1 box or can) with juices

1 ¼

cup

Shredded Cheese

Monterey Jack, Cheddar Jack, Pepper Jack, or similar cheese divided, plus more for serving
Add ingredients to your Private Shopping List before ordering online.
Quick Add Ingredients to Shopping List
INSTRUCTIONS
Preheat your oven to 375°F. Lightly coat an 8 x 8-inch baking dish with a nonstick spray.

Remove the stem from the top of each pepper so that its flat with the top of the pepper, cut off the top 1/2 -inch from each bell pepper, and arrange each pepper top cut side down in the prepared baking dish.

Remove the membrane and seeds inside each pepper, place peppers cut side up on top of the pepper top in the baking dish. [1]

Heat the olive oil in a large nonstick skillet over medium heat. Add the onion, chicken, chili powder, adobo seasoning, cumin, garlic seasoning blend, salt, and pepper. Cook, occasionally stirring, until the onion is translucent and the chicken is browned and thoroughly cooked about 3-4 minutes. Add the box of diced tomatoes and their juices. Let simmer for 1 minute. Remove the skillet and stir in the rice and half (3/4 cup) of the shredded cheese.

Fill each pepper with the filling mixture, then top with the remaining shredded cheese.

Carefully add about 1/2 cup water into the baking dish around the peppers (you want just enough to cover the bottom of the pan). Bake uncovered for 40 to 45 minutes until the peppers are tender, and the cheese melts on top.

Remove peppers from the baking dish, arrange on a serving platter. Garnish with more cheese and parsley (or cilantro) with the pepper tops on top. Serve with your favorite toppings in small dishes alongside.
KITCHEN NOTES
[1] If needed, use aluminum foil crunched into small balls to place between the peppers to hold them upright in the casserole dish.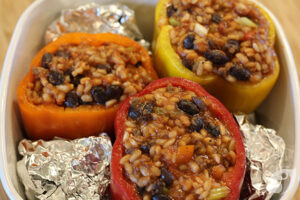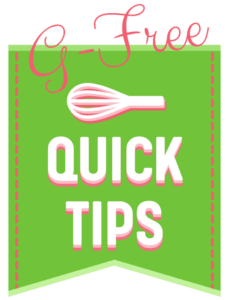 To store: Leftover peppers in an airtight container in the refrigerator for up to four days.
To freeze: Place in a freezer-safe container or freeze in vacuum sealer bags for up to three months.
To freeze using vacuum sealer freezer bags, place individual baked cooled peppers in the freezer for approximately 1-2 hours in a covered dish until they become frozen. When firm, place peppers in vacuum sealer bags. Using a vacuum sealer to remove the air from the bag, remove the air from the bag, seal it, and store it in the freezer as usual.
Note: Remove frozen peppers from the freezer and thaw overnight in the refrigerator.
To reheat: Reheat slowly in the microwave or oven. If reheating in the microwave, cut the pepper in half so that the pepper and filling heat evenly.
When making ahead: Prepare the peppers and filling as in the instructions above, letting the chicken and rice filling mixture cool completely before filling the peppers. Cover and refrigerate in the baking dish up to 24 hours before baking. Refrigerated peppers may require 5-10 minutes extra baking time.
To meal prep: Prepare the chicken and rice filling up to three months in advance and freeze. Thaw in the mixture in the refrigerator the night before you want to bake the stuffed peppers. To assemble, follow steps 1-3 above. Continue with steps 5-7.
Nutrition
Calories:
375
kcal
Carbohydrates:
35.8
g
Protein:
17.3
g
Fat:
18.9
g
Saturated Fat:
8.8
g
Polyunsaturated Fat:
1.8
g
Monounsaturated Fat:
6.9
g
Trans Fat:
0.1
g
Cholesterol:
40.5
mg
Sodium:
1055
mg
Potassium:
779
mg
Fiber:
6.5
g
Sugar:
12.3
g
Vitamin A:
394.6
IU
Vitamin C:
217.7
mg
Calcium:
379.6
mg
Iron:
3.7
mg
(Nutritional values are an approximation. Actual nutritional values may vary due to preparation techniques, variations related to suppliers, regional and seasonal differences, or rounding.)
Copyright © 2017-2023 Kymberley Pekrul | GfreeDeliciously | gfreedeliciously.com | All content and photographs are copyright protected. The sharing of this recipe is both encouraged and appreciated. However, copying and/or pasting full recipes to any social media is strictly prohibited. Please read my Photo Use Policy for detailed guidelines and further clarification.