Grilled Salmon with Bacon & Honey-Bourbon BBQ Glaze
Just when you thought Grilled Salmon couldn't get any better.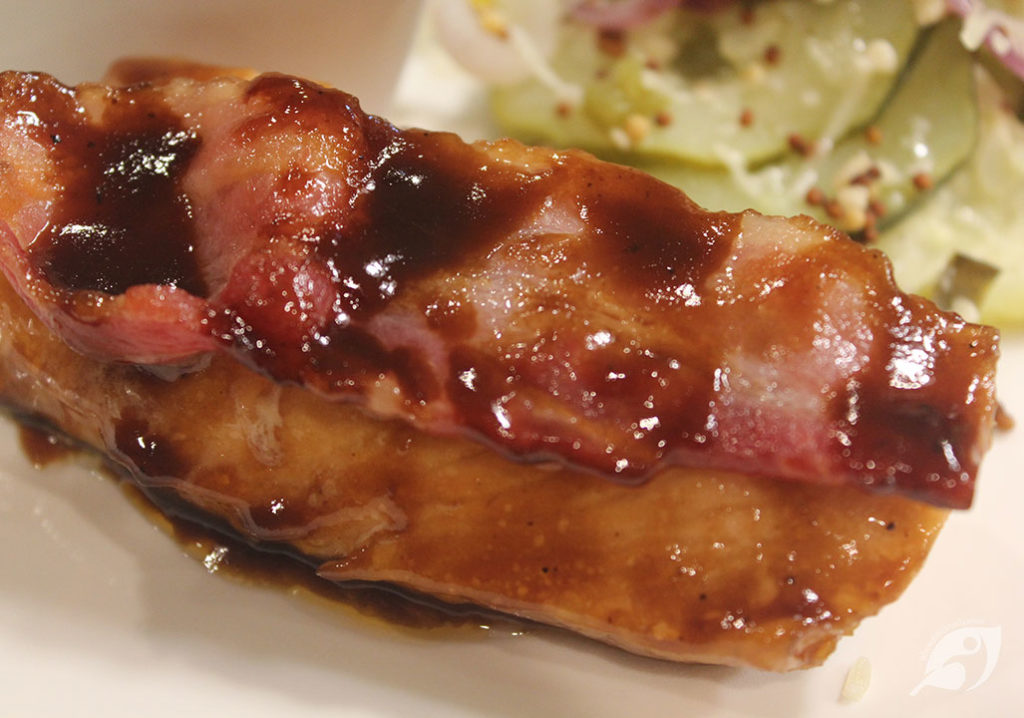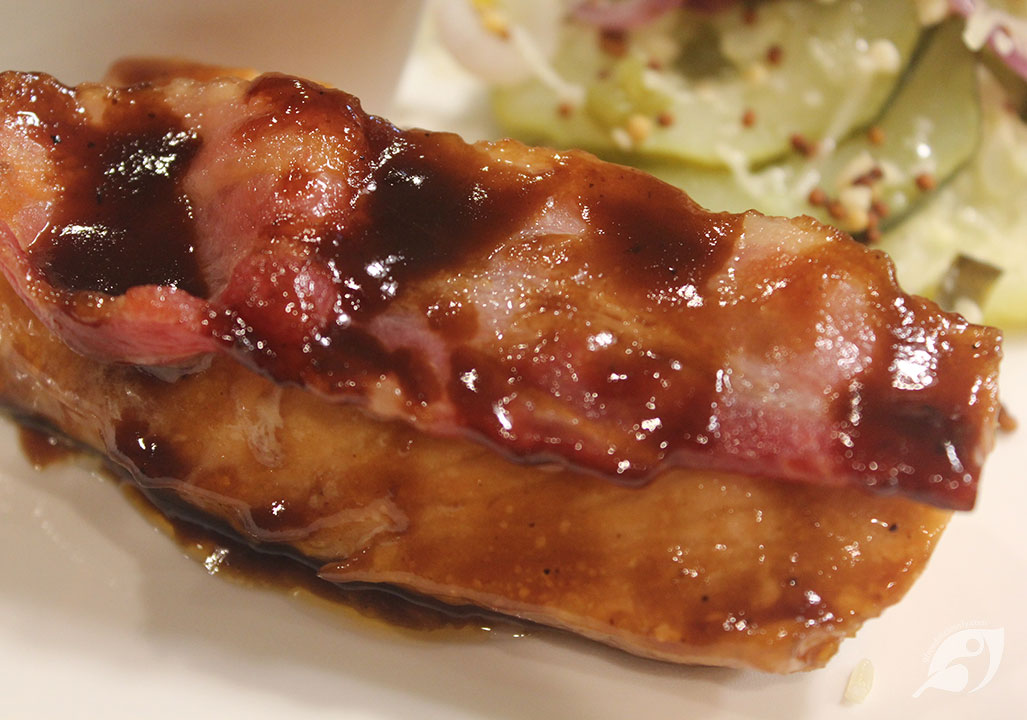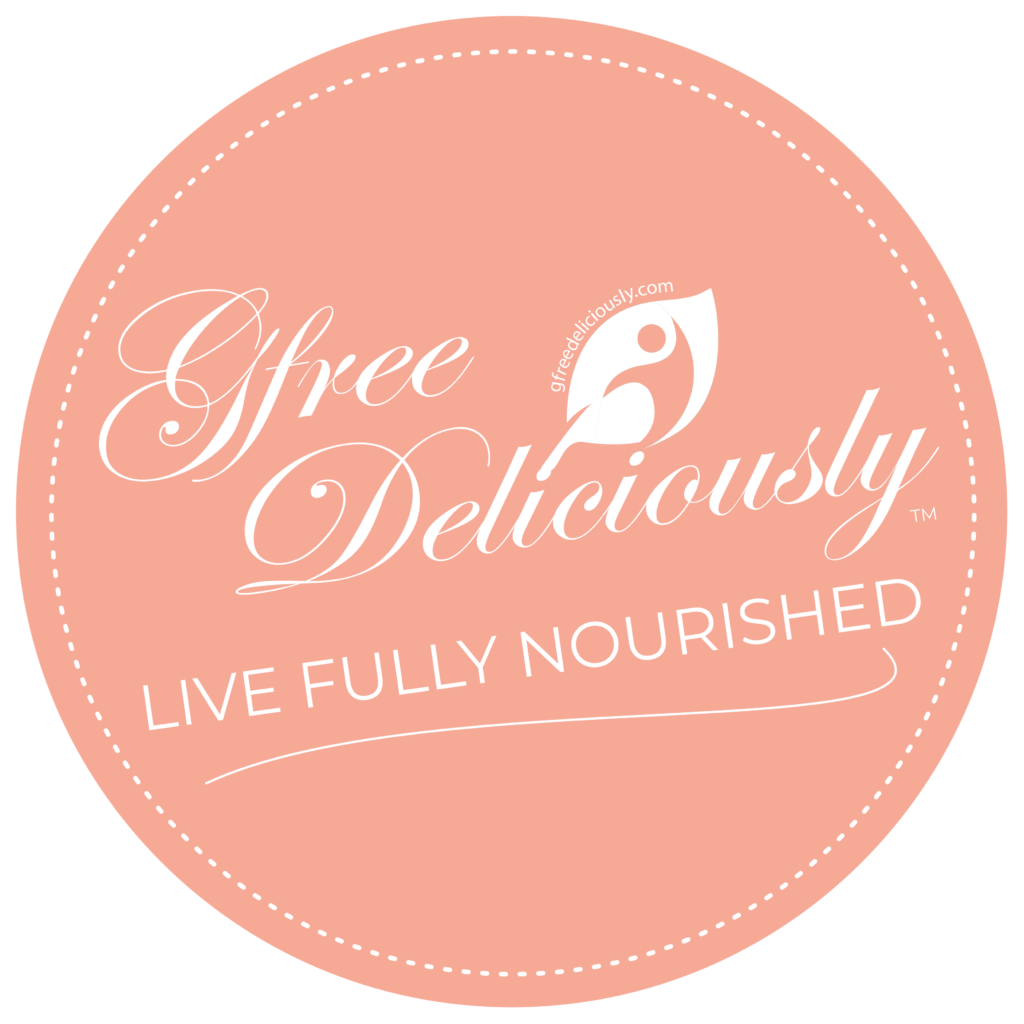 GET RECIPES • RESOURCES • +eNEWS UPDATES & MORE STRAIGHT TO YOUR INBOX !
Simple and delicious gluten-free recipes, family-friendly meal ideas, healthy cooking, encouragement, and easy-to-implement lifestyle strategies to live fully nourished… Only from GfreeDeliciously!
Hey GRILL-MASTERS… This recipe for Salmon with Bacon & Honey-Bourbon BBQ Glaze cooked on the grill will seal in that title of Grill HERO you've wished for.  There's no need to try to decide – Bacon or Salmon tonight?  This time, you're grillin' both!
Here's why bacon is such a good combo for this recipe.
Don't raise your eyebrows. In this yummy salmon recipe, bacon says goodbye to the idea that it might have ever been a Fad. H-E-L-L-O solid culinary technique….
First, bacon contains a bunch of fat that helps leaner cuts of fish, like salmon, to be insulated from the grill's intense heat as it cooks and bastes. While the oil renders out of the pork, the fish is flavored and seasoned from the salt and additional flavors that bacon adds as it smokes and cooks.
Secondly, besides helping to keep the salmon from sticking to the grill, the bacon adds structure to hold the fillet together.
I knew you'd see the absolute brilliance in this method.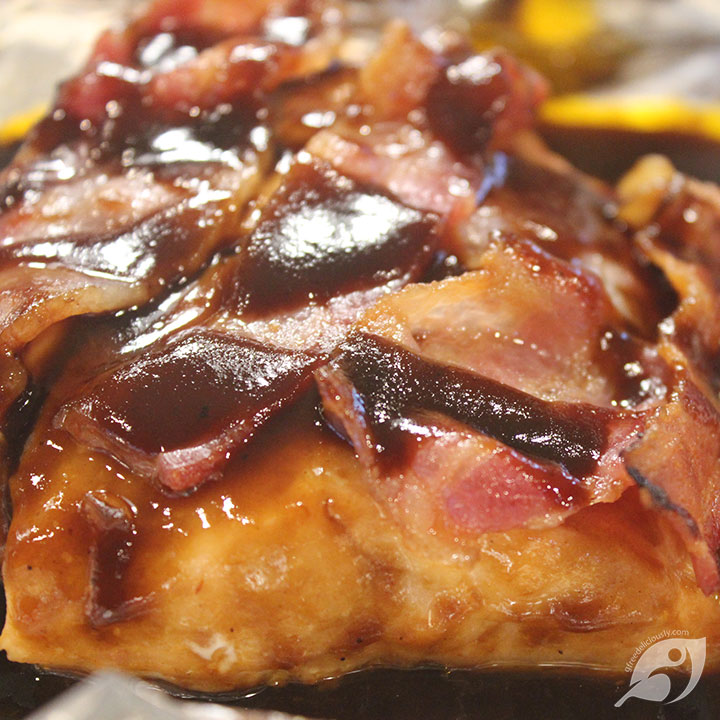 Because of the glaze, a combination of sweet and savory ingredients, honey, gluten-free BBQ sauce, and sweet bourbon whiskey, this easy main course has a way of convincing just about anyone that you are indeed a Grill-HERO without too much work on your part.
Each ingredient unites, forming an amazing gooey glaze that coats the bacon-covered salmon. Everything caramelizes as it cooks on the grill to create a masterpiece of crispness, sweet and savory. It's a combination that keeps the salmon moist while elevating it in the OMG taste arena.
What's the best kind of salmon to grill?
We've used wild-caught Alaska Sockeye Salmon fillets about 1 inch thick for this recipe, but we've also done the same with salmon steaks. We also removed the skin, deboned them before cooking, and placed them on a foil pan for grilling, helping to keep them flaky and moist.
I know you'll love how easy this grilled salmon is to prepare – made with simple ingredients that give it just the right amount of smokiness for flavor and strips of bacon on top to keep it together, making it super moist.
Want more salmon recipes? Try these...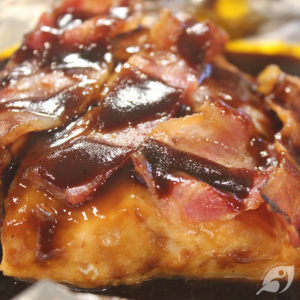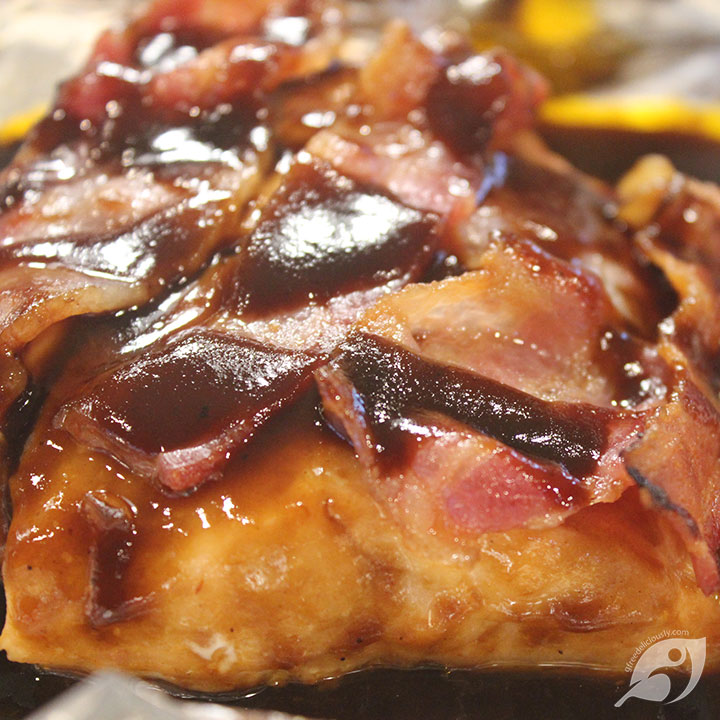 Easy Grilled Salmon with Bacon & Honey-Bourbon BBQ Glaze
Get set to sweeten up any night of the week with this easy Grilled Salmon with Bacon & Honey-Bourbon BBQ Glaze recipe!
Add ingredients to your Private Shopping List before ordering online.
Quick Add Ingredients to Shopping List
INSTRUCTIONS
Preheat your grill to 325ºF according to manufacturer instructions, including apple or cherry wood for smoking.

While the grill is heating, combine the honey and whiskey in a microwave-safe bowl, whisk together, and microwave on medium heat for one minute.

Whisk in the BBQ sauce. Coat the salmon on each side using about half of the combined honey, whiskey and BBQ sauce mixture set aside.

Drizzle the olive oil in the bottom of a short-sided aluminum foil pan or pie plate. Add a thin layer of the BBQ sauce for the salmon to rest on top.

Arrange the coated salmon in the prepared pan and drizzle the remaining honey, whiskey and BBQ sauce mixture on top. Add the bacon strips over the top and season with the pepper.

When the grill is up to temperature, add the prepared pan with the salmon to the grill and cook uncovered for approximately 15 minutes.
Nutrition
Calories:
305
kcal
Carbohydrates:
12.3
g
Protein:
20.1
g
Fat:
17.8
g
Saturated Fat:
4.9
g
Polyunsaturated Fat:
3.1
g
Monounsaturated Fat:
8.5
g
Trans Fat:
0
g
Cholesterol:
60.3
mg
Sodium:
383
mg
Potassium:
366.6
mg
Fiber:
0.3
g
Sugar:
10.5
g
Vitamin A:
13.6
IU
Vitamin C:
0.1
mg
Calcium:
25.8
mg
Iron:
0.6
mg
(Nutritional values are an approximation. Actual nutritional values may vary due to preparation techniques, variations related to suppliers, regional and seasonal differences, or rounding.)
Copyright © 2017-2023 Kymberley Pekrul | GfreeDeliciously | gfreedeliciously.com | All content and photographs are copyright protected. The sharing of this recipe is both encouraged and appreciated. However, copying and/or pasting full recipes to any social media is strictly prohibited. Please read my Photo Use Policy for detailed guidelines and further clarification.