Cooking Wisdom, Comfort, & Joy, with A Nutritional Punch!
How to Cook Pan-Seared Pork Chops with Apples & Parsnip Puree
Packed with super nutrition and high-quality proteins, this low-stress dinner after a crazy, busy day of holiday-ing is all you need to find pure comfort and joy around your table.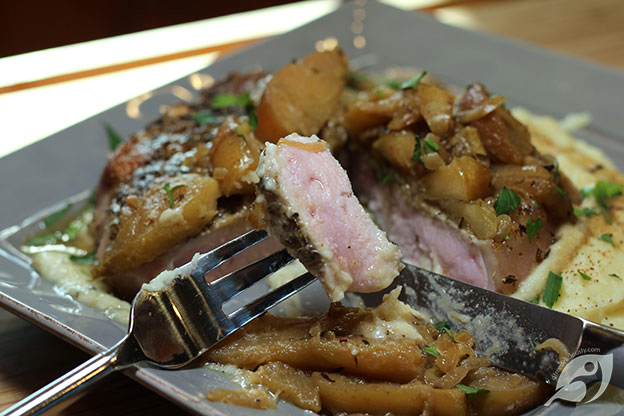 Easy-Peasy, No-Stress, Delicious
No holiday drama here. It's true. This pan-seared pork chop, apple, and parsnip meal wraps up so much of what you need into one comforting, delicious, healthy dinner. The star of this meal is hassle-free. Budget-friendly pork chops that don't take long to cook.
Catch the #CookingGfreeDeliciously Wednesday Replay!
Naturally low in sodium, an "excellent" source of potassium, and loaded up with protein and several essential vitamins and minerals, pork chops have many beneficial qualities making them super attractive to incorporate into a healthy balanced menu and meal plan.
You say that you typically shy away from cooking pork chops because they're always overcooked and dry?
Maybe you've struggled with cooking pork chops to a golden-browned sear, chops with a beautiful crispness on the outside — pork chops like those you see in the pictures in cookbooks and on blogs.
Then you've come to the right place.
Read on as we walk you through all the steps to juicy, flavorful pork chops, perfectly done, pink on the inside, tender, mouth-watering juicy when you take a bite. Pan-seared pork chops only a few minutes away from the table when cooked on the stovetop.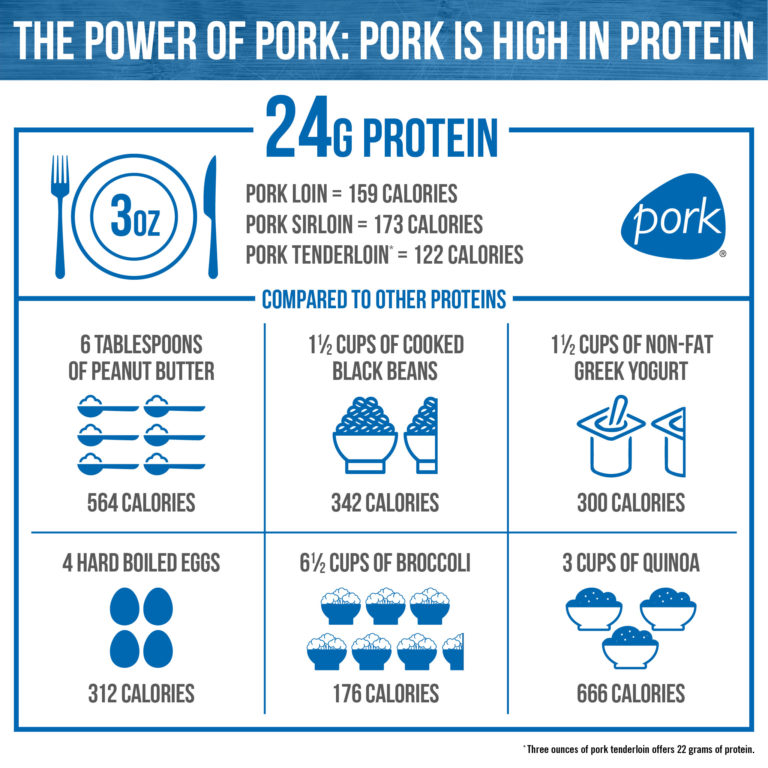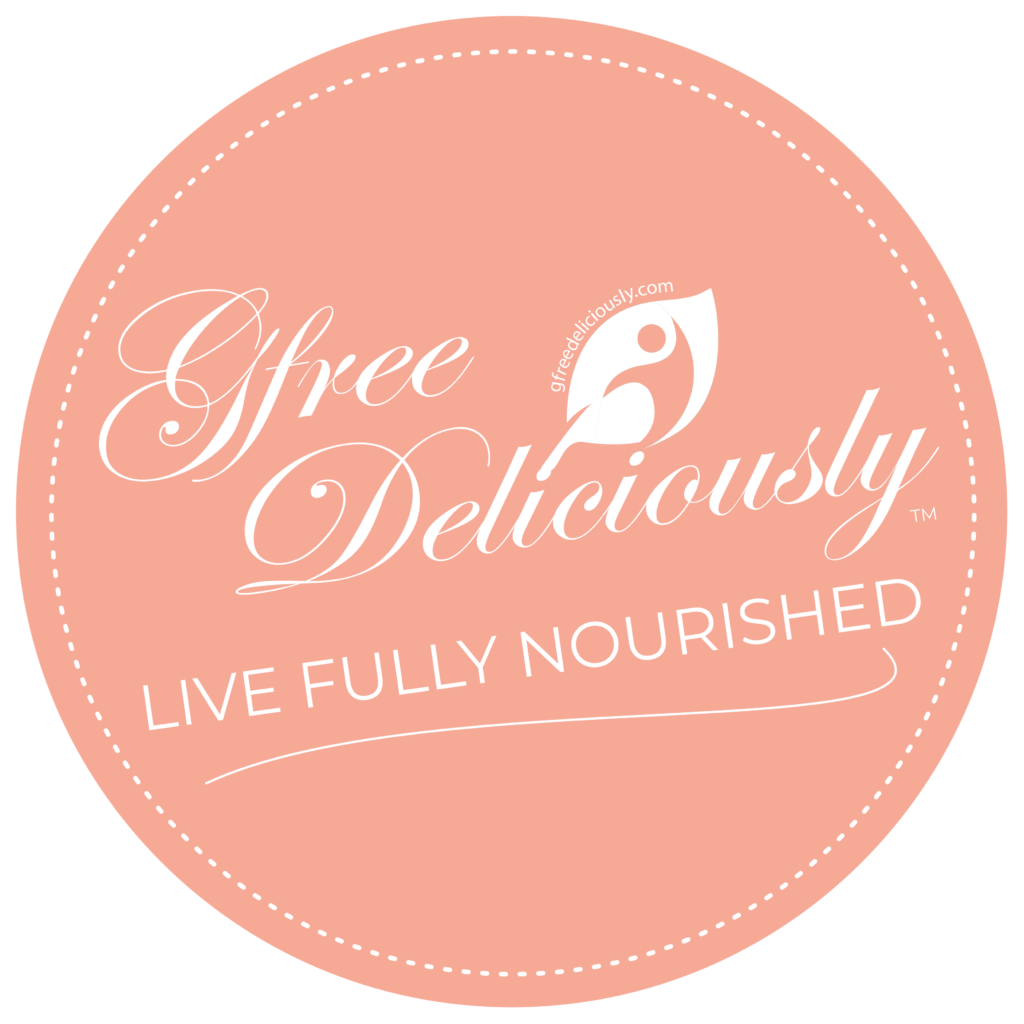 GET RECIPES • RESOURCES • +eNEWS UPDATES & MORE STRAIGHT TO YOUR INBOX !
Simple and delicious gluten-free recipes, family-friendly meal ideas, healthy cooking, encouragement, and easy-to-implement lifestyle strategies to live fully nourished… Only from GfreeDeliciously!
How to pick a pork chop for searing
Let's begin with how to pick a pork chop. The most popular pork cut, chops, are cut from the loin, which is the meat that runs from the pigs' hip to its shoulder.
Laying a flavorful groundwork for any meal, I prefer the juiciness of a thick-cut bone-in chop to add an extra dimension of flavor and richness. But with so many cuts of pork chops, it's hard to choose. With so many cuts available at the meat counter, here's a rundown of the best chops to use for searing.
Porterhouse Pork Chops are from the lower back (just behind the rib chop) and have a characteristic T-bone shape. These chops include a lot of meat and a bit of tenderloin meat, and they contain a bone.
Ribeye Pork Chops originate in the center of the loin in the rib area. Ribeye chops may include some back and rib bone, or your butcher may cut the bone away.
Sirloin Pork Chops come from the area around the hip and often include part of the hip bone. You can also buy them boneless.
New York Pork Chops (sometimes called Center Cut Chops) are boneless and located above the loin chops, toward the head. The 1¼ inch-thick top loin chop is also called an "America's Cut."
Blade chops (sometimes called blade steaks) come from the loin's beginning in the shoulder area. They may contain some blade bone as well as back-rib bone. Blade chops are usually thicker and more marbled.
Pork chops are likely the least intimidating of all pork cuts because they are so easy to prepare. But you might find it interesting that all pork chops cook the same. When cooking, the length of time to cook largely depends on the thickness of the chop. Thickness can vary from 1/2 to 2 inches. So whether you choose boneless pork chops for convenience or ones with the bone attached for their appearance and an extra dimension of flavor, the chop MUST reach an internal temperature of at least 145°F and rest 3-minutes.
How to achieve a perfectly golden-brown seared pork chop
Searing is a process that produces a flavorful, golden-brown crust on cuts of meat, including thick pork chops, steak, fish, and poultry. Seared meats create a fond (brown bits stuck to the pan) for use in a sauce or braising liquid. The best way to develop a fond when searing is to use a conventional rather than non-stick skillet.
How to cook perfectly golden-brown seared pork chops in 5 easy steps:
Step 1 
Start by removing the pork chops from the refrigerator, letting them warm to room temperature for about 20 minutes to ensure they cook on the inside, reaching a perfect 145°F temperature.
Step 2
Pat the chops dry using a paper towel and generously season them on both sides for flavor.
Step 3
Using high heat, preheat the skillet until the butter, oil, or rendered fat starts to shimmer in the skillet, just before it begins to smoke). As soon as it's there, add your chops, and reduce the heat to medium to medium-high heat (300°F to 375°F).
Step 4
Without moving the chops, sear them until golden-browned and crisp, about 4-5 minutes. Resist the urge to move the pork chops around or look underneath as the crust develops. They will gently release from the pan when they are ready to turn. If the pork chops are sticking to the pan, give them another minute or two to get a little crispier and release.
Step 5
Turn and sear the other side to produce a flavorful golden-brown crust. After about 4-minutes, use an instant-read thermometer placed in the thickest part of the cut without touching any bone to check for a safe internal temperature of 145°F. If the thickness is less than ¾-inch, then test through the side of the chop for doneness.
3-Minute Rest, Then Serve.
Remove the pork chops from the skillet, followed by a 3-minute rest before plating your perfectly juicy, tender cut of meat!
Pork chops are relatively easy for home cooks to make, and the best part is that simple seasonings are all it takes to win high praises from family and guests. The secret to cooking juicy pork chops and preventing them from drying out is to cook to an internal cooking temperature of 145°F, followed by a 3-minute rest.
Follow these easy steps to success:
Pick your favorite chop
Season both sides
Heat butter, oil, or rendered fat in a frying pan on medium to medium-high heat
Cook chops 4-7 minutes per side, or until the internal temperature reads 145 degrees F.
Let it rest for 3 minutes.
Pork Cooking Temperature & Meat Thermometer Basics
The easiest way to check when a pork chop is almost ready to eat is to use a meat thermometer. When the internal temperature reaches 145°F, it's nearly ready for devouring. Remove the pork chops from the skillet when the thermometer reads 145°F, and then let them rest for 3-minutes. During this time, the meat fibers that contract when hot will relax and reabsorb the juices they've squeezed out during cooking. Doing this will keep those juices in the meat instead of releasing them onto your cutting board.
Are you curious to know more about all pork cooking times and temperatures? Then, download this handy guide from pork.org.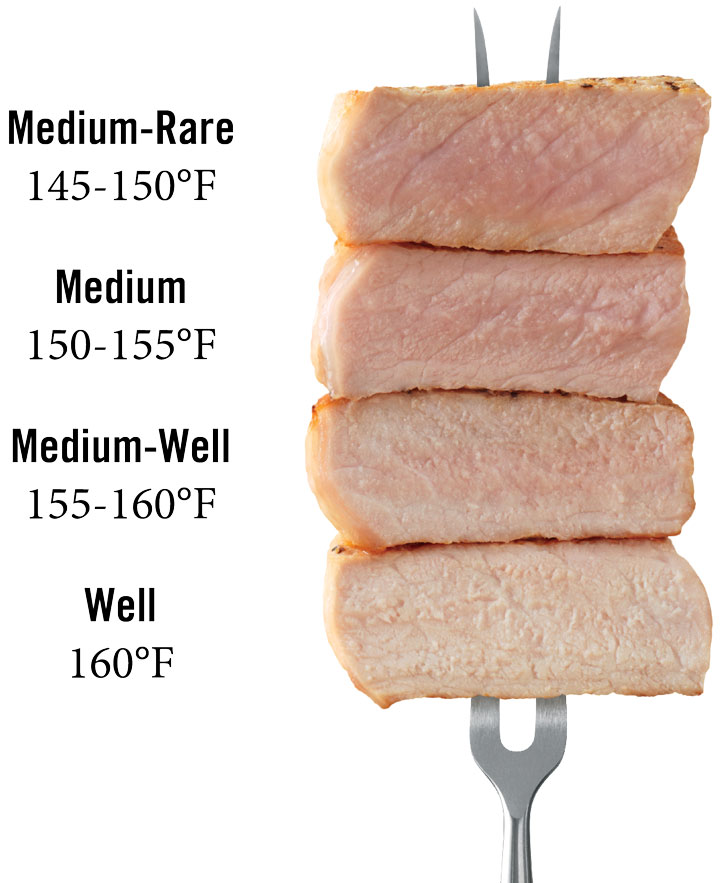 The seasoning for this recipe
Nearly 48 years after publication, the book Mastering the Art of French Cooking by Julia Child topped the best-seller list in 2009 following the movie released by Columbia Pictures, Julie & Julia.
From Wikimedia Commons, the free media repository.
An essential component of French and Mediterranean cooking, this summer-grown mixture of herbs, once described as a general multipurpose herb blend, originates in the Provence region in the south of France. Adding a distinctive flavor to dishes, it became a defined blend following its popularity in the 1960s when Julia Child included a recipe for Poulet Sauté aux Herbes de Provence in her famous cookbook Mastering the Art of French Cooking.
Herbes de Provence became a culinary essential used by chefs and cooks worldwide primarily due to Julia's promotion. Today, it continues with the mixture in modern-day cuisine used in various traditional dishes from chicken to lamb, grilled fish, roasted vegetables, soups, stews, and yes, even pork!
Where to Get Herbes de Provence!
The classic mixture for Herbes de Provence can vary from commercial producers to home cooks, and an official recipe or ingredient list for it ceases to exist. That's because every maker has a signature house blend that they develop based on personal preference, which can include various herbs and spices that could incorporate coriander, bay, fennel, tarragon, or even lavender, for a delightful aroma and a more floral flavor. The blend mostly depends on the dish it's used in and the final taste the cook wants to achieve.
Buying a ready-to-go mixture for Herbes de Provence is the solution to keep it simple. You'll find the all-purpose blend at most spice houses.
Our favorite sources are:
The Spice House, in their blend, basil, tarragon, and chervil, bring a bright sweetness, countered by the earthy notes of thyme and rosemary, while fennel and lavender add a wonderful floral note.
In the Home-Cooked Holiday Collection (available for a limited time), Wildtree brings back its Herbes de Provence blend to flavor your favorite dishes with earthy notes of thyme, rosemary, and savory, a bit of sweetness from basil, mild licorice flavor from fennel, and floral notes of lavender.
Making Your Own Herbes de Provence Blend
In our recipe, we've begun with thyme, summer savory, rosemary, and basil that you will generally find in most blends if making the herb and spice mix from scratch. To this, we've added fennel seeds for their slightly sweet licorice-like taste. Then finally, marjoram and lavender's addition attach somewhat sharp woody undertones of mint and an almost sweet floral and citrusy flavor to the blend.
1/4 cup dried French Style Thyme
3 tablespoons dried Summer Savory
2 tablespoons dried Rosemary, crushed with a mortar and pestle or in a spice grinder
1 tablespoon dried Basil
1 tablespoon Fennel seeds
1 teaspoon dried Marjoram
1 teaspoon dried Lavender, optional [1]
When making it for yourself, feel free to play around with the herbs and spices, and the amounts used to create and personalize your signature blend of distinctive flavors and combination of taste to season your favorite dishes. [2] To make it, add all of the herbs and spices to a mixing bowl and then stir to combine. Store the mixture in a glass jar with a tight-fitting lid in a cool, dry cupboard. Herbes de Provence will last for between six months to a year, depending on the herbs and spices' freshness when they're blended.
Picture the recipe step-by-step...
Apples (any good cooking apples will do) and two minced shallots make the sauce created in this recipe. Begin by adding them to the empty skillet after removing the cooked pork. Sauté these over medium heat for 5 minutes. The sauce will further come together as the brown bits stuck to the pan (the fond) left from the skillet combine with the chicken broth, then added to deglaze the pan. One tablespoon of Dijon mustard complements the sauce's character to simmer and soften the apples as they cook, and the sauce thickens and reduces.
Naturally sweet and not too starchy, parsnips make an ultra-silky delicious mash when pureed with heavy cream and seasoned with butter, garlic, salt, and pepper. Add a dash of nutmeg on top to include a warm, nutty flavor as the finishing touch to this savory treat!
Packed with Important Nutrients
A delicious type of root vegetable, parsnips are highly nutritious and offer several health benefits, including:
Fat-free, saturated fat-free, cholesterol-free, very low in sodium, and a good source of vitamins and macronutrients, parsnips are a powerhouse of essential nutrients
They supply antioxidants that help prevent chronic conditions such as cancer, diabetes, and heart disease
High in soluble and insoluble fiber, they help get things moving and optimize our digestive health
Low in calories, with a high water content of about 79.5%, they make an excellent addition to aid in healthy weight loss
Loaded with vitamin C and vitamin K, they provide about 25% of your daily needs in just one serving, and parsnips support immune function
And, they're affordable, delicious, and super easy to add to our diet
Plate this meal by serving the pork chops and apples over the parsnip puree to experience sensational flavor through simple ingredients. Make this home-cooked meal in about 25-30 minutes – for pure comfort, joy, and good nutrition this holiday season or anytime during the year!
Have you tried this recipe? I would love to hear your thoughts. Please comment. Click the blue-green comment bubble on the bottom right of your screen to jump to the comment area.
XXO
Footnotes:
[1] I have two recommendations for including lavender in cooking.
First, use it sparingly. Lavender can easily overwhelm sweet and savory foods and your tastebuds.
Secondly, while the flower from all lavender plants is edible, I suggest for culinary uses that you look for the Angustifolia lavender variety to add a sweet floral flavor to beverages, desserts, savory dishes, and meats. Many intermedia cultivar hybrids like Grosso and Edelweiss have a much more bitter taste and are better for crafts like wreath making. Stoechas varieties (a.k.a. French Lavender) grown as an ornamental is very strong. And take it from someone who has tried cooking with it, the taste is incredibly overpowering. In my opinion, it is best to use French lavender for soap-making as it has an intoxicatingly lovely fragrance.
[2] Particular herbs and spices will pair better with certain types of foods: rosemary, thyme, savory, and tarragon with chicken, thyme, savory, fennel, and sage for pork, rosemary, savory, thyme, oregano, and marjoram for lamb — you get the drift. So you might want to keep in mind these combinations when mixing blends for your favorite foods. Try making separate batches with different ratios of herbs and spices to use in your recipes. Pro Tip: Be sure to label your storage containers!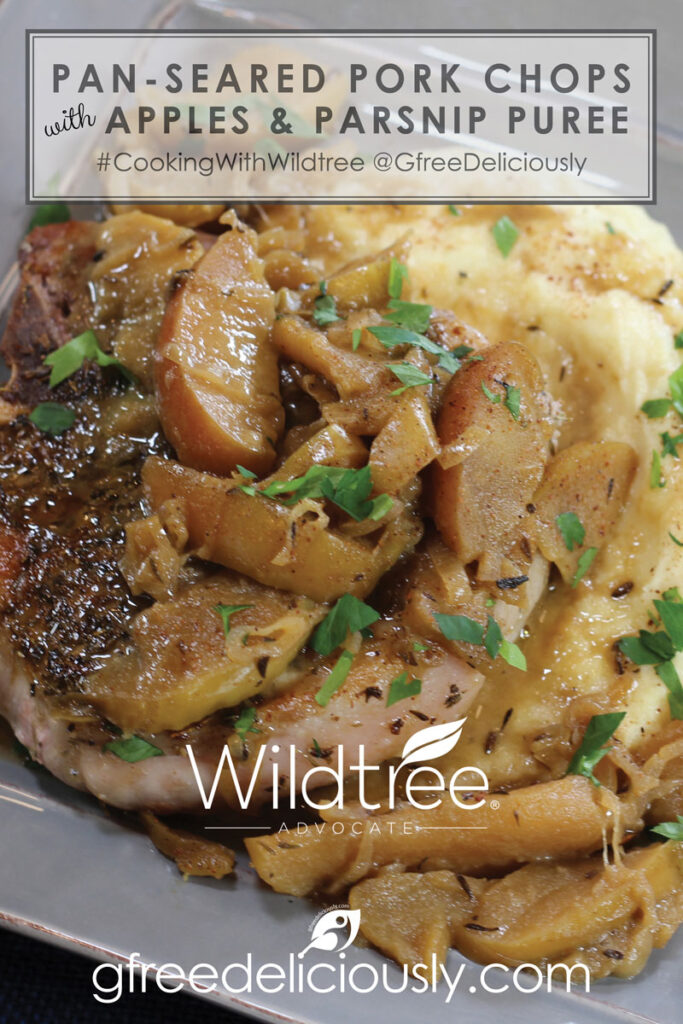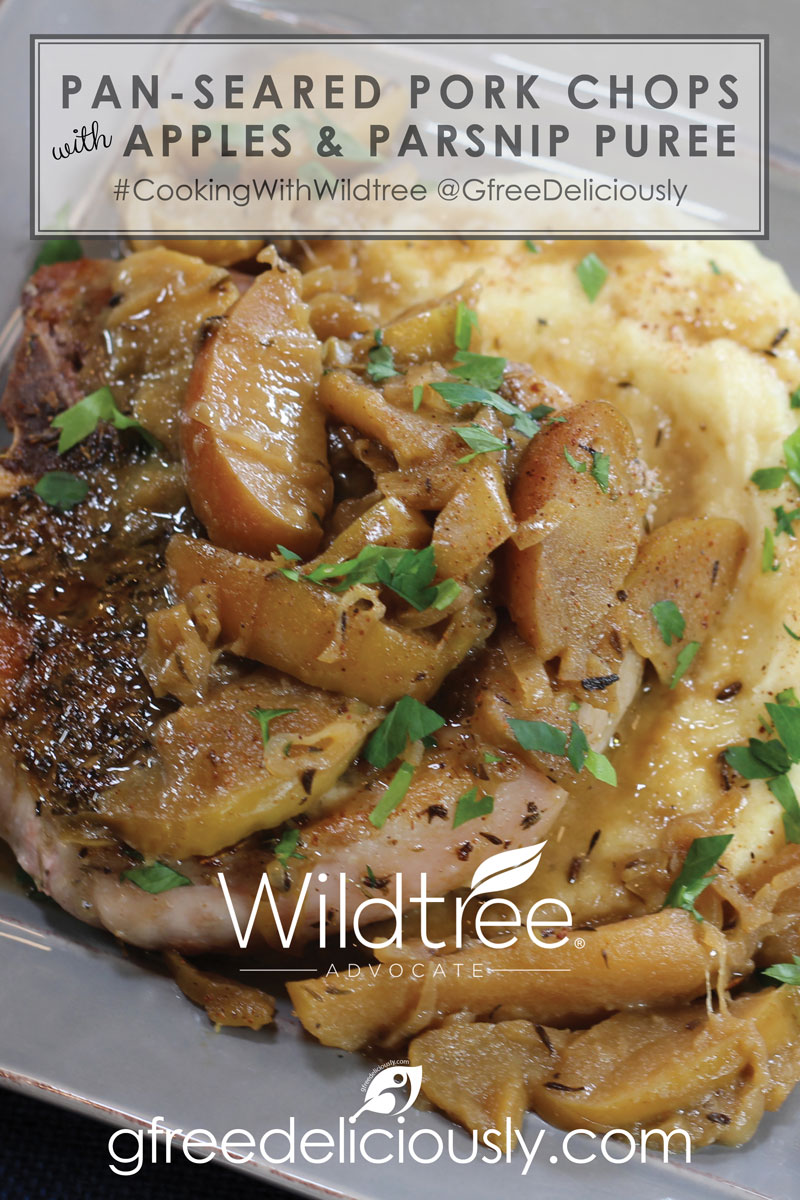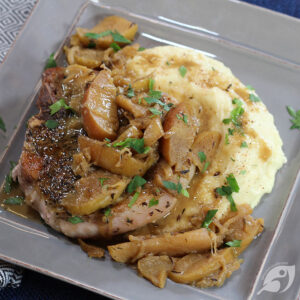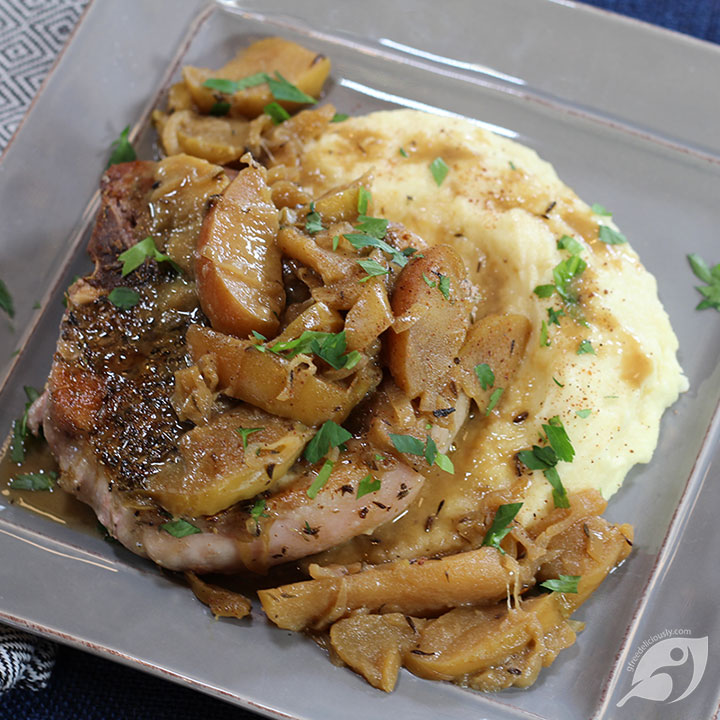 Pan-Seared Pork Chops with Apples & Parsnip Pureé
Become a pork chop pro and unwrap a bundle of nutritional surprises in this recipe for Pan-Seared Pork Chops with Apples & Parsnip Pureé.
EQUIPMENT
Cast Iron Skillet

Saucepan

Cutting Board

Blender or Stick Blender

Utensils (Knife, Vegetable Peeler, Measuring Cups & Spoons, Tongs, Heat-proof Spoon)
INGREDIENTS
For the Parsnip Pureé
1 ½

pounds

Parsnips

peeled and sliced

½

cup

Milk

½

cup

Heavy Cream

½

cup

Water

4

cloves

Garlic

2

tablespoons

unsalted Butter
Add ingredients to your Private Shopping List before ordering online.
Quick Add Ingredients to Shopping List
Nutrition
Calories:
434
kcal
Carbohydrates:
45.4
g
Protein:
17.7
g
Fat:
21.3
g
Saturated Fat:
8.7
g
Polyunsaturated Fat:
5.7
g
Monounsaturated Fat:
5.3
g
Trans Fat:
0.2
g
Cholesterol:
70.2
mg
Sodium:
481.8
mg
Potassium:
1027.9
mg
Fiber:
10.3
g
Sugar:
18.4
g
Vitamin A:
113.9
IU
Vitamin C:
33.8
mg
Vitamin D:
1.3
µg
Calcium:
153
mg
Iron:
1.8
mg
(Nutritional values are an approximation. Actual nutritional values may vary due to preparation techniques, variations related to suppliers, regional and seasonal differences, or rounding.)
Copyright © 2017-2023 Kymberley Pekrul | GfreeDeliciously | gfreedeliciously.com | All content and photographs are copyright protected. The sharing of this recipe is both encouraged and appreciated. However, copying and/or pasting full recipes to any social media is strictly prohibited. Please read my Photo Use Policy for detailed guidelines and further clarification.