Cooking Classes & Workshops
The Joys Of The Table Brought To Your Kitchen
A community should be at the heart of those with a gluten-free diet. That's why I offer get-togethers from 90-minute gluten-free snack and chat classes to 2-3 hour virtual cooking classes via ZOOM for cooks across the U.S. and in-person small-group workshops in the Central Wisconsin area.
During virtual snack and chat or cooking classes, you can attend alone, with one or more family members, or invite up to 10 friends in on the fun virtually to get together and create some great meals!
We'll use what you have in your pantry and fridge and the products GfreeDeliciously recommends. You'll get tips and tricks we use daily in our kitchen to keep things exciting and GfreeDeliciously delicious!
Each guest gets their cooking kit of gluten-free product goodies (choose from packages valued between $40-$85) to help you create the most delicious and healthful meals ever!
At GfreeTogether we can do this!
Teambuilding Events
Bachelorette Parties
BBQ Buddies
Cooking with Kids
Birthdays
The approximate length of each class can vary from 90 minutes to 2-3 hours.
Booking your At-Home or Workshop Experience...
If you're interested in booking a snack and chat or virtual cooking class for yourself and friends from the safety of your home kitchens via ZOOM or participating in an in-person small-group workshop* in Central Wisconsin, contact me for more information to get package and scheduling details.
*I know you agree that the past few years have been CRAZY and full of challenges. I can't wait to welcome you back to #CookingGfreeDeliciously public classes as soon as possible. Please check back for programming updates and scheduling something at your location, or contact me to pencil in a date for the future.
In the meantime, I've been working hard to develop virtual experiences that will help you sharpen your cooking skills, learn something new, and have a lot of fun cooking gluten-free. Watch our recent #CookingGfreeDeliciously free videos or register for one of the scheduled paid programs listed below.
Upcoming #CookingGfreeDeliciously Classes & Workshops
BRAND-SPANKIN' NEW !!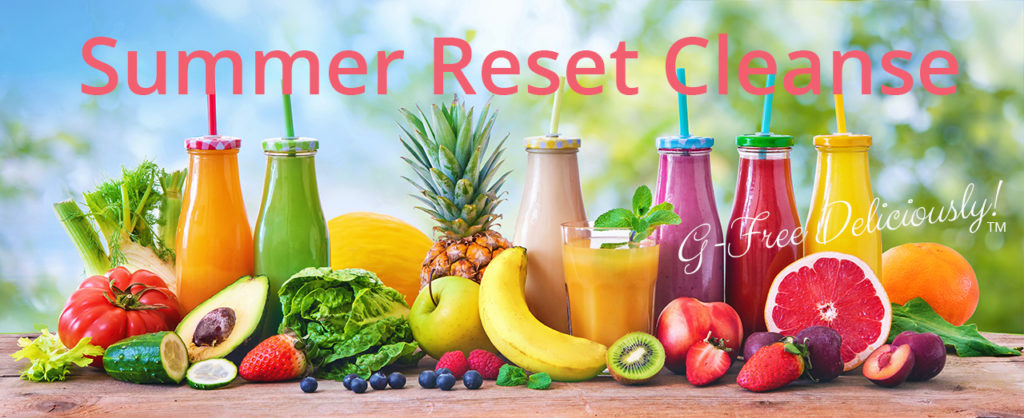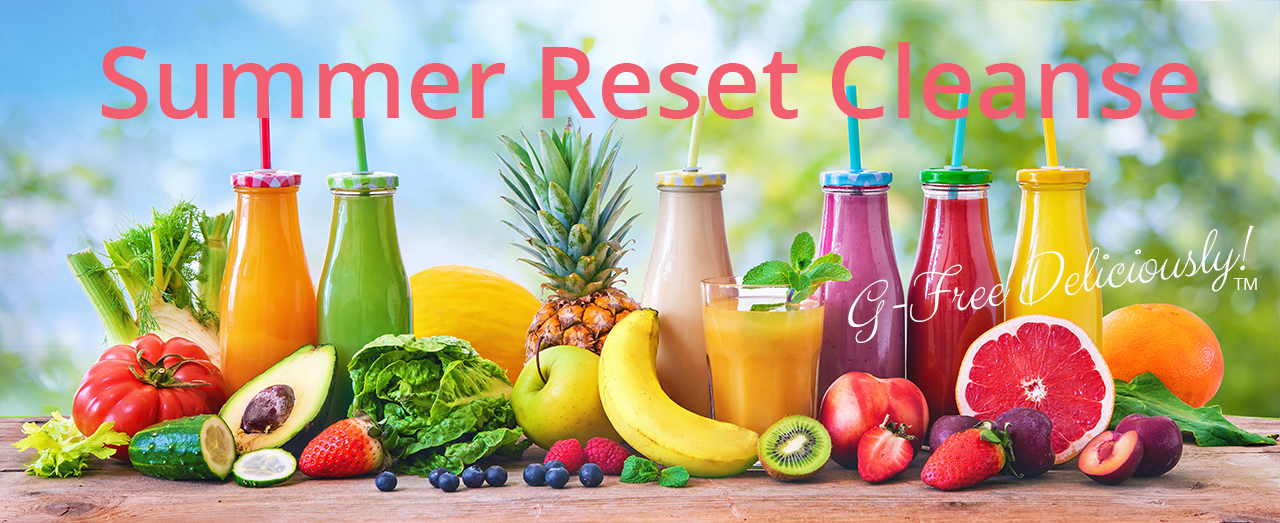 Summer Reset Cleanse !!!


Attend the Cleanse Class Online via ZOOM!
14-Day Summer-Reset Cleanse
Includes Three-One-Hour Wellness Sessions
ANNUAL SUMMER SPECIAL!!
Your Cost is $99 (Regular price $297)
Pay in 3 Easy Payments of $33 *
(*Credit Card Payment Required. Participants will be charged $33 upon purchase,
then $33.00 every two weeks for three payments $99.00 total, NO Service Fees.)
CONTACT ME HERE TO SIGN UP…
– OR –
CLEANSE WITH FRIENDS & $AVE EVEN MORE!
When you and a friend purchase a 14-Day Reset Cleanse, you will each save an additional $20 on the sale price! You may also purchase two cleanses, one to use now and the second to schedule within the following year.
That's $436 SAVINGS FOR TWO!
Just mention you saw this deal on the website and get the code below.
Get Your Cleanse With Friends Savings Code HERE!
Hit your Reset Button with a fun and healthy nutritional adventure!
The healthy cleanse releases toxins and excess bloat from your tissues resets your digestive system, and renews your well-being baseline. Learn how food affects how you feel, how to attune to your body's unique needs, and how to activate natural healing.
14-Day Cleanse in 3 Easy Phases:
• Phase 1: Pre-Cleanse Prep (2 Days)
• Phase 2: Cleanse (7 Days)
• Phase 3: Re-Introduction (5 Days)
Start anytime, Now through August 31st (each year)!
Coaching is 100% ONLINE through ZOOM !!
3 – Zoom video wellness sessions
scheduled at your convenience.
Classes and Workshops are open to my clients and the public.
Each class/workshop is 90 minutes, and regularly scheduled events are held via live ZOOM and at Unravel Wellness Studio in Mount Calvary, Wisconsin. *
Cooking classes may include:
• The 90-minute classes can concentrate on a range of gluten-free meal types, from healthy and delicious breakfasts weeknight meals, lunches, or snacks for you and your family.
• Meal prep like a pro with our make-ahead bundles, which walk you through prepping healthy meals you can store in your freezer for busy nights ahead.
• Looking for a specialized class? Learn how to make anything you love gluten-free – desserts, pizza dough, pasta, and more!
• Let's recreate your favorite meals and desserts – only they will be gluten-free this time!
Workshops may focus on topics such as:
• Chat about nutritional labeling
• Finding tasty gluten-free products
• Where gluten hides in common processed foods and ingredients
• Baking gluten-free
• Setting up your gluten-free pantry
• The incremental cost of being gluten-free, how to receive medical expense tax credits
• Planning a party or holiday meal to accommodate gluten-free guests
• Planning your gluten-free vacation
Gift certificates are available upon request.
Have a suggestion for a future class or workshop? Contact Kymberley.
All classes must be paid for (in full) at least one week before the event. Class fees are non-refundable and non-transferable.
*Occasionally, groups/organizations may schedule classes and workshops at additional Central Wisconsin locations, which may be open to the public. To hear about these opportunities, sign up to receive our notifications.
EXAMPLES OF PAST IN-PERSON EVENTS
PAST EVENT – GFD WORKSHOP-101: What's this thing called Gluten-Free? 
Cost: $10
Unravel Wellness Studio
205 Fond du Lac Street
Mount Calvary, WI 53057
**************************
PAST EVENT – Christ Erin Family Wellness Event 
Cost: FREE
9:30 to 11:30 a.m.

Who doesn't want their family to be healthy, inside and out?
Join GfreeDeliciously and others for this free morning of learning and fun!
Click HERE for Directions
Erin School
6901 Hwy O
Hartford, WI 53027
Christ Erin is a ministry of Christ Lutheran Church in Pewaukee.
Christ Ev. Lutheran Church
W240 N3103 Pewaukee Rd
Pewaukee, WI 53072
Stay in the LOOP On Upcoming #CookingGfreeDeliciously
Cooking Classes &Workshops!
Be among the first to hear when new events are planned.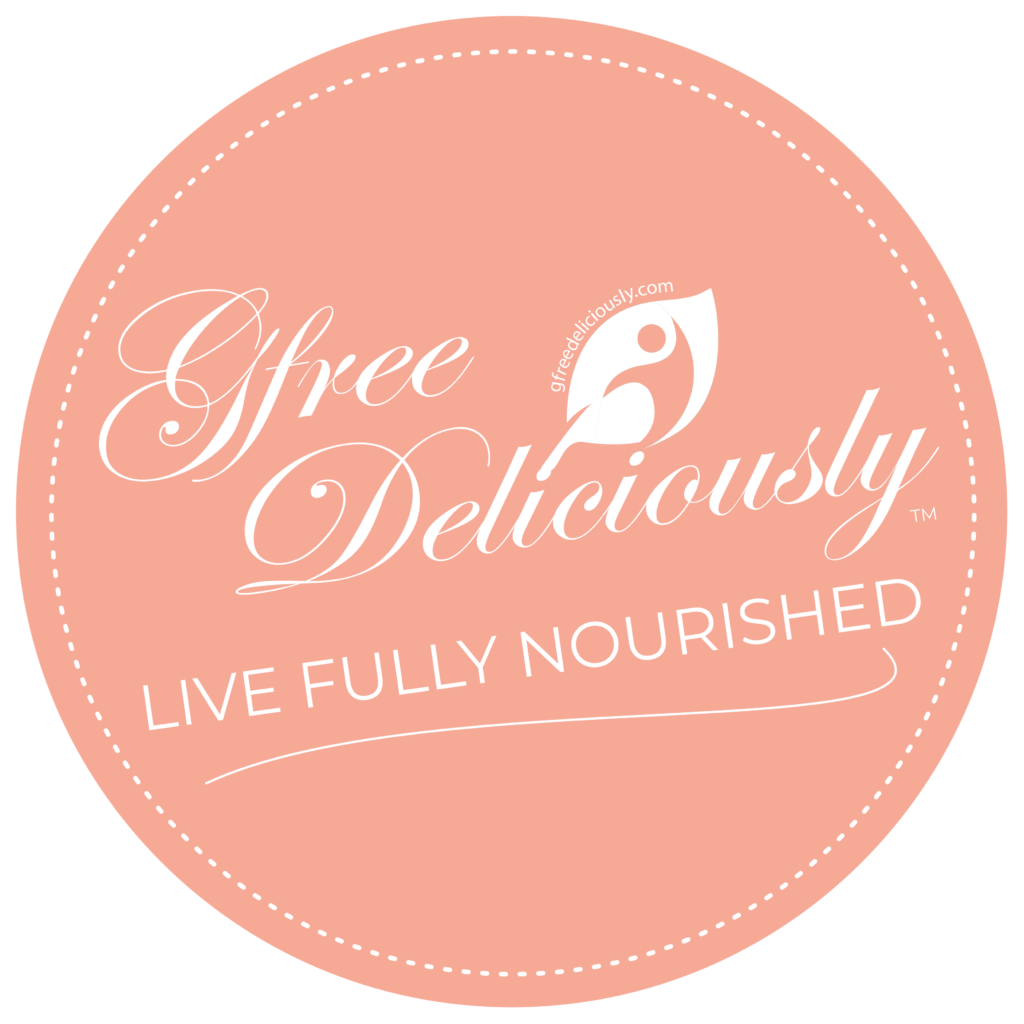 GET RECIPES • RESOURCES • +eNEWS UPDATES & MORE STRAIGHT TO YOUR INBOX !
Simple and delicious gluten-free recipes, family-friendly meal ideas, healthy cooking, encouragement, and easy-to-implement lifestyle strategies to live fully nourished… Only from GfreeDeliciously!