Step away from spiralizing zoodles for a day to bake this Chocolate Zucchini, Raisin & Nut Bread...
A super chocolatey, chip-filled zucchini bread treat!
There's no need to re-invent the wheel when zucchini bread tastes this good. Moist and flavorful Chocolate Zucchini, Raisin & Nut Bread is a great way to use up zucchini when you're trying not to let any go to waste!
If you love chocolate and have a surplus of zucchini on hand, this throwback recipe, Chocolate Zucchini, Raisin & Nut Bread from my baking archives back in "The Country Gazette" days of my publishing career is the perfect treat to satisfy any chocolate craving you might have while using up more of the nutrient-rich zucchini squash that's so abundant this time of year.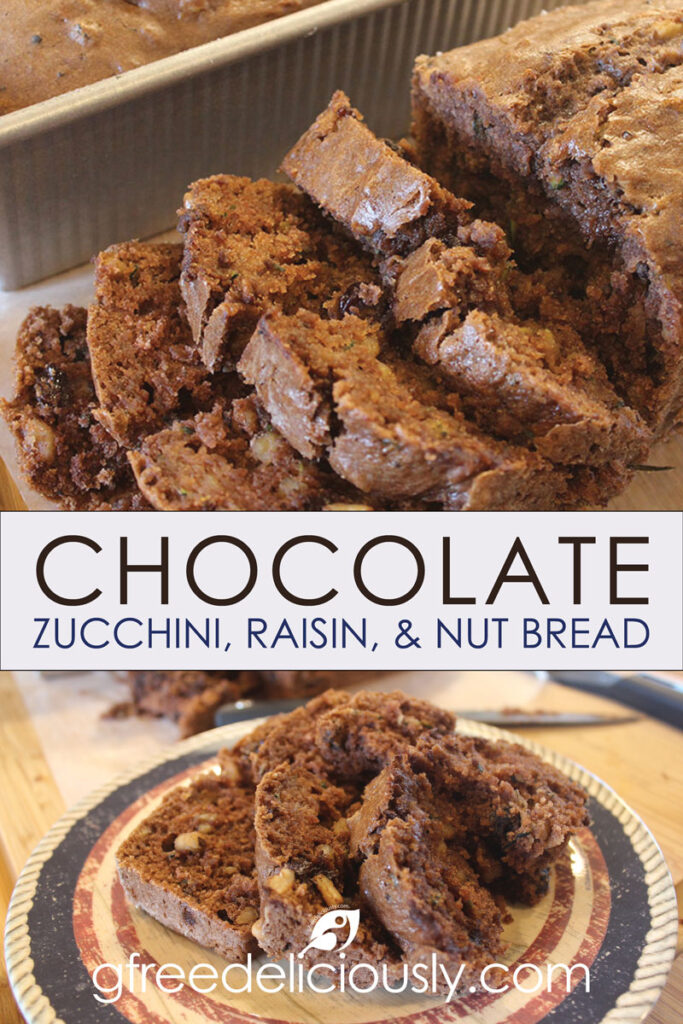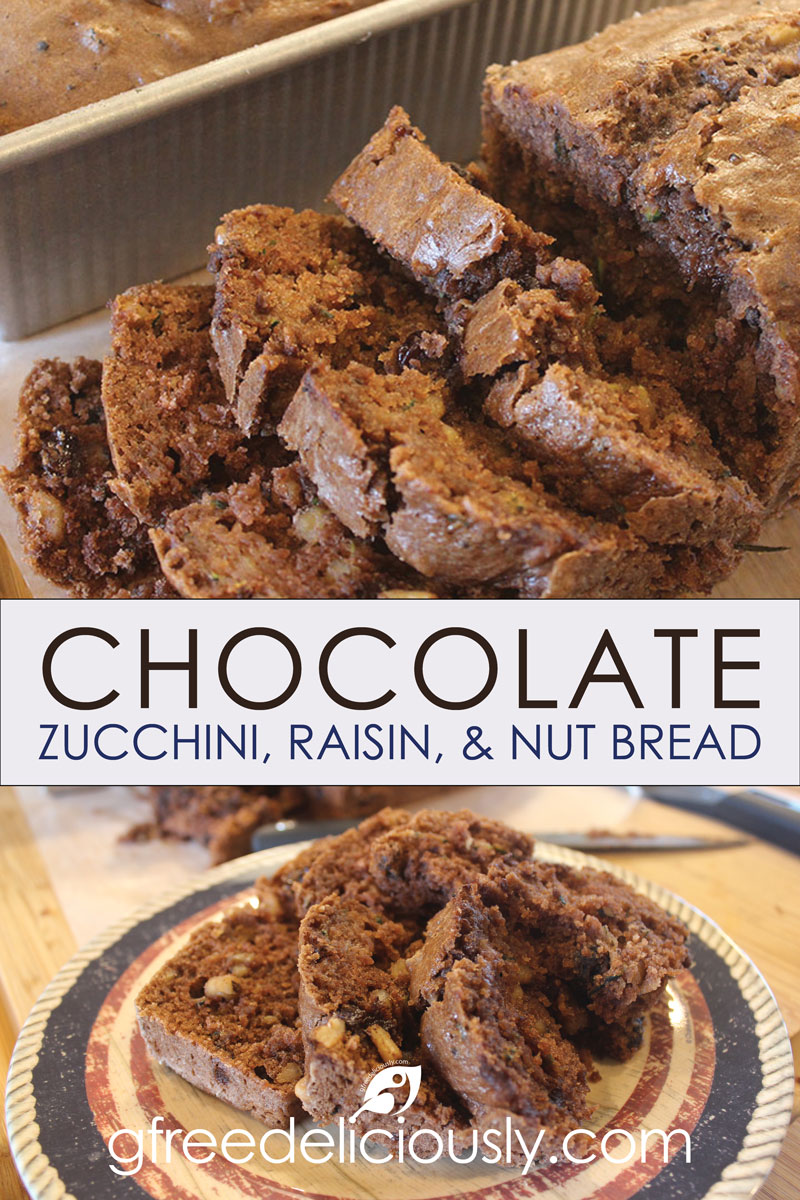 What to L♥VE about this zucchini bread...
What you'll love even more is that this chocolate zucchini bread recipe is a super nutritious treat. The raisins provide a delicate sweetness and fiber to the bread and help replace the need for tons of refined sugar. For staying power, walnuts add a little crunch and boost the heart-healthy fats, fiber, and protein – but if walnuts aren't your thing, go for pecans or almonds they'll be just as good.
Sometimes you just need to switch things up a bit.
While I'm all about Zoodles, the name given to noodles made by spiralizing zucchini squash, there are times when you just need to switch things up a bit when summer's most abundant bounty calls for a little something slightly more "Carb-O-Licious."
Cue up this Chocolate Zucchini, Raisin & Nut Bread.
So with the help of our grandchildren, we stepped away from spiralized zucchini recipes for a day to use an old-fashioned grater to make this Chocolate Zucchini, Raisin & Nut Bread.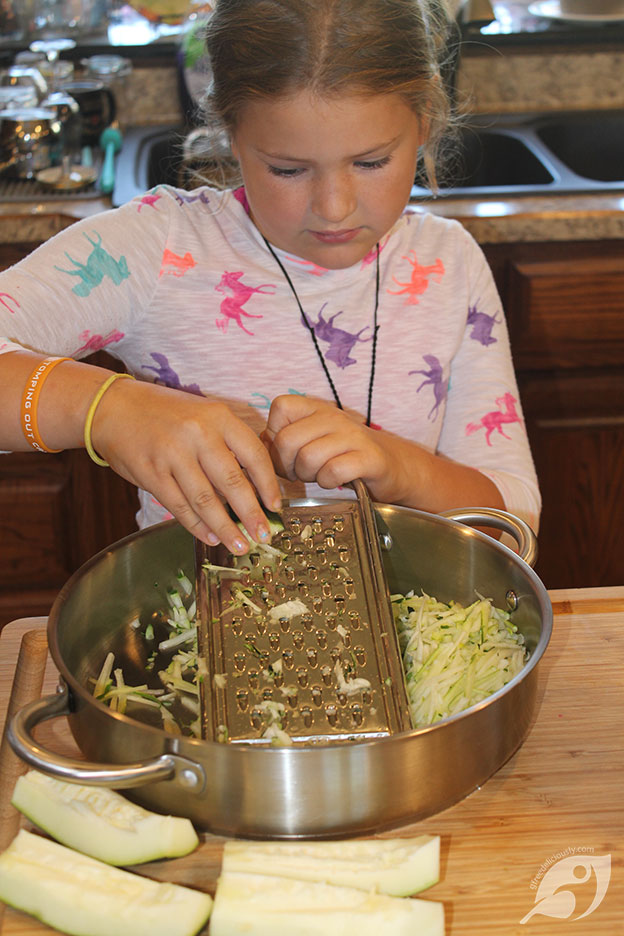 After grating the zucchini the old-fashioned way, we folded it into a flavor-packed quick-bread batter studded with chocolate chips, raisins, and walnuts.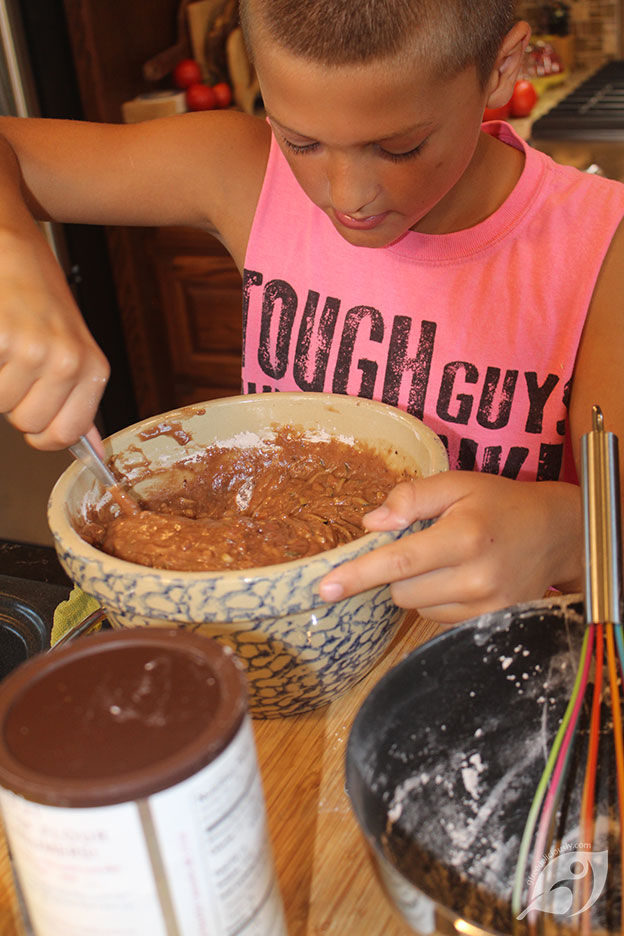 The result is this extra-moist chocolate zucchini bread perfect for slicing and serving for breakfast, lunchbox treats, or for an on-the-go-snack to get you through the day.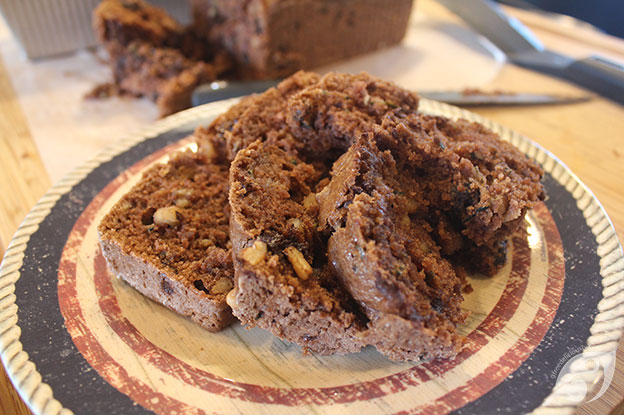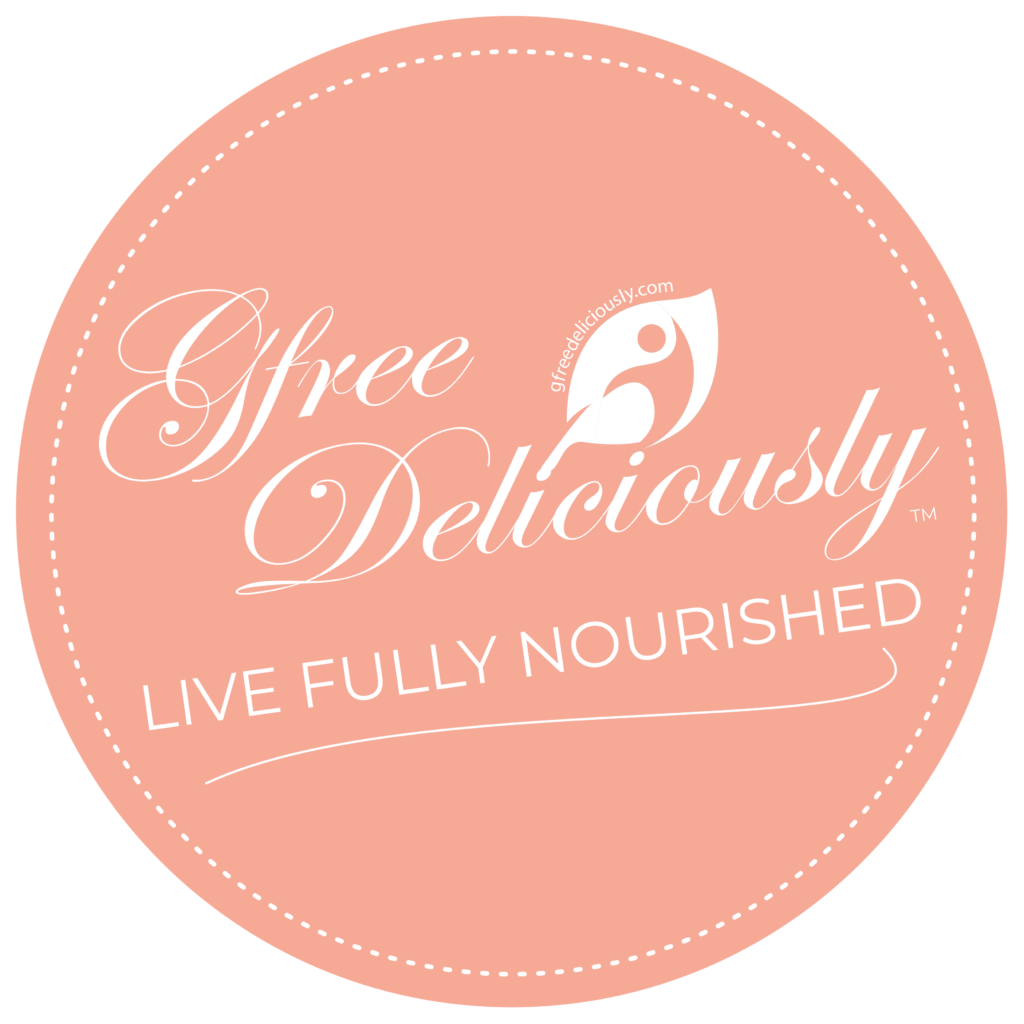 GET RECIPES • RESOURCES • +eNEWS UPDATES & MORE STRAIGHT TO YOUR INBOX !
Simple and delicious gluten-free recipes, family-friendly meal ideas, healthy cooking, encouragement, and easy-to-implement lifestyle strategies to live fully nourished… Only from GfreeDeliciously!
Picture the recipe step-by-step...
This simple to make Chocolate Zucchini, Raisin & Nut Bread makes not one but two super-moist loaves of zucchini bread. So that means that the grandkids could take a loaf home too!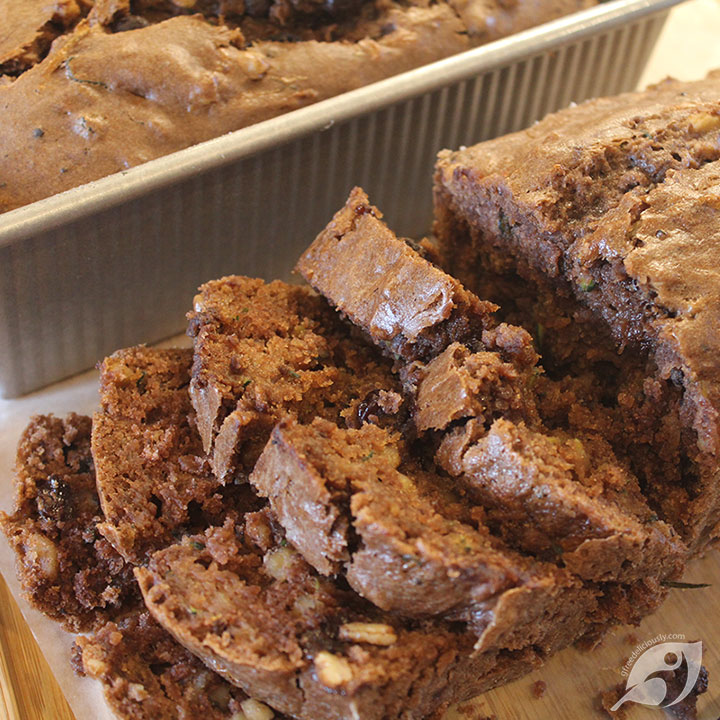 Have you tried this recipe? Let me know you made it. Did you use any little helpers for grating the zucchini and mixing up the batter?
Click the blue-green comment bubble at the bottom right corner of your screen to let me know in the comment area below. I would love to hear about your experience and how the recipe turned out!
XXO
For more zucchini recipes, check out: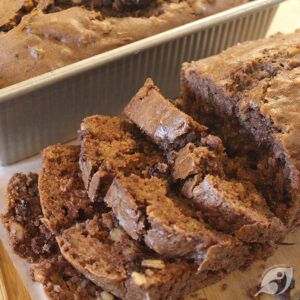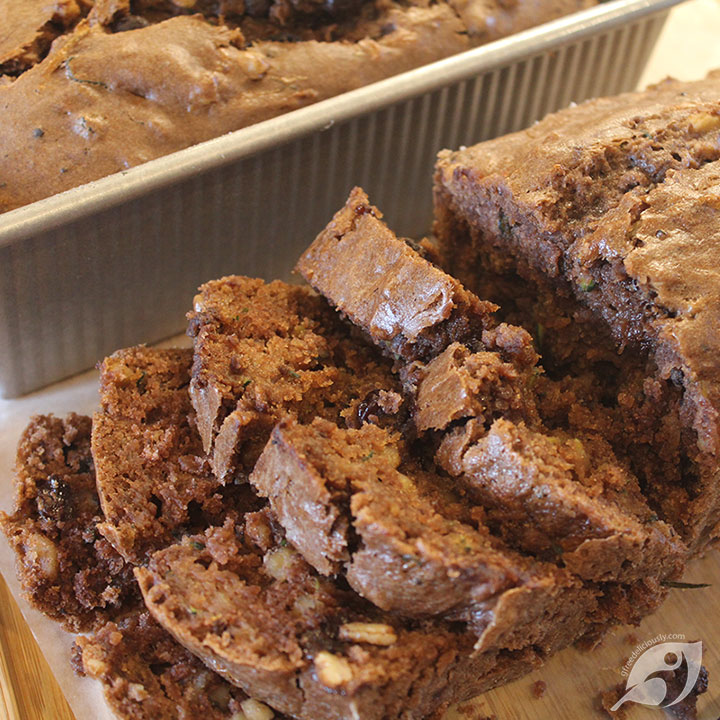 Chocolate Zucchini, Raisin & Nut Bread
Zucchini surplus? No problem. This yummy zucchini bread recipe is ultra-moist, chocked full of natural sweetness, a light nutty crunch, and chocolatey goodness in every bite! And, it freezes well too!
EQUIPMENT
Bread Pans

Large Mixing Bowls

Box Grater, Hand Grater or Food Processor (with a grating disk)

Utensils (Measuring Cups and Spoons, Rubber Spatula, Whisk)
Add ingredients to your Private Shopping List before ordering online.
Quick Add Ingredients to Shopping List
INSTRUCTIONS
Preheat oven to 350ºF

Grease and flour two 4 x 8-inch bread loaf pans and line with parchment paper, cutting the short sides to fit and cutting the long sides so that the parchment extends over each side of the pan about 2-inches.

Using the large holes on a shredder-grater, grate the zucchini (leave the skins on, but remove the seeds).

Beat eggs in a large bowl until light and lemon-colored; add in canola oil, sugar, vanilla extract, and mix until smooth. Stir in grated zucchini.

In a separate bowl, whisk together the gluten-free all-purpose flour, cocoa powder, cinnamon, salt, baking soda, and baking powder.

Stir the flour combination into the zucchini mixture.

Fold in the chocolate chips, raisins, and chopped walnuts.

Pour the batter into the prepared loaf pans.

Bake at 350ºF for about 1 hour until the bread is firm to the touch and pulls away from the sides of the pan. A toothpick inserted into the center of the loaves should come out clean.

Transfer the pans to a wire rack and let cool in the pan for 10-15 minutes, carefully lift the loaves with the parchment onto the racks to cool completely before slicing to serve.

Save uneaten zucchini bread by wrapping it in plastic wrap, then storing in the refrigerator up to a week. To freeze, first, wrap the bread in plastic wrap, then wrap tightly in foil before placing in a freezer-safe zipper bag. [1]
KITCHEN NOTES
[1] Slice the zucchini bread and place each slice with waxed paper wrapped on each side before packing to freeze. By doing it this way, it's easy to remove a slice at a time to warm in the microwave and enjoy it at any time!
Nutrition
Calories:
193
kcal
Carbohydrates:
19.3
g
Protein:
2.1
g
Fat:
12.8
g
Saturated Fat:
1.9
g
Polyunsaturated Fat:
3.9
g
Monounsaturated Fat:
6.2
g
Trans Fat:
0
g
Cholesterol:
23.3
mg
Sodium:
161.6
mg
Potassium:
109.6
mg
Fiber:
1.8
g
Sugar:
13.4
g
Vitamin A:
11.8
IU
Vitamin C:
2.9
mg
Calcium:
27.4
mg
Iron:
0.5
mg
(Nutritional values are an approximation. Actual nutritional values may vary due to preparation techniques, variations related to suppliers, regional and seasonal differences, or rounding.)
Copyright © 2017-2023 Kymberley Pekrul | GfreeDeliciously | gfreedeliciously.com | All content and photographs are copyright protected. The sharing of this recipe is both encouraged and appreciated. However, copying and/or pasting full recipes to any social media is strictly prohibited. Please read my Photo Use Policy for detailed guidelines and further clarification.