Smoked Salmon Spread – A nutritious snack or healthy indulgence, however you justify it, I'm betting this smoked salmon spread will have you finding excuses to mix up some more…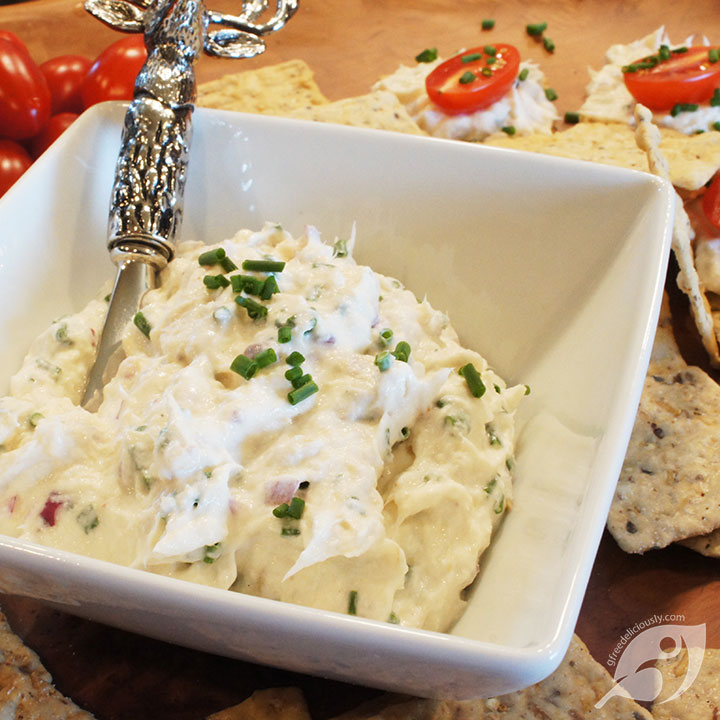 Homemade foods are the absolute best gifts that a girl or guy could ever ask for when family and friends stop by. In my kitchen, it's no different, and each year the last week of July I can always count on a bounty of delicious special food gifts arriving during brother's week.
Brother's week as I've named it, is a week-long tradition that began several years ago when my husband's two eldest brothers decided that it would be fun to visit us each year during the week of the EAA AirVenture. The fly-in convention held yearly during the last week of July in Oshkosh, Wisconsin, attracts more than 500,000 people and 10,000 airplanes. Of course, the brothers asked us first. We agreed, and so it became the tradition.
The brothers, (my brothers-in-law) arrive early in the week to be able to spend their days at the AirVenture in aviation bliss among other enthusiasts who descend on the EAA grounds and Wittman Regional Airport, turning the small, regional hub into the busiest airport in the world for a week.
At the end of those busy event-filled days, the weary and sun-parched brothers return to Lac du Nibiinaabe (our place) for a bit of R&R, home cooking, and a whole lot of great conversations, stories, and BS-ing well into the evening until the next day when they do it all over again.
Over the years it's also become the week for our tribe to reunite with the brothers (their Uncles) from afar when we all gather for a BBQ on the weekend. And, during such occasions, we may also receive drop-ins of cousins, nieces, nephews, grandchildren, and even more family from nearby Wisconsin towns and adjoining states. It's a crazy fast fly-by week that's filled with cooking, entertaining, visiting and lots of busy days doing that ends in good spirits, yet leaves everyone who comes with a heaping dose of having been filled with enough family closeness to tide them over until the excitement builds to do it again in the coming year.
Early in the week as our guests arrive, I and my fridge and freezer welcome them and their bounty – vegetables fresh-picked from gardens, great-lakes-caught salmon, lake trout and whitefish, venison from the last year's hunt, homemade wines, smoked jerky, and other yummy homemade food-stuffs.
The standing joke this past year was, "how many carbs does all that have?"
And, as the week winds down, then it's time to get creative in the kitchen with all the little food bits that are left over in the fridge.
This year, my Lower-Upper-Michigan brother-in-law gifted an exceptional bounty of salmon and whitefish that he'd caught and prepared in his smoker. He's been smoking fish for years. A retired Charter Captain and avid fisherman, this brother can catch, gut, clean, and place a full day's catch in a barrel of brine in the time it takes most people to finish a cup of coffee. A day later, that same day's catch is smoked, ready to eat and enjoy.
The fish, smoked in true Northern-Michigan fashion, are hot-smoked, skin on, over a hardwood fire. When finished the tasty smoked fish begs for no forks or condiments. Simply take your fingers, lay open the carcass, dig in and flake off the meat from the bones.
Chiding him just a little, I learn that the exact recipe for smoking the catch is his secret, but I'm sure my taste buds can detect a bit of sweetness from brown sugar that he adds in his brine, although he declines to say either way. In my pestering, he did offer up this recipe for Smoked Salmon Spread; although, he credits his son, my nephew from Ishpeming, for the flavorful blend of ingredients.
From memory, he listed off each ingredient giving a general reference to quantity like equal of this and that, throw in a dab of such-n-such, a splash of you-know-what, and a pinch of this for the measure. Of course, I tweaked things just a little bit to be able to call it my blog recipe. None the less, this easy Smoked Salmon Spread is a great way to use up a bounty of smoked fish. Delicious as a cracker or baguette spread, appetizer (stuffed in baby tomatoes), or slathered on a gluten-free bagel. Whip some up for your next get-together, special occasion, tailgate or card party, or what the heck nosh down on the whole bowl full all by yourself. Ya-dare-eh, it's really, really, really that darned good! I-N-D-U-L-G-E-N-C-E all the way…
Thanks, brother!
I can't wait till next year when (hopefully, hint, hint) smoked fish will once again be on the menu.
everything you ever wanted to know about spreads but were afraid to ask...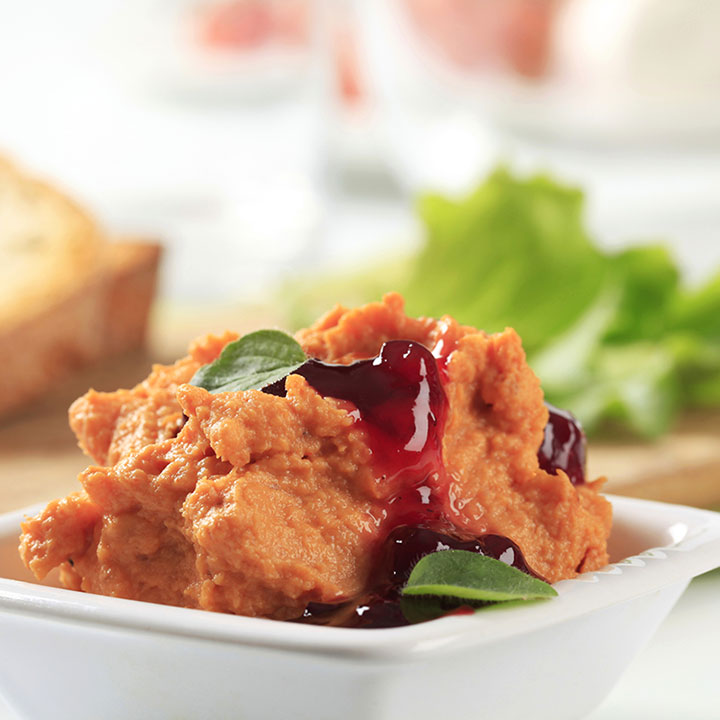 Spreads are foods that are generally "spread" with a knife onto foods like bread, crackers, and other foodstuffs. In my kitchen, we've also become accustomed to using spreads to stuff into foods like tomatoes, cucumbers, and celery for entertaining. Nonetheless, the stated purpose for using spreads is to enhance, intensify, and ramp up the texture and flavor of foods that may be considered bland without them.
In the category of spreads are butter, spreadable creams, cheeses, prepared mayonnaise, mustard, and ketchup. Among other variations are dressings like Green Goddess, Russian Dressing, and Thousand Island to name a few. Included in the spread spectrum is honey, jams, jellies, hummus, and even yeast spreads (vegemite and marmite). Meat and fish-based spreads including pâté and even Braunschweiger (sausage) are considered spreadable condiments. And, who else has eaten the canned ham meat spread, Deviled Ham, that's been produced by the American food company Underwood since 1870?
Now, I know we're not to speak his name, but oddly enough the devil or rather the technique of "deviled or to devil in food preparation," as in preparing deviled meats, has a lot to do with culinary history and spicy dishes. Like the canned deviled ham, many spreadable condiments fall into the deviled foods category. Deviled foods, (aka deviled dishes), are highly seasoned foods including hot ingredients. The culinary term is rooted back to Great Britain in 1786, referencing dishes that were highly seasoned and broiled or fried. By 1800, preparing foods in the "deviled" way or to "devil" them became a verb to describe the method of making food spicy.
Nearly 70 years ago the cooking method of deviling foods became popular in America. At that time, foods made this way were made and eaten regularly, which by the way was the height of their popularity in the United States.
During the nineteenth and into the twentieth centuries, American menus including deviled foods continued to grow especially in fish and seafood preparations and some appetizers, with deviled beef bones leading the procession. The technique became even more popular as American palates widened after Vietnam. Following that era, just about everything from fish and lamb to beef and chicken was being deviled.
In the 21st century, we're all probably guilty of deviling foods whether we know it or not. For instance, when was the last time you prepared deviled eggs?
But, getting back to meat, chicken, and fish spreads; the method of adding spicy and interesting flavors to compliment but not overwhelm the type of protein offers modern-day cooks a multipurpose, low-carb, high-protein choice for snacks or meals no matter how you spread them.
Still can't get enough? Learn even more by reading Everything You Ever Wanted to Know about Deviled Ham but Were Afraid to Ask. In this article, Gena Philibert-Ortega searches old newspapers to discover and learn about deviled ham and other deviled foods, including recipes. Gena is a genealogist and author of the book "From the Family Kitchen."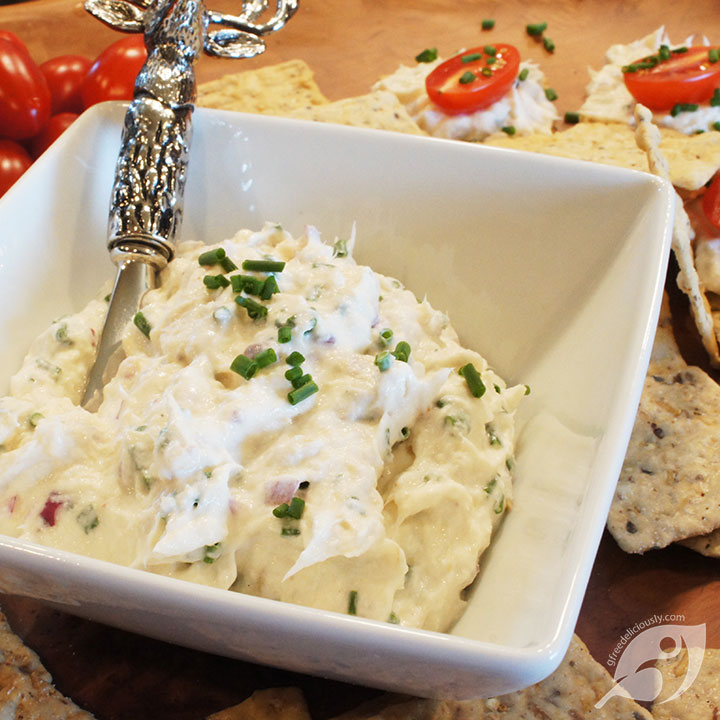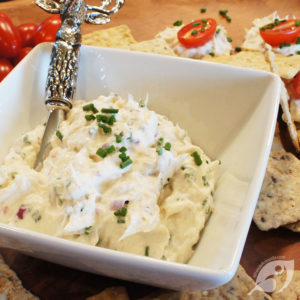 Homemade Smoked Salmon Spread
The low-carb high-protein snack spread.
Equipment
small mixing bowl

Electric Mixer
Add Ingredients to Shopping List or Order them Online
View Shopping List
Ingredients
1

cup

Smoked Salmon

deboned and flaked (fish option, smoked Whitefish)

⅓

cup

Cream Cheese

⅓

cup

Sour Cream

2

tablespoons

fresh Horseradish

1

teaspoon

Lemon Juice

2

tablespoons

Shallot

minced

1

tablespoon

Chive

chopped

Salt and Pepper

to taste
Instructions
In a small bowl, cream the cheese with an electric mixer until smooth.

Add the sour cream, lemon juice, and horseradish, and blend until smooth.

Stir in the salmon, shallot, chive, and salt and pepper.

Chill until ready to serve* with gluten-free crackers, spread on a bagel, or use as a filling in vegetables for a healthy snack.
Recipe Notes
*Chill this spread for one hour before serving to allow the flavors to blend, enhancing the flavor experience.
Nutrition
Calories:
11
kcal
Carbohydrates:
0.3
g
Protein:
0.2
g
Fat:
1
g
Saturated Fat:
0.4
g
Polyunsaturated Fat:
0.2
g
Monounsaturated Fat:
0.3
g
Trans Fat:
0
g
Cholesterol:
2.6
mg
Sodium:
11.4
mg
Potassium:
7
mg
Fiber:
0
g
Sugar:
0.2
g
Vitamin A:
6
IU
Vitamin C:
0.1
mg
Calcium:
3
mg
Iron:
0
mg
(Nutritional values are an approximation. Actual nutritional values may vary due to preparation techniques, variations related to suppliers, regional and seasonal differences, or rounding.)
Copyright © 2017-2022 Kymberley Pekrul | GfreeDeliciously | gfreedeliciously.com | All content and photographs are copyright protected. The sharing of this recipe is both encouraged and appreciated. However, copying and/or pasting full recipes to any social media is strictly prohibited. Please read my Photo Use Policy for detailed guidelines and further clarification.
If you like this recipe, you might also want to try...