The Ultimate New Orleans Inspired Sandwich for Shrimp Lovers!
This quick lunch or supper sandwich packs a flavorful punch of Creole-inspired flavor for an easy meal that's ready to eat in just 20 short minutes.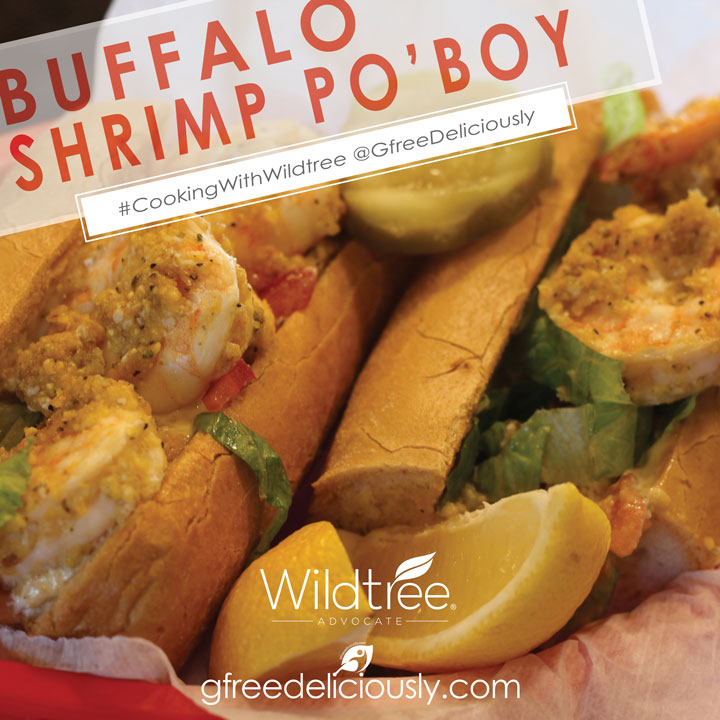 IMPORTANT UPDATE: November 1, 2022
Please note that some ingredient links in this post may have been removed or changed from our original recipe published to reflect new affiliate partnerships.
If you're a fan of shrimp and easy, simple meals full of flavor, these Po' Boy sandwiches need to be at the top of your menu favorites!
These sandwiches really couldn't be any easier to make.
Our trick to making this simple sandwich lies in one of my favorite ingredients, the Buffalo Bleu Dip & Dressing.
You'll start by making a Louisiana remoulade dressing for the sauce. A descendant of classic French remoulade sauce, Louisiana remoulade gets its jazzed-up flavor from the spice added. And to make it super-simple, this version uses Buffalo Bleu Dip & Dressing seasoning to give its zesty cajun flare.
Next, the tender shrimp are prepared simply by adding a couple of tablespoons of cornmeal and, you guessed it, more of the Buffalo Bleu Dip & Dressing seasoning. This blend made with blue cheese powder, sea salt, onion, garlic, cayenne pepper, and a few other herbs and spices is the perfect all-in-one ingredient for making the spicy coating.
Then pan fry the shrimp for 2-3 minutes until crispy before piling them up on a toasted French-style baguette with the remoulade dressing, lettuce, and tomato for this Po'Boy that's so amazingly delicious!
Catch the G-Free Deliciously Wildtree Wednesday Replay!
What is a Po'Boy Sandwich?
In its simplicity, the deceptively humble sandwich called a Po'boy is filled with roast beef or fried seafood (often crab, shrimp, catfish, or oysters dipped in a cornmeal batter and seasonings) and served with lettuce, tomatoes, and remoulade sauce on a baguette.
This southern favorite originated in Louisiana in the late 1920s, but it has a unique history for a sandwich with such modest ingredients.
If you're among my readers who love culinary history as much as I do, I urge you to keep reading because I can't complete this post without touching on the rich past to do with this sandwich.
But if you're hungry and can't wait to sink your teeth into this cajun-inspired, knock-your-socks-off sandwich of shrimpy goodness, click on the button below to jump to the recipe card to start making and eating this Po'Boy right now!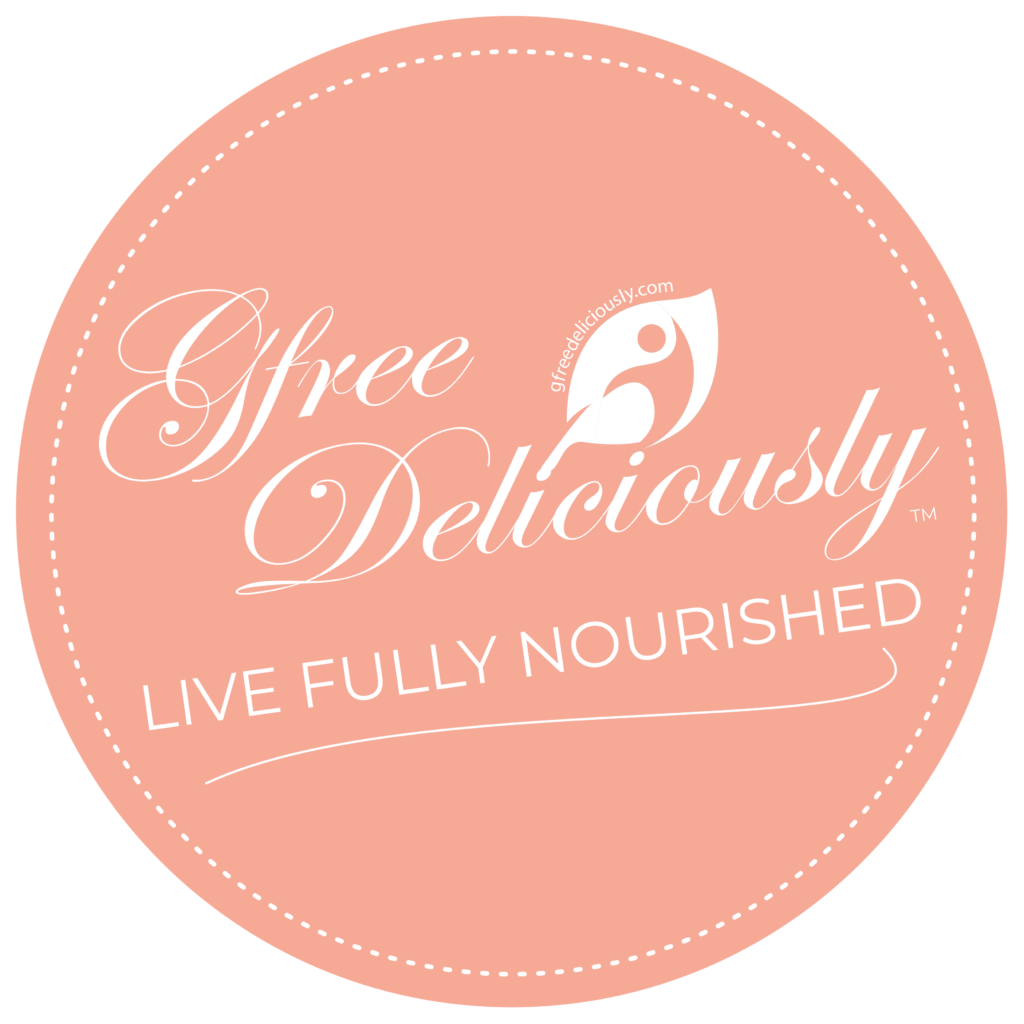 GET RECIPES • RESOURCES • +eNEWS UPDATES & MORE STRAIGHT TO YOUR INBOX !
Simple and delicious gluten-free recipes, family-friendly meal ideas, healthy cooking, encouragement, and easy-to-implement lifestyle strategies to live fully nourished… Only from GfreeDeliciously!
A brief history of the Po'Boy
As in many culinary legends, the origins of when it started being called a "Po'Boy" are not too specific because many narratives have attached themselves to the famous sandwich over the years. But the most common consensus to explain the term "Po'Boy" in sandwich history, at least in New Orleans, comes from two brothers and their story.
In the mid-1910s, two brothers, Bennie and Clovis Martin, moved to New Orleans from their home in Raceland, Louisiana, to work as streetcar conductors until they opened Martin Brothers' Coffee Stand and Restaurant in the French Market in 1922.
The restaurant specialized in French loaf sandwiches with anything you wanted on them. Still, it wasn't until 1929, when the Amalgamated Association of Street and Electric Railway Employees of America, Division No. 194, went on a four-month-long strike, leaving over a thousand union streetcar workers without a source of income, that the sandwich became known as a Po'Boy.
It was a time of national unrest as transit strikes throughout the nation provoked emotional displays of public support, and the 1929 New Orleans strike ranked among the nation's most violent strikes.
On July 1, 1929, the streetcar motormen and conductors began their strike after increasingly heated contract negotiations. However, when the company brought in "Strikebreakers" (career criminals brought in from New York) on July 5 to run the cars, brickbats and jeering crowds of strike supporters stopped them.
More than 10,000 New Orleanians gathered downtown to watch the strike supporters disable and burn the first car operated by the strikebreakers.
Support for the Union Local...
Small and large businesses donated goods and services to the local union. Among those in support were the Martins'. Remember, the brothers had spent years working as streetcar operators and as members of the union's street railway employees.
Among many letters supporting the strike workers, sent to the striking carmen, Division 194 was the Martins' letter promising, "Our meal is free to any members of Division 194." The letter concluded: "We are with you till h-l freezes, and when it does, we will furnish blankets to keep you warm." Martin Brothers Letter courtesy of Louisiana Research Collection, Tulane University Libraries.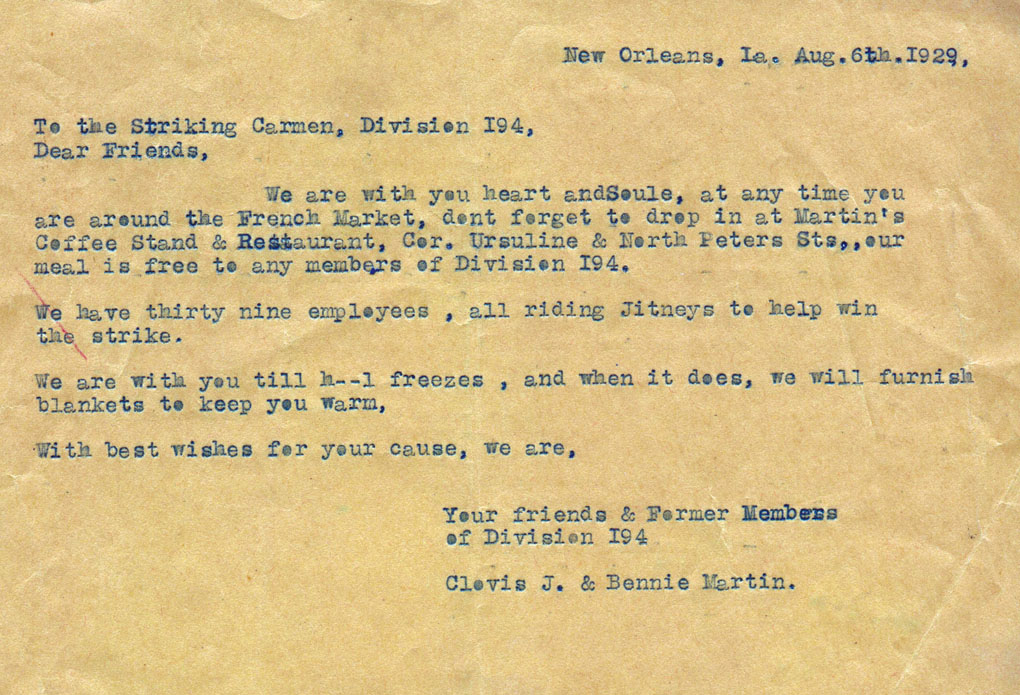 Making Good on Their Promise...
The Martins provided sandwiches to the strikers to make good on their promise. Stories recalled Bennie Martin saying, "We fed those men free of charge until the strike ended. Whenever we saw one of the striking men coming, one of us would say, 'Here comes another poor boy.'"
By the start of the Great Depression, the carmen had lost their jobs and the strike.
In the end, the continuing generosity of the Martins and their sandwiches proved to be a wise business decision that earned the Martins fame as well as new customers.
To hear and read more about the Po'Boy and Streetcar Stories, visit neworleanshistorical.org.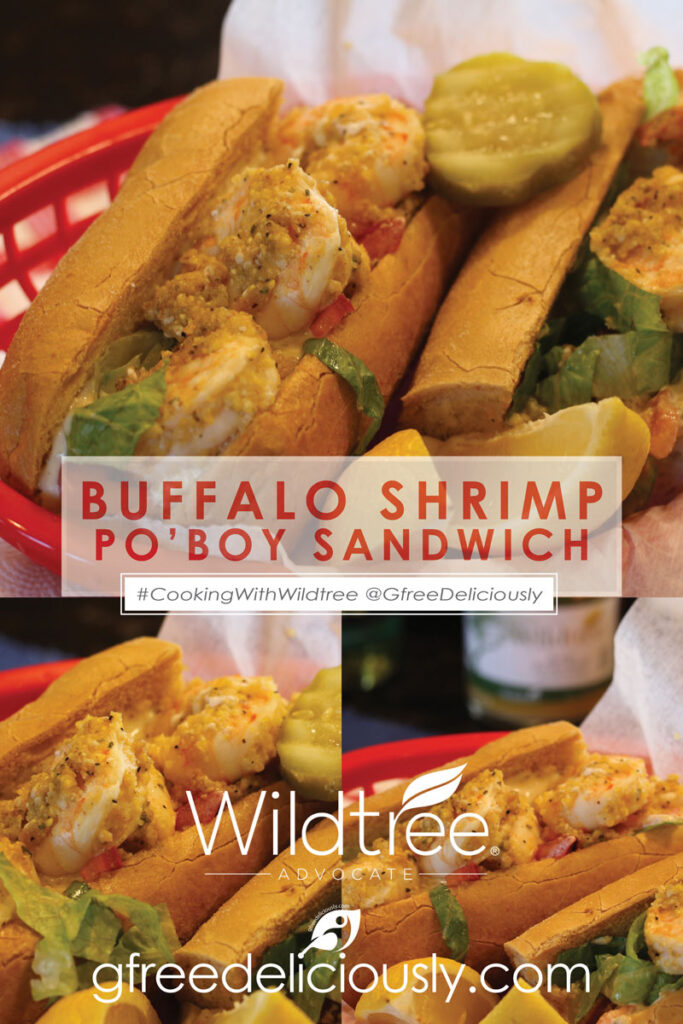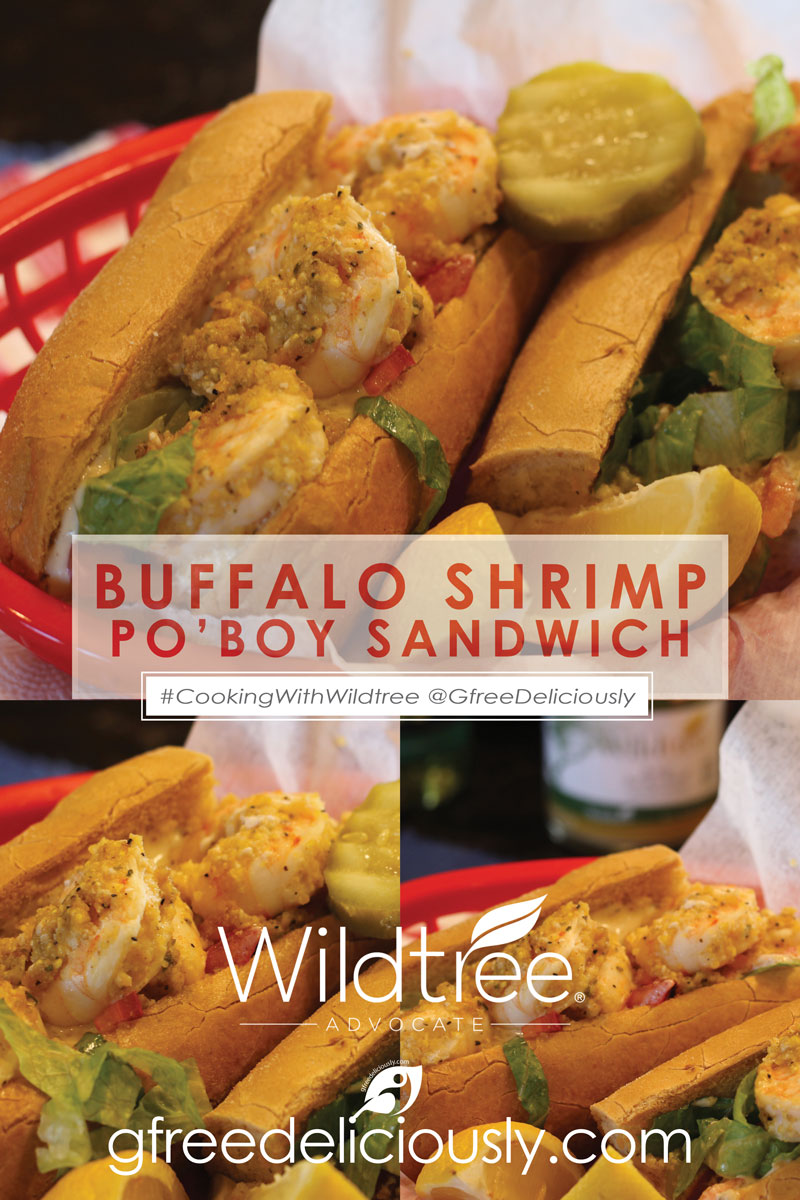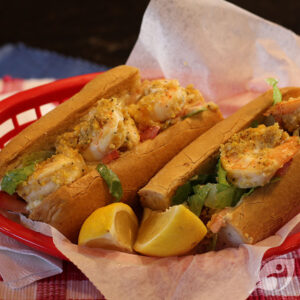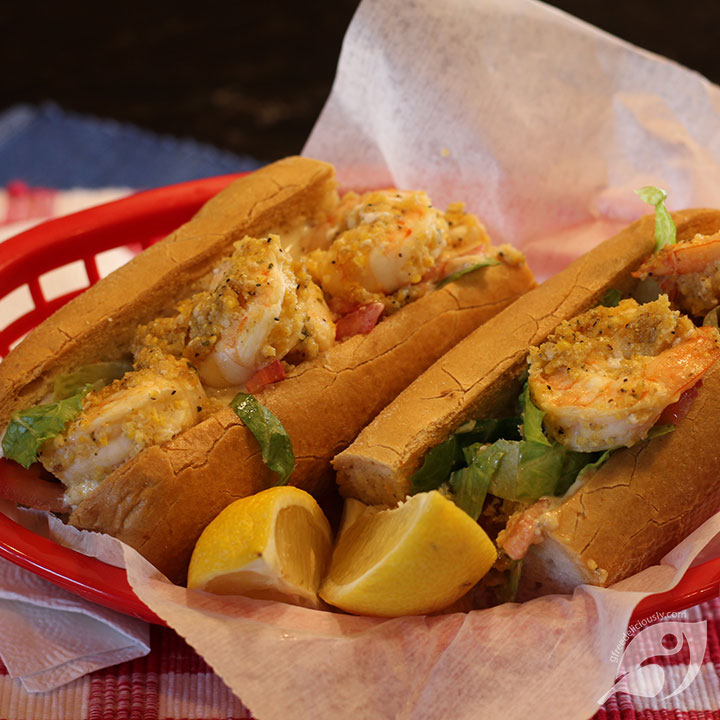 Buffalo Shrimp Po'Boy
Knock your socks off with this Buffalo Shrimp Po Boy! Plump, crispy pan-fried shrimp piled on top of a French-style baguette, topped with a jazzed up Blazin' remoulade dressing flavored with creamy mayo, Dijon mustard, capers, and garlic to create a delicious po'boy that'll make you think you're dining in the French Quarter!
EQUIPMENT
Nonstick Skillet

Cutting Board

Utensils (Measuring Cups and Spoons, Knife, Whisk, Tongs)
Add ingredients to your Private Shopping List before ordering online.
Quick Add Ingredients to Shopping List
INSTRUCTIONS
For the Remoulade Sauce
For the Fried Shrimp
KITCHEN NOTES
*The original recipe used Blazin' Buffalo Blend* available from Wildtree.
Nutrition
Calories:
592
kcal
Carbohydrates:
43.6
g
Protein:
33.9
g
Fat:
32.6
g
Saturated Fat:
5.4
g
Polyunsaturated Fat:
13.3
g
Monounsaturated Fat:
9.8
g
Trans Fat:
0.1
g
Cholesterol:
194
mg
Sodium:
1201.4
mg
Potassium:
362.9
mg
Fiber:
2.6
g
Sugar:
2.6
g
Vitamin A:
57.7
IU
Vitamin C:
3.6
mg
Vitamin D:
0.1
µg
Calcium:
101.2
mg
Iron:
4.5
mg
(Nutritional values are an approximation. Actual nutritional values may vary due to preparation techniques, variations related to suppliers, regional and seasonal differences, or rounding.)
Copyright © 2017-2023 Kymberley Pekrul | GfreeDeliciously | gfreedeliciously.com | All content and photographs are copyright protected. The sharing of this recipe is both encouraged and appreciated. However, copying and/or pasting full recipes to any social media is strictly prohibited. Please read my Photo Use Policy for detailed guidelines and further clarification.