Old-Fashioned Cherry Rhubarb Sauce
Cherry Rhubarb sauce is simple to make and so versatile in the endless ways to serve and use it. This old-fashioned sauce is a wonderfully delicious treat to drizzle, layer, serve, slather, or spoon, chilled or warmed. You can make a batch in about 15 to 20 minutes tops, and when canned or frozen, it's an easy way to brighten up any day with the taste of Spring!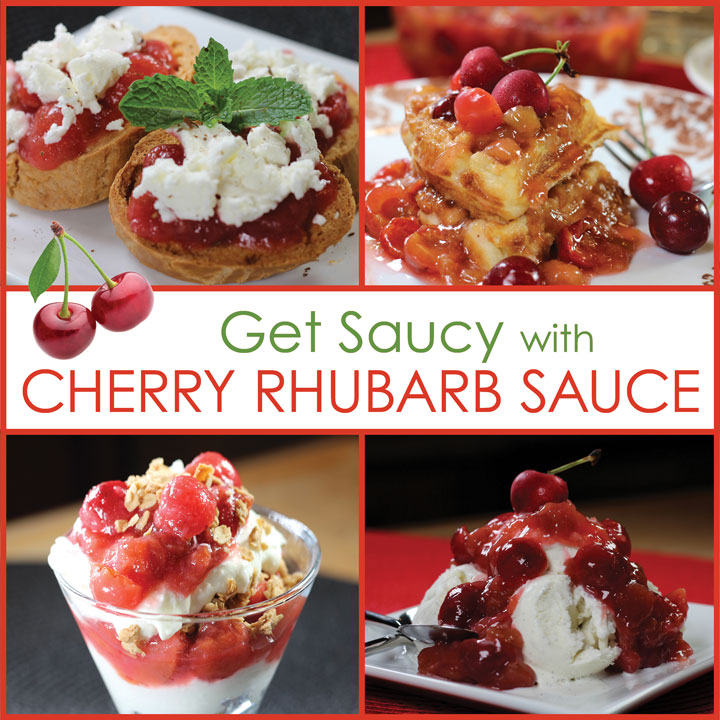 Rhubarb is one of the first springtime vegetables to grow in my garden. The perennial plant has stalks like celery that can grow to be more than two feet long, and it's often prepared or combined with fruit for eating as dessert. It can be eaten raw, but because of the vegetable's tartness, most people like it best when it's cooked and sweetened with sugar or sweeter fruits like cherries, strawberries, or apples.
First appearing in North America in the late 1700s, the plant was introduced by a Maine gardener who obtained the seed from Europe. As the story goes, within 25 years, the vegetable became so popular in America that it was a regular offering at produce markets. Back in the day, rhubarb was primarily used for pies, thus earning its nickname of the "pie plant."
Flash forward to modern times, where today cooks and bakers use rhubarb in many culinary ways for making pies, tarts, and sauces to both sweet and savory dishes.
A Plant Riddled with Controversy...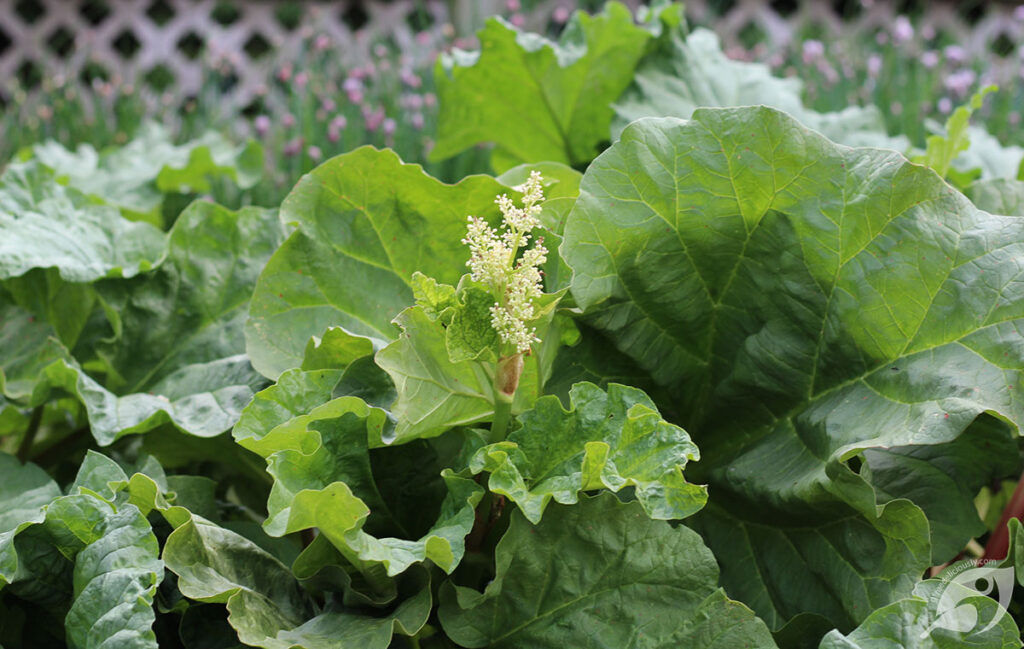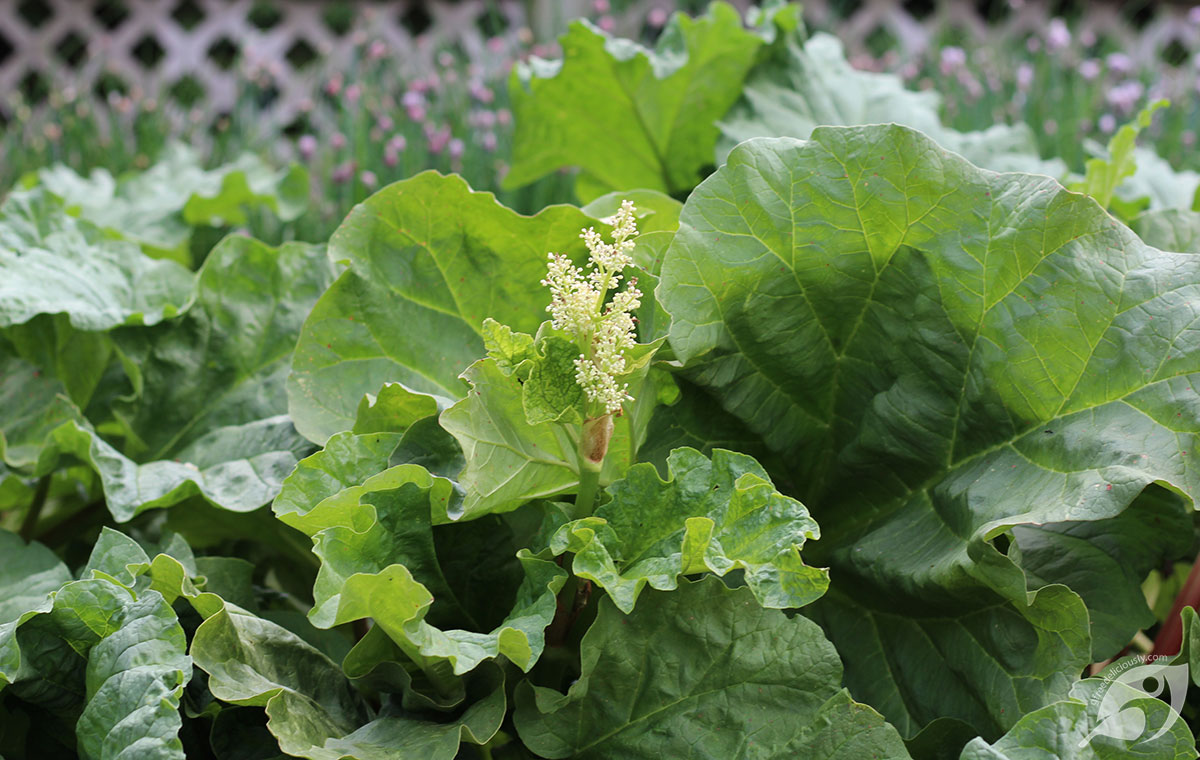 Like the tomato, rhubarb's identity is riddled with controversy.
Is it a Fruit or a Vegetable?
Botanically speaking, rhubarb is a vegetable, but most people consider it to be a fruit. So much so that, in 1947, a New York court decided that since Americans primarily used the vegetable as a fruit, it would be considered a fruit for regulations and duties. Whichever it is, most agree that it's delicious.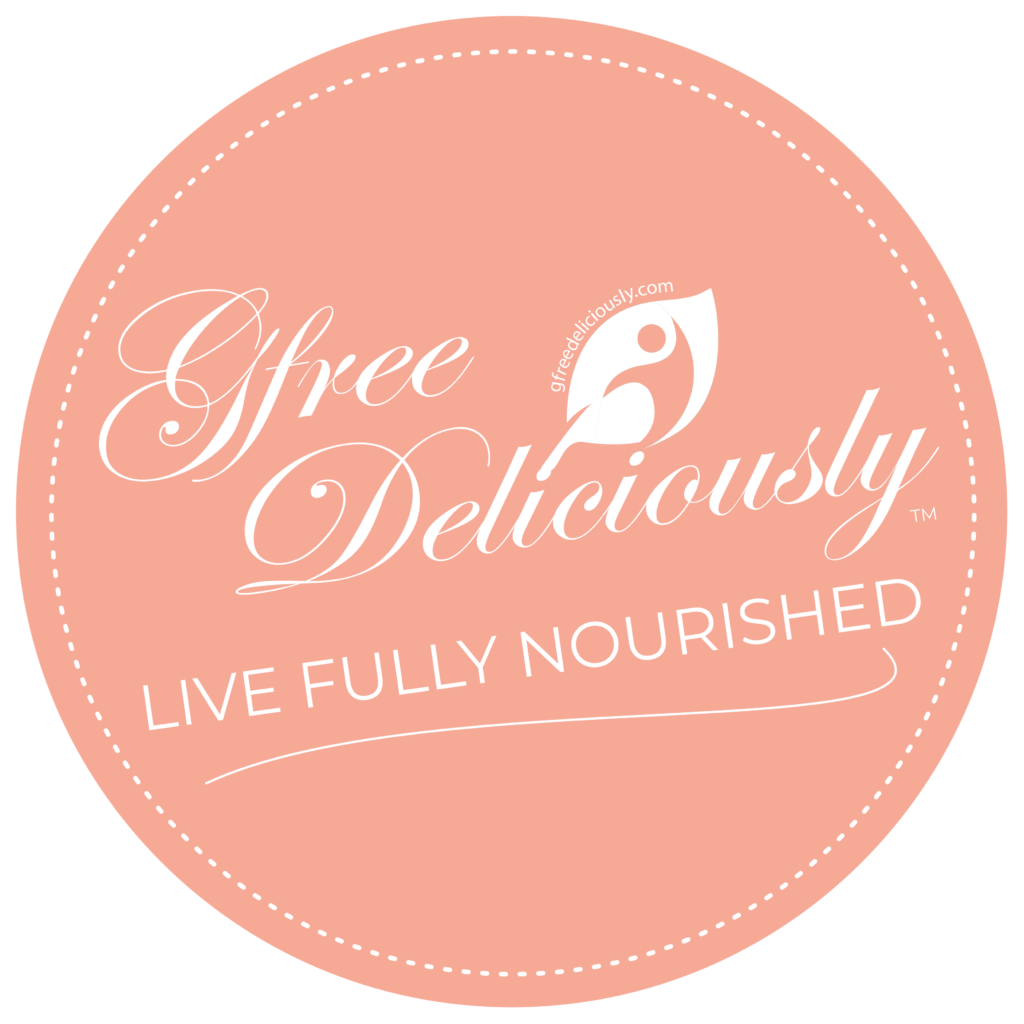 GET RECIPES • RESOURCES • +eNEWS UPDATES & MORE STRAIGHT TO YOUR INBOX !
Simple and delicious gluten-free recipes, family-friendly meal ideas, healthy cooking, encouragement, and easy-to-implement lifestyle strategies to live fully nourished… Only from GfreeDeliciously!
How to Harvest Rhubarb...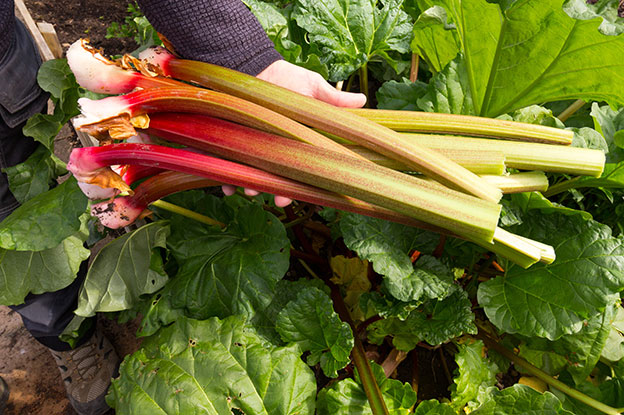 When the stalks become 18 to 24-inch long, start by harvesting the more enormous diameter stalks on the outside of the plant and work your way toward the middle, leaving the smaller ones to grow and use later in the season.
Slide your hand down the stalk, twist slightly, snap and pull. The stem should snap off quite easily.
If pulling doesn't work for you, cut the stalks about one-third above ground level with a sharp knife or kitchen scissors.
Cut the leaves and trim the root from each stalk. Despite what you may have heard, it is perfectly safe to compost the rhubarb leaves. Although the leaves contain significant oxalic acid, the acid is broken down and diluted quickly during the decomposition process, making composting very safe. Or, if you prefer, you can use the large leaves as a ground cover to keep the weeds down.
Leave at least one-third of the stalks standing to ensure the plant continues growing and thriving. In the fall, leave two-thirds standing to dry.
When to Cut and Use Rhubarb:
Use the stalks from early Spring through mid-June. Once the plant starts to flower with seed pipers, stalks often become tougher. While it is safe to continue to eat the rhubarb stalks, their texture is less enjoyable, and they become woody and stringy as growth slows down. To extend the picking season, pull off the flowering seed piper stalks at the base as soon as you see them.
By the end of June, add a little compost or cut the grass around the roots and let the plant rest and gain some strength over the summer. During summer and fall, you may continue to harvest a few stalks; however, to establish strong roots, leave two-thirds of the stalks intact so the plant can draw in water and nutrients.
Short Term - In the Fridge...
To store freshly picked rhubarb, trim both ends of unwashed rhubarb, place it in a plastic bag, and keep it in the refrigerator's crisper drawer for five to seven days.
When rhubarb stalks begin to dry out, wrap the unwashed stalks in a moist paper towel inside the bag.
If rhubarb becomes too damp, wrap the stalks in a dry paper towel and keep the bag dry.
Wash just before using it.
Long Term - In the Freezer...
Frozen rhubarb works well for most recipes. It will have the best flavor, color, and texture if used within 10 to 12 months.
Follow these steps to freeze:
Cut the leaves and ends from each stalk.
Wash and dry the stalks to remove water to prevent ice crystals from forming.
Cut each stalk into half to one-inch pieces.
Place cut pieces in a single layer onto a cookie sheet or jelly roll pan and freeze until solid, 1‐2 hours.
Transfer the frozen pieces to freezer bags or freezer-safe storage containers and remove as much air as possible. I've found that using a vacuum sealer with vacuum sealer bags works very well in removing excess air.
Date, label, and freeze for up to one year.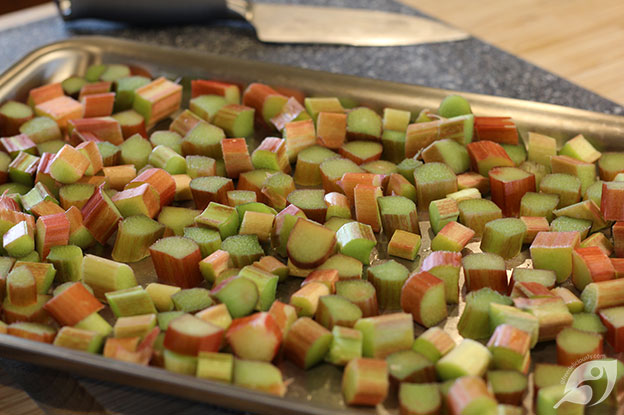 Are you short on freezer space? Dehydrating rhubarb works very well as a convenient and economical method of preserving. In its dried form, the rhubarb requires only a little room for storage, and it will last 6-12 months before its color begins to deteriorate.
You can eat the tart rhubarb nuggets as a snack food, or they are perfect for use in homemade tea blends and baking.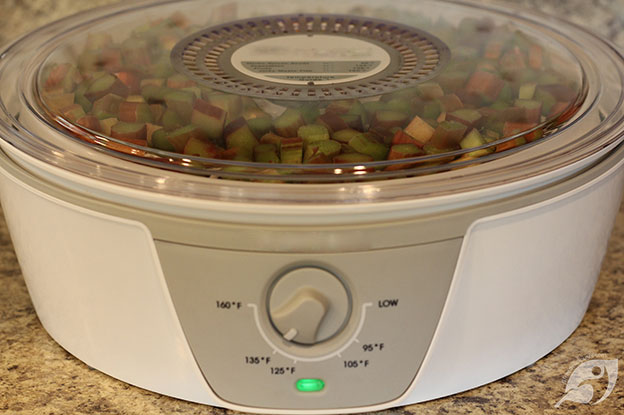 Cut the leaves and ends from each stalk.
Wash and chop each stalk into even-sized lengths, approximately one-quarter to one-half-inch long.
Spread the pieces onto paper towels in a single layer to remove excess water. Dry by patting gently with another towel, then spread in a single layer onto dehydrator trays, using mesh-lined sheets if necessary.*
Depending on the humidity, you can dry rhubarb at 135°F (57°C) in about eight to twelve hours.
When fully dehydrated, the rhubarb should feel dry and leathery to the touch with no moisture inside the nugget when broken open. If in doubt, continue to dry until the pieces are crisp.
Turn the dehydrator off and let the rhubarb nuggets cool overnight before storing them in a tightly sealed container. Store in a dark, dry cupboard for up to one year.
*For longer-lasting color, use a colander to blanch the cut rhubarb pieces by plunging them into boiling water for two minutes, then chill quickly in an ice-water bath before drying.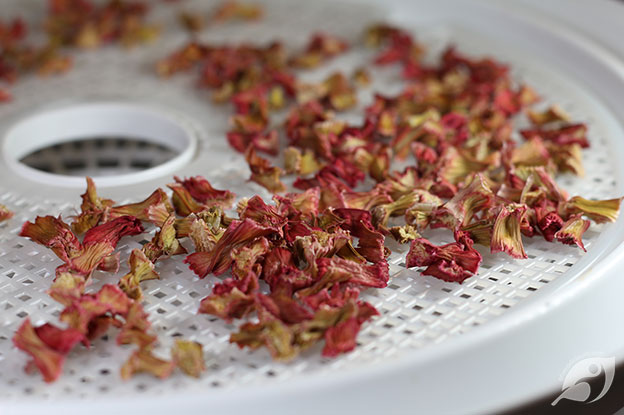 Use 1/2 cup dried rhubarb nuggets to make 1 cup rehydrated rhubarb.
Measure dried rhubarb nuggets into a bowl and add two times as much boiling water (i.e., for ½ cup dried rhubarb nuggets, add 1 cup boiling water.). Let soak until the water is cooled, about 1‐2 hours. Or, for quicker results, cover rhubarb with water in a saucepan and simmer for 30‐45 minutes or until tender.
Drain the excess water and use the rehydrated nuggets as you would for fresh or frozen rhubarb.
Please note that dehydrated rhubarb nuggets can never be magically turned into juicy, fresh rhubarb. The pieces will plump back up when soaked in water, but they will retain a slightly chewy texture. Choose recipes such as cookies, muffins, oatmeal, and pancakes where an added amount of fiber can be fully appreciated. Additionally, the longer the rehydrated nuggets cook or stew in liquid, the less chewy they become, so you can easily use them for making sauces.
Although the combination of strawberries and rhubarb is pretty much one of my favorite taste combinations (to make strawberry rhubarb sauce, you can substitute the same quantity of berries to make the recipe below), for this recipe I use fresh sweet cherries as an alternative.
The combination of sweet cherries and rhubarb gives an especially vibrant taste when used in a sauce with desserts; to complement grilled pork, roasted chicken, or when spooned warm over toasted baguettes and topped with goat cheese. Yum!!
Whatever way you eat it, I hope you will enjoy this delicious, easy to make Cherry Rhubarb Sauce. Enjoy!
XXO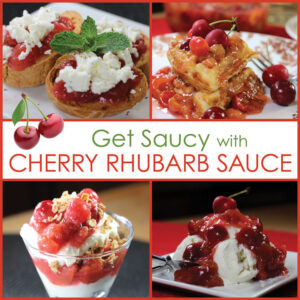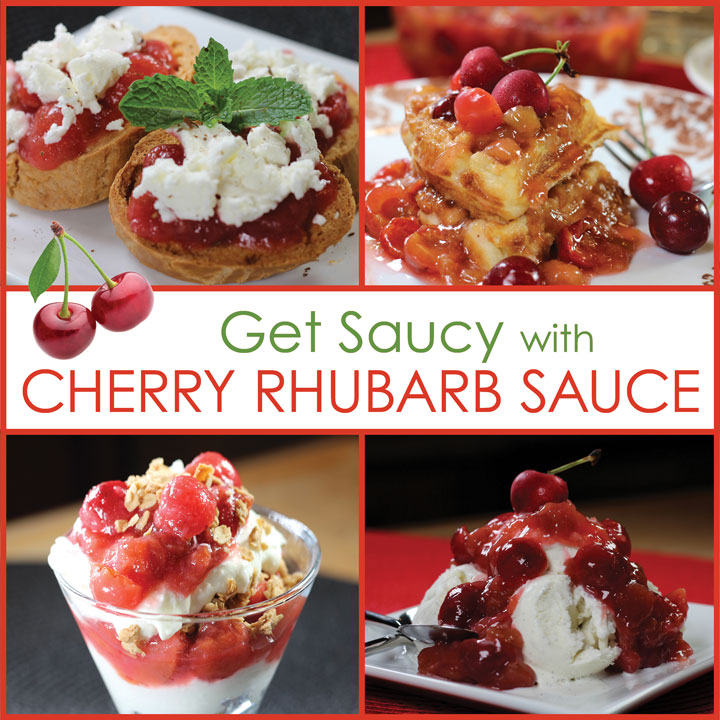 Cherry Rhubarb Sauce
Make this quick and easy Cherry Rhubarb Sauce to spoon over cheesecake, pound cake, ice cream, pancakes, or waffles. Layer it with granola and yogurt. Slather it on top of English muffins or toast. Sauce it over savory spiced meats like grilled pork and roasted chicken or simply serve it up as a sweet side to any meal!
EQUIPMENT
Medium-size Saucepan

Utensils (Sharp Knife, Heat-proof spoon, Measuring Cups and Spoons)
INGREDIENTS
1 ½

cups

Sweet Cherries

fresh, pitted

1 ½

cups

Rhubarb

about two fresh stalks, cut into 1/2" pieces

½

cup

Sugar

½

cup

water

2

tablespoons

gluten-free Corn Starch
Add ingredients to your Private Shopping List before ordering online.
Quick Add Ingredients to Shopping List
INSTRUCTIONS
Add cherries, rhubarb, one tablespoon of water, and sugar into the saucepan over medium-high heat.

1 1/2 cups Sweet Cherries,

1 1/2 cups Rhubarb,

1/2 cup Sugar,

1/2 cup water

Bring to a boil while constantly stirring, then reduce heat to medium-low.

Mix cornstarch into 1/2 cup water, add to the cherry rhubarb sauce and continue to stir until the mixture thickens — approximately one minute.

2 tablespoons gluten-free Corn Starch

Remove from heat and let cool before serving. [1]
KITCHEN NOTES
[1] Serving Ideas:
Top pancakes or waffles with the sauce while it's still warm for an over the top breakfast.
Spoon over cheesecake or pound cake for a quick tasty dessert.
Layer the sauce with granola and yogurt for a quick and easy breakfast.
Slather the sauce on top of English Muffins or toast.
Sauce it over savory spiced meats like grilled port and roasted chicken.
Store the sauce in the refrigerator for up to a week to use on ice cream for a decadent dessert.
Enjoy the sauce on its own as a sweet side to any meal!
Nutrition
Calories:
39
kcal
Carbohydrates:
10
g
Protein:
0.3
g
Fat:
0.1
g
Saturated Fat:
0
g
Polyunsaturated Fat:
0
g
Monounsaturated Fat:
0
g
Trans Fat:
0
g
Cholesterol:
0
mg
Sodium:
0.9
mg
Potassium:
65.1
mg
Fiber:
0.5
g
Sugar:
8.2
g
Vitamin A:
1
IU
Vitamin C:
1.9
mg
Calcium:
12
mg
Iron:
-11
mg
(Nutritional values are an approximation. Actual nutritional values may vary due to preparation techniques, variations related to suppliers, regional and seasonal differences, or rounding.)
Copyright © 2017-2023 Kymberley Pekrul | GfreeDeliciously | gfreedeliciously.com | All content and photographs are copyright protected. The sharing of this recipe is both encouraged and appreciated. However, copying and/or pasting full recipes to any social media is strictly prohibited. Please read my Photo Use Policy for detailed guidelines and further clarification.