Gluten-Free Cake Flour Blend
A gluten-free cake flour blend that works flawlessly to make cakes and quick bread recipes airy, fluffy, and light!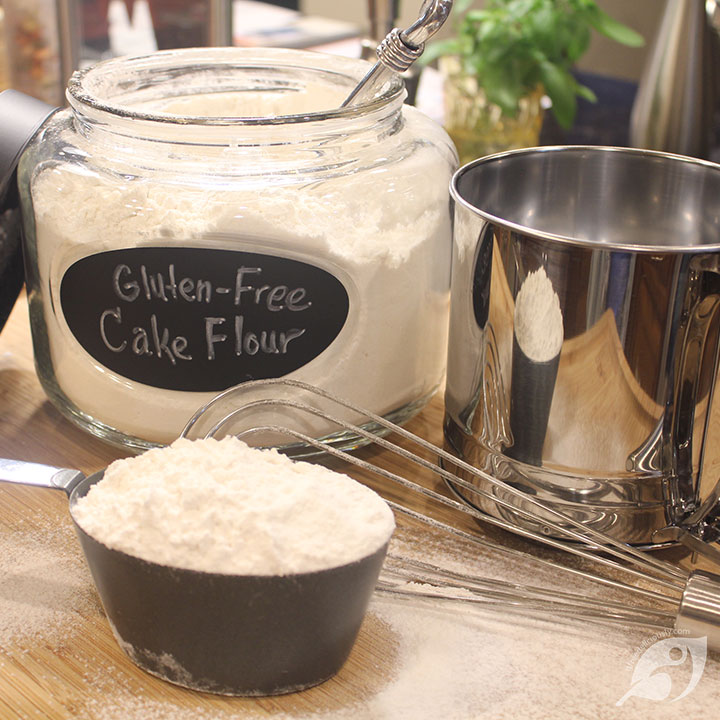 After my diagnosis with Celiac disease, I've needed to change many family cake-based recipes to eliminate the gluten in the wheat-based flour. I found that switching out cup-for-cup gluten-free flour replacements in many recipes resulted in poor results – and my compost bin filling up with less-than-perfect baked batches.
The textures ranged from gooey messes to grainy. Many of my experiments even produced an almost sand-like feel when eaten.
Yuck!
That being the case, they were nothing I cared to eat myself or, for that matter, to share with anyone.
Sometimes You Can't Do Without A Gluten-Free Cake Flour!
Sometimes, a recipe is made best by using a lower-protein gluten-free flour. One blended for making cakes and baked goods. My gluten-free cake flour blend is the best for doing it!
This cake flour blend came about after searching forever for a manufactured gluten-free cake flour substitute. I needed a gluten-free fill-in for my grandma's traditional wheat-based cake flour.
Along the way, these discoveries paved the way for this recipe.
#1 – Cake flour is a fine-milled, delicate flour.
#2 – Wheat-based cake flour has a low protein content.
So, milling the flour finer, lighter, and softer makes baked goods light and airy. Then, using low protein flours results in cakes with a fine crumb, a good rise, and a super-tender texture. 
Knowing these two things was the key to making all the difference.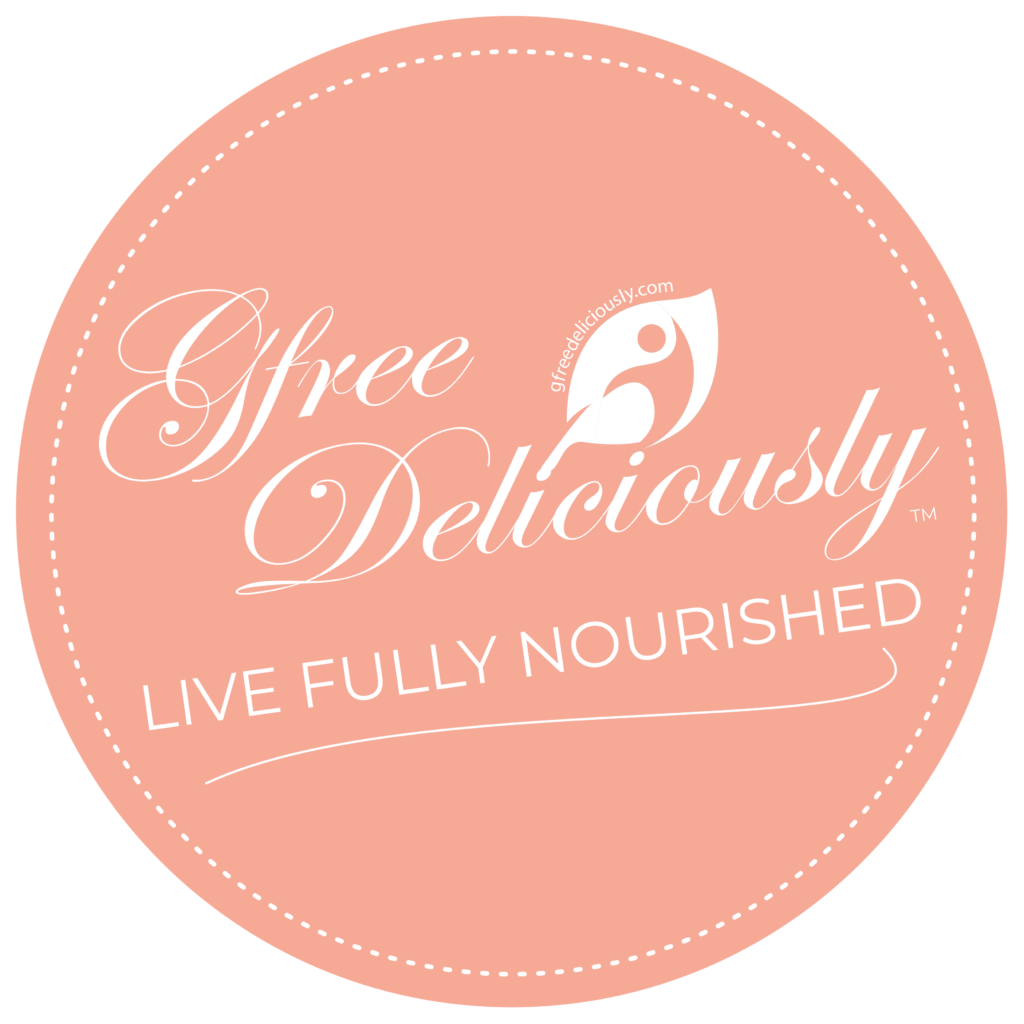 GET RECIPES • RESOURCES • +eNEWS UPDATES & MORE STRAIGHT TO YOUR INBOX !
Simple and delicious gluten-free recipes, family-friendly meal ideas, healthy cooking, encouragement, and easy-to-implement lifestyle strategies to live fully nourished… Only from GfreeDeliciously!
The Properties of a Cake Flour Blend
Digging deeper into how to make a gluten-free cake flour blend, I began looking at traditional wheat-based cake flour and how to mill it and make it.
There are two major soft wheat types:
The soft red winter type has a low protein content and is used as a blend in multipurpose flour for cakes, cookies, donuts, delicate pastries, crackers, and flatbreads.
Soft white, the second type, is low-protein wheat with high yields and produces lighter flour for cakes, cookies, crackers, and pastries. It is also used in many Middle-Eastern-style flatbreads.
Knowing more about these types of flour gave me more clues…
Gluten-Free Flour Trials...
After playing around with many gluten-free flours and starches, here's what I discovered:
Sweet white rice flour and brown rice flour needed to be blended in equal amounts.
Then, low protein gluten-free tapioca and potato starches were best for their (starchy) gelling properties.
The gelling noticeably affects how air bubbles are trapped in the starch during baking.
Using starches works well with the gum to balance and improve the batter's consistency during mixing.
Starchy flours increase the crumb's softness and control how the starch gels during baking.
PRO-TIP
You'll want to sift the gluten-free cake flour blend three times before adding it to the wet ingredients, which helps to ensure that the cake bakes light and fluffy.
Why this gluten-free cake flour blend works...
The higher starch content helps prevent gluten-free baked cakes and quick bread from having that grainy texture you may notice in some recipes.
Finally, this blend's low protein flour and high starch combination provide a perfect balance. They make gluten-free cakes, coffee cakes, muffins, quick bread, and cookies that are perfectly airy, fluffy, and light with a fine crumb and soft, tender texture.
A suitable cake flour replacement – and a gluten-free blend that works flawlessly to make many cakes and quick bread recipes similar in taste and texture to favorite cakes and other recipes you'll remember from childhood.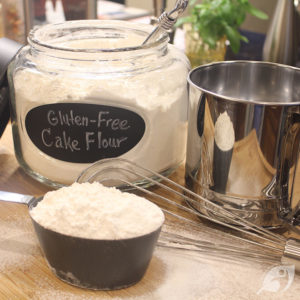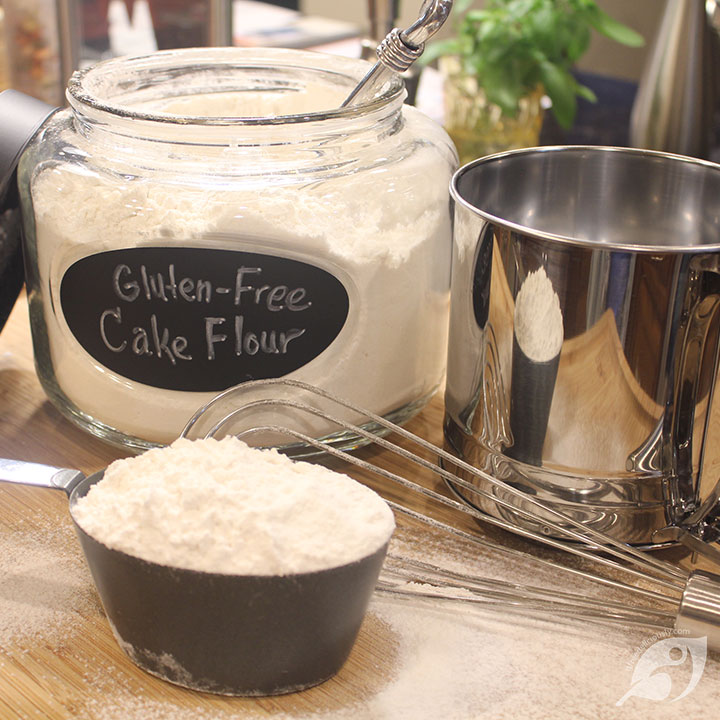 Gluten-Free Cake Flour Blend
A gluten-free cake flour blend that works flawlessly to make cakes and quick bread recipes perfectly airy, fluffy and light!
EQUIPMENT
Large bowl

whisk

12 cup airtight storage container
Add ingredients to your Private Shopping List before ordering online.
Quick Add Ingredients to Shopping List
INSTRUCTIONS
Combine all ingredients in a large bowl.

Store in an air-tight container in a cool, dry cupboard until needed.
KITCHEN NOTES
I like to blend a large batch of this flour to keep in a canister in my pantry to save time. Use it for making cakes, cookies, muffins, and quick bread recipes.
Using equal parts of gluten-free flour and starch instead of exact measurements allows you to make as much or as little of the gluten-free cake flour blend as you want. If you don't have a lot of storage space in your kitchen, you'll find it easy to make 2 cups of cake flour for your recipe by combining 1/2 Cup of each part.
I prefer to add the Xanthan gum to each recipe. Every recipe has a unique composition of binding and structure requirements that are dependent upon the other ingredients included in the recipe. Most cakes will need only 1/4 to 1/2 teaspoon of Xanthan gum.
When trying new recipes or converting favorite family recipes to gluten-free versions, I suggest experimenting with the amount of Xanthan gum you use to achieve your desired result. If the cake crumbles and falls apart easily, the recipe will require a little more. If the cake is too gooey, the amount you use will need to be less.
A good rule of thumb I follow is, to begin with, 1/2 teaspoon Xanthan gum for each 1 Cup of Gluten-Free Cake Flour Blend. Record your notes, then adjust your recipe when you make it the next time.
Nutrition
Calories:
110
kcal
Carbohydrates:
25
g
Protein:
0.6
g
Fat:
0.4
g
Saturated Fat:
0
g
Polyunsaturated Fat:
0
g
Monounsaturated Fat:
0
g
Trans Fat:
0
g
Cholesterol:
0
mg
Sodium:
187.5
mg
Potassium:
7.5
mg
Fiber:
2.5
g
Sugar:
0
g
Vitamin A:
0
IU
Vitamin C:
0
mg
Calcium:
114.6
mg
Iron:
1.6
mg
(Nutritional values are an approximation. Actual nutritional values may vary due to preparation techniques, variations related to suppliers, regional and seasonal differences, or rounding.)
Copyright © 2017-2023 Kymberley Pekrul | GfreeDeliciously | gfreedeliciously.com | All content and photographs are copyright protected. The sharing of this recipe is both encouraged and appreciated. However, copying and/or pasting full recipes to any social media is strictly prohibited. Please read my Photo Use Policy for detailed guidelines and further clarification.