We've decided to discontinue our partnership with Wildtree.  While we are still a fan of the company and its products, we feel we can offer our gluten-free audience healthy, affordable solutions and inspiration for fulfilling meals, cooking classes, and experiences more tailored to its interests apart from being an affiliate of the organization. We hope you'll continue to find the products, meal solutions, and inspired recipes we've shared from their website, welcome additions to your kitchen and family's table.
Feasting, food, festivities, and YIKES, December already!!
If you're like me, you're wondering how Christmas got to be only 25 days away! Thank goodness for the Home Cooked Holiday Collection.
These holiday recipes for 2020 include a meal plan for homemade holiday dinner ideas and sweet treats for making your holiday bright!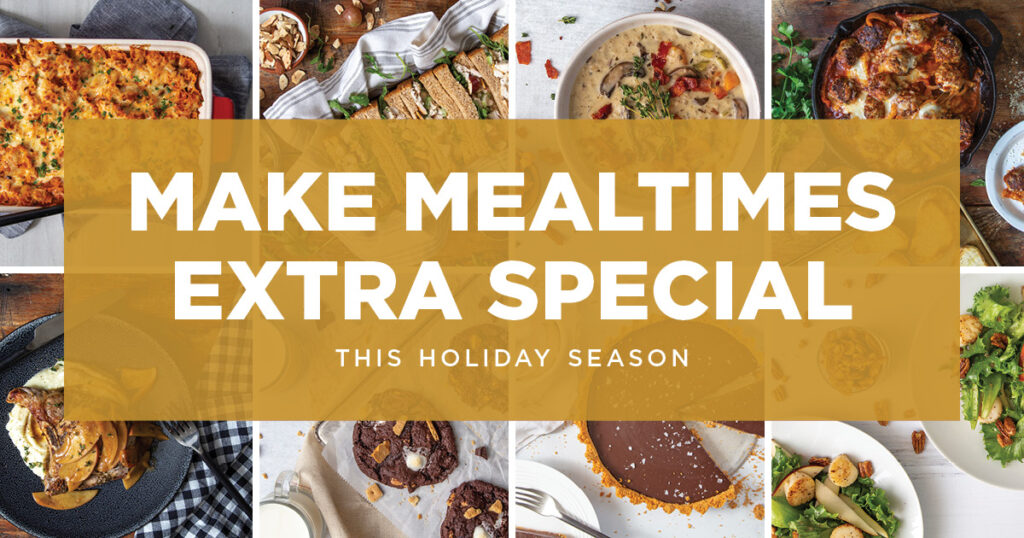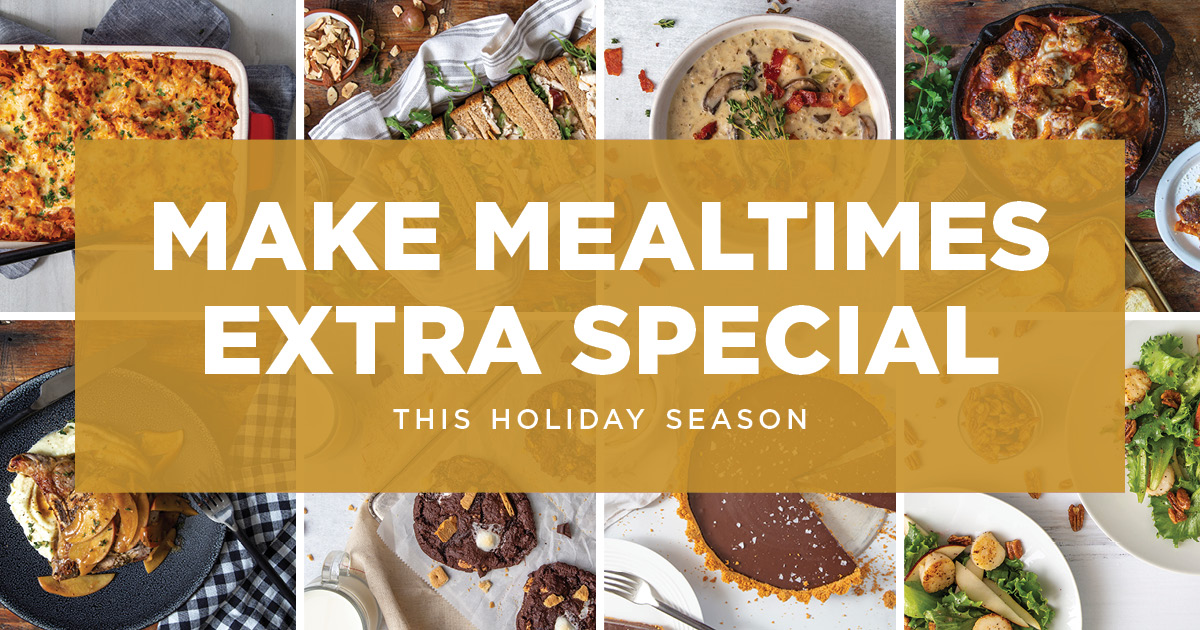 Meal Plan Includes: Busy Day Lasagna, Cranberry Chicken Salad, Creamy Mushroom & Wild Rice Soup, Meatball Skillet Bake, Pan-Seared Pork Chops with Apples & Parsnip Puree, S'mores Cookies, S'mores Ganache Tart & Winter Scallop Salad
When you Subscribe for our FREE Basic Pass !!
Watch #CookingGfreeDeliciously
December's Live Schedule:
Subscribe to the GfreeDeliciously YouTube Channel
We believe cooking should be fun, but we also know it can sometimes be intimidating, especially when cooking gluten-free. That's why we strive to help home cooks of all levels learn, practice and grow their basic skills through easy (always gluten-free) recipes that help make cooking an enjoyable experience. Follow us on Facebook to be among the first to watch! 
See something you liked during a video? Shop the Faves for all the brands we recommend.
The Home-Cooked Holiday Cooking Collection...
Eight Days of Comfort & Joy...
Apart from the flurry that December brings, it's a fantastic time to enjoy rich, cozy foods. Think flavorful meat entrées, root vegetables, and elegant holiday dinners and desserts that look fancy but take only a little effort to get to the table.
This month brings you eight days of comfort and joy with the December Home-Cooked Holiday Cooking Collection and meal plan to give you healthy, nourishing dinners and incredible desserts to carry you through the end of the year.
Super nourishing dinners, healthy holiday-ish salad, cozy soup, s'mores-inspired chocolate desserts…
Note: Several Wildtree seasonings and spice blends that we love are included in the recipes featured in this collection. But you can always substitute any similar favorites you may already have in stock.
Weeknight meals made easy...
Warm up your house and the oven with Busy Day Lasagna – Flavor-filled and perfect for that busy day when you have tons of holiday tasks on your plate! The Hearty Spaghetti Sauce Blend season's tomato sauce. Add to the ground beef with onion, milk, and cream cheese for a delicious, flavorful, satisfying sauce baked into a creamy pasta casserole. Then top it with mozzarella cheese to become bubbly and brown before serving.
I love this Meatball Skillet Bake recipe. You'll start with a meatloaf mix (veal, pork, beef blend), or just ground beef. Add eggs, milk, parmesan cheese, breadcrumbs, minced garlic, and a few other seasoning staples with Hearty Spaghetti Sauce Blend to the meat for meatballs that are 'out of this world. Cook them up in a cast-iron skillet over medium heat until browned on all sides, then remove them from the skillet. Using the same skillet, sauté the peppers and onion for about five minutes before stirring in a can of tomato sauce with a little more Hearty Spaghetti Sauce Blend and bring it all to a simmer. Finally, return the meatballs to the skillet and gently toss them in the sauce. Cover everything with mozzarella cheese and bake until the cheese melts and the meatballs are cooked (165°F). Serve it up with crusty bread for an easy Italian-inspired dinner. Now that's a GOOD meatball!!
Light with a lovely cranberry flavor, this classic sandwich for Cranberry Chicken (or Turkey) Salad couldn't be more enjoyable! Grab that leftover turkey breast meat you froze from Thanksgiving, or start from scratch by cooking up one pound of chicken breast to make this yummy sandwich. After that, combine the chicken with grapes, celery, and almonds and mix it all with a Cranberry Poppy Seed Vinaigrette and mayo dressing. Oooh, so tasty for lunch or dinner!
Meals for A Healthy Holiday...
Find comfort and joy in this low-stress dinner after a crazy, busy day. You'll love this five-star recipe for Pan-Seared Pork Chops with Apples and Parsnip Puree!  And if you love surprises this time of year, the first delicious surprise you'll unwrap for this recipe is the Herbes de Provence Blend. The aromatic blend lends a unique, delicious flavor to the pork chops that pack in flavor inspired by a region in Southern France known for its mixture of dried herbs. To make this dish, you'll pan-sear the herb-coated pork chops until they form a beautiful brown crust on the outside and become succulent inside. Then, serve them with a sauce made with apple and shallot alongside a parsnip puree. But that's not all. Above all, the real surprise is the nutritional punch you get from the apples, parsnips, and pork that makes the meal excellent for adding to your healthy diet and meal plan! Make sure you return to get the recipe and read the post following the #CookingGfreeDeliciously Live later this month to learn about the nutrition and high-quality rich proteins you'll get when eating this meal.
Christmas Eve is In The Bag (Pun intended)… So please mark your calendar for December 23rd and join me on #CookingGfreeDeliciously Live to make this delicious Winter Scallop Salad. First, we'll make candied pecans, slice up seasonal pears, toss them with lettuce and Cranberry Poppy Seed Vinaigrette, then pan-sear scallops to serve on top. After that, I'll reveal my holiday wine picks to pair with this tasty salad that's perfect for an easy and elegant Christmas Eve dinner, a light holiday meal, or to serve as a starter salad to enjoy this New Year's Eve.
Comforting Soup to Warm You Up...
Use the Instant Pot to make this Creamy Mushroom & Wild Rice Soup. Or you can cook up a potful on the stovetop. This bonus episode of #CookingGfreeDeliciously Live is scheduled for December 30th!
We'll be cooking onion, carrot, celery, baby Bella mushrooms, and nutty-tasting wild rice flavored with Herbes de Provence Blend and combining the mixture in a buttery, creamy milk sauce for a comforting mushroom soup with crumbled bacon and thyme.
You're sure to want to make some for winter evenings to warm up before cozying up with your favorite blankie and a movie!
S'mores Inspired Chocolate Desserts...
The best cookie EVER! Melty marshmallows, crunchy graham crackers, loaded into a chewy chocolate cookie with more S'mores flavor (and, especially with my addition of milk chocolate chips, too!) – Believe me, life does not get much better! You'll love this recipe for S'mores Cookies using the S'mores Dessert Blend (available for a limited time in the December Home-Cooked Holiday Collection).
Simple and luxurious, this S'mores Ganache Tart has all the flavor you love in classic S'mores in a grown-up dessert-done holiday style!
Made with heavy cream, dark chocolate, and S'mores Dessert Blend simmered until melted and smooth, then poured into a buttery graham cracker crust.
When set, sprinkle the tart with flaky salt and slice. Top it for serving with peaks of heavenly whipped cream flavored with more S'mores Dessert Blend. What else can I say but YUM, YUM, and YUM!!
This easy chocolate tart will have everyone singing Hallelujah praises this holiday season!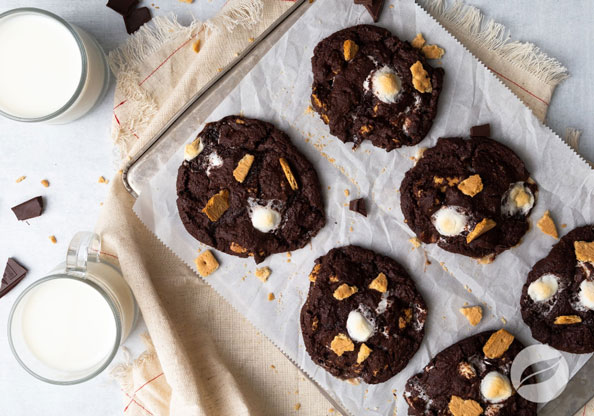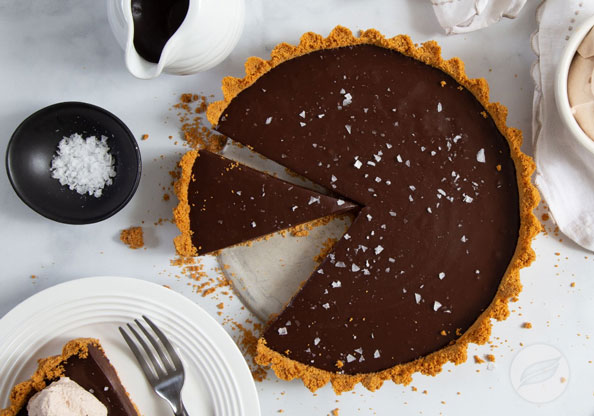 A dazzling line-up of delicious eats...
Make the most of the season's dazzling line-up of delicious eats for December from the Home-Cooked Holiday Collection.
Plan to eat your fill of S'mores Inspired Sweet Eats before the limited-time S'mores Dessert Blend is gone.
Then, fall in love with the Herbes de Provance Blend for a salt-free multi-purpose seasoning to make wild-game, braised, and pan-fried meats extra savory; try it as a rub for grilling or give roasted root vegetables and mashed potatoes an extra oomph of taste.
Most importantly, if you're looking for more inspiration, peek through the filmstrip at the top of every page on the site to discover more recipes for cooking GfreeDeliciously!
For those who cook and those who eat…
That wraps it up for this month's December Home Cooked Holiday Collection of eight recipes that help you explore just how simple & delicious holiday cooking can be.
I hope you make them all. They're super delicious, and just because you're eating healthy shouldn't mean that you don't deserve to feel like you're sometimes splurging, so every one of these recipes lets you put a check in that box too!
As always, I love helping you enjoy the satisfaction that cooking brings. Thanks for reading and supporting the companies I partner with, which allow me to create even more unique content and recipes for #CookingGfreeDeliciously. All opinions are always my own.
If you are celiac, gluten-intolerant, or following a strict gluten-free diet, be sure to substitute an all-purpose gluten-free flour blend in place of whole-wheat or gluten-containing flour. And always check the ingredient labels, and swap out any products that may include wheat, barley, or rye for certified gluten-free versions when making recipes not explicitly tagged gluten-free.
Wishing you the very best Christmas and Holiday Season with cooking comfort and joy!
From my house to your's, many blessings!!
Let's get cooking #GfreeDeliciously!
Check out the #CookingGfreeDeliciously Weekly Posts & Shows for the November Cooking Collection
Get the #CookingGfreeDeliciously show recipe, my highlights, how-to's, tips, and more posted within 24-Hours of each Wednesday Live cooking show.