Super simple to make, if you haven't tried this easy Sausage, Potato & Kale Soup (a.k.a. Zuppa Toscana) yet, now is a perfect time!
If you're looking for ways to use pantry staples and foods from your freezer in the weeks ahead, this recipe for Sausage, Potato & Kale Soup uses minimal groceries, and even more minimal amounts of energy for when you need to get dinner on the table.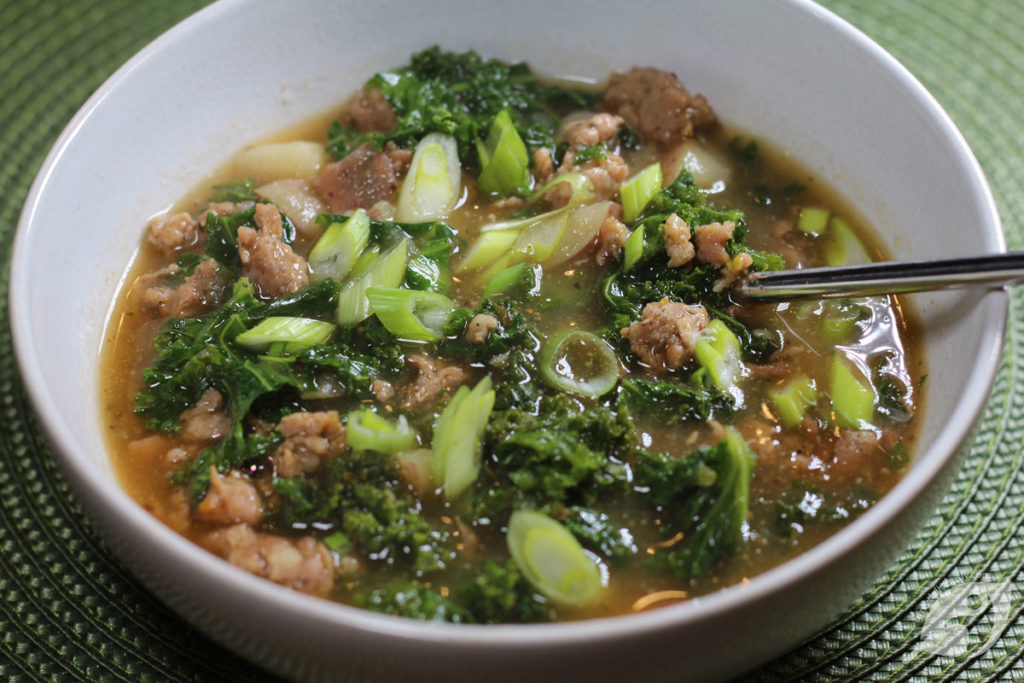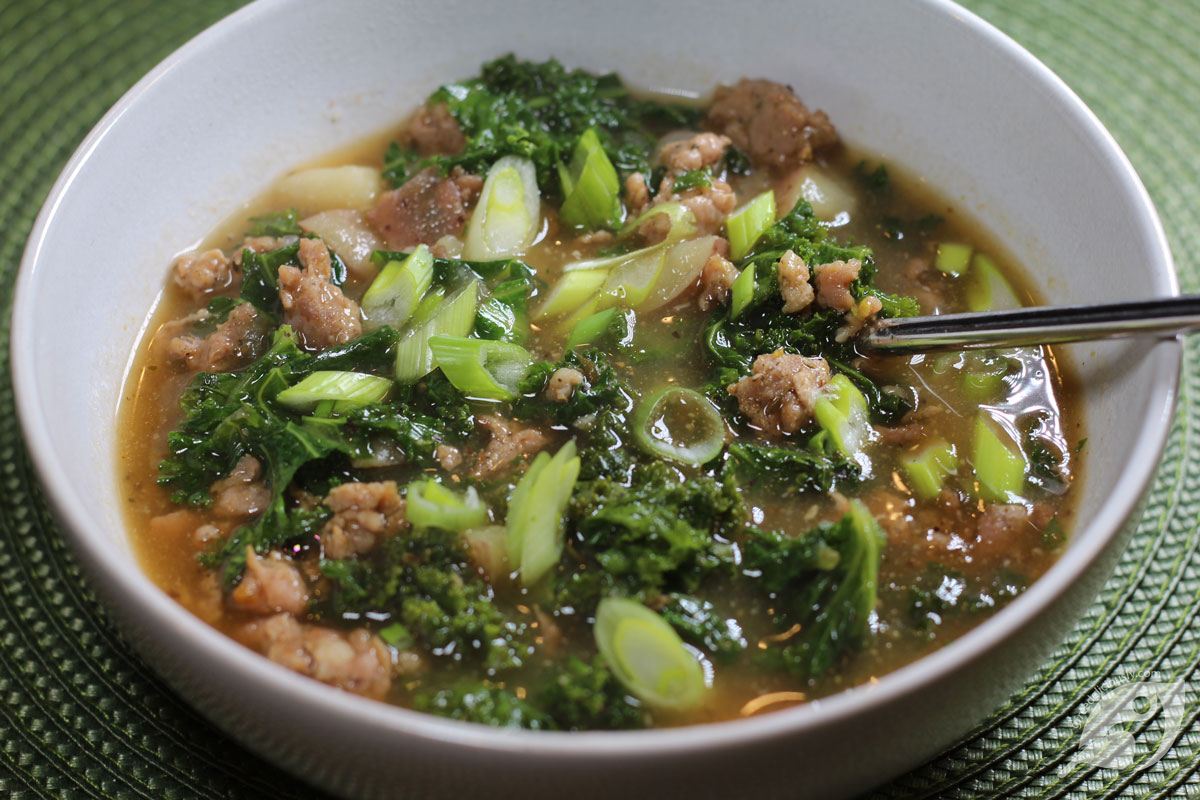 IMPORTANT UPDATE: November 1, 2022
Please note that some ingredient links in this post may have been removed or changed from our original recipe published to reflect new affiliate partnerships.
Years ago, I remembered having this soup at an Italian restaurant in Cedar Rapids, Iowa. And, no, it wasn't an Olive Garden restaurant, but it's kind of funny because I couldn't remember the name for the soup on the menu. I only remembered the main ingredients that went into making it. As anyone might do these days, I searched on Google for the combination of sausage, potatoes, and kale. Zuppa Toscana and Olive Garden are what ultimately came up for me.
"Zuppa Toscana" literally means "Tuscan soup," but in America, it's most commonly known as the soup that comes from Olive Garden and other Italian restaurants. It's a reasonably brothy (not too thick) soup.
The soup is easy to make, wonderfully satisfying and feels like a fancy meal for a weeknight when you just need to get dinner on the table. I have not tried the Olive Garden version of this soup, but I'm convinced that this version is very close to the original soup I tasted in Iowa years ago. My version tastes fantastic!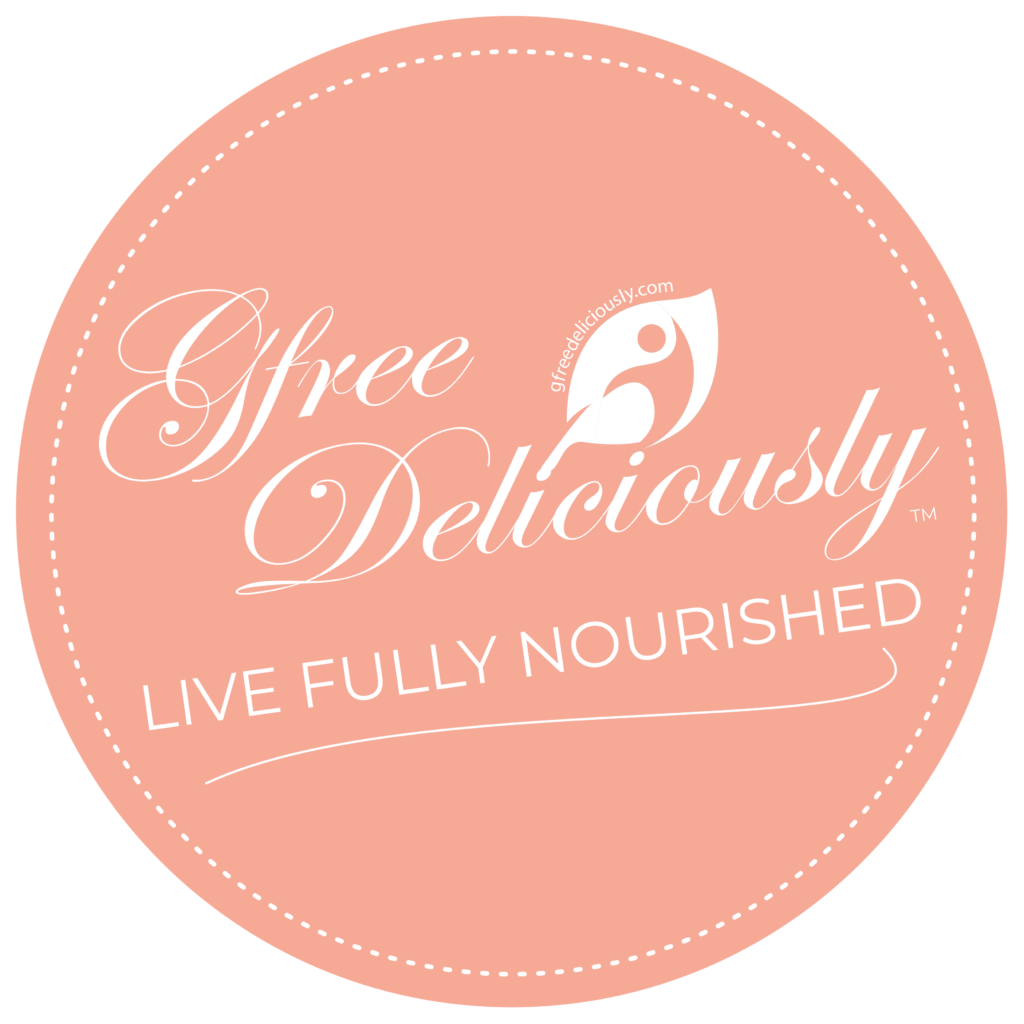 GET RECIPES • RESOURCES • +eNEWS UPDATES & MORE STRAIGHT TO YOUR INBOX !
Simple and delicious gluten-free recipes, family-friendly meal ideas, healthy cooking, encouragement, and easy-to-implement lifestyle strategies to live fully nourished… Only from GfreeDeliciously!
I've seasoned plain pork sausage with spices from my spice rack. In a small bowl, I chose to blend salt, sugar, pepper, fennel, garlic, a little sage, and Spanish paprika by adding a bit of this and a dash of that until the blend smelled about right to me. Admittedly, I did not measure the spices. You could also use an Italian Sausage spice blend available in the spice department at the grocery store.
You could also use a pre-seasoned Italian sausage, a spicy sausage for a little more kick, or seasoned brat sausages removed from their casing.
For this recipe, I've also used a salt-free spice blend ordered online from Savory Spice Company called Summit County seasoning. I'm currently not affiliated with Savory Spice, but many of their spice blends are lovely, and I use them regularly in my cooking. This spice blend combines black pepper, garlic, tomato powder, red and green bell peppers, onion, fennel, arrowroot, lemon peel, and marjoram. It's blended to complement slow-cooked soups. The blend tastes both peppery and garlicky with umami notes from tomato powder.
What kind of Potatoes work best for Zuppa Toscana?
In this version, I've used Yukon Gold potatoes because that's what I've got on hand, but you could also use Red Potatoes (or any other variety) would also work just fine. My preference is to use a type of potato with thin skin since I prefer not to peel the potatoes, but you certainly can.
This recipe does not make a thick soup, but to thicken it up, you can add a little more cornstarch.
Bacon could be a delicious addition to this soup if you have it.
To lighten up the recipe a little, you could drain the fat from the sausage (and if you add bacon), I admit I don't do this. Leaving it in adds a lot of flavor to the soup.
Substituting spinach or canned greens for kale will work fine.
Adding a little cream or half-n-half in place of some of the chicken broth will make it rich and creamy too.
This soup makes super delicious leftovers. It will also freeze well. If you do add cream to it, and then freeze it, it can separate a little bit when reheating, so reheat at a low temperature and stir it well.
Have you tried this Sausage, Potato, and Kale Soup? I know you're going to love it. So, when you do, please leave a comment below.
XXO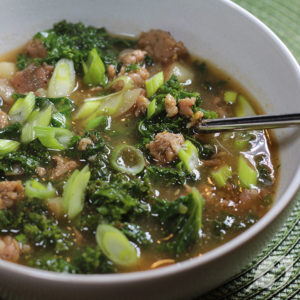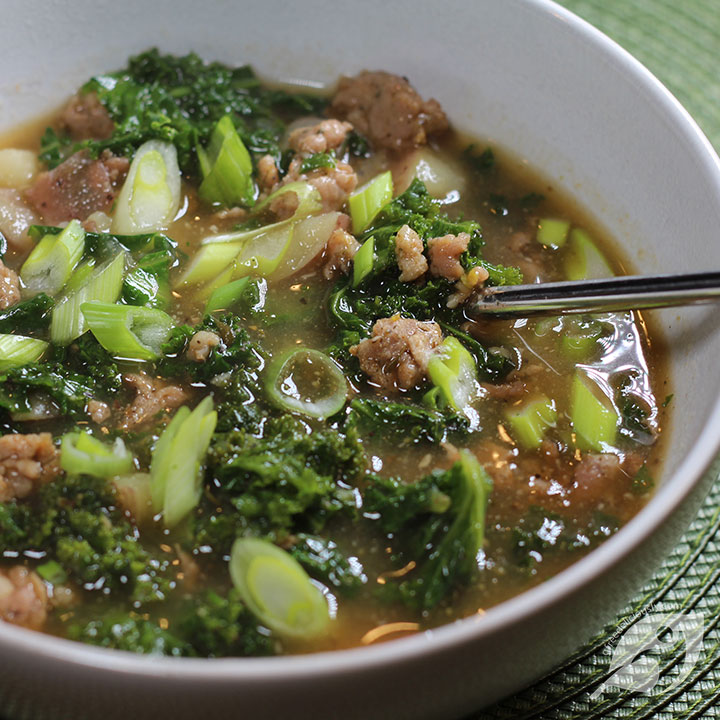 Zuppa Toscana - Sausage, Potato & Kale Soup
Rich peppery broth and simple homemade sausage combine with potatoes and kale in this comforting weeknight meal. The result - a satisfying soup that comes together quickly but tastes as if it's been simmering on the stove for hours.
EQUIPMENT
Dutch Oven or Stock Pot

Cutting Board and Paring Knife

Small Mixing Bowl and Whisk
Add ingredients to your Private Shopping List before ordering online.
Quick Add Ingredients to Shopping List
INSTRUCTIONS
Mix the Italian Herb Blend into the ground pork until thoroughly combined. Cover and refrigerate for 20-30 minutes to incorporate the flavors through the meat.

Heat the oil in a Dutch Oven or deep stockpot over medium-high heat. Pinch off 1-inch pieces of seasoned pork and add to the pot; do this in batches if necessary to keep the pork in one layer so that it browns evenly. Continue to cook until the sausage is browned on all sides, about 5 minutes, then transfer to a plate.

Add onion to the pot and cook for about 3 minutes, stirring to scrape up any browned sausage bits from the bottom of the pot.

Add potatoes and the Summit County Seasoning, and cook for another 3 minutes, stirring often. Add the chicken broth and sausage and bring to a boil. Reduce the heat to medium-low and simmer, covered, until the potatoes are tender but not falling apart, 10-15 minutes.

Meanwhile, combine the water and cornstarch in a small bowl or cup. When the potatoes are tender, stir the cornstarch mixture into the soup. Add the kale and continue to simmer on low heat until the soup has thickened, and the kale is tender about 5 to 10 minutes.

Remove from heat and allow the soup to cool slightly before serving — season to taste with salt and pepper and garnish with green onion.
KITCHEN NOTES
[1] To make Italian Herb Blend yourself, blend oregano, basil, thyme, rosemary, marjoram, salt, sugar, pepper, fennel, garlic, sage, and Spanish paprika, adding a bit of this and a dash of that until the blend smells about right. Measure enough for the recipe and store any remaining amount in a tightly-sealed glass jar.
[2] Here's the link to buy Summit County Seasoning.
Nutrition
Calories:
371
kcal
Carbohydrates:
19.5
g
Protein:
13.8
g
Fat:
26.5
g
Saturated Fat:
8.9
g
Polyunsaturated Fat:
3.4
g
Monounsaturated Fat:
12.5
g
Trans Fat:
0
g
Cholesterol:
60.6
mg
Sodium:
1395.3
mg
Potassium:
587.9
mg
Fiber:
2.1
g
Sugar:
2.1
g
Vitamin A:
19.3
IU
Vitamin C:
21
mg
Calcium:
52.7
mg
Iron:
2.2
mg
(Nutritional values are an approximation. Actual nutritional values may vary due to preparation techniques, variations related to suppliers, regional and seasonal differences, or rounding.)
Copyright © 2017-2023 Kymberley Pekrul | GfreeDeliciously | gfreedeliciously.com | All content and photographs are copyright protected. The sharing of this recipe is both encouraged and appreciated. However, copying and/or pasting full recipes to any social media is strictly prohibited. Please read my Photo Use Policy for detailed guidelines and further clarification.