Are you bored with the same old – same old? If you're searching for a way to take your breakfast experience of eating to a whole new level, keep reading because there's something about loading up a board with an eye-catching bounty of delicious breakfast foods that changes everything.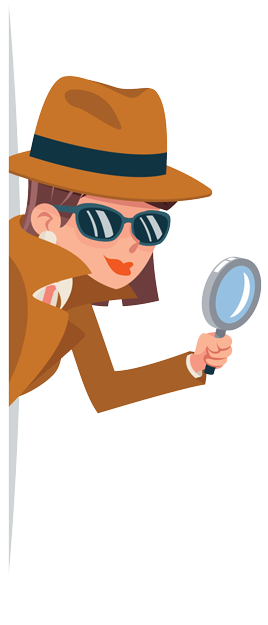 To gather more than a few delicious breakfast ideas. Give you everything you'll need to create an exciting gluten-free pancake board. And then outline ideas from toppings and sides to how-to tips for making it super simple. So you can create a feast among breakfast feasts that will have everyone torn between adoring and devouring your ultimate breakfast creation.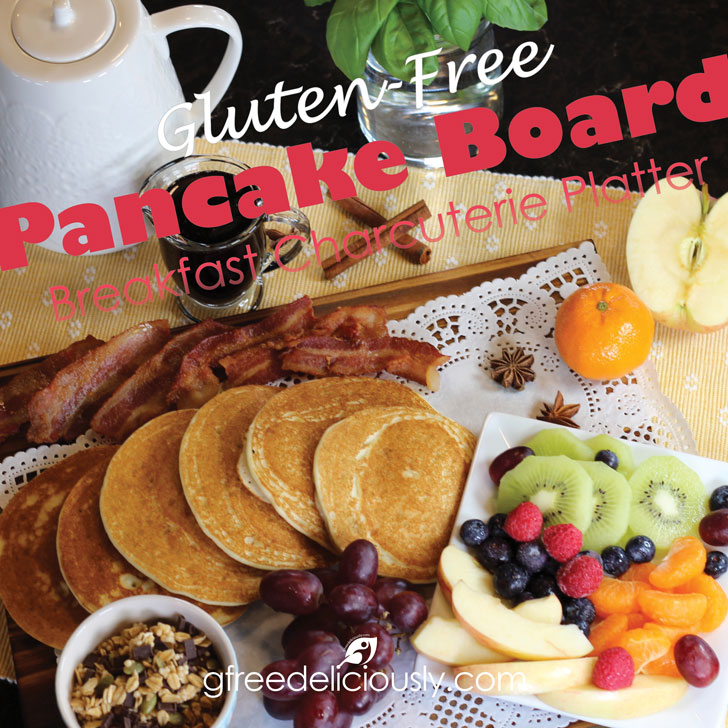 There is no easier way to break up breakfast mealtime boredom (or to entertain) than with a simple but super impressive Breakfast Charcuterie Platter. Add all your favorites for a casual feast that doesn't involve hours spent in the kitchen!
Why We L♥VE Pancake Boards!
We love serving boards of all kinds, especially pancake boards. We like them because it means hungry eaters can build their plates themselves. The best part is there's a lot less hassle for us when it's self-serve. And you've got to love that "Willy Wonka" first-sight split-second few moments of "Oooohhh! And, Ahhh!" when everyone sees the food piled onto the board before they move in to devour and gobble everything up!
Cheeseboards, charcuterie, dessert bars? Yup, there's always the same response.
This gluten-free pancake board is no different. It's impressive. Easy. And it's a perfect option for feeding the masses, or just a few, to make things memorable for breakfast or Sunday brunch. It's also highly versatile. So how much you make and making it your way is entirely doable and scalable with whatever you have on hand!
How To Make A Breakfast Board
1) Choose your board or platter: A board or platter acts as the frame for the food. You don't need something fancy to put this breakfast board together. But you'll typically want the surface of what you use to be larger than a typical cutting board. Big cutting boards can be pricey! We get it. So, you could use anything from a baking sheet or giant-size cutting board to a serving tray or large platter for a family-sized meal.
Other alternatives for creating large breakfast boards for displaying food might include:
Get Creative: Using two or three cutting boards or platters pushed together or arranged artfully may be all it takes to create a more extensive food spread on your counter or table.
Hardware stores and Home Improvement retailers: Many stores have trained staff and equipment for cutting down boards to the exact size you need. With lots of wood options from knotty pine, oak, or maple boards, coming up with something with the look you want and sized right might be just down the street. And you can always finish board(s) by sealing or painting, covering them with parchment or kraft paper, or washing them in hot soapy water to make them food safe.
Salvage Store and Lumber Store deals: You can often uncover large butcher block countertop cutoffs or pieces of wood, tile, or slate that are reasonably priced. Just be sure to scrub well in hot soapy water before using it.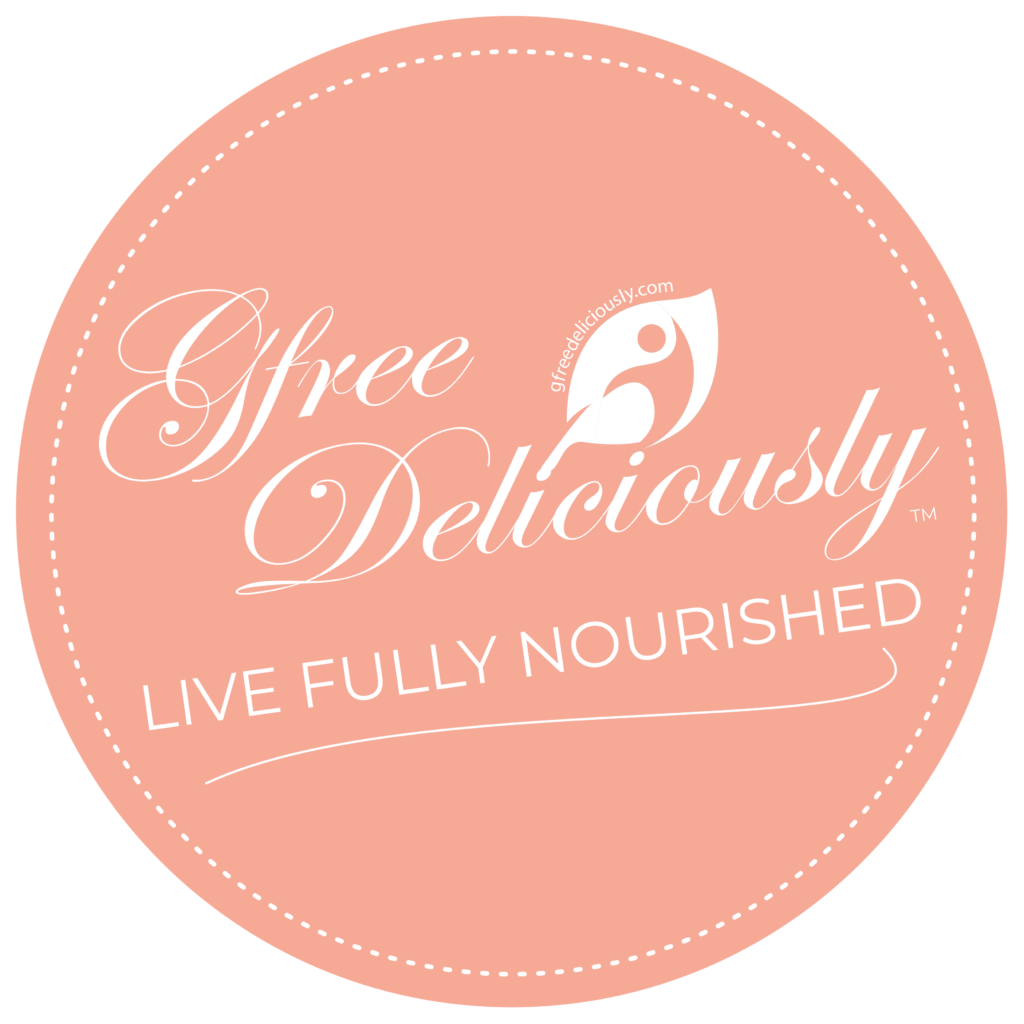 GET RECIPES • RESOURCES • +eNEWS UPDATES & MORE STRAIGHT TO YOUR INBOX !
Simple and delicious gluten-free recipes, family-friendly meal ideas, healthy cooking, encouragement, and easy-to-implement lifestyle strategies to live fully nourished… Only from GfreeDeliciously!
Next Comes The Star of The Show
2) Pancakes or waffles?: If eaters prefer filling and rolling up their breakfast to eat, pancakes are an easy, logical choice. On the other hand, waffles are thicker, more crispy, and typically larger with more texture than a pancake. Either way, both are usually enjoyed with syrup, and they offer many possibilities for garnishing with berries and fresh whipped cream! You could also make Dutch Poffertjes (mini, fluffy pancakes, traditionally made with yeast and buckwheat flour) served with powdered sugar and warm butter, or Russian Blini (tasty savory or sweet mini pancakes), or pancake shapes for kid-friendly options.
What To Serve With Pancakes
3) Add a few small bowls: Fill bowls with yummy foods and condiments like honey, nuts, toasted pumpkin seeds, Greek yogurt, small fruits, or fruit butter.
4) A sweet spot: We've added blueberry syrup (see Step 1 in the recipe); you could also add sweets like honey, berry sauces, or whipped cream. Additionally, applesauce, pudding, or granola are delicious sides. And who could forget fresh fruits – sliced apples, bananas, kiwis, peaches, pears, pineapple wedges, melon, oranges, cherries, blueberries, blackberries, raspberries, and strawberries are all healthy natural sweet additions.
5) Some savory: We've added crispy bacon, but you could also include sausages, prosciutto, smoked salmon, salmon roe (caviar), or other proteins like nut butter, toasted or spiced almonds, pecans, or walnuts.
6) Include some Eggs: Don't forget eggs. Ideas range from fluffy scrambled eggs, deviled eggs, or eggs baked into quiche or frittatas; all would make delicious savory choices to incorporate on a breakfast board. When including eggs, you may also want to add toppings for eggs that make sense, like grated cheese, sour cream, sautéed mushrooms, guacamole, salsa, or fresh veggies like cherry tomatoes or sliced avocados.
7) Potatoes: Cheesy hash browns and crispy butter-fried diced or sliced potatoes are great because you can prepare them first thing in the morning, keeping them in the oven to stay warm while making your pancakes.
8) Garnish: This is optional, but it's also fun to make the breakfast board look super appealing to diners. I like to include spices such as star anise or cinnamon sticks for the aromatics and to decorate the board.
Can I Make A Breakfast Board Ahead?
Absolutely! Pancake batter can be prepared up to two days ahead and kept in the fridge. Another option is to make the pancakes the night before, quickly warming them up in a hot pan or the microwave before assembling the board. Bacon and eggs taste best when made just before serving; the best way to make the bacon is to bake it on a large sheet pan (see our recipe) for no mess and no fuss!
How to Create A Breakfast Board In 6 Easy Steps
Step # 1 - Save time by getting things ready to go the night before:
You can do several things to make the following day go smoothly. For example, if feeding a large crowd, prepare 2 to 3 batches of pancake batter ahead of *time, storing it in covered containers (like mason jars). You can also wash fruits (but wait to slice them), prepare your pan with bacon, whip up fancy syrups (see recipe), make candied nuts, dish up things like chocolate chips or granola, etc.
*Note: If you're making buttermilk pancake batter, mix and store the dry ingredients in one mason jar and the wet ingredients separately in another until the next day. When you need them, mix the wet and the dry right before making the pancakes. Doing it this way will keep the batter from going flat overnight.
Step # 2 - Map out what your board will look like:
You can make a sketch or lay things out the night before or arrange many of your board's components in the morning, but it's helpful to get a basic concept of how your board will look. Gather things like plates, bowls, and serving utensils that you'll need, and organize them where you want them. Use scraps of paper or sticky notes for where everything goes, and double-check any list you have made to be sure you've accounted for everything. Of course, you can always make changes when adding the food, but it's nice to plan how you want things to look.
Step # 3 - Day of - What to make first:
Make all your hot items like potatoes and bacon first, then put them in a 200°F oven or under a heat lamp (if you're lucky enough to have one) to stay warm while you make the pancakes.
Step # 4 - Arrange room temperature and cold foods on the board:
While the pancake griddle is heating, assemble and dish up toppings like syrups* and fruits, items that will be okay being out of the fridge for the next 20 minutes or so, onto your board. Be sure to take the butter out of the refrigerator so it can soften too. Next, slice up any "finger fruits" like apples, oranges, bananas, kiwis, pears, etc., and set them aside. If you're slicing apples, pears, and bananas, give them a quick dunk in lemon water or orange juice, so they don't turn brown.
* Optional: Heat the syrup (but don't boil) so it's nicely warmed when diners pour it over the pancakes.
Step # 5 - Make the pancakes:
Using a measuring cup or ladle, to keep your pancake size consistent, scoop the batter onto the griddle (a scant ¼ cup for each pancake), and cook for about 2 minutes until tiny bubbles form on top of the batter. Flip and continue cooking until golden brown. To keep them warm while making additional batches, arrange them in a single layer on a cooling rack, placing them uncovered in a warm oven for up to 20 minutes.
Step # 6 - Fill the board:
The final step before breakfast is ready is to add anything else from the fridge that needs to go on the board. You'll want to save things like filling bowls with fruit toppings or setting out whipped cream for the last-minute right before arranging the pancakes. Then, put on the things you've kept warm, like bacon, potatoes, scrambled eggs, or breakfast casseroles. Finally, pancakes! Arrange them by fanning them out, stacking them up, or however you'd like. Lastly, fill in any empty areas on the board with sliced fruit, small dishes of yogurt or granola, and garnish with things like sprinkling a tiny bit of powdered sugar on the top of a few pancakes or spreading a few spices such as star anise or cinnamon sticks here and there.
Yell to everyone that breakfast is ready! Or whatever your Come and Get It call is 🙂 Step back and enjoy!
Amen? Amen!!
Picture the recipe step-by-step...
Enjoy these easy and creative ways to serve your favorite pancake breakfast, no matter what time you eat it.
And whether you go all-in with plain pancakes, mix them up with whole grains or berry-fill your pancakes, make mini pancakes, or include pancake shapes for kids, I hope you'll go wild with the entire pancake board idea – making yours as elaborate or simple as you wish!
For even more brunch-worthy recipes, check out this round-up of ideas in the Brunch Collection!
When you make a pancake board yourself, be sure to comment below, share it, and rate it – it's super helpful for other readers and us. Click the blue-green comment bubble on your screen's bottom-left to enter the comment area below.
And as always, don't forget to take a picture and tag it #CookingGfreeDeliciously on Instagram. We love seeing what you cook up!
XXO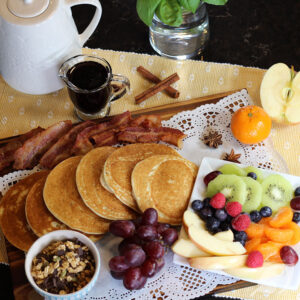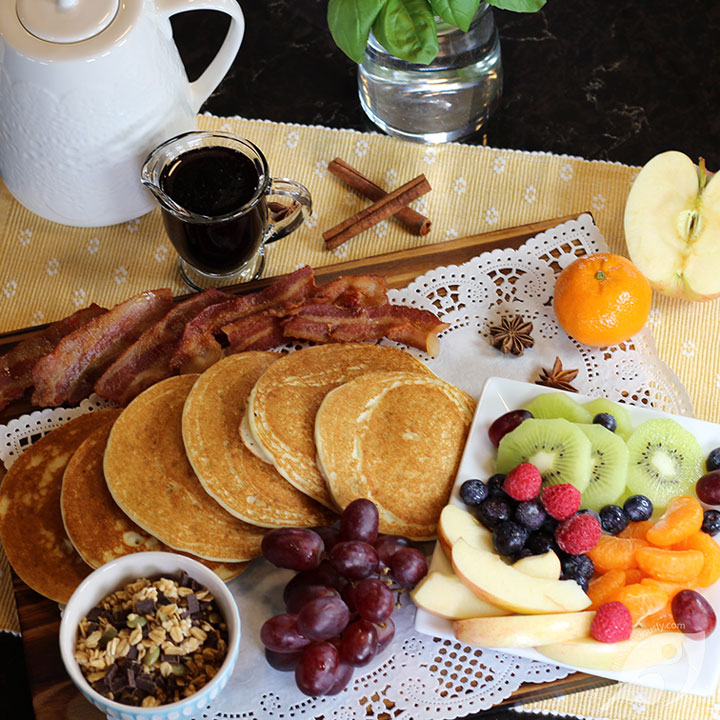 Gluten-Free Pancake Board (Breakfast Charcuterie Platter)
Anyone can stack pancakes, but why not put some fun and creativity into breaking your fast with this Gluten-Free Pancake Board (Breakfast Charcuterie Platter)? Easy to put together, this big breakfast platter makes an eye-catching, lip-smacking, Pin-worthy Breakfast, Brunch, or "Brinner" (Breakfast for Dinner) with all the extras!
EQUIPMENT
Sheet pan

Aluminum foil

Non-stick Griddle or Skillet

Utensils (Measuring Cups & Spoons, Whisk, Spatula, Knife)
INGREDIENTS
For the Pancakes
Gluten-Free Pancake Mix

, or substitute your favorite gluten-free pancake mix recipe

1

large

Egg

¾

cup

Milk

1

tablespoon

unsalted Butter

melted
Toppings & Sides
8

ounces

Bacon

Toppings such as fresh fruit, nut butter, chocolate chips, etc.
Add ingredients to your Private Shopping List before ordering online.
Quick Add Ingredients to Shopping List
INSTRUCTIONS
Preheat oven to 400°F. Line a sheet pan with foil.
For the Syrup
Lay 8-ounces of bacon (about 9-10 strips) in a single layer on the prepared sheet pan. Bake for 15-20 minutes or until desired doneness. Transfer to a paper-towel-lined plate to drain and cool.

Meanwhile, whisk together Gluten-Free Pancakes mix, egg, milk, and melted butter or oil for the batter according to the package instructions. Heat a greased nonstick griddle or heavy skillet over medium heat. Add batter a scant ¼ cup for each pancake, and cook for about 2 minutes until tiny bubbles form on top of the batter. Flip and continue cooking until golden brown.
Nutrition
Calories:
439
kcal
Carbohydrates:
36
g
Protein:
10
g
Fat:
28
g
Saturated Fat:
11
g
Trans Fat:
1
g
Cholesterol:
96
mg
Sodium:
424
mg
Potassium:
268
mg
Fiber:
1
g
Sugar:
29
g
Vitamin A:
251
IU
Vitamin C:
2
mg
Vitamin D:
1
µg
Calcium:
96
mg
Iron:
1
mg
(Nutritional values are an approximation. Actual nutritional values may vary due to preparation techniques, variations related to suppliers, regional and seasonal differences, or rounding.)
Copyright © 2017-2023 Kymberley Pekrul | GfreeDeliciously | gfreedeliciously.com | All content and photographs are copyright protected. The sharing of this recipe is both encouraged and appreciated. However, copying and/or pasting full recipes to any social media is strictly prohibited. Please read my Photo Use Policy for detailed guidelines and further clarification.