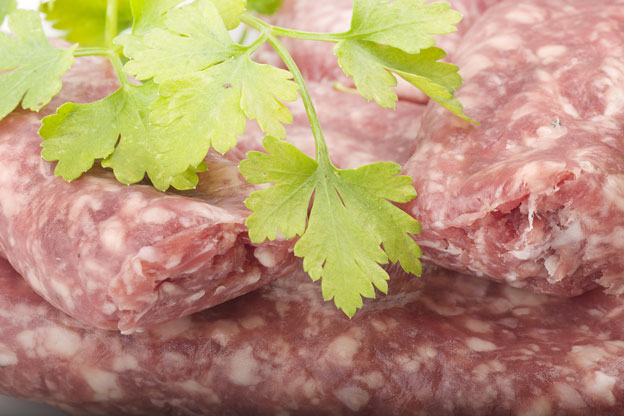 Simple Hacks on How to Store and Freeze Raw and Cooked Sausage and Brats
Never allow raw meat, including sausage and brats, to sit out at room temperature for more than two hours and only one hour if the air temperature is above 90°F. Bacteria multiply rapidly in unrefrigerated food. In addition, if left unrefrigerated, some organisms can create toxins that will survive the cooking process even if they cook to temperatures that kill the bacteria themselves.
A Simple Mealtime Timesaver
For several of our recipes, we talk about using frozen raw sausage and brats. Freezing them is a simple mealtime hack and timesaver that we've been doing for years to help solve the age-old problem of not having any freshly ground pork sausage on hand when we discovered a new recipe or wanted to make a long-time standby dish that called for a small amount that we didn't have.
Why Brats Are Our Favorite for Freezing
These meaty tubular sausages weigh in at about four ounces each, therefore, making them perfect for thawing and portioning precisely the amount required for just about anything calling for the ingredient. Because the links are unseasoned, they are also ideal for use in any recipe where too many flavors might compete. And longer freezer life makes it easy to have sausage on hand for easy meals when needed!
That said, there are a few vital food facts to keep in mind when storing and freezing sausage and brats.
Keeping Sausage and Brats Safe to Eat
When purchasing sausage and brats, you'll want to keep them as cool as possible during transport from the grocery store to home. So, especially during hot and sunny days, take an insulated cooler or grocery bags to transport them from the store to home. Doing this will also help keep the meat cool in your car because it is probably hotter than typical room temperature.
Never allow raw meat, including sausage and brats, to sit out at room temperature for more than two hours and only one hour if the air temperature is above 90°F. Bacteria multiply rapidly in unrefrigerated food. In addition, if left unrefrigerated, some organisms can create toxins that will survive the cooking process even if they cook to temperatures that kill the bacteria themselves. So it's imperative not to leave groceries in your car longer than necessary.
Refrigerate sausage and brats as quickly as possible after getting home from the store.
How long is fresh sausage and brats good for in the fridge?
Raw uncooked sausage can be stored in the refrigerator for one to two days if refrigerated. After cooking, store in an airtight container and refrigerate within two hours of cooking. It will keep for three to four days refrigerated (40 °F or less).
Most manufacturers of packaged brats claim that when opened and resealed tightly before returning to the refrigerator, the brats will remain fresh for up to seven days.
* An Important Note About Storing Raw Meat and Other Foods in the Fridge
When storing raw meats in the refrigerator, it's best to arrange them following a top-to-bottom order. Store ready-to-eat foods like dairy products, cheese, and yogurt at the top. Leftovers and other packaged foods on the middle shelf. Raw meat, poultry, and fish in sealed containers on the bottom shelf area, with lettuce, fruits, and veggies in the vegetable drawers.
Additionally, ALWAYS store gluten-free items in sealed containers above gluten-containing foods and on separate shelves.
Using these storage methods will keep your food from possible cross-contamination keeping ready-to-eat foods away from raw foods to prevent harmful bacteria and allowing cool air to circulate freely, keeping food safe.
How to tell if your sausage or brats have spoiled:
The best way to know if your sausage or brats have spoiled is if there is any discoloration, if the color looks grayish, or if it has a slimy coating.
You should also smell it, noticing any sour or rotten food odor, and look for any hardened or dried-up meat.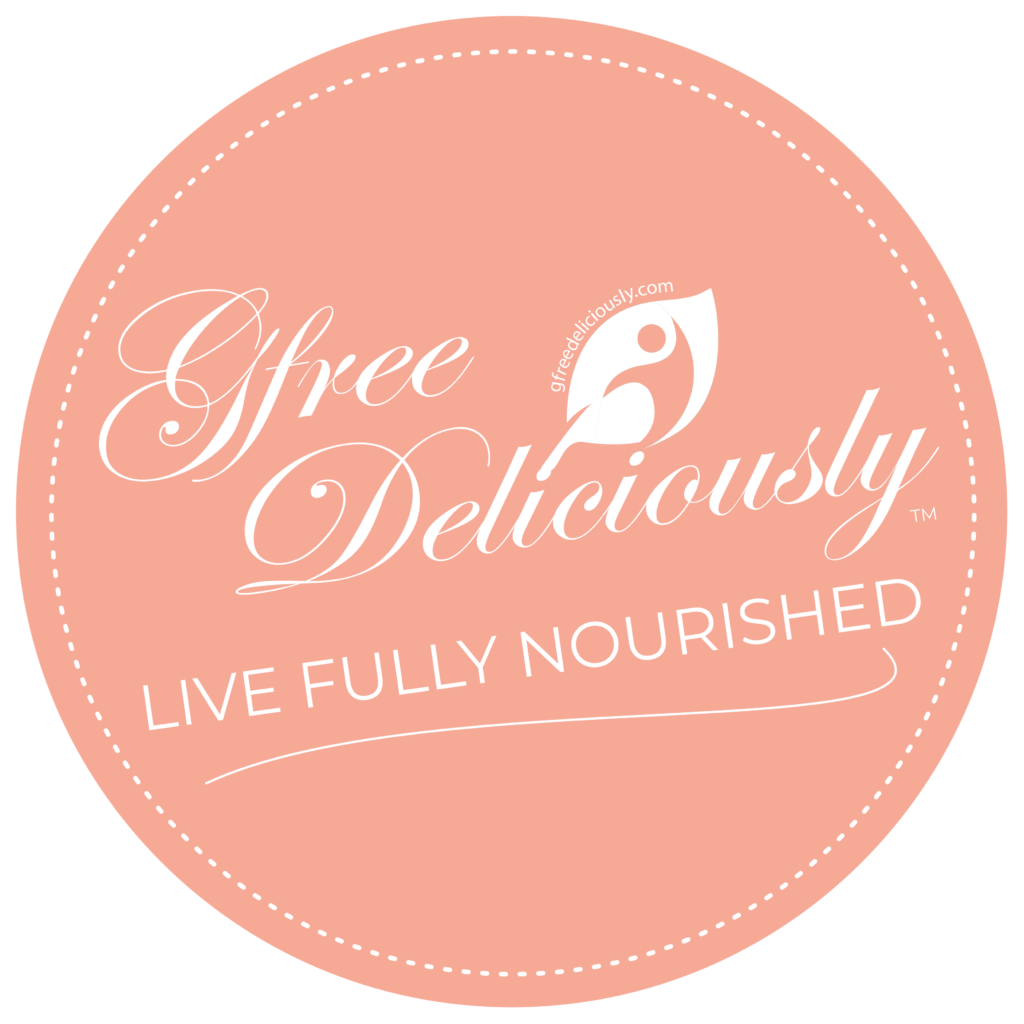 GET RECIPES • RESOURCES • +eNEWS UPDATES & MORE STRAIGHT TO YOUR INBOX !
Simple and delicious gluten-free recipes, family-friendly meal ideas, healthy cooking, encouragement, and easy-to-implement lifestyle strategies to live fully nourished… Only from GfreeDeliciously!
How to Freeze Raw Sausage and Brats
For quick meal prep, freezing makes sense if you're looking for an easy, economical way of having sausage on hand when you need it. Whether raw or pre-cooked, you can store sausage and brats in the freezer for up to three months, and the freezing process is the same.
Arrange fresh brats or pre-measured sausage patty amounts on a parchment-lined baking sheet with space between each brat or patty portion. Set the tray in the freezer for 1-1/2 to two hours to pre-freeze individually before packaging for extended storage.
Note: You can skip the pre-freezing step if desired, but pre-freezing separately will keep portions from sticking together so that you can easily remove a single brat or sausage patty when you need it.
If freezing pre-cooked sausage or brats, allow the meat to cool to room temperature before packaging and freezing.
Label each bag or container clearly with the contents, the date packaged, and note if the contents are cooked or raw. Additionally, you may want to include the use-by date from the original packaging so that you know how long the sausage will last when thawed.
You could also record your own "SUB" date (Suggested Use-By date) by adding three months from the storage date.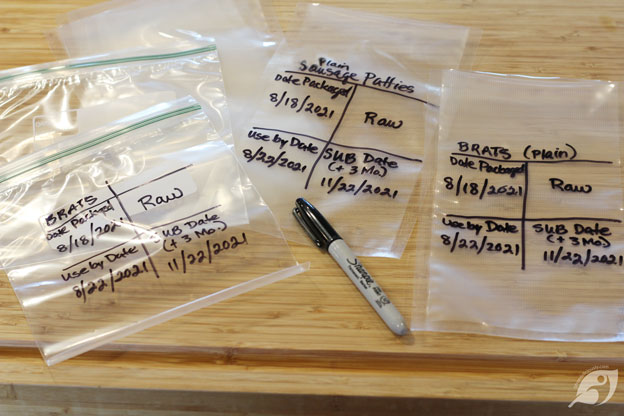 Place the sausage or brats in a vacuum-seal or zipper freezer bag leaving at least 2-inches of headroom between the meat and the top of the bag's sealing area. If using a non-vacuum seal bag, squeeze out as much excess air as possible before sealing the bag closed. Alternately, you can wrap individual sausage patties or links in plastic wrap before storing them in non-vacuum seal bags or freezer-safe plastic storage containers to help ward off freezer burn.
Note: Always freeze raw and cooked sausage or brats in separate bags or containers.
Next, arrange the prepared bags or containers of sausage near the freezer walls to freeze them the fastest. You can move them to a handier designated spot after 24 hours or when everything is frozen solid.
Make Freezer Bag Prep Easy with Our Free Label Layout to Print
Site subscribers can download our free 3 x 3-3/4″ Freezer Labels to make labeling easier!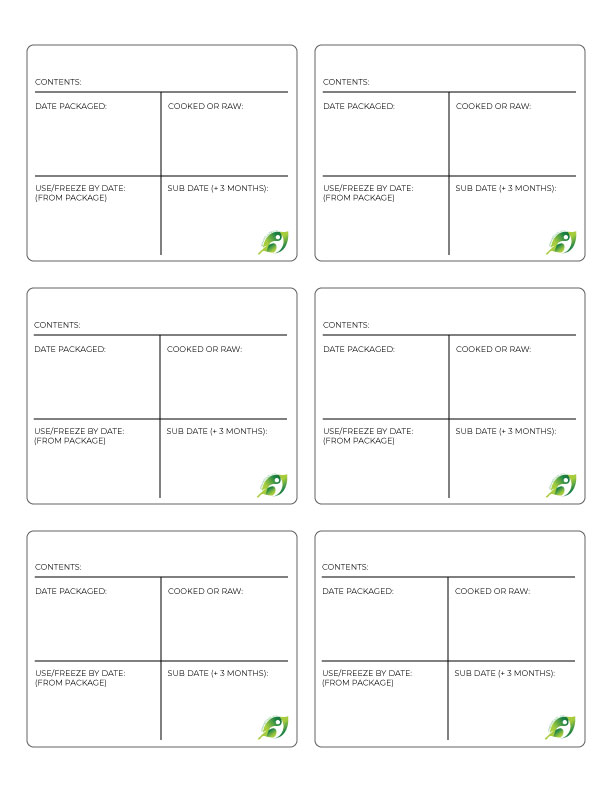 How should you thaw frozen sausage?
There are three ways to thaw safely:
The refrigerator
In cold water, or
In the microwave
How to Thaw Sausage in the Refrigerator
It's all in the Planning – The thing to remember when thawing sausage and brats in the refrigerator in this method of defrosting is that time is involved. The rule of thumb to follow is 24 hours for every five pounds of weight. So unless you're defrosting enough meat to feed a large crowd, a few hours should allow plenty of time for thawing enough sausage or brats for dinner. But you also may want to keep in mind these variables: Some areas of your appliance may keep foods colder than other areas, and food will take longer to thaw in a refrigerator set at 35°F than a fridge set at 40°F.
After thawing, the sausage should remain safe and of good quality for one to two days before cooking. And if plans change, sausage thawed in the refrigerator can be refrozen without cooking, although there may be a loss in quality when you defrost and finally use it.
How to Quick Thaw Sausage in Cold Water
If you're kind of a fly by the seat of pants type, you can thaw sausage in cold water, but doing it this way requires more attention. First, make sure that the food is in a leak-proof bag or sealed water-tight container. You don't want bacteria from the air or surrounding environment introduced to the sausage because of a leak.
Submerge the bag or container in cold tap water, and be prepared to change the water every half-hour, so it continues to thaw. Small packages of sausage or brats should be ready to cook in an hour or less. A good rule of thumb to follow using this method is about 30-minutes per pound of frozen meat to defrost it thoroughly. Of course, once it is no longer frozen, you will want to cook it immediately.
Sausage and brats thawed using the cold water method should always be cooked before refreezing.
How to Quick Thaw Sausage in the Microwave
In this method, you want to make sure to cook the sausage or brats immediately after thawing them because some areas of the food may begin to cook during the thawing process, bringing the temperature of the food into what's known as the "Danger Zone."
The danger zone is the temperature where partially cooked foods haven't yet cooked enough to destroy any bacteria present. Due to the food being uncooked but warmed to the optimal point where bacteria can grow, you will always want to cook sausage immediately after thawing it in the microwave.
No matter how you cook it – on the stovetop, conventional oven, grilling it, or even if continuing by thoroughly cooking the sausage in the microwave, you should always finish cooking it immediately after thawing it when using this method.
Foods thawed in the microwave should be pre-cooked before refreezing.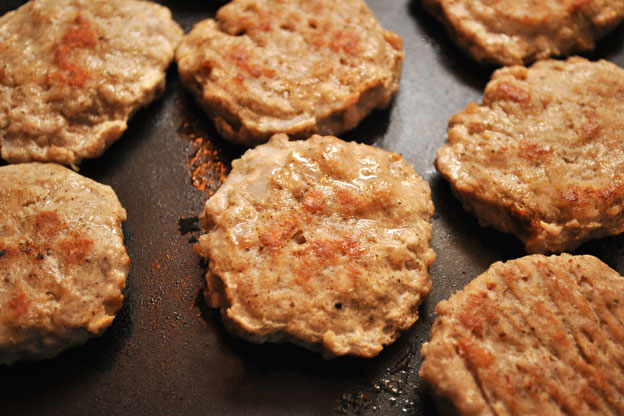 Even when there is not enough time to thaw frozen brats and sausage, or if the meal is running late and you're simply in a hurry, you'll also want to keep in mind that you can still cook or grill from the frozen state. However, cooking or grilling from frozen will take approximately 50% longer than the recipe has recommended for fully thawed sausage or brats.
Need creative inspiration for including sausage in your next meal?