Wisconsin Weather, Okra, and Jambalaya…
Andouille sausage and shrimp shine in our recipe for the best Cajun 45-Minute Jambalaya Skillet Dinner. Just one skillet is all it takes for this deliciously classic Creole-inspired easy weeknight dinner!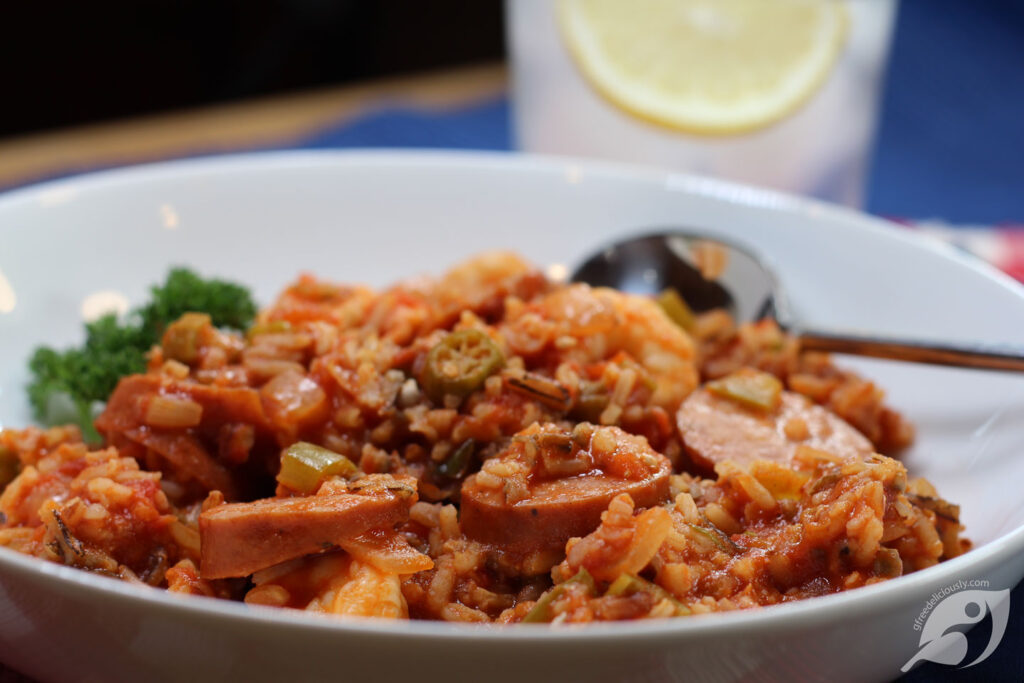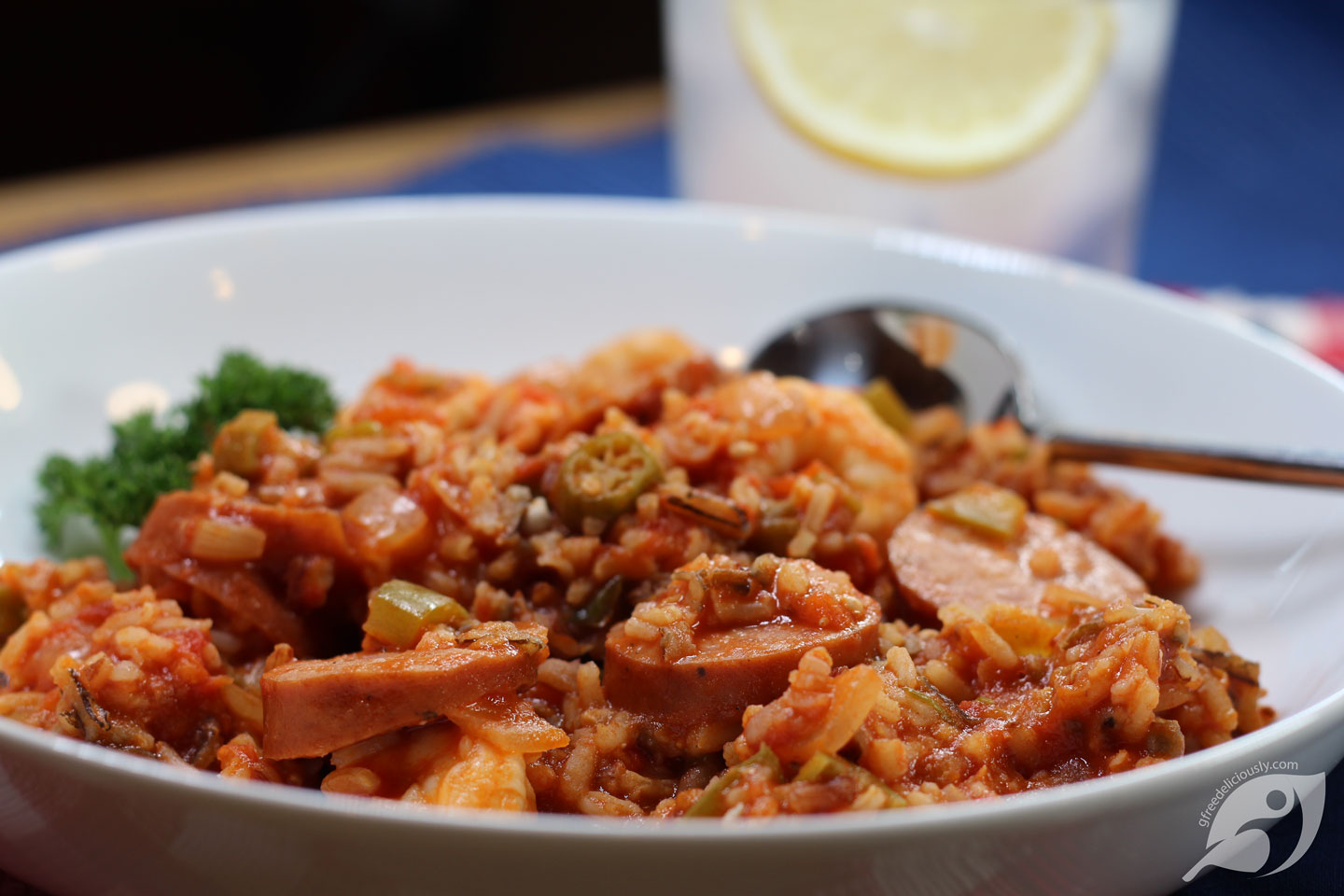 It's the beginning of September, and we started the furnace today. I don't know why that should surprise me, but like most folks in Wisconsin, we never really know what the weather will bring from day-to-day.
If you're not familiar with the state, Wisconsin does have four seasons like everywhere else, but around here, many will laughingly tell you they're called Almost Winter, Winter, Still Winter, and Road Construction.
All joking aside, this sudden September weather change to downright chilly has got me suddenly concerned about the tail end of this year's garden produce – among it is okra that I want to use up before the first frost comes.
Native to Ethiopia, okra is the seed pod of the Abelmoschus esculentus plant. It was brought to North America by enslaved people and settlers when they arrived here centuries ago. The only member of the mallow family (that includes cotton, hibiscus, and hollyhocks) to bear edible fruit. The 2-5-inch long tubular-shaped fruits grow best in hot and humid climates, which is why it is mainly grown in Florida and other southeastern states in the U.S.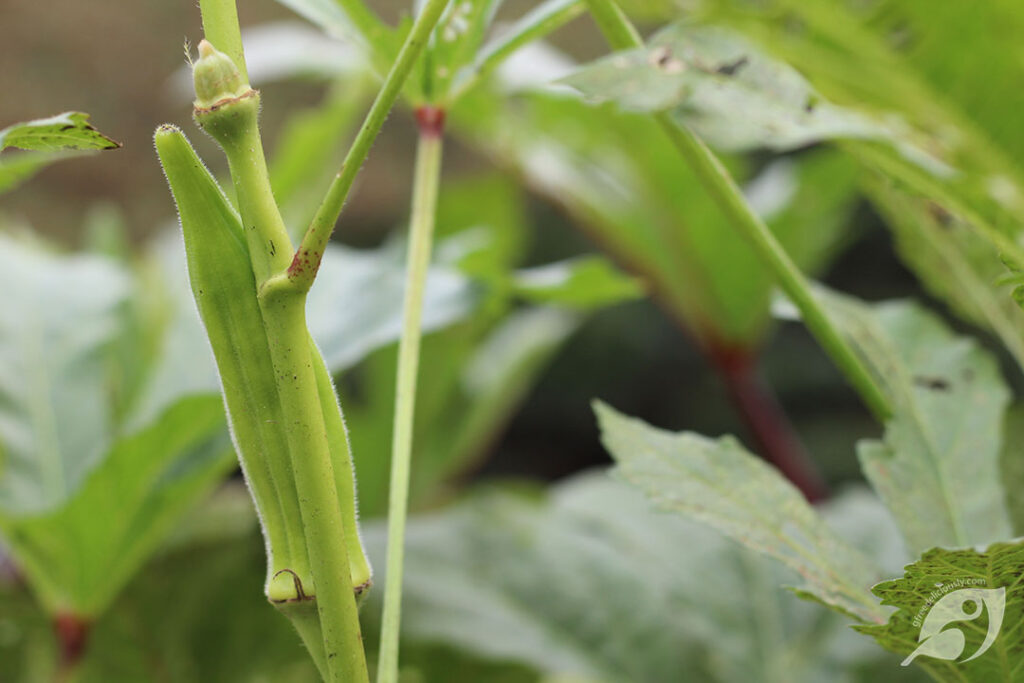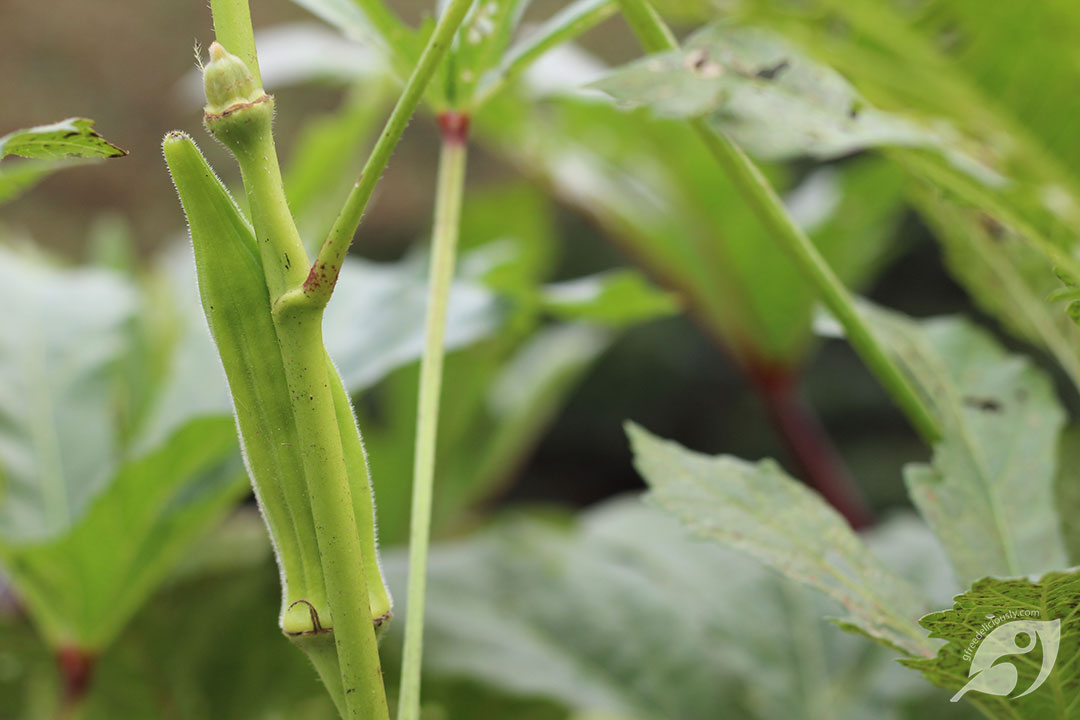 If you have never tried it, okra is a warm-season vegetable superfood that packs a serious punch of minerals, vitamins, antioxidants, and fiber. It's remarkably low in calories and high in vitamins A, C, and K, and it offers a host of B-complex vitamins too, as well as several antioxidants that include beta-carotene, xanthin, and lutein.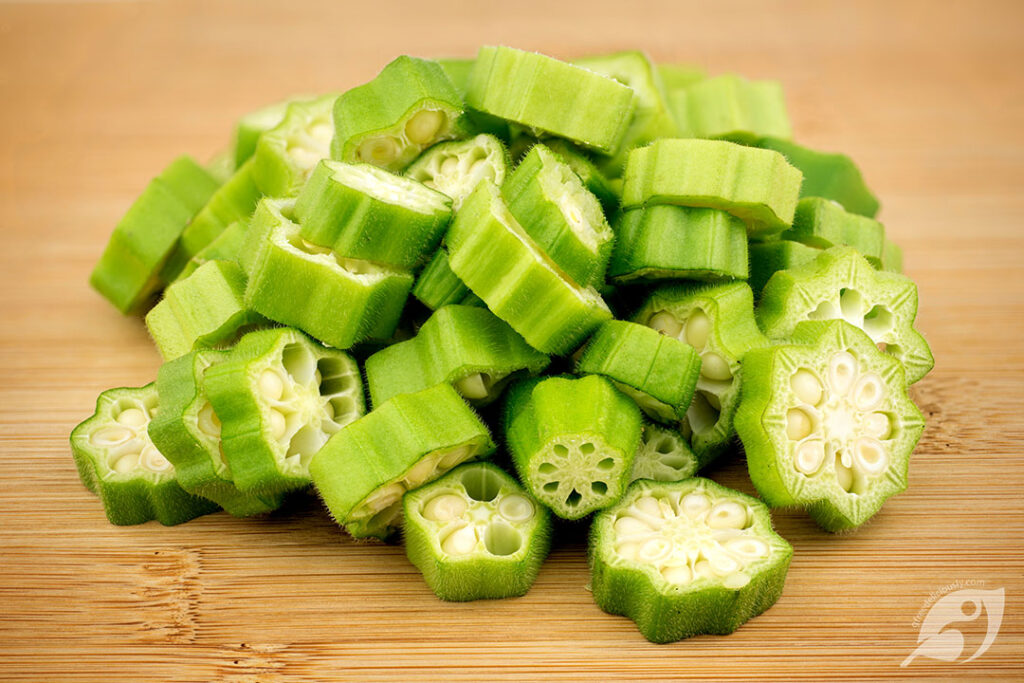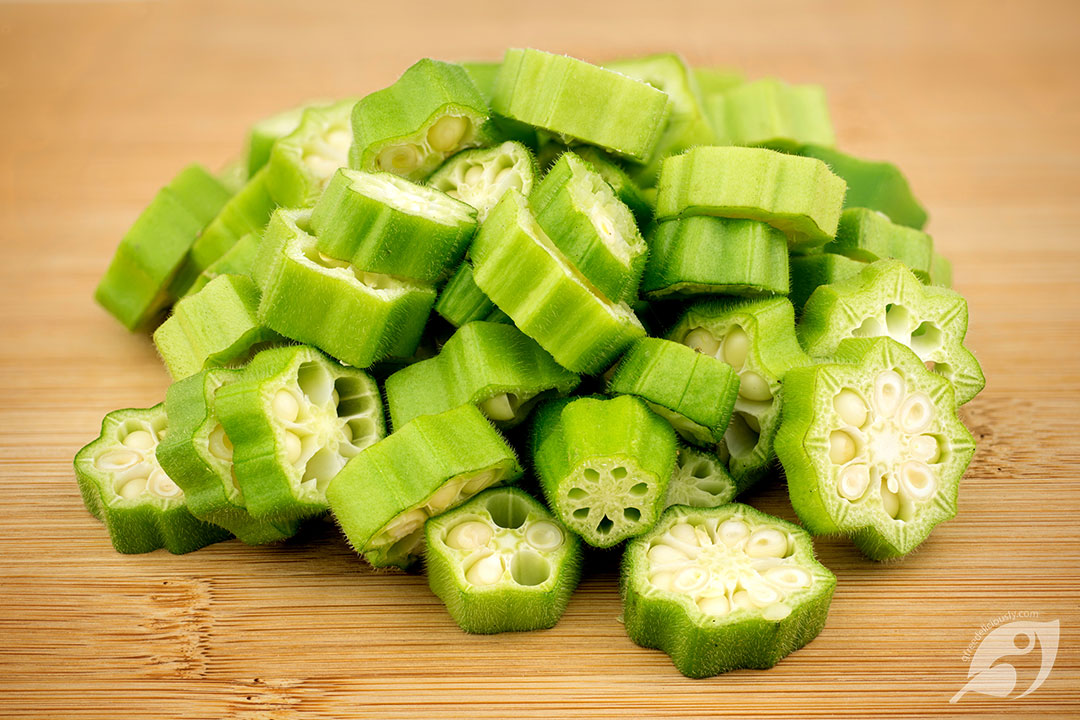 Okra's taste is mild, with a unique texture. Each pod has a peach-like fuzz on the outside. Inside the pod is filled with tiny edible seeds that include a variety of antioxidant compounds that scientists believe may help lower the risk of cancer.
Many, who know the mild-tasting vegetable, may associate it with having a slippery, slimy mouthfeel that is anything but desirable. But for others, like us, who have prepared or pickled it properly, okra has a soulful taste that reminds us of some of our favorite southern cooking dishes like jambalaya.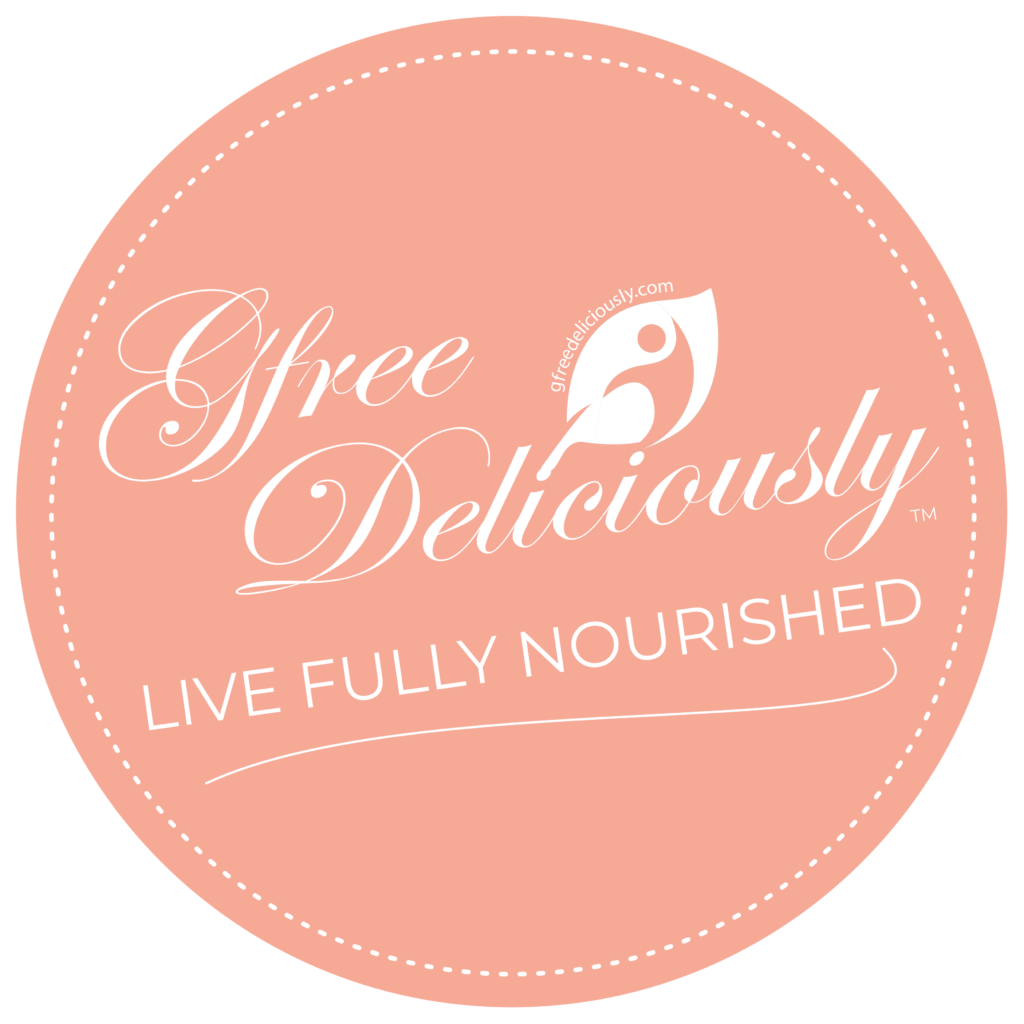 GET RECIPES • RESOURCES • +eNEWS UPDATES & MORE STRAIGHT TO YOUR INBOX !
Simple and delicious gluten-free recipes, family-friendly meal ideas, healthy cooking, encouragement, and easy-to-implement lifestyle strategies to live fully nourished… Only from GfreeDeliciously!
Come home to cooking with Wildtree this September!
Sneak Peek! September Cooking Collection!
Join me weekly for my Wednesday blog posts, where you'll get my take on cooking each recipe featured, and have some fun in the kitchen!
Then click on over to make all eight of the delicious featured recipes.
Where does Jambalaya come from?
Among our family's favorites is Creole jambalaya, or red jambalaya, as it's known in New Orleans. We also make Cajun jambalaya, a dish that is more characteristic of southwestern and south-central Louisiana.
One of the main ingredients in jambalaya is okra…
In Wisconsin, we have success growing the fruit each year in our busy little garden. This year, we included red burgundy okra (a.k.a. magenta or purple okra) as a fun addition to the green variety. And while there isn't much difference between red okra and green okra other than the color, it's interesting to note that when cooked, red okra loses its red hue, and the pods turn green.
Most commonly used in soups and stews, okra contains a substance called mucilage (a gluey substance produced by nearly all plants) that acts as a natural thickener when heated. While this benefits dishes like gumbo and jambalaya, it also creates the sliminess associated with okra.
If the sliminess is a problem for you, there are a few proven methods that work for reducing the percentage of mucilage produced in cooked okra:
Some cooks suggest soaking the okra in vinegar before cooking (make sure you rinse and pat dry the slender, tube-like shapes before using)
Cook at very high heat, such as by grilling or sautéing
You can always pre-cook okra using one of these ways before adding it to your recipe.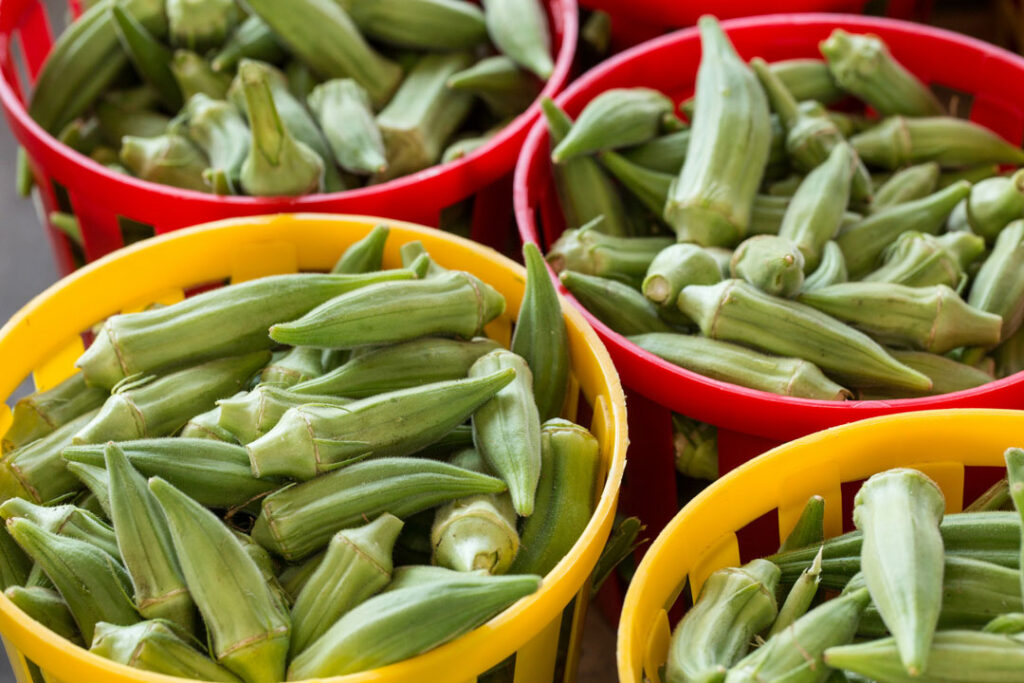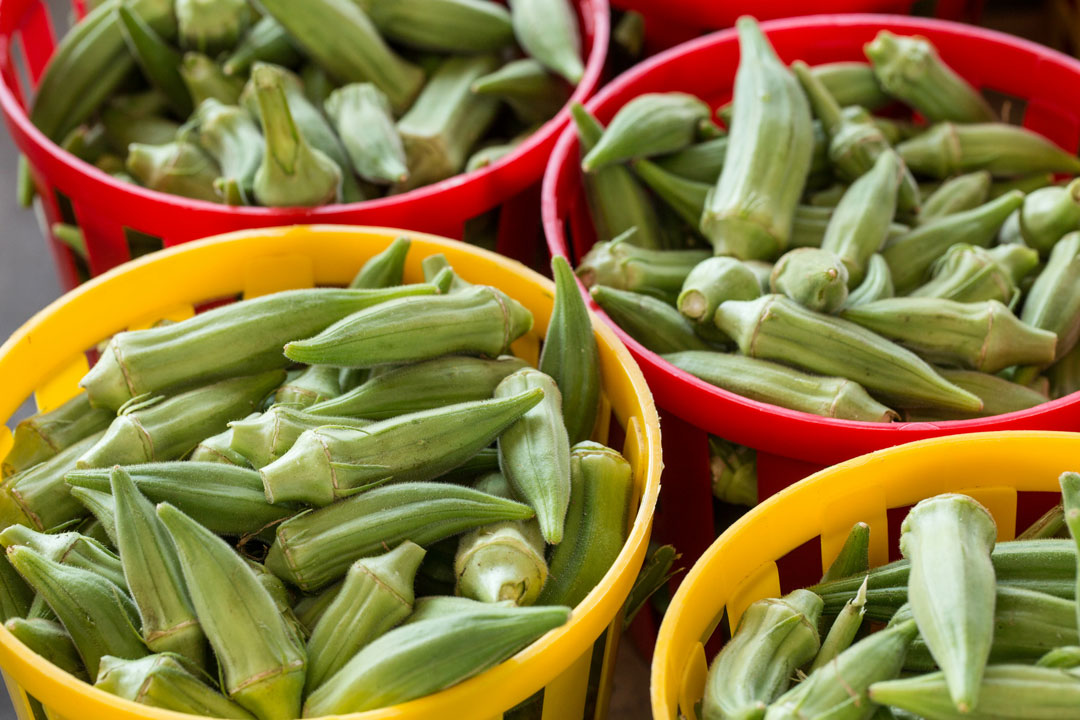 Fresh okra should feel firm but not hard. For green okra, look for bright green pods with unblemished skin. Red okra is similar; look for pods that are evenly colored from top to bottom with no blemishes. Slight browning on the stem shouldn't be a concern, though the fresher the okra is, the greener it will be.
Not all grocers stock fresh okra; if your store does offer it, you will most likely find fresh okra from May through September, when the fruit is in season. Another option is to look for frozen okra in the freezer case in 12 to 16-ounce bags.
Fresh okra is best stored in the vegetable drawer in your refrigerator in paper bags for up to 4-5 days. When you're ready to prepare it for cooking, bring it up to room temperature, rinse with cold water, and pat dry to reduce the moisture released from cooking.
Gardeners with an over-abundance of okra (often the case as the pods tend to mature all at once) can freeze the fruits for up to one year. To freeze okra, wash and stem the pods, blanch in a boiling water bath for a few minutes, dunk in a quick ice-water bath, cut into 1/2-inch pieces, and flash freeze on a cookie sheet before packing to freeze in vacuum sealer bags before freezing.
The Wisconsin Tie to Jambalaya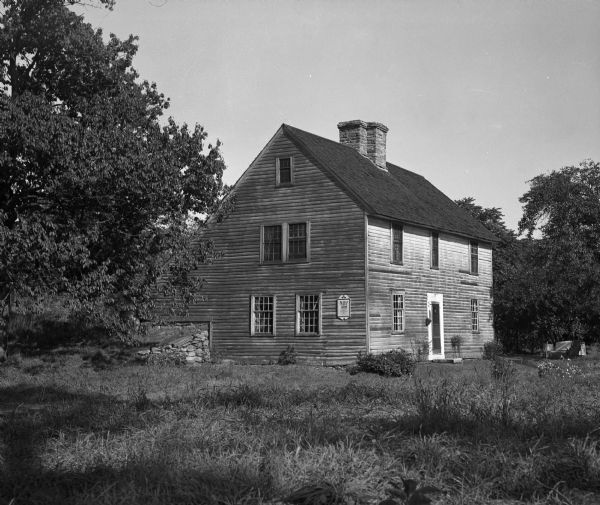 As I often write about food tied to Wisconsin history, you may wonder how a southern dish with Spanish, French, and African influence (inspiration coming from dishes such as paella and Jollof) might connect Wisconsin with Louisiana?
To find out, it might seem strange that we would go north of Wisconsin and the U.S. border to discover its roots and origins. Upon investigation, I've found that the tie-in dates back to when Acadian exiles from Canada – many of the descendants of the seventeenth-century French colonists who settled in Acadia following the Great Expulsion of 1755-1763 – traveled from Canada to settle in the states.
Historically, most French Canadian American immigrants settled in the New England states, geographically closest to the province of Québec. However, some traveled further to make their homes in Wisconsin, Michigan, Minnesota, and various other states, including Louisiana.
Today Acadia refers to regions of North America associated with the culture, descendants, and the lands of the former region – in particular, the area known as the Maritimes (New Brunswick, Nova Scotia, the Magdalen Islands, and Prince Edward Island, as well as Maine) with Acadian roots. It can also refer to an area in southern Louisiana referred to as Acadiana, where the people (Acadians) are known as Cajuns by the American pronunciation.
When traveling in Wisconsin, you will find many eateries and restaurants that focus on authentic Cajun cuisine, likely a holdover from the early Acadia settlers.
You don't know a place until you eat a plate of its authentic food.
You may have heard the adage that says you don't know someone until you walk a mile in their shoes. I believe that it is just as accurate that you don't know a place until you eat a plate of its authentic food. Therefore, many of the dishes I endeavor to replicate come from having sampled the local cuisine at one point or time.
The culinary peculiarities of places usually have roots dating back centuries and stem from rituals and other traditions that help define a people.
In all cultures, recipes and dishes get passed down for generations and reflect traditions that have become an integral part of society. Often their stories have become woven into the fabric of family celebrations, religious observances, and holiday gatherings. And those recipes can make a region stand out from the surrounding areas.
The ingredients usually have a tale to tell too. They provide a look into the history of the people, whether from long-held practices or new-found abilities. What may strike a person from one geographic region as odd is perfectly normal to the locals.
In the cuisine as in the music, yummy Cajun food is spirited, spicy, lively, and full of authentic, hearty flavor, keeping with the Cajun reputation for a Joie de Vivre (joy of living), where hard work is appreciated as much as "passing a good time."
How to Adjust the Spicy Cajun Flavor:
I get it. Some folks aren't a fan of spicy foods.  If you're not a fan, you can still make this jambalaya in a mild version. Start with choosing a mild sausage that still has flavor. Next, omit the cayenne pepper and choose only bell peppers with a mild taste.
For those who like it very spicy, add one or two minced jalapeno peppers, a habanero pepper, or chili pepper flakes. Or, to keep it simple, increase the cayenne pepper or add a little more hot sauce.
What if I Don't Have Cajun Seasoning?
For convenience, I've used pre-mixed Cajun seasoning for this recipe, but note that using a pre-mixed Cajun seasoning will not allow you as much flexibility in adjusting the heat to taste. If you either don't have Cajun seasoning on hand or if you want more flexibility in adjusting the heat and amount of spice, feel free to add a dash or two of these spices to taste: paprika (sweet or smokey), garlic powder, salt, dried oregano, dried thyme, black pepper, onion powder, and cayenne pepper.
Cooking Tips for Making Perfect Southern-Style Jambalaya:
Allow the bacon, sausage, and chicken to brown slightly to add depth to the finished flavor.
For authentic Creole flavor, don't skimp on the spices! Enhance the taste by adding spices like chili powder, smokey cumin, or hot sauce.
Skip the meat/seafood counter and use frozen and freshly-thawed shrimp (unless you have access to fresh-caught). The shrimp at the counter is usually previously frozen and never tastes quite as good. Also, avoid pre-cooked shrimp for the best taste.
Every pot allows steam to escape a little differently as the food cooks, so don't be afraid to add a bit more broth as needed to keep the rice tender and the jambalaya deliciously moist and juicy.
If adding chicken to the recipe, season it with your favorite spices before cooking. Adding a little salt, pepper, and powdered garlic will seal the flavor of the seasonings, giving it an extra tasty flavor.
Ça c'est bon (Sa say boh(n)) - That's good!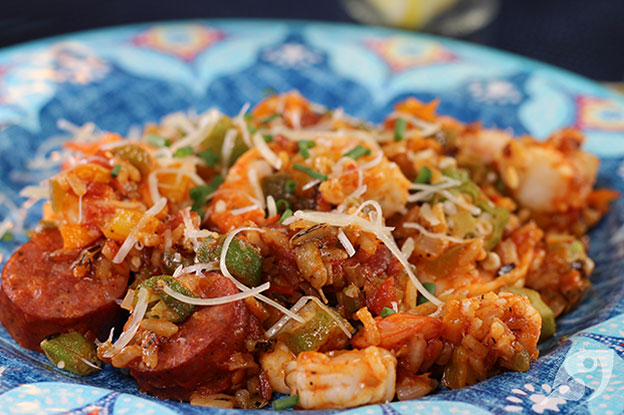 More Delicious Southern-Style Recipes to Try:
Have you tried this recipe? I would love to hear your thoughts. Click the blue-green comment bubble at the bottom right corner of your screen to let me know in the comment area below. I would love to hear!
XXO,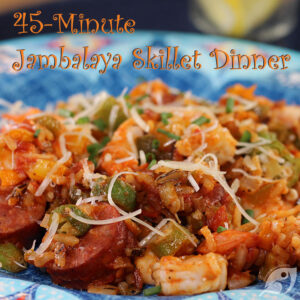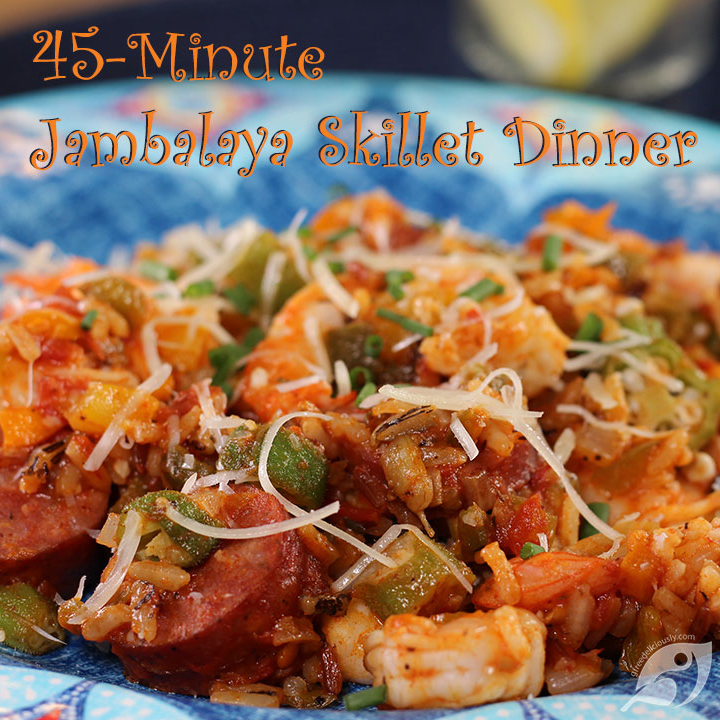 45-Minute Jambalaya Skillet Dinner
Seasoned with flavorful Cajun spices, this 45-Minute Jambalaya Skillet Dinner is brimming with taste, using andouille sausage, shrimp, okra, and a colorful display of nutritious fresh veggies with rice!
EQUIPMENT
Large skillet or Dutch Oven

Cutting Board

Utensils (Measuring cups and spoons, Chef's knife, Heat-proof spoon)
INGREDIENTS
1

tablespoon

Olive Oil

368

grams

Andouille Sausage

13.5-ounce ring sliced into 1/4 -inch thick slices [1]

1

medium

Onion

6

medium

Okra

stems removed and cut into 1/2-inch pieces

1-1/2

cups

Bell Peppers

about 2-3 medium seeded and chopped (preferably mixed colors)

4

cloves

Garlic

minced

⅔

cup

Tomato Juice

⅓

cup

low-sodium Chicken Broth

plus more if needed

10

plum Tomatoes

skins removed then chopped [2]

1

teaspoon

Cajun Spice Blend

1

teaspoon

Cayenne Pepper

less or more to taste [1] [3]

⅔

cup

Royal Rice

a blend of Texmati® White, Brown, Wild & Red

1

pound

Shrimp

medium-size, peeled and deveined

Chives, parsley, parmesan cheese, scallions, or lemon wedges; optional for garnish
Add ingredients to your Private Shopping List before ordering online.
Quick Add Ingredients to Shopping List
INSTRUCTIONS
Preheat olive oil in a large skillet or dutch oven over medium-high heat. Add the sausage and cook, occasionally stirring until browned, about 5-6 minutes. Transfer to a plate lined with paper towels to drain, leave the oil in the pan.

Combine the onion, bell pepper, and okra in the skillet and sauté 5-6 minutes, or until the onion becomes translucent. Add the minced garlic, and sauté one minute longer.

Pour in the tomato juice, chicken broth, chopped tomatoes, cajun spice, and cayenne pepper. Stir in the cooked sausage and royal rice blend.

Bring the mixture to a light boil over medium-high heat. Reduce the heat to low and continue to cook, simmering until the rice is tender about 20-25 minutes. Stir in a little extra broth as needed.

Add the shrimp, cover, and continue to cook 4-6 minutes until the shrimp turns pink and opaque. Finish with salt and pepper to taste.

Serve immediately, garnishing individual servings with chives, parsley, parmesan cheese, scallions, or a lemon wedge. And make sure to include a southern hot sauce on the dinner table for those who might want a little lagniappe (Lahn-yop) - Something extra to sweeten the deal!
KITCHEN NOTES
[1] The andouille sausage and the cayenne pepper spice make this dish spicy! If you don't like spicy food, you can omit the cayenne pepper and use a different type of smoked sausage.
[2] 1 (14.5 oz. can) petite diced tomatoes may be substituted.
[3] For more heat, you can also add minced jalapeno when sautéing the peppers or add a squeeze or two of Siracha or hot sauce in when adding the tomatoes.
To add more layers of flavor, make this recipe your own with any combination of these options:
• Add peas, banana peppers, carrot, celery, diced zucchini, or summer squash.
• Omit the olive oil and begin by frying three slices of bacon, cut into 1-inch pieces over moderate heat until the fat renders and the bacon browns, about 4-5 minutes. Transfer the bacon to a plate lined with paper towels to drain, leave the bacon drippings in the pan. Continue with adding the sausage in step 1 above. Next, add three to four boneless chicken thighs divided into small pieces to the skillet. Cook an additional 5-6 minutes, tossing until the pieces begin to brown, then remove. Continue with steps 2-3, also adding back the bacon and chicken in step three.
• Option: Prepare the rice separately, and serve the jambalaya mixture on top.
Recipe originally inspired by Chef John Besh – Southern Living – myrecipes.com
Nutrition
Calories:
399
kcal
Carbohydrates:
26.9
g
Protein:
26.4
g
Fat:
21.2
g
Saturated Fat:
6.3
g
Polyunsaturated Fat:
3
g
Monounsaturated Fat:
8.9
g
Trans Fat:
0.1
g
Cholesterol:
159.1
mg
Sodium:
1047.1
mg
Potassium:
997.1
mg
Fiber:
4
g
Sugar:
6.1
g
Vitamin A:
104.9
IU
Vitamin C:
54.2
mg
Calcium:
103
mg
Iron:
1.9
mg
(Nutritional values are an approximation. Actual nutritional values may vary due to preparation techniques, variations related to suppliers, regional and seasonal differences, or rounding.)
Copyright © 2017-2023 Kymberley Pekrul | GfreeDeliciously | gfreedeliciously.com | All content and photographs are copyright protected. The sharing of this recipe is both encouraged and appreciated. However, copying and/or pasting full recipes to any social media is strictly prohibited. Please read my Photo Use Policy for detailed guidelines and further clarification.