Classic Chicken Salad with A Holiday Spin
Keep this recipe for Cranberry Chicken Salad in your go-to favorites for easy entertaining. Or keep it as a last-minute quick meal prep for when you're short on time and need something delicious quick. Just 20 minutes to delicious is all it takes!
In a general sense of the mixture, chicken salad is a recipe that has been around forever – and when I say "forever," I mean a long, long time, like since the early 1800s.
The base for this delicious, tasty salad is perfectly-cooked chicken breast, but you can use cooked, juicy turkey breast meat too!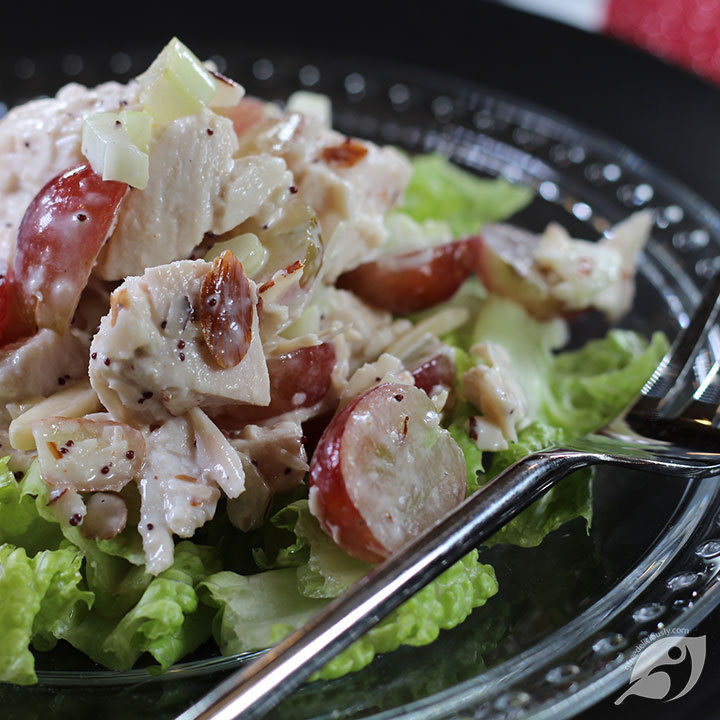 Catch the #CookingGfreeDeliciously Wednesday Replay!
The Best Way to Cook the Chicken Meat
For this recipe, Wildtree has kept things quick and straightforward. You'll begin with a pound of chicken breast cooked on the stovetop in a skillet for about five minutes. If you're cooking a whole or half breast, you'll want to check the doneness's internal temperature at 165°F with an instant-read thermometer.
Other ways to prepare the breast are to poach the breast meat, roast it, or use leftover rotisserie chicken to make the salad.
Many chefs recommend poaching the chicken as the only way to get moist, clean textured chicken. But poaching chicken is not always easy as it might seem. It is often impossible to keep a pot of water at a low simmer on most modern high-heat stoves. FYI: if the water rapidly boils as the chicken cooks, the meat will contract and stiffen, destroying any possibility of having tender cooked meat.
So years ago, after reading a lot about it, I adopted an Asian technique for poaching chicken to solve this. It's a foolproof method. And it works incredibly well for making moist, flavorful chicken for extra-tasty salads, sandwiches, and appetizers.
How to Use the Asian Technique to Easily Poach Chicken
Begin by ensuring that the chicken is at room temperature. Trying to poach chicken straight out of the refrigerator will result in the meat cooking unevenly or being undercooked.
All you will need for this process is water in a large stockpot over high heat. What I love best about preparing it this way is that it takes only two steps:
Bring the water to a boil, then slip the whole chicken with the breast side facing down into the pot to submerge the chicken thoroughly. Reduce the heat to low, and cook for 30 minutes.
Remove the pot from the heat, cover it with a tight-fitting lid, and allow it to stand for one hour.
Another benefit of this method is that after removing the chicken from the pot, you can use the stock created in cooking for soups, gravy, or broth for other meals. To save it, strain the stock into a large heatproof bowl or another pan, and discard the solids. Allow the stock to cool and skim any excess fat from the surface. Transfer into jars and refrigerate for 3-4 days, or freeze it for extended storage in freezer-safe containers for 2-3 months.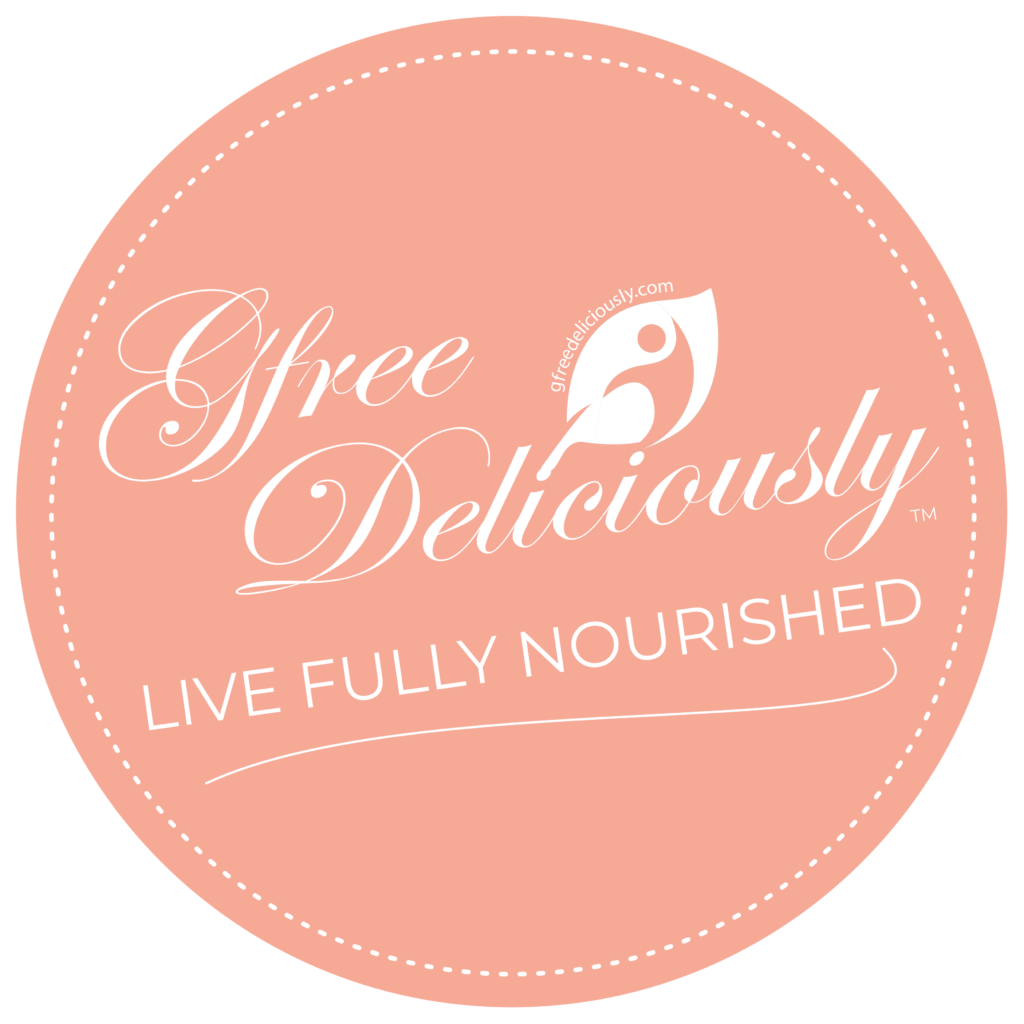 GET RECIPES • RESOURCES • +eNEWS UPDATES & MORE STRAIGHT TO YOUR INBOX !
Simple and delicious gluten-free recipes, family-friendly meal ideas, healthy cooking, encouragement, and easy-to-implement lifestyle strategies to live fully nourished… Only from GfreeDeliciously!
How to Wash and Prep Chicken Correctly
Many experts will tell you that you should never wash or rinse the chicken before cooking it. But in this case, for a whole chicken, in my opinion, it's a step that you shouldn't skip. If you do wash it, you will want to correctly prep it and take the proper precautionary measures to sanitize and disinfect all surfaces and tools used when done.
To wash chicken, rinse under cold water, paying particular attention to the cavity. Remove the chicken giblets and any organs that may still be on the inside. Look for any stray pin feathers remaining on the skin and remove them. Do not break or trim away any chicken skin during prepping so that the meat is not exposed to the water during cooking.  Leaving the skin on will ensure that you have moist, clean textured chicken.
When washing a whole chicken and prepping it for the pot, don't splash water. Splashing water will contaminate nearby surfaces spreading bacteria and germs around your sink and countertops and on the dishes and tools you use.
Following the prepping process, immediately sanitize countertops, cutting boards, dishes, utensils, and sinks. Clean thoroughly with hot soapy water, disinfect with chlorine bleach or other sanitizing solution and rinse with clean water. Also, wash dishcloths and towels in the washing machine's hot cycle.
This three-step way of roasting a whole chicken is courtesy of my grandma. She taught me this simple method when I was first married, and I've always done it this way ever since.
Begin by preheating your oven to 425°F.
Remove the chicken giblets, rinse the chicken under cold water using the above process, drain any water left inside the cavity, and pat the outside dry. Generously salt and pepper the inside of the chicken. Next, stuff the cavity with a bunch of thyme tied together with kitchen twine, one lemon cut in half, and four to six cloves of garlic. Brush the outside with two tablespoons of melted butter, and sprinkle with pepper and

gluten-free seasoned salt

. Tie the legs together with kitchen twine and tuck the wing tips under the chicken's body. Finally, peel and cut four large carrots in half, a couple of celery ribs cut into pieces, and one large onion cut into quarters, and place them into a roasting pan. Toss the vegetables with salt and pepper, a few more thyme sprigs, and drizzle with oil (I use olive oil); then spread the mixture around the bottom of the roasting pan and place the chicken on top.
Roast the chicken in the oven until the juices run clear when you cut between the leg and the thigh. Again, the internal temperature on an instant-read thermometer should read 165°F  (74°C, or about 1 ½ to 2 hours of roasting time). When done, remove the roasting pan from the oven and cover with aluminum foil or the pan lid for 20-30 minutes. Slice the chicken, arrange it on a platter, and serve it with the vegetables.  Note: If you plan to make chicken salad, save one side of the breast meat to cool and use later.
Many chicken salad recipes may call for rotisserie chicken. Still, unless it's perfectly cooked and freshly shredded, I suggest skipping the rotisserie and using chicken or turkey breast that's fresh-cooked or leftover whole breast meat from a nicely roasted bird. In the end, the moist, clean texture of perfectly cooked breast meat will lift this salad to heavenly heights when it's eaten.
But if using rotisserie chicken, my recommendation, especially if you're short on time, is to visit the deli section of your favorite grocery to buy a cooked and ready-to-go chicken.
Serve Cranberry Chicken Salad in Several Ways...
The History of Chicken Salad
Like I said at the very beginning of this post, my research into the origins of this recipe catapulted me back more than a hundred years to the late 1700s and early 1800s. The story even delved into the English, French, and German influences of politics and economic realities in the 18th century. It never occurred to me that I would discover such a fascinating and somewhat controversial history.
The New System of Domestic Cookery
The first mentionable source I found for a chicken salad was in a book by Maria Eliza Rundell (1745–1828). Published in 1806, the New System of Domestic Cookery was formed upon economic principles and adapted to private families' uses. On page 131, Eliza begins talking about "Small Dishes for Supper." She lists various ideas on page 132, where she talks about "cold meats in slices on a dish, or as sandwiches."
Continuing, she writes about "Forcemeat" mixtures (the process of mixing meat and fat) and "cold chicken" being a "great improvement," adding her thoughts on seasoning and, in particular, how "Tarragon gives a French flavour (flavor)."
Then here's where things start to get fascinating. See, the recipe I mentioned from Rundell's book isn't a French recipe. Or maybe it is. You see, the recipe is in an English cookbook.
So, this will get somewhat controversial at this point but stick with me.
It's important to note that France influenced cooking around this time, at least partly due to the politics of cooking in the late 18th century. Due to complex historical events and economic realities (France's centralized position among Western European nations, several famous cookbooks created by the chefs for French Kings and other elites, etc.) France had the reputation of being the 'height' of European cuisine. So, there was great popularity for French food and French Chefs in countries like England and Germany. It was also about this time when mayonnaise came into the picture.
As near as I've found, mayonnaise just appeared in the late 1700s to early 1800s. While no one can pinpoint the exact place in time, there's a lot of speculation about how and where mayo started being made and how it was used in recipes. There are references to it cited in a French cookbook in 1808 and also appearing a few years earlier in a German cookbook, for a "Mayonnaise de poulet," French for "Chicken in Mayonnaise," and that sounds an awful lot like chicken salad to me.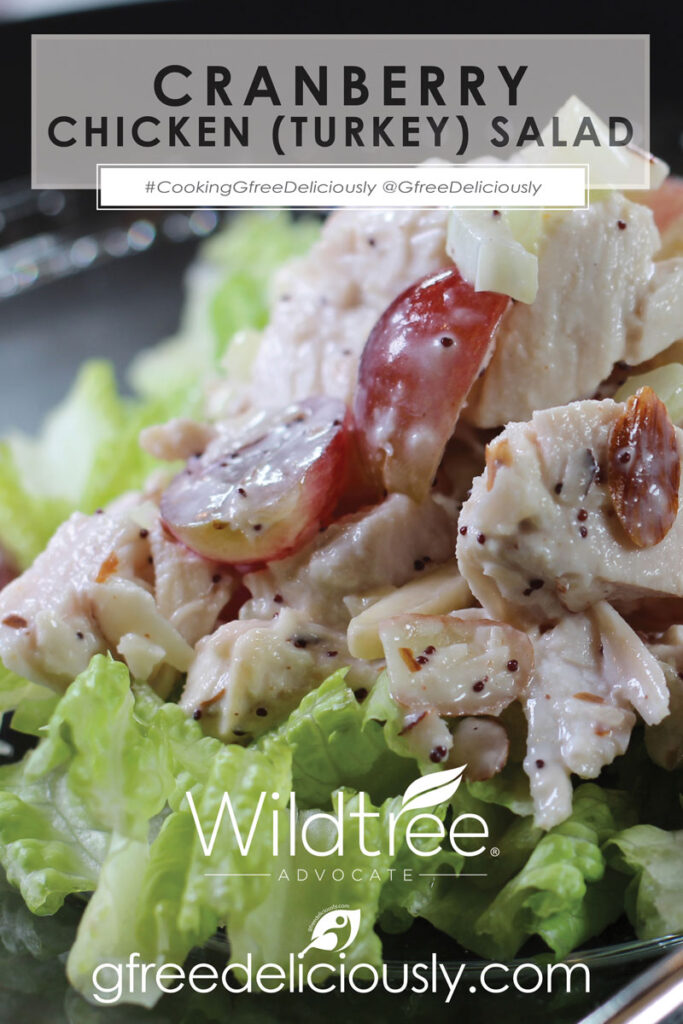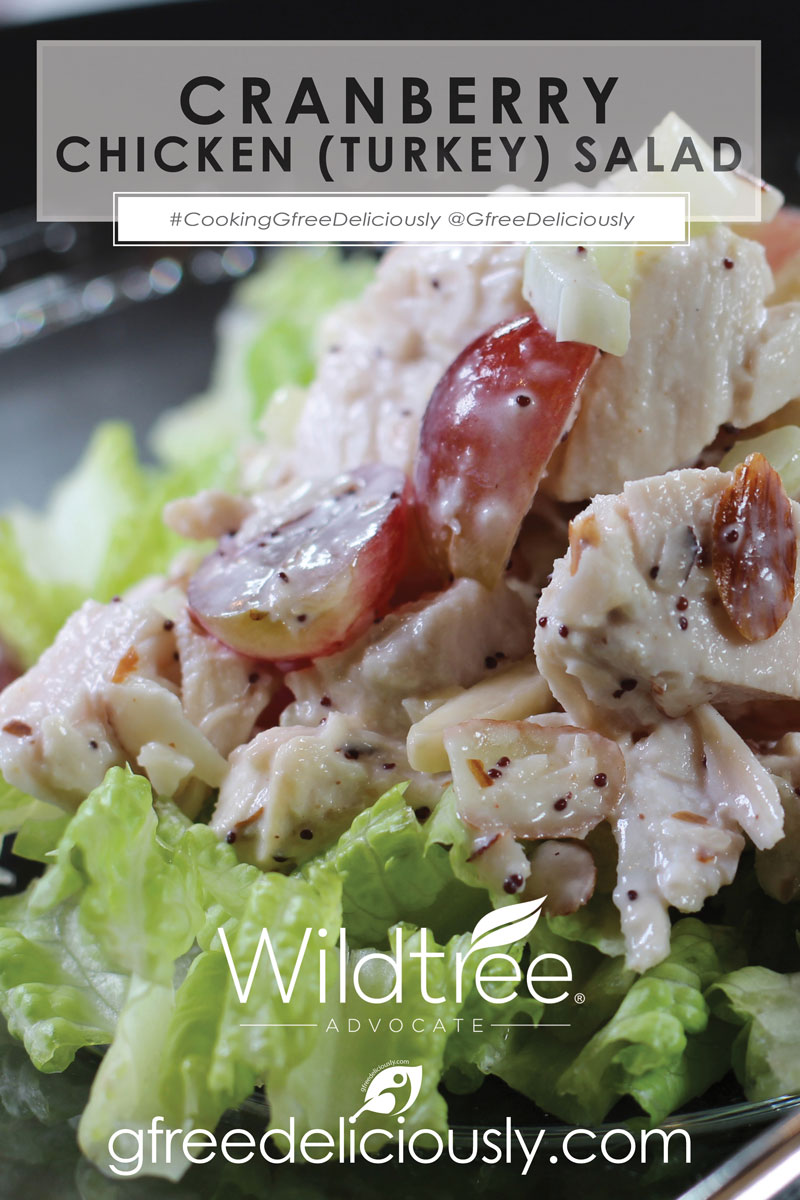 Mayonnaise is a simple condiment used on various sandwiches, but back in the day, when it debuted, it was a sauce, and its use for salads shortly followed the discovery. The salads that included mayo were fancy; remember, people didn't have much refrigeration back then. So, mayonnaise was mainly made in hotel kitchens (where there was refrigeration) for entertaining and unique servings of sandwiches or prepared for rich people (who could afford refrigerators). And mayonnaise was included in Waldorf Salad in the early 1890s before anyone thought to use it in meats or spread sandwiches and bread with it.
It All Changed in 1863 When…
At his meat market in Rhode Island, a gentleman named Liam Gray supposedly created the first commercial chicken salad sandwich by mixing leftover chicken with tarragon, grapes, and mayonnaise. The dish became so popular that his meat market became a deli within a short time, where he specialized in selling the sandwiches.
So that's how the American chicken salad sandwich came to be.
From its humble beginnings in early mixtures of chicken and herbs to an adaptation of a fancy French salad eaten by rich people and ultimately put on bread, so everyday people could taste how the wealthy ate.
And the rest, my friends, is culinary history!
XXO
P.S. Have you tried this recipe? Click the blue-green comment bubble at the bottom left corner of your screen to let me know in the comment area below. I would love to hear!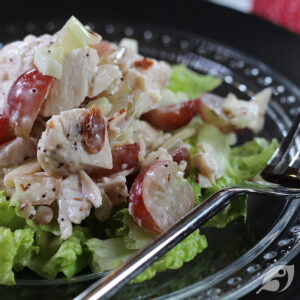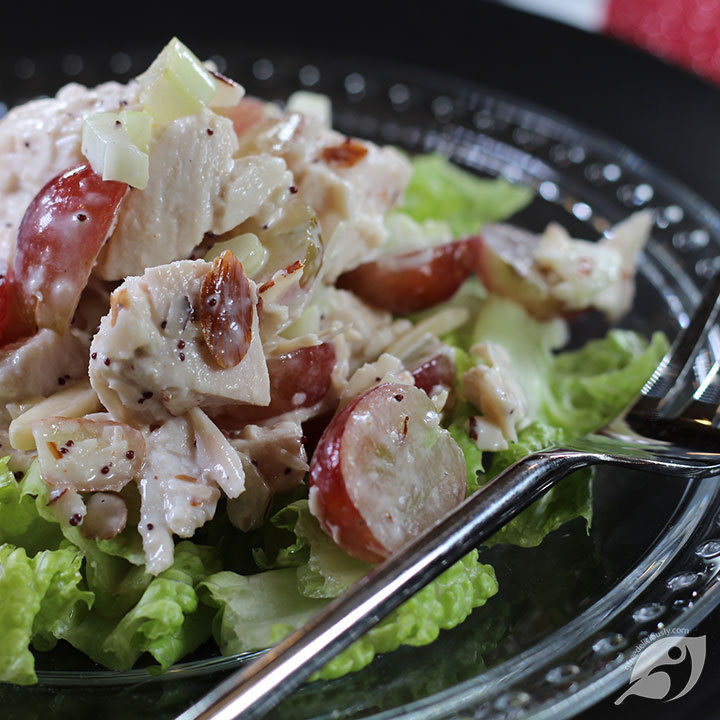 Cranberry Chicken (Turkey) Salad
A favorite for ladies' luncheons and summer picnics, this Cranberry Chicken Salad recipe takes on an elegant flare when served during the holiday season. Eat it on crackers as an appetizer, on a bed of crispy romaine, stylishly in lettuce cups, between slices of rye bread, or in a pita to make a sandwich for a light meal made with wholesome ingredients and a delicious dignified past.
EQUIPMENT
Large non-stick Skillet

Cutting Board

Utensils (Knife, Tongs, Measuring Cups & Spoons, Rubber Spatula or Large Spoon, Whisk)
INGREDIENTS
For the Chicken
1

tablespoon

Oil

Wildtree Roasted Garlic Grapeseed Oil, recommended
For the Dressing
⅓

cup

Cranberry Poppy Seed Vinaigrette*

¼

cup

gluten-free Mayonnaise
To Make the Salad
1

cup

Grapes

approximately 24 to 26 equal one cup

½

cup

Celery

diced small

¼

cup

sliced Almonds

Salt and pepper to taste

if desired.
Add ingredients to your Private Shopping List before ordering online.
Quick Add Ingredients to Shopping List
INSTRUCTIONS
For the Chicken
Heat oil in a large non-stick skillet over medium heat. Cook chicken for about 5 minutes on each side or until the chicken is thoroughly cooked (165°F).

Transfer the chicken to a cutting board to rest and cool. Shred or dice into ½-inch cubes.
For the Dressing
Whisk together mayonnaise and Cranberry Poppy Seed Vinaigrette*.
To Make the Salad
Add the chicken to a large bowl, toss with grapes, celery, almonds, and dressing. Season with salt and pepper if desired. Refrigerate until serving.
To Serve
Serve on gluten-free rye bread with arugula or substitute spring greens mix or chopped Romaine. [1]
KITCHEN NOTES
Footnotes:
*Cranberry Poppy Seed Vinaigrette is seasonally available from Wildtree.
[1] Feel free to serve this salad by replacing the bread with gluten-free pitas, on top of crispy Romaine, filling lettuce cups, or serving it as an appetizer on crackers or for stuffing in cherry tomato halves!
Nutrition
Calories:
595
kcal
Carbohydrates:
45.7
g
Protein:
33.8
g
Fat:
30.7
g
Saturated Fat:
4.7
g
Polyunsaturated Fat:
14.5
g
Monounsaturated Fat:
9.1
g
Trans Fat:
0.1
g
Cholesterol:
91.8
mg
Sodium:
742.9
mg
Potassium:
708.3
mg
Fiber:
5.6
g
Sugar:
14.3
g
Vitamin A:
39.4
IU
Vitamin C:
3.4
mg
Vitamin D:
0.1
µg
Calcium:
115.3
mg
Iron:
3
mg
(Nutritional values are an approximation. Actual nutritional values may vary due to preparation techniques, variations related to suppliers, regional and seasonal differences, or rounding.)
Copyright © 2017-2023 Kymberley Pekrul | GfreeDeliciously | gfreedeliciously.com | All content and photographs are copyright protected. The sharing of this recipe is both encouraged and appreciated. However, copying and/or pasting full recipes to any social media is strictly prohibited. Please read my Photo Use Policy for detailed guidelines and further clarification.