Lake-Harvested Wild Rice, Cranberry, and Kale Pilaf
This ultra-simple side dish uses nutty wild rice with the sweetness of cranberries and kale to complete a dinner that doesn't get much better!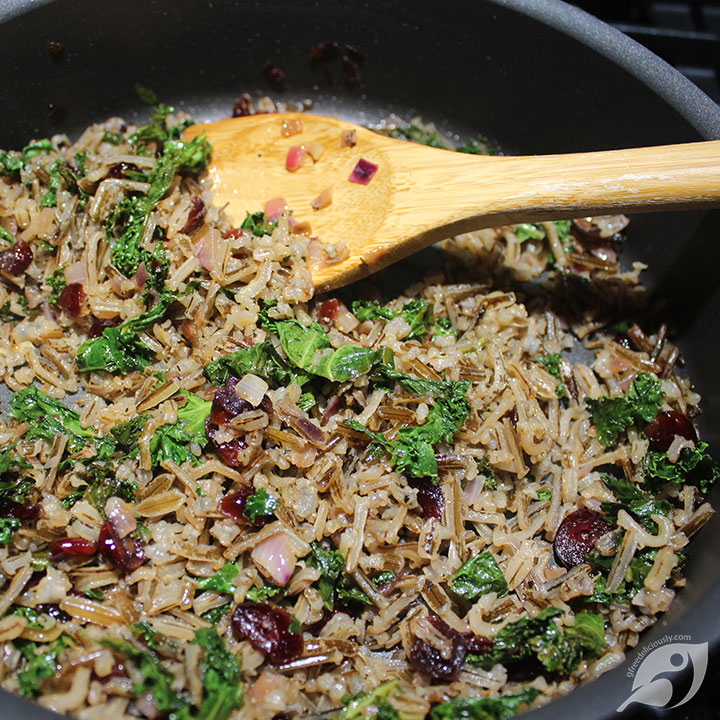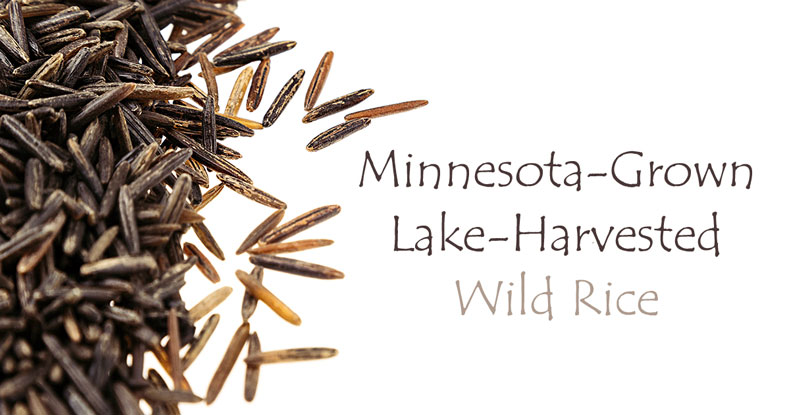 The lake wild rice (Zizania palustris) grows naturally on the lakes and riverbeds in Minnesota on more acres than any other state in the country.  In Northern Minnesota, it's hand-harvested from canoes by the Ojibwe people in reservation waters. As you might guess, the wild rice grown there has been an important social and cultural component for the Native American tribes and rural Minnesota communities.
Considered a gift from the Creator, lake wild rice grain has been a center of the Ojibwe diet and culture for centuries. According to legend, the Ojibwe followed a prophecy to find the place where the food grows on the water, which was around Lake Superior, particularly in Minnesota.
Reaped from the northern aquatic grass that bears a resemblance to the grain, the lake rice was "tamed" during the 1960s when scientists and businessmen made it into an industry.  As the story goes, these men began growing the rice in paddies and planting and harvesting it by machine. During the cultivation process of the paddy grown "wild rice," they changed the rice by making it uniform in size and almost black in appearance.
The two look and taste completely different!
After cooking with both types of wild rice, my preference is for the nutty, earthy grain of the natural lake hand-harvested and smoke parched wild rice. It's an instant treat to include in your cooking. You'll notice that the grain of the lake wild rice looks irregular and is light brown.  The rice has a delicious natural nutty aroma even before it's cooked, and the taste delivers a deliciously rich, nutty flavor and enjoyable texture. It cooks up quickly, usually in just 15 to 20 minutes, making it an easy addition for just about any meal.
In comparison, you'll find that the mass-produced paddy rice is much darker than natural-grown lake wild rice. It takes considerably longer to cook, and I've found that the rice is not as fluffy after cooking. Many consumers describe the taste as rather bland.  I would agree. Cooking times vary depending on the heat it is cooked at, the moisture content of the rice, how it was parched, and your personal preference in chewiness. Another difference is that in most industry operations, herbicides are commonly used in spraying rice paddies. On a positive note, if you're on a tight budget, the paddy grown variety is a little easier on your pocketbook.
Most of my wild rice knowledge (about both grown types) was learned years after my first introduction to the grain during a sales trip to northern Minnesota.
Being my first sales ride-along to the northern part of the state, I didn't realize the distance between the small towns and businesses on our list of stops for the day. Despite the miles, the morning went by quickly. Mostly small talk about how to use the garnishes (the products I sold) in drinks and how to up-sell the distributor's customers so we all could make money. Our day's agenda was pretty much by the book, C-stores in the morning, liquor stores, bar-cafés, and restaurants in the afternoon.
It was a little past the lunch-hour when John, my distribution manager, suggested that we stop to grab a bite. We barely made it through the front door of the log cabin style bar-café when I spied a bag of wild rice on the counter that looked just like the kind I had been introduced to years before by my brother-in-law. Of course, I had to buy it. Little did I suspect that my purchase would spark a whole afternoon of wild rice conversation.
Through lunch and between our afternoon stops, I became the student, learning a great deal about Minnesota lake wild rice versus the Minnesota-grown mass-cultivated variety.  The story and history of both are fascinating. I learned about the legend and spirituality of wild rice for the Ojibwe people, the labor-intensive hulling and sorting of the natural grain (called winnowing) and about wood parching to dry the lake rice leaving it moist, fast cooking, and deliciously flavorful.
I learned about how "cultivated" is considered a swear word on the reservation. How, as in other types of farming and harvesting, inclement weather can affect the crops. We talked about the wild lake rice being a source of income for the people on the reservation, surrounding communities, and how the cheaper paddy rice has dropped the price.
After that trip, I came away with a much greater appreciation for the hand-harvested lake wild rice that had been introduced to me years before. And, in years since, my learnings about it has even given me a greater appreciation for other types of food as well. It taught me to continually question how foods I prepare for my family are grown, how they're harvested, and the production methods the foods go through before we eat them.
An excellent side dish...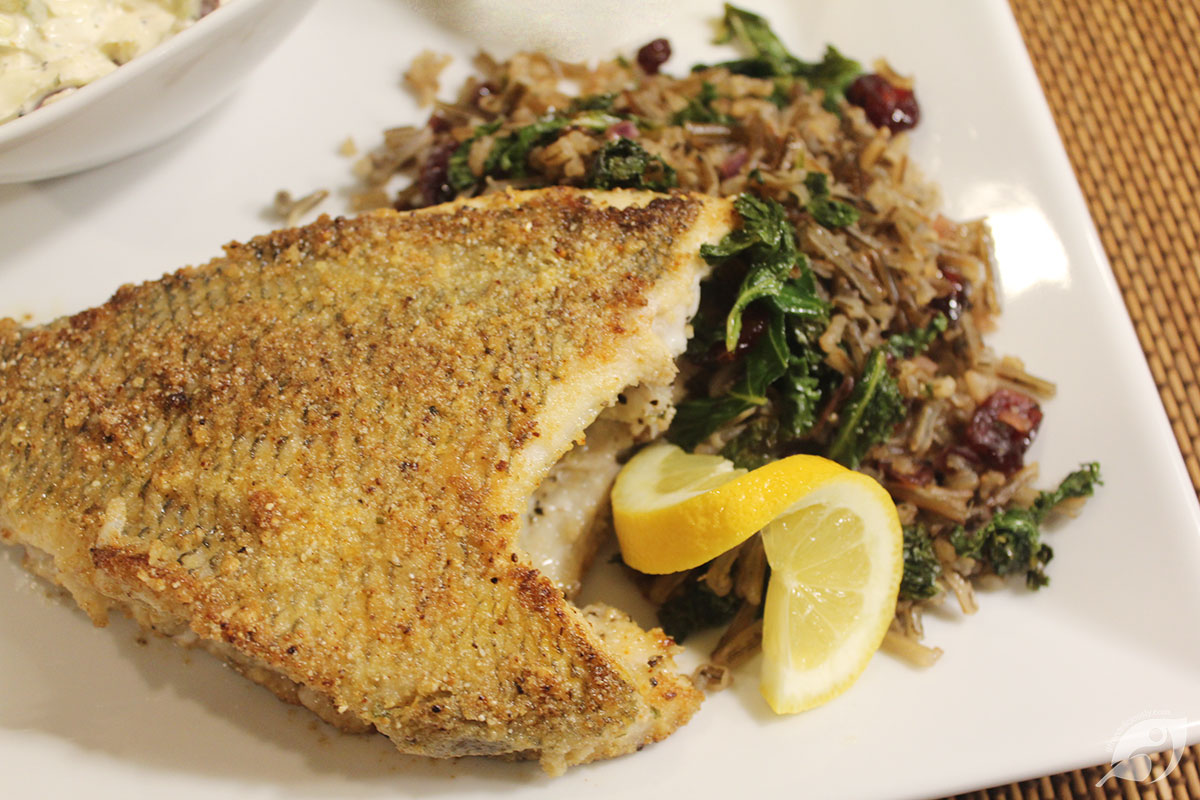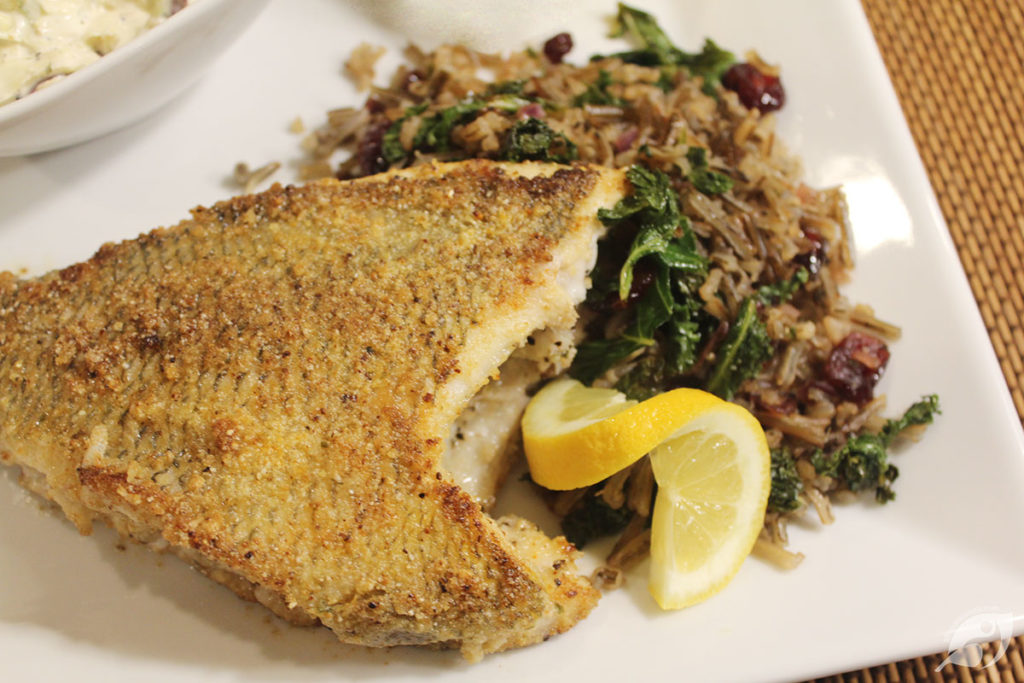 Among my favorite ingredients to pair with lake wild rice at our house is cranberries and kale.
This ultra-simple side is an excellent complement to just about any protein dish. From fish, chicken, pork, or beef, I've found it to be a healthy and delicious blend of ingredients that are popular at our table by young and old alike.
Before I get to the recipe, let me say that for years I overlooked kale as a vegetable to include in my family's diet. For some odd reason, I had always thought of it as a strong-flavored vegetable without a lot of possibilities. But Boy Oh Boy was I wrong!
CLICK HERE to read about how to eat the most deliciously flavorful kale.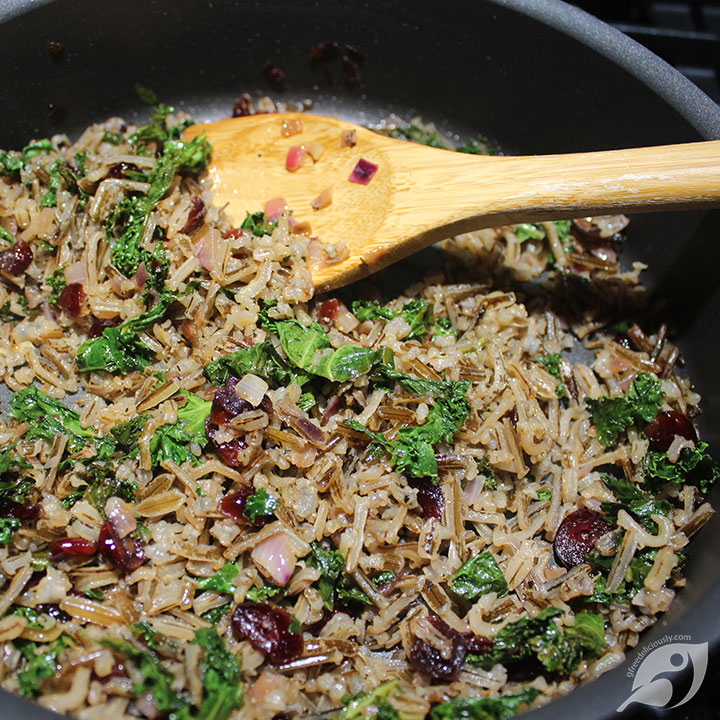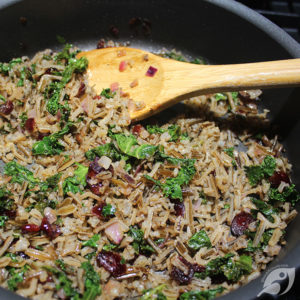 Lake-Harvested Wild Rice, Cranberry, and Kale Pilaf
With its nutty flavor and slightly chewy texture, wild rice is an excellent complement to just about any protein dish. It is not actual rice but rather the seed of an aquatic grass that grows wild in the northern Great Lakes area of the United States. This ultra-simple side dish uses nutty wild rice with the sweetness of cranberries and kale to complete a dinner that doesn't get much better!
Equipment
Small saucepan

Deep Skillet

spatula
Add Ingredients to Shopping List or Order them Online
View Shopping List
Ingredients
½

cup

Wild Rice

Minnesota lake-harvested if you can find it.

1-1/2

cups

Water

for cooking rice

½

teaspoon

salt

1

tablespoon

Olive Oil

¼

cup

Red Onion

¼

cup

Dried Cranberries

Rehydrate with 3 tablespoons Apple Juice

2

cups

Kale

chopped

Salt and Pepper

to taste

Pecans

Optional - Candied Pecans for garnishing. [1]
Instructions
In a small saucepan, bring the wild rice, water, and salt to a boil. Reduce heat and cover to maintain a steady simmer. Cook until the rice is tender and the grain kernels pop open, approximately 15 to 20 minutes for lake harvested wild rice. *

Soften and rehydrate the cranberries in apple juice until ready to use.

Heat a deep skillet over medium-high heat and add the olive oil and the onions and sauté for 3 to 5 minutes until softened and the onions are beginning to turn translucent.

Add the cranberries and the kale; sauté for about 5 minutes more.

Add the cooked and rinsed wild rice. Stir into the cranberry, onion and kale mixture. Salt and pepper to taste; sauté 5 to 6 minutes more.

Adjust the seasoning if necessary. Serve warm.
Recipe Notes
Make the recipe ahead of time. Just reheat before serving.
* 1 cup of uncooked wild rice will yield approximately 3 to 4 cups cooked rice. The recommended rice to water ratio is approximately 2 to 1, or I've found that instead of measuring, I'll cover the rice by about 1-inch of water before beginning to simmer. To shorten the cooking time, you can cover the rice with a generous amount of water and soak it overnight. After the rice has cooked to desired doneness, rinse and cool completely before adding to the recipe.
[1] Make quick candied pecans on the stovetop https://gfreedeliciously.com/stovetop-quick-candied-pecans-and-walnuts/
Nutrition
Calories:
93
kcal
Carbohydrates:
16.5
g
Protein:
2.3
g
Fat:
2.6
g
Saturated Fat:
0.4
g
Polyunsaturated Fat:
0.4
g
Monounsaturated Fat:
1.7
g
Trans Fat:
0
g
Cholesterol:
0
mg
Sodium:
294.2
mg
Potassium:
95
mg
Fiber:
1.5
g
Sugar:
5.5
g
Vitamin A:
27
IU
Vitamin C:
6.8
mg
Calcium:
13.2
mg
Iron:
0.4
mg
(Nutritional values are an approximation. Actual nutritional values may vary due to preparation techniques, variations related to suppliers, regional and seasonal differences, or rounding.)
Copyright © 2017-2022 Kymberley Pekrul | GfreeDeliciously | gfreedeliciously.com | All content and photographs are copyright protected. The sharing of this recipe is both encouraged and appreciated. However, copying and/or pasting full recipes to any social media is strictly prohibited. Please read my Photo Use Policy for detailed guidelines and further clarification.
If you like this recipe, you might also want to try...