A Minnesotan Classic Soup
Asparagus, Crab & Wild Rice Soup That is Delicious Today, Tomorrow, or The Next Day After – And It Freezes Well Too!
Back in my road-tripping days as a garnish-peddler (a.k.a. salesperson who sold cocktail garnishes), I made a lot of trips to Minnesota where wild rice soup has undoubtedly earned its place as Minnesota's unofficial-but-should-be-official soup.
Just in case you are not familiar, there is nothing more quintessentially Minnesotan than a soup or hot dish that includes wild rice. After all, wild rice is the state's official grain – a designation that dates to 1977. If you want to learn more about Minnesota-grown lake-harvested wild rice, be sure to check out my post and recipe for Lake-Harvested Wild Rice, Cranberry, and Kale Pilaf.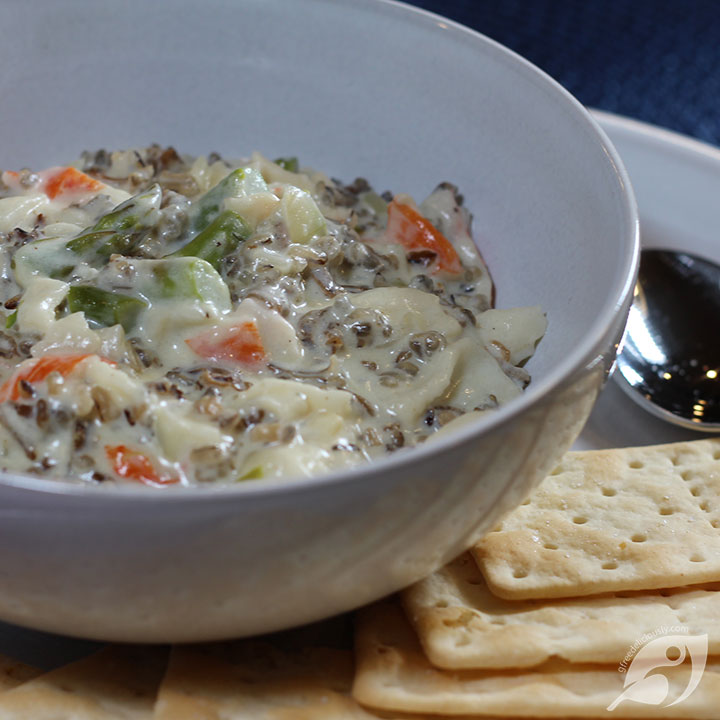 The Minnesota Soup Found Almost Everywhere
Thinking back, I cannot recall a single restaurant I visited over the years that did not make some version of a wild-rice soup, wild rice pilaf, or a wild rice casserole to feature on their menu. And like most travelers visiting, I always asked the staff to track down and share their recipes. Some would not, but others were thrilled to disclose their wild rice recipe secrets.
Wild rice, by the way, is not rice at all. It is the seed of a grass that bears a resemblance to rice. The grain thrives in marshes and paddies in northern Minnesota. So botanically, it isn't a grain.
In this recipe, I have joined a few favorite elements from each of the wild rice soups I've eaten. Starting with wild rice in a creamy soup base, then adding asparagus and crab to the ingredient list. But there are many more possibilities.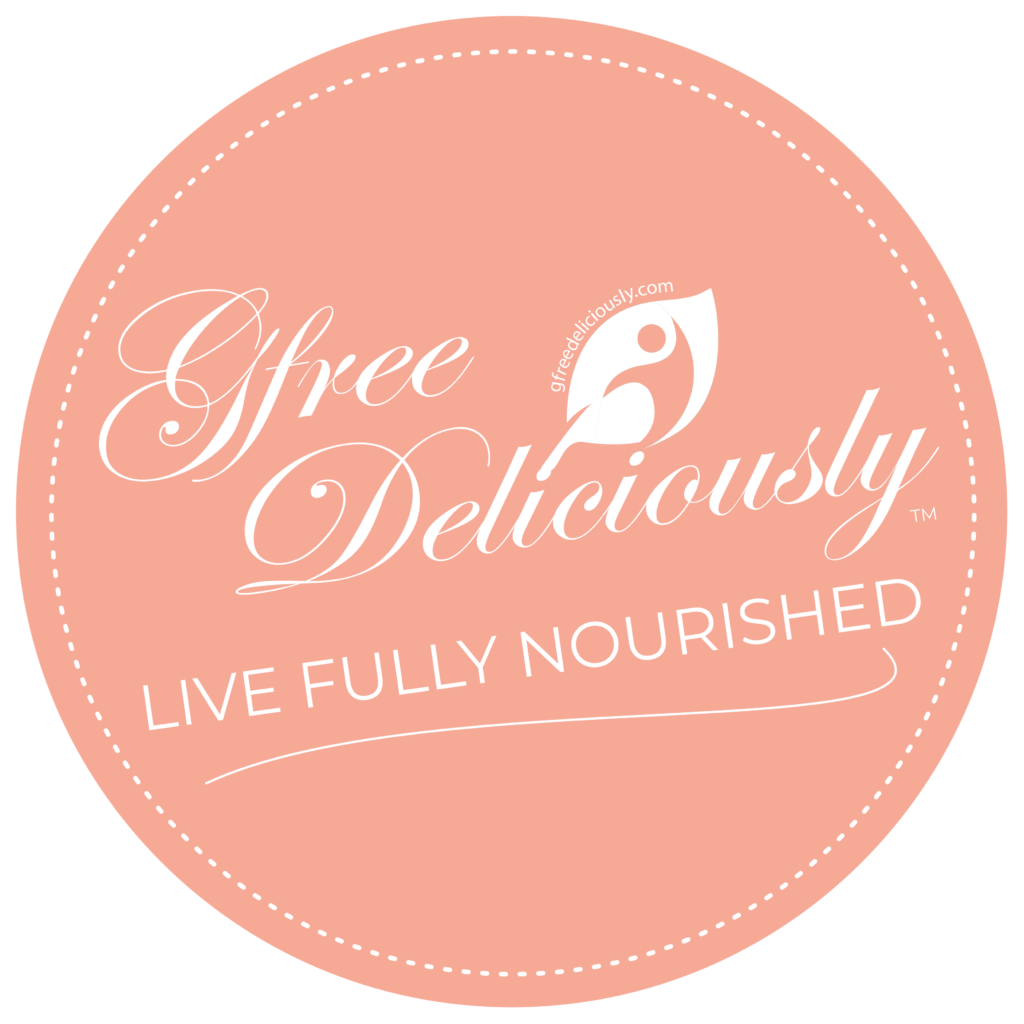 GET RECIPES • RESOURCES • +eNEWS UPDATES & MORE STRAIGHT TO YOUR INBOX !
Simple and delicious gluten-free recipes, family-friendly meal ideas, healthy cooking, encouragement, and easy-to-implement lifestyle strategies to live fully nourished… Only from GfreeDeliciously!
It's a soup you can make your own...
If you prefer adding more wild rice, do it! Don't like asparagus or crab? Leave them out. Love carrots and mushrooms? Add them in. Instead of crab add chicken, or use turkey, ham, or bacon. If you hunt or fish, add duck, pheasant, goose, fish, or rabbit. And if the fish or other game is smoked, so much the better, making it exceptionally good because it elevates the flavor complimenting the earthy nutty taste of the wild rice deliciously well.
Skip the animal proteins entirely to make it vegetarian – or go vegan by skipping the cream, substitute olive oil or sunflower oil for the butter, and enlist a mushroom or vegetable broth. Stir in some spinach, broccoli, or kale.
If you like the soup soupier add more broth. Or thicker? Add a little more flour or some cheese. Creamier? Add a can of mushroom soup. Spicy? Add Tabasco sauce. You get the idea.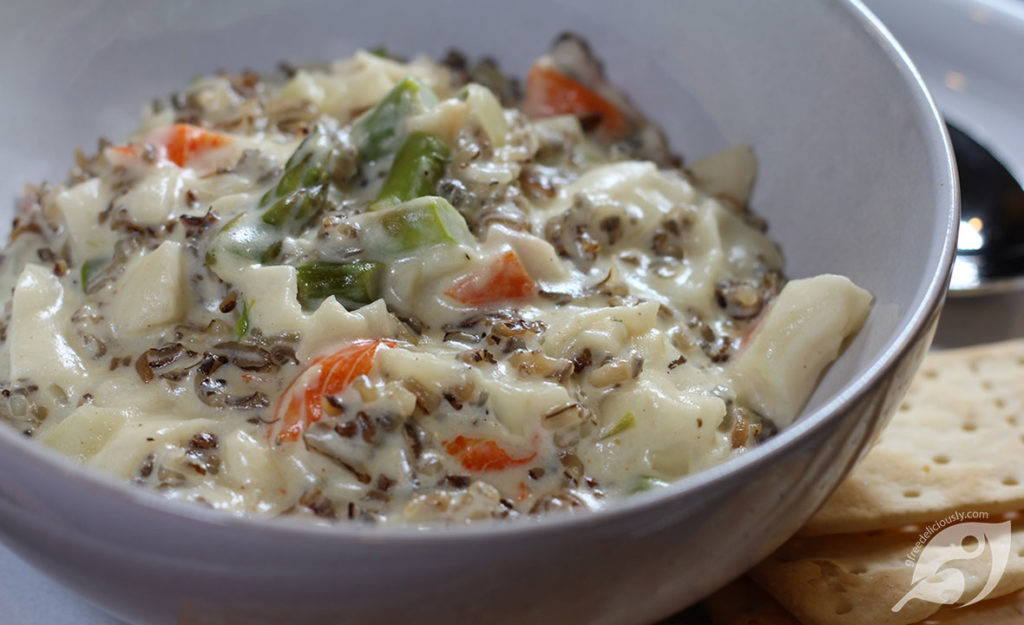 "Foodformation" (Food Information to Know)
When buying asparagus…
Look for firm, uniform-sized straight spears with closed and dry tips.
To keep it fresh longer…
Place the cut stems in a tall glass or sturdy container filled with 1-2 inches of cold water – like putting flowers in a vase. Place in the refrigerator, changing the water at least once daily until ready to use.
What to do before you use asparagus…
Rinse asparagus spears under cold water to remove any dirt or grit. Snap off the bottom inch of the stem to remove any woody parts. The stems will naturally break where the woody part ends and the tender stem begins. Dry the spears by patting them dry between two kitchen towels.
How asparagus can be eaten…
Eat it raw or cooked. It's low on calories, about 20 calories per spear, and it packs a powerful punch of vitamins, minerals, antioxidants, and fiber that is great for digestive health. A natural diuretic, eating asparagus is an excellent way to help cleanse your body of excess salt and fluids by activating the functions of the liver and kidneys that flush out toxins and aid in preventing kidney stones.
Yep, asparagus contains a natural sulfurous organic compound called mercaptan. The same compound is found in other foods, too, like brussels sprouts, cumin, garlic, onions, fish, coffee, and alcohol. When your digestive system breaks down mercaptan, the by-products that are released make a gas that is well-known for giving your pee that rotten-like smell.
After eating foods that can make your pee smell, you might notice that your urine smells strong as soon as 15-minutes after eating asparagus, but do not worry, the max that it may stick around will only be up to maybe 14 hours. And guys, you might also notice that asparagus can make your guy fluids (like sweat and semen) smell pungent too.
The important thing to remember is…
Asparagus is healthy food. If the smell bothers you, try limiting weekly servings, and rest assured that your fluids will return to smelling normal after a few hours.
Duh…Beans are not the only musical fruit.
Certain green leafy vegetables such as asparagus, brussels sprouts, broccoli, and cabbage are also known to cause excess gas. Like beans, these vegetables contain complex sugars called raffinose found in foods that may cause gas. While beans contain large amounts of this complex sugar, smaller amounts of raffinose are found in asparagus and other green leafy vegetables, and whole grains.
One final note that I do is to cook the wild rice in chicken stock. Cooking it in this way adds another layer of flavor that gives the soup a little extra boost of deliciousness.
Oh, and if you can afford it, buy native lake-harvested, wood-parched wild rice from Minnesota. The flavor and texture are far superior to the commercially harvested hybrid version.
To give your soup an authentic taste of Minnesota, I recommend trying Native Harvest Wild Rice.*
XXO
P.S. Did you try this recipe? If you did, how did you make it? Exactly like I did, or did you put your own unique spin on it? Let me know in the comments below. I'd love to hear from you. ♥
Note: *Please note that I am not an affiliate for Native Harvest Wild Rice, I don't make a penny from giving my stamp of approval or suggesting that you purchase from them, but I have bought and do use their wild rice at our house. It's great. You'll love it!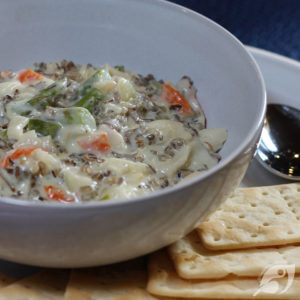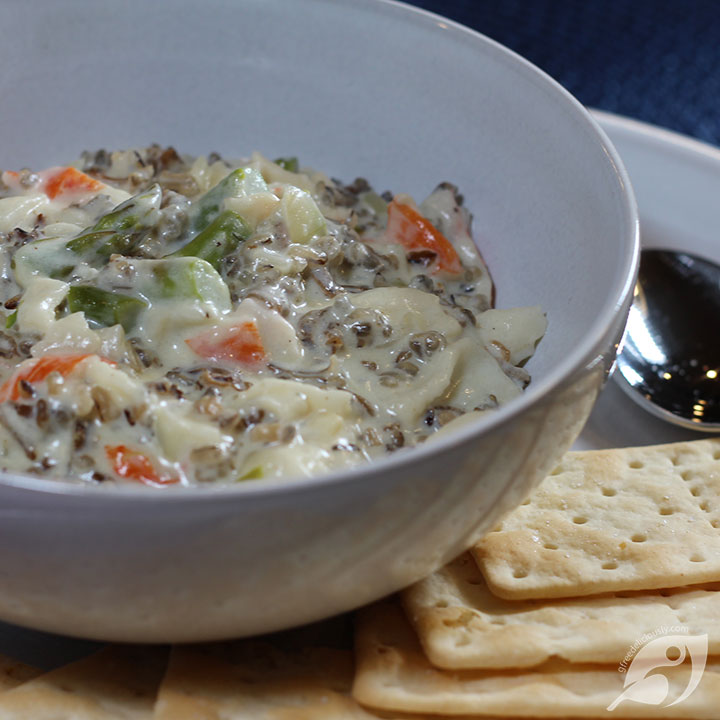 Cream of Asparagus, Crab & Wild Rice Soup
Super creamy and delicious, this asparagus and wild rice soup recipe stretches the boundaries of Midwestern tradition, offering flexibility to the cook who makes it.
EQUIPMENT
Dutch Oven or Large Heavy Pot

Utensils (whisk, ladle, measuring cups and spoons)
Add ingredients to your Private Shopping List before ordering online.
Quick Add Ingredients to Shopping List
INSTRUCTIONS
In a large heavy pot or Dutch Oven, cook the onion and celery in butter until translucent. Whisk in the flour until blended, cooking until bubbly 1-2 minutes. Gradually add the broth whisking to combine, then add the half-n-half. Bring the mixture to a boil, reduce heat to medium-low, cook and stir for 3-4 minutes or until thickened. Stir in the seasoning, salt, pepper, and nutmeg.

Add the pre-cooked rice, crab meat, and the asparagus to the thickened broth mixture, stirring to incorporate. Simmer on low heat uncovered for 10-12 minutes to allow the flavors to begin to develop. Adjust the soupiness to desired consistency by adding more chicken stock.

Continue to simmer over low heat until ready to serve. Ladle into bowls. If desired, top with a sprinkle of chopped fresh parsley and cracked pepper. Serve and enjoy now or freeze to reheat later! [3]
KITCHEN NOTES
[1] In a medium saucepan, combine 1/3 cup wild rice, 1/4 teaspoon salt and cover with 1-inch of chicken stock; bring to a boil. Reduce heat, cover and simmer 30-40 minutes or until rice is tender and the stock is reduced. You could alternatively cook the wild rice in water, but then you would lose a lot of the flavor.
[2] May substitute imitation crab found in the fresh or frozen meat section.
[3] Store in the refrigerator for up to three days or freeze up to three months in a tightly sealed container, allowing 1-inch headspace. When reheating, heat slowly adding more chicken stock, as the rice will absorb the liquid.
Nutrition
Calories:
293
kcal
Carbohydrates:
12.2
g
Protein:
17.7
g
Fat:
19.6
g
Saturated Fat:
11.8
g
Polyunsaturated Fat:
1.2
g
Monounsaturated Fat:
5
g
Trans Fat:
0.5
g
Cholesterol:
98.1
mg
Sodium:
1071.4
mg
Potassium:
344.6
mg
Fiber:
1.9
g
Sugar:
3.6
g
Vitamin A:
243.6
IU
Vitamin C:
8.3
mg
Calcium:
73.1
mg
Iron:
2.1
mg
(Nutritional values are an approximation. Actual nutritional values may vary due to preparation techniques, variations related to suppliers, regional and seasonal differences, or rounding.)
Copyright © 2017-2023 Kymberley Pekrul | GfreeDeliciously | gfreedeliciously.com | All content and photographs are copyright protected. The sharing of this recipe is both encouraged and appreciated. However, copying and/or pasting full recipes to any social media is strictly prohibited. Please read my Photo Use Policy for detailed guidelines and further clarification.