Avocado Toast with Fresh Tomato & Poached Egg
Okay, okay, I will undeniably fess up to the fact that it's more than likely true. After years of contemplation since first being told about this by my college academic counselor. I do believe and have to agree that maybe, probably, I could be a late bloomer in life. But honestly, who knew it would be the avocado that would point to my late-blooming propensities?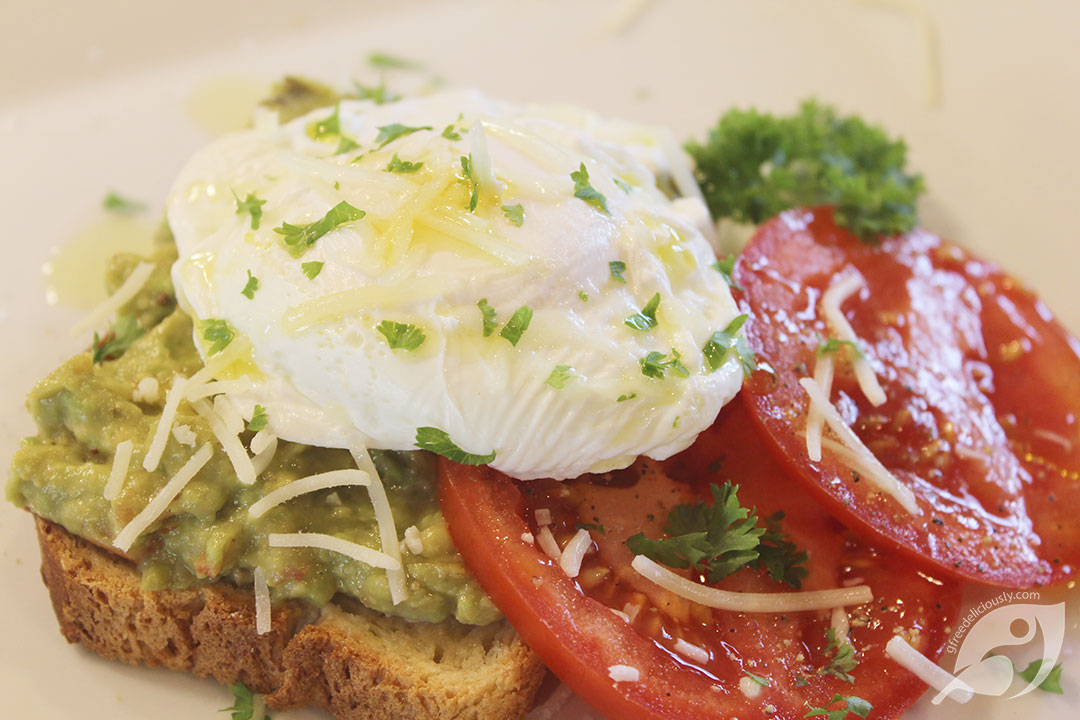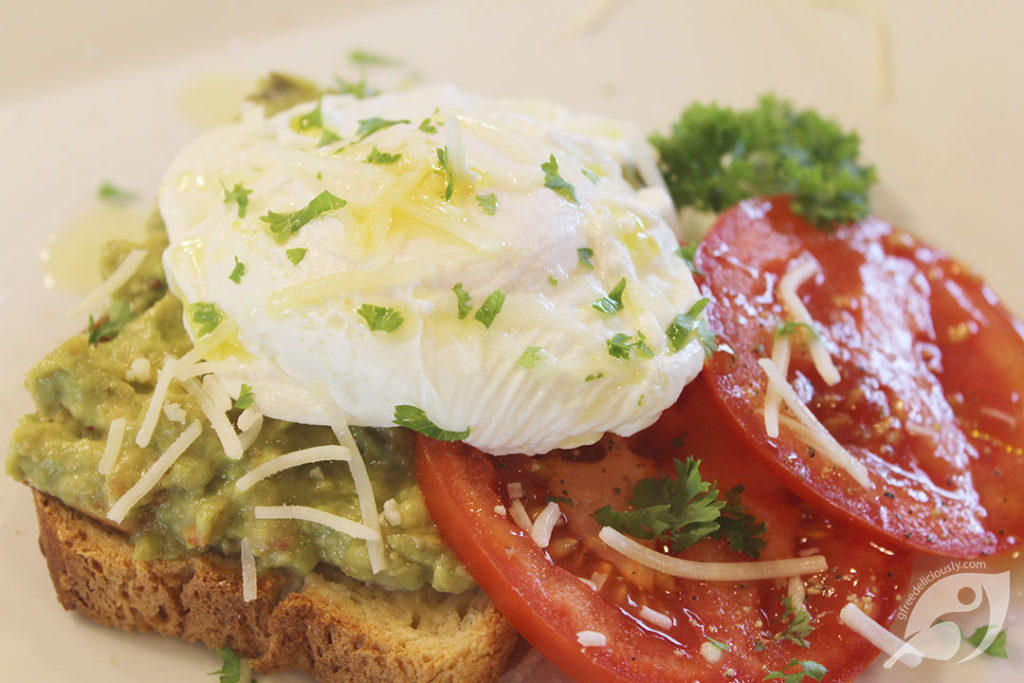 It must have been somewhere about nineteen-years-old when the awareness of the avocado entered my life and a regular part of my diet. I'm pretty sure that I'd eaten them before then, most likely as an ingredient mashed and incorporated into guacamole. And, I remember loving guacamole dip from my earlier Tucson, Arizona days. But honestly, I never really had put two and two together and realized that there was a fruit behind the creamy dip.
Imagine blurring, resonate harp sounds transporting you back in time to 1979…
It was my soon-to-be brother-in-law, who'd come home to the LP of Michigan for a visit, who was responsible for introducing the "alligator pear," which is descriptive because it tends to be shaped like a pear and has green, bumpy skin… like an alligator.
The eldest brother of my (now) husband had brought fresh Hass avocados from sunny southern California as a treat to share with the family during his visit home.
Can I say he had me with avocado?
OMG!!! I was in love! No, no, not with my soon to be brother-in-law but with this newly discovered creamy yellow-green fleshy fruit!
How many ways can I say that I craved it?
Craving the fruit and affording it was two different monsters. The northern lower peninsula of Michigan, at least in the late 1970's, was not known for affordable varieties of fruits and vegetables especially during months from September through June.
Avocados became a special treat. When I was lucky enough to have and eat them they garnished salads or were mashed as an ingredient in guacamole and that was pretty much it.
In the early 1980s, my love-affair with avocados renewed when our young family relocated for a year in Long Beach, California where the avocado was plentiful, found at all the grocers, and much easier on our pocketbook!
While we ate the fruit more often during that period of living, the culinary possibilities of avocado eluded my kitchen repertoire.
It wasn't until years later after coming to central Wisconsin that I came into a full appreciation of avocados, their nutrient value, and their ability to be added to all sorts of dishes due to their great flavor and rich texture.
With their beneficial effects on health and nutrition, the avocado is a positive nutrient booster to include in your family's diet. Naturally, gluten-free, sodium, sugar, and cholesterol-free, and a great source of dietary fiber that tastes great; I truly will tell you that my love for the avocado has grown deeper and stronger over the years.
The Dietary Guidelines for Americans, 2015-2020 recommends that Americans focus on a variety of nutrient-dense foods and increase their intake of dietary fiber that occurs naturally in foods. Doing this is believed to help in reducing the risk of cardiovascular disease, obesity, and type 2 diabetes.
In a nutshell, nutrient-dense foods are those that provide substantial amounts of vitamins, minerals and other nutrients with relatively few calories. Avocados fit that bill perfectly. According to the California Avocado Commission, just one-third of a medium avocado (50g) has 80 calories and contributes nearly 20 vitamins and minerals.
You can Google, like I've done, to read 21,900,000 results about the health benefits of Avocado so I won't go any further into it here. What I will say is that avocado is most definitely a fruit that will be gracing my recipes for years to come.
So, in this post I'm sharing the recipe for Avocado Toast with Fresh Tomato & Poached Egg, it's one of the many of my late blooming ways to use avocado in cooking. Serve it for breakfast, brunch or dinner as a simple, delicious option to make you feel like you're eating amongst the elite at an upscale restaurant in – well, you name the place.
As a final note, what I can assure you is that these days it won't set you back more than a buck or two in most parts of the country, that and a few minutes of prep time before you can enjoy eating it at your table.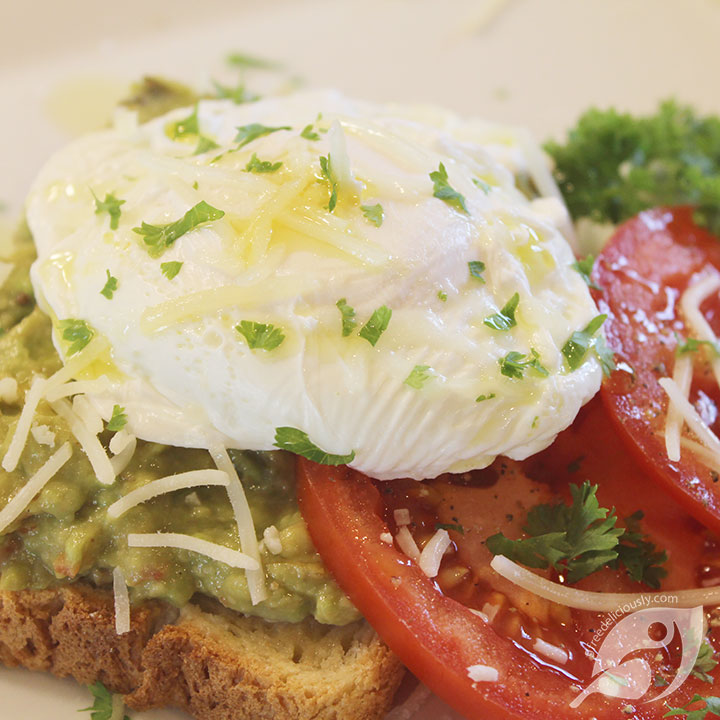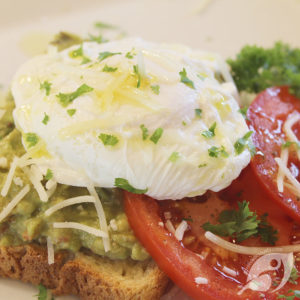 Avocado Toast with Fresh Tomato & Poached Egg
A healthy meal doesn't need to be complex or time-consuming. This simple combination of toast topped with mashed avocado that's seasoned with salsa, fresh sliced tomato, and topped with a poached egg tastes extravagant. With its generous layer of creamy avocado, it's the perfect breakfast, brunch, or even light dinner that's big on taste and goodness to fill you up when your stomach is grumbling away.
Equipment
shallow pan 2-3 -inches deep

spatula

spoon

toaster
Add Ingredients to Shopping List or Order them Online
View Shopping List
Ingredients
4

large eggs

4

slices

Gluten-Free Bread

toasted

1

ripe Tomato

sliced

1

Tablespoon

Parmesan Cheese

grated

Fresh Parsley

chopped for garnish
Instructions
For the Avocado Spread
In a small bowl mash avocado.

Stir in salsa, salt, and lime juice. Set aside.
To Poach the Eggs
Bring water and vinegar to a high simmer in a shallow pan (making sure there is enough water to cover the eggs once they are added). Use one tablespoon white vinegar per quart of water. Vinegar helps to hold the egg whites together. Note: Do not add any salt to the water as it dissolves the egg white.

One at a time, gently swirl the water in a circular motion with a spoon in the spot where you will be dropping the egg. Crack the egg on the counter and slip into the simmering water. Gently slide a spatula under the egg to loosen from the bottom of the pan so that the egg is floating. Cook 3 to 5 minutes, just until the white is set, and the yolk has filmed over. Using a spatula, slide the egg onto a slotted spoon to remove.
Put it all together...
Spread two heaping spoonfuls of avocado mixture over toast.

Place 1-2 slices of tomato along-side the toast, overlapping slightly.

Finish by placing a poached egg on top of toast. Drizzle egg and tomato with a small amount of olive oil and garnish with grated parmesan cheese and chopped fresh parsley. Enjoy!
Nutrition
Calories:
268
kcal
Carbohydrates:
16.3
g
Protein:
9.6
g
Fat:
18.5
g
Saturated Fat:
3.2
g
Polyunsaturated Fat:
3.1
g
Monounsaturated Fat:
10.9
g
Trans Fat:
0
g
Cholesterol:
189.5
mg
Sodium:
993.2
mg
Potassium:
326.6
mg
Fiber:
2
g
Sugar:
4.4
g
Vitamin A:
161.2
IU
Vitamin C:
63.1
mg
Calcium:
94
mg
Iron:
2.3
mg
(Nutritional values are an approximation. Actual nutritional values may vary due to preparation techniques, variations related to suppliers, regional and seasonal differences, or rounding.)
Copyright © 2017-2022 Kymberley Pekrul | GfreeDeliciously | gfreedeliciously.com | All content and photographs are copyright protected. The sharing of this recipe is both encouraged and appreciated. However, copying and/or pasting full recipes to any social media is strictly prohibited. Please read my Photo Use Policy for detailed guidelines and further clarification.
If you like this recipe, you might also want to try...