Frittata - An Easy Dish from Rustic to Elegant
Baked Frittata Primavera is an easy, versatile, and satisfying dish perfect for Spring - Let Your tastebuds be the judge!
Today, we welcome easy seasonal eating, Spring, and herby egg-baked goodness with our baked frittata primavera recipe. This easy dish is a colorful, flavorful twist on the classic frittata. We are loading it with fresh spring vegetables like asparagus, slightly spicy romano pepper, red onion, mushroom, and spinach, then topping it with fresh-cut chives. The cheesy egg base is baked to perfection and served warm or at room temperature, making it an ideal dish for your next breakfast or brunch gathering. With its vibrant colors and bold flavor profile, our baked frittata primavera features light and fluffy eggs perfectly baked to golden goodness and guaranteed to impress. So, let's get cracking!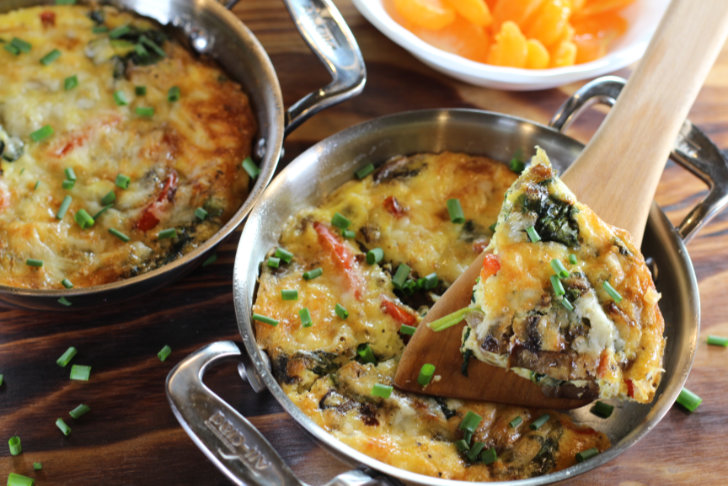 Is Frittata the Same as Quiché?
While a frittata and quiché are both made with eggs, a frittata is an Italian dish that is partially cooked in a skillet on the cooktop and then finished in the oven. It also has a lower egg-to-dairy ratio making it closer to an open-faced omelet than a pie. And while you can include the egg yolk in the frittata as we've done, you could leave out the yolk and use the egg whites only.
Quiche, conversely, is a dish of French origin made with a larger egg-to-dairy ratio creating an egg custard. The custard bakes into a creamier texture due to more dairy and is cooked in a crust entirely in the oven.
Both can be made with vegetables, herbs, and a bit of cheese and enjoyed for breakfast, brunch, supper, or anytime in between.
Become a Free Basic Pass subscriber with a site membership to GfreeDeliciously to get access to all our juicy Gfree posts' and subscriber-only content.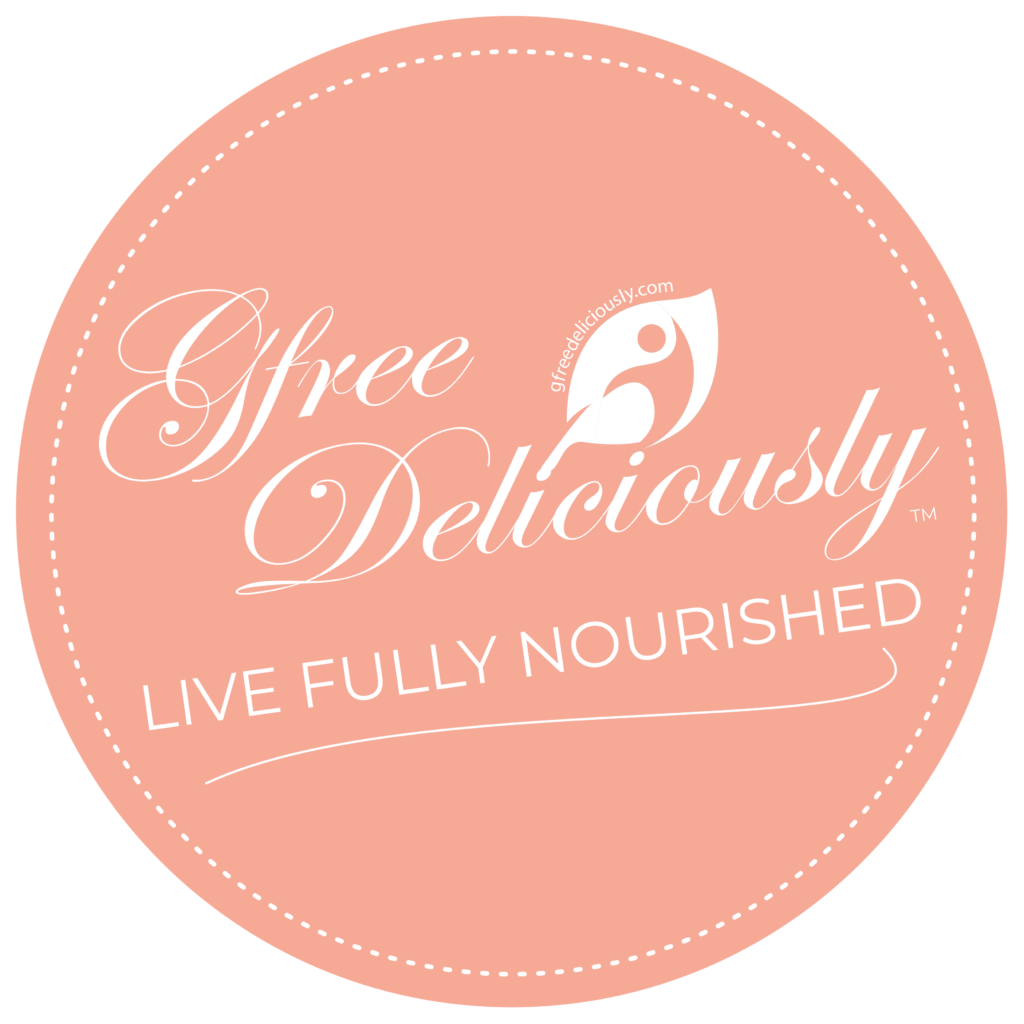 GET RECIPES • RESOURCES • +eNEWS UPDATES & MORE STRAIGHT TO YOUR INBOX !
Simple and delicious gluten-free recipes, family-friendly meal ideas, healthy cooking, encouragement, and easy-to-implement lifestyle strategies to live fully nourished… Only from GfreeDeliciously!
The basic recipe for a frittata is relatively simple. It requires eggs, cheese, and a variety of herbs, vegetables, or meats. First, you'll lightly cook the vegetables in a skillet until tender. Next, beat the eggs with cream, herbs, or spices, then pour the mixture over the vegetables or other ingredients in a baking dish. Finally, pop it in the oven for about 20 minutes to bake – the result is a fluffy, golden-brown dish that's both savory and satisfying.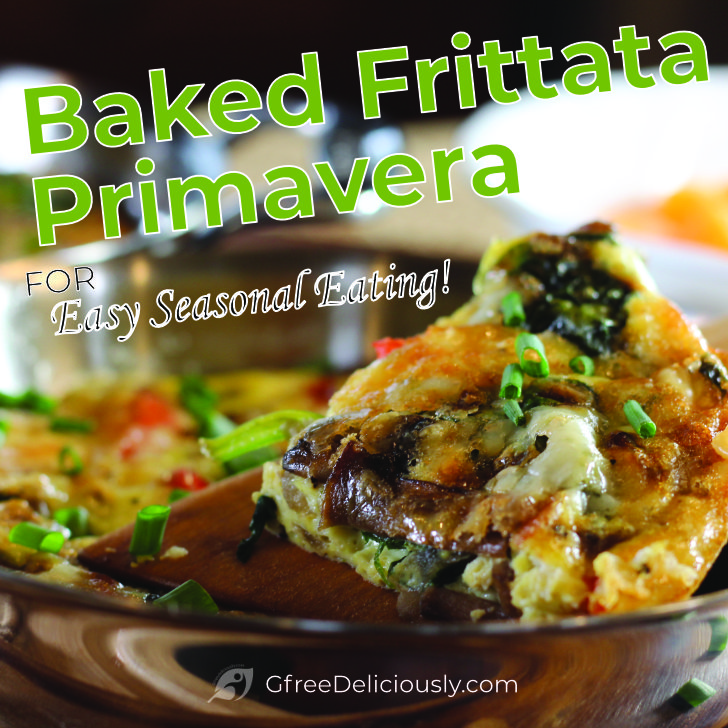 Frittata - A Classic Dish Perfect for Springtime!
No matter its origin, frittata has become classic cuisine and a dish many people eat. With its fresh ingredients, it's perfect for Springtime. It's easy to make, and the flavor combinations are endless. Whether you prefer a simple baked frittata with just eggs and cheese or a more complex one filled with vegetables and meats, it's sure to be a crowd-pleaser. So next time you're looking for a tasty and nutritious meal, why not try a frittata?
Whether you're new to gluten-free cooking at home or have been at it for years, I hope this post for making this baked frittata primavera inspires you to experiment with the spring veggies you have on hand to make a fabulously delicious frittata.
Thanks for stopping by. Have a happy time cooking!
XXO
P.S. When you try this recipe, let us know how you like it! Leave a comment below, share it, and rate it – it's super helpful for other readers and us. Just click the blue-green comment bubble on the bottom left of your screen to jump to the comment area below.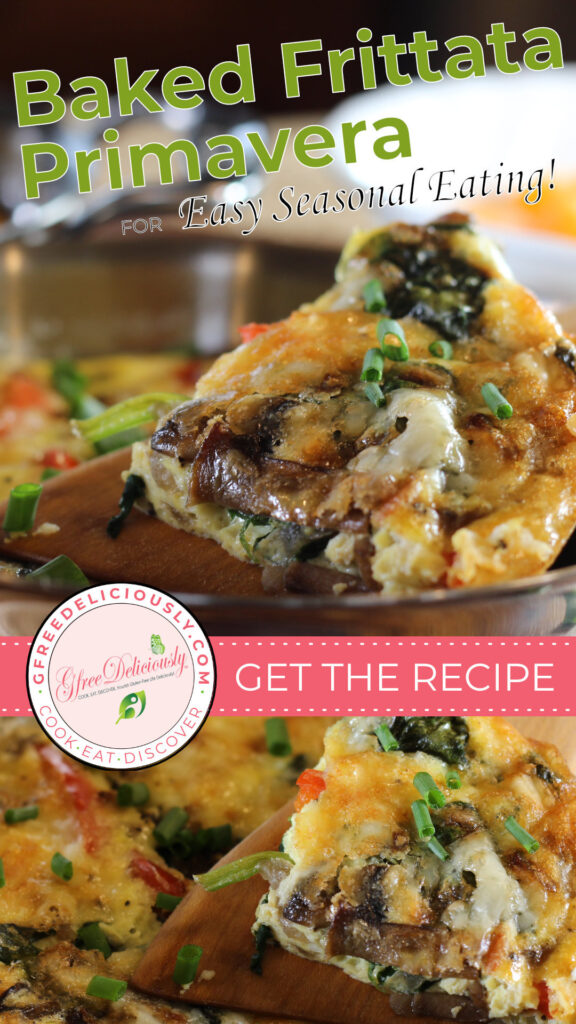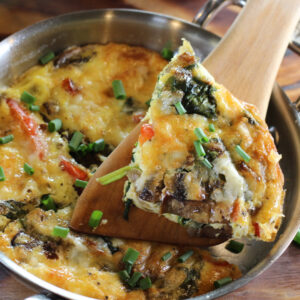 Baked Frittata Primavera for Easy Seasonal Eating
Today, we welcome easy seasonal eating, Spring, and herby egg-baked goodness with our baked frittata primavera recipe. This easy dish is a colorful, flavorful twist on the classic frittata. We are loading it with fresh spring vegetables like asparagus, slightly spicy romano pepper, red onion, mushroom, and spinach, then topping it with fresh-cut chives.
EQUIPMENT
1 Medium-size skillet

Two 8 to 10-ounce Oven-proof Ramekins or a small Baking Dish

Utensils (cutting board, chefs knife, measuring cups and spoons, whisk, heat-proof or wooden spatula)
INGREDIENTS
3

spears

Asparagus

cut into 1" pieces

½

Romano pepper

sliced into thin strips (or substitute Red Bell Pepper) [1]

½

Red Onion

sliced thin

4

Baby Bella Mushrooms

sliced thin (or substitute Button Mushrooms) [2]

1

tablespoon

Olive Oil

Sea Salt and Black Pepper

divided

2

large

handfuls of fresh Spinach

3

large

Eggs

2

tablespoons

heavy Cream

[3]

1

tablespoon

fresh Chive

chopped [4]

1

tablespoon

fresh Tarragon

chopped [4]

¼

cup

Fontina cheese

grated
Add ingredients to your Private Shopping List before ordering online.
Quick Add Ingredients to Shopping List
INSTRUCTIONS
Preheat the oven to 400°F, and spray oven-proof 8 to 10-ounce ramekins with coconut or olive oil.

Add

1 tablespoon Olive Oil

,

3 spears Asparagus

,

1/2 Red Onion

,

1/2 Romano pepper

, and

4 Baby Bella Mushrooms

to a skillet and toss with a pinch of

Sea Salt and Black Pepper

. Cook over medium-low heat for about ten minutes, tossing halfway through. When the mushrooms begin to brown, add the

2 large handfuls of fresh Spinach

and toss to combine, cooking for about one minute more until the spinach wilts.

Meanwhile, beat the

3 large Eggs

with

2 tablespoons heavy Cream

,

1 tablespoon fresh Chive

,

1 tablespoon fresh Tarragon

, and a dash of salt and pepper.

Once the spinach wilts, divide the vegetable mixture among the ramekins. If steaming, let it cool slightly, then pour about half of the egg mixture into each ramekin over the top allowing the mixture to fill in the gaps. Next, sprinkle the

1/4 cup Fontina cheese

over the top, splitting the amount between each ramekin. Pop in the oven and cook for about 17-20 minutes until the top becomes golden and the frittata is puffed up but still slightly shaky in the middle.

Remove from the oven. Loosen any stuck-on edges of cheese or bits of crispy egg by running a table knife around the edges before serving. This dish can be served immediately while hot or at room temperature.
KITCHEN NOTES
Footnotes:
[1] Romano peppers are longer and thinner, with a slightly spicier flavor than common red bell peppers. Red bell pepper is a good substitute if you can't find Romanos.
[2] Baby Bella mushrooms are also known as cremini mushrooms. But while they are the same variety as white button mushrooms, harvesting is not done until they mature. Because the growing time is longer, the flavor has more time to develop, giving them a more profound, earthier flavor. This subtle but earthy flavor is especially noticeable when cooked, adding more of a bold, robust taste to the dish.
[3] To make this recipe dairy-free, we recommend following these steps (Yield about 1 cup (+/-) of heavy cream substitute):
Add ½ cup raw cashews to a bowl. Cover with boiling water until the cashews are submerged. Leave them to soak for 15 minutes. Then drain and rinse them.
Add the drained cashews to a blender with ¾ cup of unsweetened almond milk, pulse, and blend until smooth.
Your heavy cream substitute is ready for use!
[4] May substitute one teaspoon of dried herb for each tablespoon of fresh herbs.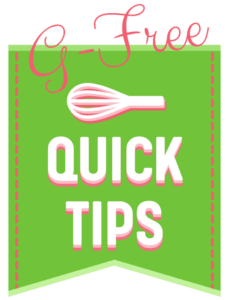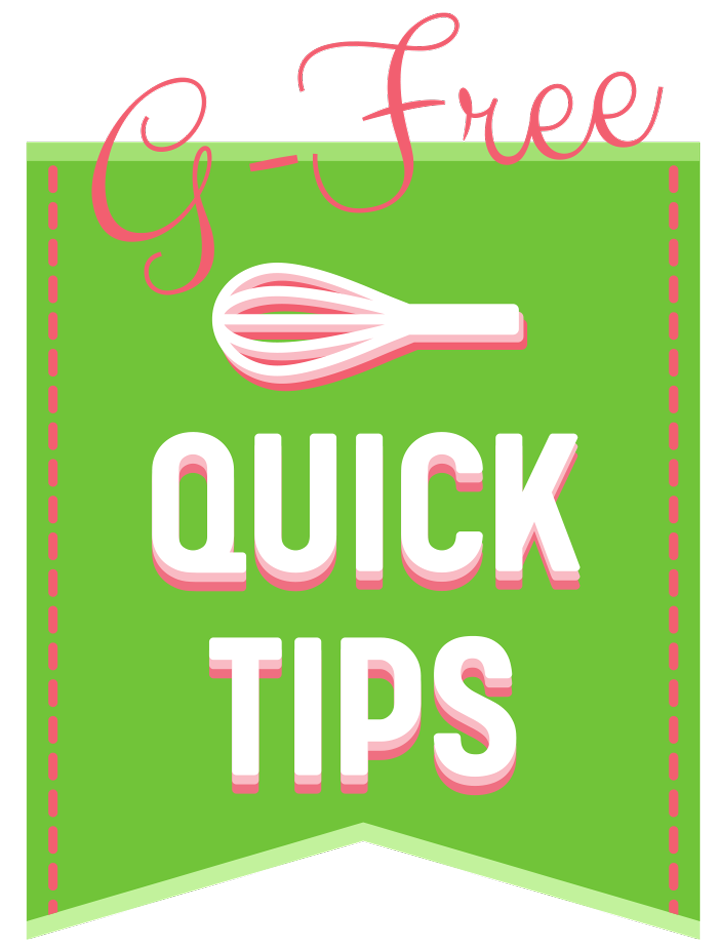 Enjoy this herby frittata for breakfast, brunch, supper, or anytime between. For plating in elegant style, arrange individual servings on a plate alongside fresh spring greens and a drizzle of Lemon Poppyseed Dressing. Finish by adding an extra pop of color by sprinkling the top of the frittata with more chives before serving.
Nutrition
Calories:
323
kcal
Carbohydrates:
9
g
Protein:
17
g
Fat:
25
g
Saturated Fat:
10
g
Polyunsaturated Fat:
3
g
Monounsaturated Fat:
11
g
Trans Fat:
0.03
g
Cholesterol:
315
mg
Sodium:
250
mg
Potassium:
529
mg
Fiber:
2
g
Sugar:
4
g
Vitamin A:
2026
IU
Vitamin C:
43
mg
Vitamin D:
2
µg
Calcium:
201
mg
Iron:
3
mg
Copyright © 2017-2023 Kymberley Pekrul | GfreeDeliciously | gfreedeliciously.com | All content and photographs are copyright protected. The sharing of this recipe is both encouraged and appreciated. However, copying and/or pasting full recipes to any social media is strictly prohibited. Please read my Photo Use Policy for detailed guidelines and further clarification.