It's NOT Easter, but we're making Classic American Egg Salad anyway! 😋
Making a great lunch, dinner, or even breakfast. I'm having this Classic American Egg Salad piled on top of gluten-free toast as my lunch as I write this post, eating it open face with a few baby arugula and lettuce microgreens. A simple side of juicy grape tomatoes and a slice of string cheese, and I'm satisfied until dinnertime rolls around!
Of course, you could most certainly spread it traditionally to eat between two slices of bread for a sandwich as I did when growing up.
Keeping you supplied with childhood memories of sandwiches made by your mother
This recipe is simple and classic comfort food at its finest. There are no frills here, but then some of the most uncomplicated tried-and-true traditional flavors are all it takes to make me a pretty happy gal!
Like I wrote in the heading, making egg salad is great for making when you have an abundance of hard-boiled Easter eggs remaining in the fridge, but it's also great for using up any eggs that may be approaching their expiration date. Today I'm doing neither.
The whole reason for making this classic egg salad in the first place was to accompany a bowl of homemade tomato soup that dear hubby wanted to eat for lunch on a cold winter's day.
And because we're always thinking about what we can post on the blog that people might enjoy making themselves, egg salad and homemade tomato soup hit us as a good idea.
Watch #CookingGfreeDeliciously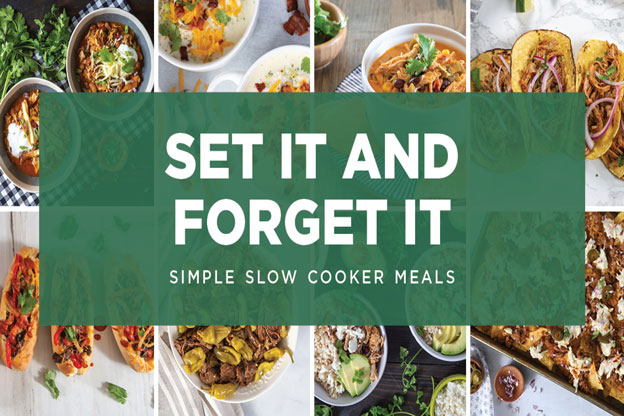 We believe cooking should be fun, but we also know it can sometimes be intimidating, especially when cooking gluten-free. That's why we strive to help home cooks of all levels learn, practice and grow their basic skills through easy (always gluten-free) recipes that help make cooking an enjoyable experience. Follow us on Facebook to be among the first to watch! 
See something you liked during a video? Shop the Faves for all the brands we recommend.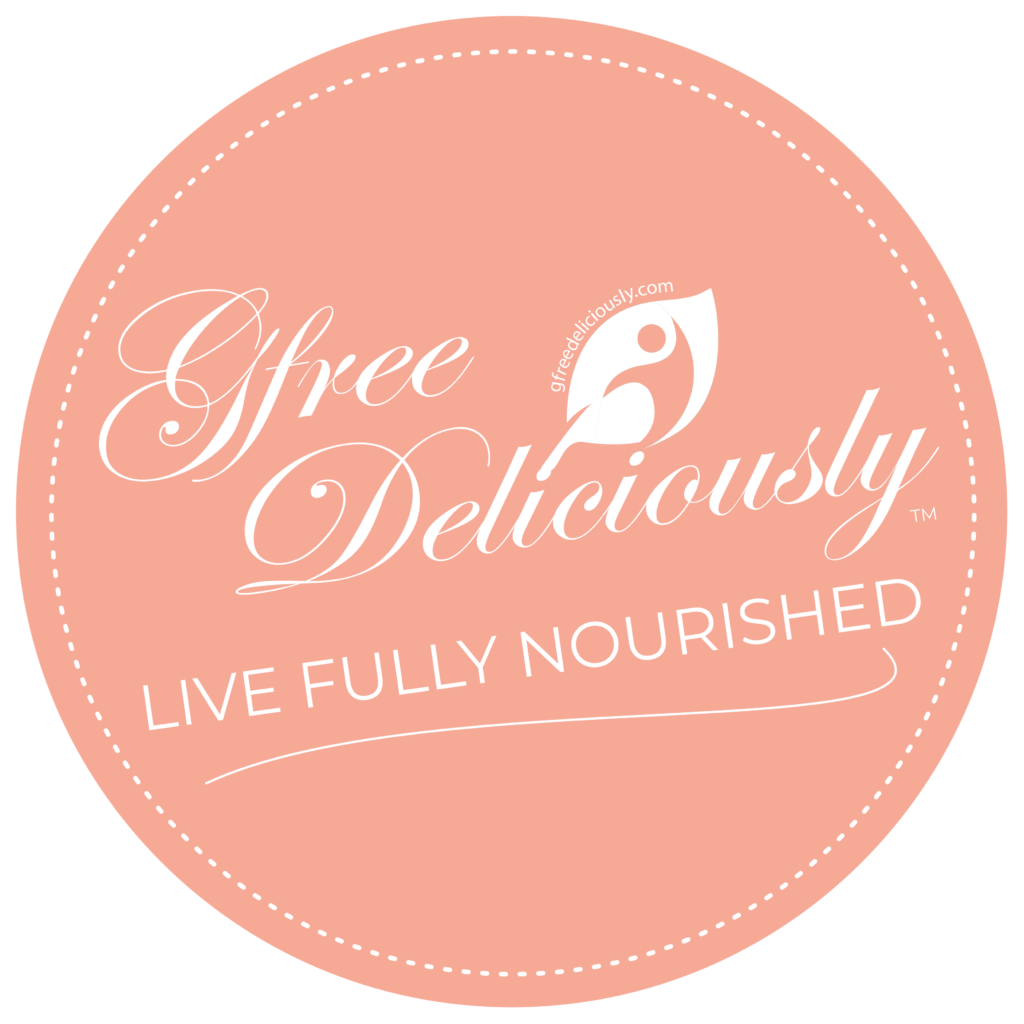 GET RECIPES • RESOURCES • +eNEWS UPDATES & MORE STRAIGHT TO YOUR INBOX !
Simple and delicious gluten-free recipes, family-friendly meal ideas, healthy cooking, encouragement, and easy-to-implement lifestyle strategies to live fully nourished… Only from GfreeDeliciously!
So you've got some eggs in the refrigerator that need using?
Let's Make Some Classic Egg Salad for Sandwiches
You'll begin with the eggs to make this easy recipe:
The way I've found that works best is to put your eggs into a pan with cold water and bring them to a boil. And then, once the water starts boiling, turn the heat off, cover the pan and let the eggs set in the water for 15 minutes undisturbed. After 15 minutes, I run them under cold water and peel them right away. The shells will release and come off easily, and then you will want to chop up your eggs.
While the eggs are still warm, I like to add a little room-temperature butter, mixing and melting it into the eggs to give them an extra creaminess and richness. You'll use about 1/2 tablespoon for every two eggs.
From there, you're going to fold in one tablespoon of real mayonnaise (gluten-free) for each egg included and then one teaspoon of mustard (either yellow mustard or Dijon) if you wish, and a dash of salt and pepper. Mix everything up nicely, and the egg salad is complete.
The egg mixture will last in your refrigerator for a few days, so you can make plenty to keep you supplied with childhood memories of sandwiches made by your mother.
Of course, I'm also assuming that you grew up eating this simple Egg Salad spread on bread for a sandwich as I did…
How to chop up hard-boiled eggs?
You can do it by hand, using a fork or an egg chopping gizmo or gadget; I've also read recipes dating back to the late 1800s suggesting that a potato ricer or potato masher produces good results.
Then, there's the question of how finely to mash or chunk them up? I would say that it's another personal preference.
For me, I like a little chunkiness, so I've always used a pastry blender to chop them into larger roughly chopped pieces.
It's really; however, you want to do it.
To measure, or not to measure…
You might find it funny that I've even posted a recipe for egg salad; after all, it's such a simple combination of eggs, condiments, and basic seasonings to make the classic creamy mixture.
As easy as it is, I've found it incredible just how many variations of making it there seem to be in my collection of cookbooks (that, by the way, date way back) as well as in other blogger's posts. On that note, I have to confess that it's almost laughable how many times I made egg salad to get the amounts in my recipe just right as I remember since, before this, I've never measured the ingredients when making it.
I've always made it off the cuff — so to speak. For example, adding some butter, mayo, and mustard, and if it didn't look like enough, I would add a little more. If I had added too much, well, I'd make a mental note for next time.
My point in all this chatter about measuring is that if you're comfortable with making it off the cuff, do it!
Consider this recipe a rough guide, and make adjustments to the mixture based on your personal preference and style.
However you make it, I think the basic recipe of eggs, mayonnaise, salt, black pepper, and bread works perfectly fine since most of us probably already have those five ingredients in our kitchens.
Picture the Recipe Step-by-Step
The Canvas for Your Creative Taste…
This egg salad recipe provides the canvas for your creative taste, so don't be afraid to experiment with whatever ingredients you have on hand, or for that matter, whatever creative food muse hits you.
15 Tasty Ways to Make Egg Salad to Suit Your Taste:
1) Broiled egg salad – Prepare as directed, adding a few saltines, celery, pimentos, and a dash of garlic salt with the base egg mixture. Spread on English muffin halves and broil on low for 3-4 minutes until lightly browned.
2) California-style egg salad – Skip the mayo and substitute mashed avocado, adding a dollop or two of creamy Greek yogurt and diced scallions with the chopped egg, salt, and pepper.
3) Ceasar-style egg salad – Prepare as directed, adding a bit of parmesan cheese and a teaspoon or two of anchovy paste to the base egg mixture.
4) Curried egg salad – Make as directed, adding a dash or two of curry powder to the base egg mixture.
5) Deli-style egg salad – A little diced celery, minced red onion, and chopped red pepper to the base egg mixture will make it a deli-style delight!
6) Egg salad with Olives and Pickles – Toss in a few sliced black olives and chopped pickles or sweet relish into the base egg mixture.
7) Egg salad with Tomato Jam and Pickles – Prepare as directed, then serve by slathering a generous layer of savory tomato jam onto buttery bread and add dill pickles before assembling.
And we continue our list with these Restaurant-Inspired Egg Salad Ideas...
8) Herbed egg salad – Add fresh dill, basil, parsley, or tarragon in any combination or alone into the base egg mixture.
9) Hippie egg salad – Prepare as directed, stir in a little grated carrot, minced celery, and green bell pepper. Add some finely-chopped parsley, a pinch of finely-chopped tarragon, a few snipped chives, and a bit of salted and roasted sunflower seeds into the base mixture. Serve it open-face on toasted bread with a few sunflower sprouts for garnishing.
10) Kicked-Up egg salad – Add a teaspoon or two of horseradish, some minced red onion, and some bacon bits into the base egg mixture.
11) Mexi-style egg salad – Prepare as directed, stirring in a bit of Guacamole seasoning, a little bit of canned corn, some finely chopped green onion, minced jalapeno, and a splash of lime juice into the base egg mixture.
12) Pesto egg salad – Add a teaspoon or two of jarred prepared pesto and a little finely chopped red onion into the base egg mixture.
13) Smoked Salmon egg salad – Stir in chopped smoked salmon, a little fresh dill, and lemon juice into the base egg mixture. Serve in a croissant with fresh baby spinach for a grown-up taste.
14) Waldorf egg salad – Prepare the egg salad, folding chopped apples, walnuts, and celery into the base egg mixture.
15) Zippy egg salad – Spice it up with a splash of hot pepper sauce, minced jalapeno, and a little fresh cilantro into the egg mixture.
Or you could always try using a different bread:
I grew up eating this wonderful egg salad on white bread. But it would also be delicious:
Stuffed in a Pita
On gluten-free mock Rye, or whole-grain toast or bread
Lightly toasted gluten-free English Muffins
On a Buttery gluten-free Croissant
On crispy gluten-free Crackers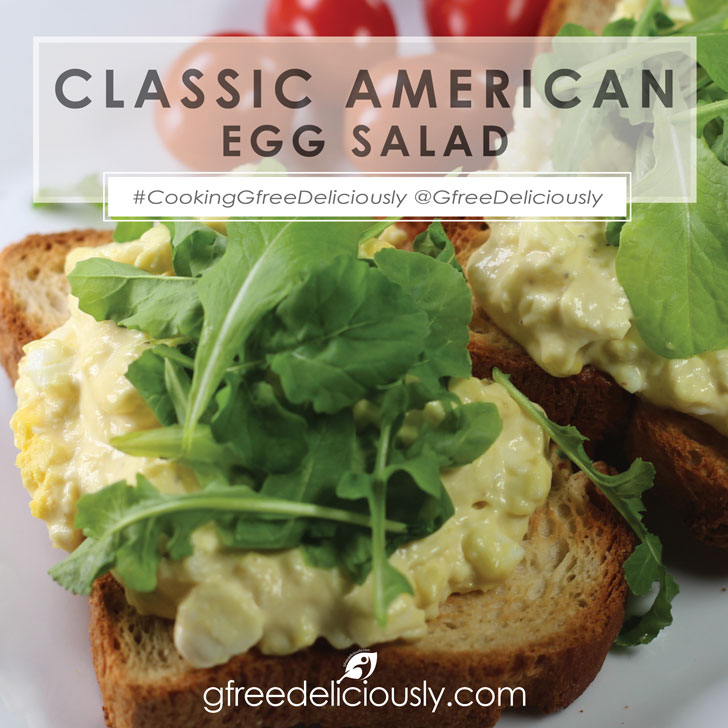 More Delicious Deli-Style Salads
This recipe is great for prepping ahead. Prepare as directed and store in the refrigerator for up to three days for a quick lunch or dinner!
For more healthy recipes that you can meal prep, check out this month's round-up of ideas in the Meal Prep Collection!
Are you just getting started on meal planning? Read all about how to do it when you read "Meal Planning" verses "Meal Prepping" for Effortless Cooking.
The following recipe for Classic American Egg Salad is enough to make four yummy egg salad sandwiches and is easy to increase or decrease according to your needs.
XXO
P.S. If you try this recipe, let us know how you like it! Leave a comment below, share it, and rate it – it's super helpful for other readers and us. Just click the blue-green comment bubble on the bottom left of your screen to jump to the comment area below.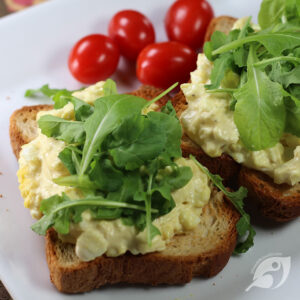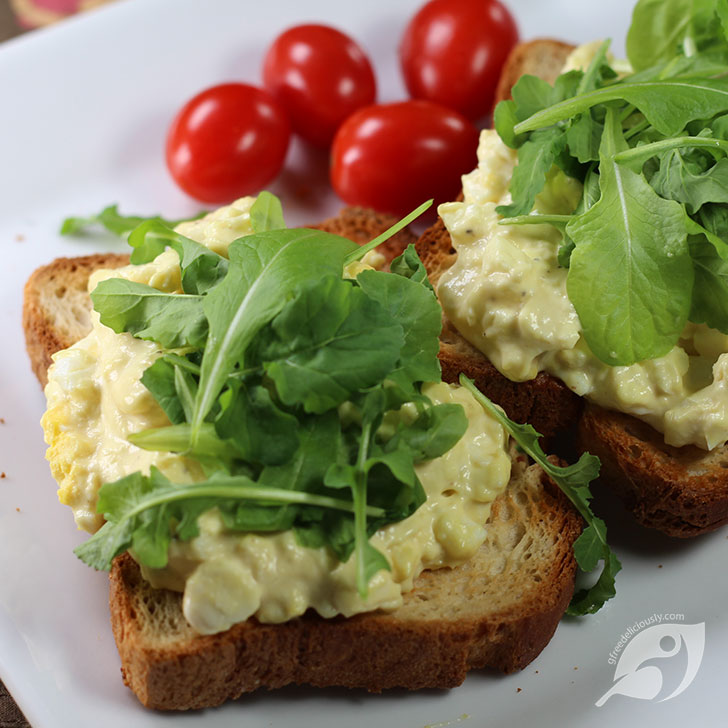 Classic American Egg Salad
All you need is hard-boiled eggs and 10 minutes to make this Classic American Egg Salad recipe. Perfect for sandwiches, lettuce wraps, or eating on a bed of lettuce, stuffing into pitas and tomatoes, and piling on top of crackers. It's a home-style recipe for uncomplicated food at it's finest, and it's an excellent use for any extra hard-boiled eggs you might find yourself having after Easter.
EQUIPMENT
medium mixing bowl

Utensils (Fork or a Pastry Blender, Measuring Cups & Spoons, Rubber Spatula or Large Spoon)
INGREDIENTS
4

large

Eggs

hard-boiled, and peeled

1

tablespoon

Butter

room temperature

4

tablespoons

gluten-free Mayonnaise

2

teaspoons

Mustard

your choice yellow mustard, Dijon, or grainy mustard

Salt and Black Pepper to taste

Optional

sprinkle with Paprika or garnish with fresh-minced Chives
Add ingredients to your Private Shopping List before ordering online.
Quick Add Ingredients to Shopping List
INSTRUCTIONS
Add hard-boiled and peeled eggs [1] to a medium-size mixing bowl and chop using a fork or any other preferred chopping method. Mix in the butter just until combined.

Spoon in the mayonnaise, mustard, and a dash of salt and pepper. Fold lightly until creamy. Taste and adjust the seasonings if needed.

To use, spread on bread, toast, roll up inside lettuce as a wrap, scoop on top of lettuce, stuff into pitas or tomatoes, or serve as an appetizer with crackers. Sprinkle with optional paprika or garnish with fresh-minced chives if desired. Store in the refrigerator for up to three days.
KITCHEN NOTES
[1] This recipe assumes that you already have hard-boiled eggs on hand. If you don't, here's the method I use to boil eggs:
Put the eggs into a pan with cold water and bring them to a boil. Once the water starts boiling, turn the water off, cover the pan and let the eggs set in the water for 15 minutes undisturbed.
After 15 minutes, run eggs under cold water and peel them right away.
The shells will release and peel easily.
Nutrition
Calories:
199
kcal
Carbohydrates:
0.7
g
Protein:
6.5
g
Fat:
18.5
g
Saturated Fat:
5
g
Polyunsaturated Fat:
7
g
Monounsaturated Fat:
5.2
g
Trans Fat:
0
g
Cholesterol:
199.9
mg
Sodium:
253.8
mg
Potassium:
67
mg
Fiber:
0
g
Sugar:
0.6
g
Vitamin A:
101
IU
Vitamin C:
0
mg
Vitamin D:
2.3
µg
Calcium:
27.1
mg
Iron:
0.6
mg
(Nutritional values are an approximation. Actual nutritional values may vary due to preparation techniques, variations related to suppliers, regional and seasonal differences, or rounding.)
Copyright © 2017-2023 Kymberley Pekrul | GfreeDeliciously | gfreedeliciously.com | All content and photographs are copyright protected. The sharing of this recipe is both encouraged and appreciated. However, copying and/or pasting full recipes to any social media is strictly prohibited. Please read my Photo Use Policy for detailed guidelines and further clarification.