Spicy, Hearty, Indulgent - Gluten-Free Tomato Bisque Soup
When it comes to simple, satisfying, and comforting meals, few entrées can top a steaming bowl of tomato soup…
While many companies make gluten-free soup varieties that are easy to heat and serve up instantly, you might be happy to know that preparing a hearty homemade pot of tomato bisque soup doesn't require hours of cooking.
Read on to discover a recipe that's nearly effortless to make at home. It uses simple pantry ingredients that you probably already have that, when combined, make this spicy, hearty, indulgent, gluten-free tomato bisque soup ready in about 30 minutes.
So let's get started.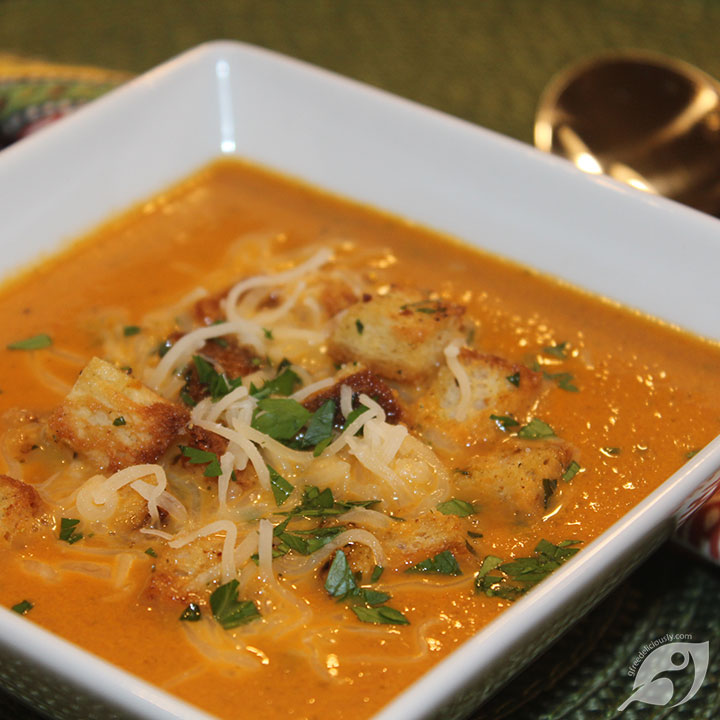 First, the inspiration for this recipe:
Several years ago, working near Hersey, Pennsylvania, my travel commitments wrapped up early. My flight wasn't leaving until much later that day, so taking a side trip to visit the town that's famous for its chocolate was an easy decision.
Now, you may be asking yourself, what do Hersey and chocolate have to do with tomato bisque soup?
Well, it all began with the museum gift store.
You see, the gift store was among my first stops. And that's where I stumbled across a fabulous little coffee shop and café in the same building. It lured me into taking a break from browsing and sightseeing to enjoy a cup of chocolate-laced coffee latte and the most delicious tomato bisque soup I'd ever eaten.
Confession time - I have a hard time taking NO for an answer.
Of course, I couldn't resist asking for their recipe.
But my attempt to get the cafe's tomato bisque secret was defeated.
So I did what any creative, got-to-have-it because it's such a so-darned-good bowl of soup that an on-a-mission-focused girl like me might do. I scribbled down notes about everything I indulged in every bite.
My napkin was perfect for noting the flavors and every tasty detail. Things like spices recognized by taste and the tomatoes, carrots, and onions I knew were in the soup to attempt to recreate the recipe when I got home.
In the weeks following, I experimented with making an equally indulgent tomato bisque. But nothing came close.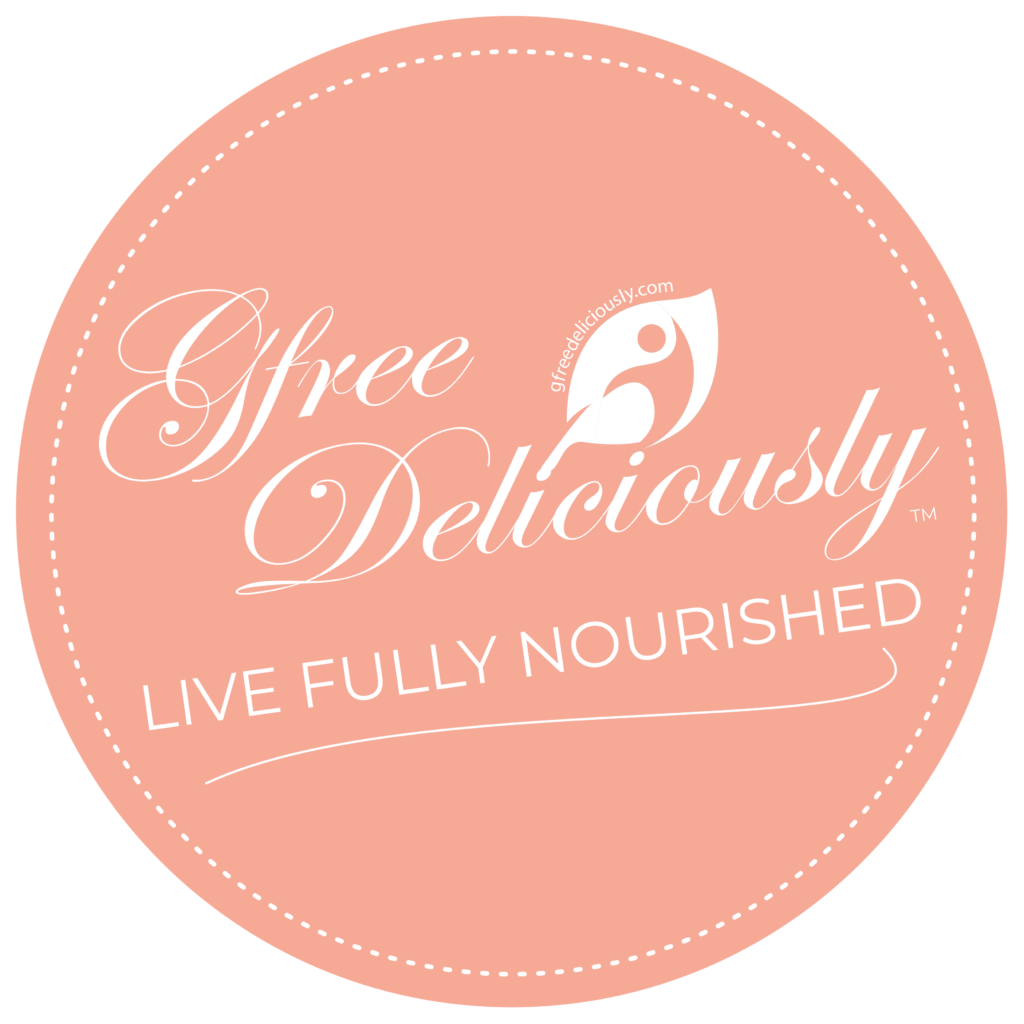 GET RECIPES • RESOURCES • +eNEWS UPDATES & MORE STRAIGHT TO YOUR INBOX !
Simple and delicious gluten-free recipes, family-friendly meal ideas, healthy cooking, encouragement, and easy-to-implement lifestyle strategies to live fully nourished… Only from GfreeDeliciously!
The magical romantic comedy Chocolat (2000) is based on the book by Joanne Harris about a woman, Vianne Rocher, played by Juliette Binoche, who transforms a village through her chocolate shop.
Vianne creates the most delightful treats in her wonderful chocolate shop. When her first customers arrive, she offers them hot chocolate made from a 2000-year-old recipe with a hint of chili pepper, saying, "It will give you a lift."
Wala! Chocolate and Chili Pepper - Those were the secret ingredients!
But before I get to the recipe, you might find it interesting to hear about what I learned in this 'rabbit hole' of my tomato bisque food journey.
It's not hard for me to believe since I love them so much!
Tomatoes' popularity falls in line right behind potatoes, lettuce, and onions.
But despite their popularity, it was only about 200 years ago that they were thought to be poisonous in the U.S. The misconception was likely because the plant belongs to the toxic nightshade vegetable family.
Tomatoes offer benefits to a whole range of bodily systems. Their nutritional content supports heart health, healthy skin, and weight loss.
Including tomatoes in your diet can help maintain healthy blood pressure. Eating them can reduce blood glucose in people with diabetes and even help protect against cancer.
Because tomatoes contain essential carotenoids such as lutein and lycopene, eating them can help protect the eye against light-induced damage.
Another pro-tomato attribute is that when cooking or stewing tomatoes before eating them, those preparation methods can boost the availability of crucial nutrients.
Tomatoes are in the top ten fruits and vegetables containing pesticide residue levels. So, it's best to always wash them before eating them unless you are sure they have been grown organically without pesticides. But to be super safe, I'd wash them anyway.
According to The Oxford Companion of American Food and Drink, tomatoes have been grown in the United Kingdom since the late sixteenth century.
But what is fascinating and hard to imagine is a time in history when tomatoes were not as popular as food. Believe it or not, the early culinary use of tomatoes was only used as a secondary ingredient in soups.
When tomatoes became popular as food in the late eighteenth century, cooks incorporated them only to provide coloring and acidic flavor unmatched by other fruits or vegetables.
Early tomato soups were referenced in English medical, agricultural, and botanical journals as recipes were essentially vegetable soups where the tomato was down towards the bottom of the ingredient list.
When making this recipe, plan on allowing 30 minutes to get it ready. Serve it with some toasted gluten-free croutons, freshly grated parmesan cheese, or your favorite four-cheese blend. Add a bit of chopped parsley for garnish, and enjoy!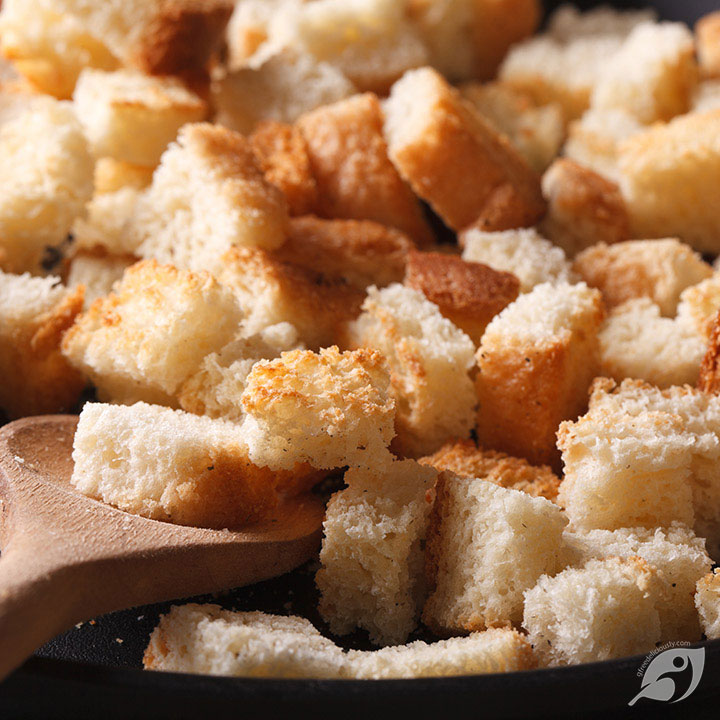 To make this tomato bisque recipe sing, add a few fresh chopped chili peppers and enrich it with two ounces of semisweet chocolate. While the extra spice may likely excite your olfactory, the kick of spice with tomato and cream combined with the hint of chocolate meld deliciously in a combination perfect for indulging in and warming up the day. Ah, soup!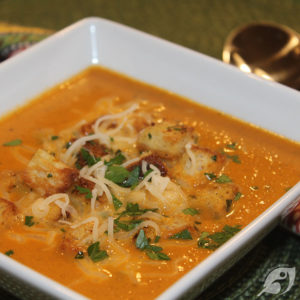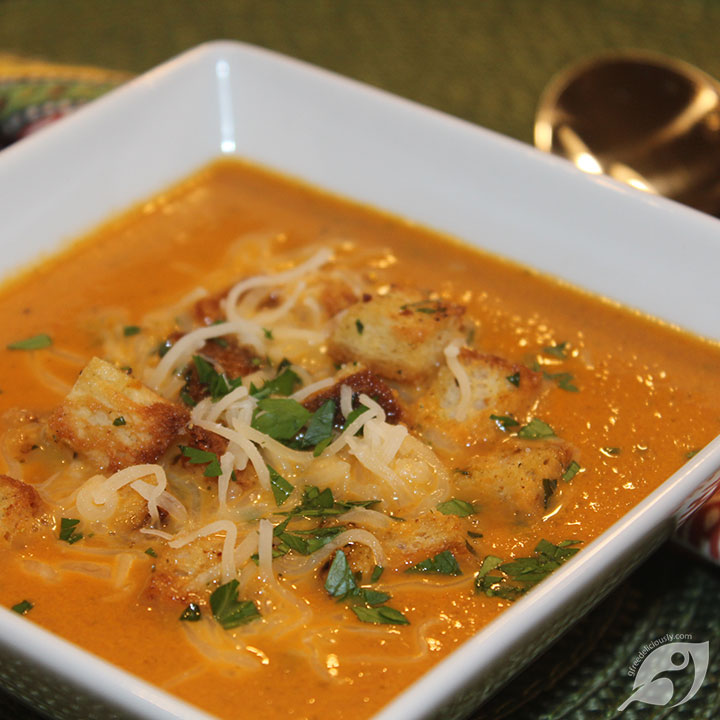 Spicy, Hearty, Indulgent - Gluten-Free Tomato Bisque Soup
Cozy and comforting, slightly spicy, and oh so hearty gluten-free tomato bisque soup! Make it with fresh tomatoes, basil, a touch of real cream, and unexpected secret ingredients to make the perfect lunch or quick meal. A treat to eat for warming up your day!
EQUIPMENT
Dutch Oven or Large Pot

Blender
INGREDIENTS
4

fresh chili peppers

stems removed and chopped

28

ounces

Tomatoes

fresh (about six tomatoes peeled and cored)

1

medium

Onion

cut into ½-inch pieces

1

medium

Carrot

cut into ½-inch pieces

1

Celery stalk

cut into ½-inch pieces

1

tablespoon

Olive Oil

1

tablespoon

Basil*

fresh chopped or dried

1

teaspoon

Marjoram*

fresh chopped or dried

½

teaspoon

Baking Soda

½

teaspoon

Kosher Salt

½

teaspoon

Black Pepper

freshly ground

¼

cup

Whole Cream

1-2

ounces

Bittersweet Chocolate

grated
Add ingredients to your Private Shopping List before ordering online.
Quick Add Ingredients to Shopping List
INSTRUCTIONS
Sauté the onion, carrot, celery, chilis, and Olive oil in a heavy Dutch Oven over medium heat until fork-tender.

Add the tomatoes and the stock, continuing to cook until the ingredients come to a boil. Stir in the salt and baking soda, basil, marjoram, and pepper.

Using an immersion blender (or, transfer to a blender) blend the ingredients until they are completely smooth.

Return liquid to Dutch Oven on low heat and add in cream and grated chocolate. Taste and adjust seasoning as desired. Simmer on low heat until ready to serve.

Dish and serve with gluten-free croutons, freshly grated parmesan cheese or your favorite four-cheese blend. Add chopped parsley for garnish. Enjoy!
KITCHEN NOTES
Substitutions:
Make it Vegan – Use cashew cream instead of the whole cream. To make cashew cream blend ½ cup cashews with ½ cup water until smooth.
Make it Nut and Dairy-Free - Substitute unsweetened coconut cream instead of the whole cream. You can find canned unsweetened coconut cream at most grocery stores in the Asian food aisle.
Use Canned or Boxed Tomatoes – Canned or boxed tomatoes work equally well, especially when fresh tomatoes are not in season.
Dried Herbs – Dried herbs work perfectly fine in place of fresh. When substituting dried herbs divide the quantity of herbs called for in half.
*1 teaspoon of dried herbs for every 1 tablespoon of fresh herbs.
Nutrition
Calories:
172
kcal
Carbohydrates:
20.5
g
Protein:
4.3
g
Fat:
9.6
g
Saturated Fat:
4.5
g
Polyunsaturated Fat:
0.7
g
Monounsaturated Fat:
2.9
g
Trans Fat:
0.1
g
Cholesterol:
12.4
mg
Sodium:
386.1
mg
Potassium:
583.7
mg
Fiber:
4
g
Sugar:
13.6
g
Vitamin A:
291.9
IU
Vitamin C:
64.9
mg
Calcium:
45.4
mg
Iron:
1.1
mg
(Nutritional values are an approximation. Actual nutritional values may vary due to preparation techniques, variations related to suppliers, regional and seasonal differences, or rounding.)
Copyright © 2017-2023 Kymberley Pekrul | GfreeDeliciously | gfreedeliciously.com | All content and photographs are copyright protected. The sharing of this recipe is both encouraged and appreciated. However, copying and/or pasting full recipes to any social media is strictly prohibited. Please read my Photo Use Policy for detailed guidelines and further clarification.