Cool Is Cucumber Mint Salad
Cucumber Mint Salad is inspired by the international flavors of Tzatziki and Raita…Greek-style yogurt, cucumbers, mint, and spicy cumin for a cool, refreshing summer salad that tastes beyond just good…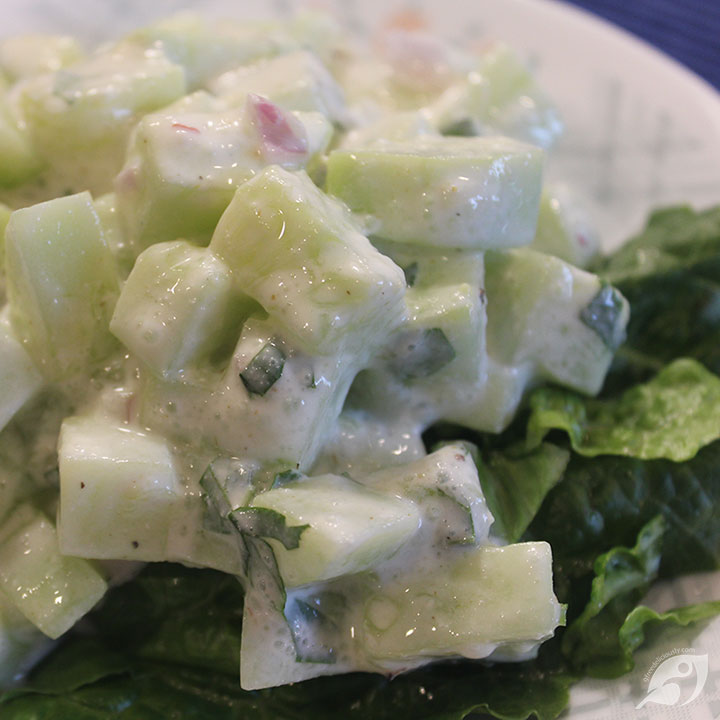 This cucumber mint salad recipe is among my all-time favorite easy-to-whip-up summer salads and one of the most delicious ways to enjoy off-the-vine fresh cucumbers from the garden or your local farmer's market!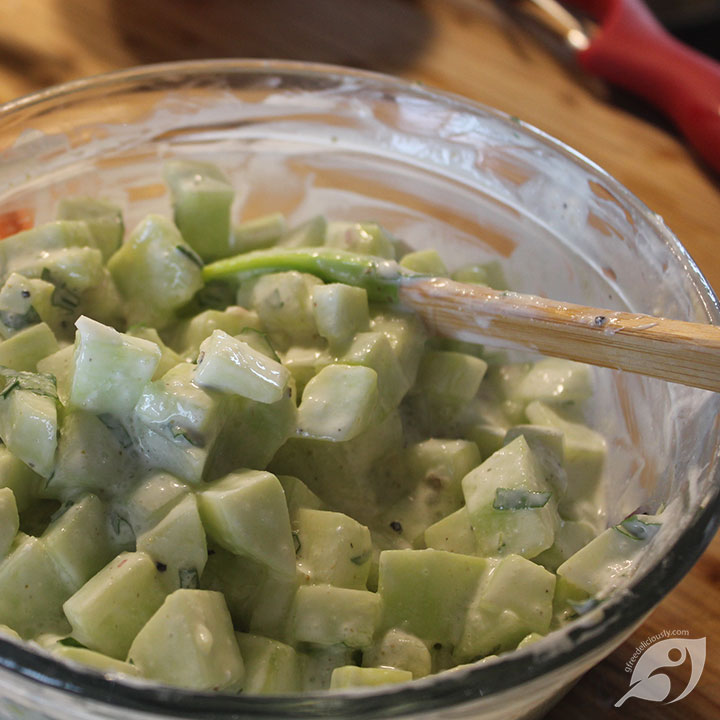 Cucumber salad -
Perfect with chicken, fish, and spicy foods...
By now you've probably figured out that I love to play around with recipes and flavor combinations. I also love mixing things up by experimenting with new ways to prepare and enjoy seasonal vegetables from our garden, especially during the scorching heat of summer, come August, when days are hot, and the humidity is high.
Our garden, by the way, as many of our family and friends love to point out is, "a very busy little garden."
Okay, maybe it is busy, but in full-on defense of our abundant little plot, I will argue that our garden is a bountiful paradise of Midwest vegetable varieties. Though admittedly, I do get a little crazy every year when planting it.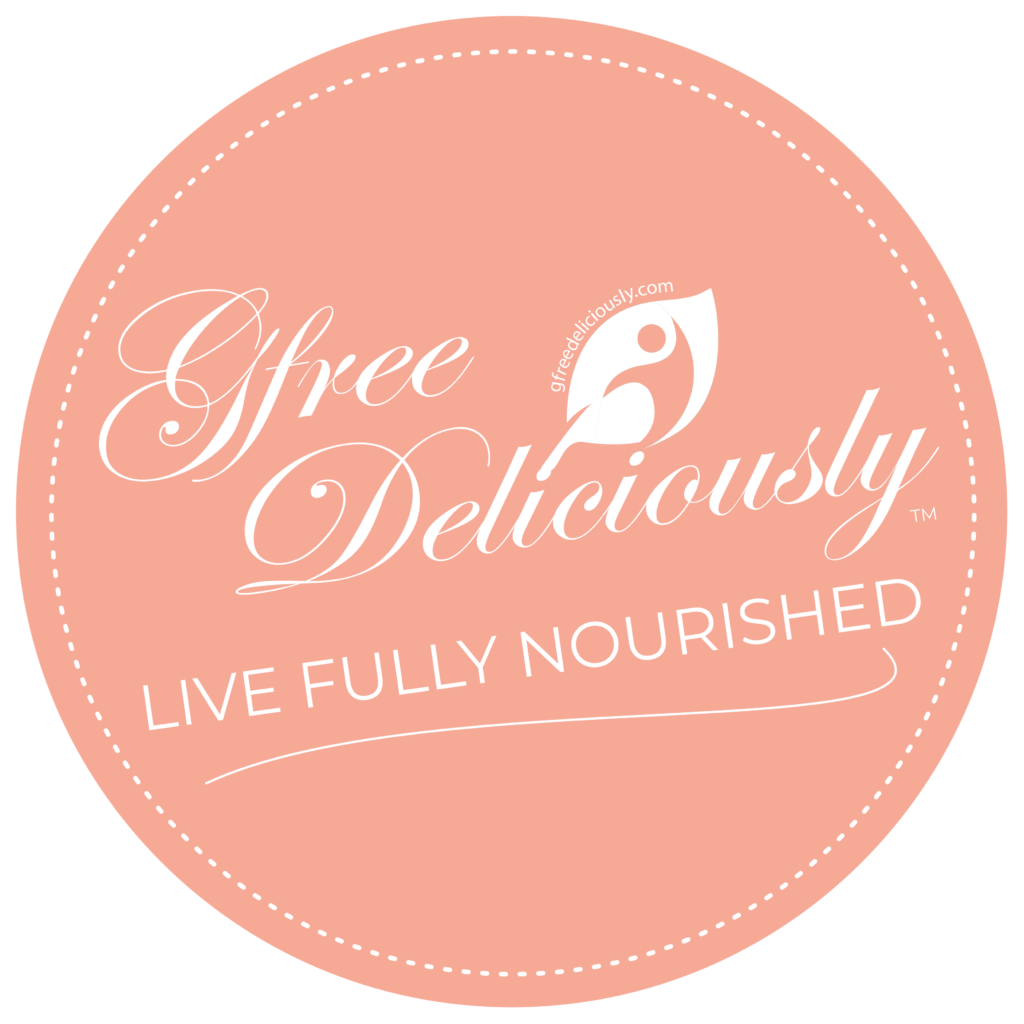 GET RECIPES • RESOURCES • +eNEWS UPDATES & MORE STRAIGHT TO YOUR INBOX !
Simple and delicious gluten-free recipes, family-friendly meal ideas, healthy cooking, encouragement, and easy-to-implement lifestyle strategies to live fully nourished… Only from GfreeDeliciously!
Here is why my garden is so busy...
This year you'll find ten types of peppers, six different squashes, three sorts of cucumbers, pickling pickles, a dozen different lettuces, and at least eight kinds of tomatoes. There are three basils, three kales, yellow and green beans, green and purple cabbage, four different sorts of eggplant, cantaloupe, and honeydew melon.
Because I couldn't help myself, I planted okra, sweet corn, onions (red, yellow, and white), potatoes (reds, blues, and Yukon golds), carrots, beets, fennel, leeks, radish, swiss chard, pumpkins (the pie kind, and ginormous ones for my grandkids).
So I guess you might say that our garden is a LITTLE busy.
What do we do with all this stuff...
Considering that there is only my dear hubby and me to eat from it, this year, like almost every other, we end up giving a whole lot of the harvest away to family, friends, neighbors, and local charities.
Growing a busy little garden is something that dear hubby and I have done for nearly forty years. You might be wondering why we would do such a thing amidst our busy careers, maintaining this acreage we call Lac du Nibiinaabe, family visits, and being generally busy with life?
We love the fresh veggies. Oh yes, we do. Maybe it's a priority for us to do our best to live a healthy life. We'd agree that it is. You might think it's because we are bad with spatial dynamics and planning, or could it be that we're obsessed with trying to have and do it all (heaven knows we're not perfect, and we'd certainly love to be able to fit everything in).
You ask – do we enjoy the roto-tilling, planting, cultivating and digging, sweating, toiling, watering, and weeding the dirt?
No, not necessarily, although we are quite sure that doing all this may be good for keeping our bodies youthful and at the very least passively exercised.
So why do we grow such a busy little garden that produces way more than we could ever hope to eat and enjoy ourselves, knowing that we will be giving more away than we keep?
After much pondering, appreciating a few glasses of wine, and gorging ourselves on a summer vegetable-rich supper, here is our answer.
We grow so much in our busy little garden to be able to give some away while enjoying the variety and freshness of everything we grow.
That's Really the Reason.
But beyond that, it's also our way of spreading and sharing our passions for cooking, eating healthy, and enjoying freshly grown produce with family, friends, neighbors, and others in our community. Giving to people we know and love, others we've never met, folks who cannot grow a garden themselves, or maybe someone who might be going through a tough spot in their life and could use some fresh veggies.
The Benefits Outweigh the Work.
I love it when someone accepts something grown from our garden, and they ask, "How can I fix this?" or, "Oh, I've never tried this before." And, my heart especially melts when dropping off veggies at church or a local shelter when the kids come running out to help unload the car, enthusiastically calling out, "Mama, we're gonna' be eatin' Gooood… tonight!"
It's a – daily living, giving, thing that we can do.
A neighbor helping neighbor sort of thing to do.
And a healthy food, cooking, and recipe sharing thing to do.
Bottom line, for us, it's the Christian thing to do.
Sharing what we grow is a happy thing. It's NOT a pat us on the back sort of thing, but it is the sort of a good thing you do when you are joyful and glad to do some little sort of "something" that spreads happiness in the lives of others.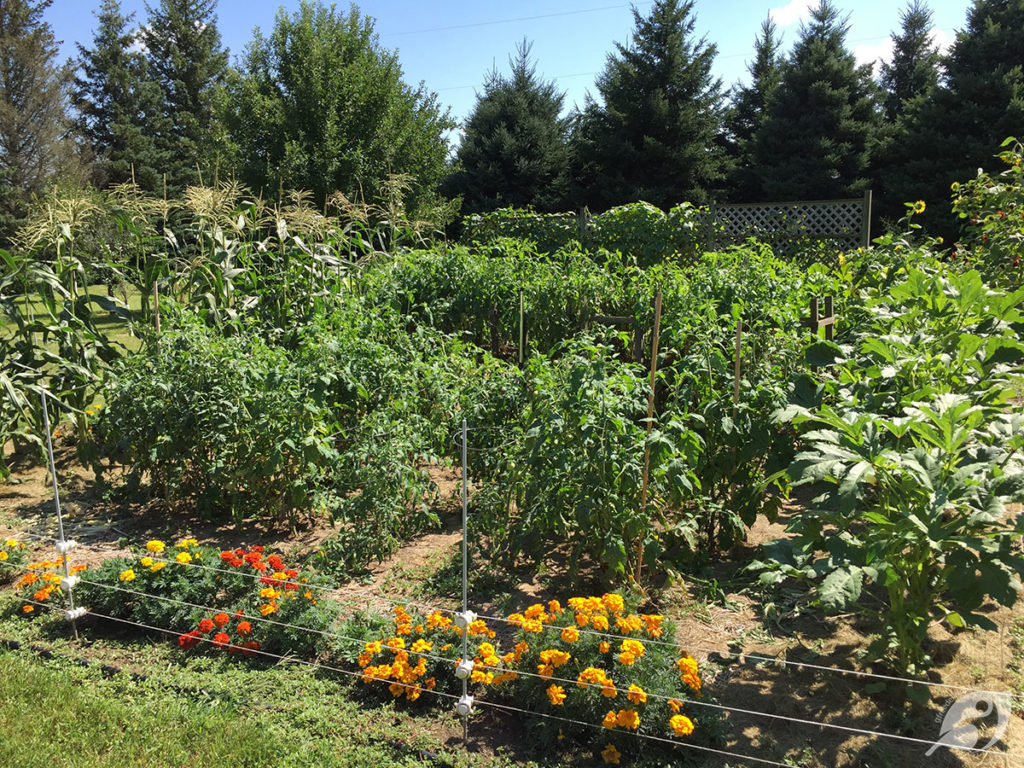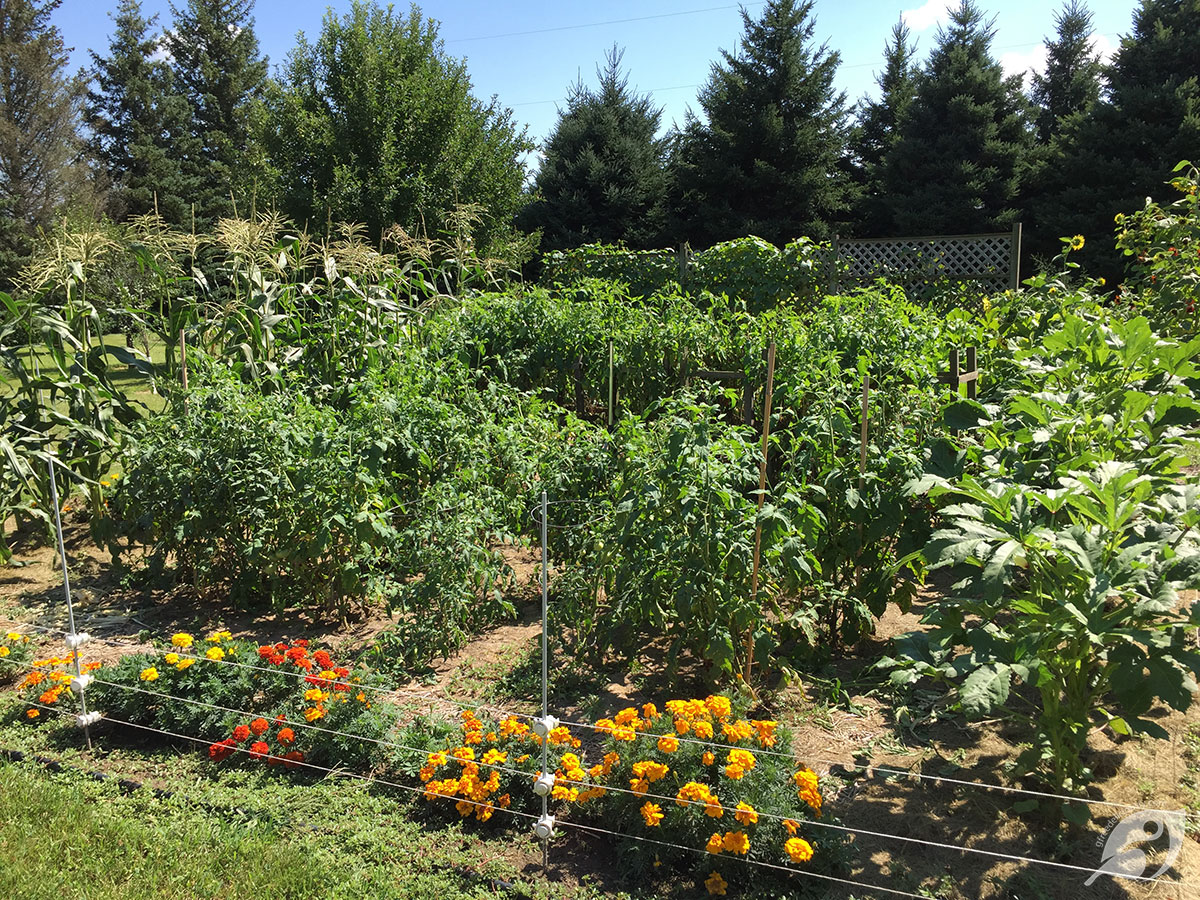 Giving the excess of our garden-grown food away somehow justifies the work it takes to do it, turning the whole process from painstaking to something that makes a lot more sense than just composting what we're unable to use.
Making Hay While the Sun Shines...
Lac du Nibiinaabe in August is a task-packed month. It's a month when our busy little garden is producing bushels of bountiful vegetables. Busy with lots of "putting things up," as my grandma always called it, when the canning and preserving season hits us full speed.
It's a month when I'm looking for quick, easy, and delicious suppers, salads, and sides to grace our table and fill our bellies. A time filled with joy, gladness, and eagerness for being able to share what God has graced us with from our busy little garden.
Whether you're using cucumbers from the market or growing your own, serving up this naturally refreshing cool and creamy cucumber and mint salad to cool down from a scorching hot day or to quench a spicy barbeque, it's truly a refreshing flavor combination to savor and enjoy!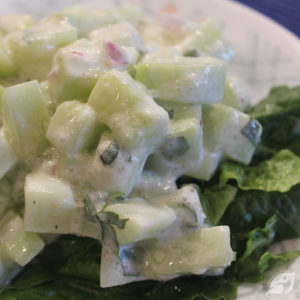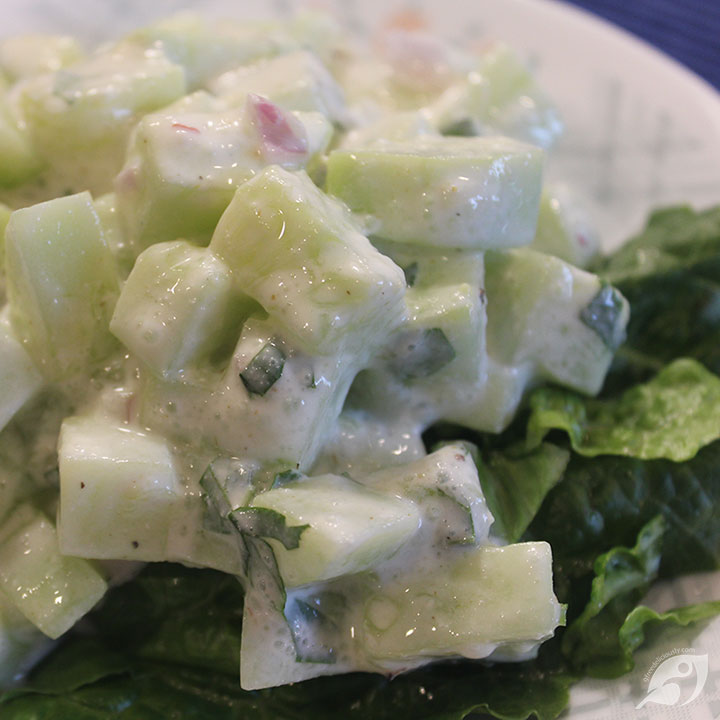 Cool Is Cucumber Mint Salad
Stateside recipe, Cool Cucumber Mint Salad is Inspired by the international flavors of Tzatziki and Raita…Greek-style yogurt, cucumbers, mint, spicy cumin…
INGREDIENTS
¾

cup

Greek Yogurt

plain

2

tablespoons

fresh Mint

chopped

1

tablespoon

Shallot

minced

½

teaspoon

kosher salt

½

teaspoon

ground Cumin

2

tablespoons

White Wine Vinegar

4

medium

Cucumbers

paired, seeded and diced into 1/2" x 1/2" cubes (about 3 ½ -4 cups)

Lettuce or other greens

Paprika

to garnish
Add ingredients to your Private Shopping List before ordering online.
Quick Add Ingredients to Shopping List
INSTRUCTIONS
Mix the yogurt, mint, shallot, salt, pepper, cumin, and vinegar. Add the cucumbers and toss lightly. Let rest in the refrigerator for 30 minutes for the flavors to blend.

Serve on lettuce or other greens with a garnish of paprika if desired.
KITCHEN NOTES
This salad, without greens, tastes excellent with chicken and fish. Dice the cucumbers into small cubes (approx. 1/4"x1/4" size) to prepare similar to a relish to sauce over the top when plating.
Nutrition
Calories:
65
kcal
Carbohydrates:
5.2
g
Protein:
5
g
Fat:
2.7
g
Saturated Fat:
1.3
g
Polyunsaturated Fat:
0.3
g
Monounsaturated Fat:
1.1
g
Trans Fat:
0
g
Cholesterol:
6.9
mg
Sodium:
311.9
mg
Potassium:
106.5
mg
Fiber:
0.5
g
Sugar:
3.9
g
Vitamin A:
17.9
IU
Vitamin C:
0.7
mg
Calcium:
63.4
mg
Iron:
0.5
mg
(Nutritional values are an approximation. Actual nutritional values may vary due to preparation techniques, variations related to suppliers, regional and seasonal differences, or rounding.)
Copyright © 2017-2023 Kymberley Pekrul | GfreeDeliciously | gfreedeliciously.com | All content and photographs are copyright protected. The sharing of this recipe is both encouraged and appreciated. However, copying and/or pasting full recipes to any social media is strictly prohibited. Please read my Photo Use Policy for detailed guidelines and further clarification.