The Pasta Salad CRAZE That's Shaped America - I say Macaroni! You say PASTA!
Culturally, when most of us think of pasta and the dishes created from its starchy noodles, we think of Italian food. But Macaroni Pasta Salad, a.k.a. Pasta Salad, and traditionally all macaroni and pasta salads, are more than likely believed to be an American food creation.
Still, it seems that no one's quite sure who first came up with the idea for macaroni or pasta salad, even though pasta has been a staple of American cookbooks for decades. And while these salads are not attributed to any one person, research points to the roots of these popular salads made from pasta, likely originating on American soil.
In the end, even though many of the world's cultures have long eaten various forms of the boiled dough, and while historians may tell you that the boiled dough is most associated with Italians; pasta, as we know it today, worldwide, is generally flour-and-water (and sometimes egg) rolled and cut or flattened into many shapes. And that is where this love affair with these doughy shapes called macaroni begins. At least for our recipe for Asparagus and Pea Macaroni Pasta Salad!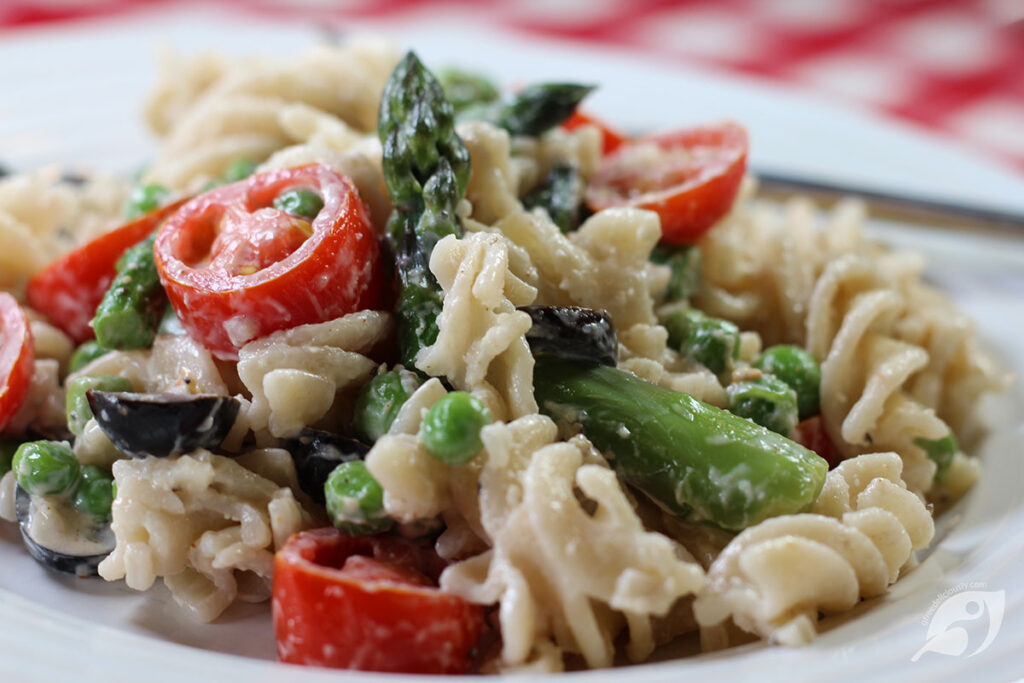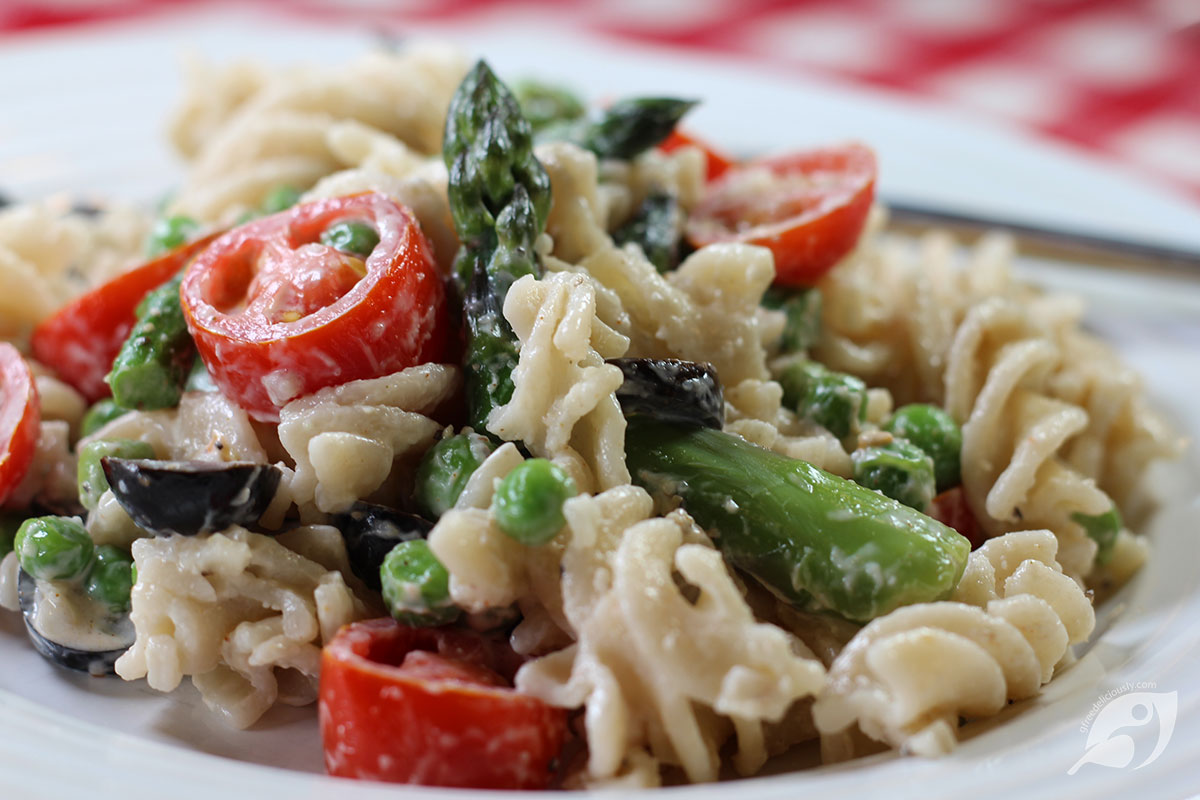 A Brief History of Pasta Through the Decades
Pasta, which usually refers to spaghetti, macaroni, or shaped noodles, has been around in print recipes in Italian and English since 1827 [1], though it dates in English print to 1661. Still, even earlier, it appears among the methods in the Forme of Cury [2] (a cookbook published in about 1390 by Richard II's "Chief Master-Cook). The macaroni and cheese (today's ultimate modern American comfort food) appear as a dish called macrows.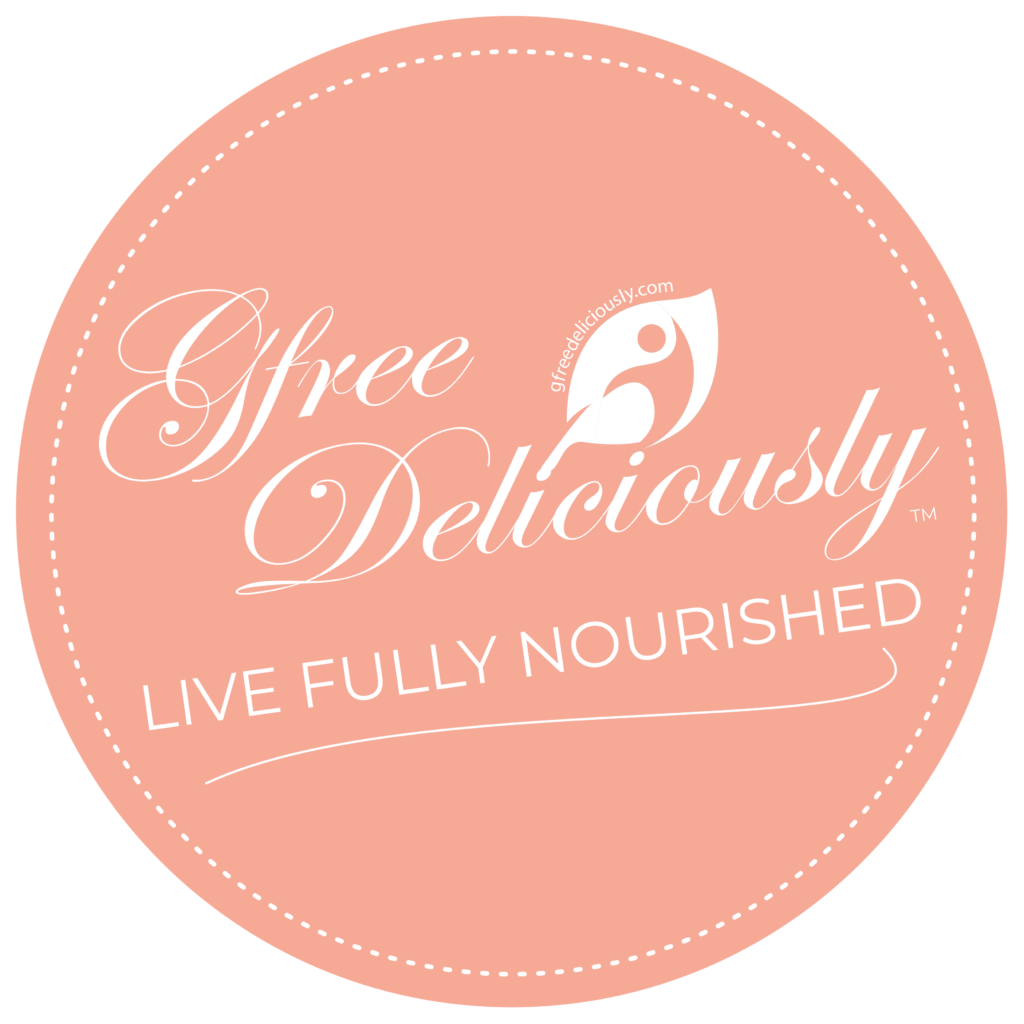 GET RECIPES • RESOURCES • +eNEWS UPDATES & MORE STRAIGHT TO YOUR INBOX !
Simple and delicious gluten-free recipes, family-friendly meal ideas, healthy cooking, encouragement, and easy-to-implement lifestyle strategies to live fully nourished… Only from GfreeDeliciously!
The Eighteenth Century (1701 to 1800)
Following earlier mentions, you may recall the reference to "macaroni" in the famous eighteenth-century American song "Yankee Doodle Dandy" – "stuck a feather in his hat and called it macaroni." And while you may think the term refers to pasta, it does not. The phrase is slang of the period for a dandy or a flop, after a club in London.
Furthermore, if you like food history...
You'll find it fascinating that Thomas Jefferson, although most likely not the first to introduce macaroni to America, did, however, help to popularize pasta by serving it to dinner guests during his presidency. A handwritten recipe by Jefferson himself still survives.
Although penned in Jefferson's hand, the food may have been cooked by James Hemmings, an enslaved black chef who had come to Monticello as a boy. Hemmings is known to have traveled with Jefferson to France for the primary purpose of training in "the art of cookery" in Paris to become a chef de cuisine (executive chef).
Eventually, Hemmings returned to the United States, where (in 1790) he was called upon to go to Philadelphia as a chef for the Secretary of State to prepare dinners for European diplomats, the president, Jefferson's fellow cabinet members, congressmen, and many national and international visitors.
Forking into Jefferson's interest in "macaroni" (the general word the president used for pasta), you may want to dig into his notes on Macaroni and about a "mould for making macaroni" being procured by Jefferson's emissary to Naples, William Short.  You can read all about it in this article courtesy of the Thomas Jefferson Encyclopedia.
Today, whether on the web or in-person, when visiting Thomas Jefferson's Monticello, hours can be spent digging into all of Jefferson's food-related history, from Batter Cakes to Dutch Ovens, ice cream to muffins, to whiskey, wine, and more in the Thomas Jefferson Library's Encyclopedia category under food and drink.
Bridging the Gap - (1801 thru the late 1930s)
Pasta (a.k.a. macaroni) rose to popularity in American food culture during the late 1800s and the early 1900s when recipes for pasta dishes began appearing in American cookbooks and newspapers from 1906 to 1914.
One notable cookbook published in 1902 was Mrs. Rorer's New Cook Book, written by Mrs. Sarah Tyson (Heston) Rorer (1849 – 1937). Mrs. Rorer is considered the first dietician in America and was widely known for her philosophy of dietetics about using food to maintain health and treat disease.
Mrs. Sarah Tyson (Heston) Rorer (1849 – 1937) is considered to be the first dietician in America and is known for her philosophy of dietetics (using food to maintain health and treat disease); she wrote in 1902 (Rorer, Mrs. Rorer's New Cook Book, 300), "…Until within the past few years, macaroni was prepared as a luxury only for the tables of the very rich. Even now, it is sparingly used throughout the country by the American laboring classes. There is no reason, considering the price, and the ease with which it is prepared, why it should not enter extensively into the food of all our people."
Rorer's fame spread through her columns in a Philadelphia-based monthly, Table Talk, and in Ladies' Home Journal.
The Twentieth Century (1901 to 2000)
As Americans know them today, pasta salads are the descendants of a long line of dressed macaroni dishes, both hot and cold.
During the early 20th Century (1901 through about the 1960s), recipes for macaroni and pasta salads began to appear more frequently in American cookbooks everywhere. These salads were typically dressed with mayonnaise and served in stunning cold-molded presentations – think perfect domes of chilled elbow macaroni salad served as sides in the diners and corner delis of yesteryear.
How to tell Macaroni Salad from Pasta Salad
Macaroni salad is a mayonnaise-dressed side dish, often made for picnics and potlucks.
Pasta salad is generally dressed with a vinaigrette and served as a side dish or a meal on its own.
Both are served chilled and are popular dishes for making and eating during hot weather.
Fast-Forward to More Modern Times...
The modern style of cooking began to define avoiding rich, heavy foods. Instead, the era emphasized fresh ingredients and presentation, showcasing a variety of pasta kinds and shapes. Cooks delighted in creating dishes with gourmet varieties of pasta of various colors, sizes, and shapes. As a result, pasta salad became trendy for carb-loading. All kinds of pasta' were elevated to the status of upscale, affordable cuisine and a creative approach for using leftovers, including the idea of mixing in vegetables, seafood, poultry, and other meats making the salad more of a meal on its own.
All types of macaroni and varieties of pasta surged in popularity as diet food. People were loading up on flavorful food combinations, and they could not wait to dig into a big bowl of what they thought was a low-calorie option full of flavor. Pasta salads became glorified as an option where people, following the cues of celebrities and supermodels, jumped on board the pasta train, regularly being photographed eating plates full of pasta salads as if they were ice cream sundaes. Oh, those were the days, my friend.
Later in the 1990s and into the 2000s
Americans eating pasta became more of a contradiction. To make noodles healthier, cooks focus on dressing them with simple ingredients and creative combinations to make them more nutritious. Brown butter was everywhere, especially on our pasta. Pesto pasta with grape tomatoes loaded with baby mozzarella cheese balls elevated in popularity. Simultaneously, ramen noodles became more than college dorm fare — even used for pasta salads.
The Twentieth Century (2001 to Present Day)
Pasta salads enter a new course category served and eaten as appetizers. They're popular as main dishes, or side dishes for lunches, suppers, or picnics.
America's favorite pasta is still an affordable convenience food hitting the shelves of groceries and gourmet markets in many shapes and varieties. Pasta is readily available online and at local grocery stores; in fresh or dried options, packages, and box kits for making it with or without a whole slew of added ingredients.
Elbow macaroni remains the go-to noodle for most Americans, and pasta salads still can be found at most delis; however, most over-the-counter options no longer present them in perfect chilled domes. Even so, nothing compares to the popularity of making macaroni or pasta salad at home for the freshest taste and flavor. The pasta-bilities are endless!
Perfect as a take-along for picnics and potluck dinners...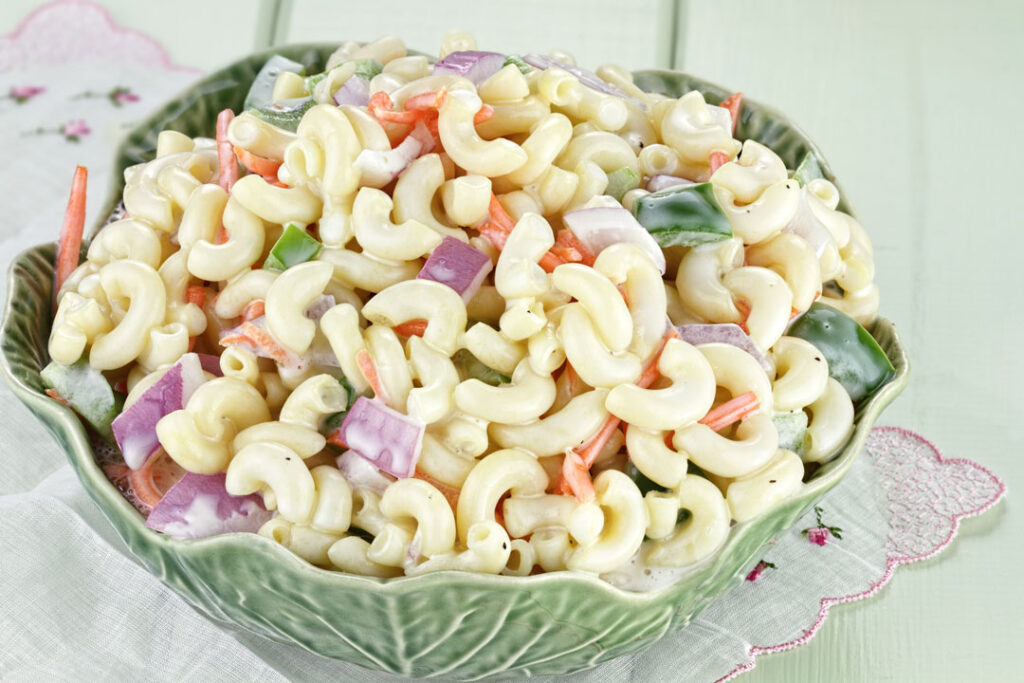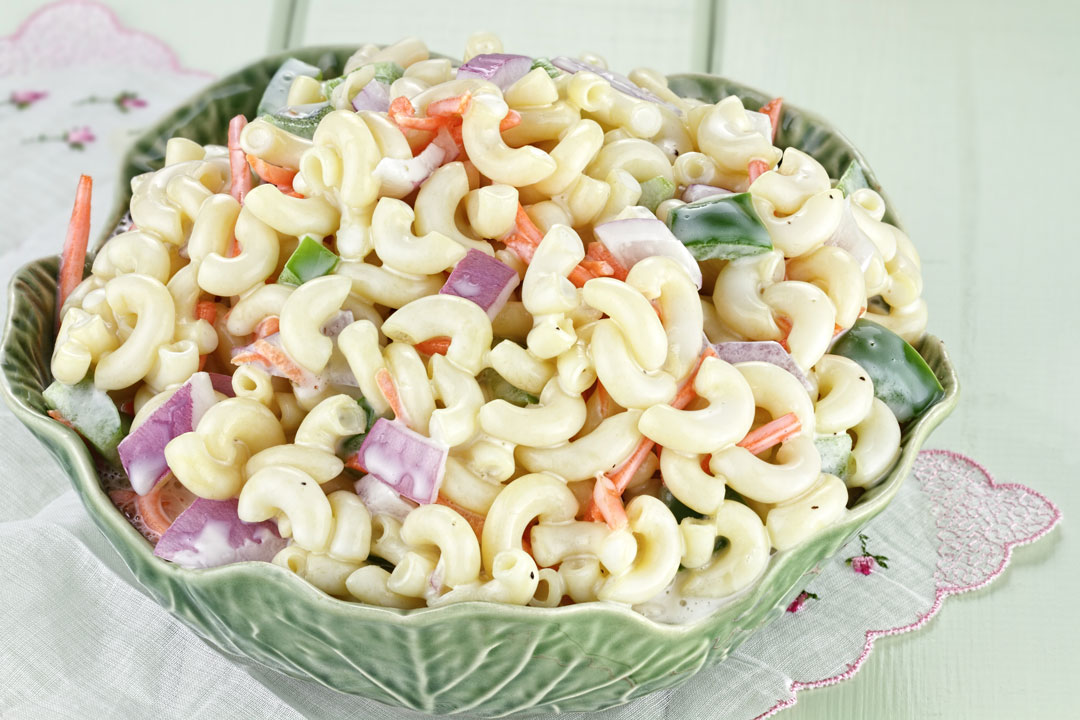 Did you like this recipe? Try these popular pasta salad recipes too!
Lemon Fusilli Salad with Shrimp
Seafood Pasta Salad with Imitation Crab
I hope you enjoy each of our pasta salad recipes on the website!
Who would've guessed that the pasta known as macaroni or pasta salad for that matter has such a fascinating history?
XXO
P.S. If you tried this recipe or liked reading about the history of macaroni and pasta salad, I would love to hear your thoughts. Let me know them in the comments section below.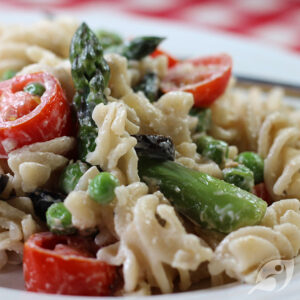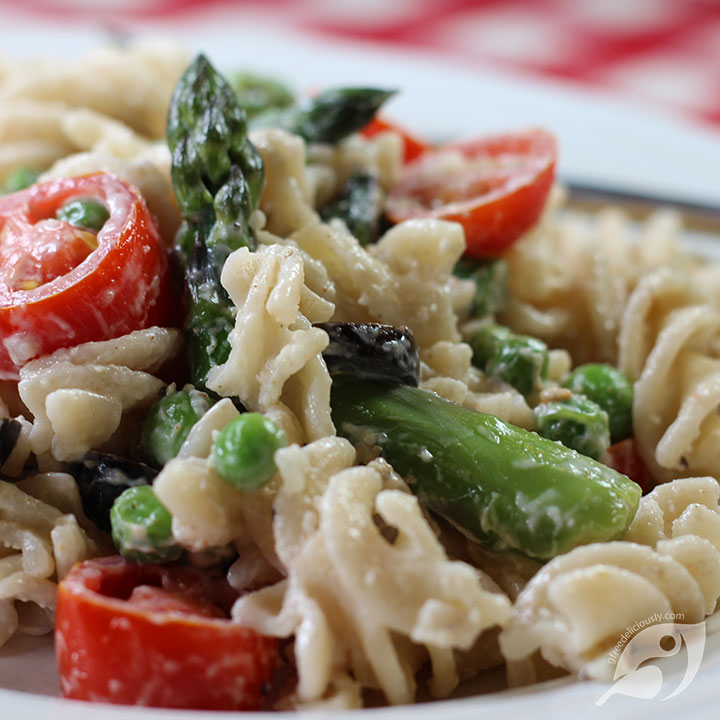 Asparagus and Pea Macaroni Salad
Skip the deli! This Asparagus and Pea Macaroni Salad is the perfect make-ahead convenience food for a quick lunch or picnic dish!
EQUIPMENT
Pot or Saucepans

Colander

bowls

Utensils (Whisk, Large Spoon, Measuring Cups and Spoons)
Add ingredients to your Private Shopping List before ordering online.
Quick Add Ingredients to Shopping List
INSTRUCTIONS
Cook pasta in a large pot or saucepan using the package directions as a guideline - most kinds of pasta cook in 8 to 12 minutes. Continue cooking until it is tender and firm but no longer crunchy - al-dente' (ahl-DEN-Tay). Drain the pasta, then rinse in cold water to bring the temperature down quickly, stopping the cooking process and keeping the noodles loose for the salad. Once cooled, transfer the cooled pasta to a colander or mesh strainer, and shake to remove excess water. Set aside.

Add peas and cut asparagus to a small saucepan, cover with water and bring to a boil for 2 minutes. Drain then rinse with cold water to cool, strain, and set aside.

Slice olives and tomatoes and set aside.

Combine the spices with the mayonnaise in a small mixing bowl and whisk to incorporate thoroughly.

Add the cooked pasta, asparagus and peas, black olives, and tomatoes to a large mixing bowl, stirring gently to combine.

Gently fold the mayonnaise and spice mixture into the pasta and vegetables until evenly blended.

Cover and place into the refrigerator for 30 to 45 minutes to allow for the flavors to mingle together. Stir gently before serving. Enjoy!
Nutrition
Calories:
258
kcal
Carbohydrates:
50.3
g
Protein:
2.5
g
Fat:
15.5
g
Saturated Fat:
2.4
g
Polyunsaturated Fat:
8.5
g
Monounsaturated Fat:
4
g
Trans Fat:
0
g
Cholesterol:
7.7
mg
Sodium:
310.3
mg
Potassium:
9598.4
mg
Fiber:
4.5
g
Sugar:
2.5
g
Vitamin A:
56.4
IU
Vitamin C:
9.5
mg
Calcium:
4072.3
mg
Iron:
9.2
mg
(Nutritional values are an approximation. Actual nutritional values may vary due to preparation techniques, variations related to suppliers, regional and seasonal differences, or rounding.)
Copyright © 2017-2023 Kymberley Pekrul | GfreeDeliciously | gfreedeliciously.com | All content and photographs are copyright protected. The sharing of this recipe is both encouraged and appreciated. However, copying and/or pasting full recipes to any social media is strictly prohibited. Please read my Photo Use Policy for detailed guidelines and further clarification.