Eat this Mascarpone & Pepper Penne Pasta tonight!
An easy, rustic, vegetarian-friendly, super delicious meatless bowl of penne pasta comfort!
That doesn't take a lot of effort...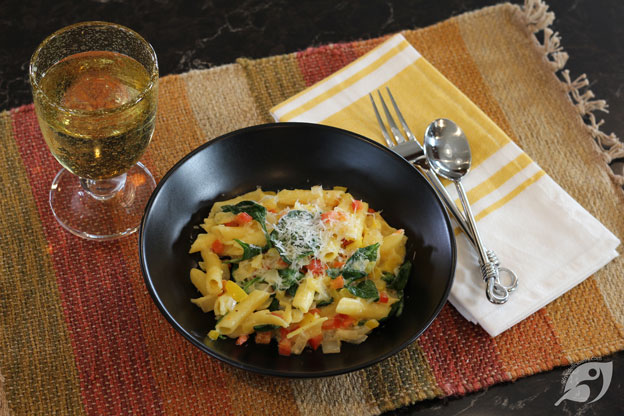 Easy-Peasy, Breezy, and...
You don't have to be a natural at cooking to make it L👀K effortless!
If you're like me, every so often, I get in a mood where I don't have much effort to cook.
When this happens, and my cooking mojo just isn't flowing quite like it usually does, anything I force-cook comes out half-assed and mediocre at best. It's not at all like when I've got my timing down and blissfully rolling along enjoying the process of cooking. So instead, it turns out overcooked, under-cooked, or seasoned way too much or too little.
To combat this happening, over the years, I've learned to "plan" for those days when my mojo takes flight to the normal relaxing rhythm of everyday cooking bliss. In a nutshell, I'm talking about planning out weekly meals allowing for those days when things are all off-kilter.
This easy Mascarpone & Pepper Penne Pasta recipe is one of my go-to meals perfect for those kinds of off-kilter days; it's super delicious and vegetarian-friendly too!
Watch #CookingGfreeDeliciously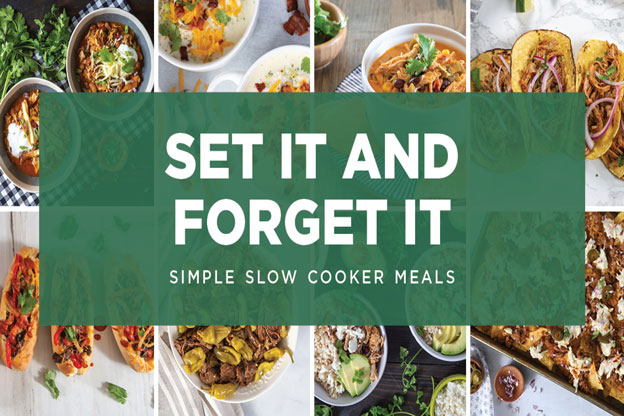 We believe cooking should be fun, but we also know it can sometimes be intimidating, especially when cooking gluten-free. That's why we strive to help home cooks of all levels learn, practice and grow their basic skills through easy (always gluten-free) recipes that help make cooking an enjoyable experience. Follow us on Facebook to be among the first to watch! 
See something you liked during a video? Shop the Faves for all the brands we recommend.
These go-to meals can be anything from beans and franks to one of your favorite pasta dishes like this one is for me. If you want to know more about "Meal Planning" versus "Meal Prepping" for effortless cooking, check out the post that includes a free download for a meal plan template.
Here's a Peek at the free Meal Planning Download...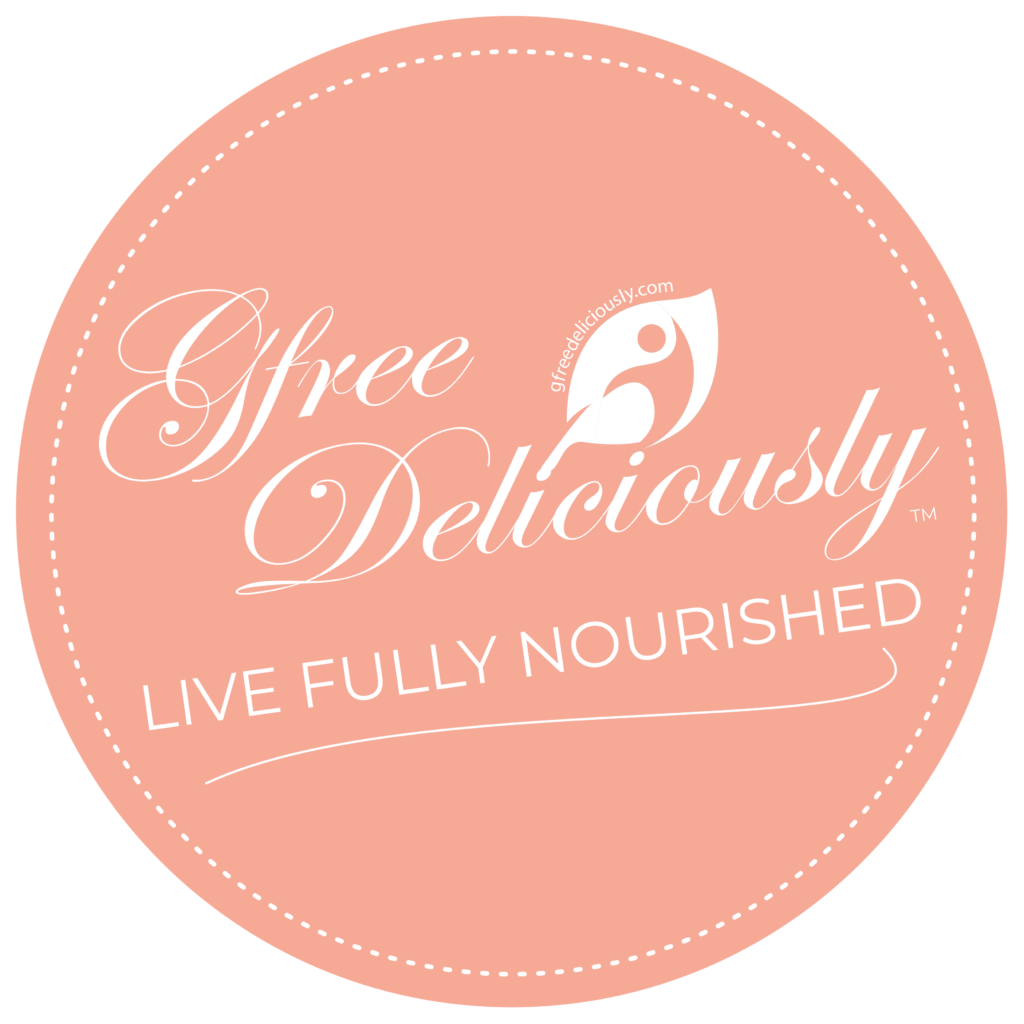 GET RECIPES • RESOURCES • +eNEWS UPDATES & MORE STRAIGHT TO YOUR INBOX !
Simple and delicious gluten-free recipes, family-friendly meal ideas, healthy cooking, encouragement, and easy-to-implement lifestyle strategies to live fully nourished… Only from GfreeDeliciously!
Here's How to Make One of my Favorite Go-to-Recipes -
Mascarpone & Pepper Penne Pasta
This meal is so simple and one of my favorite go-to meals to get me back on track when my cooking mojo goes haywire.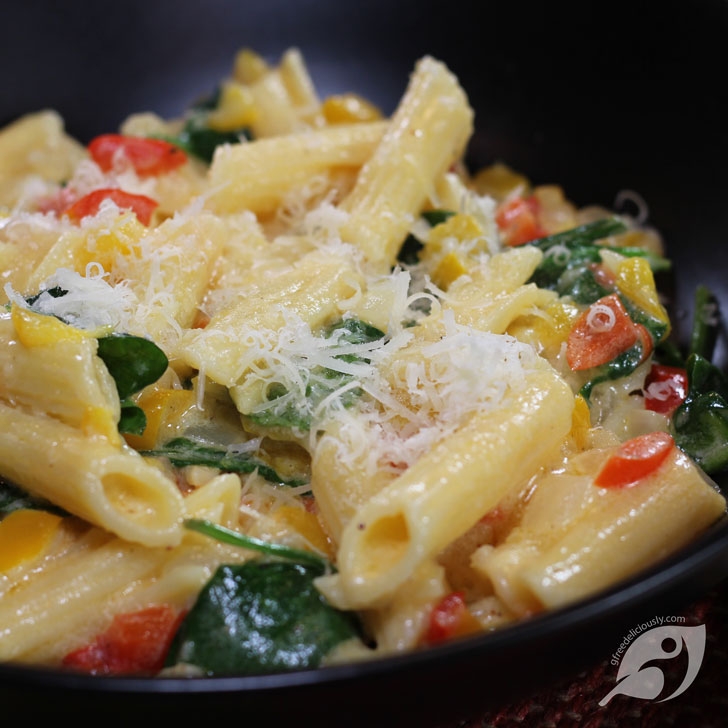 The Penne pasta's angled edges work amazingly in this dish to capture the chunky vegetable sauce made with sweet bell peppers, onions, olive oil, garlic, and mascarpone cheese. The ingredients build on rustic and simple flavors stewed together where everything gets tender and delicious without getting mushy.
You'll begin by slow-cooking chopped sweet red and yellow bell peppers and onions
…with olive oil in a heavy-bottomed, high-sided pot or skillet for about 15-20 minutes or so on medium-low heat. Then add the garlic and season with salt, pepper, and a dash of ground nutmeg to taste, cooking for 2-3 minutes more. As the ingredients cook low and slow, the onions become translucent while the peppers infuse the oil, loading it with flavor.
While the peppers are cooking,
…put a large pot of salted water on to boil. Add the penne pasta to the boiling water and cook according to the instructions: drain, and reserve about ½ cup of the pasta cooking water.
Next, Mascarpone cheese (pronounced mahs-car POH-nay)
…adds a creamy texture when added to the pepper and onions to make the sauce. Add the mascarpone and reduce the heat to its lowest setting to slowly melt the cheese into the pepper and onion mixture, adding a little of the reserved pasta cooking water in if needed to make a creamy sauce. This sauce acts as the facilitator to marry all the flavors into one delicious bowl of pasta goodness.
…pour the pepper and onion sauce over the pasta's top; I like to add a handful or two of fresh baby spinach and toss lightly to coat the pasta nicely. To finish it off, sprinkle with a grating of parmesan cheese!
Picture the recipe step-by-step...
It never hurts to meal plan earlier in the week to be ready for when you're in a hurry or for when you aren't in the mood to do a lot of pre-prep for your cooking. If you know ahead of time that you'll be making this dish later, here are a few tips to save you time:
Deseed the peppers, chop them up, and store them ready to go in the refrigerator in tight-sealing containers or zipper bags to use later
Dice your onion too
Pre-measure your pasta into a plastic zipper bag if you know you won't be using the whole bag or box, or
You can always pre-cook the pasta to al 'dente and store it in the refrigerator until you're ready to finish cooking and add it to your dish
And remember to reserve about 1/2 cup of the starchy pasta water. It will save in the refrigerator too!
Are you a meat-eater looking for a little protein to add to this dish?
Here are a few suggestions for adding satisfying protein to this dish:
Grilled, sliced chicken breast
Grilled, sliced bratwurst
Sauteéd shrimp
For more easy, healthy recipes that you can meal prep, check out this month's round-up of ideas in the Meal Prep Collection!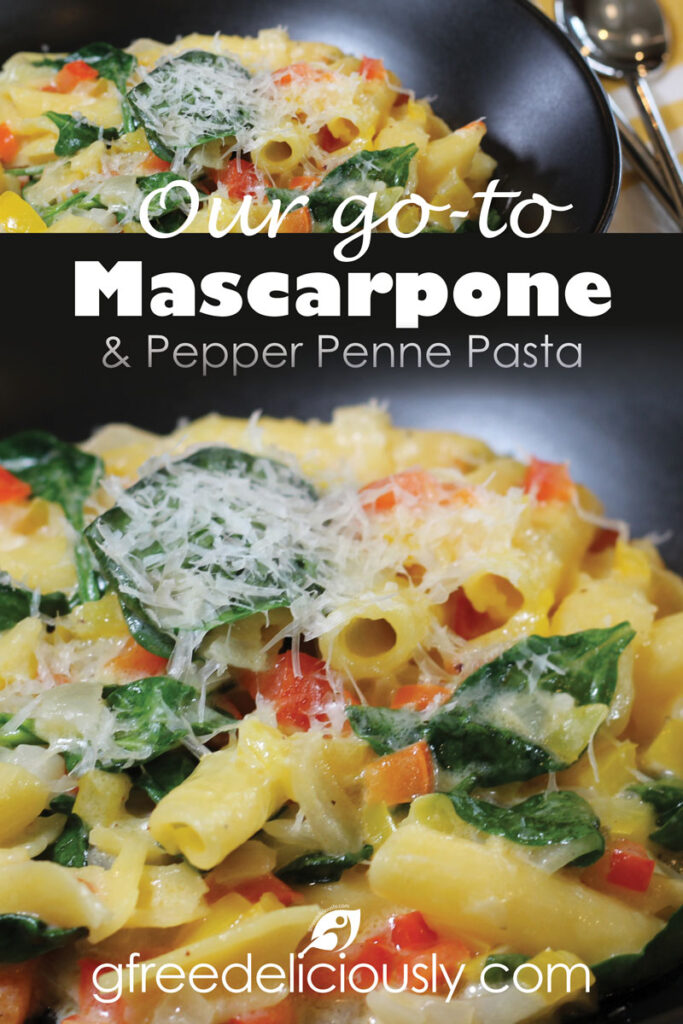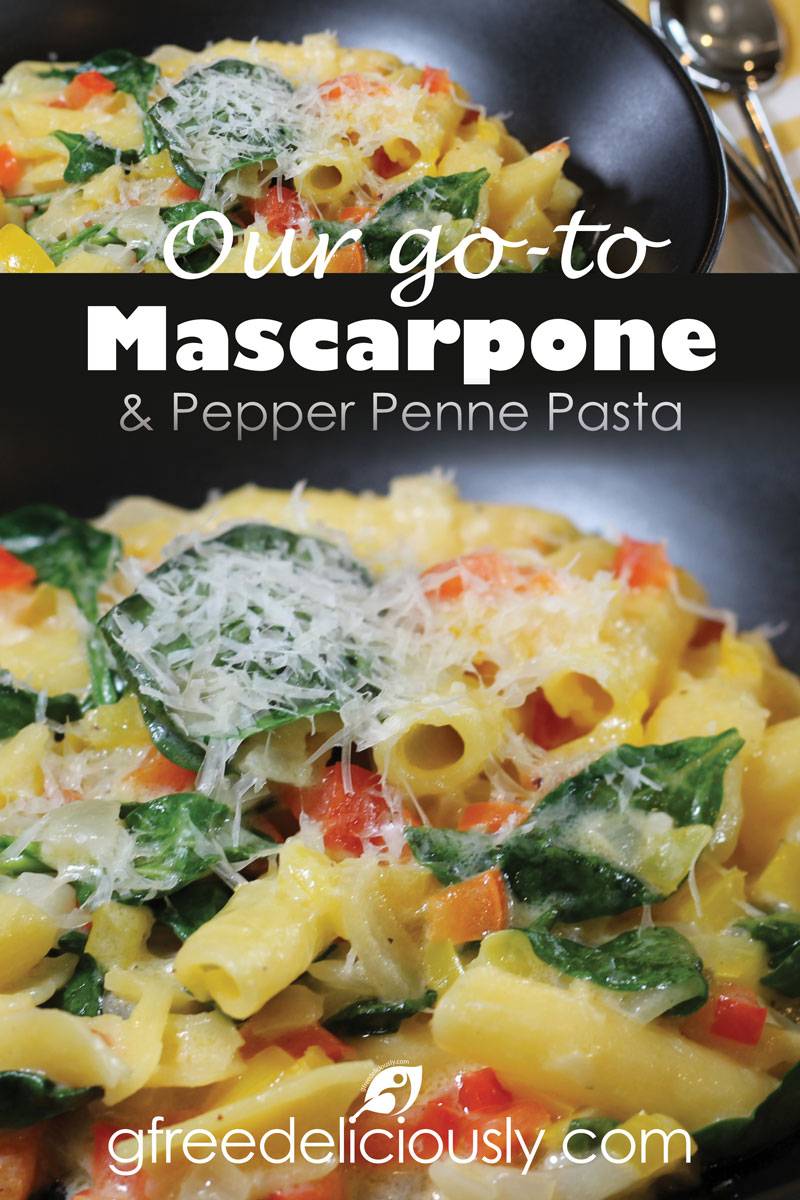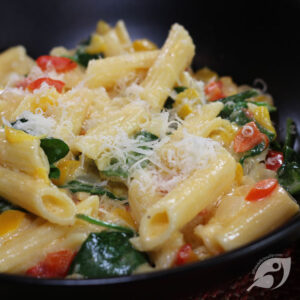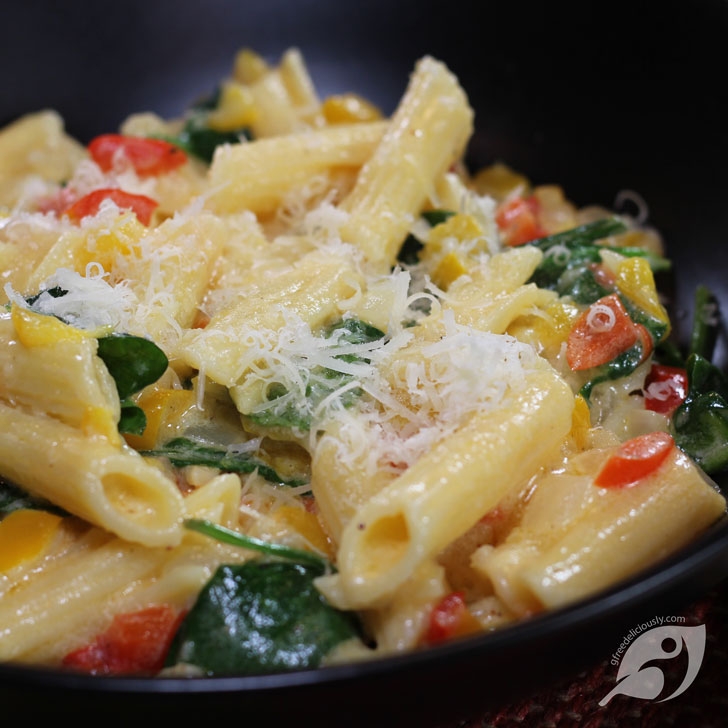 Mascarpone & Pepper Penne Pasta
Taking inspiration from Peperonata (an Italian stewed sauce of Sweet Bell Peppers with Olive Oil, Onion, Garlic, and Tomatoes), we've skipped the tomatoes and concentrated on summery yellow and red bell peppers, then stirred in mascarpone cheese and baby spinach to serve over penne pasta for a budget-friendly meal full of saucy comforting flavor!
EQUIPMENT
Cutting Board

Heavy-bottomed, high-sided pot, skillet, or Dutch Oven

Large Saucepan

Utensils (Cooks Knife, Measuring Cups & Spoons, Large Spoon)
INGREDIENTS
1

Red Bell Pepper

1

Yellow Bell Pepper

1

large

Yellow Onion

2

tablespoons

Olive Oil

1

tablespoon

garlic

½

teaspoon

White Pepper

¼

teaspoon

Salt

⅛

teaspoon

ground Nutmeg

12

ounces

gluten-free Penne Pasta

cook according to the instructions: drain, and reserve about ½ cup of the pasta cooking water.

8

ounces

Mascarpone Cheese

2

handfulls

Baby Spinach

about 4 ounces
Add ingredients to your Private Shopping List before ordering online.
Quick Add Ingredients to Shopping List
Nutrition
Calories:
654
kcal
Carbohydrates:
73.1
g
Protein:
14.5
g
Fat:
32.8
g
Saturated Fat:
18.5
g
Polyunsaturated Fat:
1.3
g
Monounsaturated Fat:
5.2
g
Trans Fat:
0
g
Cholesterol:
70.9
mg
Sodium:
195.7
mg
Potassium:
418.7
mg
Fiber:
4.7
g
Sugar:
8.1
g
Vitamin A:
125.1
IU
Vitamin C:
55
mg
Vitamin D:
0
µg
Calcium:
131.5
mg
Iron:
3.6
mg
(Nutritional values are an approximation. Actual nutritional values may vary due to preparation techniques, variations related to suppliers, regional and seasonal differences, or rounding.)
Copyright © 2017-2023 Kymberley Pekrul | GfreeDeliciously | gfreedeliciously.com | All content and photographs are copyright protected. The sharing of this recipe is both encouraged and appreciated. However, copying and/or pasting full recipes to any social media is strictly prohibited. Please read my Photo Use Policy for detailed guidelines and further clarification.