Utah's Favorite Condiment
The places we have visited so often influence the foods we love and eat all the time. Such is the case with what has become our favorite dipping sauce recipe of all time – a knock-off of Utah's favorite condiment, the 1940s pink-hued dip known as Fry Sauce, reportedly first made by Don Carlos Edwards, the owner of Don Carlos' Barbecue.
Dear hubby came across the original fry sauce on a business trip through Salt Lake City, Utah, when he caught a quick lunch at a fast-food chain and fell in love with the mayo and ketchup mixture that inspired him to come home and make his own.
Over the years, Dear Hubby, who by the way loves concocting foods in the kitchen, too, has modified the original mixture of an equal amount of Hellman's Mayonnaise and ketchup to include a bit of spicy zing. Today's recipe is his rendition and a complete fry sauce knock-off recipe resulting from another knock-off concoction (discovered in Idaho) that provides for salsa.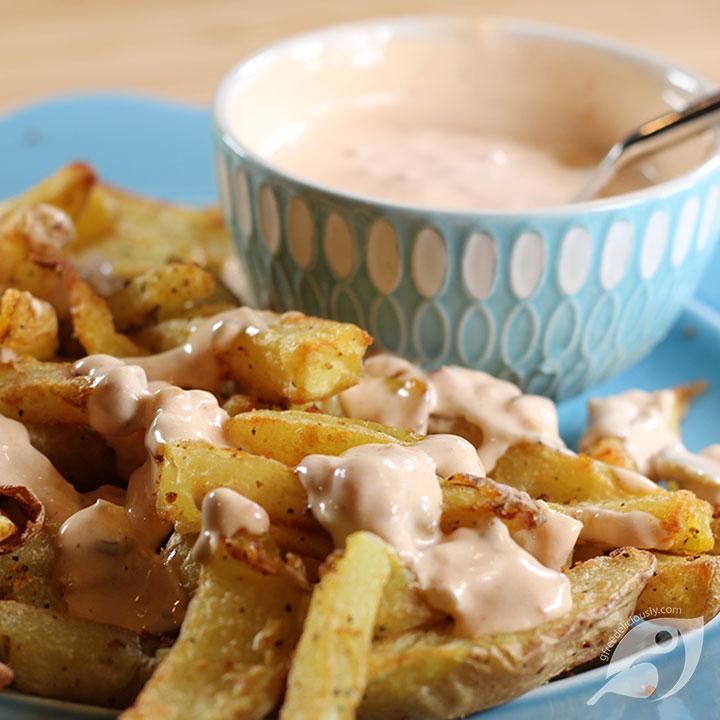 This Homemade Dipping Sauce Recipe is So Super Simple
I am almost embarrassed to call this dipping sauce how-to a recipe because it's simple to make. Here it is:
Combine the ingredients into a small bowl and whisk them up.
What could be simpler, right? But seriously, that's it. That's the entire how-to for making this versatile sauce to accompany so many of your favorite foods.
Watch #CookingGfreeDeliciously
We believe cooking should be fun, but we also know it can sometimes be intimidating, especially when cooking gluten-free. That's why we strive to help home cooks of all levels learn, practice and grow their basic skills through easy (always gluten-free) recipes that help make cooking an enjoyable experience. Follow us on Facebook to be among the first to watch! 
See something you liked during a video? Shop the Faves for all the brands we recommend.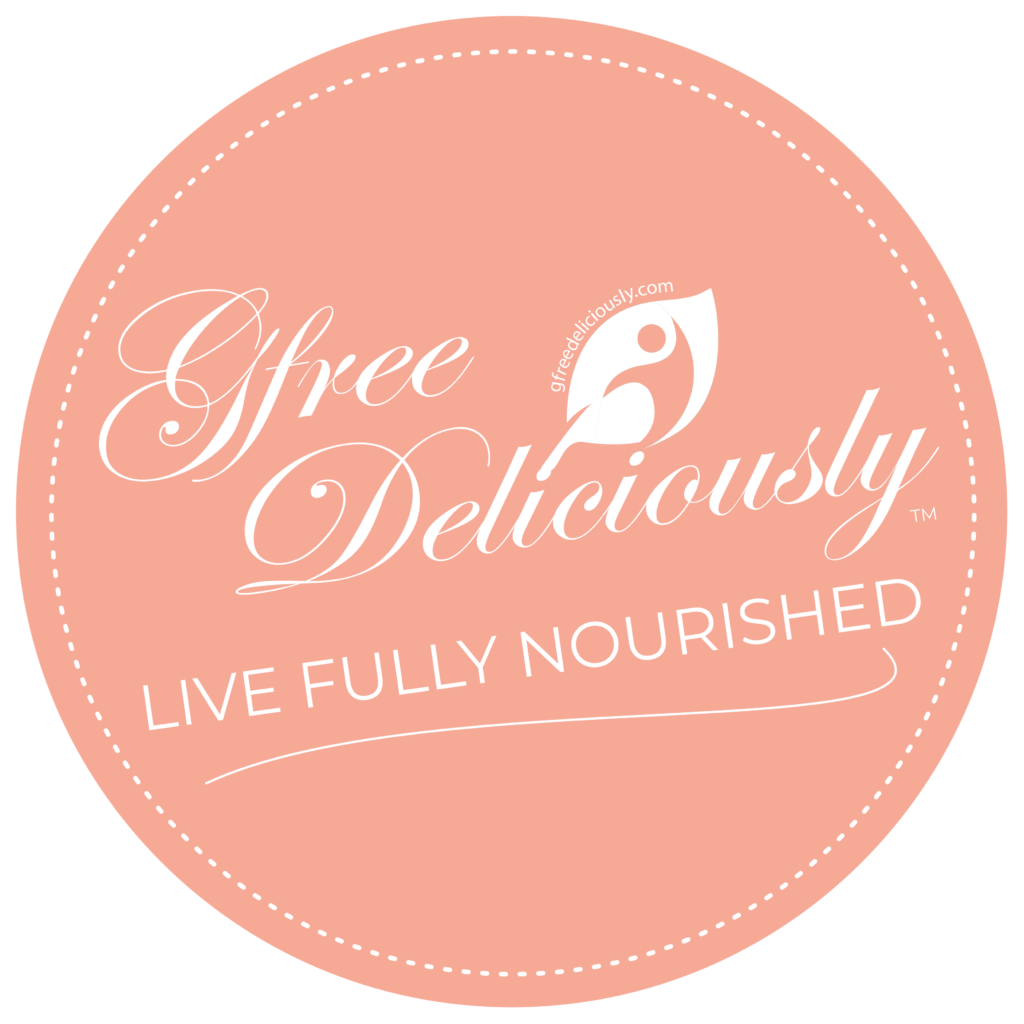 GET RECIPES • RESOURCES • +eNEWS UPDATES & MORE STRAIGHT TO YOUR INBOX !
Simple and delicious gluten-free recipes, family-friendly meal ideas, healthy cooking, encouragement, and easy-to-implement lifestyle strategies to live fully nourished… Only from GfreeDeliciously!
Adjust the dipping sauce to your taste.
Play around with this dipping sauce recipe to make it your own by adjusting the spice amount to your particular taste preference using a hotter or milder salsa or cutting the amount of hot sauce called for, or skipping it altogether.
It's your choice.
How long will dipping sauce keep?
Make the dipping sauce ahead of time, and keep it covered for staying fresh in the refrigerator for up to a week – if it lasts that long!
When you're ready to serve it, give it a simple, quick stir before dipping or dolloping on your favorite finger foods and appetizers.
How to use dipping sauce?
Serve this dipping sauce as a condiment or dollop it, or  smear it on your favorite foods…
Use as a dipping sauce alongside:
Fries
Sweet Potato Fries
Chicken tenderloins or chicken nuggets and
Vegetables
Dollop it on top of:
Baked potatoes
Burgers
Enchiladas
Fish or fish sticks
Fried Chicken
Salmon
Smear it on:
Quesadillas
Or use on your favorite wrap
Ummm – The possibilities are endless. Enjoy!
Our Favorite Dipping Sauce
Picture the recipe step-by-step...
Sauce it up with these saucy recipes...
I know so many saucy recipes to try.
In the meantime, if you try what has become our favorite dipping sauce, let us know.
Click the blue-green comment bubble at the bottom left corner of your screen to let me know in the comment area below. I would love to hear!
XXO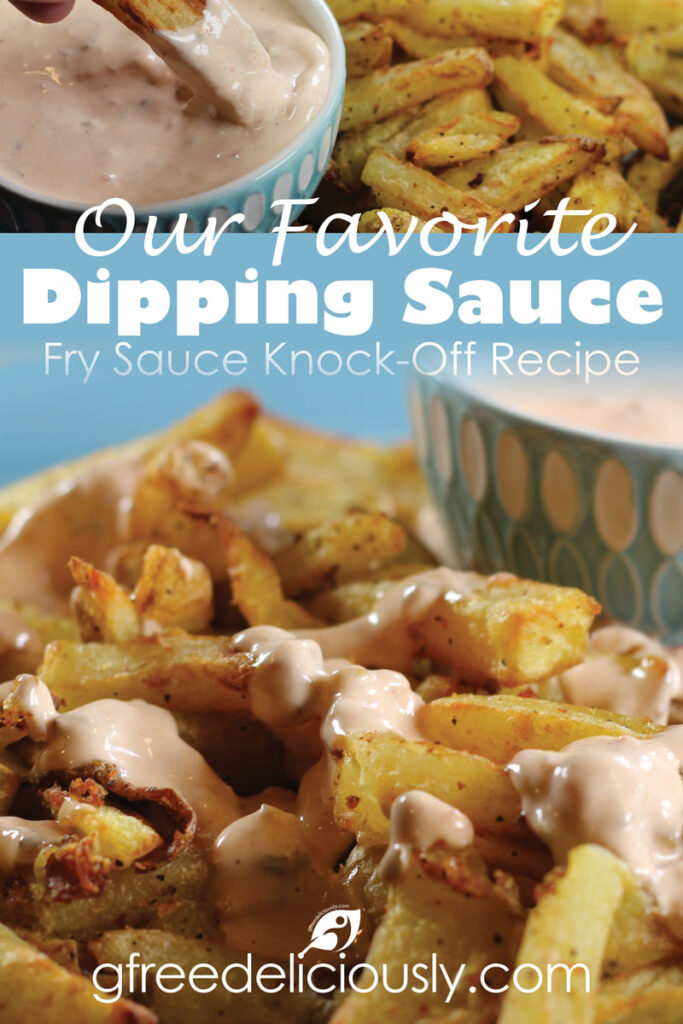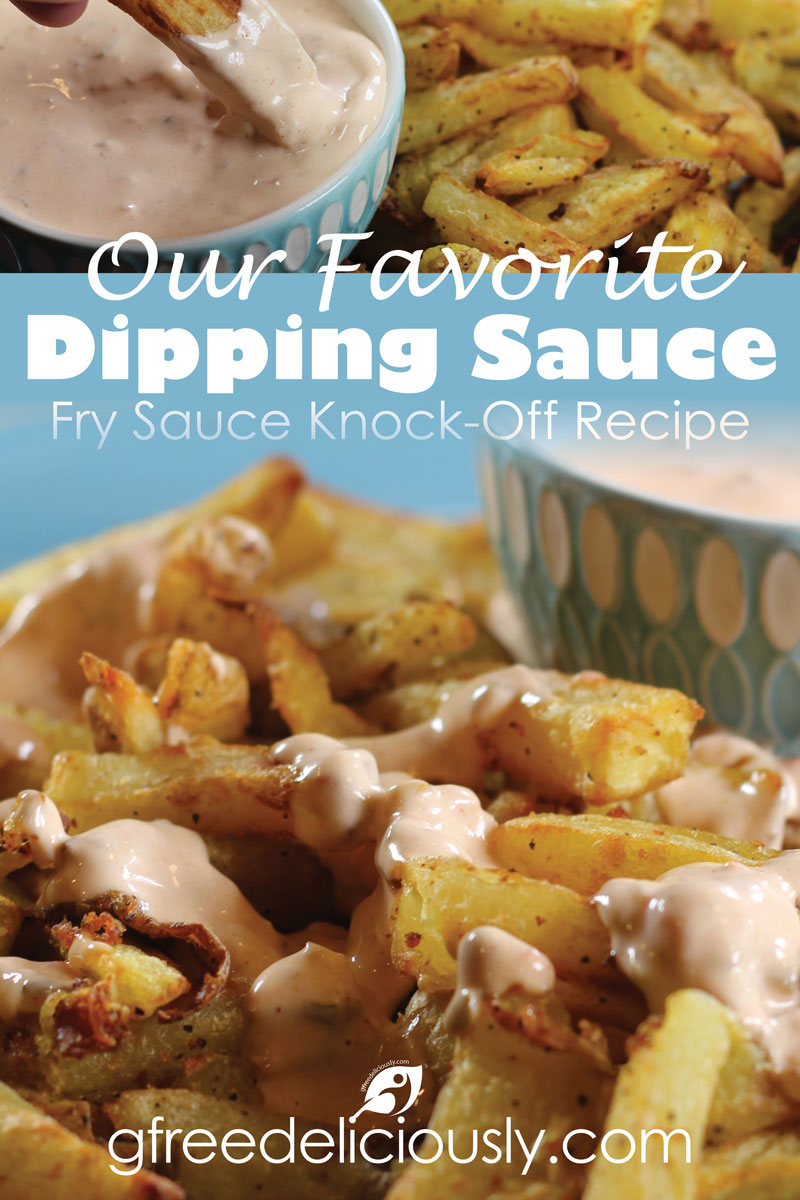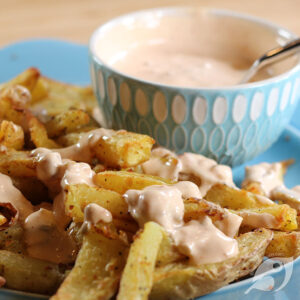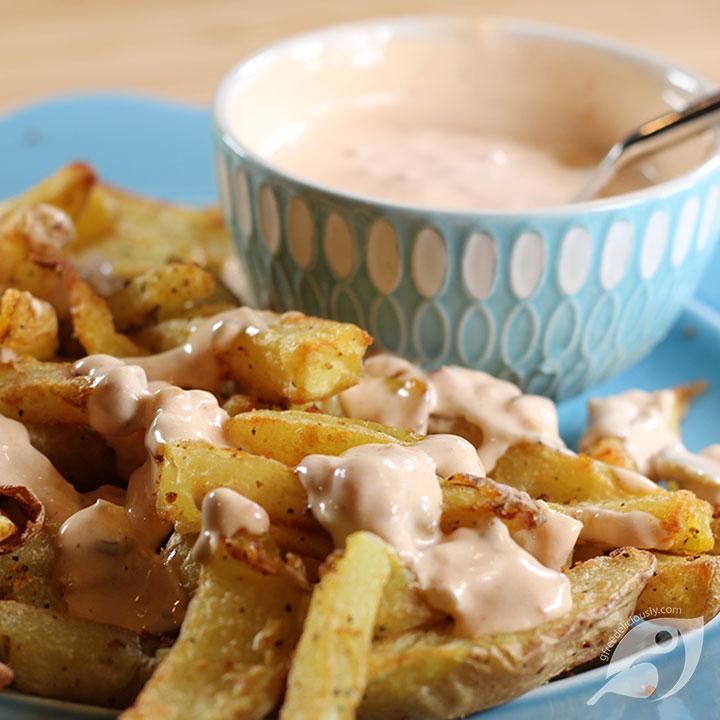 Our Favorite Dipping Sauce [Fry Sauce Knock-Off] Recipe
Got 5 Minutes? You will love this simple dipping sauce [Fry Sauce Knock-Off] recipe for your favorite finger foods and appetizers.
EQUIPMENT
small mixing bowl

Utensils (Measuring Cups & Spoons, Whisk, Rubber Spatula)
INGREDIENTS
Add ingredients to your Private Shopping List before ordering online.
Quick Add Ingredients to Shopping List
Nutrition
Calories:
69
kcal
Carbohydrates:
0.5
g
Protein:
0.1
g
Fat:
8.1
g
Saturated Fat:
1
g
Polyunsaturated Fat:
1
g
Monounsaturated Fat:
5.3
g
Trans Fat:
0
g
Cholesterol:
10
mg
Sodium:
131.2
mg
Potassium:
16.9
mg
Fiber:
0.1
g
Sugar:
0.3
g
Vitamin A:
2.2
IU
Vitamin C:
1.3
mg
Vitamin D:
0
µg
Calcium:
0.7
mg
Iron:
0.1
mg
(Nutritional values are an approximation. Actual nutritional values may vary due to preparation techniques, variations related to suppliers, regional and seasonal differences, or rounding.)
Copyright © 2017-2023 Kymberley Pekrul | GfreeDeliciously | gfreedeliciously.com | All content and photographs are copyright protected. The sharing of this recipe is both encouraged and appreciated. However, copying and/or pasting full recipes to any social media is strictly prohibited. Please read my Photo Use Policy for detailed guidelines and further clarification.