Healthier Game-Day Snack:
Lightened-Up Creamy Shrimp Dip Recipe
Get ready to score big with this Game-Day Deliciously Creamy Shrimp Dip! This dip is the ultimate game-day snack with juicy shrimp and creamy flavors. Whether you're hosting a watch party or tailgating at the stadium, this crowd-pleasing dip will have everyone cheering. With just a few simple ingredients, you can whip up this dip nearly as fast as Packers Christian Watson can score a touchdown. So, grab some chips or veggies, gather your friends, and get ready to enjoy the deliciousness of this creamy shrimp dip while cheering on your favorite team. Game on!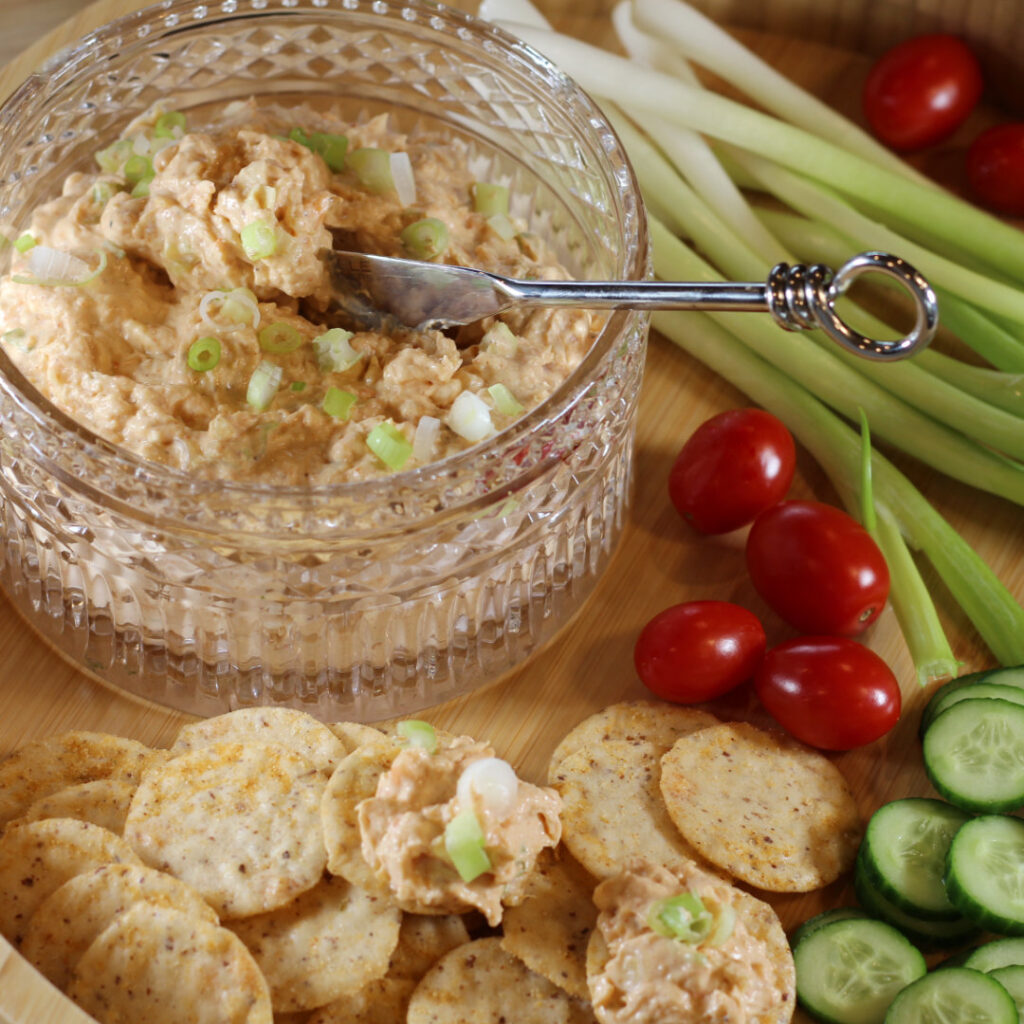 Please note that the calories listed reflect the total yield amount for this recipe.
A Crowd-Pleasing Dip to Amp up Your Game-Day Menu
When it comes to game-day snacks, there's nothing quite like a creamy, flavorful dip to satisfy your cravings. And if you're a seafood lover, you're in for a treat with this mouthwatering recipe for Creamy Shrimp Dip. Packed with succulent shrimp, creamy Neufchatel cheese, and a medley of flavorful spices, this dip is the perfect indulgence to enjoy while cheering on your favorite team.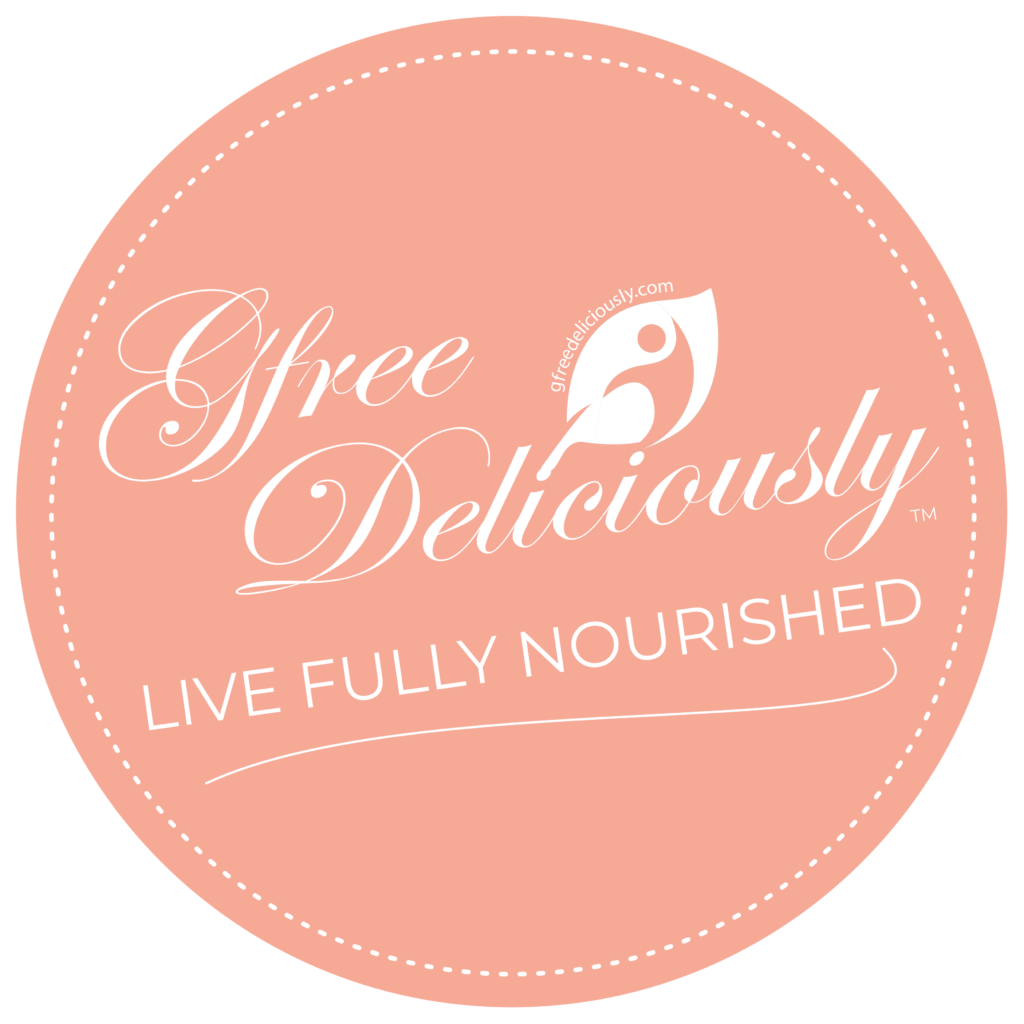 GET RECIPES • RESOURCES • +eNEWS UPDATES & MORE STRAIGHT TO YOUR INBOX !
Simple and delicious gluten-free recipes, family-friendly meal ideas, healthy cooking, encouragement, and easy-to-implement lifestyle strategies to live fully nourished… Only from GfreeDeliciously!
Score Big with this Creamy Shrimp Dip on Game-Day
Imagine taking a bite of this dip and being met with a burst of creamy goodness, perfectly complemented by tender pieces of shrimp. We've used the combination of lightened-up (less fat) Neufchatel cream cheese with chili sauce and lemon juice to create a rich, luxurious, velvety base. The shrimp adds a delightful texture and a subtle salty flavor that elevates the dip to new heights.
But it's not just about the shrimp – the dip is also enhanced by adding flavorful ingredients that bring depth and complexity. A dash of Worcestershire sauce adds a savory tang, while cayenne pepper and smokey paprika provide aromatic notes that are hard to resist. Finally, a sprinkle of green onions adds a hint of freshness, balancing the richness of the dip and bringing all the flavors together.
The best part about this dip? It's incredibly easy to make. With just a few simple steps and minimal prep time, you can have a crowd-pleasing snack ready for game time. Chop or use your mini food processor to pulse the cooked shrimp into bite-sized pieces, combine all the ingredients, and let the flavors meld in the refrigerator. When it's time to serve, you'll have a creamy, shrimp-filled dip that is sure to impress the fans.
Whether hosting a game-day gathering or looking for a delicious snack while watching the big game, this Creamy Shrimp Dip is a guaranteed winner. So, grab a bag of chips or some crispy veggies, and get set to indulge in this delectable creation. Your taste buds will thank you, and your guests will be coming back for more.
Ingredients & Substitutions…
Creamy Base: The creamy base for this dip is made with Neufchatel cream cheese (room temperature), chili sauce, and lemon juice (about one medium lemon, juiced). Mix until smooth and creamy before adding the…
Worcestershire Sauce & Seasonings: The Worcestershire sauce adds a savory tang, while cayenne pepper and smokey paprika provide aromatic notes that are hard to resist.
Green Onions: To add flavor and vibrant color, green onions are stirred in and used as a garnish.
Shrimp: Look for frozen cooked shrimp that is peeled and de-veined, with tails removed. Thaw the shrimp and then chop them, or use your food processor to pulse the cooked shrimp into bite-sized pieces.
Additions & Substitutions: Red bell pepper is an excellent addition to add a bit of sweetness, crunch, and color to this dip. We've also added fresh minced jalapeno pepper to add spiciness or minced celery for extra crunch.
What to Serve with Shrimp Dip
Here are our favorite options for serving with shrimp dip.
Fresh vegetables: You won't go wrong with fresh veggies like carrot sticks, celery spears, cucumber rounds, radishes, cherry tomatoes, and bell pepper strips. Add the dip to complete a touchdown-worth vegetable tray!
Crackers: There are many types of gluten-free crackers. These crisps with a hint of sea salt are some of our favorites.
Pretzels: Whether you choose pretzel twists, sticks, or rods, gluten-free pretzels are easy to find online and at local grocery stores.
Bagel Chips: Gluten-free bagel chips are a little more challenging to find. We like making bagel chips ourselves by toasting these bagel thins ahead of time. They're delicious, and they work great for dipping!
Tortilla Chips: Gluten-free tortilla chips are super easy to find in most local grocery stores. You can never go wrong with crispy, crunchy tortilla chips.
Pickles: Using pickles might be a little different way of dipping, but the salty, pickle briny taste is a perfect compliment to this dip. Try it to see for yourself!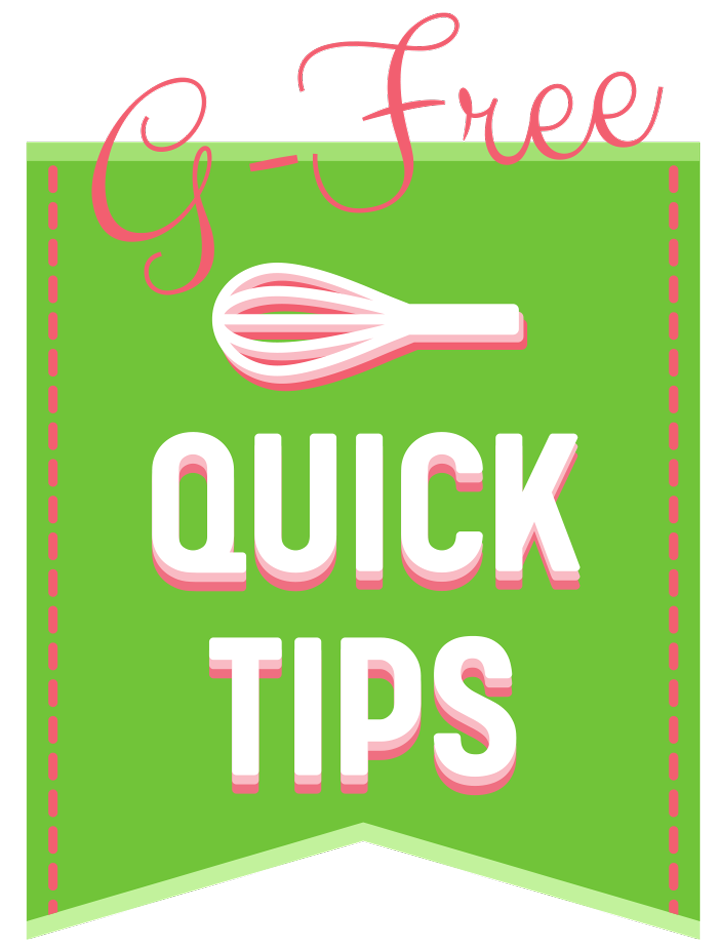 We recommend piling shrimp dip into an airtight container with a tight-fitting lid to store it. Next, add a layer of plastic wrap smoothed over the top of the shrimp dip. Doing this will seal out any air trapped in the container. Cover with a tight-fitting lid, then store it in the refrigerator. It will easily last 2-3 days.
To serve, scoop the dip into a serving bowl and garnish with additional green onions and a couple of whole-cooked shrimp if desired. Serve immediately with gluten-free crackers, corn chips, or fresh veggies.
For more healthy recipes that you can make in advance, check out our round-up of ideas in the Meal Prep Collection!
We hope you'll enjoy this Game-Day Deliciously Creamy Shrimp Dip and find it a fantastic option to serve at your next gathering or party.
The creamy base, succulent shrimp, and various spices create an irresistible, harmonious blend we're sure you'll find delicious. Maybe best of all, is that not only is this dip incredibly delicious, but it's also easy to make, allowing you to spend more time enjoying the game and socializing with friends and family.
Among the standout features of this shrimp dip is its versatility. Whether served with crispy tortilla chips, toasted baguette slices, or even fresh vegetable crudités, it complements a wide range of dippers, making it suitable for all your guests.
We love it because the dip recipe can be easily modified to suit personal taste preferences. Whether you prefer a spicier kick, a milder flavor, or want to add some extra herbs and seasonings, it's a versatile dip that allows for loads of creativity, so feel free to experiment with your favorite combinations.
Looking for more game-day foods? Check out these game-day ideas:
To print or save this recipe, scroll to the recipe card below.
Then, grab your ingredients, put on your favorite team jersey, and prepare to wow your guests with a bowl of deliciously creamy shrimp dip.
Thanks for stopping by. Have a happy time cooking!
XXO
P.S. When you try this recipe, let us know how you like it! Leave a comment below, share it, and rate it – it's super helpful for other readers and us. Just click the blue-green comment bubble on the bottom right of your screen to jump to the comment area below.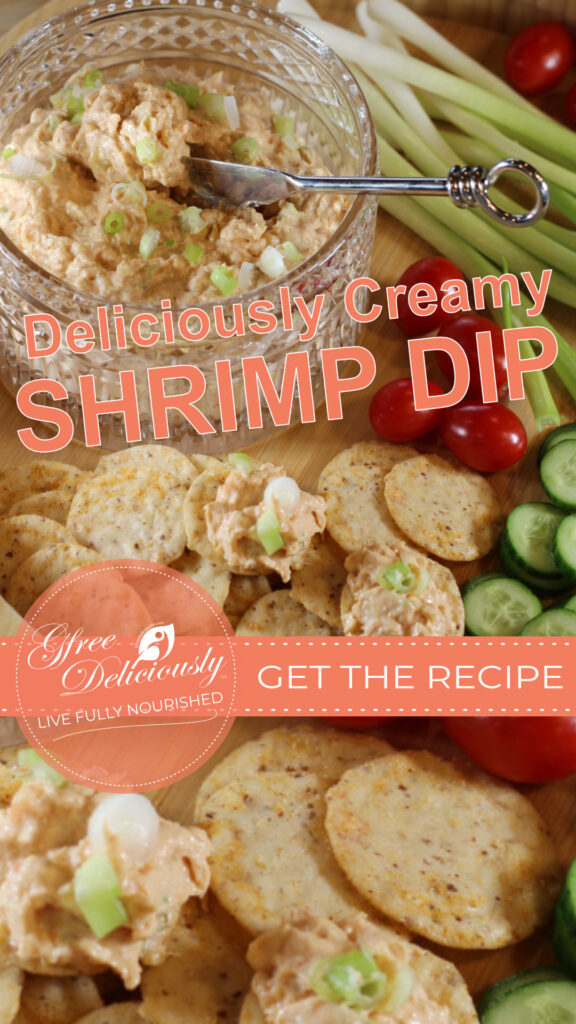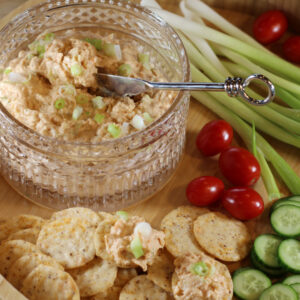 Game-Day Deliciously Creamy Shrimp Dip
Game-Day Deliciously Creamy Shrimp Dip is a must-have for any sports event! This easy-to-make dip is packed with flavor and will leave your guests wanting more.
EQUIPMENT
1 small bowl

1 Cutting Board

Utensils (Cooks Knife, Measuring Cups and spoons, Rubber Spatula or Large Spoon)
INGREDIENTS
16

ounces

Neufchatel* Cream Cheese

softened

3

tablespoons

Chili Sauce

2

tablespoons

Lemon Juice

(about one medium lemon juiced)

½

teaspoon

gluten-free Worcestershire sauce

½

teaspoon

ground Cayenne Pepper

½

teaspoon

smoked Paprika

2

Green Onions

sliced thin

½

pound

cooked medium shrimp

peeled, deveined, chopped into small pieces
Add ingredients to your Private Shopping List before ordering online.
Quick Add Ingredients to Shopping List
INSTRUCTIONS
Mix the cream cheese, chili sauce, lemon juice, cayenne peppers, and smoked paprika in a medium bowl until creamy. Fold in the shrimp and green onions. If not serving immediately, cover the dip and refrigerate until ready to enjoy.

Garnish with additional green onions and a couple of whole-cooked shrimp if desired. Serve immediately with gluten-free crackers, corn chips, or fresh veggies.
KITCHEN NOTES
*We've used Neufchatel cream cheese with a lower fat content (about 23% milk fat) and slightly higher moisture content. Flavor-wise, Neufchatel isn't too different from regular cream cheese that contains (by law) at least 33% milk fat and not more than 55% moisture. Regardless of which you use, both are dense, milky, slightly tangy, and spreadable cheeses. You may notice that Neufchatel cream cheese is ever-so-slightly less rich-tasting with a somewhat granular texture than regular cream cheese. Our final verdict: What's not to like with less fat?
Nutrition
Calories:
1404
kcal
Carbohydrates:
31
g
Protein:
89
g
Fat:
105
g
Saturated Fat:
58
g
Polyunsaturated Fat:
5
g
Monounsaturated Fat:
27
g
Trans Fat:
0.01
g
Cholesterol:
701
mg
Sodium:
2432
mg
Potassium:
1619
mg
Fiber:
2
g
Sugar:
22
g
Vitamin A:
5273
IU
Vitamin C:
24
mg
Calcium:
711
mg
Iron:
3
mg
(Nutritional values are an approximation. Actual nutritional values may vary due to preparation techniques, variations related to suppliers, regional and seasonal differences, or rounding.)
Copyright © 2017-2023 Kymberley Pekrul | GfreeDeliciously | gfreedeliciously.com | All content and photographs are copyright protected. The sharing of this recipe is both encouraged and appreciated. However, copying and/or pasting full recipes to any social media is strictly prohibited. Please read my Photo Use Policy for detailed guidelines and further clarification.