Huevos Rancheros (Ranch Eggs)
Lac du Nibiinaabe Style
Of all the ways to prepare eggs, poached eggs are, by far, my favorite. For me, they take a good meal to the next level. Add fried potatoes with peppers to poached eggs, and you can't get a better yum factor!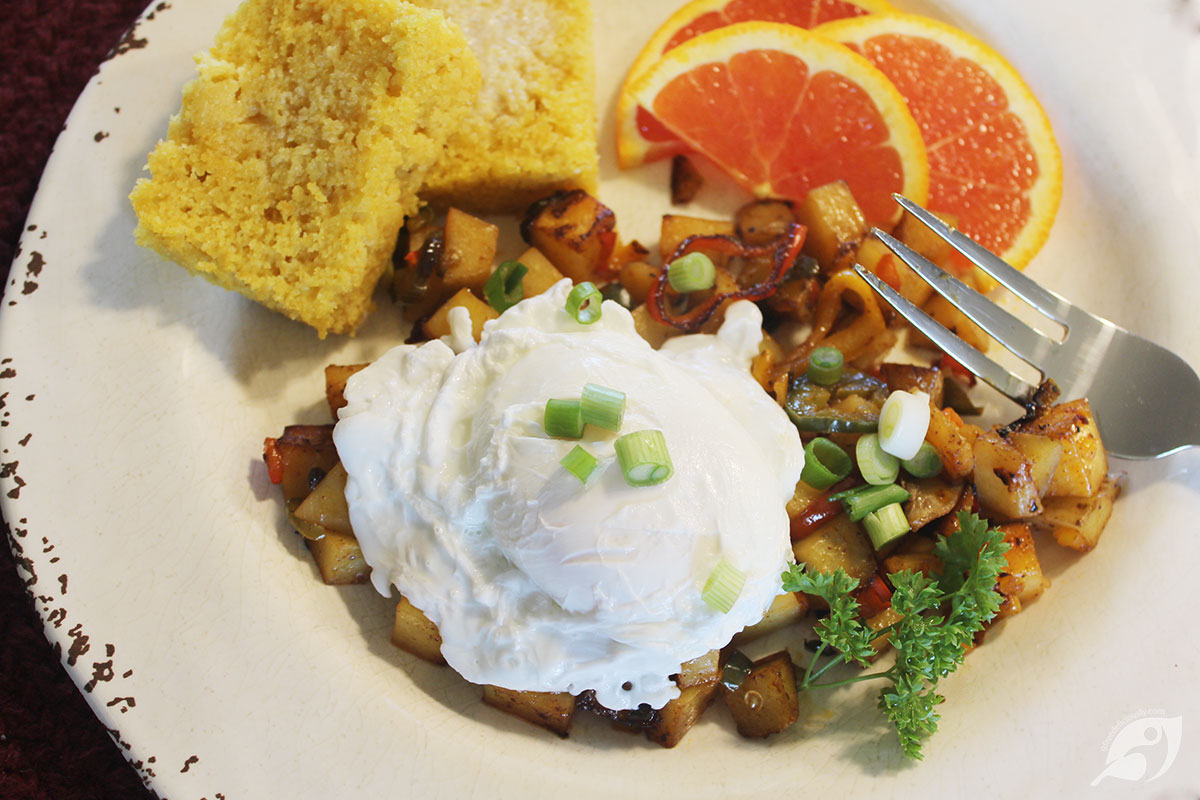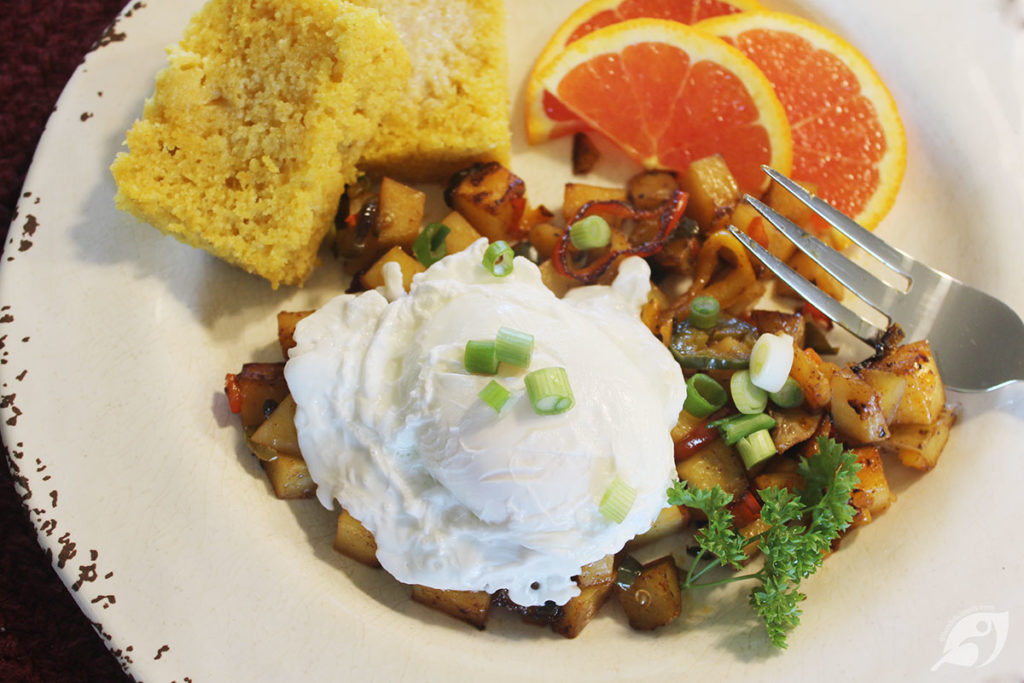 When I was a teenager, my family lived in the foothills near Tucson, Arizona. During that period, I spent considerable time at my girlfriend Karen's parent's small ranch. One benefit of spending time there was the "very cool" kitchen overseen by their cook with Mexican heritage. I ended up eating and loving Mexican food.
Although the ranch cook and ranchers might be disappointed in leaving out the corn tortillas and chorizo sausage, my adaptation comes in at a close second. When the runny yolk of a poached egg mixes with fried potatoes, the spicy Mexican flavors of the jalapeno, chili powder, spices, and prepared tomato salsa, it is absolutely delicious!
Serve them up Lac du Nibiinaabe Style!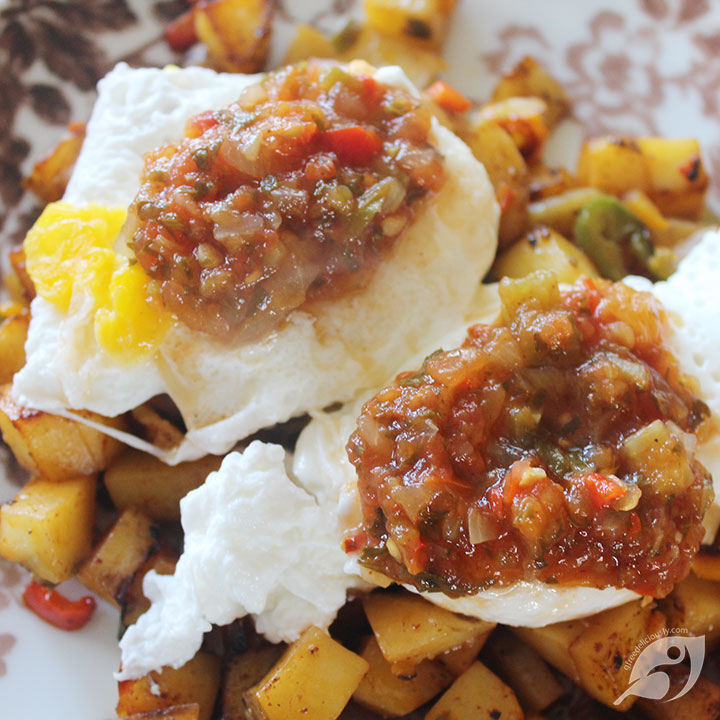 Sans the corn tortillas in my version, I serve the poached eggs ranch-style over spicy fried potatoes with a heaping spoonful of prepared salsa on top alongside cornbread for a quick, satisfying meal.
Enjoy my recipe for Ranch Eggs!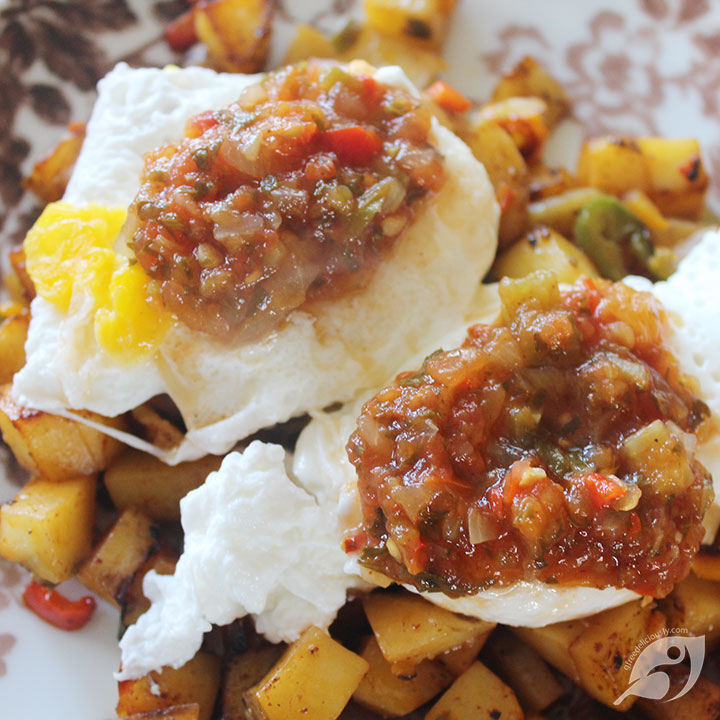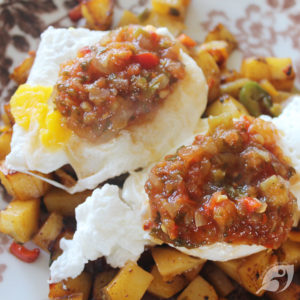 Huevos Rancheros (Ranch Eggs) Lac du Nibiinaabe Style
The marriage of poached eggs with Mexican flavors is perfect for breakfast, lunch, or dinner.
Print Recipe
Equipment
Medium Skillet

Deep Skillet or Shallow Pan

spatula

spoon
Ingredients
Instructions
Trim the tops of the jalapeno and sweet peppers. Cut a few thin rounds from the top of each pepper (to add in step 4 below), cut the remaining of each pepper into thin strips, then dice cutting crosswise using kitchen scissors or a sharp knife.

Heat 1 tablespoon of the olive oil and the butter in a medium-size skillet, over medium-low heat until simmering. Add the potatoes and cook covered 4-5 minutes until the potatoes start to soften and brown. Using a spatula, flip the potatoes and fry uncovered for another 4-5 minutes until they start to become crispy and fork-tender.

Set the burner to medium-high heat then add the remaining oil if necessary. Add in the diced peppers and continue to cook until the peppers start to slightly brown.

Reduce the heat to low. Add the Scallions, Pepper Rounds, Oregano, Chili Pepper, Salt, and Pepper to taste, stir, and cook until fragrant, about 15 seconds. Cover, to keep warm until serving.

In a deep skillet or shallow pan, bring water and vinegar to a high simmer (making sure there is enough water to cover the eggs). Use about one tablespoon per quart of water. Vinegar helps to hold the egg whites together. Note: Do not add any salt to the water as it dissolves the egg white.

To poach eggs, one at a time, gently swirl the water in a circular motion with a spoon in the spot where you will be dropping the egg. Crack the egg on the counter and slip into the simmering water. Gently slide a spatula under the egg to loosen from the bottom of the pan so that the egg is floating. Cook 3 to 5 minutes, until the white sets, and the yolk has filmed over. Using a spatula, slide the egg onto a slotted spoon to remove.

Plate the fried potato mixture, and place eggs over the top. Serve immediately with salsa and cheese. Enjoy!
Recipe Notes
*The combination of the fried potatoes, peppers, scallions, and spices reheat very well in the microwave and can be easily served with other main courses. Sometimes I go wild with the amount fixed because they're so darned good!
Nutrition
Calories:
294
kcal
Carbohydrates:
31.1
g
Protein:
10
g
Fat:
14.9
g
Saturated Fat:
4.4
g
Polyunsaturated Fat:
1.9
g
Monounsaturated Fat:
7.7
g
Trans Fat:
0
g
Cholesterol:
193.6
mg
Sodium:
165.4
mg
Potassium:
844.4
mg
Fiber:
4.3
g
Sugar:
3.4
g
Vitamin A:
173.5
IU
Vitamin C:
83.5
mg
Calcium:
61.4
mg
Iron:
2.4
mg
(Nutritional values are an approximation. Actual nutritional values may vary due to preparation techniques, variations related to suppliers, regional and seasonal differences, or rounding.)
Copyright © 2017-2020 Kymberley Pekrul | G-Free Deliciously | gfreedeliciously.com | All content, and photographs are copyright protected. The sharing of this recipe is both encouraged and appreciated. Copying and/or pasting full recipes to any social media is strictly prohibited. Please read my Photo Use Policy for detailed guidelines and further clarification.
If you like this recipe, you might also want to try...