Asparagus & Ham Au Gratin Layered-style Casserole
A springtime family favorite Asparagus & Ham Au Gratin recipe that's perfect for using leftover Easter Ham!
Asparagus & Ham Au Gratin layered-style casserole made with cheesy Monterey Jack Cheese sauce is a comfort-food favorite around our house. With its great taste, few ingredients, and easy instructions for making it, it may become a favorite springtime meal at your home too!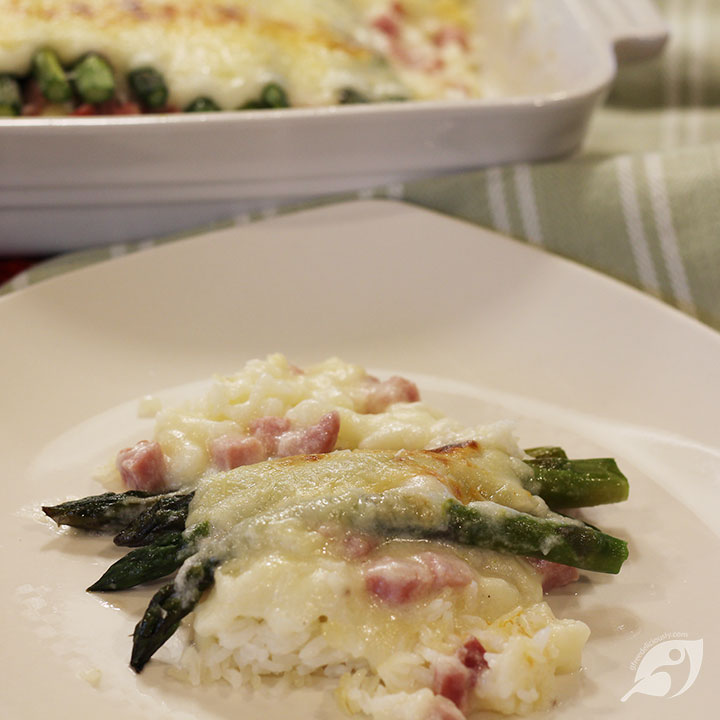 This Recipe Comes from Back-in-the-Day
I discovered this recipe for Asparagus & Ham Au Gratin over 40 years ago in an ideals All-Holidays Cookbook. The magazine-style cookbook was given to me by my aunt when I was newly married.
Back then, as a new bride, I always looked for ways to impress my new in-laws with my cooking ability, especially around holiday times when we'd get together.
My aunt often came to my recipe aid, sending recipes she thought I'd like from newspapers collected from where she and my uncle lived. At other times, she shared pages saved from issues of the Family Circle or Good Housekeeping magazines. And then, over several years, she sent me a handful of the ideals Magazine cookbooks as gifts around Christmas time. I still treasure each recipe I got and the cookbooks today.
The way that the ideals All-Holiday Cookbook suggested to make the dish. To do it, use 1/4"-inch slices of ham, fill the slice with the cheese and rice mixture and a spear or two of asparagus, then roll everything all up before placing each bundle side by each in a shallow casserole dish. After the rolls fill the baking dish, a cheese sauce made from processed Swiss cheese blankets the top. The final step includes sprinkling with parmesan cheese before baking for a quick 25 to 30 minutes.
While that method did impress both my in-laws and others that I'd made it for, over the years, as my schedule became busier, I decided that rolling the rice and asparagus in the ham took way too much time.
Then, I Devised my Shortcut...
That's when I created the shortcut version that you'll find in my recipe version below. I've used this shortcut method many times whenever I've wanted to make this springtime casserole dish.
In the years since shortcutting the prep method, I've also changed the cheese I use from Swiss cheese to Monterey Jack Cheese. I've found that Monterey Jack Cheese works equally well, and it's also been a little more popular with my kid's taste buds.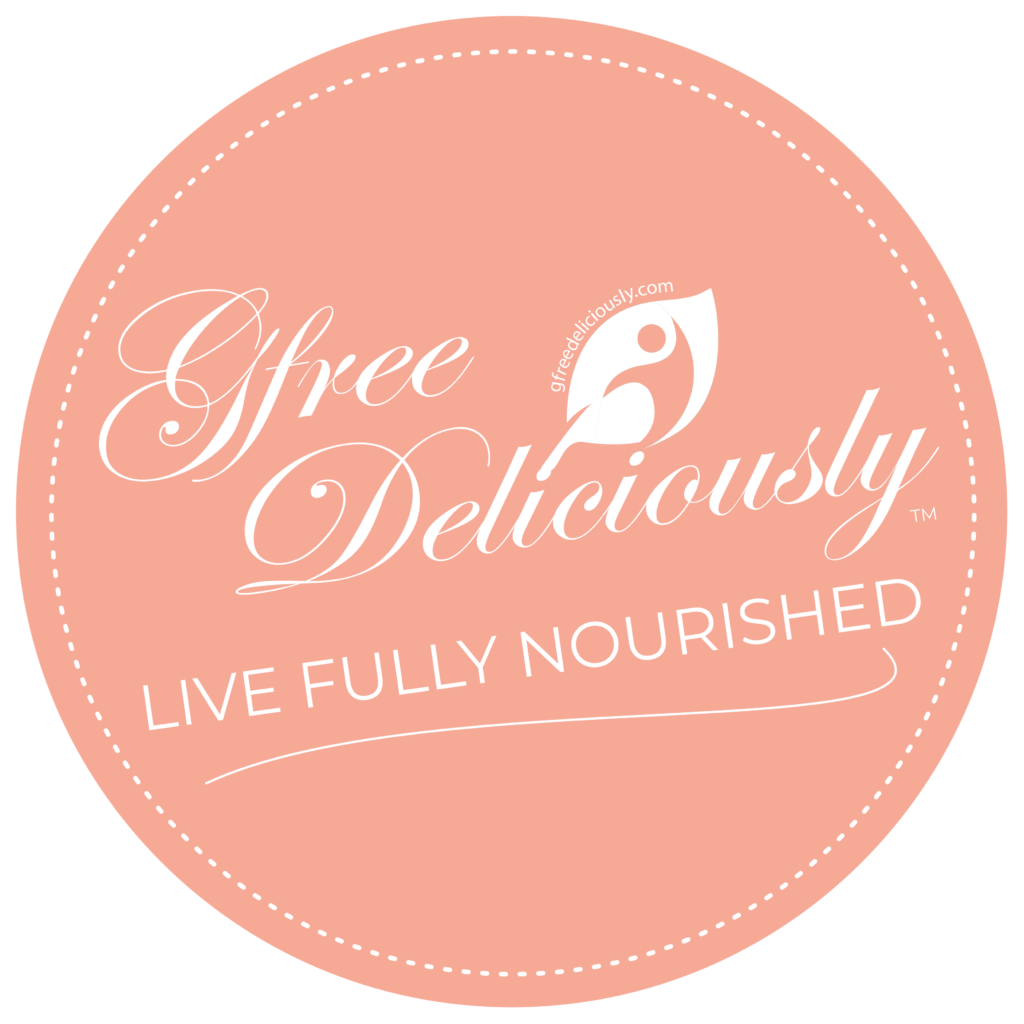 GET RECIPES • RESOURCES • +eNEWS UPDATES & MORE STRAIGHT TO YOUR INBOX !
Simple and delicious gluten-free recipes, family-friendly meal ideas, healthy cooking, encouragement, and easy-to-implement lifestyle strategies to live fully nourished… Only from GfreeDeliciously!
It's a Perfect Springtime Dish
Now that my schedule is a bit saner and our children have grown...
Whenever visitors come in springtime, or when celebrating a holiday and I want to impress my guests – I'll decide to take the time to make Asparagus & Ham Au Gratin rolled up and fancy for presenting in regal fashion. It's then that I dollop the cheesy rice mixture onto the ham, add the fresh-cooked asparagus spears, then roll everything up before putting the filled rolls into the casserole dish, covering them with the remaining cheesy sauce and the parmesan, then baking.
The pictures below show the recipe as it's made step-by-step.
Picture the recipe step-by-step...
I hope you'll make this recipe for Asparagus & Ham Au Gratin. Make it with layered ingredients or roll them all up, presenting them fancy. Make the casserole both ways, especially when fresh-to-market asparagus is less expensive and readily available in the springtime.
Let me know your favorite way to make it in the comments below – whether you've rolled it up or layered them ingredient style if you fixed it with Monterey Jack or Swiss cheese. Tell me; I love getting your feedback. It means a lot. ♥
XXO
P.S. If you like food history, you might be interested in...
The Tragic Tale About How Monterey Jack Cheese Got Its Name
The fascinating part about Monterey Jack Cheese is how it came to be known and named after the ruthlessly corrupt landowner, David Jack.
Picture yourself in Monterey Bay, California. The year is 1770. One year after the first California Catholic mission in present-day San Diego was founded.
The missionaries there brought their religion to this unknown part of the world and their knowledge of foods, including grapes, olives, and cattle. The cattle were a great resource because of meat and fresh milk, but the milk produced was also used to make a soft, white cheese, which the missionaries called Queso Blanco Pais.
Under Spanish and Mexican rule, the control of California changed hands. Mexico and the United States went to war; it was a war that ended in a resounding United States victory.
The warring nations signed the Treaty of Guadalupe Hidalgo in 1848. As a condition, Mexico sold California to the US at a bargain-basement price of 15 million dollars (a bit over $400 million today).
Americans came pouring into California. Some came looking for gold, others came looking for land, and those who came also began looking for power and fortune.
In the treaty, the US promised to uphold Mexico's rancho system. Still, federal government-established commissions found loopholes and ways to undermine Mexican farmers – like demanding long-forgotten paperwork and attendance at far-away hearings. As a result, many Mexicans lost their beloved farms to people like David Jack.
Originally from Scotland, David Jack first settled in New York before arriving in California in 1849. But before he left New York, he invested his total savings of $1,400 in revolvers, which he intended to sell to "law-abiding and lawless alike," thinking that both would pay a handsome price for such items at that time in Californian history.
Jack arrived in San Francisco in April 1849, where he sold his entire investment for $4,000 in the first 48 hours, making a 286% profit in the process. He immediately made his way to the gold mines but found little success. Returning to San Francisco, Jack gained employment as an Inspector in the Custom House, earning $100 a month and putting his capital of $4,000 to good use. He lent portions of it at an interest of 2% a month ( a ridiculously steep interest rate back then).
After a brief trip back to Scotland, Jack returned to California, settling in Monterey in 1857. There, he befriended attorney Delos R. Ashley, who the town of Monterey had hired to legitimize their land claims to the United States Land Claims Commission.
Ashley won the case but demanded nearly one thousand dollars in attorney fees, and the town couldn't pay.
Later, Monterey and Ashley agreed – Monterey would auction off the very lands that Ashley defended to help pay his fees. On February 9th, 1859, a rapidly-called auction took place with only two bidders, you guessed it, Mr. Ashley and David Jack.
Nearly all of Monterey's 30,000 acres of land were sold to the two men – The price they paid was $1000.02. Locals eventually came to call this auction the "Rape of Monterey."
Working to maximize his profits, Jack was ruthless. He became known for charging obscene taxes to renters and foreclosing on properties, sometimes posting notices in English to mislead the Spanish-speaking farm owners.
There were cattle ranches, vineyards, and a dairy on the Salinas River on Jack's land. There, Jack produced the cheese whose origins traced back to the Spanish Franciscan fathers who came north to California from Mexico during the early days of the missions.
As far as anyone knows, Jack broke no laws. He eventually had a partnership in 14 dairies throughout Monterey with Spanish and Portuguese dairymen. Together they dominated Northern Californian dairy farming.
During his time in Monterey, Jack suffered from the same problems of surplus milk that the Spanish Franciscan fathers before him had, and similarly, he solved the problem by producing his cheese. Realizing the commercial value of Jack cheese, he began selling it throughout Monterey and California with his name "Jack's Cheese" on it. Soon, the cheese became so popular that people were eating it all across California, asking for "Monterey Jack's Cheese." Today you can find it all over the world.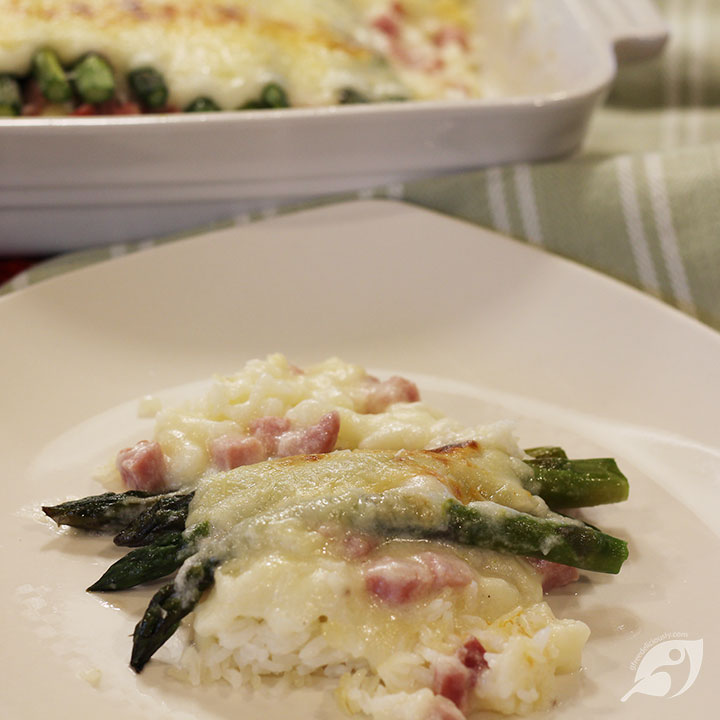 Asparagus & Ham Au Gratin
Asparagus & Ham Au Gratin – An easy casserole made with asparagus, ham, rice, and cheese. Make it two ways – layering the casserole ingredients for a simple weeknight meal or roll them up fancy in an impressive display for entertaining.
EQUIPMENT
8 x 12-inch shallow oven-proof Baking Pan

Deep skillet or Saucepan

whisk
Add ingredients to your Private Shopping List before ordering online.
Quick Add Ingredients to Shopping List
INSTRUCTIONS
Preheat the oven to 350ºF. Lightly butter or spray the bottom and sides of an 8 x 12-inch shallow oven-proof baking pan, and set aside.

Melt the butter in a deep skillet, and blend the flour and salt with a whisk. Add the milk and nutmeg, continually stirring until cooked and thickened, approximately one to two minutes. Add the Monterey Jack cheese and stir until melted.

Blend one cup of cheese sauce into the cooked rice. Spread the mixture evenly into the bottom of the baking pan. Top the rice mixture with the cubed Ham and arrange the asparagus across the top. [1] Pour the remaining sauce over the top of the asparagus.

Sprinkle with parmesan cheese. Bake at 350ºF until hot, about 25 to 30 minutes, or until the edges become slightly browned and bubbly. Remove from the oven, and let sit for 5 minutes before serving. Serve and enjoy!
KITCHEN NOTES
[1] To make this dish fancier for entertaining, use 1/4-inch thick slices of boneless, fully cooked ham. Spoon a healthy dollop of the sauce and rice mixture onto the narrow end of each ham slice. Top each prepared slice with 3 or 4 asparagus spears and roll the ham around the filling. Arrange the rolls into a shallow baking dish. Pour the remaining cheese sauce over the rolls and continue with the final step above.
[2] Can substitute 1 cup Swiss Cheese, shredded
Nutrition
Calories:
254
kcal
Carbohydrates:
14.4
g
Protein:
18.8
g
Fat:
13.4
g
Saturated Fat:
7.5
g
Polyunsaturated Fat:
0.7
g
Monounsaturated Fat:
4.4
g
Trans Fat:
0
g
Cholesterol:
60.9
mg
Sodium:
408.4
mg
Potassium:
344.5
mg
Fiber:
1
g
Sugar:
4.1
g
Vitamin A:
95.3
IU
Vitamin C:
2.8
mg
Calcium:
245.4
mg
Iron:
1.6
mg
(Nutritional values are an approximation. Actual nutritional values may vary due to preparation techniques, variations related to suppliers, regional and seasonal differences, or rounding.)
Copyright © 2017-2023 Kymberley Pekrul | GfreeDeliciously | gfreedeliciously.com | All content and photographs are copyright protected. The sharing of this recipe is both encouraged and appreciated. However, copying and/or pasting full recipes to any social media is strictly prohibited. Please read my Photo Use Policy for detailed guidelines and further clarification.