Breaking Tradition and It's All in the Meat…
Cooking purists may object to this recipe, citing any reference to the classic dish known as Irish Shepherd's Pie. After all, true Shepherd's Pie uses lamb as the protein. But this recipe for Shepherd's Pie Stuffed Potatoes (a.k.a. Cottage Pie), as it's called since we're using ground beef in it, is already an unconventional dish remade for modern cooks who need to get dinner on the table in little to no time at all!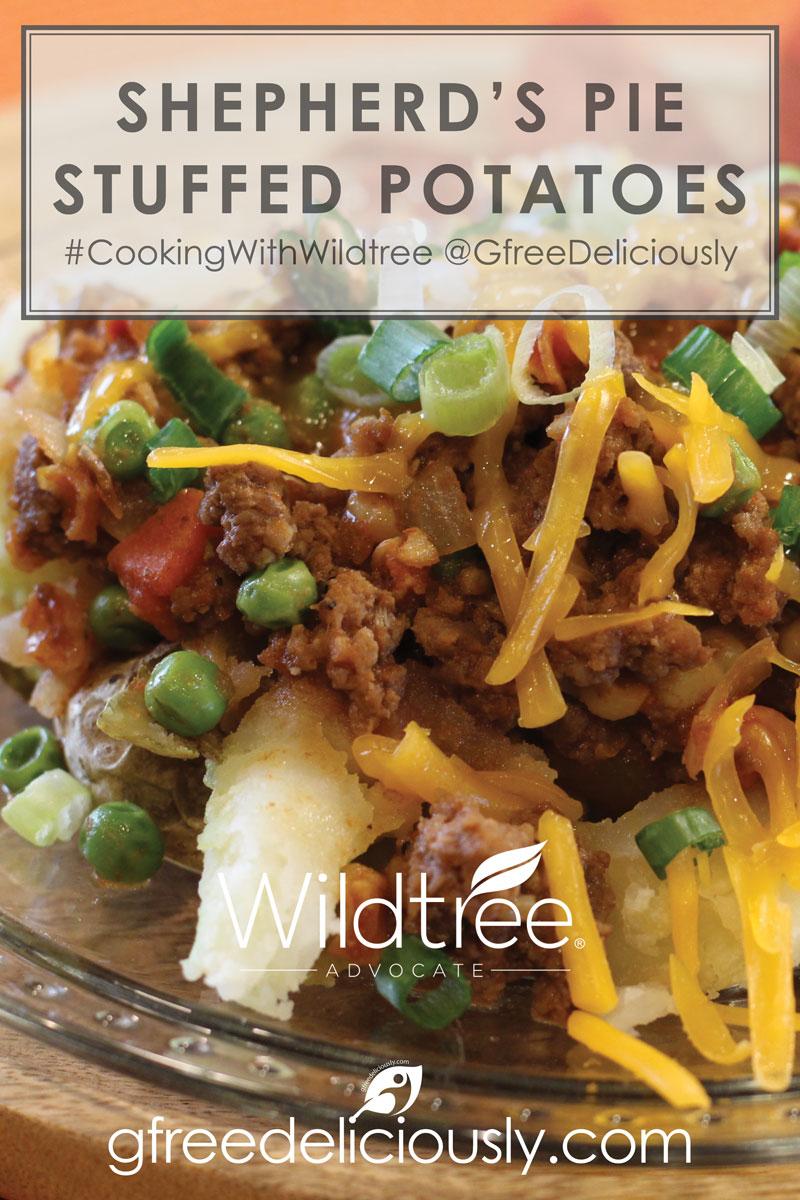 IMPORTANT UPDATE: November 1, 2022
Please note that some ingredient links in this post may have been removed or changed from our original recipe published to reflect new affiliate partnerships.
Though, if you happen to be a cooking purist...
I can respect the traditional inclusion of ground lamb in place of the ground beef used in this recipe. Please, you certainly may substitute it here in this recipe for Shepherd's Pie Stuffed Potatoes as a measure-for-measure swap of ingredients.
I understand why you might want to go to the extra effort to make classic Irish Shepherd's Pie made since the 18th century. Cooked with lamb, lots of vegetables, and Guinness used in making the gravy, then baking the comforting dish that is topped and piped with creative peaks of mashed potatoes to a golden brown for a sophisticated look. Believe me when I tell you that I do love the idea.
Time-wise, we're saving about an hour in prep and cooking time over the traditional method, but again, not that there's anything wrong with tradition. Oh, and did I mention that our recipe has fewer calories? I'm just saying…
Easy Shepherd's Pie Stuffed Potatoes for Busy Weeknight Dinners
But since we are in a hurry here, and Guinness is a definite no-no for non-gluten eaters, were using ground beef because it's widely available and relatively inexpensive. We're also skipping the beer (and the gluten) using beef broth instead, and baking our potatoes in the microwave because who doesn't like quick and easy, especially on a weeknight?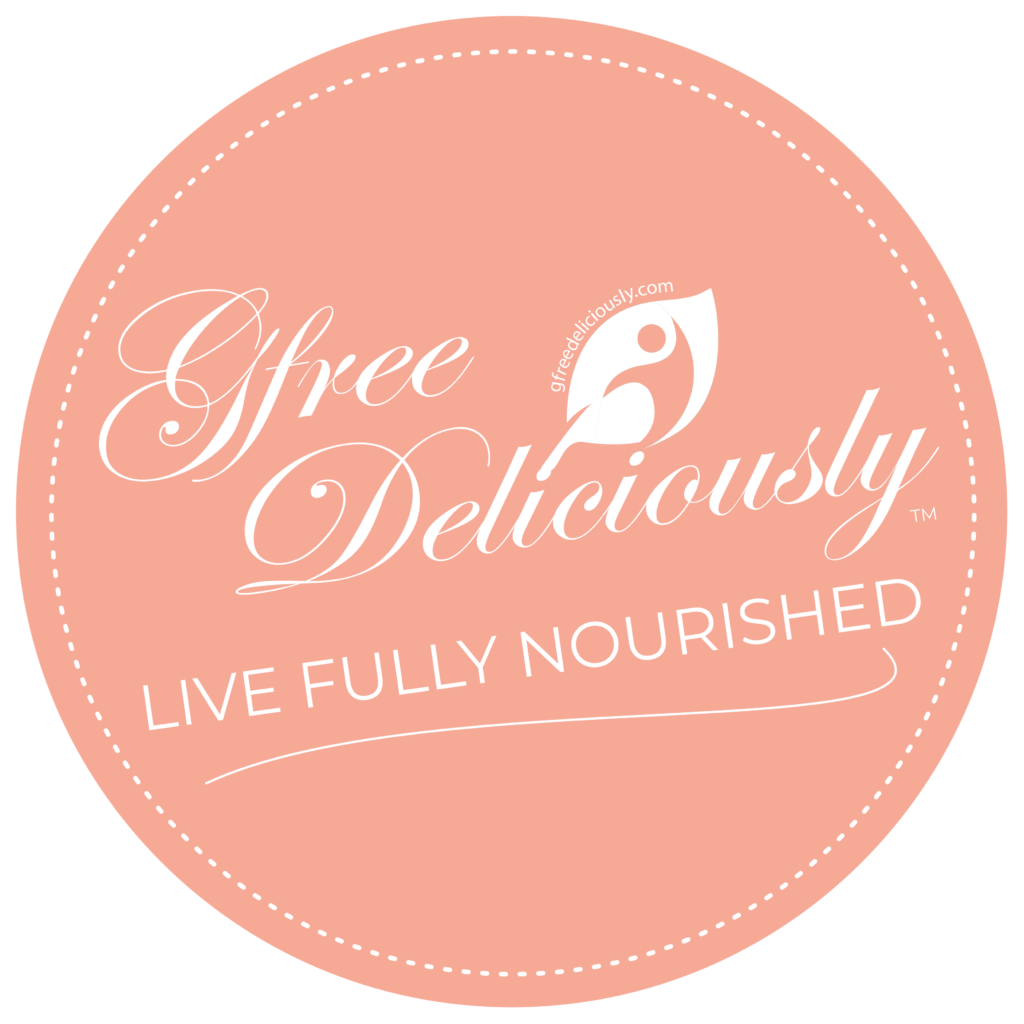 GET RECIPES • RESOURCES • +eNEWS UPDATES & MORE STRAIGHT TO YOUR INBOX !
Simple and delicious gluten-free recipes, family-friendly meal ideas, healthy cooking, encouragement, and easy-to-implement lifestyle strategies to live fully nourished… Only from GfreeDeliciously!
Catch the GfreeDeliciously Wildtree Wednesday Replay!
Shepherd's Pie Stuffed Potatoes Recipe Timesaving Tips:
Here's how to make it, step-by-step...
Meeting those criteria, what more can I say than, we have loved this easy dinner, and we hope you will love it too! Enjoy!
Have you tried this recipe? I would love to hear your thoughts. Please comment. Click the blue-green comment bubble on the bottom left of your screen to jump to the comment area.
XXO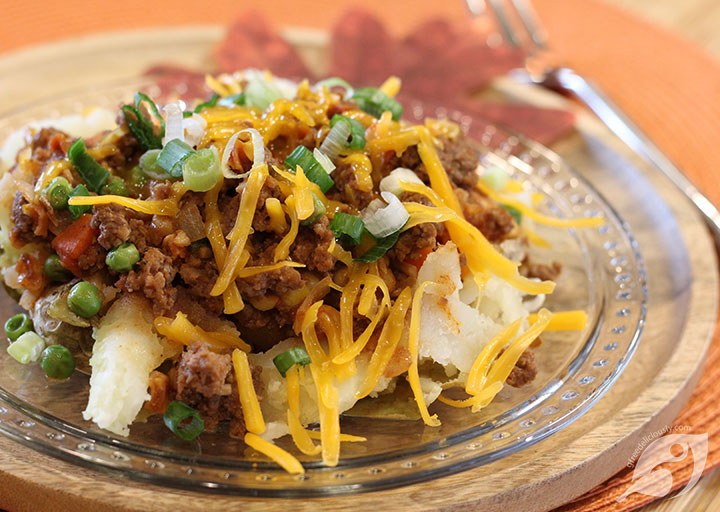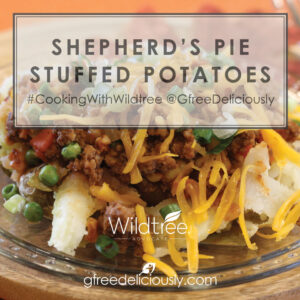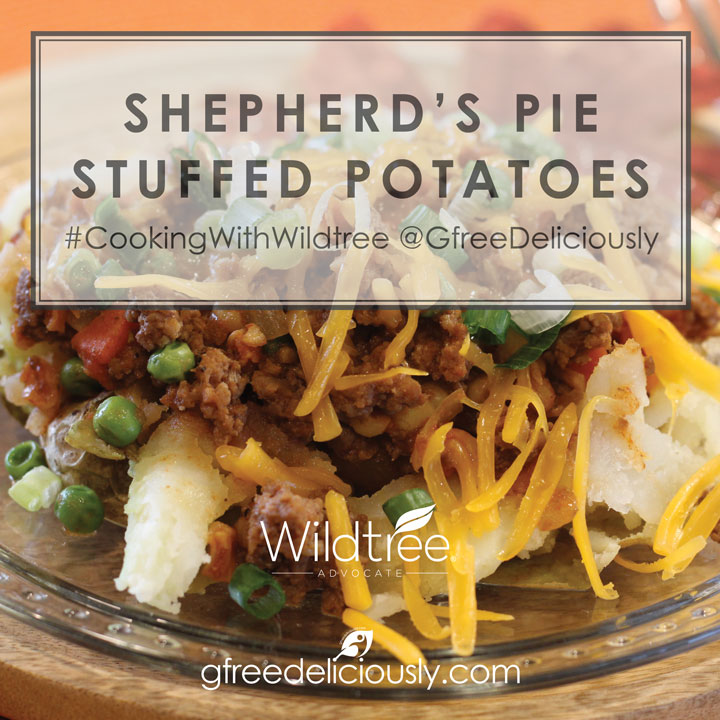 Shepherd's Pie Stuffed Potatoes
What could be better than a classic comfort food dish ready in just 20-Minutes? Try this Wildtree recipe remake for Shepherd's Pie (a.k.a. Cottage Pie) Stuffed Potatoes with rich ground beef, gravy, and hearty vegetables stuffed in baked potatoes and topped with bright, creamy Wisconsin Cheddar Cheese!
EQUIPMENT
Non-stick Skillet

Cutting Board

Can Opener

Utensils (Measuring Cups and Spoons, knife, Wooden or Rubber Spatula)
Add ingredients to your Private Shopping List before ordering online.
Quick Add Ingredients to Shopping List
INSTRUCTIONS
Using a fork, poke a few holes in the potatoes — microwave for 6-10 minutes or until fully cooked.

Meanwhile, heat the oil in a non-stick skillet over medium-high heat. Add the onion, garlic, and ground beef. Cook until the meat is completely browned.

Stir in the Shepherd's Pie Skillet Meal Seasoning, tomato paste, and beef broth. Bring to a simmer and cook until the sauce has thickened, about 3 minutes.

Stir in the mixed vegetables, cook until heated.

Slice and split the potatoes. Stuff with the Shepherd's Pie beef and vegetable filling mixture. Top with scallions and Wisconsin Cheddar Cheese.
KITCHEN NOTES
[1] We used fresh cooked carrots that we pre-cooked to fork-tender and frozen corn and peas. For a full recipe (2 cups), use 2/3 cups of each vegetable to equal the full amount. You could also use canned or frozen vegetables.
Easily make this dish in advance by cooking your potatoes ahead of time in the microwave and pre-cooking and combining the meat and vegetable mixture with the gravy. Store the cooked potatoes separate from the meat/vegetable/gravy mixture in the refrigerator until you're ready to assemble and eat.
To make your meal, reheat the potatoes for 1-2 minutes in the microwave, warm the meat, vegetable, and gravy mixture in a small skillet or saucepan on the stove until heated through. Assemble by slicing and splitting the potatoes. Spoon the Shepherd's Pie beef and vegetable filling mixture on top. Finish with Wisconsin Cheddar Cheese and scallions before serving.
Nutrition
Calories:
400
kcal
Carbohydrates:
47.7
g
Protein:
27.7
g
Fat:
11.4
g
Saturated Fat:
5
g
Polyunsaturated Fat:
2.3
g
Monounsaturated Fat:
3
g
Trans Fat:
0.2
g
Cholesterol:
63.8
mg
Sodium:
416.1
mg
Potassium:
1580
mg
Fiber:
8.8
g
Sugar:
8.9
g
Vitamin A:
444.4
IU
Vitamin C:
30.6
mg
Calcium:
193.2
mg
Iron:
4.4
mg
(Nutritional values are an approximation. Actual nutritional values may vary due to preparation techniques, variations related to suppliers, regional and seasonal differences, or rounding.)
Copyright © 2017-2023 Kymberley Pekrul | GfreeDeliciously | gfreedeliciously.com | All content and photographs are copyright protected. The sharing of this recipe is both encouraged and appreciated. However, copying and/or pasting full recipes to any social media is strictly prohibited. Please read my Photo Use Policy for detailed guidelines and further clarification.