Classic Easy Taco Dip – A party on a plate. Just add friends!
Loaded with flavor, this Classic Easy Taco Dip is a guaranteed favorite for any party, movie night, tailgate, or get-together. Made with cream cheese, sour cream, and taco seasoning base, then topped off with classic taco toppings, it's an easy-to-make taco dip that everyone will love!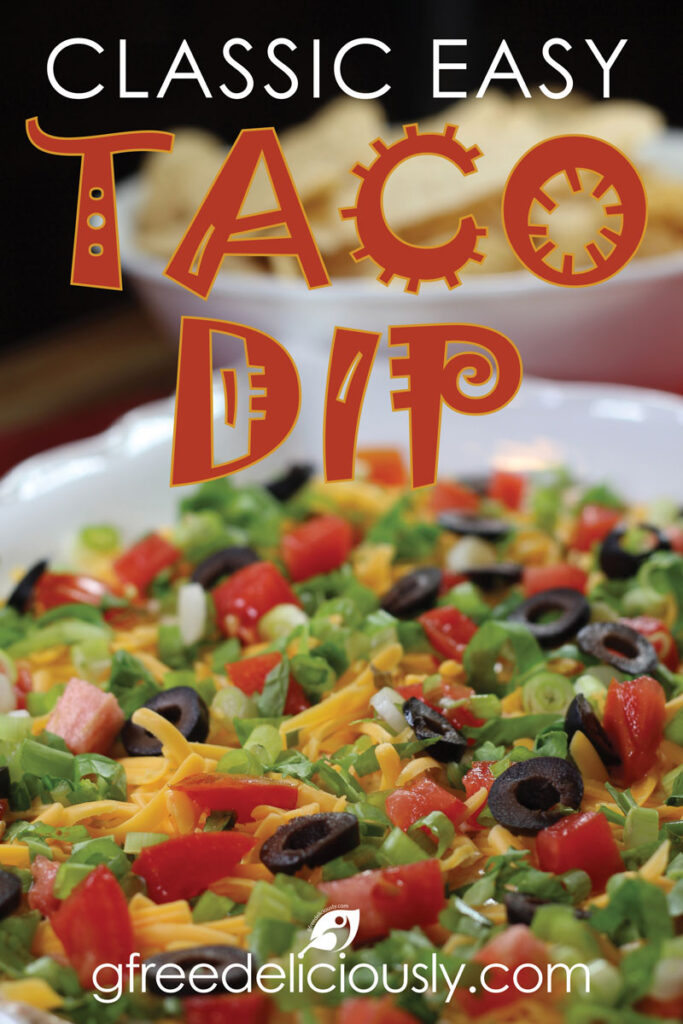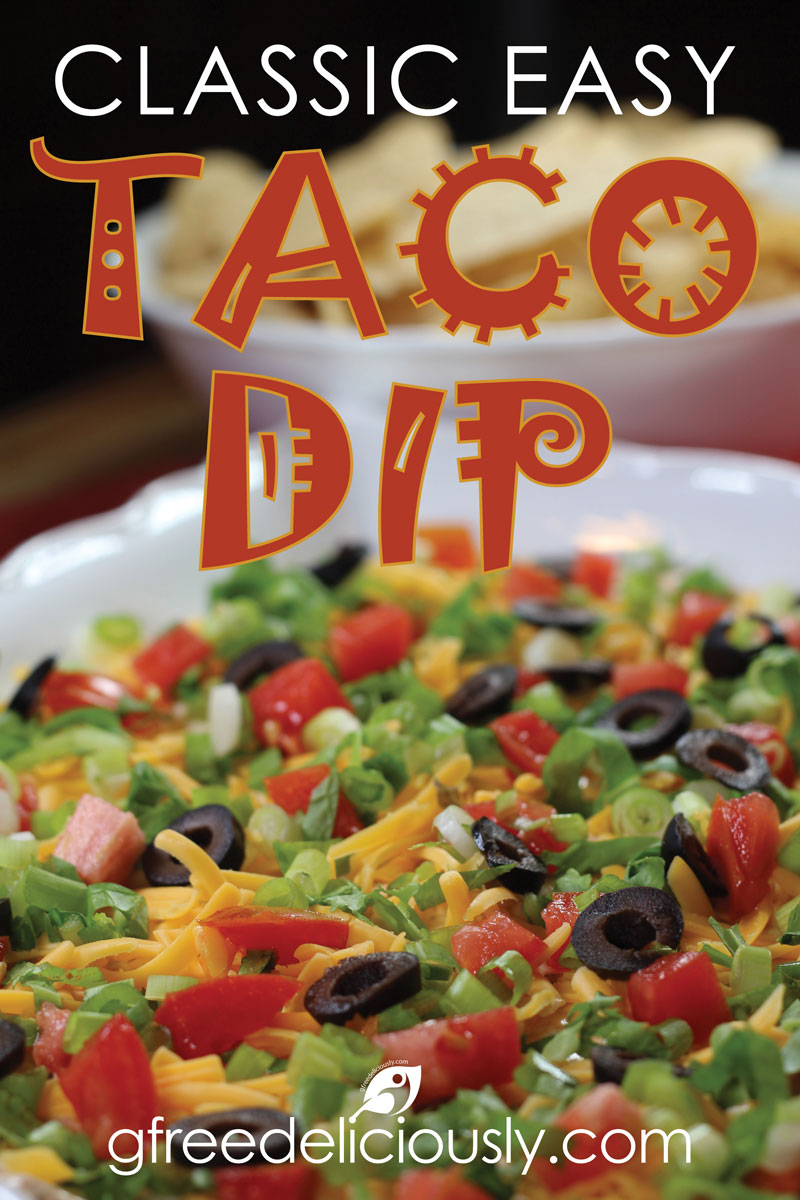 IMPORTANT UPDATE: November 1, 2022
Please note that some ingredient links in this post may have been removed or changed from our original recipe published to reflect new affiliate partnerships.
It's a Funny little story...
The idea to post this simple classic taco dip recipe came to me at the grocery store. Last week while grocery shopping, I overheard two young women (I presumed from one of our local colleges) eyeing up the ready-to-go taco dip platters in the deli case.
The conversation went kind of like this:
#1 Girl – "Ummm, that looks yummy."
#2 Girl – "Yeah, it would be perfect for serving at dorm movie night. Just add friends."
#1 Girl – "Can you believe how much the dip costs?"
#2 Girl – "We could make that couldn't we?"
#1 Girl – "Do you know how?"
#2 Girl – "No idea, my mom always buys it like this for our parties."
well, I couldn't help myself.
On instinct, being the helpful grandma-type that I am, I grabbed a business card from the stack kept in my purse. "Hey, I couldn't help but overhear. That taco dip does look delicious, and it's super easy to make too. So here's my website, well, my recipe blog, anyway I'll add the recipe for how to make dip next week for you." Smiling apologetically for interrupting, I quickly turned away to go about my shopping.
I don't know. But the chance encounter got me thinking about why I often forget to share some of the simplest recipes.
You know, the well-used recipes that are hand-scrawled on tiny cards and bits of paper crinkled around the edges and smudged up from fingers while cooking. The ones rarely pulled out anymore because they're second nature to us. Recipes made so many times that they've been committed to memory.
This effortless Classic Easy Taco Dip is one of those recipes that I hadn't thought to share before because it is common and seems ridiculously simple to make. But thinking more about it, this taco dip recipe is such a classic that any recipe index would be incomplete without it.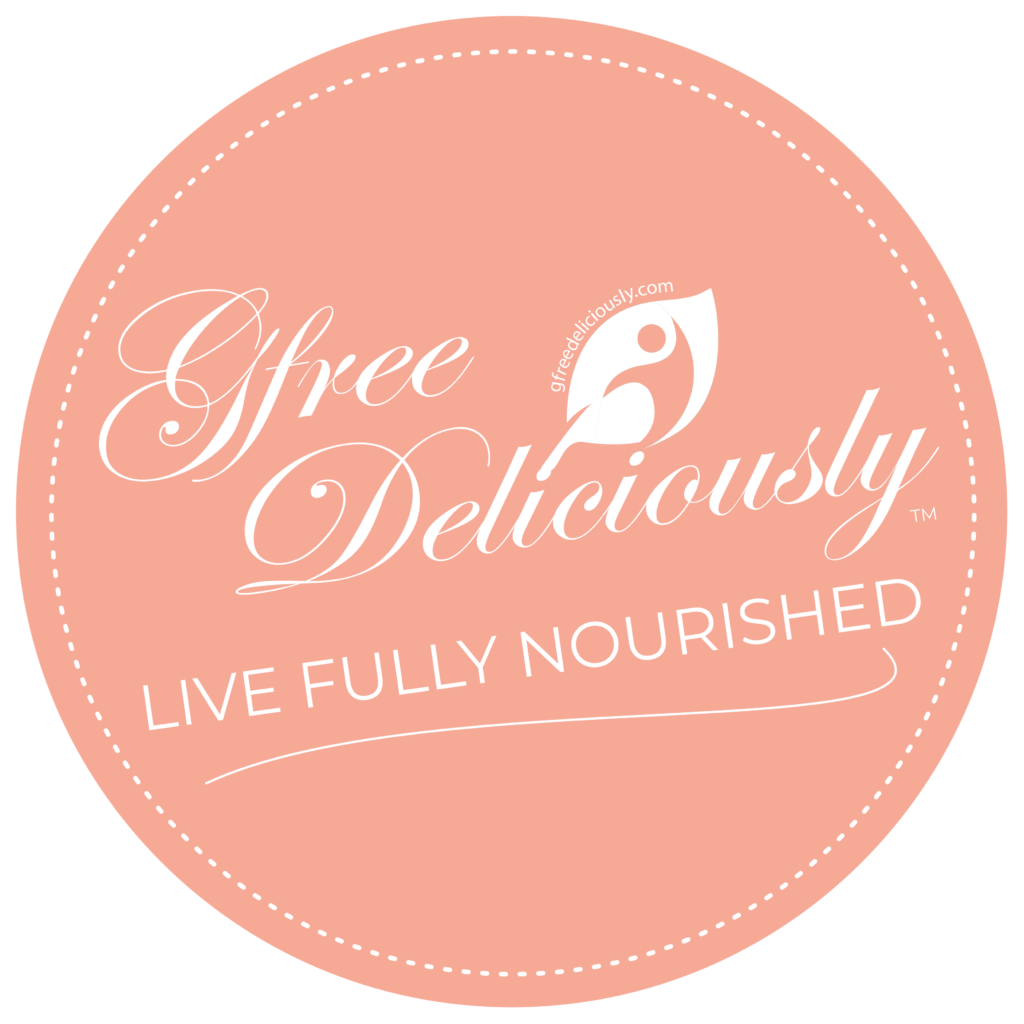 GET RECIPES • RESOURCES • +eNEWS UPDATES & MORE STRAIGHT TO YOUR INBOX !
Simple and delicious gluten-free recipes, family-friendly meal ideas, healthy cooking, encouragement, and easy-to-implement lifestyle strategies to live fully nourished… Only from GfreeDeliciously!
A popular taco dip for parties, tailgating and get-togethers...
In Wisconsin, nearly every party and tailgate event you go to has a taco dip on the table, and it's usually one of the first dishes eaten up.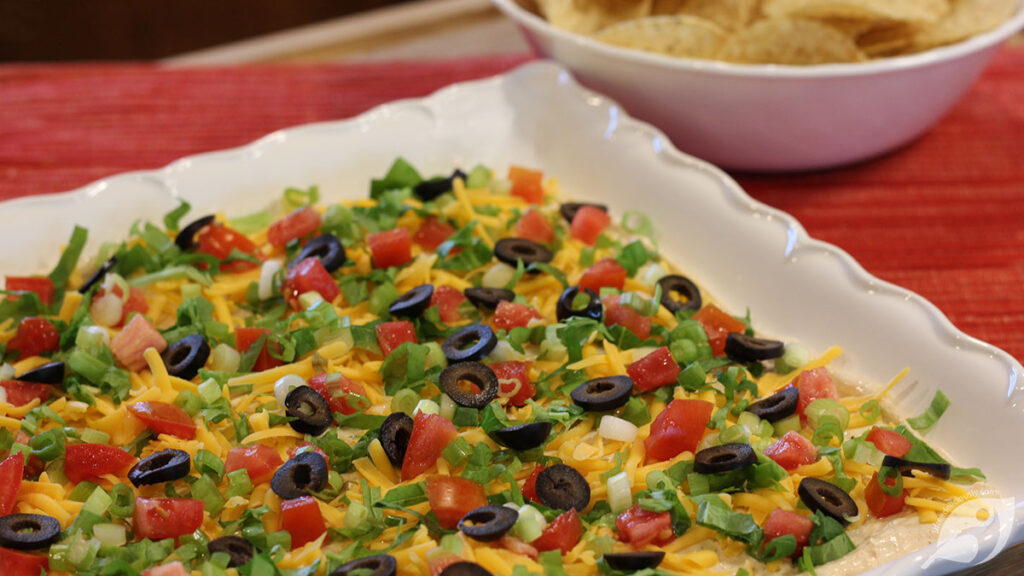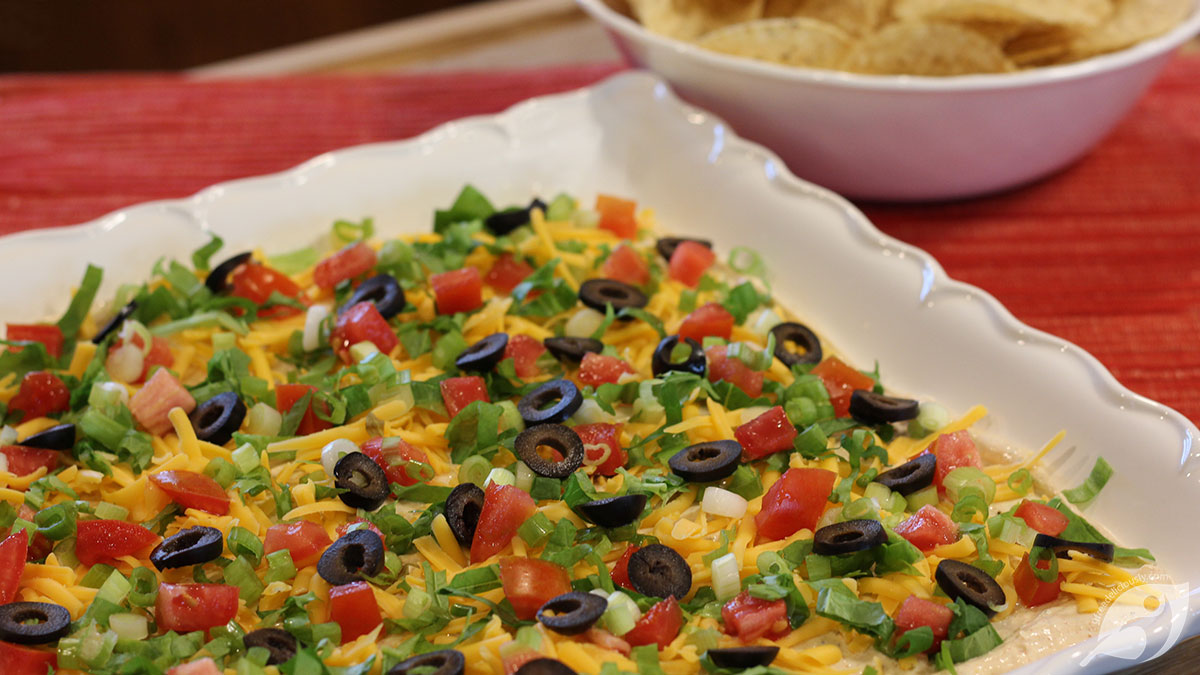 Taco dip is quick to make with cream cheese, and a sour cream base seasoned with taco seasoning (our favorite is Wildtree Taco Seasoning, or you can use a packet bought from the store), then top it with all your favorite taco toppings.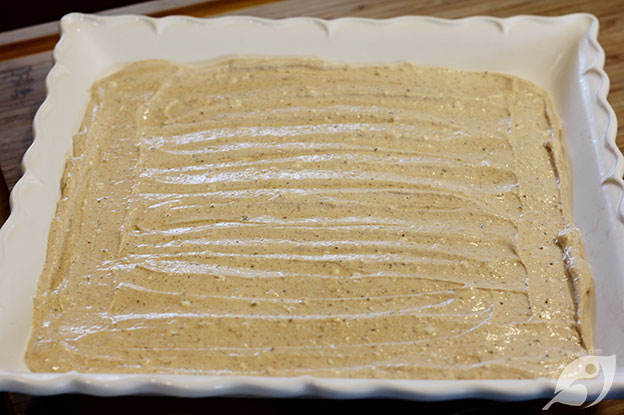 Shredded cheddar cheese, crisp lettuce, juicy Roma tomatoes, sliced black olives, and green onions always top mine, but you could also add diced jalapenos, sweet peppers, or other veggies to your liking.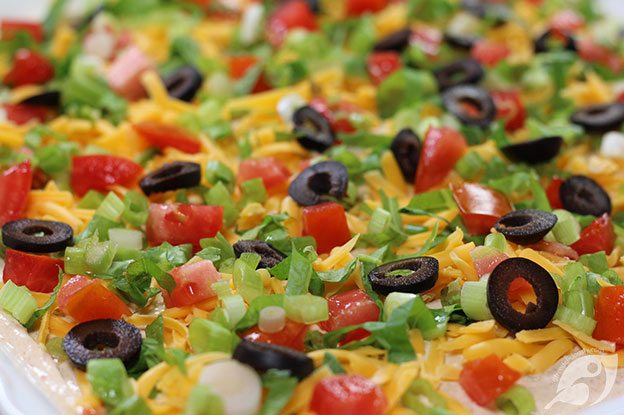 How long can taco dip be left out?
If you're making this taco dip recipe for a warm-weather get-together, picnic, or a dorm room all-nighter, try to keep track of how long it sets out at room temperature.
It should be fine to sit out for up to two hours. Chances are that it will be gone way before then anyway, but keep in mind that the dip is diary-based. So you won't want to let it set out for a long time. If not eaten within two hours (this is true for all dairy-based foods), throw out any leftovers.
Options for serving when you anticipate that your party will continue for hours:
When hosting a party that you know will go on for a while, as all great parties should, divide the recipe base between two plates or serving dishes. You can put one out right away and save the other in the refrigerator until it's needed later when you need to replenish.
Another tip for prolonging food safety is to place ice in another container, then place the serving plate on top, use an insulated bowl, or serve on a chilled platter that stores ice underneath for serving.
More Party Perfect Recipes
Whatever your occasion, you can't go wrong serving this Classic Easy Taco Dip. Whip up a batch and just add friends. Voila! Instant party.
XXO
P.S. Have you tried this recipe? I would love to hear your thoughts. Click the blue-green comment bubble at the bottom right corner of your screen to let me know in the comment area below. I would love to hear!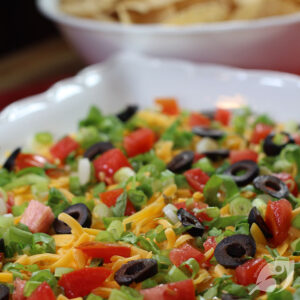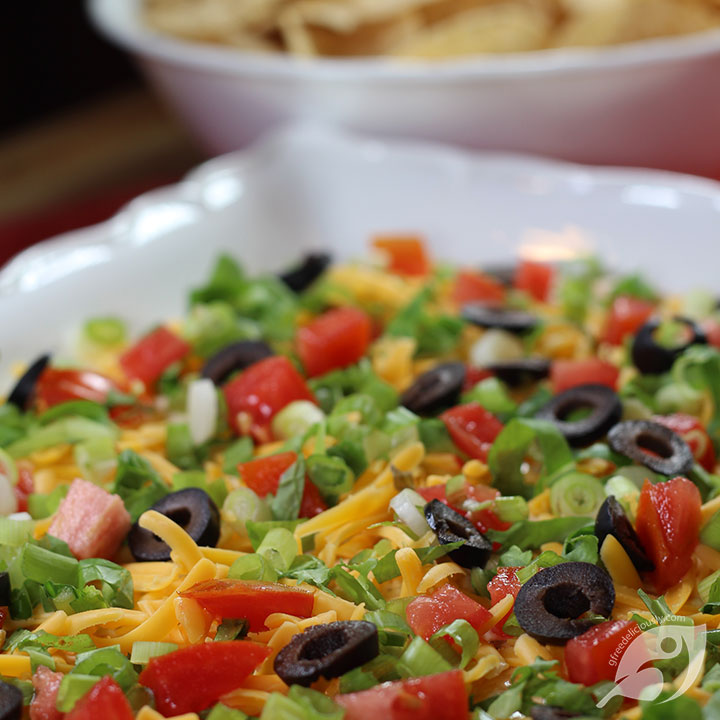 Classic Easy Taco Dip
Taco Dip the delicious appetizer or snack with a South of the border kick! No party, movie night, tailgate, or get-together is complete without this Classic Easy Taco Dip recipe.
EQUIPMENT
Medium size Mixing Bowl

Cutting Board

Can Opener

Utensils (Cook's Knife, Spoon, Rubber Spatula)

Plate for shallow dish for serving
INGREDIENTS
For the Dip Base
8

ounce

package Cream cheese

softened

1 ½

cups

Sour Cream

⅓

cup

Taco Seasoning mix

[1]
For the Toppings
1

cup

Cheddar Cheese

shredded

⅓

cup

Lettuce

chopped, and loosely packed

⅓

cup

Roma Tomatoes

diced

⅓

cup

Black Olives

drained and sliced [2]

2

Green Onions

with tops, sliced

*Optional – fresh Jalapeno

seeded and diced small
Add ingredients to your Private Shopping List before ordering online.
Quick Add Ingredients to Shopping List
INSTRUCTIONS
Soften the cream cheese by letting it warm up on the counter, then add to a medium mixing bowl with sour cream and taco seasoning. Mix and stir the ingredients together using the back of a large spoon or a rubber spatula until creamy and smooth. Spread the mixture evenly across the bottom of a large plate or shallow dish to use for serving.

Sprinkle the top with cheddar cheese, lettuce, tomatoes, olives, green onions, diced jalapeno, and other veggies if desired. Serve with tortilla chips.
KITCHEN NOTES
[1] Or use one packet of prepared taco seasoning.
[2] 1 (2.25 ounce) can sliced black olives, drained.
Nutrition
Calories:
170
kcal
Carbohydrates:
4.6
g
Protein:
5.8
g
Fat:
14.7
g
Saturated Fat:
8.5
g
Polyunsaturated Fat:
0.6
g
Monounsaturated Fat:
4.2
g
Trans Fat:
0.1
g
Cholesterol:
40.1
mg
Sodium:
274.3
mg
Potassium:
108.9
mg
Fiber:
0.4
g
Sugar:
1.2
g
Vitamin A:
139
IU
Vitamin C:
1.6
mg
Calcium:
141.7
mg
Iron:
0.3
mg
(Nutritional values are an approximation. Actual nutritional values may vary due to preparation techniques, variations related to suppliers, regional and seasonal differences, or rounding.)
Copyright © 2017-2023 Kymberley Pekrul | GfreeDeliciously | gfreedeliciously.com | All content and photographs are copyright protected. The sharing of this recipe is both encouraged and appreciated. However, copying and/or pasting full recipes to any social media is strictly prohibited. Please read my Photo Use Policy for detailed guidelines and further clarification.