The Best Jalapeno Deviled Eggs, EVER!
One of my favorite go-to family gatherings foods is deviled eggs. They're easy to make and take only a few minutes to get ready, super simple to serve, and they ALWAYS get gobbled up!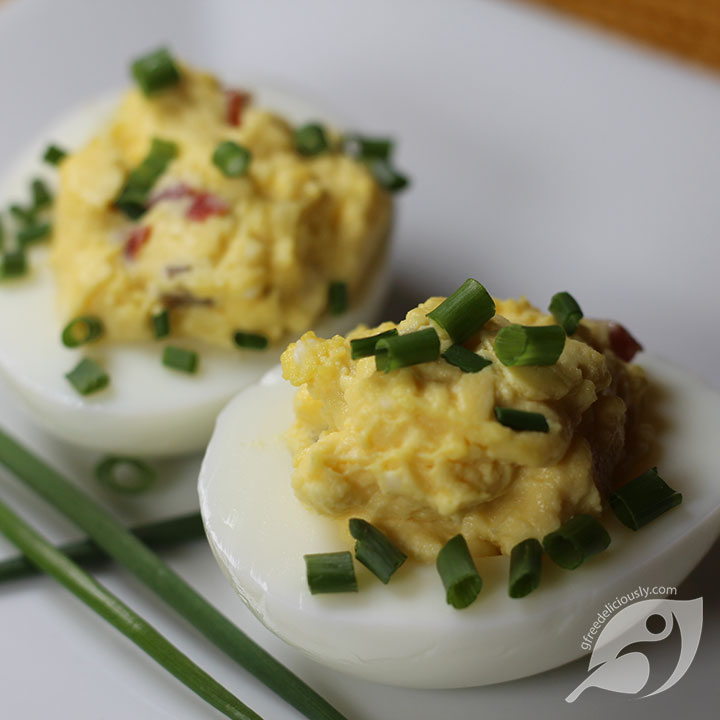 One of the best ways to start any casual get-together
Hands down, creamy, hard-cooked (hard-boiled), then deviled eggs are one of the best ways to start any casual get-together.
While I'm pretty sure that everyone knows someone who makes and has an extraordinary recipe for delicious deviled eggs, making them in new ways that are un-traditional has piqued my creativity in the kitchen these days.
This recipe came about when we were trying to use up opened jars of condiments and pickled stuff in the refrigerator. Among the jars were some homemade jalapeno peppers I had canned. You can read more about my busy little garden in the post Cool is Cucumber Mint Salad.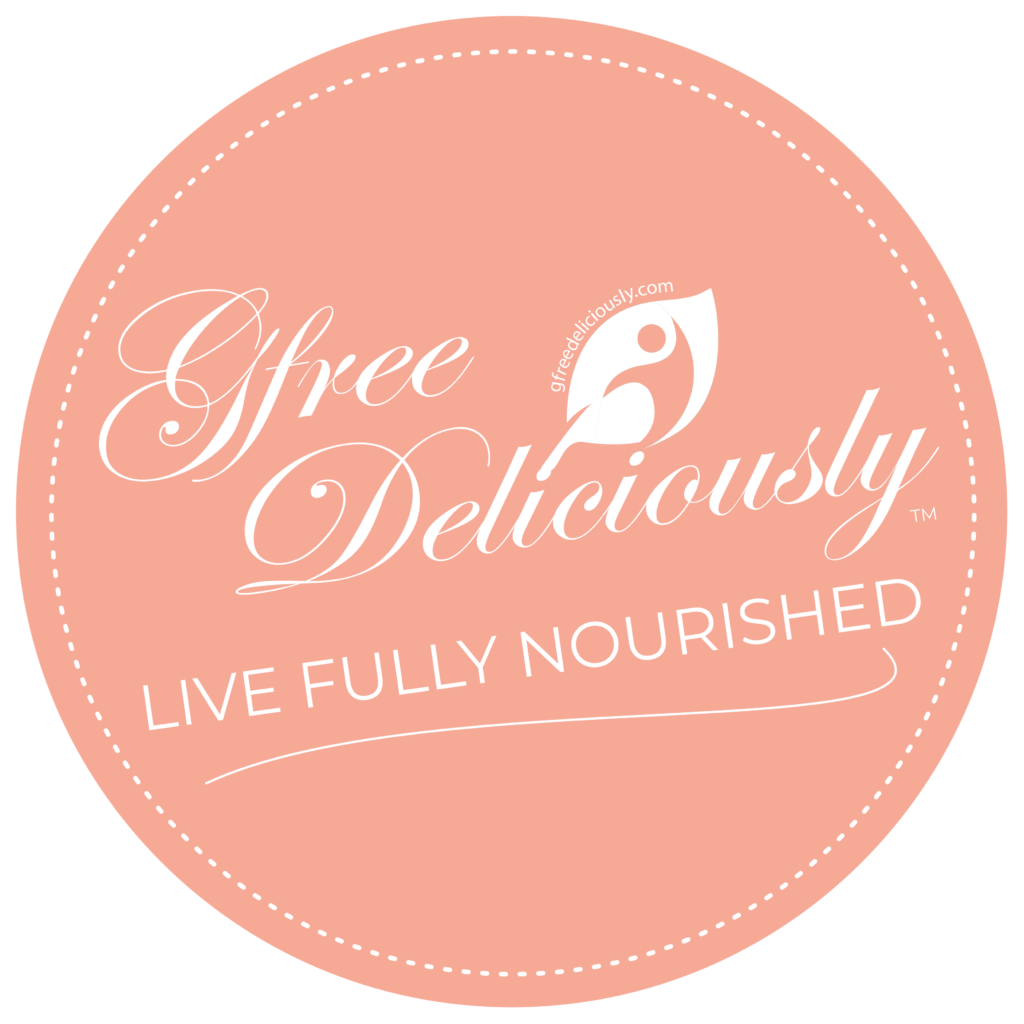 GET RECIPES • RESOURCES • +eNEWS UPDATES & MORE STRAIGHT TO YOUR INBOX !
Simple and delicious gluten-free recipes, family-friendly meal ideas, healthy cooking, encouragement, and easy-to-implement lifestyle strategies to live fully nourished… Only from GfreeDeliciously!
When making hard-boiled eggs, I don't know that I've ever actually timed the boiling. I must live under a lucky star because I've never ended up with what I would describe as dry-chalky eggs. But I have had times when the yolks have been over-cooked when the yolks end up with a weird greenish halo surrounding the yellow center.
With all that off my chest and out in the open, I have good luck with hard-boiling eggs (MOST of the time). The way I've done it for years is quite simple.
I start with cold water in a deep saucepan, place eggs straight from the refrigerator into the pan, and cover them with a minimum of 1-inch of the cold water. After the pan goes on the stove, I turn the heat to high until the water boils rapidly (this step usually takes 15-17 minutes). I'm always amid other preparations, so at this point, I turn off the heat and let the eggs sit for a bit in hot water. When I remember that they're still in the water, I drain the water off and fill the pan with cold water. We live in the country and have an artesian well, so our water is icy cold from the tap. Then I'll crack all the eggs on their sides and place them back into the cold water for a few minutes until I start peeling.
Nine times out of ten, the result is that I end up with beautiful bright yellow yolks with just the right amount of eggy texture! So good. I love eating them as is with a sprinkle of salt.
If you are obsessed with learning how to make perfect hard-boiled eggs check out the video below from Allrecipes, they have a great video that's simple about how to do it.
For another perspective on how to make perfect hard-boiled eggs, check out the video below from Allrecipes. They have a great video that's simple about how to do it.
Or you can read about that site's hard-boiled egg tips HERE.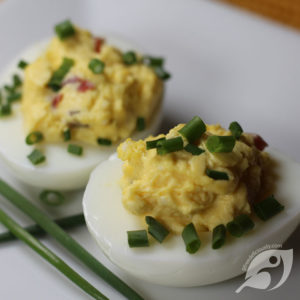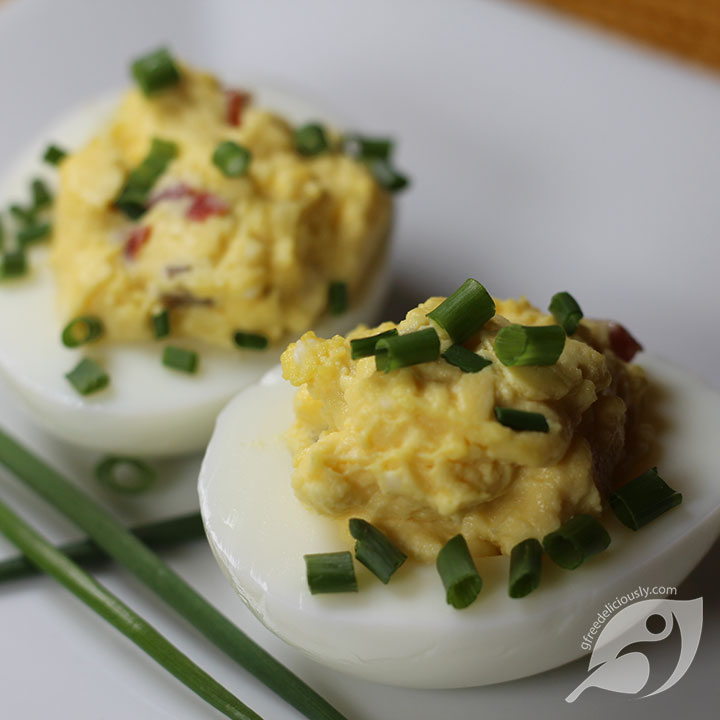 Jalapeno Deviled Eggs
Great for picnics, potlucks, or holidays, this recipe for Jalapeno Deviled Eggs adds a slightly spicy bite to classic deviled eggs with its updated jalapeno twist!
INGREDIENTS
6

hard-boiled Eggs

(hard-cooked eggs) cooled and peeled

4

tablespoons

gluten-free Mayonnaise

10-12

slices

Jalapeno Pepper

(pickled or canned) drained and minced

1

tablespoon

Butter

room temperature

Fresh Chives

diced for garnish * optional

Paprika

if desired *optional
Add ingredients to your Private Shopping List before ordering online.
Quick Add Ingredients to Shopping List
INSTRUCTIONS
Start with peeled, hard-boiled cooked eggs that have been sliced in half, lengthwise. Remove the hard yolks to a mixing bowl.

When all the yolks are in the bowl, mash them up with a fork or flexible spatula. Add the mayonnaise, minced jalapeno, butter, and salt and pepper. Mix well with a spoon until smooth and creamy. Taste and adjust the salt and pepper as needed.

Spoon the mixture into the egg halves. Garnish with chopped chives, and dust lightly with paprika if desired. Refrigerate until ready to serve. Enjoy!
Nutrition
Calories:
57
kcal
Carbohydrates:
2.4
g
Protein:
3.4
g
Fat:
3.6
g
Saturated Fat:
1.4
g
Polyunsaturated Fat:
0.4
g
Monounsaturated Fat:
1.3
g
Trans Fat:
0
g
Cholesterol:
95.8
mg
Sodium:
69.1
mg
Potassium:
34.6
mg
Fiber:
0.2
g
Sugar:
0.4
g
Vitamin A:
45.3
IU
Vitamin C:
0.3
mg
Calcium:
14.9
mg
Iron:
0.4
mg
(Nutritional values are an approximation. Actual nutritional values may vary due to preparation techniques, variations related to suppliers, regional and seasonal differences, or rounding.)
Copyright © 2017-2023 Kymberley Pekrul | GfreeDeliciously | gfreedeliciously.com | All content and photographs are copyright protected. The sharing of this recipe is both encouraged and appreciated. However, copying and/or pasting full recipes to any social media is strictly prohibited. Please read my Photo Use Policy for detailed guidelines and further clarification.