Family favorite Creamy Coleslaw, a homemade recipe that is easy to make and easy on the budget too!
Great eating is sometimes the simplest! This Classic Homemade Creamy Coleslaw Recipe is one you will fall in love with. And it's so simple to make with crisp cabbage and carrot in three easy steps!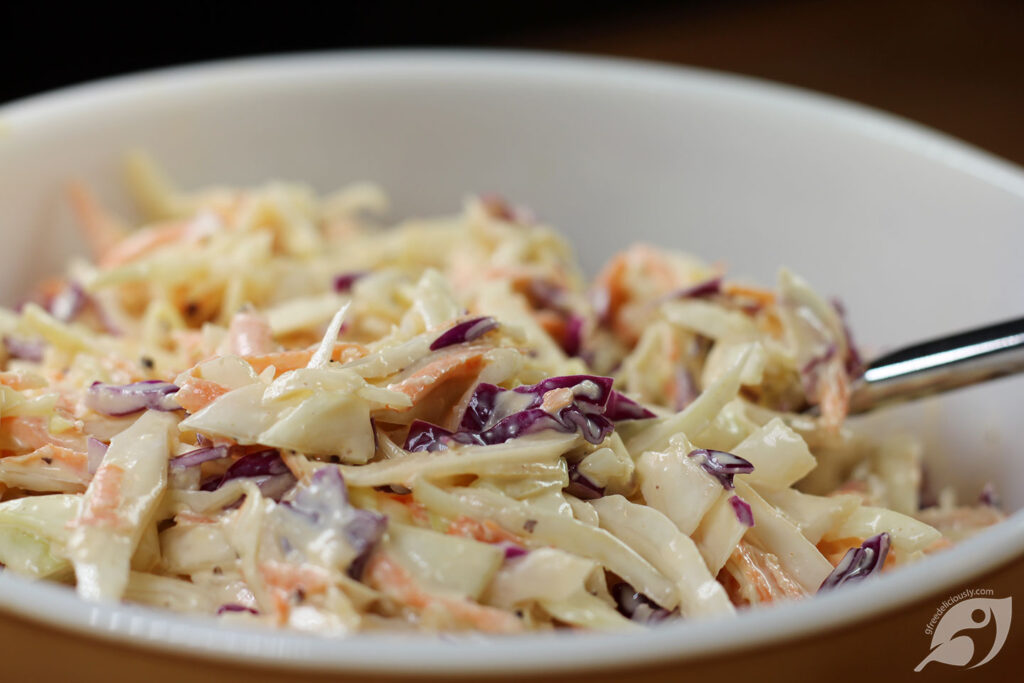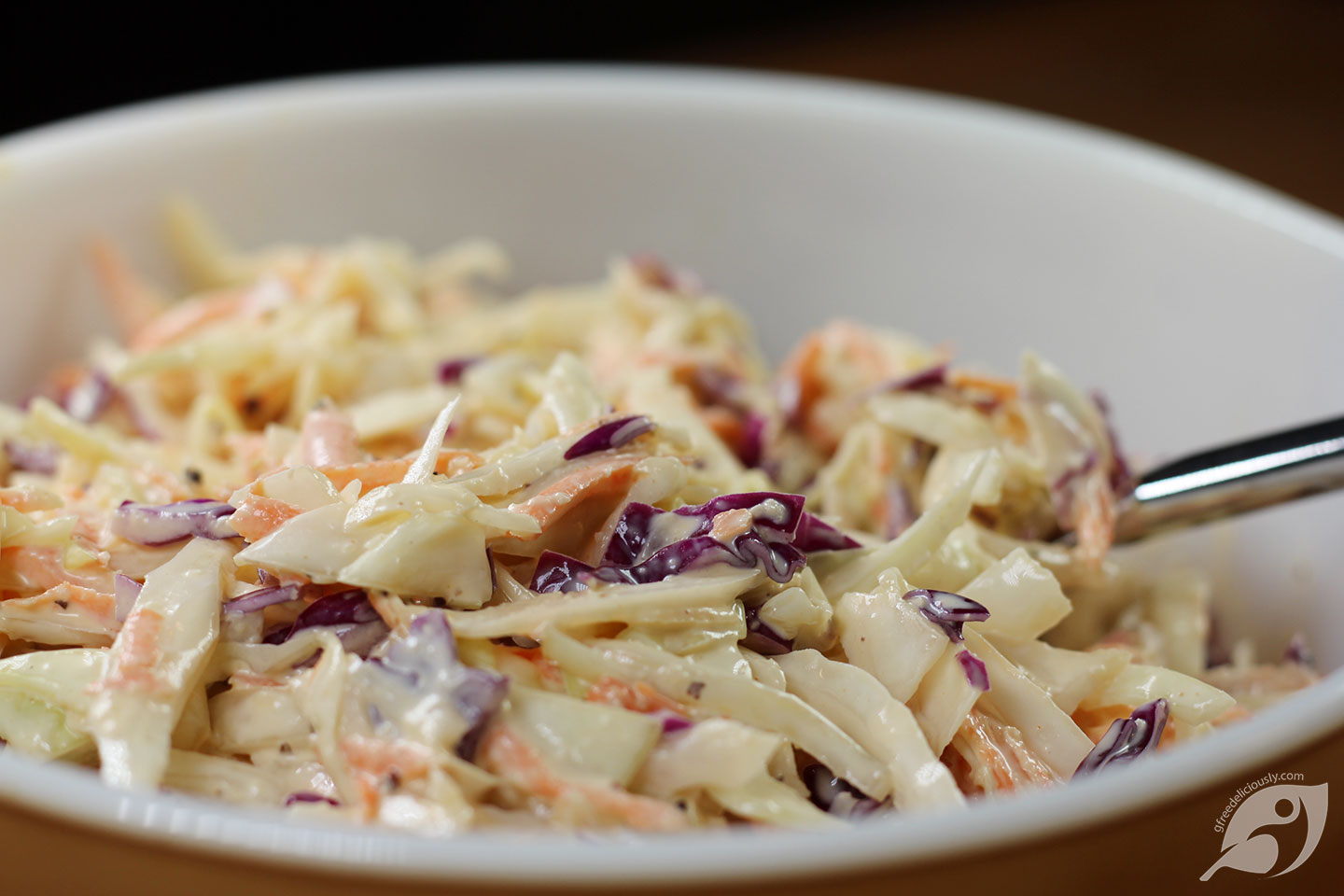 The perfect coleslaw side dish that will never go out of style so long as there are holidays, potlucks, parties, and cookouts!
Though you can buy store-bought coleslaw mix and prepared coleslaw dressing, in my opinion, nothing quite compares to making your own homemade creamy coleslaw. And why wouldn't you? It's so simple!
You probably already have everything you will need in your cupboard and fridge. Just add cabbage, a big crunchy carrot, and you're all set for making this delicious easy salad.
How to Make Classic Homemade Creamy Coleslaw in Three Easy Steps
Unlike many more time-consuming salads, this coleslaw recipe is quick and easy to make in just three steps!
Fine shred or coarsely grate the cabbage and the carrot.
Combine the ingredients.
Add the seasoning and mayonnaise, stir up and enjoy!
Shredding cabbage does not require fancy equipment. Pretty much if you have a cook's knife and a cutting board, you're ready to go. Though, for those who prefer using a fancier gadget, you can also use a mandoline slicer or a box grater. For me, the less I need to clean up, the better. So, making finely shredded cabbage by hand with a cook's knife works fine.
My most favorite tool to shred the carrot will always be a hand grater or shredder (bought from the hardware store – I've had one for years). But then if you are into gadgets, you could use the julienne slicer disc that came with that mandoline slicer (like mine) that sets gathering dust in the cupboard.
Cooks Note: In full disclosure, I feel a need to justify that having a mandoline when you need one for making and doing whatever it is that you need to do when you decide to do it is reason enough for owning one.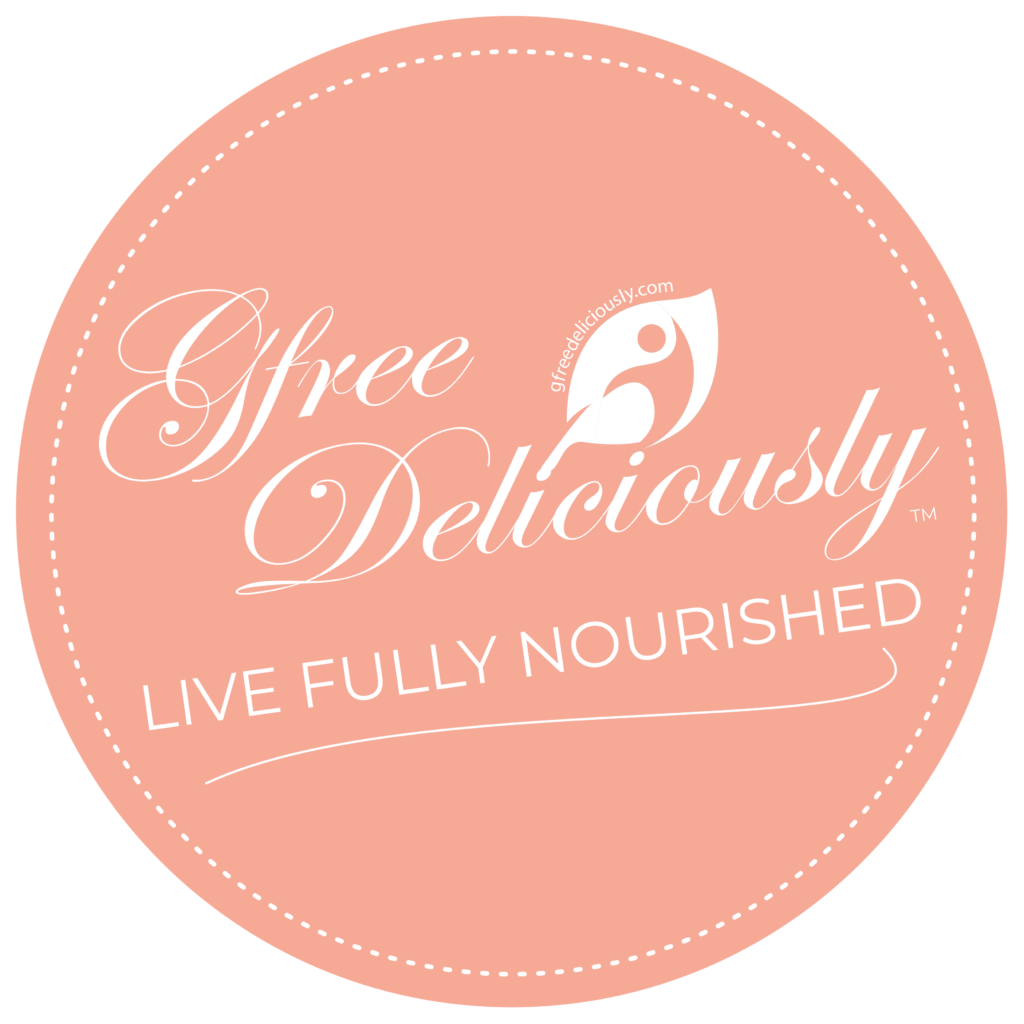 GET RECIPES • RESOURCES • +eNEWS UPDATES & MORE STRAIGHT TO YOUR INBOX !
Simple and delicious gluten-free recipes, family-friendly meal ideas, healthy cooking, encouragement, and easy-to-implement lifestyle strategies to live fully nourished… Only from GfreeDeliciously!
"Variety is the spice of life," it is said. The same could also be said to be accurate for the endless variations you can make for coleslaw recipes and coleslaw dressings. And, while I have many favorites among them, try my recipe for Apple Pineapple Slaw with Honey Mustard Dressing, for me, it can be summed up as this… "when it comes to the dressing, a good coleslaw dressing can make or break the recipe."
The dressing used in this recipe for homemade creamy coleslaw contains four simple seasonings. These seasonings are among the kitchen staples that are always in my cupboard. These four seasonings, onion powder, Lawry's Seasoned Salt®, coarse-ground black pepper, and celery salt, are the same seasonings used for many of my mayonnaise-based dressings used in salads.
I stumbled on the combination of these seasoning for making coleslaw and other mayonnaise-based salads the first year I was married when in a panic I called my mom for a last-minute idea for making a take-along dish to pass for a family picnic.
"Well, honey," she said, "Look in your cupboard and use any combination of seasonings that you might have. Taste as you go and adjust as necessary. You'll do just fine." I've always been able to count on my mom for votes of confidence.
Ever since, I have used this combination of spices for making my signature homemade creamy coleslaw recipe.
Here are my signature mayonnaise-based dressing ingredients:
Mayonnaise – The creamy base of the dressing
Seasonings – Onion powder, Lawry's Seasoned Salt®, coarse-ground black pepper, and celery salt
Whisk them together and stir them into most any salad that you would add a mayo-based dressing, and you'll have an automatic winning salad that hungry folks will love!
Picture the recipe step-by-step...
What to Eat with Coleslaw?
The versatility of coleslaw is the beauty of this easy side dish!
Serve coleslaw on its own as a side dish with holiday ham, or a salad to a good burger, pile it high on a BBQ Chicken or Pulled Pork sandwich, or serve it with spicy wings.
The Perfect Do-Ahead Dish
Coleslaw is the perfect do-ahead side dish. When making coleslaw for a party, potluck, or holiday dinner, prepare the cabbage and carrot ahead of time following the instructions in step one. Cover and refrigerate. In a separate small bowl, combine the mayonnaise and seasonings, whisk together and store in a covered container in the fridge until needed. Before serving (30-minutes to 24 hours before you are going to need it), combine the mixed dressing with the cabbage and carrot mixture, stir to combine, keep covered, and refrigerate until ready to serve.
For the best taste and salad quality, keep the coleslaw covered and refrigerated. It will last 2-3 days in the refrigerator if not eaten right away.
When serving for BBQs, picnics, and potlucks, use the two-hour rule to keep it from spoiling. You don't want your guests to miss out on the fun because they aren't feeling well. The FDA adds, "If the air temperature is above 90°F, the 'two-hour rule' becomes one-hour.'"
When entertaining in warm weather, serve coleslaw up in a double-wall-insulated chilled bowl or place your filled container of salad inside another bowl that contains ice to keep it cool and fresh. After the main meal, store any remaining coleslaw in the refrigerator or a cooler with ice.
Finally, make sure you have several coolers and ice available for your party.  If you crowd your refrigerator or cooler with food, the air (and the cold) cannot circulate, and your food won't be cooled to the proper temperatures.
If you want to skip the hassle of mayo-dressed salads or just want to lighten up your meal, try these mayo-free salad options:
XXO
P.S. As always, I hope you will try this favorite family way of ours to make creamy coleslaw. If you do, let me know what you think. Ask a question or let me know how you adapted this recipe to make it your own. I love hearing your comments.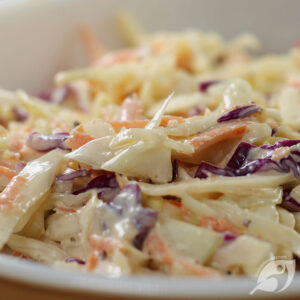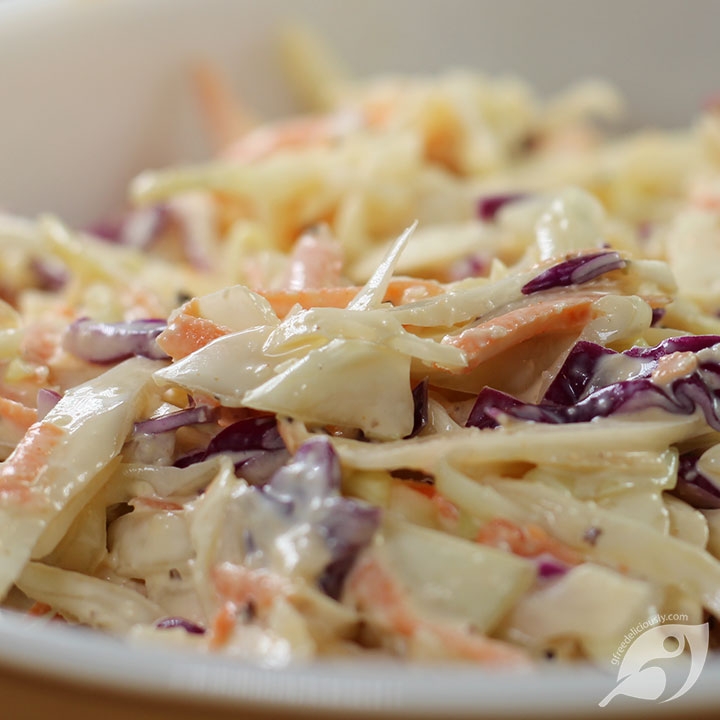 Creamy Coleslaw
Family favorite Creamy Coleslaw, a homemade recipe that is easy to make and easy on the budget too!
EQUIPMENT
Large mixing bowl

Cutting Board

Box Grater or Hand Grater or Slicer, or Mandoline

Utensils (Cook's Knife, Vegetable Peeler, Large Spoon)
INGREDIENTS
3

cups

green cabbage

cut into a fine shred or coarsely grated [1] [2]

2

cups

purple cabbage

cut into a fine shred, or coarsely grated [1] [2]

1

large

Carrot

grated [1]

1-1/2

teaspoons

Onion Powder

1

teaspoon

Lawry's Seasoned Salt

1

teaspoon

coarse ground Black Pepper

½

teaspoon

Celery Salt

⅔

cup

+ 1 tablespoon gluten-free Mayonnaise
Add ingredients to your Private Shopping List before ordering online.
Quick Add Ingredients to Shopping List
INSTRUCTIONS
Add the mayonnaise to the bowl, sprinkle the onion powder, seasoned salt, the pepper, and celery salt on top of the mixture, then stir well to incorporate the mayonnaise and the seasonings.
KITCHEN NOTES
[1] Substitution: 1 bag (16 ounce) coleslaw mix
[2] If cutting from fresh cabbage:
1/4 medium-to-large-size head of green cabbage will equal approximately three cups cabbage cut into a fine shred or coarsely grated.
1/4 small-size head of purple cabbage will equal approximately two cups cabbage cut into a fine shred or coarsely grated.
This recipe can also be made using only green cabbage – to make; you will need a total of five cups of cut or grated cabbage.
Nutrition
Calories:
195
kcal
Carbohydrates:
6.8
g
Protein:
1.5
g
Fat:
18.5
g
Saturated Fat:
2.9
g
Polyunsaturated Fat:
11
g
Monounsaturated Fat:
4.2
g
Trans Fat:
0
g
Cholesterol:
10.3
mg
Sodium:
192.1
mg
Potassium:
202.4
mg
Fiber:
2.3
g
Sugar:
3.3
g
Vitamin A:
123.1
IU
Vitamin C:
34.1
mg
Calcium:
43.2
mg
Iron:
0.7
mg
(Nutritional values are an approximation. Actual nutritional values may vary due to preparation techniques, variations related to suppliers, regional and seasonal differences, or rounding.)
Copyright © 2017-2023 Kymberley Pekrul | GfreeDeliciously | gfreedeliciously.com | All content and photographs are copyright protected. The sharing of this recipe is both encouraged and appreciated. However, copying and/or pasting full recipes to any social media is strictly prohibited. Please read my Photo Use Policy for detailed guidelines and further clarification.