An Easy BBQ Sauce You Can't Go Wrong With
Using a handful of simple ingredients that are likely already residing in your pantry, this recipe builds layers of flavor by first sautéing onions, ginger, and garlic, to mellow for a quick 15 minutes. Then blend in the mango, tomato, chilis, and a few other ingredients to simmer, and concentrate the flavors for about 30 minutes.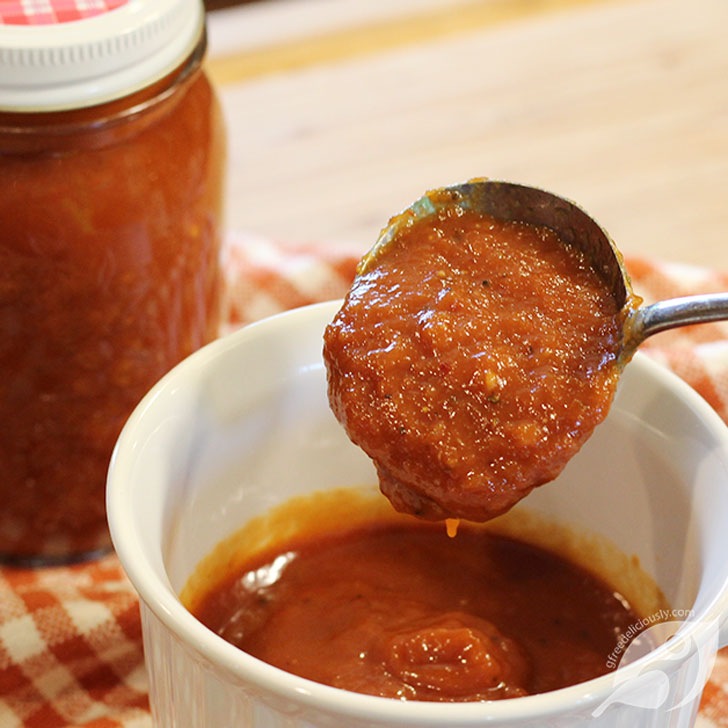 If you've shied away from making homemade barbecue sauce because you thought it was a long process or complicated, think again. In this recipe, we show you how using just a handful of everyday ingredients, you can make a sauce and condiment that's full of flavor for grilling and dipping that is well worth the time and effort spent to make it. Then get set for rave reviews because this pineapple mango BBQ sauce is just so-ooo darned GOOD!
Natural Grapeseed Oil –
Using unflavored grapeseed oil allows the fresh mango's natural flavor to shine and the floral, sweet flavor to come through in this recipe.
Onion –
Yellow onions are our go-to pantry staple that's great for cooking and flavoring most dishes, but feel free to use whatever you have.
Ginger –
Considered a hot spice, ginger packs an additional punch of heat, flavor, and aroma.
Garlic –
Adding a unique, almost nutty flavor, you'll want to add the garlic after the onions in the cooking process to allow for a robust garlicky flavor to develop and come through when the sauce is finished.
Mango –
One of the world's most popular fruits – a perfectly ripe mango, adds a creamy, fruity tropical taste to this barbecue sauce. You'll want to rely on your sense of sight, smell, and touch to tell a ripe mango from an unripe one. Unripe mango is usually hard, green, and very firm, but as it ripens, the color will develop to a deep yellow with orange and red hues, depending on the type. The sweet, appealing smell is the secret to knowing a mango is ripe. When lightly squeezed, the skin will give slightly. But if your fingers sink into the skin when pressing, it's probably overripe, resulting in the smell being almost sour or vinegary because it has begun to ferment.
Dark Brown Sugar –
Adding a rich deep caramel flavor, dark brown sugar contains nearly twice as much molasses as light brown sugar (6.5% compared to 3.5%). Don't panic. If light brown is all you have, you can substitute light for dark interchangeably in this recipe. To achieve a deeper caramel taste, include one tablespoon of molasses to enhance the flavor and acidity of the sauce.
Honey –
Adding a touch of honey heightens the floral sweetness of the sauce, elevating it in a slightly different way from the brown sugar.
Tomato Paste –
It gives this barbecue sauce a base full of familiar tomato richness without the sweetness of ketchup which we're already getting from the additions of brown sugar and honey.
Pineapple Juice –
Providing a bit of personality with a dash of acidity, pineapple juice adds a fabulous layer of subtle sweet citrusy flavor that compliments the mango in this sauce beautifully.
Apple Cider Vinegar (ACV) –
A good vinegar choice for most cooking and baking purposes, ACV adds a fruity tartness that increases the flavor without a vinegary bite.
Chipotle Peppers in Adobo Sauce –
Adding just enough heat to make your lips tingle, chipotle peppers in adobo sauce is our first choice for adding that bit of extra "zing" that makes this sauce extra good. You could also substitute canned green chilis or jalapeños.
Salt and Black Pepper –
Because everything is better with a bit of salt and pepper!
How to Make this BBQ Sauce
Picture the recipe step-by-step...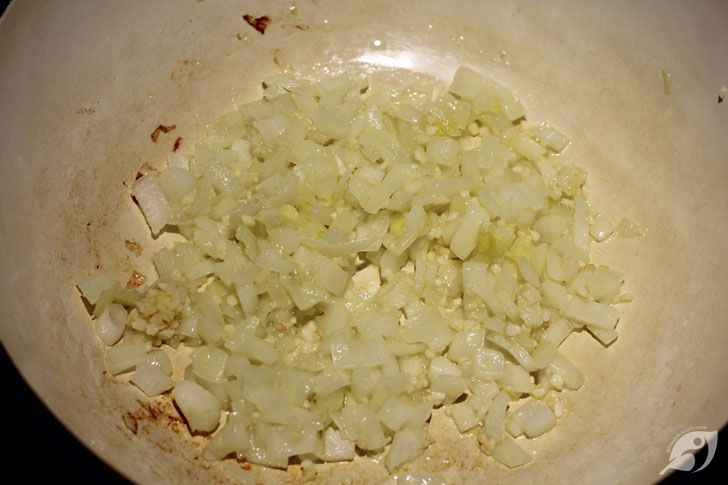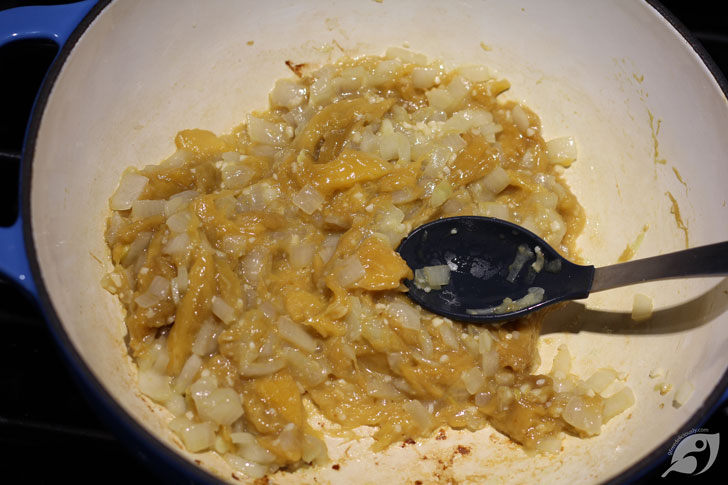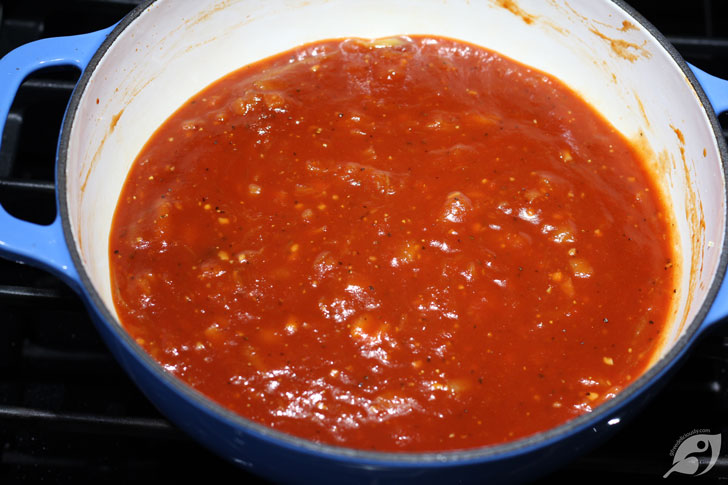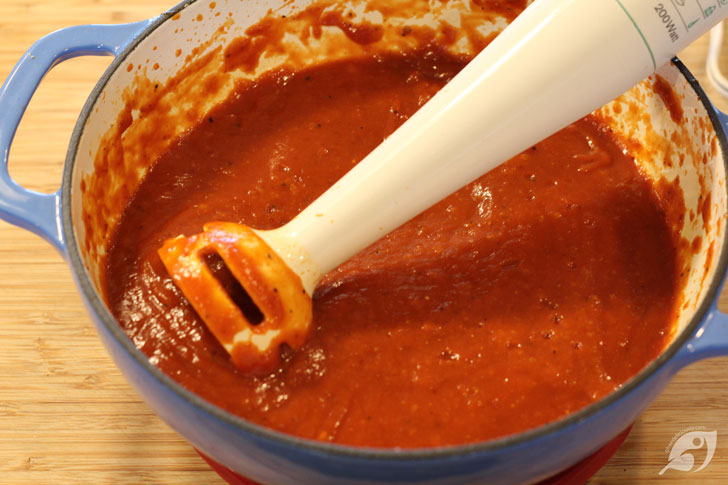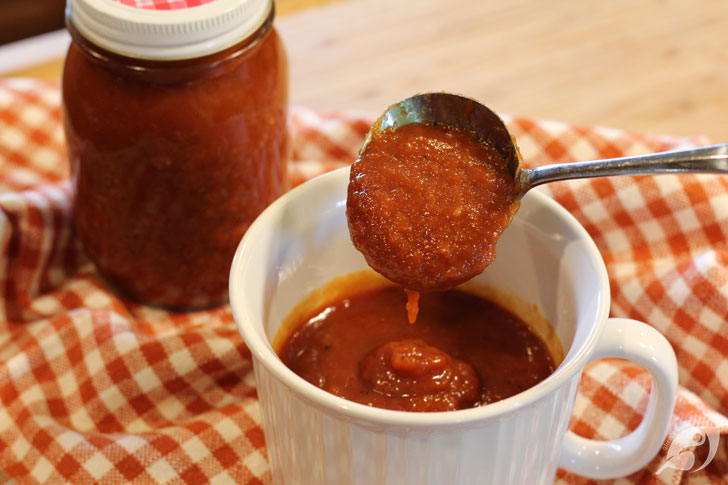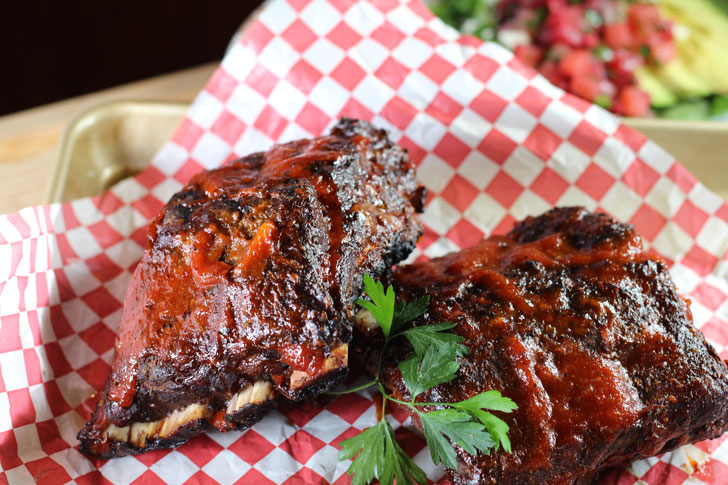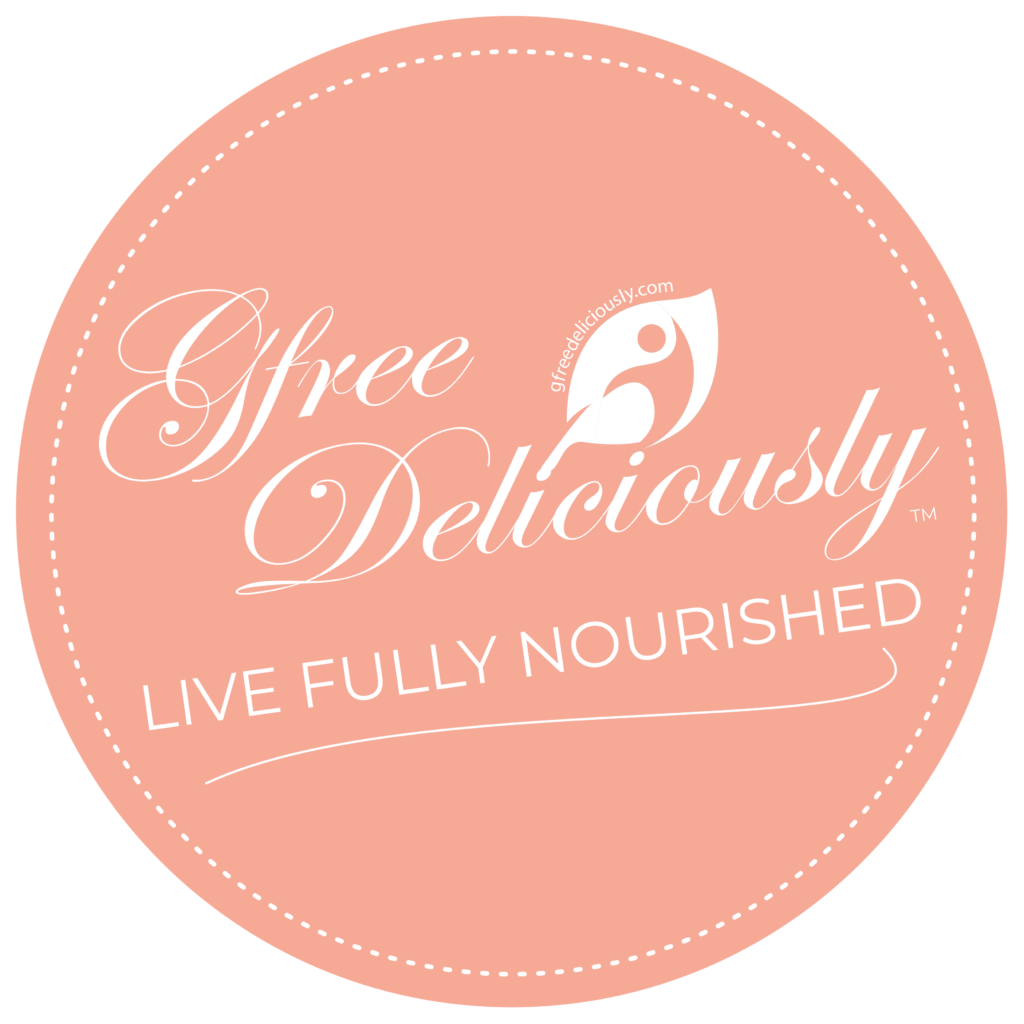 GET RECIPES • RESOURCES • +eNEWS UPDATES & MORE STRAIGHT TO YOUR INBOX !
Simple and delicious gluten-free recipes, family-friendly meal ideas, healthy cooking, encouragement, and easy-to-implement lifestyle strategies to live fully nourished… Only from GfreeDeliciously!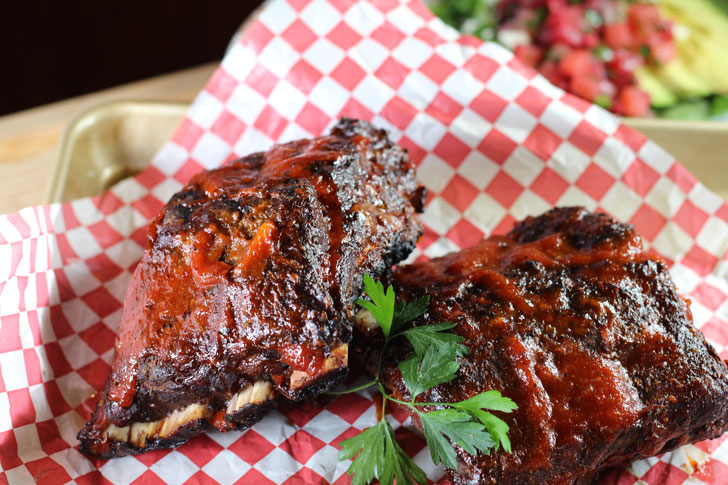 Have you tried this yourself – decided you love it? Share this barbecue sauce as an excellent food gift. Pour the homemade sauce into decorative glass bottles or mason jars. Tie it with a pretty ribbon, create a homemade label, and you're ready to give a unique gift from your kitchen that family or friends will truly appreciate!
Pineapple Mango BBQ Sauce stores well in sterilized, tightly sealed, airtight jars in the refrigerator for up to three weeks. Then, reheat or slather it on as you would any bottled barbecue sauce from the store when you want to use it.
For more extended storage, prepare a boiling-water canner while the sauce simmers. Sanitize the jars, wash the lids in warm, soapy water, and set them aside with bands, then continue following the preserving method for water bath canning barbecue sauce outlined in this recipe by a well-known manufacturer of canning supplies.
It's the perfect combination of tangy and sweet with a little lip-smacking heat.
After you try this recipe, we'd be grateful if you let us know how you like it!
Leave a comment below, share it, and rate it – it's super helpful for other readers and us. Just click the blue-green comment bubble on the bottom right of your screen to jump to the comment area below. And as always, don't forget to take a picture and tag it #CookingGfreeDeliciously on Instagram. We love seeing what you cook up!
XXO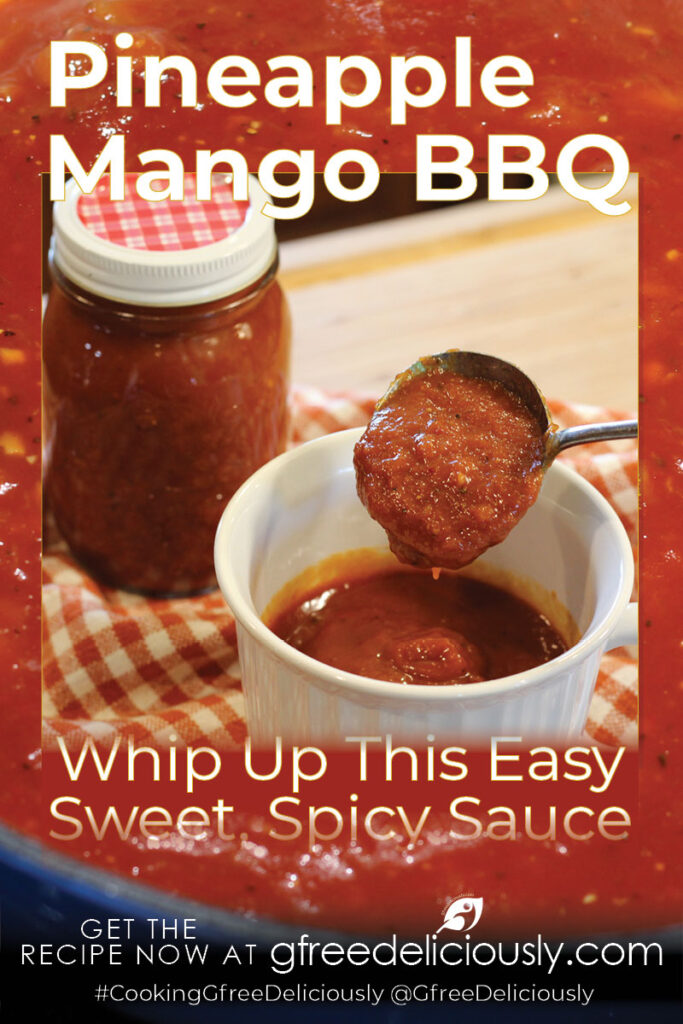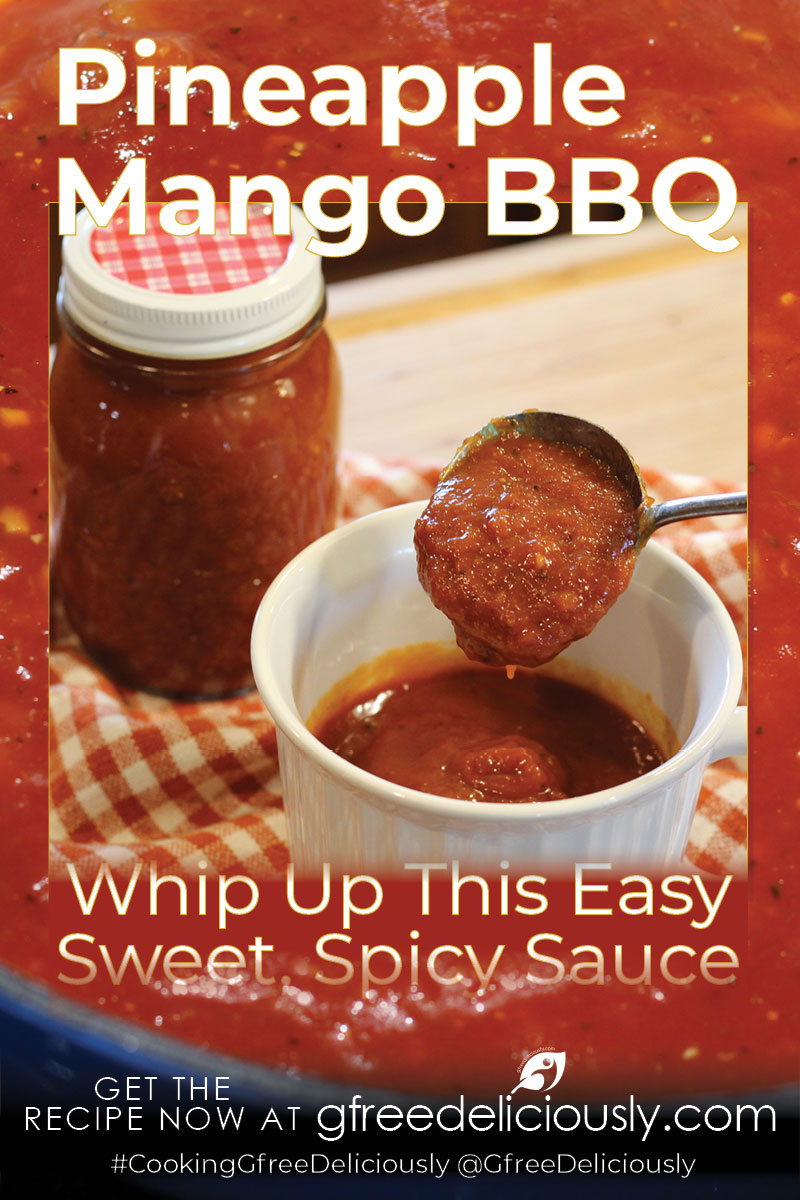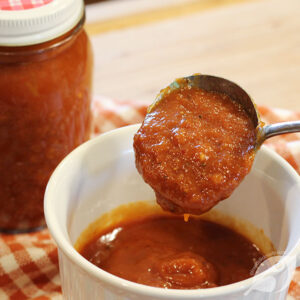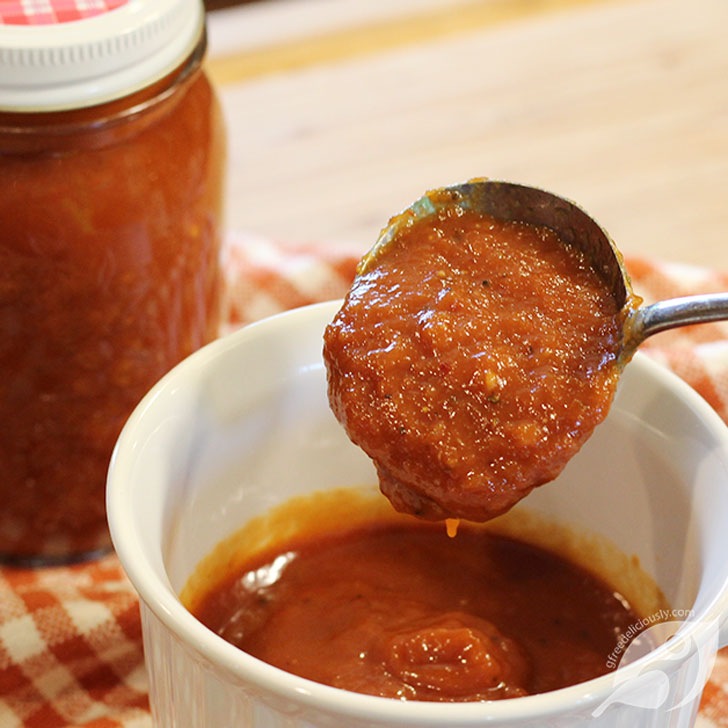 Pineapple Mango BBQ Sauce
Using a handful of simple ingredients that are likely already residing in your pantry, this recipe builds layers of flavor by first sautéing onions, ginger, and garlic, to mellow for a quick 15 minutes. Then blend in the mango, tomato, chilis, and a few other ingredients to simmer, and concentrate the flavors for about 30 minutes.
EQUIPMENT
1 Cutting Board

Utensils (Cooks Knife, Whisk, Measuring Cups & Spoons, Rubber Spatula or Large Spoon)
Add ingredients to your Private Shopping List before ordering online.
Quick Add Ingredients to Shopping List
KITCHEN NOTES
Footnotes:
[1] To develop and intensify the deep mellow flavor of the barbecue sauce, we found that making it a day or two in advance does the trick. Of course, if you're in a hurry, the saucy purée is also delicious and ready for use immediately!
Nutrition
Calories:
720
kcal
Carbohydrates:
146
g
Protein:
7
g
Fat:
16
g
Saturated Fat:
2
g
Polyunsaturated Fat:
6
g
Monounsaturated Fat:
7
g
Sodium:
9198
mg
Potassium:
1473
mg
Fiber:
7
g
Sugar:
125
g
Vitamin A:
2507
IU
Vitamin C:
73
mg
Calcium:
177
mg
Iron:
5
mg
(Nutritional values are an approximation. Actual nutritional values may vary due to preparation techniques, variations related to suppliers, regional and seasonal differences, or rounding.)
Copyright © 2017-2023 Kymberley Pekrul | GfreeDeliciously | gfreedeliciously.com | All content and photographs are copyright protected. The sharing of this recipe is both encouraged and appreciated. However, copying and/or pasting full recipes to any social media is strictly prohibited. Please read my Photo Use Policy for detailed guidelines and further clarification.