Zucchini, Summer Squash & Onion Grill Packets
There's nothing easier than Zucchini, Summer Squash, and Onions cooked on the grill in foil packets. These grill packets packed with flavor will become one of your favorite ways to prepare zucchini and summer squash!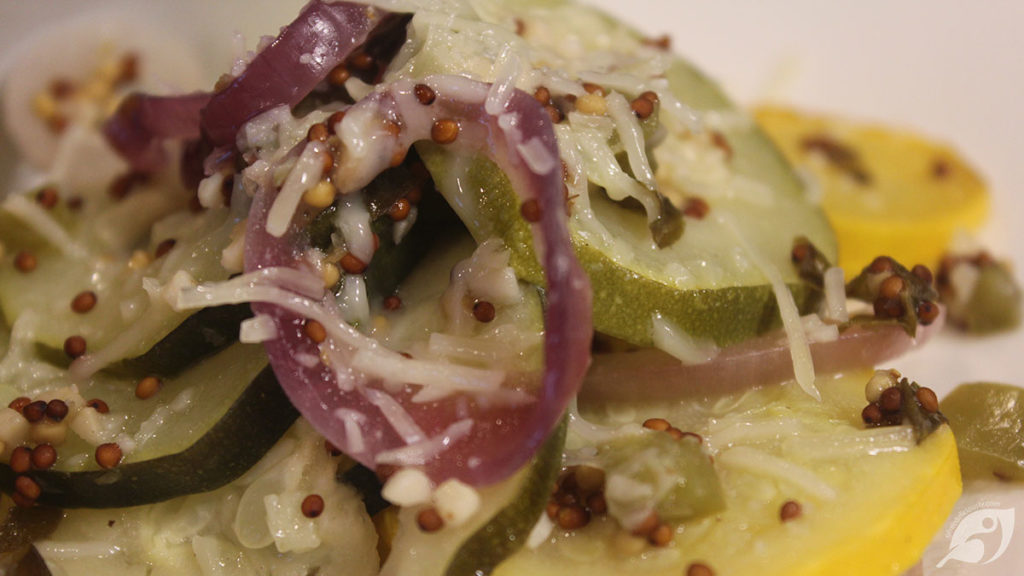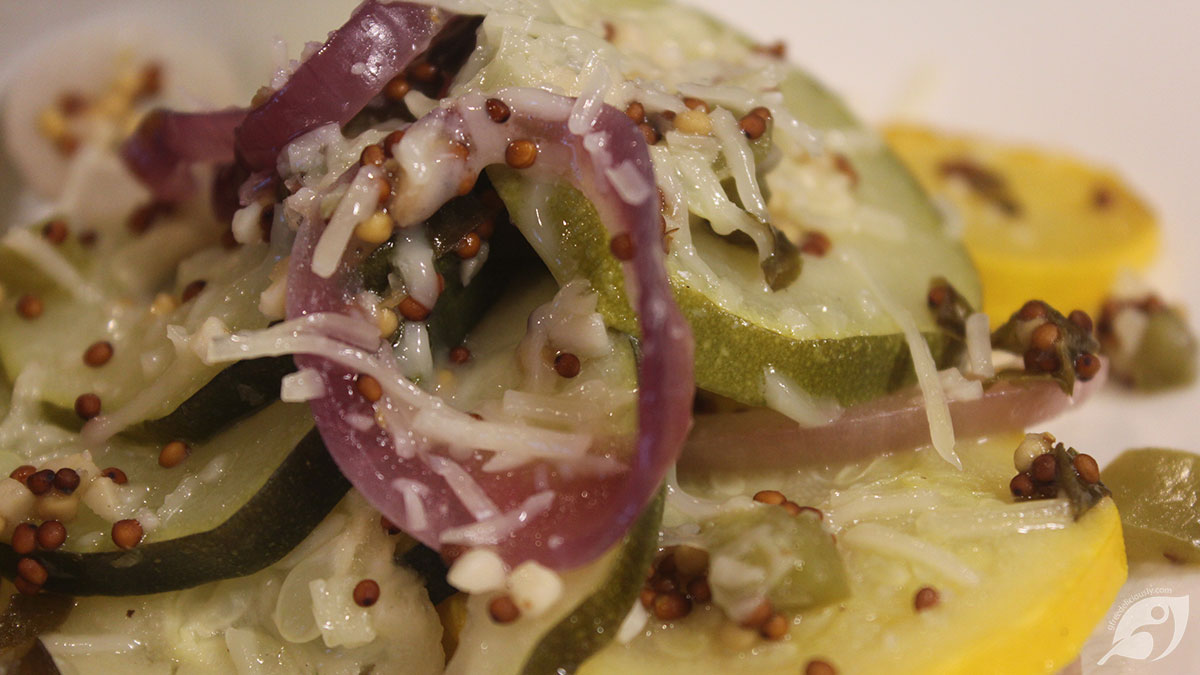 When the zucchini and summer squash grow plentiful in the garden, I always look for creative ways to make and enjoy them. This recipe has become one of our family favorites for getting veggies to the table with minimal prep time.
No kidding. These zucchini, summer squash, and onion grill packets make the easiest recipe ever! One of its best parts is that there's no messy cleanup.
How to pick the perfect size zucchini...
For the best zucchini and squash, you need to pick them when they are small in diameter. A simple gauge to measure is to use your thumb and middle finger, wrapping your fingers around the broadest part of the vegetable. There should be no more than half to one inch larger than your fingers can wrap around for the best size. Picking smaller-sized zucchini will also help in staying on top of using up these prolific seasonal beauties.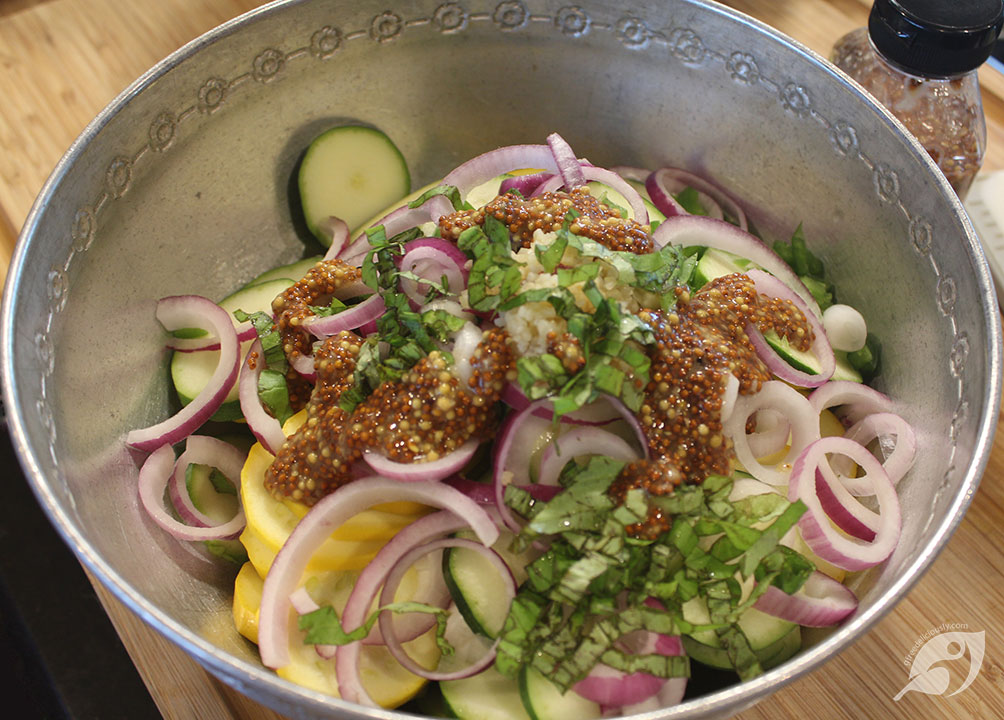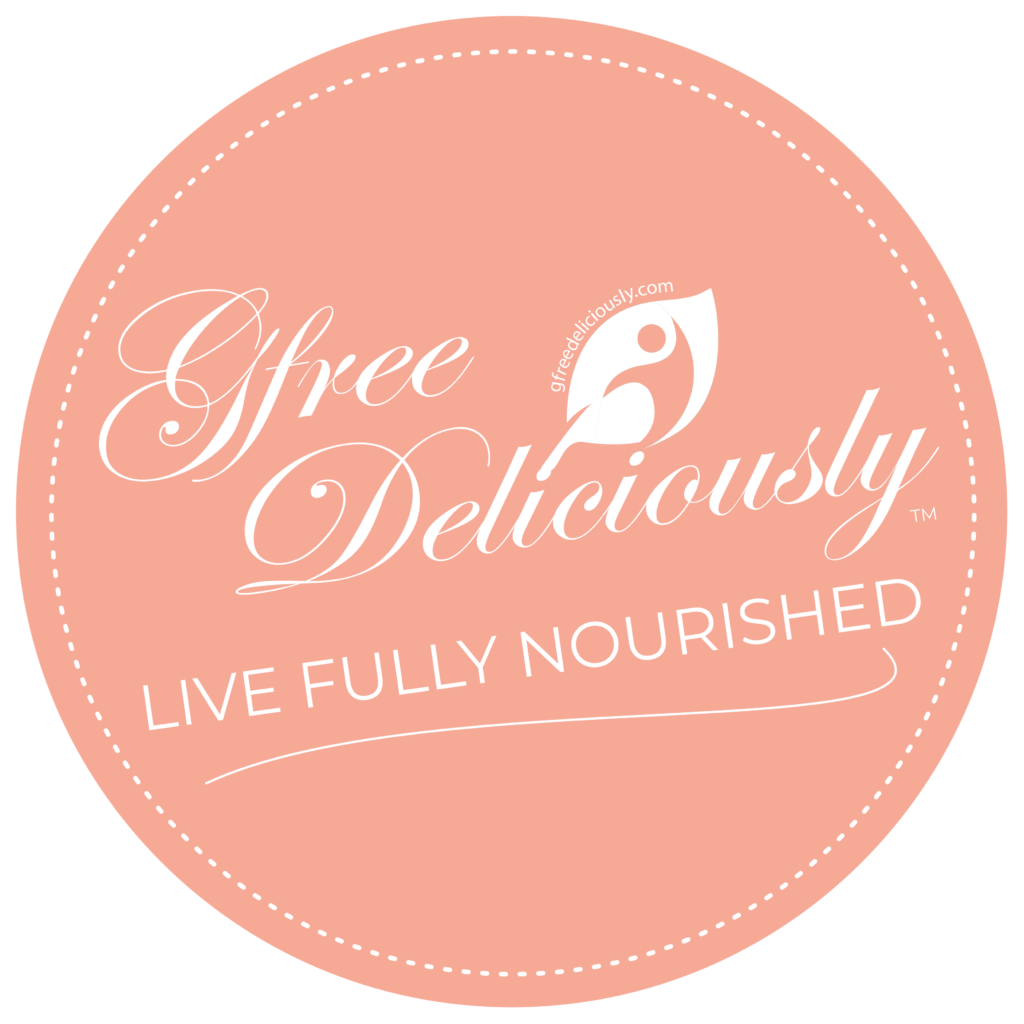 GET RECIPES • RESOURCES • +eNEWS UPDATES & MORE STRAIGHT TO YOUR INBOX !
Simple and delicious gluten-free recipes, family-friendly meal ideas, healthy cooking, encouragement, and easy-to-implement lifestyle strategies to live fully nourished… Only from GfreeDeliciously!
How to make zucchini and summer squash grill packets...
After picking, it's time to slice them. I like to slice them into approximately ¼-inch thick coins or slices when preparing. That size works well for the onions, too.
Next, mince the jalapeno and add to the bowl. Don't worry; the heat from the jalapeno will disappear, and the slightly spicy flavor will remain. Using just a little jalapeno is the secret ingredient to making these grill packets savory and delicious.
The final prep step is to add the garlic, basil, and mustard into the bowl and give everything a good toss to coat.
Dump everything over into an 8×8 square foil pan. Top with the butter and cover the pan with aluminum foil.
If you don't have a foil pan, you can always use two sheets of aluminum foil to make a foil packet. You'll want to use two sheets of aluminum foil (one for the top and another for the bottom) that are big enough to allow some room inside for air to circulate. Then, seal the edges tight to avoid the contents from falling out.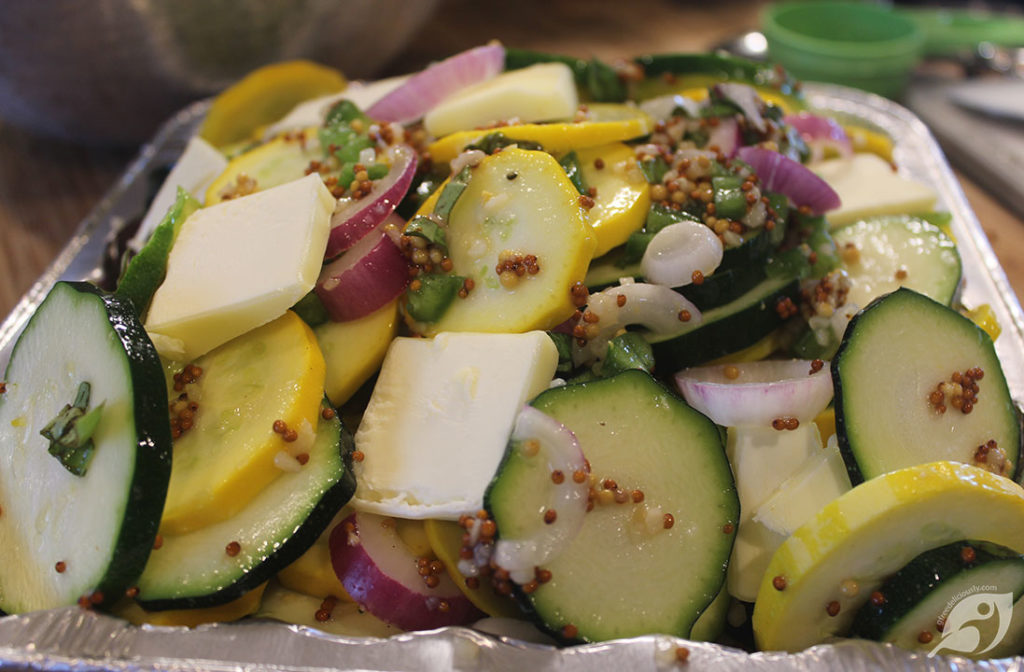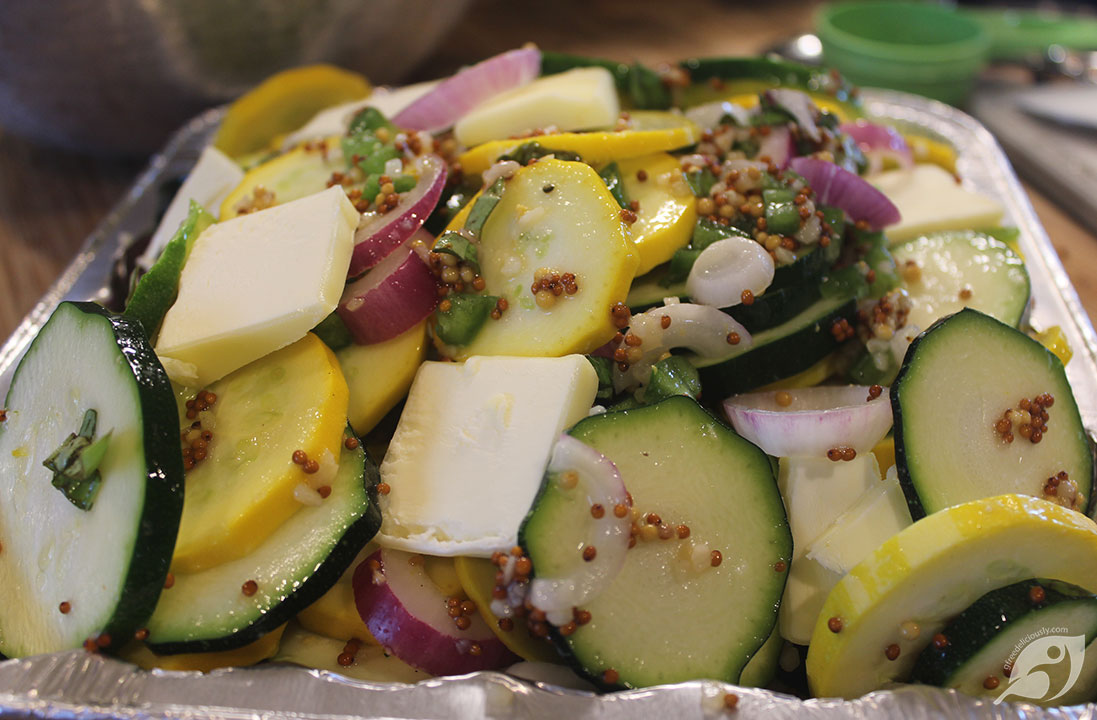 How long to grill the packets...
I usually put the grill packets onto the grill 20-30 minutes before I know the meat will be ready.
After the packets have been grilled for 10-15 minutes, peel back an edge of the foil (if using a foil pan) and stir the contents quickly. If you're using a foil packet, carefully flip the packets over occasionally to ensure even grilling.
The total grill magic happens in about 20 to 30 minutes. I like to serve this zucchini side dish to the family, topped with a sprinkle of parmesan cheese for garnish. Enjoy!
XXO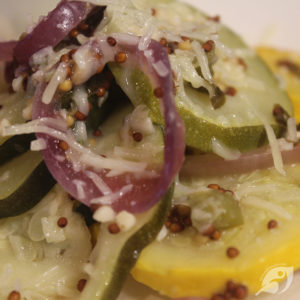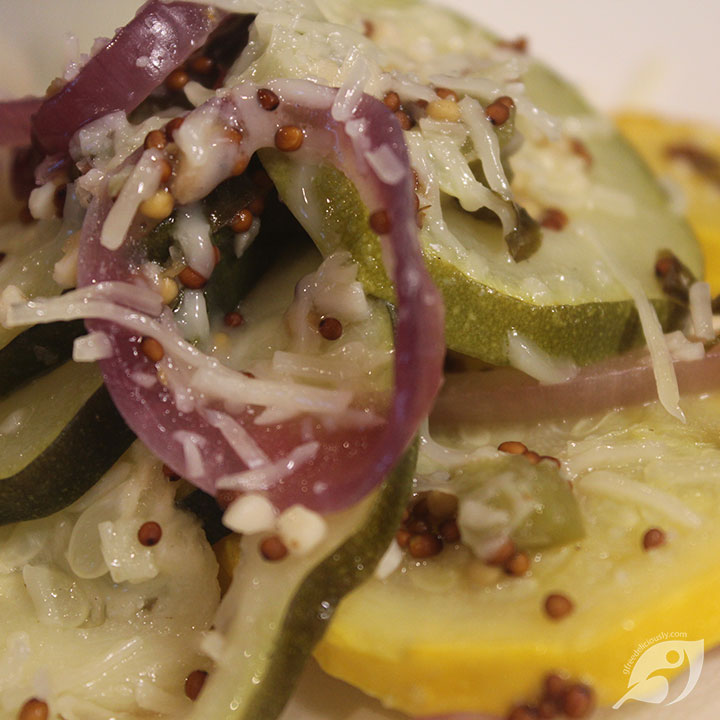 Zucchini & Summer Squash Grill Packets
Zucchini and Summer Squash cooked on the grill is an easy side dish for just about any summer meal. Don't have a grill? You can also make this recipe in the oven.
EQUIPMENT
Foil pan or two sheets of heavy aluminum foil

Large mixing bowl
INGREDIENTS
2

small

Summer Squash

2

small

Zucchini

1

medium

Red Onion

1

medium

Jalapeno Pepper

cored, seeded and minced

1

tablespoon

Garlic

minced

1

tablespoon

fresh Basil

chopped

¼

cup

Whole Grain Mustard

2

tablespoons

Butter

sliced

Parmesan Cheese

to garnish
Add ingredients to your Private Shopping List before ordering online.
Quick Add Ingredients to Shopping List
INSTRUCTIONS
Preheat the grill to 350ºF according to manufacturer instructions.

Wash the vegetables, slice the summer squash and zucchini into coins into a large bowl. Slice and add the onion, and the minced jalapeno.

Add the garlic, basil, and mustard, and toss to coat.

In this step, you can either dump the vegetables into an 8x8-inch aluminum foil pan or tear two large squares of aluminum foil and place half of the mixture on each piece.

Divide the butter equally over the vegetables. Place foil over the top of the vegetable mixture, wrap edges and seal tightly to form the packet for grilling.

Place on the preheated grill for 20-30 minutes or until the vegetables are fork-tender. If you don't have a grill, bake the vegetable packets on a cookie sheet in the oven at 400ºF for 20-30 minutes.

Before opening the packets, poke a few holes into the top of the foil with a fork to vent the steam. Be careful as it will be very hot and the steam could burn you! Serve the vegetables straight from the foil packets or family-style in a serving dish or on a platter. Top with a sprinkle of parmesan cheese for garnish. Enjoy!
KITCHEN NOTES
This recipe also works well with other vegetables. Red potatoes, blue potatoes, sweet potatoes, mushrooms, broccoli, and carrots are among the favorites at our house when we want to mix it up a bit. Feel free to get creative using Italian or ranch dressing instead of the mustard. Swap out other fresh herbs for the basil or add herbs and spices in place of the dressing or mustard and let your inner-cook soar!
Nutrition
Calories:
50
kcal
Carbohydrates:
4.1
g
Protein:
1.3
g
Fat:
3.2
g
Saturated Fat:
1.9
g
Polyunsaturated Fat:
0.2
g
Monounsaturated Fat:
0.8
g
Trans Fat:
0
g
Cholesterol:
7.6
mg
Sodium:
47.8
mg
Potassium:
247.3
mg
Fiber:
1.1
g
Sugar:
2.7
g
Vitamin A:
34.6
IU
Vitamin C:
18.4
mg
Calcium:
19.6
mg
Iron:
0.4
mg
(Nutritional values are an approximation. Actual nutritional values may vary due to preparation techniques, variations related to suppliers, regional and seasonal differences, or rounding.)
Copyright © 2017-2023 Kymberley Pekrul | GfreeDeliciously | gfreedeliciously.com | All content and photographs are copyright protected. The sharing of this recipe is both encouraged and appreciated. However, copying and/or pasting full recipes to any social media is strictly prohibited. Please read my Photo Use Policy for detailed guidelines and further clarification.