Gluten-Free Super Tasty Donut Peach Pancakes
Known by many names including BuenOs™, Tangos®, and Saturn Peach, because of its saucer shape and resemblance to the rings of Saturn, Donut (Doughnut) Peaches are popular cultivars and one of the very best of the white-flesh varieties of peaches in the United States.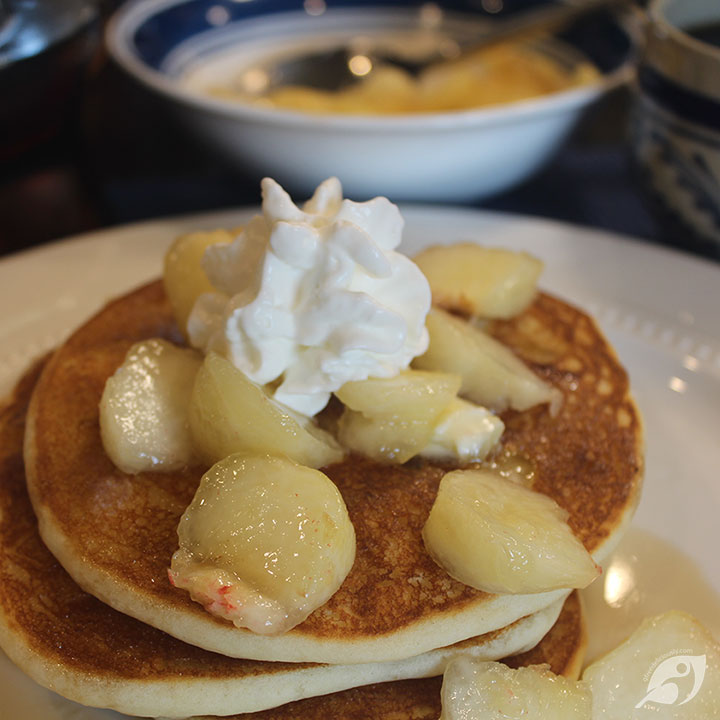 Breakfast has always been a big deal around our house. As my kids and grandkids will tell you, I love making breakfast, particularly breakfasts' that include pancakes, and I have a lot of ways to make pancake breakfasts' extra special and super good tasting too!
But, before I share this delicious Donut Peach Pancake recipe with you, I need to tell you about this peach we just discovered. It's called a donut peach, and it's full of flavor and certainly worth checking out if you can find them in a store or market near you!
After hearing local folks raving about Pennsylvania's delicious peaches during a trip for work to Chambersburg, Pennsylvania, dear hubby set out one sunny lunch hour to find out for himself what all the hubbub was about.
He found a local roadside market selling these magnificent peaches and an interesting quick primer on what the locals believe makes Chambersburg peaches the most popular of all Pennsylvania peaches. Of course, he bought some.
The next trick was to get them home to Wisconsin, unbruised and undamaged.
I'm told getting them home was somewhat of a process and a challenge, to say the least, given the TSA and airline transportation. But in the end, the juicy Chambersburg peaches made the trip arriving in top-notch condition.
The Story
"You will never guess what I brought you," dear hubby said excitedly, bursting through the door! "It's a fruit like you've never seen before!"
Humm, my curiosity was peaked. I rarely see my dear hubby so excited when he gets home. He usually arrives tired and dragging after his busy work week, then traveling all day. A quick unzip of his suitcase revealed two small boxes that he proudly presented. "Go ahead, open them," he urged me.
Each box contained a dozen juicy, perfect peaches, each wrapped carefully in bubble wrap. One box contained normal-looking peaches. The other, I gasped, "Who stepped on these?"
We both laughed.
I, too, had never heard of or seen a donut peach before this. So I couldn't wait to sink my teeth into them.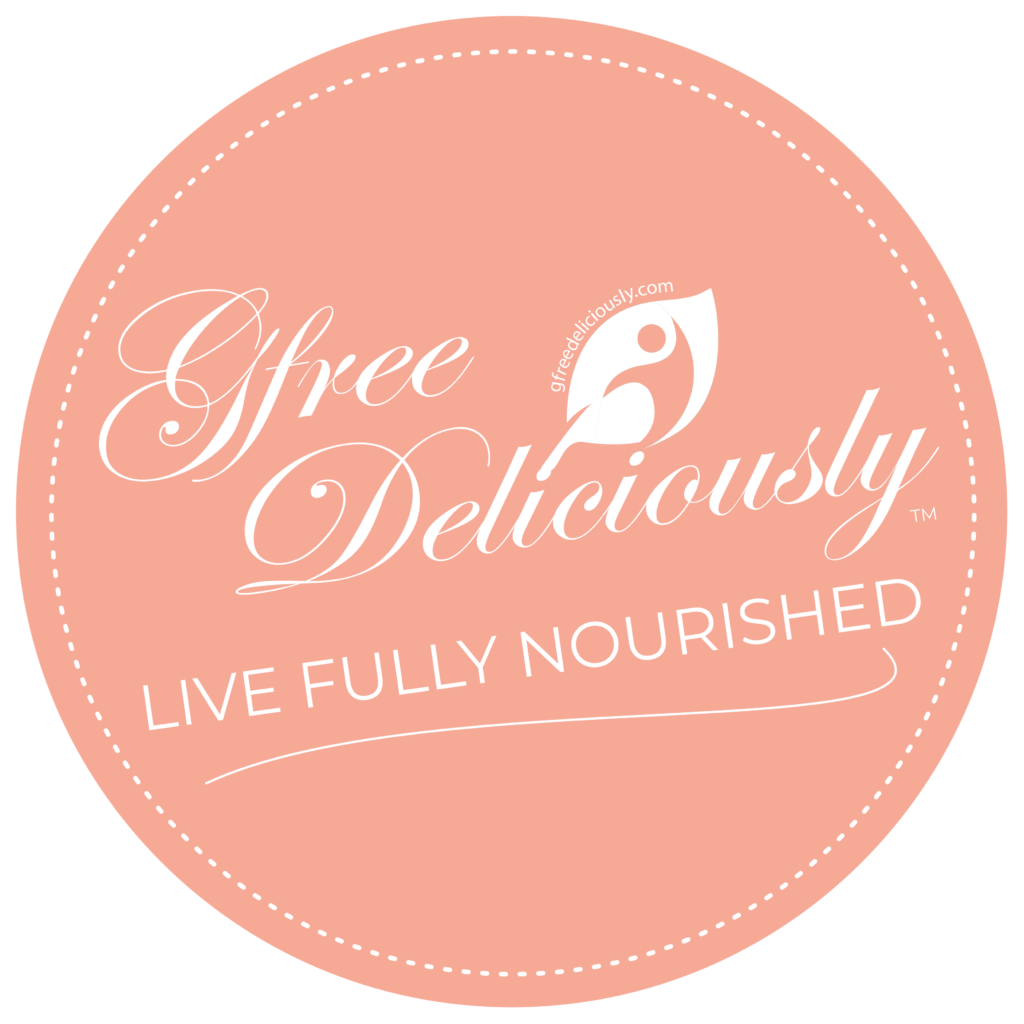 GET RECIPES • RESOURCES • +eNEWS UPDATES & MORE STRAIGHT TO YOUR INBOX !
Simple and delicious gluten-free recipes, family-friendly meal ideas, healthy cooking, encouragement, and easy-to-implement lifestyle strategies to live fully nourished… Only from GfreeDeliciously!
What Do Donut Peaches Look Like?
Marketed by grocers as a good-for-you snack food, and often sold in packaging like the kind used for donuts, the fruits are distinguished by their shape, which is unevenly rounded and squat with a dimpled center at the fruit's stem.
Where Do Donut Peaches Come From?
Donut peaches it is supposed, probably originated from flat peach varieties that are native to China. Documentation of these peaches was first recorded in Chinese writings during 1100 B.C. when Silk Road trade routes carried peach varieties to the Western World where botanists gave peaches their botanical name, Prunus Persica. For centuries they remained a novelty and were confined to the gardens of nobility. It wasn't until the 19th century when peaches came to America. Early plantings were recorded to be seedling peaches and of poor quality. Later in the century, the practice of grafting superior strains onto hardy seedling rootstocks led to the development of commercial orchards, and the rest, as they say, is history.
According to the Greater Chambersburg Chamber of Commerce, the area-grown peaches are always in high demand and have been known for their high quality for the last hundred years. "It's because of the Cumberland Valley soil," they say. Chambersburg peaches become available from mid-July through Early-September depending on the cultivar.
So, what's so great about Chambersburg Pennsylvania Peaches and the locally-grown Donut Peach?
Laiton, the Marketing & Communications Assistant at the Greater Chambersburg Chamber of Commerce office, told me that she's always been a fan of the locally-grown tasty fruit. Giving her full endorsement, "If you like a peach that's sweet and full of flavor, the kind of peach that when you bite into it, it's so juicy you can't help but make a mess of yourself, you sure won't be disappointed with Chambersburg Pennsylvania peaches."
Hands down, I'd have to agree!
You possibly will too! The benefits may have you searching out Chambersburg Pennsylvania Peaches and the flat Donut Peach to try, or maybe you'll want to grow some yourself.
Even though they look a little funny for a peach, their small size is perfect for a single serving to eat fresh. And just the right amount for slicing or dicing over cereal, ice cream, or a dessert.
They're sweet and mild tasting.
Lower in acid than other peaches.
The pit does not cling to the flesh.
You don't necessarily need to peel them. The skin of the peach is thin and has little to no fuzz.
According to the PennState Extension, donut peaches are:
Easy for home gardeners to grow in many of the more temperate climates of the United States.
They are frost-hardy, pest, and disease-resistant.
Produce an abundant harvest, up to twice as many peaches as other cultivars.
The trees bloom earlier in the spring than other varieties, producing a brilliant show of pink blossoms.
Most nursery stock is certified virus-free trees, and the stock is grafted to dwarf roots, making the trees easy to prune and harvest.
The Peach Fruit Rhyme Song for Kids
A gluten-free fresh treat, peaches have delicate skin and soft flesh, they're sweet, delicious, and naturally loaded with vitamins and minerals that your body needs. Just for the little ones, here's a song that covers everything a kid needs to know about peaches!
HOW ABOUT A FEW MORE PEACHY RECIPES?
When peaches are in season, no matter how or where you enjoy them, they are indeed pure summer perfection – whether eating them fresh from the orchard, drinking them in smoothies and cocktails, making pies, crisps, cobblers, or crumbles. With endless versatility, fruit lends itself to being used in so many recipes. So, when you're ready to move beyond how grandma prepared them, here are ten more ideas to start you down the peachy path.
1. It's summer makeover time for your favorite gluten-free coffee cake recipe. Just add up to a cup of fresh diced and drained peaches into the cake batter before baking to transform your coffee cake into a comforting summertime version for your next lazy morning. Note: Depending on your recipe, you may need to reduce the liquid amount used in the cake batter.
Homemade Peach Ice Cream
2. Churn up 2 cups of fresh diced peaches in a vanilla-infused creamy eggnog ice cream base. Here's my ice cream base recipe: Whisk together 8 large eggs, 1 1/2 cups granulated sugar, 1 can sweetened condensed milk, 1 Tablespoon gluten-free vanilla, and 1-pint Half-N-Half in the churn bucket. Insert the beater into the bucket. Stir in enough whole milk to fill the ice cream churn bucket to about an inch below the top of the beater. Rotate the beater by hand to begin to mix the milk and egg mixture. Add in the fresh chopped peaches or other fruit of your choice. The mixture should now be at the top of the beater. Cover the churn bucket with the lid and follow the manufacturer's directions to add ice and salt to the outer bucket to churn the mixture for making ice cream. Eat, savor, and sigh with happiness.
Peachy Ice Cream Floats
3.  Peel, pit, and then mash 1-2 peaches with a potato masher, add 1 tablespoon sugar, stir and divide among four highball glasses. Add 1 tablespoon cream and two scoops of vanilla ice cream in each glass. Fill with sparkling water. Enjoy!
Whiskey Poached Peaches
4.  Cut peaches in half and remove pits: melt 2 teaspoons butter and two teaspoons olive oil in a small skillet. Add peaches, cut side down, and cook for about two minutes or until they begin to brown. Turn the peaches over so they are cut side up and sprinkle with 1 tablespoon brown sugar, add 2 tablespoons gluten-free bourbon whiskey to the skillet, turning the peaches over again to coat evenly with the poaching liquid mixture, and continue to cook until the liquid reduces by about half, remove the peaches to a plate to cool. Serve as a chic dessert that couldn't be simpler.
Grilled Peaches
5. Before we tried this, I didn't believe you could make a peach taste any better. Drum roll, oh yeah, so simple to do. Cut the peaches in half and remove the pit. Brush peach halves with oil, and grill for 2-3 minutes over medium heat. Flip the peaches over and move to indirect heat. Baste the cut sides of the peaches with a mixture of 2 tablespoons of melted butter, 1 tablespoon brown sugar, and 1/2 teaspoon cinnamon. Let the grill work its magic for about 5 minutes to caramelize the sugars and give the peaches a slightly smoky flavor. Keep warm until ready to serve for dessert with a scoop of ice cream or a dollop of mascarpone cheese.
Bacon-Wrapped Peaches
6. Wrap up your peaches with a blanket of bacon. Pan fry in a skillet or grill to cook until the bacon is crisp.
Fresh Jalapeno Peach & Tomato Salsa
7. Combine 3 cups diced peaches (peeled and seeded), 1 cup diced tomatoes (seeded), 1 small diced red onion, 1/4 cup light brown sugar, 1/4 cup white wine vinegar, 2 teaspoons grated fresh ginger, ½ teaspoon kosher salt, 1 minced jalapeno pepper (stem and seeds removed), 2 tablespoons fresh chopped parsley, 1 tablespoon lime juice. Stir to combine, refrigerate for at least one hour for the flavors to combine. Pair this sweet and slightly hot fresh Peach Salsa with grilled chicken, fresh catch, pork, or shellfish.
Peach Sangria
8. Enjoy an afternoon mini staycation with a good book and this quick peach and white wine sangria. In a large pitcher, combine one bottle (750 milliliters) of your favorite dry white wine, 3/4 cup gluten-free vodka, 6 tablespoons lemonade concentrate, 1/4 cup white sugar. Stir until the sugar dissolves. Add one-pound white peaches (pitted and sliced), 3/4 cup seedless green grapes, and 3/4 cup red grapes, halved. Refrigerate until well chilled for at least 2 hours to let the flavors blend. Serve over ice; using a slotted spoon, scoop out a few peaches and grapes into the glass with each serving.
Chilled Summer Peach Soup
9. Refreshing on a hot day, this quick and easy chilled summer peach soup is a delicious step from the ordinary. Remove the peels and seeds from 4 large peaches, slice, and place in a blender. Peel and remove the pit from one mango, chop and add to the blender. Add ½ cup full-fat unsweetened coconut milk, 1/4 teaspoon salt, 2 teaspoons lime juice, 1 teaspoon vanilla, and blend until smooth. Refrigerate for 30 minutes before serving. Garnish with fresh sliced strawberries or a sprig of mint.
Peach Pretzel Crisp for Two
10. Salty, sweet and scrumptious when topped with ice cream, this twist to making a traditional crisp uses gluten-free pretzels for the crumble. Preheat oven to 350ºF. Toss 2 tablespoons melted butter, 3 medium peaches (peeled, pitted, and sliced), 2 tablespoons light brown sugar together in a small dish, layer coated peaches in a small baking dish. Using a food processor, add 1/4 cup gluten-free pretzel sticks, 1/4 cup cubed butter, and 1/4 cup granulated sugar, pulse until a pea-size crumbles form. Sprinkle the pretzel mixture evenly over the peaches. Bake 40-45 minutes until the crisp begins to bubble and caramelize around the edges. Serve warm with a dollop of ice cream.
Picture the recipe step-by-step...
Chambersburg Pennsylvania Donut Peaches
Donut (Doughnut) Peaches are popular cultivars and one of the very best of the white-flesh varieties of peaches in the United States.
Combine the baking mix, baking powder, and sugar. Add egg, oil, milk, and vanilla.
Whisk ingredients until blended.
Fold in peaches. Let the batter to sit for 5 minutes, to become thick.
Pour about 1/4 cup batter per pancake onto preheated griddle.
Cook for about 1 minute on each side, or until pancake is golden brown, flipping once.
I hope your family loves this recipe as much as we do, and I especially hope you enjoy devouring these Delicious Donut Peach Pancakes! They're just the ticket to make the morning feel extra special and give any day of the week a wholesome peachy start 😊!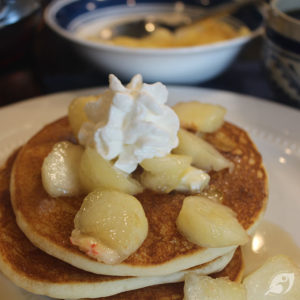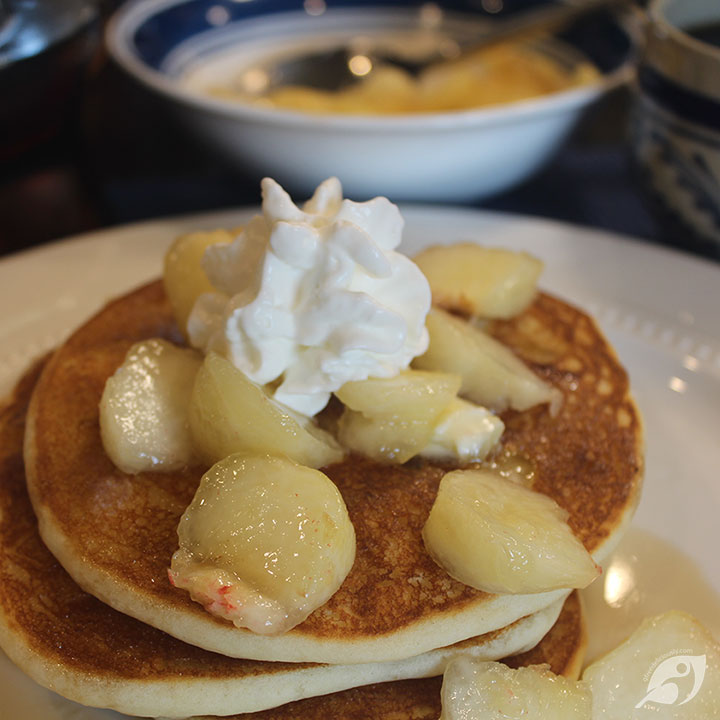 Gluten-Free Super Tasty Donut Peach Pancakes
When is a donut not a donut - when it's a Donut Peach | To make pancakes that are sweet and mild tasting, Chambersburg Pennsylvania Donut Peaches make pancakes super tasty and wholesome for a peachy start to any day?!
INGREDIENTS
½

teaspoon

Baking Powder

1

tablespoon

Sugar

1

large

Egg

2

tablespoons

Canola Oil

1

cup

Milk

Almond Milk or Soy Milk

½

teaspoon

Vanilla

½

cup

donut peaches

peeled, pits removed and diced
Add ingredients to your Private Shopping List before ordering online.
Quick Add Ingredients to Shopping List
INSTRUCTIONS
Whisk together baking mix, baking powder, and sugar. Add egg, oil, milk, and vanilla. Whisk ingredients until blended. Fold in peaches. Let the batter to sit for 5 minutes, to become thick.

Preheat griddle over medium heat.

Pour about 1/4 cup batter per pancake onto preheated griddle. Cook for about 1 minute on each side, or until pancake is golden brown, flipping once. Serve with butter, maple syrup, whipped cream, and more diced peaches to top.
Nutrition
Calories:
140
kcal
Carbohydrates:
19
g
Protein:
1.4
g
Fat:
6.2
g
Saturated Fat:
0.6
g
Polyunsaturated Fat:
1.6
g
Monounsaturated Fat:
3.6
g
Trans Fat:
0
g
Cholesterol:
31
mg
Sodium:
211.2
mg
Potassium:
65.7
mg
Fiber:
2.2
g
Sugar:
3.2
g
Vitamin A:
34.2
IU
Vitamin C:
0.8
mg
Calcium:
193.5
mg
Iron:
1.7
mg
(Nutritional values are an approximation. Actual nutritional values may vary due to preparation techniques, variations related to suppliers, regional and seasonal differences, or rounding.)
Copyright © 2017-2023 Kymberley Pekrul | GfreeDeliciously | gfreedeliciously.com | All content and photographs are copyright protected. The sharing of this recipe is both encouraged and appreciated. However, copying and/or pasting full recipes to any social media is strictly prohibited. Please read my Photo Use Policy for detailed guidelines and further clarification.