We've decided to discontinue our partnership with Wildtree.  While we are still a fan of the company and its products, we feel we can offer our gluten-free audience healthy, affordable solutions and inspiration for fulfilling meals, cooking classes, and experiences more tailored to its interests apart from being an affiliate of the organization. We hope you'll continue to find the products, meal solutions, and inspired recipes we've shared from their website, welcome additions to your kitchen and family's table.
April Collection – Brunch is Always A Good Idea!
This month's Brunch-inspired Cooking Collection pays tribute to a relaxed meal for taking as long as you want to eat, drink, and chat.
Whether fixing Sunday brunch for your family or creating a smorgasbord buffet for visiting family, friends, and out-of-town guests, this month's recipes and brunch ideas make it easy to prepare sweet and savory dishes that can feed a crowd!
Let me tell you. There's no better way to promote human happiness than spending time with your family while connecting over a leisurely meal on a Sunday after church. In my experience, it ranks right up there with long, slow drives in the country for getting your kids to open up and talk to you…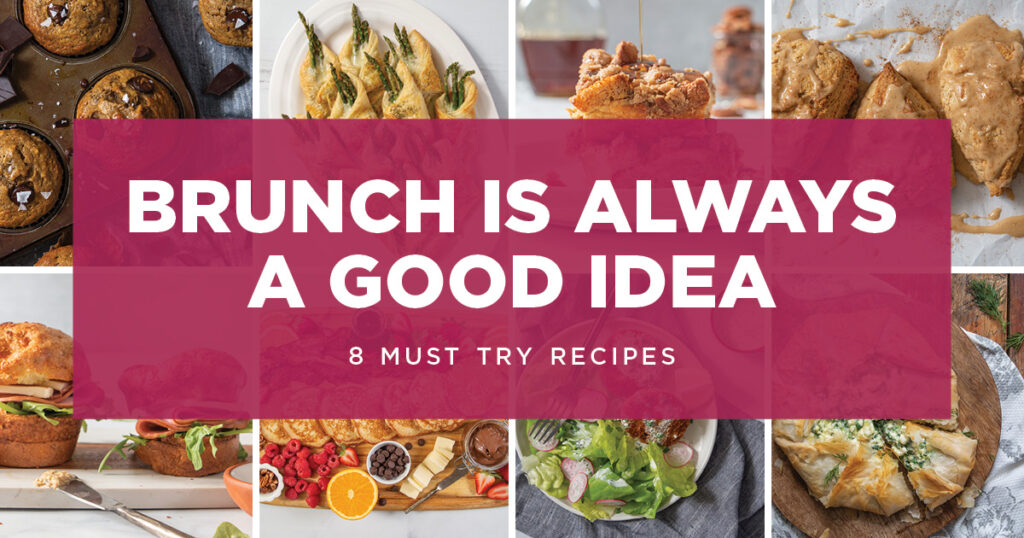 Meal Plan Includes: Asparagus Prosciutto & Gruyere Puff Pastry, Banana Chai Chocolate Chip Muffins, Chai French Toast Bake, Chai Scones with Maple Coffee Glaze, Ham & Cheddar Popover Sandwiches, Gluten-Free Pancake Board, Salmon Cakes with Buttermilk Herb Dressing, Spinach & Feta Phyllo Galette
When you Subscribe for our FREE Basic Pass !!
The Brunch Cooking Collection...
HUMM...BREAKFAST OR LUNCH? LET'S MAKE IT, BRUNCH!
Warmer weather is finally here, and while you might save Saturdays for backyard barbecues and pool parties, Sundays were made for brunch.
And despite everything that COVID may have ruined, like the popularity of brunching after church with friends at a favorite local restaurant. The best news is brunching with family after Sunday service doesn't need to disappear – especially when there are recipes that will take your brunch game to the next level (think restaurant quality, but surprisingly simple).
Then, around our house, were also big fans of eating breakfast for dinner, so this month's brunch collection fills those mealtime needs, too – with deliciously bright, healthy recipe ideas that are perfect for springtime!
Elevate your everyday morning routine with these Springtime Brunch Ideas perfect for bringing families together around the table and fueling the day for those you love!
Even when dietary restrictions don't play a part in the menu, bringing family members together at mealtimes can be challenging. In this month's eight mouth-watering recipes, we help you eat together deliciously. As a special bonus, we thought it might be cool to include 12 quick tips for finding fun, creative, and easy ways to make meals together a stress-free reality.
Slide 1
You may not be able to eat together for every meal or even every day of the week. And that's okay! If Sunday Brunch is out of the question, set a goal to add just one family meal to your week. When that meal becomes a habit, add another family meal to your routine.
Slide 2
Plan when you all will eat together.
Make a family meal date on your calendar. You'll be more likely to make a family meal happen if you've got a date set in place.
Slide 3
Be flexible with the time and place.
Eating together may mean preparing something ahead or planning a picnic before or after a child's soccer game or other sports event. It's okay to mix up the setting by getting creative on where you eat. From tailgating to picnics, look at untraditional opportunities for enjoying family meals!
Slide 4
Do a few tasks the night before if you can.
Wash and cut fruits and veggies, and pre-measure out ingredients, storing them in the fridge until ready to use. Set the table the evening ahead. And, if planning for brunch after church or later in the morning, consider putting together a basket with a few healthy snacks that kids and adults who may get "hangry" can "munch on" before church or for snacking while getting brunch ready.
Slide 5
Divide tasks, so Mom (or Dad) is not the only one responsible for making the food, serving, and cleaning up after the meal. Kids will enjoy being a part of preparations, especially if you give them a "special" job to be done. Look at mealtimes as an opportunity rather than a chore.
Slide 6
Talk about things that everyone can enjoy.
Slide 7
Make meals a stress-free time by sharing some laughs.
Slide 8
Help kids get curious about the foods served.
When planning the recipes, explore mystery foods by letting kids participate in the shopping and cooking process. Help them understand it's alright if they don't like a particular food, but they should let others feel free to enjoy it!
Slide 9
Build self-esteem and a positive body image.
When you listen to what children have to say, you are saying, "I value what you do; I respect who you are and what you're doing; what you do is important to me." Mealtimes can also provide opportunities to open up a dialogue with kids about eating and body image. During neutral and welcoming conversations, you may find opportunities to engage about things like hunger cues rather than food choices and what our bodies can do instead of how our bodies look.
Slide 10
Research shows that sharing stories and encouraging families to learn from lessons from the past provides kids with a sense of belonging that comes from knowing who they are and where they fit into a whole family unit. Resilient kids handle stress better, and experts say that it's good for adults too. Adults who know about their histories have better mental health than those who don't. Many of us have ancestors, even family members who lived through some of the worst moments in history: wars, genocide, economic hardship, and even other disease outbreaks. Their stories can be beneficial right now and could give everyone in the family a much-needed perspective on how to get through hard times.
Slide 11
Get creative about what your kids are learning and how it may relate to their interests. If studying about a particular period in history, a different culture, or if they're delving into literature, look for connections to explore more about it with your kids. Google a recipe to make a new meal, ask your teen to choose music for you to listen to during dinner, ask for recipes from an ethnic restaurant. Look into opportunities for learning about another culture or time in history that your child may know more about than you do. Check out the Family Dinner Project's Conversation of the Week Blog for a few ideas.
Slide 12
Don't fall into the trap of thinking that you already know your family members well. Kids (and adults too) will always surprise each other with something new they can learn! Start a round of 2-Minute Interview or a game like The Hat Game can introduce each person to new ways to get to know and bond with other family members. Everyone may even discover some fascinating facts about each other's lives, their favorite foods, activities, music, movies, or tv shows, or events that have happened. Showing a genuine interest in those facts will make everyone feel a little more appreciated and promote closer family connections.
While family mealtimes together can offer a time of respite from the hustle and bustle of everyday life – Some of these suggestions may fall flat as that souffle you have been trying to master. Others may get you only a minute or two of additional conversation. And still, others may not work the first few times you try them. However, experts tell us that persistence pays off when it comes to kids, so don't let your first attempts, a little pushback, or even negative comments keep you from trying again.
For more ideas for solving your dinnertime challenges, check out Eat, Laugh, Talk: The Family Dinner Playbook from the nonprofit The Family Dinner Project.
Now, let's get cooking #GfreeDeliciously!
Note: Several Wildtree seasonings and spice blends that we love are included in the recipes featured in this collection. But you can always substitute any similar favorites you may already have in stock.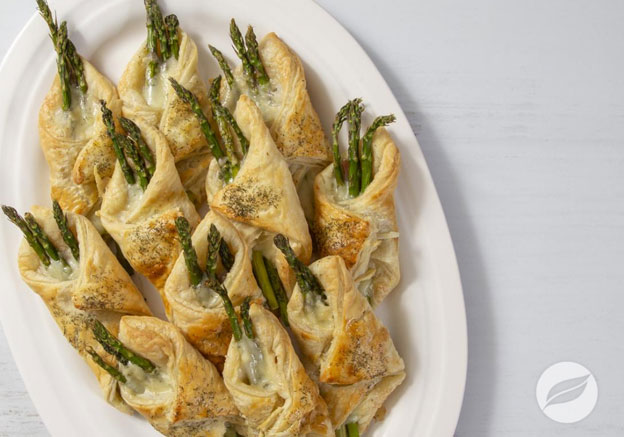 # 1 - Asparagus Prosciutto & Gruyere Puff Pastry
Whether you're looking for a last-minute springtime appetizer or a starter dish to get things rolling on this year's Mother's Day Brunch, these deliciously tasty Asparagus, Prosciutto & Gruyere Puff Pastries couldn't be any easier. But, of course, you'll want to make plenty for serving these little packets full of YUM that are so good your guests won't be able to stop eating after just one!
1 bunch asparagus, ends trimmed
½ tablespoon oil (Natural Grapeseed Oil)
1 teaspoon Dill Dip Blend, divided
2 sheets puff pastry, thawed
6 slices prosciutto, halved
6 ounces gruyere cheese, shredded
1 egg, beaten
Preheat the oven to 425°F. Line two sheet pans with parchment paper. Next, trim the ends from one bunch of asparagus spears, then toss the spears with ½ tablespoon Natural Grapeseed Oil and ½ teaspoon Dill Dip Blend. Set aside.
On a lightly floured surface, unroll each gluten-free puff pastry sheet (they come in two to a box) to form two 12 x 12-inch squares. Now, cut each sheet into 6 rectangles, so you end up with a total of 12 rectangles.
Cut 6 slices of prosciutto in half, then place a piece in the middle of each pastry square. Arrange 3-4 asparagus spears on top, laying them diagonally from one corner to the opposite corner. Top with shredded gruyere cheese (divided between all twelve).
Pull the corners of each puff pastry in to wrap around the filling, and press to seal. Brush the outsides with egg and season each with a sprinkle of Dill Dip Blend (about ½ teaspoon divided).
Bake for about 15 minutes until the puff pastry looks puffed up and lightly golden.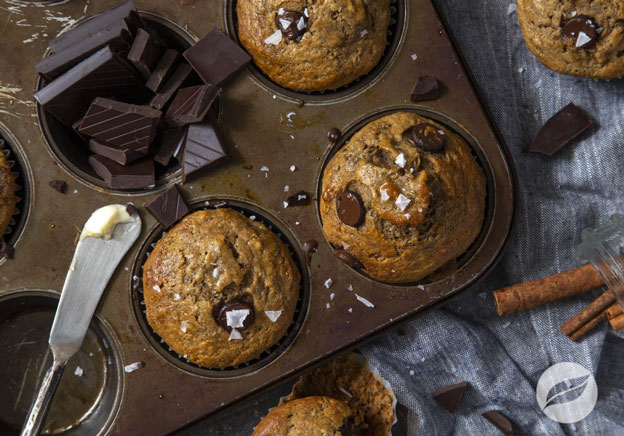 # 2 - Banana Chai
Chocolate Chip Muffins
Loaded with dark chocolate chips, these light and fluffy Banana Chai Chocolate Chip Muffins is fantastic for enjoying while leisurely sipping coffee and nibbling between other brunch favorites. Maybe the best part is that the batter is ready in three easy steps.
4 ripe bananas, mashed
¼ cup melted coconut oil
¼ cup dark brown sugar
2 eggs
2 teaspoons vanilla extract
1 ½ cups flour
1 ½ teaspoons baking soda
1 ½ tablespoon Chai Tea Mix*
½ teaspoon salt
½ cup dark chocolate chips
*Only available in the collection bundle at this time.
Begin by preheating your oven to 350°F. Line a 12-cup muffin tin with paper liners. In a large bowl, combine 4 ripe mashed bananas, ¼ cup melted coconut oil, ¼ cup brown sugar, two eggs, and 2 teaspoons gluten-free vanilla extract.
In a separate bowl, whisk together 1 ½ cup flour, 1 ½ teaspoon baking soda, 1 ½ teaspoons Chai Tea Mix, and ½ teaspoon salt. Add the dry ingredients to the wet ingredients stirring to combine.
Fold in the ½ cup dark chocolate chips. Divide batter among the muffin cups and bake for 20-22 minutes or until they pass the toothpick test. Finish off with flakey salt if desired.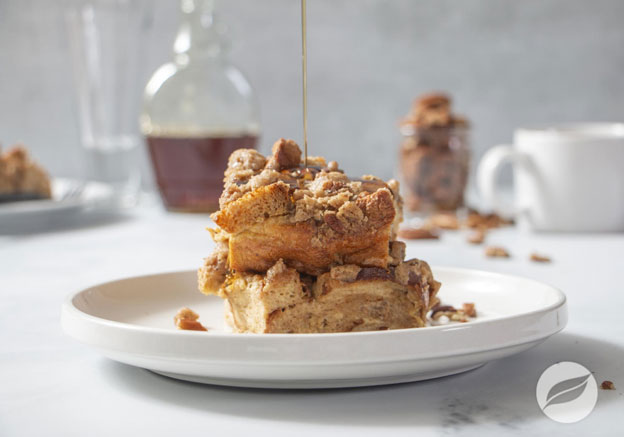 Treat yourself and guests to this easy Chai French Toast Bake for a fancy breakfast or brunch casserole that is sure to impress without a lot of effort on your part!
8 eggs
2 cups milk
5-ounce container Greek yogurt
¼ cup sugar
1 tablespoon gluten-free vanilla extract
4 teaspoons Chia Tea Mix*, divided
½ cup dark brown sugar
½ cup chopped pecans
½ cup unsalted butter, softened
¼ teaspoon salt
*Only available in the collection bundle at this time.
The best thing about making this AMAZING Chai French Toast Bake breakfast casserole is that you can assemble it the night before, so all that's left is preheating the oven to cook it! When you're ready to bake it, preheat the oven 350°F, then bake for 45-50 minutes or until the top is crisp and the center is firm and thoroughly cooked.
Start with greasing a 9 x 13 baking dish. Next, cut 1 loaf of

gluten-free whole grain bread

into 1-inch cubes, arranging them in an even layer into the dish.
Whisk together 8 eggs, 2 cups milk, a 5-ounce container of Greek yogurt, ¼ cup granulated sugar, 1 tablespoon

gluten-free vanilla extract

, and 2 teaspoons Chai Tea Mix.
Pour the egg mixture over the top of the bread in the baking dish, gently toss to combine, until the bread absorbs the liquid.
Meanwhile, using a separate bowl, combine ½ cup gluten-free all-purpose flour, ½ cup dark brown sugar, ½ cup chopped pecans, ½ cup softened unsalted butter, ¼ teaspoon salt, and 2 teaspoons

Chai Tea Mix

. Sprinkle the crumb topping mixture over the bread and egg mixture. Bake at 350°F for 45-50 minutes or until the top is crisp and the center is firm and thoroughly cooked.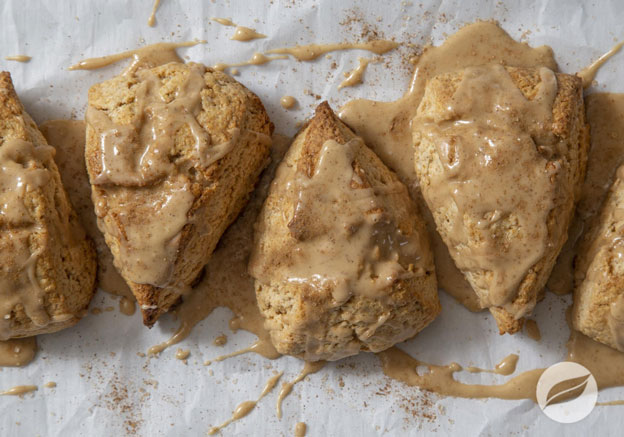 What would brunch be without an indulgent accompaniment like these Chai Scones with Maple Coffee Glaze? Flaky, buttery homemade spiced scones infused with Chai spices of cinnamon, ginger, cardamom, and cloves from our Chai Tea Mix, decadently finished off with a sweet maple Chai glaze. Does this sound like heaven? While your Sunday sermons may have nothing to do with having Chai Scones in heaven, take my word for it, you'll want to give these heavenly scones a try!
1/3 cup granulated sugar
1 tablespoon gluten-free baking powder
1 tablespoon plus ½ teaspoon Chai Tea Mix*, divided
½ teaspoon salt
6 tablespoons cup cold unsalted butter, cubed
½ cup plus 2 tablespoons heavy cream, divided
1 egg
1 ¼ teaspoon gluten-free vanilla, divided
1 cup powdered sugar
1 tablespoon maple syrup
2 tablespoons brewed coffee
*Only available in the collection bundle at this time.
Made super easy with the help of a food processor, you'll begin by preheating your oven to 400°F, then line a sheet pan with parchment paper. Next, add 2 cups gluten-free all-purpose flour, 1/3 cup granulated sugar, 1 tablespoon gluten-free baking powder, 1 tablespoon Chai Tea Mix, and ½ teaspoon salt to the food processor bowl and pulse to combine. Next, add 6 tablespoons of cold unsalted butter that has been cut into cubes to the bowl and pulse until the butter begins to cut into the flour mixture forming pea-size pieces.
Whisk together ½ cup heavy cream, 1 egg, and 1 teaspoon gluten-free vanilla extract in a small bowl. Gradually add the mixture to the food processor bowl, pulsing until a dough begins to form and pull away from the sides of the bowl.
Turn the dough out onto a lightly (gluten-free) floured surface. The dough will be slightly crumbly; working it together with your hands, pat it into a circle about 1-inch thick. Cut into equal-sized pie-shaped pieces to form the scones.
Place the cut scones onto the prepared parchment coved sheet pan, brush with 2 tablespoons heavy cream, then bake for about 20 minutes or until golden and cooked through in the center. Transfer to a wire rack to cool.
Prepare the glaze by whisking together 1 cup powdered sugar, 1 tablespoon maple syrup, 2 tablespoons brewed coffee, ½ teaspoon Chai Tea Mix, and ¼ teaspoon gluten-free vanilla extract.
Glaze the scones with the glaze mixture once they are cooled.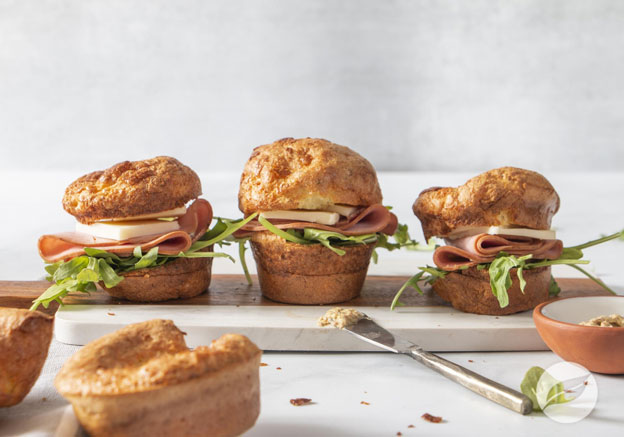 Break with tradition to treat yourself with Ham & Cheddar Popover Sandwiches where the sandwich gets an impressive upgrade because the bread (or bun for this Sammy) is a light and fluffy popover.
4 eggs
1 1/4 cup whole milk, slightly warmed
2 tablespoons unsalted butter, melted
1 ½ teaspoon Dill Dip Blend
1/2 teaspoon salt
1/4 teaspoon xanthan gum
8 ounces of ham
8 ounces cheddar, sliced
2 cups arugula
*Please note: Poppin' Popovers* mix in this bundle collection is NOT gluten-free. The mix contains wheat! If making the popovers from the package mix, use 1 bag of the mix, add 1 ½ teaspoon Dill Dip Blend when you're whisking together the milk and eggs (you will omit the salt and xanthan gum listed above), then follow the package instructions to finish and bake.
GLUTEN-FREE POPOVER RECIPE
I love this easy gluten-free recipe from King Arthur Baking Company for making the popovers for these sandwiches. The recipe makes gluten-free popovers crispy on the outside and nicely moist within, just like you remember them!
To make them gluten-free with this recipe's flavor, add the Dill Dip Blend into the blender with the eggs, butter, and milk and proceed with the recipe. Follow the steps below for this adaptation:
Preheat your oven to 400°F. Lightly grease a 12 cup popover pan or standard muffin tin.
Using a blender, blend 1 ¼ cups slightly warmed milk, 4 large eggs, 2 tablespoons melted butter, and 1 ½ teaspoons Dill Dip Blend on medium speed until the mixture is combined.
Whisk together 1 cup gluten-free all-purpose flour, ½ teaspoon salt, and ¼ teaspoon xanthan gum in a small bowl , ½ teaspoon salt, and ¼ teaspoon xanthan gum. Spoon or pour the dry ingredients into the blender, cover, then blend at medium-high speed until the batter is smooth and any tiny lumps disappear.
Next, pour the batter into the prepared pan, filling each cup about 2/3 full. Bake for 25 minutes, then reduce the oven heat to 350°F and continue baking for an additional 15 minutes until the popovers are a deep golden brown.
Remove from the oven, prick the side of each popover to let the steam out. Let the popovers rest for 5 minutes to finish setting.
Once the popovers are baked and cooled, slice each popover in half and serve as sandwiches layering ham, white cheddar cheese, arugula, and a smear of your favorite gluten-free Dijon and Mayo.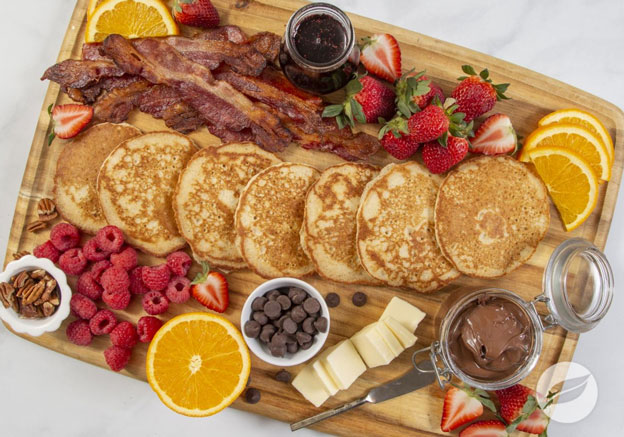 Here's an enjoyable, fun idea for an easy Gluten-Free Pancake Board for Brunch! Simple to make (for you), a breakfast board is an exciting treat for eaters where everyone gets to pick and choose just what they want to eat from the spread!
1/3 cup maple syrup
¼ cup Blueberry Jam
8 ounces bacon
1 bag Gluten-Free Pancakes*
1 egg
¾ cup milk
1 tablespoon unsalted butter, melted
Optional toppings such as fresh fruit, nut butter, granola, etc.
*Only available in the collection bundle at this time.
Start by whisking together 1/3 cup maple syrup with ¼ cup Blueberry Jam. Set aside.
Preheat oven to 400°F. Line a sheet pan with foil and lay 8 ounces of bacon (about 9-10 strips) in a single layer on the pan. Bake for 15-20 minutes or until the desired doneness. Transfer to a paper-towel-lined plate to drain and cool.
Whisk together the Gluten-Free Pancakes mix, 1 egg, ¾ cup milk, and 1 tablespoon melted unsalted butter for the batter. Heat a greased nonstick griddle or heavy skillet over medium heat. Add batter a scant ¼ cup for each pancake, and cook for about 2 minutes until tiny bubbles form on top of the batter. Flip and continue cooking until golden brown.
Arrange bacon and pancakes on a large cutting board or platter. To complete your board, you can add prepared blueberry syrup from step 1, fresh fruit, and other desired toppings.
Get more ideas for making a unique pancake board in our post, How to Make a Gluten-free Pancake Board (Breakfast Charcuterie Platter.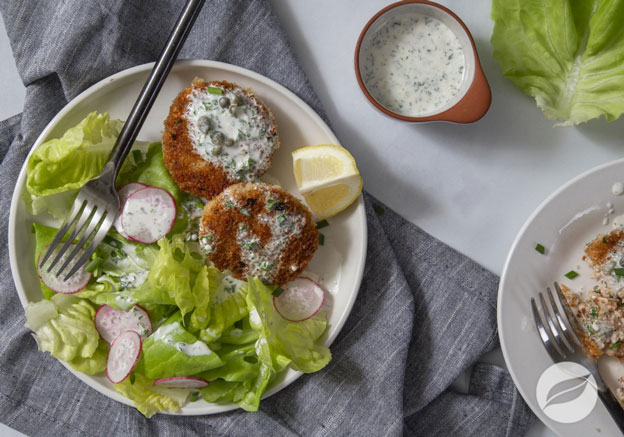 Back in the day, these Salmon Cakes were called salmon croquettes, and this recipe for Salmon Cakes with Buttermilk Herb Dressing brings back this retro classic with their excellent crispy exterior that gives way to a firm and tender interior.
½ cup buttermilk
½ cup gluten-free mayonnaise, divided
½ lemon juiced
1 tablespoon capers
2 tablespoons chopped parsley
2 ½ teaspoons Dill Dip Blend, divided
1 pound skinless salmon, cubed
¼ cup chopped chives
¼ cup grapeseed oil
Salmon Cakes are a sure winner around our house, loved by the kids and grown-ups alike. And when sauced on top with this quick and easy dressing, I always know they will disappear fast!
For the best texture, I'm of the old school of chopping the salmon by hand rather than pulsing in a food processor (which can turn the salmon to paste if you're not super careful). But either way will work. I also prefer to use salmon from the tail of the fish. The tail section is much thinner than the fillet's meatier part, and it also contains a bit less fat giving it loads of flavor with no fishy taste.
The Buttermilk Herb Dressing comes together quickly in mere moments, but you could also save a few minutes by making it ahead of time and keeping it in the refrigerator to thicken and chill until ready to serve. A delicious drizzle for these salmon cakes with a fresh green salad, the dressing is also delectable for saucing over grilled chicken, zucchini fritters, or roast beef sandwiches to add an extra taste; of Spring!
Let's begin by making the dressing. Combine ½ cup buttermilk, ¼ cup gluten-free mayonnaise, the juice from ½ lemon, 1 tablespoon capers, 2 tablespoons chopped parsley, and ½ teaspoon Dill Dip Blend in a small bowl, and whisk to incorporate.
To make the salmon cakes:
Finely chop 1 pound of salmon on a cutting board; place in a medium bowl. Add ¼ cup gluten-free mayonnaise, ¼ cup chopped fresh chives, and 2 teaspoons Dill Dip Blend; stir to combine. (Alternately, you could add roughly chopped salmon with the mayo, Dill Dip Blend, and chives to a food processor to pulse until the mixture comes together.)
Shape the mixture (approximately 1/3 cup each) into 2-inch patties to make eight cakes. Place 1 cup gluten-free panko-style breadcrumbs in a shallow dish. Pressing gently, cover each cake in breadcrumbs to coat the edges and sides.
Heat oil ¼ cup of Grapeseed Oil in a large, heavy skillet over medium-high heat. Add the coated patties, cooking for about 2-3 minutes on each side or until the outsides are golden and the insides are firm yet tender, 145°F.
Serve as an appetizer or alongside a green salad with the prepared Buttermilk Herb Dressing from step one.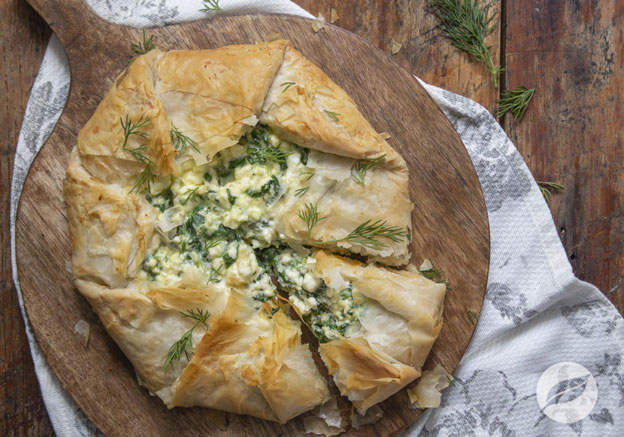 No special equipment is needed to make this rustic Spinach & Feta Phyllo Galette that uses the same ingredients for a classic Greek pie called Spanakopita! Instead, assemble it on a sheet pan for a savory free-form tart that's juicy and fresh-tasting, perfect for a Springtime Brunch!
1 (10-ounce) box frozen spinach,
thawed and excess liquid squeezed out
1 tablespoon minced garlic
2 eggs, beaten
¾ cup ricotta
5 ounces feta, crumbled
1 teaspoon Dill Dip Blend
8 ounces phyllo dough (recipe)
6 tablespoons unsalted butter, melted
*I'm almost sure that I had bought gluten-free phyllo dough in the past, but I can't seem to remember where I might have found it. Recent online searches have left me with zilch, and I'm unable to find a gluten-free brand to suggest. So my best recommendation is to try the recipe published by Nicole Hunn on her website, Gluten-Free On A Shoestring. In full disclosure, I have to admit that I haven't tried the recipe myself.
Preheat your oven to 375°F. To make the filling, in a large mixing bowl, combine one 10-ounce box of frozen spinach (thawed, drained, and excess liquid squeezed out), 1 tablespoon minced garlic, 2 beaten eggs, ¾ cup ricotta cheese, 5 ounces of crumbled feta cheese, and 1 teaspoon Dill Dip Blend. Set aside.
Melt 6 tablespoons of unsalted butter in the microwave at 20-second intervals until completely melted in a glass dish.
Flip a sheet pan upside down and top it with parchment paper. Place a sheet of gluten-free phyllo dough (recipe), place it vertically on the parchment paper, and brush the entire area with some melted butter. Place another sheet of phyllo, turning it slightly from the first and allowing a small portion to hang over the side of the pan. Brush with butter. Arrange a third sheet of phyllo horizontally to form a cross to the first sheet laid down, then brush it with butter. Lay the fourth sheet diagonally in the opposite direction, and brush with butter. Then repeat with the remaining sheets, brushing with butter each time before adding another sheet.
Place the spinach mixture into the middle of the phyllo sheets on the sheet pan. Spread the mixture out into a circle to within about 3 inches from the edge of the sheets.
Fold the phyllo edges over the spinach filling, working your way around the edges to form a border and crust. Brush the folded edges with the remaining butter. You may need to wet your hands to help the phyllo stick together and stay in place.
Bake on the center rack for 25-30 minutes or until the crust is golden brown and slightly crisp and the filling has started to set. Remove from the oven and rest at room temperature for 15 minutes to allow the filling to get firm. Also, feel free to serve it with Cool Is Cucumber Mint Salad. Enjoy!
If you are celiac, gluten-intolerant, or following a strict gluten-free diet, be sure to substitute an all-purpose gluten-free flour blend in place of whole-wheat or gluten-containing flour. And always check the ingredient labels, and swap out any products that may include wheat, barley, or rye for certified gluten-free versions when making recipes not explicitly tagged gluten-free.
For those who cook and those who eat…
WOW, your hungry eaters with these easy and elegant bright flavors perfect for keeping a Spring full of healthy, delicious meals on your table. All recipes are perfect for the season of graduation parties, bridal showers, and Sunday Spring weekends, enough to keep you well-fed and excited to eat no matter what the occasion. And if you're looking for more inspiration, peek through the filmstrip located at the top of every page of our website to discover more recipes for #CookingGfreeDeliciously!
I love helping you enjoy the satisfaction that cooking brings.
Thanks for reading and supporting the companies I partner with, which allow me to create even more unique content and recipes for #CookingGfreeDeliciously. All opinions are always my own.
Enjoy, xo!
New #CookingGfreeDeliciously Digital Cooking Workshop recipes usually post within 24-48 Hours of each video post.