So that you know, we've decided to discontinue our partnership with Wildtree.  While we are still a fan of many of the company's products, we feel that our new partnership with Epicure offers our gluten-free audience an even bigger plate full of healthy solutions, inspiration, and opportunities for a fulfilling life, whether it's in the kitchen, at a Cooking Class, or through the freedom and flexibility of a home-based business. We hope you'll continue to find the recipes we've shared, that have been inspired by Wildtree, welcome additions to your family's table.
IMPORTANT UPDATE: November 1, 2022
Please note that some product links in this post may have been removed or changed to reflect our new partnership with EPICURE.
Our Keto-Friendly Meals Collection keeps your healthy eating routine for a short-term weight loss meal plan focused on high proteins and low carb recipes to cook in a bundle with nutritious meals all planned out for you.
March Cooking Collection bundles 4 products with a digital meal plan that includes 8 keto-friendly recipes, individual grocery lists, and 2 weekly grocery lists.
Products include: Alfredo Extraordinaire, Gourmet Sea Salt: Garlic, Cajun Seasoning, Garlic & Herb Blend
6/1/2021 – DISCONTINUED & LIMITED-TIME PRODUCTS: Gourmet Sea Salt, and Garlic & Herb Blend
Recipes include: Burger Bowls, Cajun Chicken & Cauliflower Grits, Green Goddess Chicken Cobb Salad, Cajun Chicken Alfredo Bake, Jalapeno Popper Cauliflower "Mac & Cheese", Lemon Garlic Butter Chicken & Zoodles, Garlic Parmesan Crusted Salmon, Shrimp Alfredo Stuffed Portabellas
The Wildtree Keto-Friendly Collection...
Explore Just How Simple & Delicious Keto Cooking Can Be!
Keto Cooking Made Delicious in just 10-35 Minutes...
The Keto Friendly Cooking Collection explores how delicious and simple keto cooking can be.
If you're familiar with the Keto diet and eating "Ketogenic," you'll love these eight easy keto diet dinner ideas to get you started. Explore our Wildtree collection of 190+ low-carb recipes at the GfreeDeliciously Wildtree Store for lots, lots more. And to read more about what the Keto diet is all about, check out What Is The Ketogenic Diet?
Turn your fats into fuel while eating this Keto-Friendly collection of dinners you'll love!
Dinner for keto-friendly meals is all about picking your favorite high proteins and low carb combinations. We've made it super easy by pulling together four keto-friendly products to prepare eight low-carb recipes to make your mealtimes super satisfying!
Let's get cooking #GfreeDeliciously!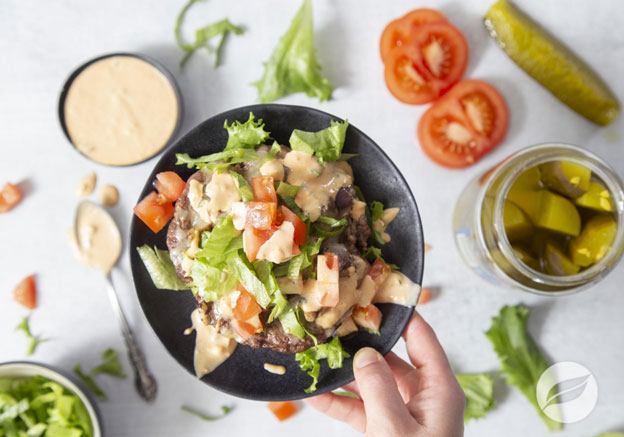 Have you ever heard of a Burger Bowl? If not, let me introduce you to these easy-to-make crossovers between a salad bowl and a hamburger. Think of them kind of like a taco salad, except the delicious bowl is made from ground beef, and since it's piled high with lots of favorite burger toppings, it gives you all the flavors of a big juicy hamburger; with the works!
You're going to make these tasty burger creations super flavorful using Gourmet Sea Salt: Garlic and Cajun Seasoning. Begin by preheating the oven to 400° and get a sheet pan ready for easy cleanup after baking by lining it with foil. 
Next, grab your favorite nonstick skillet, place it on a burner set to medium-high heat, add sliced mushrooms, onions, and season with ½ teaspoon Gourmet Sea Salt: Garlic; sautée until the vegetables are tender.
While those cook, combine 2 pounds of lean ground beef with 1 teaspoon Gourmet Sea Salt: Garlic, 1 tablespoon Cajun seasoning, and 1 tablespoon certified gluten-free Worcestershire sauce. When mixed, divide the ground beef mixture into four portions, and shape the meat into bowls placed on the prepared sheet pan. Fill the beefy meat bowls with the sauteed vegetables from the skillet, then top with grated cheese. Cover the pan loosely with foil, and bake for about 20 minutes or until cooked through (165°F).
Meanwhile, make your "special sauce" by mixing ¼ cup gluten-free mayonnaise, 2 tablespoons ketchup, 1 teaspoon mustard, and 2 tablespoons sweet relish in a bowl.
Top each bowl with shredded lettuce, diced tomatoes, and burger sauce to serve. Talk about fantastic!
INSPIRE EXCITING CULINARY ADVENTURES !!
EPICURE: Bringing you an Alway Gluten-Free Better Food Experience!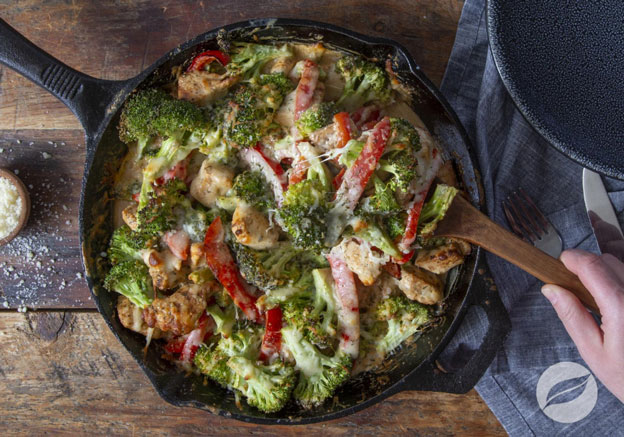 Skip the pasta and make this winner of a chicken dinner. This Cajun Chicken Alfredo Bake with its creamy cajun sauce, bites of tender chicken with broccoli and pepper, then loaded up with melty mozzarella cheese for melt-in-your-mouth baked deliciousness.
Talk about simple cleanup – You're going to love how easy this recipe is because you'll make it using just one skillet and then bake! Start by preheating your oven to 400°F; then season 1 ½ pound boneless chicken breast cut into 1-inch pieces with 2 tablespoons Cajun Seasoning.
Begin by cooking the chicken, and red bell pepper cut into strips. Heat 2 tablespoons of Natural Grapeseed Oil in a 12-in oven-safe skillet over medium-high heat. Add the chicken and bell pepper and sauté until browned, then transfer to a plate.
In the same skillet, add 1/2 cup milk, 1/2 cup heavy cream, 3 ounces cream cheese, 3/4 cup Alfredo Extraordinaire, and whisk until thoroughly combined. Add 1 pound broccoli florets and the cooked chicken and bell pepper; stir to coat in the sauce. Top with 1 cup shredded mozzarella cheese, then bake for about 25 minutes. When the cheese is melty, the broccoli is fork-tender, and the chicken chunks are no longer pink in the center, you'll know it's ready to serve!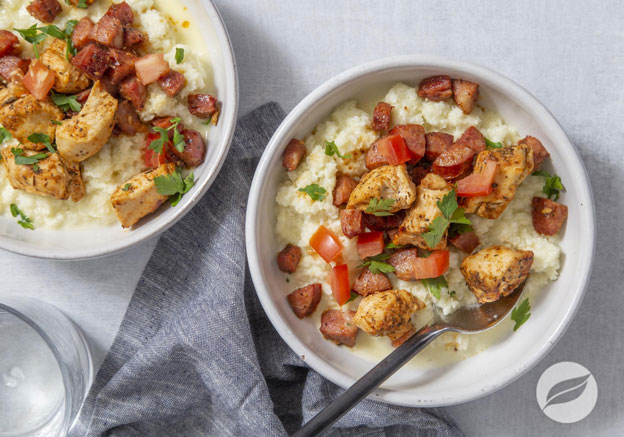 In this recipe for Cajun Chicken and Cauliflower Grits, cheesy cauliflower grits become the base for pan-fried Cajun-seasoned chicken breast with andouille sausage.
If you're not a fan of corn grits, riced cauliflower simmered in butter, heavy cream, and chicken broth, then flavored with Cheddar cheese is a sneaky way to get more vegetables into your diet as a delicious alternative to the real thing.
To make the "grits," begin by pulsing 1 ½ pounds of fresh cauliflower in a food processor until it resembles grits. Heat 3 tablespoons butter, ½ cup heavy cream, and ¼ cup chicken broth in a large saucepan over medium heat. Add the cauliflower grits and stir to combine. Cook for about 5 minutes, stirring until the cauliflower grits are tender. When tender, stir in 2 cups shredded Cheddar cheese and season with ½ teaspoon Gourmet Sea Salt: Garlic. Turn off the heat and cover to keep warm.
Season 1 pound boneless skinless chicken breast (cut into 1-inch pieces) with 1 tablespoon Cajun Seasoning. Melt 2 tablespoons butter in a 12-inch nonstick skillet. Add the seasoned chicken and 12 ounces of sliced andouille sausage and sauté until the chicken is browned and cooked through (165°F).
Serve chicken and sausage over grits. Garnish with parsley and diced tomatoes. Yum!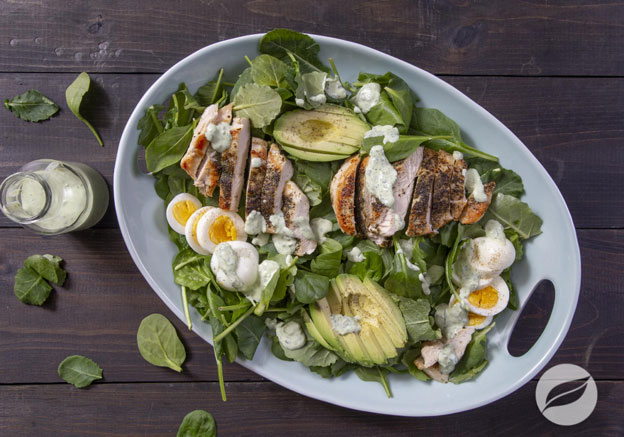 Traditionally, Cobb salads are packed with flavor, and this Green Goddess Chicken Cobb Salad is no exception. And while it just happens to be low-carb, it's also just plain delicious and perfect for everyone!
To make this tasty dinner-worthy salad, you'll start with the dressing so that all the delicious flavors have a chance to mingle and develop.
Prepare the dressing by blending: 1 (5.3 ounces) container full-fat Greek yogurt, ¼ cup each of parsley and cilantro (non-cilantro lovers can use ½ cup parsley instead), 1 scallion, 1 clove garlic, 1 lime (juiced), 3 tablespoons Natural Grapeseed Oil, 1 teaspoon capers, and 1 teaspoon Gourmet Sea Salt: Garlic. Set aside.
Boil eggs by placing 4 eggs into a saucepan and covering them with cold water. Bring to a rolling boil over high heat. When boiling, turn off the burner and cover to sit for 10 minutes. Drain and run under cold water until the eggs are cool – peel, slice, and set aside.
Next, season 4 (4-ounce) boneless skinless chicken breasts with ½ tablespoon Garlic & Herb Blend and ¾ teaspoon Gourmet Sea Salt: Garlic. Heat 2 tablespoons oil in a 12-inch nonstick skillet over medium heat. Add chicken, cook for about 5 minutes on each side or until the breast is browned and cooked through (165°F).
Layer sliced chicken, hard-boiled eggs, and sliced avocado over leafy salad greens on a platter to serve family-style or divide into bowls individually. Serve with prepared green goddess dressing.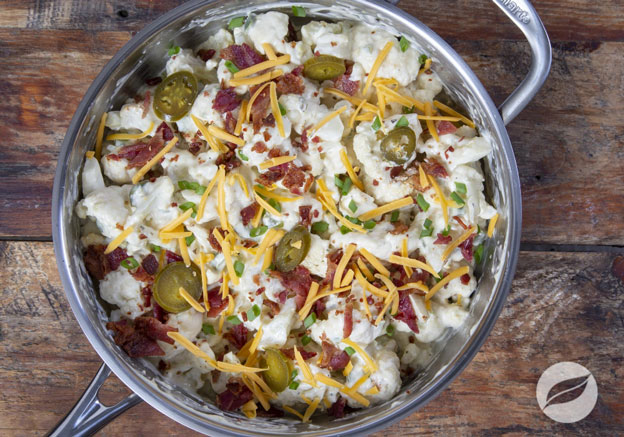 Rich in flavor and another excellent recipe for sneaking in some extra veggies is this Jalapeño Popper Cauliflower "Mac & Cheese."
Comfort food cravings aren't satisfied much better than eating this creamy, cheesy low-carb dish with a bit of kick!
To get as much flavor as possible, we're roasting the cauliflower before adding it to the sauce. So you'll begin by preheating the oven to 400°F. Next, cut up two heads of cauliflower into florets, and spread them onto a sheet pan. Toss with 2 tablespoons of Natural Grapeseed Oil, sprinkle with ½ teaspoon Gourmet Sea Salt: Garlic, then pop into the oven to roast for about 25 minutes or just until tender.
Meanwhile, line a second sheet pan with foil, laying eight bacon strips in a single layer, and then bake for about 15 minutes or until the bacon is cooked to the desired doneness. Transfer the bacon to a paper towel-lined plate.
In a large high-sided pot, melt 2 tablespoons of unsalted butter over medium heat, add 2-3 seeded and diced jalapeños and sauté until tender. Note: wear gloves or be sure to wash your hands immediately after handling the jalapeños. When tender, add eight ounces cream cheese and 1 cup heavy cream, stir until the cream cheese melts and the sauce starts forming. Next, stir in ½ cup Alfredo Extraordinaire and 1 cup shredded Cheddar cheese until melted and the sauce is combined. Finally, add the roasted cauliflower and toss it in the sauce.
Top with crumbled bacon, sliced scallions, additional grated cheese, and more sliced jalapenos if desired.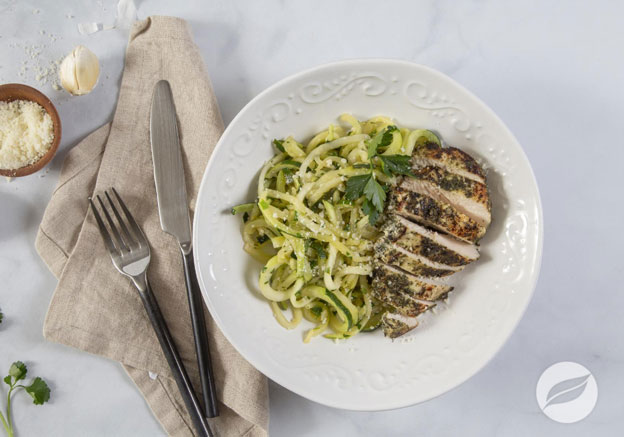 Winner, winner, chicken dinner! This Lemon Garlic Butter Chicken & Zoodles is really something to crow about!
It doesn't get much better than a bright springtime chicken dinner without the guilt factor!
This meal takes just 15 minutes from start to finish. You'll begin by seasoning 1 ½ pound boneless skinless chicken breast using 1 ½ tablespoon Garlic & Herb Blend and 1 teaspoon Gourmet Sea Salt: Garlic. Next, melt 2 tablespoons of butter in a 12-inch skillet over medium heat. Add the chicken and cook for about 5 minutes on each side, or until browned and cooked through (165°F). Remove from the skillet and cover to keep warm.
Using the same skillet, melt 3 tablespoons butter, add 3 tablespoons minced garlic, and 2 pounds spiralized zucchini noodles. (One pound spiralized zucchini equals about two medium-sized, 5-6 ounce zucchinis.) Season with ½ teaspoon Gourmet Sea Salt: Garlic. Sauté the zoodles until heated through, then toss in ¼ cup chopped fresh parsley and 1 tablespoon lemon juice.
To serve, slice the cooked chicken on the bias before plating it all up with a healthy serving of zoodles and sprinkling with parmesan cheese.
It's a super easy-peasy low-carb dinner that comes right in around 400 calories.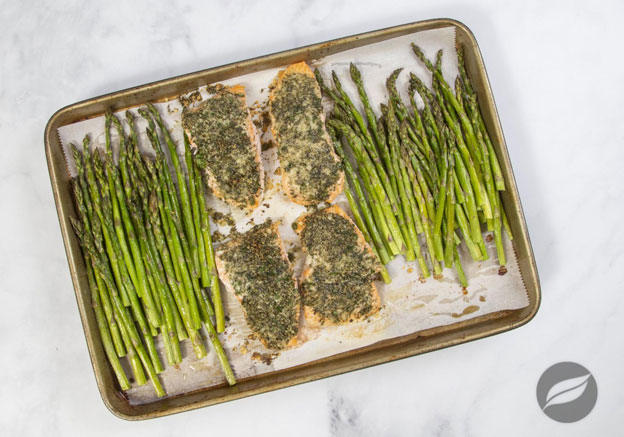 Oh my! This Garlic Parmesan Crusted Salmon recipe is another dish that's so darned good and so perfect to lighten things up as we head into springtime!
This sheet pan dinner will make ending your busy day so simple!
To make it, you'll preheat your oven to 400°F, then pull out a sheet pan and tear off some parchment to fit the bottom.
This dinner is perfect with fresh asparagus (you'll need two bunches). Place the asparagus spears (one handful on each end of the sheet pan), and arrange four salmon fillets (about 1 ½ pound) placed in the center of the pan.
Drizzle the asparagus with 2 tablespoons of Natural Grapeseed Oil and season with ½ teaspoon Gourmet Sea Salt: Garlic.
Combine 1/2 cup grated parmesan cheese, 1/4 cup chopped parsley, and 1 tablespoon Garlic & Herb Blend in a small bowl to crust the salmon. Mix to combine, then spread the mixture over the top of the salmon. Pop the sheet pan in the oven to bake for about 15 minutes or until asparagus is tender and salmon is cooked through (145°F).
That's it! Dinner is ready to devour, and cleanup is pretty easy too!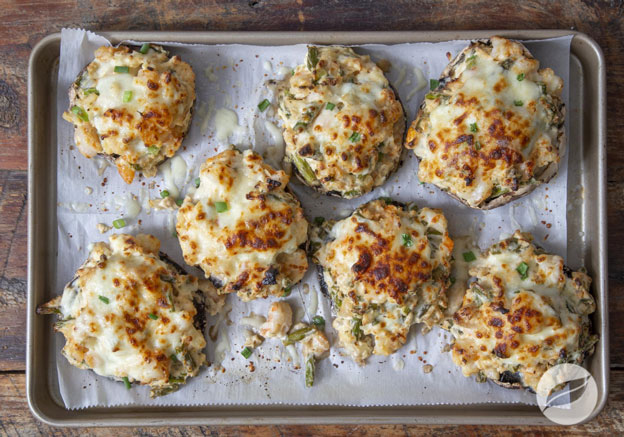 If you're into switching things up a bit with traditional recipes, and you love stuffed portabellas, and if you're a fan of alfredo sauce (well, yeah!), this recipe for Shrimp Alfredo Stuffed Portabellas needs to be what's for dinner.
Wrapping up this month's Keto-Friendly collection, we're saving one of the best (we love) for last!
To make these beefy portabella babies, you will need about one pound (7-8) jumbo-size mushroom caps to make healthy appetite-sized portions for dinner.
These stuffed portabellas also would be a great appetizer at your next gathering or a little something extra to serve at Easter Brunch. Just saying… 😜!
This Wildtree version of the recipe is perfect for springtime, mainly because it uses asparagus as the veggie. Still, you also can make it using other veggies like eggplant, zucchini, sweet or roasted peppers – you get the idea.
Otherwise, the largest of the baby portabellas will make delicious appetizer bites. And, believe me. You'll want to eat more than just one of the bite-size stuffed mushrooms!
So let's get making!!
First, preheat your oven to 400°F. As that heats up, use a spoon to remove stems and the gills from the mushrooms and place them on a sheet pan.
Next, heat 2 tablespoons of butter in a 10-inch skillet over medium heat. Add ½ yellow onion (diced), 1 pound asparagus (chopped), and 2 tablespoons of minced garlic to the pan. Sauté until the asparagus becomes tender before transferring it to a mixing bowl.
To the sautéed asparagus, add 8 ounces softened cream cheese, 1 ½ pound chopped raw shrimp (be sure to peel, devein, and remove the tails), and ½ cup Alfredo Extraordinaire. Stir everything up to combine.
Stuff the mushrooms with the vegetable and shrimp mixture and bake for about 20 minutes or until the mushrooms are tender.
Remove from the oven to top with mozzarella cheese (about 1 cup, grated), then broil on low for 2-3 minutes or until the cheese is melted and lightly browned.
Serve and enjoy!
For those who cook and those who eat…
That wraps it up for this month's Keto-Friendly Cooking Collection of eight recipes that help you explore just how delicious and simple keto cooking can be.
I hope you make them all. The recipes are super delicious, and just because you're eating healthy shouldn't mean that you don't get to feel like you're sometimes splurging, so every one of these recipes lets you put a check in that box too!
As always, I love helping you enjoy the satisfaction that cooking brings. Thanks for reading and supporting the companies I partner with, which allows me to create even more unique content and recipes for #CookingGfreeDeliciously. All opinions are always my own.
Have you tried one or all of these recipes? We would love to hear your thoughts! Leave a comment below, share, and rate your cooking experience – it's super helpful for us and other readers. Just click the blue-green comment bubble on the bottom left of your screen to jump to the comment area below.
Snap a photo and share it on our Facebook page, on Pinterest, or on Instagram with #CookingGfreeDeliciously,  @gfreedeliciously. Enjoy, xo!
*Please Note: If you are celiac, gluten-intolerant, or following a strict gluten-free diet, be sure to substitute an all-purpose gluten-free flour blend in place of whole-wheat or gluten-containing flours. And, always check the ingredient labels, and swap out any products that may include wheat, barley, or rye for certified gluten-free versions when making recipes not explicitly tagged gluten-free.
** First Time Order Customer Offer **
I really want to thank customers who have been with me (you know who you are) and those of you who are new to my site and Wildtree by offering you a special coupon for 20% Off orders over $30 for New Customers. One-time use. Code cannot be combined with other offers.
Click on the coupon below to take advantage of the great savings!
(Use the code: GFREE during checkout)
When you Subscribe for our FREE Basic Pass !!
GET RECIPES • RESOURCES • + eNEWS UPDATES
& MORE STRAIGHT TO YOUR INBOX !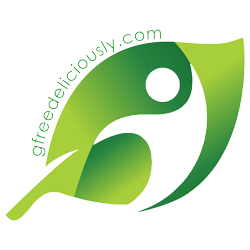 An artful gluten-free home, health, and cooking eNewsletter. Get recipes, resources, +eNews updates, and even more – for all food lovers gathered at the same table… Only from GfreeDeliciously!
Have you made these dinners? I'd love to hear your thoughts...