Meet our new favorite summer salad for feeding a crowd or only a few. Make it with Shrimp as we've done - or make it with Ham, or Tuna, or Chicken; you choose.
Whether you're looking for a light summer weeknight meal or needing an easy take-along recipe, pasta salads are always great, and this lemony fusilli pasta salad has become our new favorite for so many reasons.
All the tastes of summer collide in a lemony, creamy explosion of pasta, vegetables, and protein.
The salad is bright and light, yet it's filling enough for a meal all on its own.
It's an entire bowl of delicious complimentary flavors that are guaranteed to be a hit with family and friends.
The recipe is easy to adapt to your particular protein taste or what you have on hand.
It's perfect for summery bites of flavor that are reasonably low in calories.
You can make it in minutes, and
You'll love how well it travels, so it's perfect for picnics and potlucks!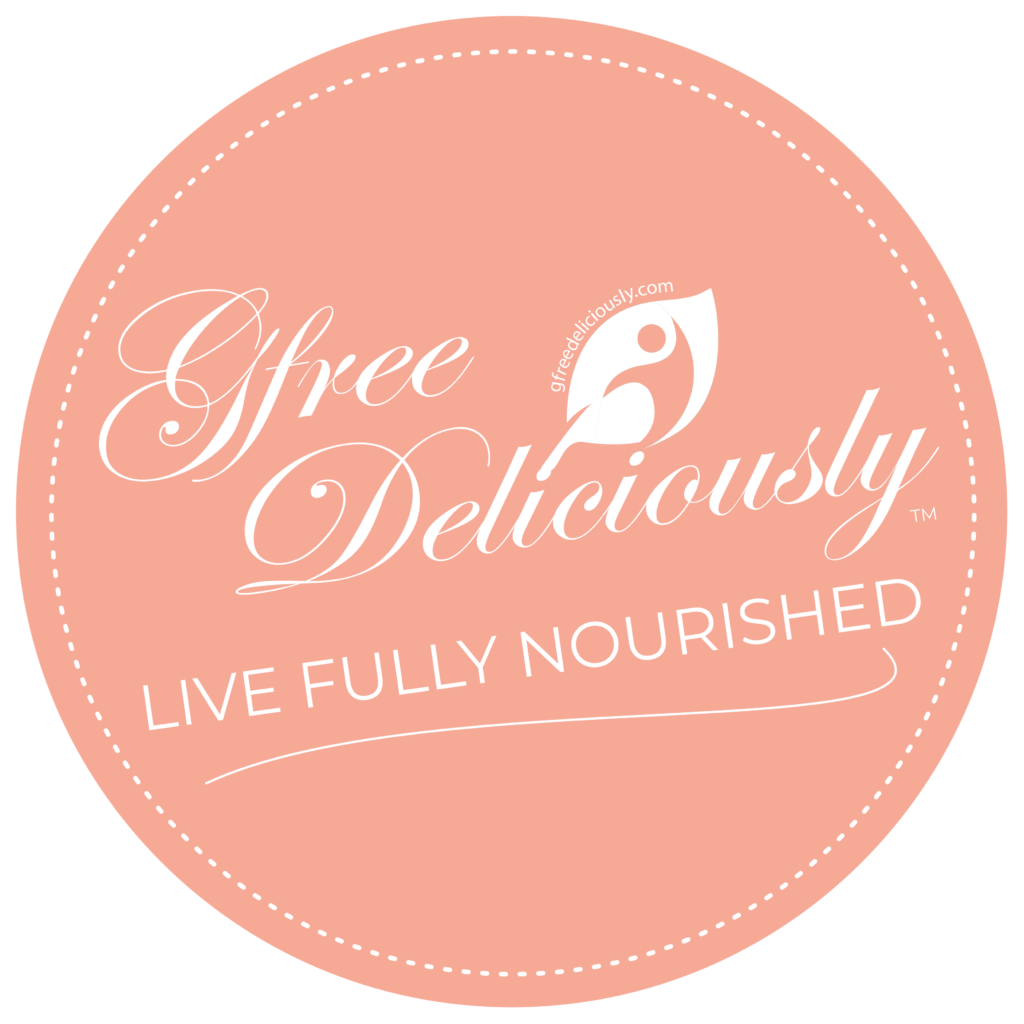 GET RECIPES • RESOURCES • +eNEWS UPDATES & MORE STRAIGHT TO YOUR INBOX !
Simple and delicious gluten-free recipes, family-friendly meal ideas, healthy cooking, encouragement, and easy-to-implement lifestyle strategies to live fully nourished… Only from GfreeDeliciously!
How to make Lemon Fusilli Salad with Shrimp,
or Ham, or Tuna, or Chicken...
Cook your favorite fusilli or shell pasta using the package directions as a guideline. I like to use fusilli pasta (hence the name of this salad), but shell pasta will also work nicely. The main thing to consider is a pasta shape that will trap the creamy dressing used in making the salad.
While the pasta is cooking, rinse and drain the broccoli and cauliflower under cool water. You'll want to make sure to drain it well, cut off any bad spots, then cut down the florets into small pieces. Finally, zest the lemon and measure out the remaining ingredients.
When the pasta is tender and firm but no longer crunchy – al-dente' (Ahl-DEN-Tay). Drain it, then lightly rinse it in cold water to bring the temperature down quickly. Rinsing in cold water will stop the pasta cooking process and keep the noodles loose for the salad. Once completely cooled, transfer the cooled pasta to a colander or mesh strainer, shake to remove as much excess water as possible.
When thoroughly drained, place the pasta in a large bowl, add the broccoli, cauliflower, peas, prepared ranch dressing, mayonnaise, and lemon zest. Season with salt and pepper before tossing lightly, then gently fold in the shrimp or other protein you've chosen. [1]
Plate servings individually or transfer all of the salad to a large bowl for family-style or potluck serving. Garnish with lemon slices, a lemon wedge, or sliced scallions on top.
Picture the recipe step-by-step...
You have a few choices when it comes to ranch dressing. First, of course, you can always use the store-bought kind from the bottle, or secondly, you could make it yourself using this excellent dry mix, but making it yourself is incredibly easy. If you love ranch dressing, you'll want to give our homemade version a try!
Potluck and Picnic Salad Food Safely
While this salad travels well for taking along for picnics, and it is perfect for doubling for your next potluck gathering, there's no need to risk upset stomachs or food poising if you plan and pack carefully.
Preparing a cold box or packing in an insulated cooler for taking it along is not only easy, but it's essential for making items that need refrigeration to stay as cool as possible. And you don't want to forget to keep it cool for serving once you reach your destination.
Also, keep in mind that while it may look appealing to sit everything out on the tabletop, keeping things on ice for as long as possible or letting people serve themselves from a cold box or insulated cooler will reduce the risk of having to throw things out.
If you do sit things out for serving, put your dishes on ice. For example, add ice cubes to a larger bowl, then place your salad serving bowl inside. Doing it this way will keep everything super cold while serving without taking up too much additional space on the table.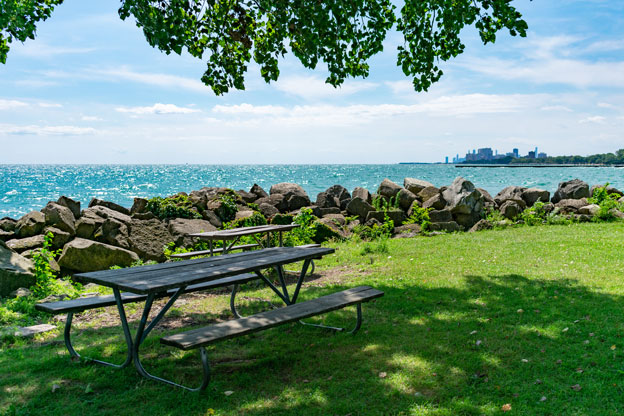 Remember to keep cold salads at 40°F or below. While an insulated cooler with plenty of ice will help keep your salad cold enough, cool boxes and insulated coolers are only as good as the people who pack them. So here are a few tips to maximize your cooling powers:
Chill the cooler before loading it. A cold cooler keeps ice longer. Most of us don't have access to commercial freezers and walk-in refrigerators, but if you do, let your cooler spend the night inside it. For everyone else, let your cooler sit on a cool porch overnight, stick in the basement or the coolest part of your house.
Use ice blocks instead of ice cubes. Make ice blocks by freezing water in plastic storage containers. Ice blocks, because of their mass, won't melt nearly as fast. You could also use cold pack cooler blocks found at local hardware, camping, and big box stores.
Pack in layers. Pack your ice blocks at the bottom of your cool box or insulated cooler, then cover the ice with a thin layer like a towel or a small quilted blanket. The barrier will keep your covered and sealed salad container from slipping between the ice blocks. Next, you can add another towel layer on top covered by another ice layer.
Add an extra layer of insulation. Even if you own a fancy cooler brand, adding more insulation over the top to insulate and keep things cool doesn't hurt. For example, you could use a folded kitchen or bath towel, a small quilted baby blanket, or other cut-down quilted material such as old sleeping bags cut into rectangles.
Keep your cooler latched and closed. Remind picnickers to keep your cooler closed and sealed when not in use; less cold air will leak out. Only open the cooler for what you need when you need it, then close it immediately, so you're not unnecessarily losing the cool air.
Keep your cooler cool. Last but not least, always keep your cooler in the shade and out of direct sunlight. Place it under a picnic table underneath a shady tree or beneath a beach umbrella.
Did you like this recipe? Try these popular pasta salad recipes too!
This recipe is good for keeping in your go-to list of easy, flavorful impressive dishes that garner oohs and ahhs from hungry eaters each time it hits the table. And while you may not be too concerned about impressing your family at dinnertime, it's always nice to get a few compliments on your mealtime efforts wherever you're serving them.
We're sure you'll give it two thumbs up too!
XXO
P.S. When you give this recipe a try, let us know how you like it! Leave a comment below, share it, and rate it – it's super helpful for other readers and us. Just click the blue-green comment bubble on the bottom right of your screen to jump to the comment area below.
And as always, don't forget to take a picture and tag it #CookingGfreeDeliciously on Instagram. We love seeing what you cook up!
Footnote:
[1] We've tried this recipe with shrimp and ham, offering big bowls piled high on several occasions this summer. Family and friends have all agreed that this salad is indeed excellent!
Then we solicited ideas about how they might make the salad differently.
Everyone agreed that the base mixture using pasta, broccoli, cauliflower, peas, the prepared ranch dressing, mayonnaise, lemon zest, and seasoning was perfect as it is. Still, they all had different ideas on their choice of protein according to the tastes they prefer. 
In addition to shrimp or ham, their ideas ranged from making it a vegetarian dish by leaving out the protein to including proteins like flaked tuna or cubed chicken breast. So feel free to get creative with your ideas on this salad while enjoying its terrific taste!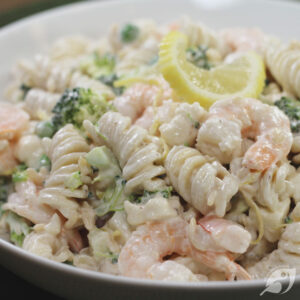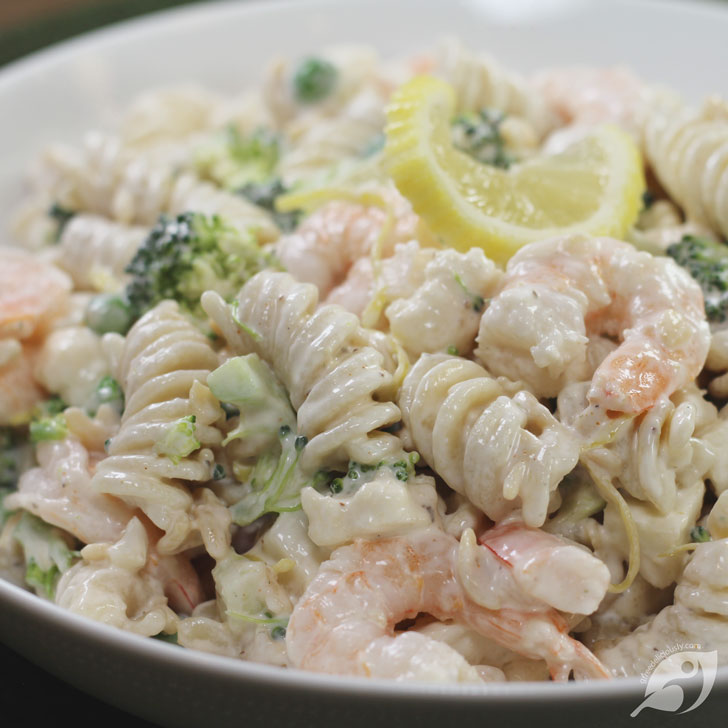 Lemon Fusilli Salad with Shrimp
Serve up oohs and ahhs with this inspiring picnic, potluck, or easy weeknight pasta salad that's great as an all-in-one meal or a side dish. But, of course, we're talking about Lemon Fusilli Salad with Shrimp. Or switch it up by making it with ham, chicken, or even tuna. It's a pasta salad recipe that bursts with loads of fresh veggies and your choice of protein covered with a creamy herb ranch dressing and a touch of lemony citrus zest for a bright, summery taste. We're sure you'll give it two thumbs up!
EQUIPMENT
Large Saucepan

Large bowl

Cutting Board

Utensils (Cooks Knife, Measuring Cups & Spoons, Rubber Spatula or Large Spoon)
INGREDIENTS
½

box

Fusilli

or shell pasta, cooked

1

cup

pre-cooked Shrimp

[1]

1

cup

Broccoli florets

cut small

1

cup

Cauliflower florets

cut small

½

cup

peas

½

cup

prepared Ranch Dressing

¼

cup

Mayonnaise

1

tablespoon

Zest from one Lemon

¼

teaspoon

White Pepper

¼

teaspoon

Salt

6

Lemon coins, wheels, or wedges

cut from the zested lemon
Add ingredients to your Private Shopping List before ordering online.
Quick Add Ingredients to Shopping List
INSTRUCTIONS
KITCHEN NOTES
Footnotes:
[1] You could also substitute ham or another protein like cubed, cooked chicken breast, or flaked, cooked tuna in place of the shrimp.
Nutrition
Calories:
316
kcal
Carbohydrates:
21.9
g
Protein:
19.9
g
Fat:
16.7
g
Saturated Fat:
0.1
g
Polyunsaturated Fat:
9.5
g
Monounsaturated Fat:
3.5
g
Trans Fat:
0.1
g
Cholesterol:
130.7
mg
Sodium:
449.1
mg
Potassium:
384.9
mg
Fiber:
2.1
g
Sugar:
2.8
g
Vitamin A:
20.7
IU
Vitamin C:
25.4
mg
Vitamin D:
0.1
µg
Calcium:
74.6
mg
Iron:
1.6
mg
(Nutritional values are an approximation. Actual nutritional values may vary due to preparation techniques, variations related to suppliers, regional and seasonal differences, or rounding.)
Copyright © 2017-2023 Kymberley Pekrul | GfreeDeliciously | gfreedeliciously.com | All content and photographs are copyright protected. The sharing of this recipe is both encouraged and appreciated. However, copying and/or pasting full recipes to any social media is strictly prohibited. Please read my Photo Use Policy for detailed guidelines and further clarification.