Enjoy this post that could easily be called:
When baking gives you crumbs,
reach for the ice cream…
While searching for recipes to satisfy a deep chocolate craving that wouldn't escape me, I discovered this flourless tea cake recipe featured on the Bon Appétit website.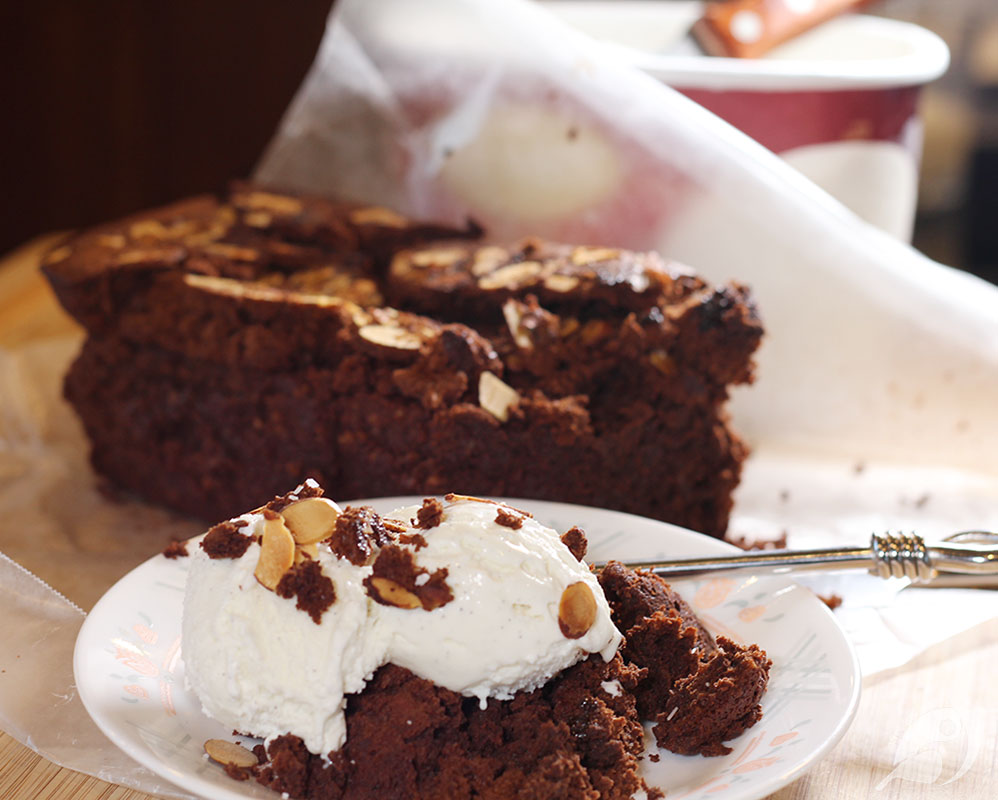 Years ago, a British-born friend introduced me to tea cakes during our weekly play dates for our toddlers. While the kiddos played, we visited, studying our bibles and nibbling on, you guessed it, wonderfully delicious homemade tea cake while sipping English Breakfast tea from our Corelle teacups with saucers.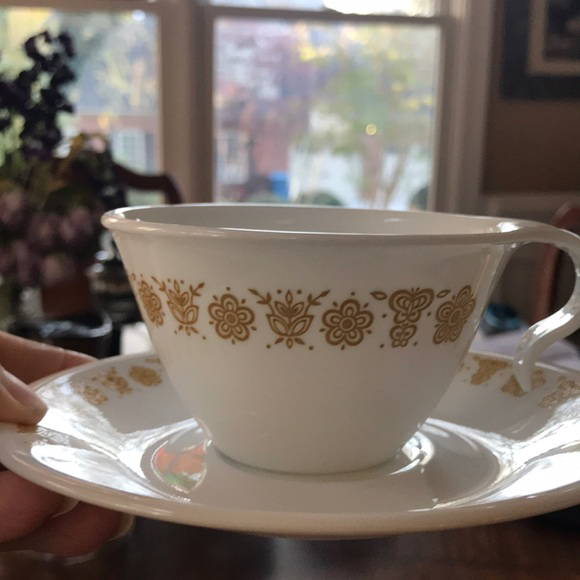 In my tea cake primer, my friend explained that tea cake in the U.S. is a loose term. They encompass almost anything from southern cake-like cookies to moist-textured sweetbreads and loaf-style cakes served alongside tea. However, in Britain, where her family and tea cake originated, her modern version was a dense-textured dessert cake seldom iced. She made it with rich ingredients like butter, eggs, and chocolate, or fruits and spices – and, as the name implies, it is traditionally served with afternoon tea.
I instantly became a fan.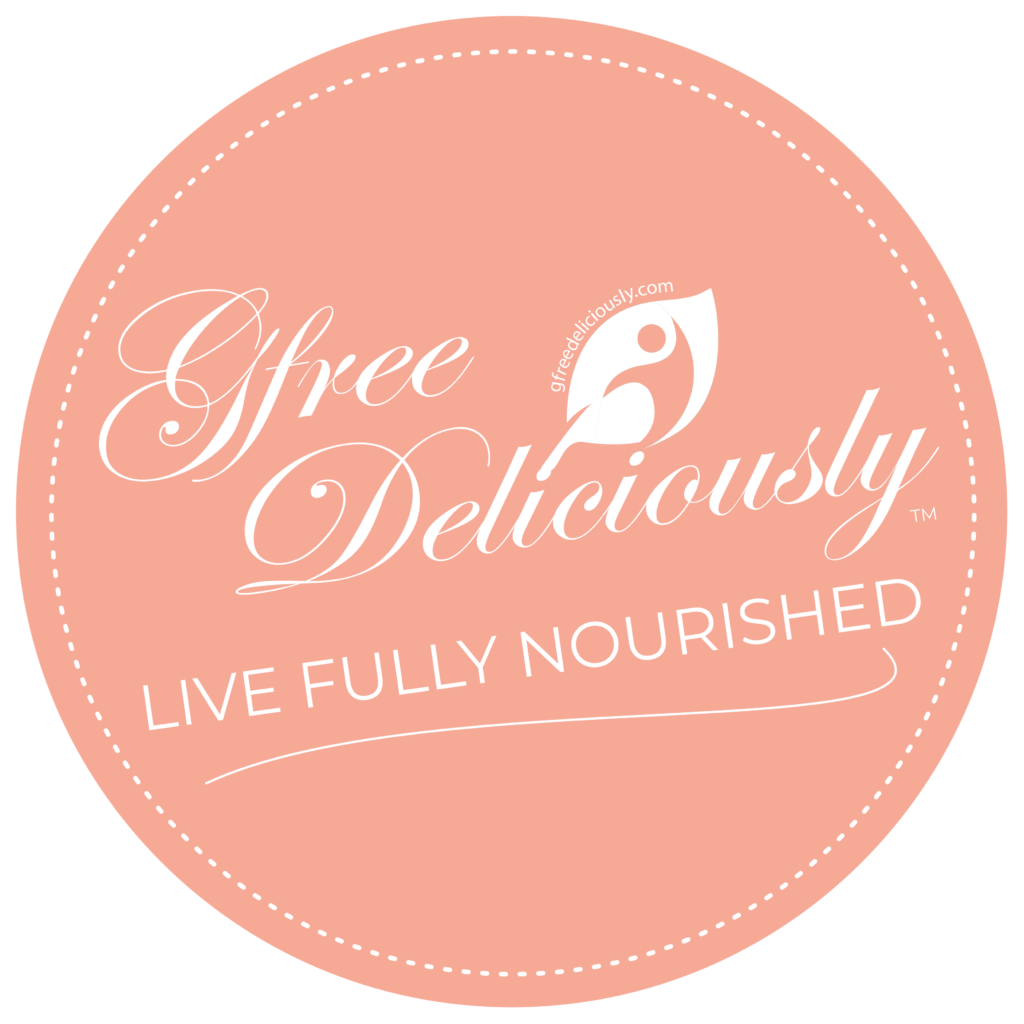 GET RECIPES • RESOURCES • +eNEWS UPDATES & MORE STRAIGHT TO YOUR INBOX !
Simple and delicious gluten-free recipes, family-friendly meal ideas, healthy cooking, encouragement, and easy-to-implement lifestyle strategies to live fully nourished… Only from GfreeDeliciously!
Sans my celiac diagnosis...
Following my diagnosis with celiac disease, naturally, wheat-flour-free dessert recipes began integrating into my kitchen. After exploring flourless baking, the idea hit me that it's often easier to make desserts that don't call for any wheat flour than those that incorporate a gluten-free flour substitute.
After extensive experimentation, I can tell you that flourless baking may sometimes seem daunting, but it needn't be. Your allies include nuts, egg whites (and yolks), fresh fruit, and good chocolate.
The biggest challenges to achieving an outcome where the baking sticks together are using egg whites for the loft and the inclusion of the right amount of ground nuts for additional "oomph," as my grandma would have said. Thus, I've become enamored with the magic of whipped egg whites and cream of tartar, achieving the perfect frothiness before adding granulated sugar and beating to firm peaks. And, yes, the ground nuts are essential, too.
Okay, maybe that's the culinary geek in me speaking.
But seriously, when it comes to achieving beautiful cakes without flour, the first thing to remember is to bring your egg whites to room temperature. Letting them sit for at least 20 minutes before using them will produce a higher volume when they're beaten.
So, bringing your egg whites to room temperature IS tremendously helpful. And while using ground nuts (all-important as they are) is noteworthy, you also need to know that my efforts do not always produce flawless, bound-together, picture-perfect desserts.
Be warned, if you're a perfectionist, you may want to stop reading and disregard this recipe altogether, but I'd encourage you to stick with me.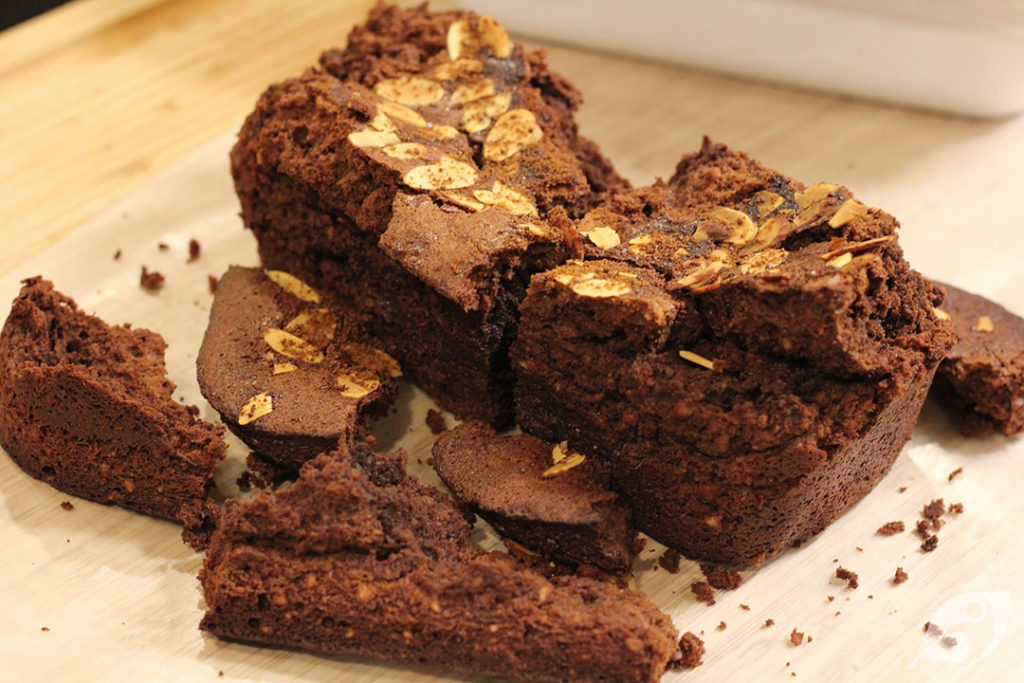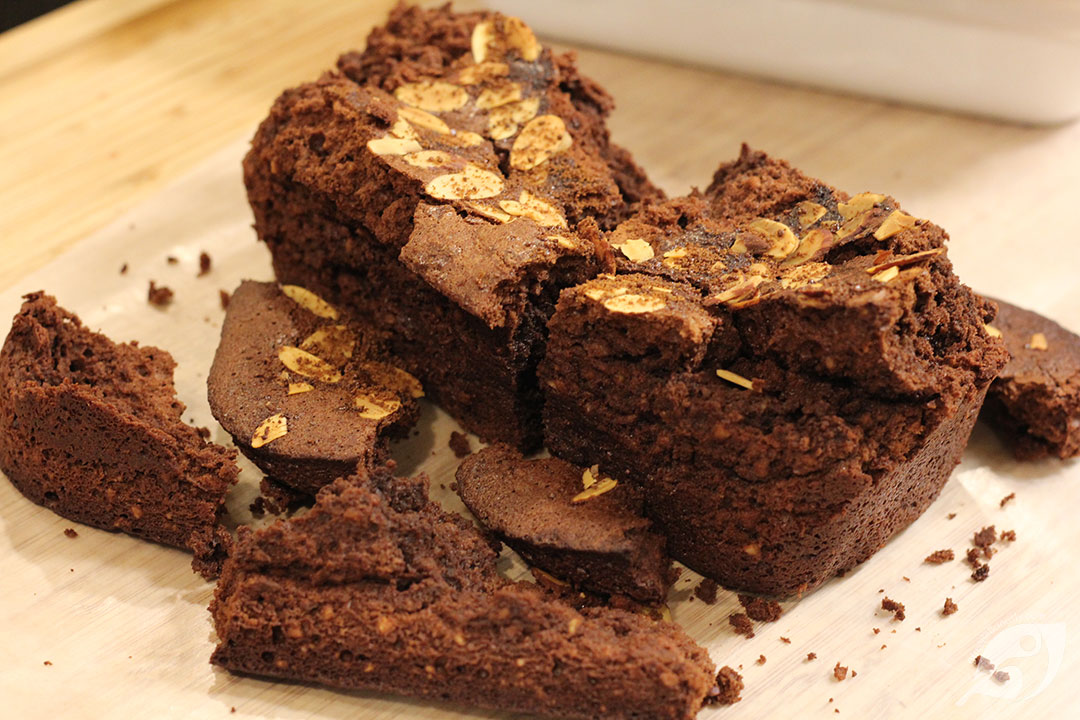 Before putting recipes on my blog, I typically make each recipe at least two to three times to ensure they will work for you. After completing this recipe with perfect results a few times before, it frustrated me to feel like I had failed on this attempt since I was ready to take pictures and do the final revision of the recipe notes. And I can't stand feeling like something has beaten me.
So, here's where this attempt in making Flourless Chocolate Tea Cake went wrong:
After beating the egg whites to perfect peaks, instead of adding them individually, I added them all at once, folding them into the chocolate mixture too quickly and vigorously. Because the combination is dense, I wanted to ensure the egg whites were thoroughly blended. I should have resisted that temptation.
I should have used a light hand to gently fold the egg whites into the chocolate mixture in two additions until they were incorporated. Doing this will dramatically affect how the cake rises as it bakes.
Because the mixture was over-blended (even though it puffed up as expected), it continued to rise well above the edges of the pan, leaving the sides unsupported and producing a crack down the center of the loaf and around the outside edges. When it came out of the oven, that caused the cake to sink in the middle as it cooled, and those edges crumbled and fell off.
The takeaway is when you add the egg whites to the chocolate mixture, fold them into the batter as gently as possible using a flowing motion. Then stop!
As difficult as it is, you must resist the temptation to blend thoroughly.
Here are a few more tips to prevent sinking cakes:
Using an electric mixer, beat the egg whites and cream of tartar at moderate speed, not high. The frothy bubbles will be more stable.
With the motor running, gradually add the granulated sugar to the egg whites at high speed, beating until firm peaks form.
It's super important not to beat the egg white mixture too long; adding too much air to the batter before it bakes will collapse the cake as it cools.
Don't let the batter sit around. Preheat the oven before getting started so it's ready to go when the batter is in the prepared pan and ready for baking.
Put the cake in the oven and let it bake undisturbed. Please don't open the door during the first 80 percent of its baking time.
When making this recipe previously, I used a metal pan lined with parchment paper for lifting the warm cake from the pan. This time, I used my pretty white ceramic bread pan because I thought the contrast of the chocolate bread against the white would make a stunning picture. While there WAS contrast, and the pan WAS very pretty, using a metal pan would've made a BIG difference in how the bread cooked. And I forgot about using parchment paper. Lesson learned.
Now, hear me out before you run out and replace your baking pans. In deciding what baking pan to use, you need to understand the limitations in the type of materials the pan is made from, then use that knowledge to accommodate the food you are baking.
More aptly said, if your recipe isn't turning out the way you expect, it might be your bakeware, not the recipe.
Glass is an insulator. It takes longer to heat up than metal, but once it does, it will likely remain stable, and the heat distribution will be uniform. You may need to extend your baking time by five to ten minutes or more to compensate. Glass pans are suitable for most cakes and pies because they maintain heat for a relatively long time at a lower temperature as the food bakes. Still, glass is not great for baking cookies, which bake for a shorter time. Glass bakeware is more expensive and heavier than metal; it can shatter if its temperature changes too rapidly, and it's not available in large sizes.
Metal pans conduct heat better, but they often get hot spots. To compensate for this, you may find that rotating your pan midway through baking helps. Metal pans heat up and cool down quickly, making them perfect for items baked at higher temperatures for shorter times, like biscuits and cookies. Metal pans with dull finishes absorb heat faster than shiny metal, so cookies baked on darker-colored cookie sheets can get too dark on the bottom before they're finished baking on top.
Here's my personal pan preference:
My preference for metal pans is heavy-duty professional-grade bakeware made with a non-stick coating. Investing in better-quality bakeware may cost you a little more on the front end, but they will last a lifetime compared to a less-priced brand, and I believe that they bake things better. When choosing brands, I stick with American-made. Whatever bakeware you select, when looking to buy, please search for a manufacturer that advertises that their coating is bonded to the metal so that it won't scratch or scrape off.
Lastly, even though my bakeware states that it's non-stick, I usually lightly grease the pan or use parchment paper to prevent my baked goods from sticking to the surface.
If you have made it this far, I wonder if you've tried making this recipe. And, if you did, have you found the tips for making it helpful? Let me know in the comments area following the recipe below. Oh, and don't forget to rate it so others can decide if they want to make it, too!
XXO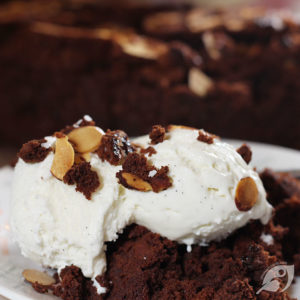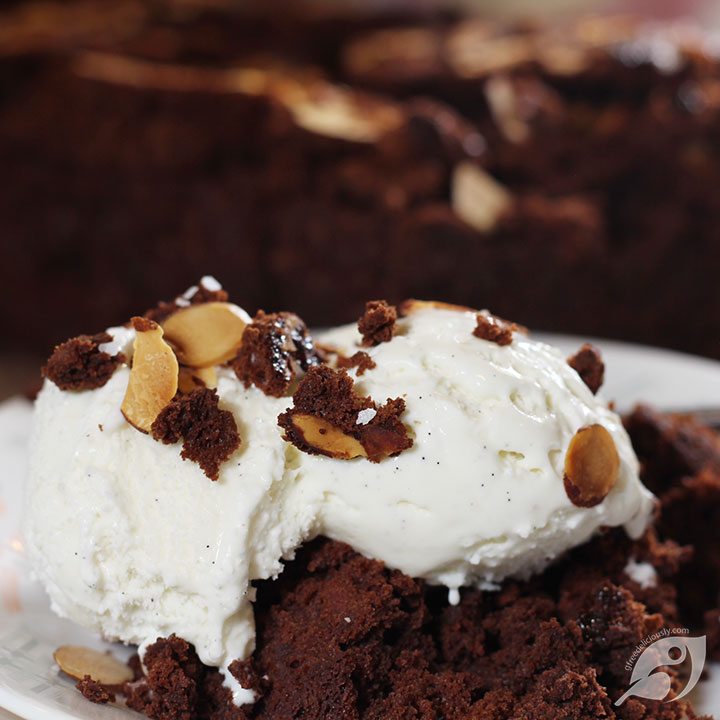 Flourless Chocolate Tea Cake
Far better than brownies, Flourless Chocolate Tea Cake is a treat beyond amazing! Toastedalmonds and olive oil are the stars to keeping this gluten-free tea cake moist,while rich semi-sweet chocolate and less than a cup of sugar keep it super yummy.Who's missing gluten now?
EQUIPMENT
Bread Pan

Utensils, Whisk, Rubber Spatula, Measuring Cups and Spoons

Parchment paper
Add ingredients to your Private Shopping List before ordering online.
Quick Add Ingredients to Shopping List
INSTRUCTIONS
Preheat oven to 325ºF. Lightly spray an 8.5" x 4.5" loaf pan with coconut oil spray, then line with parchment paper leaving parchment to extend the pan on each side.

Pulse cocoa powder and 1 cup toasted almonds in a food processor until very finely ground (about 1-minute).

Microwave the chocolate and ¼ cup water in a microwave-safe bowl for 20-second intervals (or heat in a heatproof bowl set over a saucepan of simmering water), occasionally stirring, until melted.

Whisk chocolate, oil, and salt together. Add almond mixture, half the granulated sugar, and the egg yolks and stir until incorporated.

Using an electric mixer, beat the egg whites and cream of tartar at moderate speed until frothy. With the motor running, gradually add the remaining granulated sugar to the egg whites on high speed, beating until firm peaks form.

Using a light hand, gently fold the egg whites into the chocolate mixture in two additions until they're incorporated each time.

Scrape the batter into the prepared pan; top with the remaining 2-tablespoons sliced or roughly chopped almonds and the coconut palm sugar.

Bake until the top is firm to the touch when gently pressed and a toothpick inserted into the center comes out clean (approximately 50-75 minutes).

Cool in the pan for 15 minutes. Using the parchment paper, gently lift the tea cake from the pan and place on a wire rack to cool completely. Slice and enjoy it!
KITCHEN NOTES
You can make the tea cake up to four days in advance. To store, wrap tightly in waxed paper, then place it in a zipper bag. It may be kept at room temperature.
Nutrition
Calories:
312
kcal
Carbohydrates:
27.9
g
Protein:
6.1
g
Fat:
21.8
g
Saturated Fat:
5.4
g
Polyunsaturated Fat:
2.8
g
Monounsaturated Fat:
11.1
g
Trans Fat:
0
g
Cholesterol:
62
mg
Sodium:
219
mg
Potassium:
165.9
mg
Fiber:
3.2
g
Sugar:
23.5
g
Vitamin A:
26.7
IU
Vitamin C:
0
mg
Calcium:
43.8
mg
Iron:
1
mg
(Nutritional values are an approximation. Actual nutritional values may vary due to preparation techniques, variations related to suppliers, regional and seasonal differences, or rounding.)
Copyright © 2017-2023 Kymberley Pekrul | GfreeDeliciously | gfreedeliciously.com | All content and photographs are copyright protected. The sharing of this recipe is both encouraged and appreciated. However, copying and/or pasting full recipes to any social media is strictly prohibited. Please read my Photo Use Policy for detailed guidelines and further clarification.